GlamGlow's Supermud is considered a cult classic when it comes to clarifying mud masks. Many people with oily skin love this product because they feel it reduces the oil in their skin and helps with acne. It's also pretty fun to watch the way it sinks into your pores and leaves tons of little dots as it dries.
As great of a product as it may be, it comes with a hefty price tag. For this reason, many people are looking for alternatives to Supermud. Luckily, there are a number of far more affordable masks that can offer results that are just as good. We'll be sharing five dupes for GlamGlow's Supermud. But first, let's talk about what makes Supermud so good.
Why Do People Love Supermud?
Understanding why Supermud is a cult favorite will help you when looking for a dupe. Most people who love Supermud have normal, combination, or oily skin. This is because it works wonders to remove much of the excess oil and impurities on the skin.
It also contains exfoliants that help to remove dead skin and leave the skin soft. The combination of all of these effects can especially help those suffering from acne.
Users of Supermud often report that the product works well for clearing up their skin and leaves it feeling soft and smooth while also minimizing the appearance of pores.
Why Buy a Supermud Dupe?
Supermud is a luxury product, so it comes with a hefty price tag. When looking for dupes, we focused on products that offer similar effects but that are more affordable.
The dupes we share here, just like Supermud, are all good for removing dirt and oil from the skin, calming acne, minimizing the appearance of pores, and leaving the skin soft and smooth.
Some of the products we selected are also made without exfoliants, so they are more gentle on sensitive skin. Are you ready to find out which dupes made the cut?
Top 5 Best GlamGlow Supermud Dupes 2023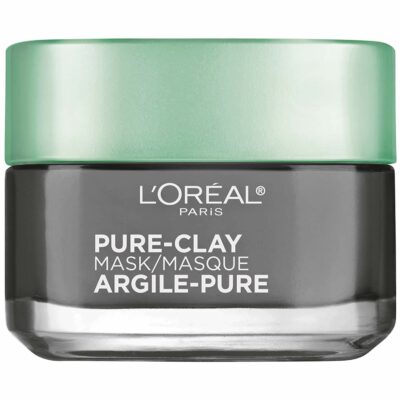 Why we like it:
This mask provides similar results to GlamGlow's Supermud but is gentler on the skin while being less than 1/6th of the cost.
Editor's Rating:
Compared to GlamGlow's Supermud
Just like Supermud, this product is formulated with kaolin clay and charcoal. However, it does have a somewhat strong fragrance. Some prefer this over Supermud whereas for others it's not very enjoyable.
Unlike Supermud, the L'Oréal Pure-Clay mask lacks exfoliants. The number of exfoliants in Supermud can be irritating to some skin types, so this L'Oréal mask is like a gentler version of GlamGlow Supermud.
This mask also has the same effect as the GlamGlow Supermud when applied. You will see it sink into your pores and it will look like you have little dots all over your face until you wash it off.
Skin Benefits
This L'Oréal mask packs a punch despite being under $15. It helps reduce acne, minimizes pores, and overall clarifies the skin. It does a pretty good job at sucking up oil, too. If you have incredibly oily skin, then this mask may not be quite as heavy-duty as you'd like.
This product leaves the skin looking brighter and clearer as well as feeling soft. Some people with more sensitive or dry skin may experience redness after use, but it should clear up within 30 minutes.
Value
A jar of L'Oréal Pure-Clay contains 1.7 oz of product, which is the same amount as a standard jar of GlamGlow Supermud. However, L'Oréal's product is under $15 whereas GlamGlow is over $50.
Pros
Very similar to Supermud

Gentle for sensitive skin

Skin-clearing effects

Affordable
Cons
Doesn't exfoliate skin

May cause redness for some
---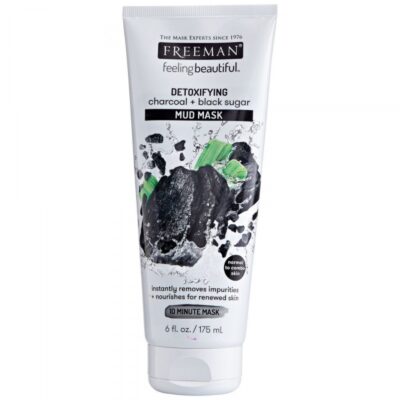 Why we like it:
This mask uses some of the main ingredients (kaolin and charcoal) found in Supermud, but it's far more affordable. It comes in a tube instead of a jar and is great for acne-prone skin.
Editor's Rating:
Compared to GlamGlow's Supermud
Just like Supermud, this Freeman mask contains kaolin clay and charcoal. However, this mask also contains bentonite clay which is known for its ability to absorb dirt and sebum. Though it doesn't contain the same exfoliators as Supermud, it does have a physical exfoliator in the form of sugar. It's a great touch, although it does mean it might be too aggressive for sensitive skin.
Skin Benefits
This mask does a great job of exfoliating the skin and removing dirt and oil. After using it, skin feels soft and smooth and even has a glowy look to it. The Freeman mask can help manage acne and fade existing acne scars.
Value
Out of all the masks on our list, this one is the second-best value. You get 6 oz of product for under $10! Now that feels like a steal. Those 6 ounces come in a tube rather than a jar, which means it's easy to keep things sanitary.
Pros
Extra-absorbent clays

Removes dead skin

Comes in hygienic tube

Budget-friendly
Cons
May be harsh on sensitive skin
---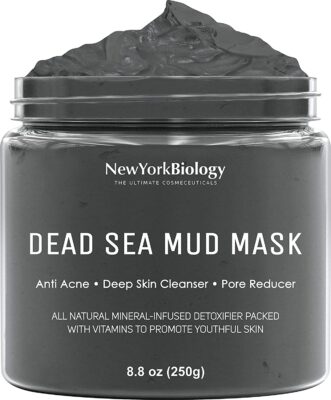 Why we like it:
This mask is a great option for people with sensitive or dry skin because while it offers many of the same benefits as Supermud, it's also gentle and hydrating.
Editor's Rating:
Compared to GlamGlow's Supermud
This product isn't that similar to Supermud when it comes to dupes, but we still wanted to include it because it's a great option. The main similarity it has to Supermud is that it also contains kaolin clay.
Otherwise, it does not contain the same exfoliators as Supermud but it does claim that the dead sea mud in it is exfoliating. It also contains a number of different vitamins and minerals that the company explains are great for the skin.
If you enjoy clay masks but Supermud is too harsh on your sensitive skin, then this could be a great alternative. Its ingredients are gentler but you still get the benefits of a clay mask.
Skin Benefits
The ingredients in the Supermud masks and similar products often leave your face feeling tight and dry. This mask, on the other hand, is more moisturizing. However, it still has many of the same benefits as GlamGlow's Supermud.
Skin is left smooth and soft with smaller pores. Not only that, but this product helps clear up acne, blackheads, and acne scars.
Value
This Dead Sea Mud Mask comes in an 8.8 oz jar for under $20. One jar typically lasts months even if you use it more than once a week.
Pros
A more moisturizing Supermud alternative

Gentle on sensitive skin

Enriched with vitamins and minerals
---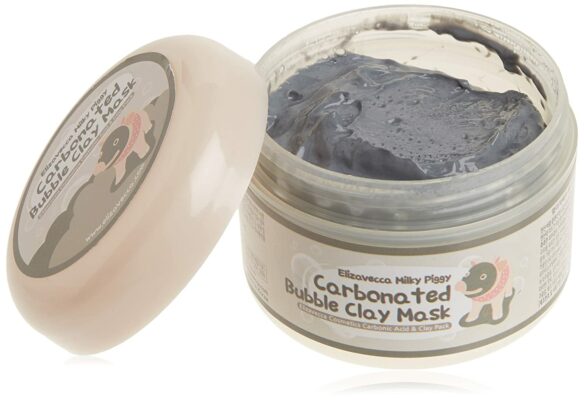 Why we like it:
This product is a lot of fun to use and doesn't cause the uncomfortable tightening feeling of the Supermud mask; at the same time, it contains some of the same beneficial ingredients such as charcoal and clay.
Editor's Rating:
Compared to GlamGlow's Supermud
This mask is a bit different than Supermud because it "bubbles." The bubbling, foamy effect is more of a gimmick meant for fun, but the mask does still contain useful ingredients like charcoal and kaolin clay that are also found in Supermud. If you don't enjoy the tightening feeling of masks like Supermud but still want the benefits of these ingredients, this might be a good alternative.
Unlike Supermud, this mask also contains bentonite clay, which is believed to have an even stronger effect on oily skin than kaolin clay. If you have especially oily skin, then the two types of clay in this product can help reduce oil.
Skin Benefits
This mask does a great job of removing oil and dirt from the skin. Not only that, it helps loosen deep-seated blackheads, making extraction much easier. After use, skin tends to be smoother, softer, and less red. It even helps calm acne.
Unfortunately, this product can be a bit drying. If you already have dry skin, it may not be your best option. Be sure to follow up with a moisturizer.
Value
This product is under $15 and the jar is 4.32 oz. That's a lot of mask for your money, making this quite an affordable K-Beauty product.
Pros
Fun bubbly effect

Doesn't have uncomfortable tightening feel

Fairly affordable
Cons
Can be drying to the skin
---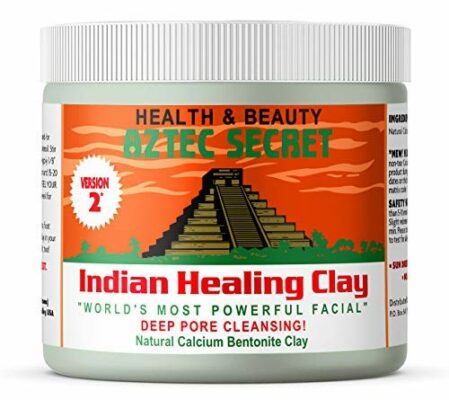 Why we like it:
This product can be the base for any custom clay mask, and it also works fantastically on its own; best of all, it's the most affordable option on our list.
Editor's Rating:
Compared to GlamGlow's Supermud
This product is labeled as a mask, but it's actually just bentonite clay. This makes it the least similar of the dupes on our list since Supermud is a mixture of kaolin clay and other ingredients like charcoal. However, seeing as Supermud is clay-based, using bentonite clay is a solid alternative.
The product comes in powdered form. It is recommended to mix it with apple cider vinegar to create a paste. Apple cider vinegar works the best for creating a smooth, non-lumpy mask, but you can use water. The nice thing about this product is that you can mix in whatever oils or exfoliators you'd like, making it a truly customizable mask at a very affordable price.
Skin Benefits
Even though this is just clay, it's a pretty good face mask. It'll clean out your pores and reduce oil while leaving skin soft and smooth. It also minimizes the appearance of pores and helps heal existing acne and acne scars.
Value
This product is easily the best value on our list because you get a whole pound of product for under $20. Suffice to say that this is going to last you a very long time.
Pros
Extremely affordable

Entirely customizable

Clarifies skin and minimizes pores
Cons
Not a close Supermud dupe
---
How to Find a Supermud Dupe
When looking for a Supermud dupe, our main focus was on finding masks with similar ingredients, but for a better price. These are the key ingredients we considered.
Charcoal
Charcoal is another one of Supermud's standout ingredients, though it is found in many skincare products. Charcoal is believed to remove impurities from the skin such as dirt and oil, so it may be a good option for reducing acne.
Clay
Next, we have to talk about clay, as this is one of Supermud's main ingredients. The mask specifically uses kaolin clay, which is thought to be gentler on the skin than other types of clay. Clay's main skin benefit is that it is absorbent, so it will suck up oil and other impurities to leave the skin clean.
Exfoliants
Supermud also contains BHAs and AHAs, which are types of acids that work as exfoliants. Specifically, Supermud contains lactic acid, salicylic acid, glycolic acid, mandelic acid, tartaric acid, and pyruvic acid. These exfoliants are great for removing dirt, impurities, and dead skin cells. However, they can be a bit harsh on the skin, especially with frequent use or if your skin is sensitive.
Mask FAQs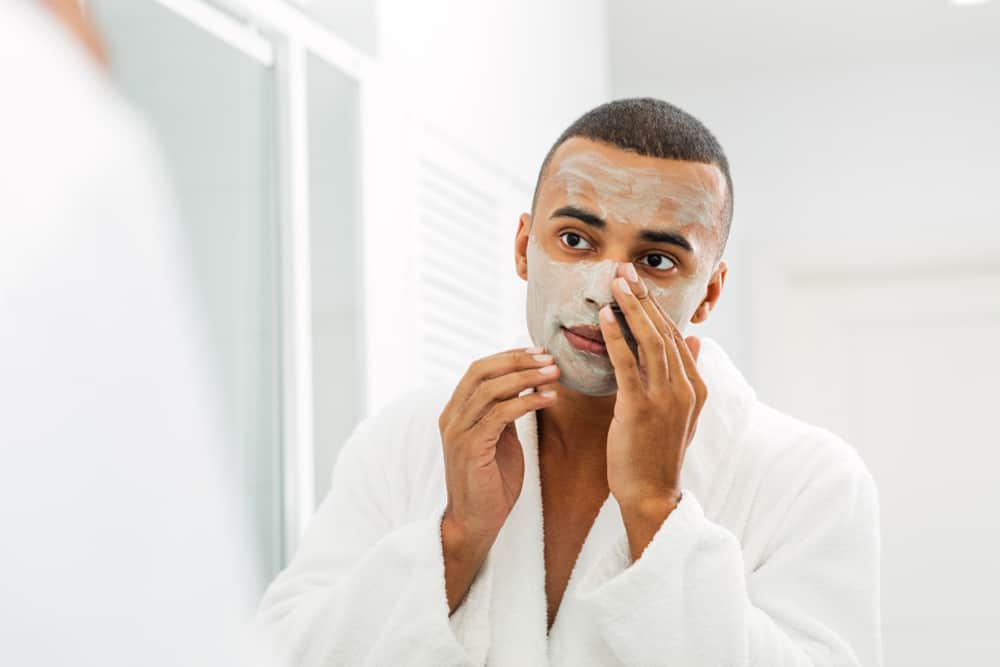 If you've been using masks as part of your skincare routine for a while, then you probably already know all of the dos and don'ts. However, for those who are experimenting with adding a mask to their routine, there are a few questions that are often asked. Here, we will address some of the most frequently asked questions about facial masks.
How Often Can I Use Masks?
Exactly how often you can use a mask depends on a couple of factors. First of all, you'll want to pay attention to what kind of ingredients are in the mask.
Certain ingredients like exfoliants and charcoal tend to be harsher on the face, so you may want to limit the use of a product like the Freeman Charcoal and Black Sugar Mask to once or twice a week.
Masks without these types of ingredients, like the Dead Sea Mud Mask may be used up to three times a week. Some masks will tell you on the label how often they recommend you use it.
However, rather than going by the label or the rules-of-thumb we've given you, you should listen to your skin. If your skin is really dry and tight after using a mask, then you probably shouldn't use it more than once a week. On the other hand, if your skin is more resilient and tends to produce a lot of oil, you may be able to use a clay mask up to three times per week.
Can I Use It As a Spot Treatment?
If you're not able to use a mask as often as you'd like due to dryness or sensitivity, you're not completely out of options. You can use masks as spot treatments, instead.
After you wash your face, dab your favorite mask onto any spots you're hoping to diminish. Leave it on for 10-15 minutes (based on your mask's instructions) and then wash it off.
You can do spot treatments more often than a full mask because you'll be targeting specifically sebaceous areas and won't be drying out the entirety of your face with overuse. Still, understand that irritation can happen when a mask is used too frequently on any part of your face, and don't be afraid to apply a moisturizer afterward.
Do I Still Need to Cleanse?
You may be thinking that since all of these masks claim to remove dirt and oil, you do not need to cleanse your skin. However, this is not true. In order to get the best results, you should cleanse your skin before using the mask.
Cleansing the skin will remove any makeup or dirt on the surface of your skin so that the mask can do a better job getting into your pores. If you find that cleansing and using a mask is too drying for your skin, try using micellar water instead of a traditional soapy cleanser.
You should also use a cleanser on the days you aren't applying the mask to help prevent dirt and oil from clogging your pores and causing acne.
Clean As Mud
Supermud is an amazing clay mask, but it's pricey. The reality is that clay is cheap, so it's possible to formulate a great clay mask at a fraction of the cost. That's why it's no surprise that we found so many amazing GlamGlow Supermud dupes! We hope we helped both your skin and your pocketbook with our selection.