If you're looking to make a statement, what's a better way to do it than by rocking a blue hairstyle? Blue hair is becoming increasingly trendy these days, and with a range of colors out there from pastel "mermaid" blue, to dark, mysterious midnight blue, you are sure to find the perfect dye to express yourself.
Whether you just want a temporary dye to experiment with blue coloring, or you want permanent dye to solidify your commitment, there is guaranteed to be a brand and shade out there for you. We know it can be hard to narrow down the choices and select the one that will suit you best, so we've decided to help out with a list of the best blue hair dye products available. Read on to find out our top picks and learn some of our colored hair care tips.
How to Choose a Blue Hair Dye
When looking for a blue hair dye, there are a few factors, such as shade and longevity, that you should familiarize yourself with to ensure you pick the correct product.
Types of Dye
The type of dye you use determines how long color will stay in your hair. Different dyes have vastly different time-lengths and chemical properties; knowing which types are out there will help you select the best one for your hair.
Temporary
Temporary hair color has an instant effect, but will rinse out on the first shampoo. It coats the hair in color without lightening or darkening the original hair in any way. You can use temporary hair dye to create designs, cover up grown out roots, or test out a hair color before committing to a more permanent dye.
Semi-Permanent
Also occasionally referred to as a "direct dye," semi-permanent color is gentle, typically ammonia-free, and does not need to be mixed with a developer. This type of dye is deposited onto the surface of the hair, altering the overall tone without entering the hair shaft. It will not lighten your hair.
You can use this type of dye over blonde or lightened hair, or over faded hair dye. It can be put over darker hair, but the results may not be as bright, or may not appear at all. Semi-permanent dye can also correct highlights or hair that has become brassy.
Depending on your hair care routine, this type of dye can last anywhere between 4 and 12 shampoos before fading.
Demi-Permanent
Demi-permanent dye has a low-ammonia formula. It is usually paired with a low-volume developer. It gently opens the surface cuticle of your hair and allows dye to slightly penetrate into the hair shaft. This type of dye can darken the hair or change its tone, but it will not lift or lighten hair color.
You can use demi-permanent color to enhance natural color, darken or lowlight hair, color blond or lightened hair, and correct off-tone hair. It is a great option for someone who has never colored their hair before since it does not do as much damage as a permanent dye would, and fades naturally. It can last between 12 and 24 shampoos before it begins to wash out.
Permanent
This is the strongest type of hair dye. Permanent hair color is mixed with developer to completely open the cuticles that cover the hair shaft. The color is deposited deep into the hair, and then the cuticles reseal, keeping the color in. This type of dye causes the most damage to your hair.
Permanent hair dye will never fade. You will be able to see the difference between it and your natural hair as your hair grows out. It can lighten and darken hair, change the color of hair, and completely cover grey.
Shade
Shade is one of the most important things to consider in your hair dye. Blue dyes can range from dark, inky blues all the way to pastel baby blues. With some brands, like the long-lasting Manic Panic and our best overall pick Arctic Fox, you can mix multiple colors together to create your own unique blue shade.
When picking a shade, make sure to compare your original hair color to any swatches provided with the dye to ensure it will end up the color you want. Keep in mind that your hair will likely be a shade or two darker than the color pictured, and that blonde or pre-lightened hair will hold the most vibrant color. If you have dark hair, you may want to consider first lightening your hair with bleach to achieve your desired look.
Developer
Only permanent and demi-permanent dyes require a developer. A developer is part of the chemical process that helps the dye to penetrate the hair shaft, creating lasting color. Box dye will often come in a kit that includes developer, but if you buy a professional dye, you will probably need to purchase a developer separately. We cover different types of developer later on in our guide.
You now have an understanding of what to look for in a blue hair dye, so let's head straight into our top 10 picks!
Top 10 Best Blue Hair Dyes 2023
1.

Best Overall Dye:

Arctic Fox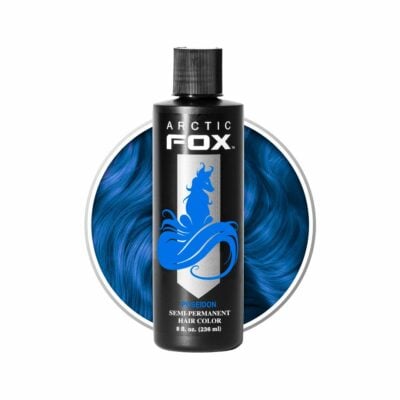 Why we like it:
Arctic Fox has long been a fan favorite for anyone who regularly dyes their hair. Each color is vibrant and mixable, so you're sure to get the perfect color with every use.
Editor's Rating:
At a Glance:
Type of Dye: Semi-Permanent
Shades Available: Poseidon, Aquamarine, Blue Jean Baby, Periwinkle
Developer: Not Needed
Arctic Fox has grown in popularity over the years due to its vegan formula and charitable cause; 15 percent of all profits are donated to preventing animal cruelty. This makes it a good choice for someone who prefers to support cruelty-free products.
Each of the colors are combinable, making it especially DIY-friendly. You can mix and match colors to get the exact shade you want. It is also designed to fade in the "original color spectrum," meaning that instead of losing color completely, the dye will fade to more pastel versions of the original color over time. This is great for anyone who wants to wear their blue for as long as possible.
It smells better than most of the dyes out there on the market. Instead of a strong chemical smell, it has a pleasant fruity-grape scent to it. If you are sensitive to odors in your products, Arctic Fox is a good choice that won't overwhelm you.
Unfortunately, this dye can stain extensively, even after the first wash. If you frequently touch your hair when it is dry, there is a chance that the color will transfer to your fingertips. If wet dye is dropped onto porcelain or tile, it will be extremely difficult to remove, and your hands and skin may also become stained for several days after use. For a dye that is easier to remove from surfaces and skin, check out Celeb Luxury Viral Colorwash.
Pros
DIY-friendly

Designed to fade well

Pleasant scent

15 percent of profits donated
---

Why we like it:
An award-winning brand with highly pigmented shades, PRAVANA is a great choice for anyone looking to achieve bright, salon-style color at home.
Editor's Rating:
At a Glance:
Type of Dye: Semi-Permanent
Shades Available: Blue
Developer: Not Needed
PRAVANA ChromaSilk Vivids has been around for over 14 years and has won awards for their highly pigmented colors. If you are looking to express yourself through a bright, vibrant blue color, this is the brand to go with.
The formula for this dye has added silk and keratin proteins. These additions help strengthen hair against the damage that most dyes incur and leave your hair feeling soft after use. For anyone with dry or coarse hair, this dye is a good choice. It will help soften and tame your hair as you color it.
PRAVANA does tend to wash out fairly quickly. You can extend the life of your dye by shampooing less and substituting dry shampoo in between hair washes. If you want a more long-lasting dye, we recommend Manic Panic Amplified.
Pros
Very pigmented

Added silk and keratin protein

Award-winning hair care brand
---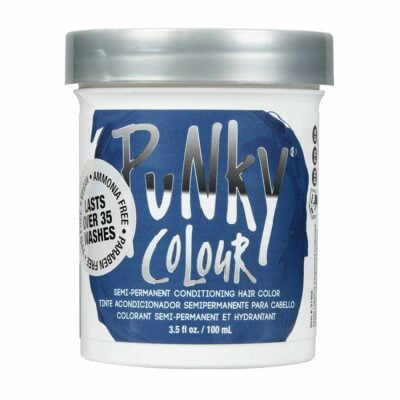 Why we like it:
Punky Color can dye all kinds of hair types and textures, even working on hair that hasn't been pre-lightened. A little goes a long way with this dye, making it our best budget option.
Editor's Rating:
At a Glance:
Type of Dye: Semi-Permanent
Shades Available: Atlantic Blue, Lagoon Blue, Midnight Blue, Turquoise
Developer: Not Needed
This dye can be used on all hair types and textures. On bright blonde or bleached hair, the blues will appear bright. When used with darker or unlightened hair, the dye will deposit blueish tones throughout. It is a good choice for anyone who wants to add some subtle color to their hair without bleaching.
The conditioning formula can benefit all hair types. It is alcohol and paraben-free, so it won't dry your hair out with each use. This makes it a good choice for someone prone to dry hair or anyone with coarse hair.
Though the bottle is only 3.5 ounces, it can completely cover most lengths of hair, and you might even have some left over for touch-ups. Make sure you properly store any extra dye to avoid compromising it. You can look at our guide below for storage tips.
Keep in mind when purchasing Punky Color that the shades are not as true to color as other brands. The blues are slightly darker than what is pictured, so if you are looking for a more true to color formula or bright pastel blues, we recommend looking at Creative Image's Adore dye.
Pros
Works on all hair types and textures

A little goes a long way

Alcohol and paraben-free

Conditioning
---

Why we like it:
True to color and easy to apply, Creative Image's Adore color line has all the shades of blue you could ever want.
Editor's Rating:
At a Glance:
Type of Dye: Semi-Permanent
Shades Available: Luxe Blue, Powder Blue, Baby Blue, Sky Blue, Royal Navy, Ocean Blue, Sapphire Blue, Indigo
Developer: Not Needed
Creative Image Adore has multiple shades of blue to choose from, several more than other brands. The colors range from pastel blues to darker, navy blues. Every dye is true to the color pictured on the box, making this a perfect choice for someone who wants a diverse selection of blues to dye their hair with.
The texture of Creative Image is more gel-like than other dyes; it is thinner and easier to apply, especially over long hair. It is a good option for anyone with long or curly hair, since you will be able to easily manipulate it to cover every strand.
This dye only really works well on pre-lightened hair. It might deposit slight color or highlights in darker hair, but you will not end up with a distinctive blue color. If you want a dye that will leave more color on darker hair, look at Punky Colors.
Pros
Very true to color

Multiple blue shades to choose from

Easy to apply gel texture
Cons
Only works well on pre-lightened hair
---

Why we like it:
Another favorite among dye enthusiasts, Manic Panic Amplified provides long-lasting, vibrant colors for those committed to their blue hair.
Editor's Rating:
At a Glance:
Type of Dye: Semi-Permanent
Shades Available: Blue Moon, Atomic Turquoise, Bad Boy Blue, After Midnight, Voodoo Blue
Developer: Not Needed
Manic Panic Amplified offers a 30 percent longer lasting formula when compared to their original color formula. Every blue in the color line is bright and super vibrant, and will last up to 8 weeks before fading as long as it is cared for properly. This makes it a great choice for anyone who knows they want their blue hair to last for as long as possible.
This product is vegan and cruelty free, similar to our best overall dye Arctic Fox. Manic Panic is also virtually fragrance-free. You may smell a light grapefruit scent, but it has none of the harsh chemical smell that often accompanies hair dye. It is a great option for anyone sensitive to strong odors.
The bottle can be hard to squeeze, so when dyeing your hair, it is better to first portion your dye out in a separate container, instead of squeezing it straight from the bottle. You might also need several bottles of this dye to fully saturate your hair, especially if your hair is on the longer side.
Pros
Virtually fragrance-free

Very vibrant

Long lasting color
Cons
Need several bottles to dye hair

Hard to squeeze bottle
---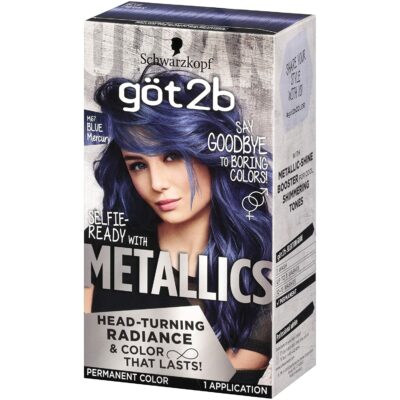 Why we like it:
For anyone looking for a metallic blue, Got2b Metallic dye will give you the shimmering, cool blue tones you desire.
Editor's Rating:
At a Glance:
Type of Dye: Demi-Permanent
Shades Available: Blue Mercury
Developer: Needed
If you're looking to blend either natural or dyed grey hair, this is the dye to have. The metallic undertones work fabulously with grey, covering them up with a metallic shimmer. A metallic shine booster is included in the kit, so your hair will be shining no matter what. This makes a good choice for someone who doesn't want a bright blue, but still wants head-turning color.
The color in this dye is multidimensional. It works well when used on hair that has been previously highlighted or has natural highlights; it deposits a range of color so your hair looks vibrant and natural after dyeing, instead of flat.
Got2b does not work very well on previously colored hair. If you are planning to use it over old blue hair, or even dyed blond hair, there is a chance the color will not take. It also doesn't fade well; the color loses its blue fast and you will likely end up with grey hair after a few washes. For a dye that fades extraordinarily well, check out Arctic Fox.
Pros
Includes metallic shine booster

Works well on grey hair

Multidimensional color
Cons
Cannot use on previously colored hair

Does not fade well
---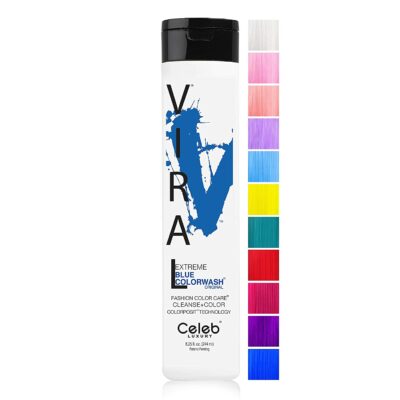 Why we like it:
Great for keeping your hair looking vivid between dyes or creating a new look, Celeb Luxury Colorwash is beneficial for anyone who wants consistently bright hair.
Editor's Rating:
At a Glance:
Type of Dye: Semi-Permanent, Color Depositing Shampoo
Shades Available: Blue, Denim, Pastel Baby Blue
Developer: Not Needed
Unlike other dyes on our list, Celeb Luxury Colorwash is meant to be used as a shampoo. It is formulated with "colorposit" technology, which allows it to clean hair while adding color. It works best on light hair, but darker hair will still pick up the blue. The more days in a row you use it, the more intense the color. It is a good choice for anyone looking to brighten up their faded hair dye, or anyone who wants to ensure their hair stays consistently vivid.
Because Colorwash is a shampoo, it does not leave stains everywhere. It will rinse off of your skin and tub easily, making it a good choice for anyone who doesn't want to worry about lots of mess. It is also very easy to use. Instead of having an entire hair dyeing operation set up, you can simply shampoo with the color wash and emerge from the shower with brilliant blue hair. It is fade-free because you can constantly wash with it when you want to refresh your color.
This product may end up drying out your hair with prolonged use. It is a shampoo, and constant cleansing of hair can lead to breakage and frizz. You can counteract this by using it sparingly, and making sure to condition your hair after each use. If you have very dry or curly hair, you may want to look at the conditioning PRAVANA instead.
Pros
Does not leave stubborn stains

Simple dye process

Fade-free

Increased use gives more color intensity
---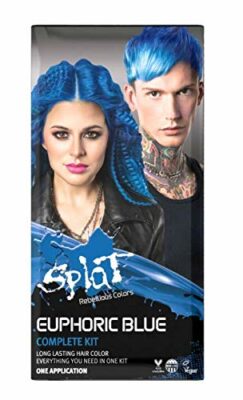 Why we like it:
This complete box dye kit comes in several rich blue colors and has added quinoa extracts to protect hair from excessive damage.
Editor's Rating:
At a Glance:
Type of Dye: Demi-Permanent
Shades Available: Euphoric Blue, Blue Envy, Aqua Rush, Vibrant Blue
Developer: Needed
This is a complete hair dye kit that includes bleach and developer, plus gloves and dye. It is a great choice for anyone who doesn't want to waste time searching for and purchasing ingredients separately. The dyes are very rich, deep blues, which is a bonus if you are looking to stay away from bright blue or pastel colors.
Baobab seed oil and quinoa extracts are added to help protect the hair. The coloring process can be very damaging to the hair, so these ingredients, plus the ultra-conditioning formula, helps to soften hair. This is a good choice for anyone who has previously colored their hair, because further damage will be minimized when using this kit.
You must bleach your hair for this dye to show up properly. There is bleach and developer included in the kit, but it may be too strong for certain hair types. If you don't want to bleach your hair, we recommend going with one of Manic Panic's dyes that can show up on darker hair.
Pros
Full hair dye kit

Baobab seed oil and quinoa extracts

Rich colors
Cons
Must bleach hair for bright color
---

Why we like it:
L'Oreal Paris Colorista Spray is perfect for trying out the blue trend or getting creative as you craft colored designs on your hair.
Editor's Rating:
At a Glance:
Type of Dye: Temporary
Shades Available: Blue, Pastel Blue
Developer: Not Needed
For anyone who isn't quite ready to commit to blue hair, L'Oreal's Colorista Spray holds the answer. It is a temporary dye that you can spray onto your hair, and it will be gone as soon as you wash your hair. It does not damage, lighten, or alter your hair in any way, and bleach is not needed to make the color stick.
You can easily customize your look with this dye. The spray makes it easy to select individual strands and color them, leading to unique hair designs. This product is a great choice for anyone who wants to be creative with their hair.
The spray can get a little messy. You definitely want to cover any nearby surfaces when using, and wash it off your skin immediately to prevent staining. Be sure to let it dry on your hair before touching it to prevent any of the dye bleeding off.
Pros
No long-term commitment

Customize your look

No bleach needed
---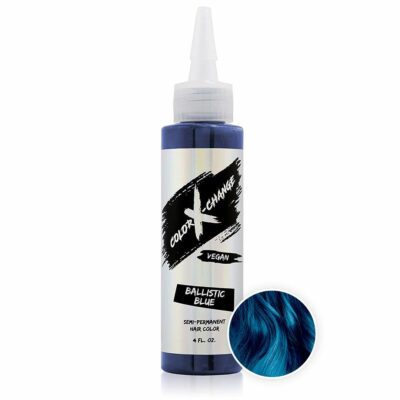 Why we like it:
Featuring an easy to use dye bottle and shine-enhancing formula, Color X-Change is a great choice for beginners to blue hair dye.
Editor's Rating:
At a Glance:
Type of Dye: Semi-Permanent
Shades Available: Ballistic Blue, Mood of Blue, Tropical Turquoise
Developer: Not Needed
The top of the Color X-Change bottle has an easy to use squirt tip, perfect for helping to dye sections of hair. The bottle squeezes easily, and all the dye is premixed with a shine-enhancing formula. All you have to do is shake it and begin to dye. It makes a great choice for beginners to dyeing their hair.
The formula in this bottle is PPD-free. PPD stands for paraphenylenediamine. It is an ingredient commonly found in darker hair dyes to increase the longevity of the color. However, PPD can cause a range of skin irritations and allergic reactions. Anyone with a known allergy or sensitive skin should be avoiding this ingredient, and can safely use Color X-Change.
This dye does fade out fairly quickly. Be prepared to recolor it often if you want your hair to stay consistently blue. You could also use a temporary color like L'Oreal Colorista Spray to boost your color between dyes.
Pros
Easy to use dye bottle

Shine enhancing color

PPD free
---
Your Full Guide to Blue Hair Dye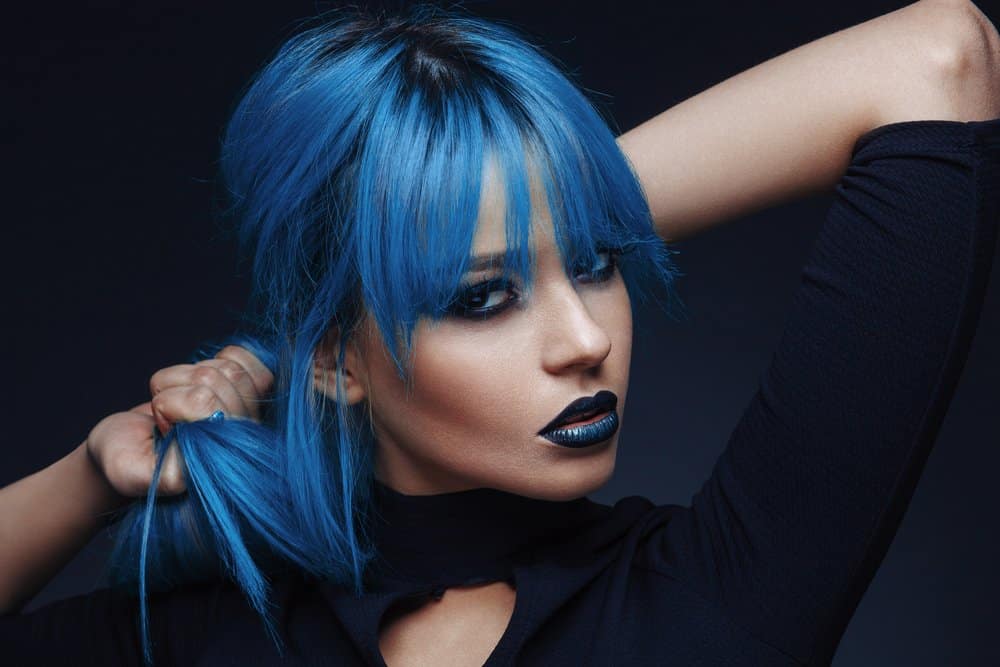 Dyeing hair can be a complicated process. You want to be sure that everything goes right so you aren't left with a horror story of a hair-do. Thankfully, we've collected some tips and tricks to help guide you on your journey to flawlessly colored hair.
Box Dye vs Professional Color
There are many options found on both sides when discussing box dye and professional hair color; both items have religious followers and their own pros and cons.
Box Dye
Box dye can be found in beauty stores or the hair care aisle of supermarkets and drugstores. It comes in a complete kit, and can be a great item for quickly and cheaply touching up roots or covering greys. The more intense colors offered in box dyes usually require hair bleaching, which is the drawback to this item. Bleaching is an elaborate process, and box dyes often use the strongest available bleaches and developers to tailor their products towards a one-size fits all method. It is very easy to unintentionally damage your hair with box dye.
Professional Color
Professional hair colors are sold separately from any bleaches or developers. They are typically more expensive than box dyes, especially if you are also purchasing bleach and developer, but they do provide a wider range of colors. If you have a good idea of your hair level and don't mind the extra effort of selecting your dye products individually, professional color might be a better all-around dye choice.
Hair Levels
Hair stylists have a level system for categorizing hair colors. Level 1 hair is going to be the darkest black, with level 10 being a light, almost white, blonde. Each level also has underlying tones and pigments.
Understanding the level system is a great idea if you love DIYing your hair color. It will help you to determine exactly how many shades your hair can be safely lightened and let you make informed decisions about what coloring products to purchase.
How to Dye Your Hair
Dyeing your hair can seem like the most difficult thing in the world to do, especially if you've never done it before. Below, you can read some basic guidelines on the dyeing process. Always be sure to read the instructions and do a patch test of your dye before applying anything to your hair.
Starting Color
Determine what level of hair you are starting with. This will give you a good idea of which color dye you should be buying and what it will look like on your hair. Color will always appear brighter on hair that is light.
Bleaching
If you are going for a bold, vibrant look, you will need to first bleach your hair. For box dyes, follow the instructions that came with the box to bleach your hair. If you are planning on using professional color, you can read this article about bleaching hair and look at our section below on choosing developer to get started.
Dye Application
For the main dye application, you are going to want to section out your hair. This allows you to really reach every strand and fully saturate it with dye. Don't be scared of applying too much dye; if you think it is too much, it's probably just enough.
Use gloves or a coloring brush to cover the entire area you want to dye, then let it sit according to your dye's instructions. When finished, rinse until the water runs clear, dry your hair, and enjoy your new look!
When to Bleach Your Hair
Bleaching your hair should be done as infrequently as possible. The process is very damaging to your hair, and if you use a lot of bleach over a short time frame, you run the serious risk of your locks breaking, snapping off, or sustaining chemical burns to your scalp.
That being said, when used sparingly, bleach is very effective at lightening hair, so you can apply bright colors to it. If you have dark hair and are after a vibrant, stunning blue, you will likely need to bleach your hair before dyeing it so the color can show up properly.

Choosing Developer
Developer is an essential part of the bleaching process. You must mix developer with bleach, usually in a 2-to-1 ratio, in order to make the bleach work. There are 4 different volumes of developer to choose from.
Level 10: This is the lowest volume of developer. It can lift your hair approximately one shade, and is good for thin or fine hair due to its low intensity.
Level 20: Changes your hair 1 to 2 shades. It works well with thicker hair.
Level 30: This can lighten your hair 3 to 4 shades. It is a better option for anyone with naturally darker hair or box-dyed black hair.
Level 40: Level 40 is the strongest available. It is recommended that you try not to use this at home due to the risk of damaging your hair. It is used to lighten very dark, stubborn hair.
Often times, professional hair color will not come with a developer and you will have to purchase it separately. Box dyes, like Splat, typically include bleach and developer as part of the kit, but you may not know what volume of developer is being used. If you have especially dry or sensitive hair, you might want to stay away from box dye to avoid any risk of hair damage.
Does Blue Hair Fade Fast?
Blue hair dye is notoriously fast-fading. Within a month, your hair could be looking more green than blue. If you want to upkeep your blue hair between dye jobs and make sure it stays vivid, you can add a little dye into your conditioner, or use a premade colorwash like Celeb Luxury Viral Colorwash.
Storing Unused Dye
As long as you haven't mixed your dye with anything, you can store it for later use. The best way to do this is to keep the bottle in a cool, dark place away from anything that could potentially drip on it. A dye like Color X-Change that is in an airtight, plastic bottle is the best for storing. The unused dye can last for several years, but be sure to check for signs of expiration before reusing it.
If your dye has already been mixed with something like peroxide, you cannot store it. The chemical reactions have already happened, and using the mixture at a later date will likely damage your hair. The safest thing to do in this case is dispose of the dye.
Homemade Hair Dyes
Hair dyes can often be created from household items, such as food coloring and Kool-Aid. These types of dyes are temporary, but last longer than a dye like L'Oreal Paris Colorista Spray. They are not harmful to your hair since they are chemical free, and they can be a good way to test out colors before purchasing a real dye.
Remember when dyeing that the colors will appear brighter on light hair than on dark hair.
Using Drink Mix
A drink mix, like Kool-Aid or Gatorade powder, is one of the most popular ways to dye hair at home; the ingredients are easily accessible, and it is a simple process.
Collect your drink mix packets. The more you have, the richer the color. You will also need conditioner and a small bowl.
Add the drink mix packets followed by half a cup of conditioner. For a more pastel color, use less drink packets and more conditioner.
Mix the ingredients thoroughly.
Apply to hair either using a paintbrush or your hands. Be sure to soak each strand and apply it as evenly as possible to avoid creating a streaky look.
Leave the mixture in your hair for several hours, then rinse with water and towel dry. To extend the life of your dye, wait several days before shampooing.
This video can help guide you through the steps of this process.
Using Food Dye
If you are using food dye to color your hair, you can follow the steps above with one change. Instead of mixing drink mix and conditioner together, pre-portion your conditioner out into a bowl and add drops of food dye, stirring until you reach your desired color.
When you have the color you want, you can then apply it to your hair and follow the rest of the steps above.
Colored Hair Maintenance Tips
Once your hair is dyed, there are several things you can do to help make the color last longer, and repair any dryness or damage caused by the dyeing process.
After coloring, try to wait 2-3 days before shampooing. Waiting allows more time for the color to fully soak into the cuticle, and can give you a longer lasting dye.
Use sulfate-free hair care products. Sulfate strips dirt and oils from your hair in order to clean it. When your hair is colored, it will also strip away the dye, leaving you with hair that turns dull and fades fast.
Add dye to your conditioner, or use a colorwash such as Celeb Luxury. Doing this will help boost your color and keep your dye looking fresh.
Try not to use very hot water. The heat from the water will open the hair cuticle, allowing color to slip out with each shower. If you can tolerate them, cool showers are the best for dyed hair, but warm (not scalding) showers can be ok too.
The Blue for You
The hunt to find the best blue hair dye is not an effortless one. It can be especially hard to decide when they are so many different types of dye and fabulous blue colors out there. The simplest way to select a dye is to keep in mind how long you want the dye to last and the shade you are looking for. We hope this list has made your decision easier, and that you will soon find the perfect blue for you!