We've all seen gorgeous henna body art at weddings, holiday celebrations, and festivals. Western celebrities have also been seen sporting it on the red carpet as a fashion statement. For centuries, though, henna leaf powder has also been used to pigment and condition hair. If you're looking for an alternative to harsh chemical dyes, henna is a great option to consider.
Historical records suggest that the earliest use of henna could go back as far as 9000 years in what is now modern-day Pakistan. Its use as a dye and therapeutic treatment spread throughout Africa, Asia, and the Middle East. Cleopatra herself wore henna decoration. Henna's popularity as a beauty product still endures today and there are plenty of options to choose from when it comes to henna dyes.
In this guide, we'll answer all your questions about what henna is, how best to use it, and give you a list of our top picks for the best henna hair dyes on the market.
What You Need to Know About Henna Hair Dye
Before we dive into our product reviews, we'll explore what henna is and how to choose the right option for you.
What Is Henna?
If you go into the henna dyeing process expecting it to be like a chemical hair dye, you'll probably end up confused and disappointed. Traditional hair dye causes a chemical reaction in your hair cuticle. It will change the color of your strands and must be grown out or bleached out.
Henna works by bonding with your hair's natural keratin and stains your hair. This means that the color will evolve over time and will eventually fade out. It also will not erase natural tone variations within your hair. This means that henna looks more like natural hair color, reacting with the lighter and darker strands your hair has rather than applying a blanket of solid color.
Henna cannot darken or lighten your hair, but rather reddens and warms whatever shade it naturally is. Some fans of henna will refer to its effect as the "henna glow." Its warm tones and conditioning effects can give a bright and shining, or glowing, appearance to your hair.
Why Should You Use a Henna Dye vs. a Standard Dye?
Many modern hair dyes have strong chemical additives that can cause irritation. Studies have suggested that there may be long-term health implications to some of those synthetic ingredients as well. People who are often exposed to hair dye have a higher risk of certain cancers. If you're sensitive to hair dye or just want to avoid potentially risky chemicals, henna dyes are a great alternative. Pure henna is considered the safest hair dye option available.
Also, synthetic hair dyes are known to cause damage to your hair. Professional hairdressers will often recommend special moisturizing treatments for color-treated hair for this reason. Henna, however, is a natural conditioner. Some users find that it can help thinning hair appear thicker and that it can condition hair, improving shine and strength.
Important Factors to Consider in a Henna Hair Dye
To make sure you're choosing the perfect henna hair dye for you, keep these important considerations in mind.
The Color of the Henna Hair Dye
Henna leaf naturally pigments hair with a red tone, but some brands of henna come in different shades. This can be achieved by combining the henna with other herbs. For brown and black shades, henna can be combined with Indigofera, or "true indigo," which is a blue-black pigment. Several of the hennas on our list have other plant-based ingredients added to the mix to create different shades.
Other dyes, salts, and chemicals can be added to henna as well. Some of these additives can be irritating to your scalp, so proceed with caution when it comes to blends. If you're looking for a natural alternative to commercial hair dyes, then choosing a henna formula with synthetic additives is counter-productive.
Some users will also "hack" or customize their henna by adding extra ingredients that can affect the shade. For more information about popular henna additives, see how to customize your color later in this article.
Powder vs Cream Henna Hair Dye
Unlike most hair dyes, henna typically comes in powder form. This is because henna needs a curing process in warm water for the best color results (more on that later). Keeping it in its powder form until just before using it ensures that it will be at its peak performance when you apply it.
While we do include one cream dye in our recommendations, it is also the least natural option on our list. Cream dyes may have greater convenience, but you have to sacrifice purity in exchange for speed.
It may be an adjustment to prepare your own hair color, but it puts you in control of your experience. You become an active participant rather than just a consumer. If you're serious about avoiding potentially harmful ingredients and allergens, it's definitely worth it to stick to purer options. Besides, you may even find it fun to mix your own henna and even customize your own personal formula.
There are so many henna options on the market; some are just pure henna powder, while others have additional coloring and conditioning add-ins. Sometimes the differences can be subtle but armed with the right information, you can choose the henna that will work best for you.
Top 10 Best Henna Hair Dyes 2023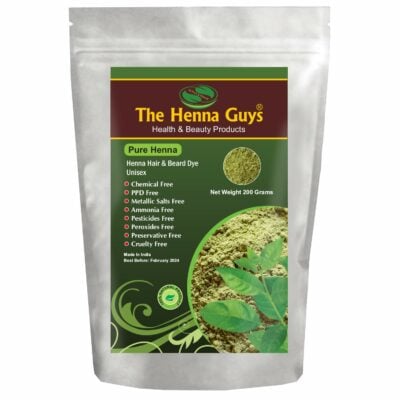 Why we like it:
The Henna Guys offers pure, high-quality henna as well as herbal henna blends.
Editor's Rating:
Quick Facts
Style: powder
Organic: yes
Colors: natural red, shades of brown and red
Product Overview
This triple-sifted henna powder makes a smooth and easy to apply paste that even a henna-newbie can feel confident about. Their pure henna from India gives vibrant results in that classic henna red. However, Henna Guys also offers a few blends.
They use other clean herbal pigments along with henna to achieve shades like dark brown and deep red. Whether you stick to the pure henna powder or try one of the blends, the product is consistent and reliable. No harsh chemicals or fragrances that may irritate are added to any of their dyes.
The henna isn't body grade and won't stain deeply enough to make a long-lasting henna tattoo. On some hair types, it may be a more subtle shade. You can apply multiple applications over the course of several weeks to progressively deepen the color and zero in on the exact shade you'd like.
The Company
The Henna Guys are committed to providing safe pigments for hair, beards, and skin art. Not only do they have a wide range of henna-based products, but they also have other herbal hair treatments, shampoos, and conditioners. Their products are raw, ethically sourced, and guaranteed to be vegan and gluten-free. They are also cruelty-free.
Included with their hair dyes are gloves, a cap, and written instructions. This is a thoughtful touch that gives you one less thing to worry about when preparing your henna.
Who It's For
This is a great choice for almost anyone. If you're new to henna and want a product you can count on to give you good results and be non-irritating, we recommend trying The Henna Guys. If you want to branch out to other pigments, they have good color options with high-quality ingredients to create their all-natural dye.
If you're looking for a one-stop-shop for herbal hair products, you can explore their other hair care options that are intended to moisturize, thicken, and support a healthy head of hair. You can maintain your henna glow with their full range, or just enjoy their dyes and stick to your everyday products.
Pros
Raw, vegan, and gluten-free

Smooth and triple-sifted powder

Available with other herbal pigments

Ethically sourced
Cons
Not body art quality

May take several applications for vibrancy
---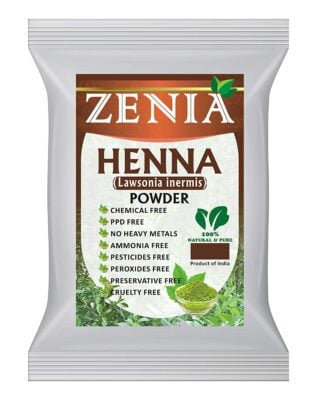 Why we like it:
This powder packs a huge color punch and is easy to customize with other Zenia pigments.
Editor's Rating:
Quick Facts
Style: powder
Organic: yes
Colors: natural red
Product Overview
This is BAQ, or body art quality, henna. That means it's especially deeply pigmented and will create a smooth paste that's easy to wash out of your hair (not leaving little bits stuck between your strands). The pigment is particularly strong and bright whether you use it for body art or as hair dye. It has more of a dark red, burgundy color than some coppery hennas, like our pick from Mi Nature.
For people who want to create different shades or customize their hair treatments, Zenia offers other natural herb powders you can blend with your henna or use separately. Common color additives like indigo for brown and black shades and amla for deep conditioning can be purchased through the company. Using henna followed by indigo is recommended for covering grays in darker hair, and the company offers a combo pack of henna and indigo that many people use exactly for that.
The Company
Zenia Herbal prides itself on offering a range of high-quality herbs and treatments for hair and skin. They source products from all over the world and actually list what year their henna crop is from on their website. You can be certain that it hasn't been in a warehouse gathering dust for years and losing potency.
The company also maintains a blog full of recipes and application tips for their products. It's a great resource for ideas for your next at-home spa day. The company does not offer vegan, gluten-free, or a cruelty-free guarantee on their products, however.
Who It's For
Even though it has a somewhat higher per-ounce cost than many other henna powders out there, it's a great choice if you want a truly vibrant pigment. The body art quality of this henna ensures a good texture and long-lasting stain. It's also great to keep on hand if you do henna body art as well.
For more experienced henna users, this company helps put customization in your hands. Instead of selling pre-blended pigments and herbs, you can purchase your own henna additions and henna supporting herbs. Then you can find your own custom blend that suits you best. For chemistry lovers and DIY fiends, this is the perfect option.
Pros
Body art quality henna

Strong pigment

Easy to customize with other herbs
Cons
Some may not like the burgundy shade

Lacks gluten-free, vegan, and cruelty-free certification
---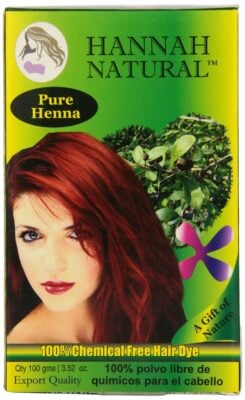 Why we like it:
A no-fuss pure henna powder with a bright tone.
Editor's Rating:
Quick Facts
Style: powder
Organic: no
Colors: natural red
Product Overview
This 100% henna leaf powder is intended for hair treatments. It has an earthy smell that isn't as strong as some henna powders, and it rinses out easily. The tone of this henna tends to be bright and orangey after the initial application, but for most people, it will settle into a softer red after a few days and a few washes.
The quality of the henna is good, though perhaps not quite as smooth as the triple-sifted powder from The Henna Guys. As a pure henna product, it has some strengthening and conditioning properties for your hair, and you have the option of customizing it with your own add-ins if you choose.
The Company
Hannah Natural doesn't have much of an online presence. Their henna leaf is sourced from India, and they have other all-natural hair dyes available that use indigo for pigment. They haven't expanded their line to anything else, just sticking to their natural hair dyes.
Their company mission is to create a more "natural world," and their Facebook page has updates about product availability as well as links to information about the health repercussions of chemical products.
Who It's For
If you're looking for a simple henna dye at a moderate price, Hanna Natural is worth checking out. The company doesn't bother with fancy packaging, ad campaigns, or social media; they just focus on creating a consistent product.
If you want a basic henna experience, try this one out, though be aware that it may have more of an orange tone than some henna powders. For darker hair, this can give a glowing effect, but on very light hair it can give a carrot-top effect.
Pros
Rinses out easily

Mild smell

Naturally conditions your hair
Cons
Can have an orange tone

Company has very little presence
---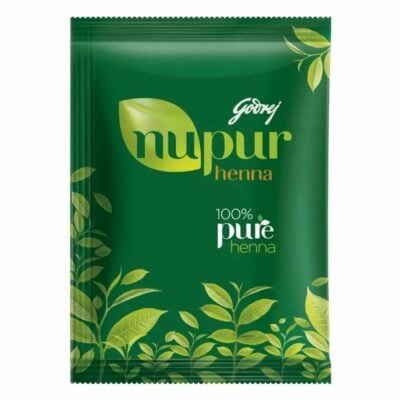 Why we like it:
This herbal henna-based blend has a ton of conditioning herbs and comes in at a lower price point than others.
Editor's Rating:
Quick Facts
Style: powder
Organic: no
Colors: natural red
Product Overview
Combining pure henna leaf powder with 9 herbs to treat your hair, Godrej Nupur's blend promises to condition and heal your hair. The blend is made up of brahmi, shikakai, aloe vera, methi, bhringraj, amla, neem, hibiscus, and jatamansi. The company states that these will not only help repair your hair, but will encourage thickness and growth, and help darken it.
Since this is a blend, it doesn't have as strong of a pigment as pure henna does. On your hair, it can range from strawberry blonde to burgundy depending on your original hair color. This is not body art quality and won't have the same vibrancy as other hennas, like our pick from Zenia. It's more like a tinted conditioning treatment than a strong dye.
The Company
Godrej Nupur was started in 1897 and exports its products directly from India. The company is well known for its body products like soap (which was one of its original products launched over one hundred years ago) and its air fresheners that are meant to be an alternative to traditional incense use.
Their henna is sourced directly from Rajasthan, India. Henna from that region is known to have more burgundy tones and be high-quality. They make no claims of organic or cruelty-free ingredients or products, though.
Who It's For
If your hair is damaged from years of harsh dye, chemical treatments, and heat, this may be a good choice. It has deeply nourishing and conditioning properties, though whether it actually helps your hair grow faster is debatable.
As far as color goes, this won't give you as intense of a pigment as pure henna, but it will tint your hair. If you would like to experiment with coloring in stages, this could be a good first step to treat your hair and add a bit of color. You could follow it up with a pure henna to deepen the color later.
Pros
All-natural herbal blend

Conditions and heals damaged hair

Mild hair tint
Cons
Doesn't have a strong pigment

Not pure henna leaf
---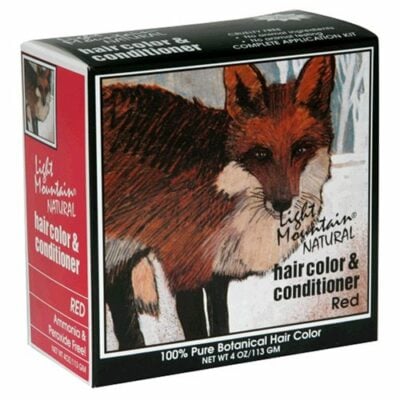 Why we like it:
This chemical-free hair dye is fair trade certified.
Editor's Rating:
Quick Facts
Style: powder
Organic: yes
Colors: natural red, shades of red and brown
Product Overview
Another pure henna option, Light Mountain's henna comes in a convenient 4-ounce size that's enough for multiple applications. Their henna is certified organic and fair trade certified. They also have pure herb blends formulated to create different shades or that are even specifically designed to cover gray hairs. It gives a gentle, non-irritating coverage and can help your hair look thicker and healthier.
This henna powder isn't body art quality like our pick from Zenia. It doesn't have the boldness of pigment that body art quality typically does. It's also not as smooth either. The paste can be a little harder to wash out because of the chunkier texture.
The Company
Light Mountain is a subset of Lotus Brands Inc. Lotus Brands was started in 1992 as a distributor of natural products. Light Mountain guarantees the purity of their products and tests them to ensure they're free from any impurities and chemicals.
Light Mountain develops close relationships with its growers to ensure all of the botanical ingredients are consistent and certified organic. The only four ingredients used in their hair colors are: henna, indigo, cassia, and amla. All their shades and even their gray coverage line only use these plants in various amounts.
Who It's For
For people who want better gray coverage from all-natural pigments, Light Mountain has great options for you. Their plain henna isn't particularly remarkable but their dedication to clean organic products is admirable. It's a reliable choice for pure or blended henna.
For henna-based dye that you can feel certain is safe, there are plenty of great options from Light Mountain.
Pros
Organic and fair trade

Convenient 4 oz size

Gray coverage formulas
Cons
Not body art quality

Thicker, chunkier texture is harder to wash out
---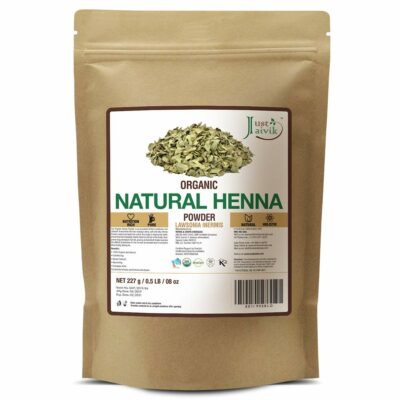 Why we like it:
A classic, organic henna powder option.
Editor's Rating:
Quick Facts
Style: powder
Organic: yes
Colors: natural red
Product Overview
This vegan and organic henna is sifted to a fine consistency. It blends to a reasonably smooth paste that's easy to apply. The instructions on the package state that it should be applied to dry hair, which is unusual, as most henna instructs you to apply it on wet hair.
This henna powder slowly changes from its natural green to red as it cures in warm water. It's meant to settle into a natural auburn shade within a week or so of applying it. For some users, though, it may look more orange and have difficulty settling into an auburn color.
The Company
Founded in 2013, Just Jaivik is a company out of Ahmedabad, India. Their henna powder has been certified organic by both the USDA and India Organic. They also guarantee that their product is entirely vegan.
Though Just Jaivik states they are "100% against" animal cruelty, they don't have a cruelty-free certification. The company sells a variety of herbal supplements and products. Their supplements for internal use and herbs for hair and skin are sourced from ethical producers worldwide.
Who It's For
For dark-haired people looking to get that "henna glow" in their hair and cover any sneaky grays, this henna will give good coverage. Lighter haired users may want to be a little more cautious if they are looking for a deeper auburn shade. On its own, this can give a more ginger, carrot-top tone to blonde hair.
The henna is easy to blend and use. It helps condition damaged and thinning hair while it tints, so if you're an avid user of heated hair tools, it can help restore the smoothness and shine of your hair.
Pros
Organic certified in the US and India

Can be applied to dry hair

Smooth and easy to apply
Cons
Not cruelty-free certified

Has strong orange tones on light hair
---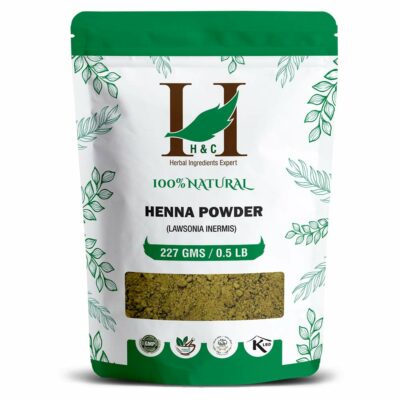 Why we like it:
A chemical-free and triple sifted henna powder at a lower price.
Editor's Rating:
Quick Facts
Style: powder
Organic: yes
Colors: natural red
Product Overview
Sold in a beefy half-pound quantity, this powder is enough for several applications to even very long hair and all the body art you desire. This henna isn't body art quality but has a darker pigment than some henna powders. This means that some users can create striking body art designs with it, though the package warns it's not recommended for use on skin. The blended texture of the henna paste can also have a slightly slimier texture than you see with other powders.
The darker pigment can give some hair colors more of a brown or purple-toned shade, rather than the classic copper that many associate with henna. Light Mountain's henna gives more of that traditional copper tone if that's more what you're looking for. This henna blends well with common add-ins such as acids, cassia, and amla for customizing your color treatment.
The Company
Based in Ahmedabad, India, H&C is an online herbal company. They sell botanical products worldwide via online outlets. Their company is dedicated to providing the tools people need to have a healthy life, mind, and body. Hair products are just a small part of their business.
The company offers bulk quantities of their organic herbs to consumers at reasonable prices. They also have an active social media presence, sharing sales and product information on Instagram, Twitter, and Facebook.
Who It's For
If you're looking for a more purple-toned henna, this can be a great option. It's plummier, and its browner notes make it less likely to have a carrot-top effect on light hair colors. It's also a good option as a base for other mix-ins to create a custom henna formula.
For a basic henna that doesn't have strong orange tones, this is worth trying out. It may not give you that coppery tone of other hennas, but it will give you the same conditioning properties you expect from henna.
Pros
Strong, dark pigment

Mixes well with custom add-ins

Good price per ounce
Cons
Slightly slimy texture

Missing traditional copper shades
---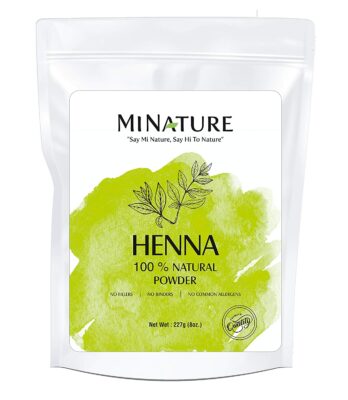 Why we like it:
This FDA-certified henna dye is easy to apply and offers a bold copper payoff.
Editor's Rating:
Quick Facts
Style: powder
Organic: yes
Colors: natural red
Product Overview
This is a smooth, finely ground henna leaf powder that evenly coats your hair. It creates a strong copper effect on light shades of hair. The company provides a handy guide showing how to blend it with different proportions of indigo to create brown shades as well. Of course, the exact shade will vary based on your natural color.
Some users may find the tone of this henna more of a saffron orange, rather than a burgundy-toned henna such as our pick from Zenia. This variation in the shade can be caused by where the henna was grown or simply the conditions of the year's crop.
It has a strong earthy scent and leaves your hair softer and smoother. It does have a slightly different smell than some other hennas which may just be because of the growing conditions, but for seasoned henna users, it can catch you off guard and make you a little suspicious that it's actually a blend.
The Company
Mi Nature doesn't have much of a presence online; they mainly sell through third party sites. However, they do have some information about their company and methods of production. Their product page has a good deal of helpful info for users. They provide a guide to different hair treatments you can create with henna. Recipes for deep conditioning and healing henna dyes are suggested to improve the quality of your hair and repair any damage it has.
Their henna is raw, vegan, and FDA certified. Their botanicals are processed in an FDA registered production facility in India. They guarantee that their henna is free from chemicals, metals, pesticides, and preservatives.
Who It's For
For a coppery henna that is easy to mix and apply, this is a solid choice. While Mi Nature may not be the most well-documented company in the business, their henna has a reassuring certification.
Their color guide helps you know exactly what to expect from this particular henna, especially if you want to customize your color with indigo. It also enhances the shine and strength of your hair as you would expect from fine quality henna.
Pros
A traditional copper henna shade

Color guide for adding customizing with indigo

Use in suggested recipes for conditioning treatments
Cons
More of a saffron, than burgundy tone

Somewhat unusual smell
---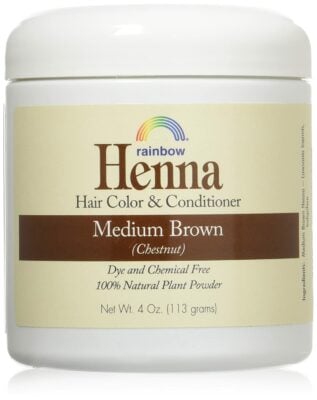 Why we like it:
Rainbow Henna has an extremely comprehensive range of botanical hair colors.
Editor's Rating:
Quick Facts
Style: powder
Organic: no
Colors: shades of red, brown, blonde, and black
Product Overview
Rainbow Henna is a health food store staple of henna hair dyes. Out of all the henna producers on our list, no one has color selection quite like Rainbow Henna. Their range of colors is achieved by blending natural henna with other botanical pigments like indigo, cassia, marigold, and other herbs.
By keeping their ingredient list free from chemical additives, Rainbow is a great resource for people looking for natural hair dye who don't want to go henna-red. It's more easily accessible than many henna brands as well and doesn't require any customizations on your part to create various shades; however, it's important to remember that their golden shades contain no bleaching elements, so they will not lighten your hair.
The henna has a strong, mossy scent and may not blend as smoothly as pure henna powder. That can make it a little harder to get even coverage and harder to wash out. Since they juggle so many different formulas to create different hair colors, you may have somewhat different experiences with different shades. Some will be less nourishing and conditioning, and some may not have as much gray coverage.
The Company
Since 1976, Rainbow has produced natural body products sold mainly in retail stores. Now, the company is expanding to online sales as well. And their products are vegan and cruelty-free. Though, they have no organic certification. In spite of the size of the company, their henna is made in small batches for quality control. They attempt to create a consistent product from batch to batch.
Rainbow also produces shampoos, conditioners, and other soaps. They have a line of gentle, natural baby products made with pure plant oils that are sold in BPA-free bottles. Rainbow's subsidiary brand Stony Brook Botanicals is their organic line of fragrance-free body products made for those with sensitive skin. Truly, Rainbow creates a wide range of health-conscious products.
Who It's For
If you're tired of chemical hair dyes affecting your health, but don't want to go red, Rainbow gives you a good range of other options. No need to look up formulas or make a mess with blending your own color either. You can choose one of Rainbow's preset colors just like you would any other hair dye.
It is a thicker, messier option than more finely sifted henna, so you'll need to take your time and be thorough. Otherwise, you could miss patches if you have thicker hair.
Pros
Great variety of colors

All-natural botanicals

Cruelty-free and vegan
Cons
Thicker and chunkier paste

Inconsistent hair benefits between colors
---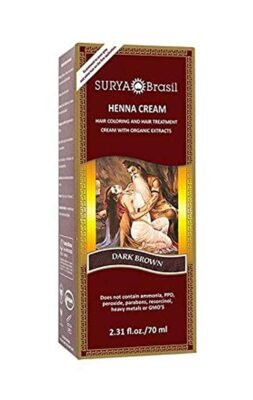 Why we like it:
This cream has all the convenience of chemical home hair dyes but without many of the dangerous ingredients.
Editor's Rating:
Quick Facts
Style: cream
Organic: no
Colors: shades of red, brown, blonde, and black
Product Overview
Unlike all the other hennas on our list that must be prepared from their powder form, this cream from Surya Brasil offers an alternative. The formula contains moisturizing and soothing compounds like aloe vera and arnica flower extracts.
The applicator bottle makes it easy to get close to your hairline when applying the dye. It also covers grays well. The amount of cream in the bottle is enough for two applications for most users, and it has less of the earthy scent that puts many people off henna.
While this dye leaves out many of the harmful chemicals found in other dyes such as ammonia, PPD, synthetic fragrances, and metals, it still has some ingredients that may cause irritation in sensitive users. Along with its botanical ingredients, there are solvents, alcohol, and even synthetic colors in the blend. Henna is further down the ingredients list than HC Red No. 3, which is puzzling. It's also not recommended for use on facial hair, including eyebrows.
The Company
Founded in Brazil by Cielia Angeton, Surya Brasil's says that its company mission is to be conscious about human and environmental health by creating natural products. They use different botanicals form all over the world to create various beauty products. The company has Eco Cert, cruelty-free, and vegan certifications behind it.
While their cream henna dye may not be the best example of their healthy and natural mission, they do offer powdered henna options that are far less questionable in their ingredients, but less convenient than their cream option. And their cream option is better than chemical at-home hair dyes; it just doesn't seem to fully utilize natural plant pigments the way their powdered option does.
Who It's For
If you're looking for a more traditional hair dyeing experience without all the mixing and curing of traditional henna products, this may be a good alternative for you. Especially if you are only avoiding particular irritants and possible carcinogens found in chemical hair dye.
It's not the cleanest and natural option on our list, but it is the easiest to fit into a pre-existing color routine. For a simple change that can be healthier for you and the planet, this is a great place to start.
Pros
Cream formula

Easy to apply

Covers gray hairs well
Cons
Includes some questionable ingredients

Henna is far down on the ingredient list
---
Your Full Guide to Henna Hair Dye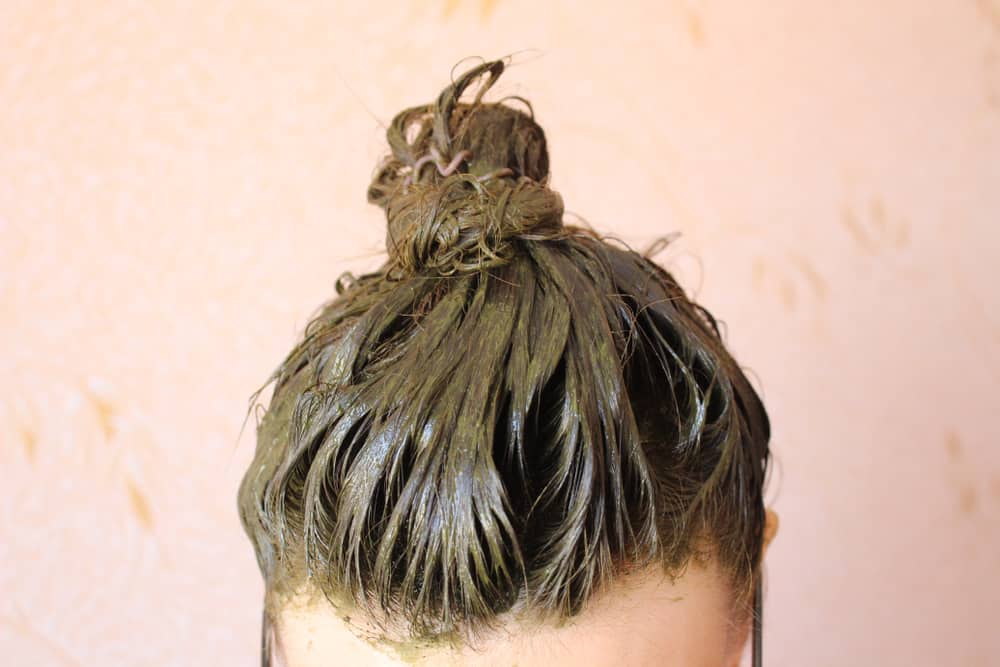 Still have questions? We've got you covered with our in-depth look at everything you need to know about henna hair dye.
How to Apply Henna
Each packet of henna will come with its own specific instructions, but most of them have the same basic method.
Step One: Cure the Henna
The henna must be prepared with warm water and blended into a batter-like paste. The henna will need to cure for a while before you can apply, though the recommended time varies from a couple of hours to overnight. Letting it cure helps release the pigment to give your hair better color.
Step Two: Prepare Your Skin and Bathroom Surfaces
Henna can be quite messy to apply, so you should prepare yourself and your area ahead of time. Since henna can stain your skin, you should wear gloves when applying it. You may also want to apply petroleum jelly around your hairline and on your ears. You may want to apply the henna to your hair while standing in the tub or over an old towel.
Step Three: Apply the Henna to Your Hair and Let It Set
When the henna is ready, you should apply it evenly to clean, damp hair. Once it's spread from root to end, wrap your hair up in a cap or with plastic wrap. Unlike chemical dyes, henna will need several hours to set in your hair. Applying heat can help speed up the process.
Step Four: Rinse Out the Henna
After it has set, rinse it out. It will take a long time to rinse out all of the paste, so be patient.
Can You Wash Your Hair After You Apply Henna Hair Dye?
Avoid shampooing your hair for a few days afterward. Some color will come out in your next couple of washes; that's totally normal. Your hair will settle into its color gradually over the course of a week or two, adjusting in tone during that time.

Can You Customize Your Henna Hair Dye?
The henna community can be quite divided when it comes to customizations. Some people swear by them, but others say that they just get in the way of the henna doing what it does best. Whether you want to experiment with different additions to your henna is up to you.
What Can You Add to Henna Hair Dye?
Here are a few common add-ins that people use for different effects in the henna dyeing process. Of course, keep in mind that certain formulas will react differently on different hair.
Chamomile
Adding chamomile tea to henna in place of plain water can help enhance golden tones and subtly lighten your tone, particularly if you're using a henna and cassia blend. With pure henna, it likely won't make a significant difference.
Chamomile does smell lovely and can help condition your scalp. It won't hurt to add it to your henna, but it likely won't cause a dramatic color difference.
Beet Juice
For people looking to add purple tones to their hair, it can be very tempting to add beet juice. It naturally has a strong pigment that can dye cloth or skin. Some say that it's a way to hack their henna into having a striking plum color, darker and deeper than plain henna.
Beet juice is messy and can easily stain your bathroom, your towels, and your skin, and it's debatable how effective it is.
Cider Vinegar and Lemon Juice
Adding acid to your henna formula can help make the color stronger and bolder. However, if your hair is already dry or damaged, adding the acid can further dry out your hair. It may counteract the conditioning properties of the henna.
Hibiscus Flower
Hibiscus tea can be added to henna to strengthen the red tones if henna tends to have a more orange effect on your hair. A strong tea can add more purple tones in some cases.
Essential Oils
Essential oils can be added to your curing henna to make it smell more pleasant if you aren't a fan of that henna scent. It can also help the paste set and develop a richer color. Some essential oils also have benefits for the health of your hair and scalp. Popular choices for henna are tea tree, eucalyptus, and lavender.
Turmeric
Used as a textile dye for centuries, turmeric has a strong yellow pigment. Some people add it to henna to create golden colors. Ginger and strawberry blonde tones can be coaxed out with the addition of turmeric to your henna.
What Shouldn't Be Added to Henna Hair Dye?
There are a few ingredients that you should avoid adding to your henna, as they're typically ineffective.
Coffee and Wine
Some people think that adding things like coffee or wine to henna will change the color to be more brown or darker red. However, these are largely considered ineffective additions. While they have strong colors, they don't bond well with your hair. They will just make your henna smell funky (and remember that caffeine can be absorbed through the skin, so it may make you a little jittery).
Plant Fats and Oils
While plant fats like coconut oil are great for your hair, adding them to your henna isn't necessarily the best way to use them. Henna has natural conditioning properties and needs a water-based liquid to cure properly. It's better to save the oils for conditioning treatments later.
Choosing the Henna Route
Making the change from a chemical hair dye to henna may have a slight learning curve. It puts a lot more of the responsibility on you. You will prepare your own hair dye instead of having someone in a factory do it for you.
While it can seem like a bit of a hassle, it can also be liberating and empowering. You have control over what you put on your hair and can be more certain that none of the ingredients are questionable. You can also customize your color with some of the ingredients previously discussed.
You'll also be investing in your health and the health of your hair. Rather than depleting the moisture from your hair, you'll be helping your hair develop a thicker and smoother texture. Making the choice to use henna instead of harmful commercial dyes can be a positive choice for your long-term well-being.