Reformation is a semi-luxury brand that is beloved by cool girls everywhere. The brand pairs feminine details and historically-inspired touches with bold modern statements.
Beyond high slits and puff sleeves, though, Reformation also has a sustainability agenda that underpins their design and production so you can feel good about the fashions they offer. Unlike many brands at that luxury level, Reformation offers a wide range of sizes.
Fortunately, they aren't alone in their sweet and unique styles or in their environmental initiatives. In this list, we'll show you seven stores with similar styles and ethics that you'll adore if you're a fan of Reformation.
1. Ganni
Like Reformation, Ganni is a brand with a serious social conscience. Ganni has worked with the UN to develop more than thirty initiatives toward sustainability and climate action, as well as gender equality and inclusivity.
Coming from Australia, this brand has bold and experimental styles with strong silhouettes and bright patterns. Oversized sleeves and shoulders and lace shift dresses call back to retro styles from the 80s. Metallics, plaids, and animal prints populate the shelves. If your style is subtle, Ganni is probably not for you.
Prices and Sizes
Like Reformation, Ganni is a higher-end brand. Their prices are higher than Reformation, with items ranging from about $200 to $800.
Despite Ganni's inclusivity agenda, the sizes are limited. Most items are available in sizes 4 through 16, with no petite or plus sizes.
2. Stone Cold Fox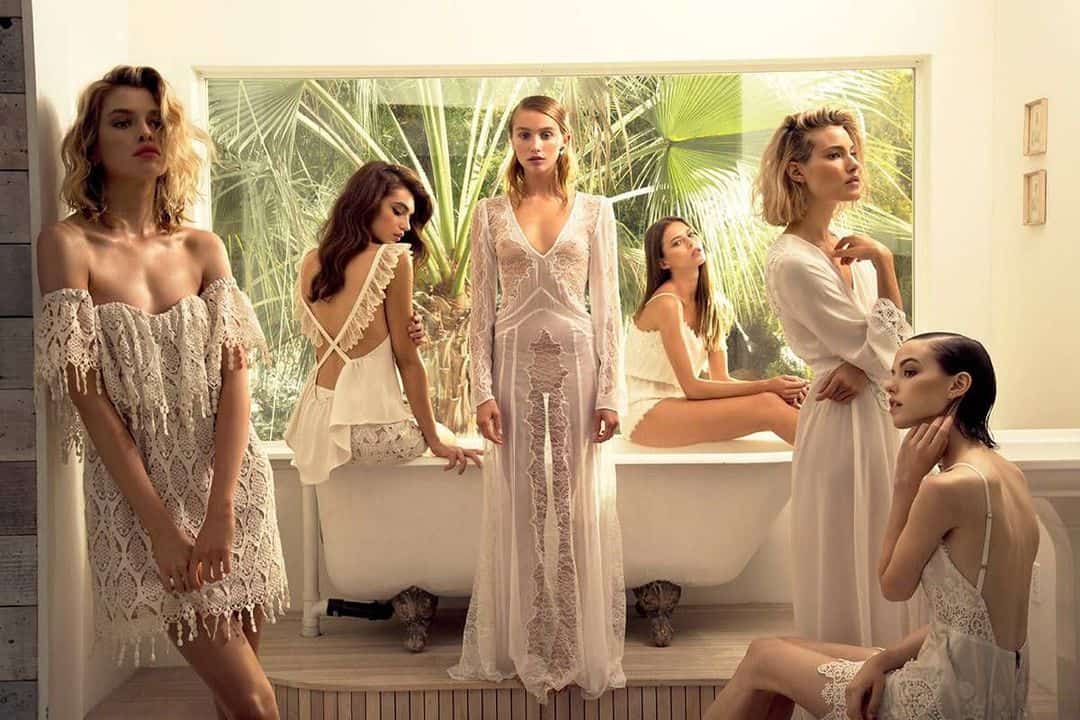 Stone Cold Fox is a smaller independent US label. While not as overtly involved in sustainability initiatives, the brand does make their focus on creating quality items instead of mass-producing cheaper items that will end up in a landfill. They also keep their production based in Los Angeles, making it easier to regulate.
Their line is populated with luxurious, flowing dresses, easy casual blouses, and even decadent loungewear. Many items are made of breathable, 100% silk. The overall look is very feminine and soft, with many bohemian style details like ruched necklines, puff sleeves, and wide lace. Like Reformation, they pair soft details with some bold, modern looks like cutouts and super short hemlines.
Prices and Sizes
This brand comes in at a similar price point to Reformation, with most items being between $100 and $400.
Their size chart is unique, with their standard sizing being 0-4, or x-small to x-large. Since their production is in small batches, the company does offer custom sizing for some items, mainly their gowns.
3. Posse
Posse embraces a slow fashion philosophy that uses ethical manufacturing techniques, and they design their products to last. The brand seems dedicated to educating their customers and encouraging them to take responsibility in their shopping habits by providing information on how to properly care for clothing and extend its life.
Like Reformation, they embrace modernity without erasing femininity in their designs. Daring and provocative cuts, like one-shouldered dresses and blouses, super low v-necks, and cutout backs are sure to stand out.
Paper bag pants and loose button-down blouses from the line can give an easy mid-century elegance reminiscent of Katherine Hepburn, while tie-front bralette tops and linen shorts are very Marylin Monroe on the beach.
Prices and Sizes
Posse's collection ranges from about $100 to $300 for most items.
Their clothing is available in sizes xx-small to x-large, mainly skewing toward smaller sizes. Curvy ladies might be disappointed by their options, since with many items being more straight-cut and a lack of larger sizes, wide hips may not find a home here.
4. Staud
Staud is another smaller, LA-based brand, though not as overtly eco-friendly and socially conscious. The brand states that their main goal is to accessibly empower women in a way that lets them be sexy, but also "self-governing." Rather than what's sexy being determined by outside opinions, the clothing is intended to be clothing that makes women feel sexy by their own standard.
Fun and bold pastels, geometric color-blocking, and neons populate their line. The look is more playful than Reformation, but still balances elements of femininity and modernity. Many of the pieces are comfortable and loose, with only one or two fitted points to give some shape to your silhouette. More fitted items a bit of stretch to make them more comfortable with knitted materials and hints of elastic.
The fun element of the line extends to surprising uses of material. Tweed, a popular suit and jacket material is used in bikinis and corset-style crop tops.
Prices and Sizes
The prices in Staud's line range from $75 for a blouse to about $600 for items like jackets.
Most items are available in sizes xx-small (00) to x-large (16) US. A few items don't extend to the largest sizes, unfortunately. The lack of plus sizes does seem counter-intuitive to the brand's statement that they intend to be "accessible."
5. Kooples
Kooples is a Paris-based brand that also offers men's items. In 2020, they announced their sustainability commitment to more ethical environmental practices. They have a menswear line and even feature a collection called "Shared Wardrobe" that features unisex items that can be shared by couples.
Kooples has more of a contemporary, less feminine, and romantic aesthetic than Reformation. Taking cues from masculine fashion, much of their line-up has strong shoulder lines and straight cuts that hide curves. Even their dresses feature bold lines and patterns, with only the occasional sweet detail.
Much of their clothing would be ideally suited for the boardroom, with their wide selection of separates and blazers. Their chunky signature sneakers and sweats are perfect for exercising and lounging on the weekend.
Prices and Sizes
Basic shirts start under $100, but staples like coats can cost up to $600.
Like Stone Cold Fox, Kooples uses a 0-4 size chart for most of their items with 0 being about an x-small and 4 being an x-large. Some items are available in xx-large, but many items are only available up to a size 3 (large). Pants are sold by waist size and inseam.
6. Madewell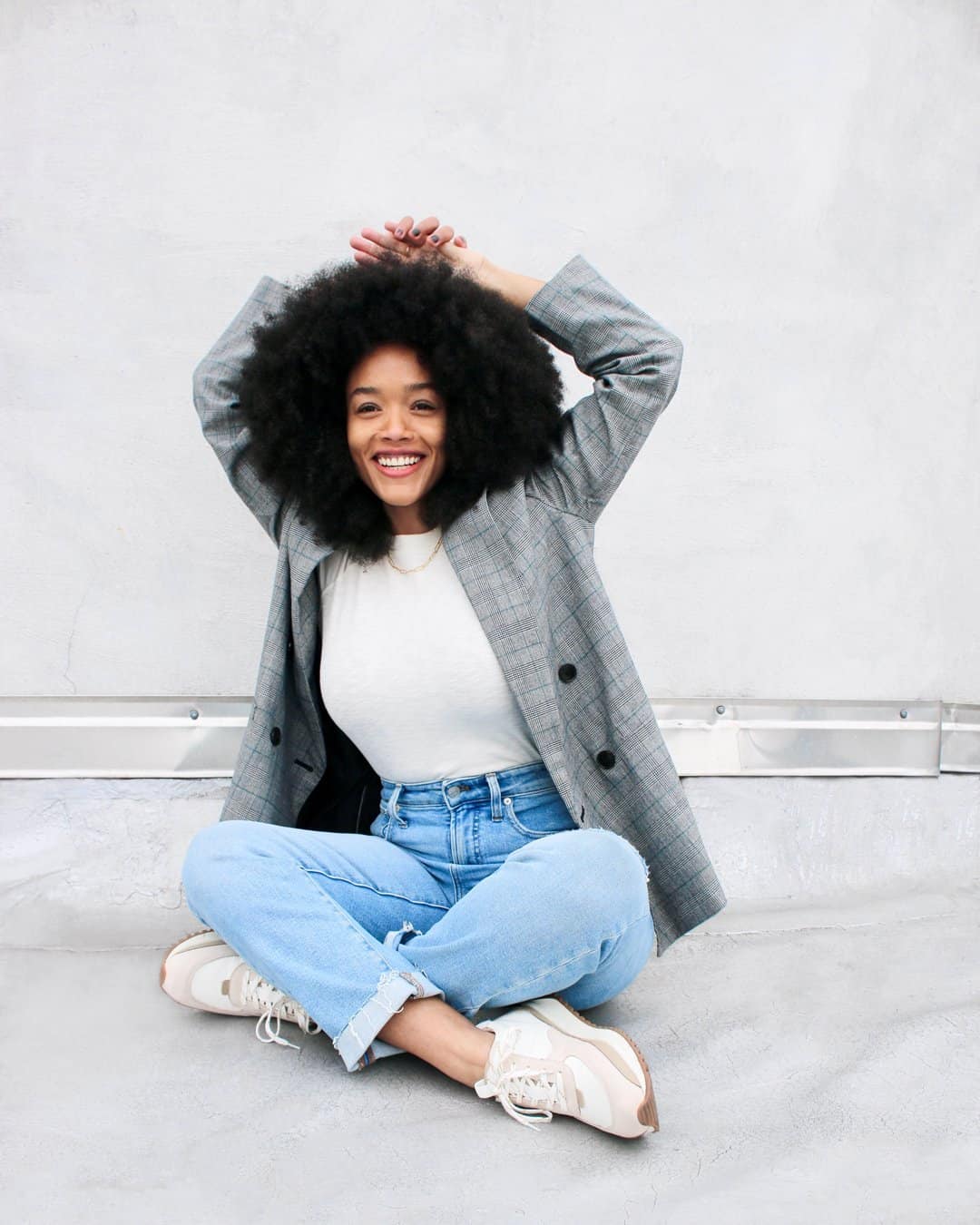 Madewell is a popular brand found in many malls and shopping plazas offering higher-end options than your average fast fashion. The brand has several social responsibility initiatives, like their dedication to responsible sourcing and animal welfare. They also have a Vendor Code of Conduct to ensure safe working conditions.
Madewell offers a more relaxed, youthful style than Reformation, but there are still some similarities. The line still has plenty of lovely dresses, but with more of a casual boho feel. Tee-shorts, rompers, and overalls add playful, but polished options to your weekend wardrobe. Madewell's line is very comprehensive, with everything from swimwear to sweaters, so you can enjoy their fun style in every aspect of your life.
Prices and Sizes
Madewell is more affordable than the rest of our options on our list, since they aren't a luxury brand, but a high-end mall brand. Basic tee-shirts start at about $20, but a few options, like leather jackets, go up to about $500. Some of their brand collaboration items are pricier, but most of their house brand is under $200.
Madewell previously announced their intention to extend their sizes, mainly online. Many of their items are now available from xx-small (about a US 00) to xx-large (about a US 18). They offer a handful of options in plus sizes extending to a US 24.
7. The Line by K
The Line by K is small, indie brand owned by one woman. Their clothing is ethically produced in LA, and the brand states that its goal is to make women feel fearless and sexy in their clothes.
Line by K has a sportier look than many of the other brands on our list with casual-looking fabrics cut in provocative, bold ways. Ruching and draping add visual interest and flatters your form. Their items are more fitted than Reformation, embracing a snug silhouette and crop tops.
Bodysuits and knit trousers are unique and visually interesting for a modern wardrobe. Most of their clothing comes in easy-to-match neutral colors, with the occasional bright pop of color.
Prices and Sizes
Most of The Line by K costs between $100 and $300, with a few basics for under $100.
Unfortunately, The Line by K currently only offers most of their items in US sizes 2-10, because, unlike Reformation, The Line by K's mission to help women feel sexy and empowered by good quality clothing only extends to thin women.
Combining Fashion and Sustainability
Reformation has made a name for itself by combining fashion that people want to wear with sustainable practices that look toward the future of fashion and eco-responsibility. Many brands are starting to head in that direction as well since society is slowly awakening to the fact that the way we shop and think about clothing will have to change.
Unfortunately, many sustainable brands are going to be priced beyond the average budget, but saving your money to buy fewer items that are of better quality is a way to start working toward a sustainable wardrobe. Shopping these brands secondhand is also a great option.
Hopefully, as the demand for it grows, there will be more brands with somewhat more accessibly priced items and accessibly sized. After all, people over a size 14 also want to look good and deserve better options than cheap fast fashion.