Whether you're a longtime beauty enthusiast and want to start your own makeup line or you're an entrepreneur at heart looking to get started in the cosmetics world, you may be interested in trying to find success with your own makeup line. After all, cosmetics and beauty products are an ever-growing industry, so why shouldn't you try to pursue your love for makeup and business at the same time?
In this article, we will tell you everything you need to know to start setting up your makeup line, with information on both the business side and the marketing side. You'll also learn important considerations you need to take into account when starting your makeup line, tips to drive your products to success, and some commons FAQs that will help answer your lingering concerns.
Why Start Your Own Makeup Line?
Your motivations for starting your own makeup line are important to consider; these reasons will be your guiding factor and help you align all aspects of your business with your goal.
For instance, you could be starting a makeup line just for the experience of it, in order to put out a unique product you think the market needs, or as a way to embrace your love of entrepreneurship and completely control your own income.
Whatever your reasons are for starting your own makeup line, it is important to keep them in mind as you progress through the next steps. A good sense of your goal and objectives will allow you to make decisions that not only further your business, but will make sure you fully achieve everything you set out to do.
Steps to Starting a Makeup Line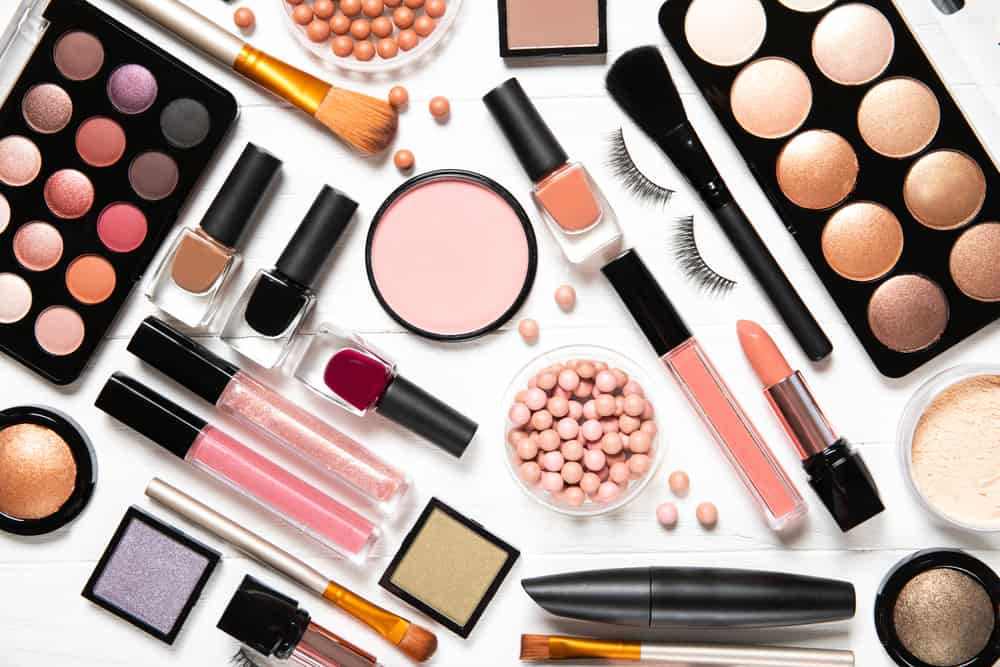 Getting organized and starting your makeup line can be incredibly overwhelming, especially if you are new to the world of entrepreneurship. The steps we've outlined below should help give you a good idea of where to begin and leave you with some inspiration for perfectly crafting your makeup line.
Perform Competitor Research
One of the most important first steps in creating your makeup line is to perform in-depth competitor research. This is not something that should be skipped or ignored, as getting a sense of your competitors and their products is essential for creating your own makeup line and succeeding in what can often be a saturated market.
Research which products are currently in high demand and stay on top of beauty trends and breaking news in the cosmetics industry. Look at pricing structures, special offers, customer reviews, and the social media presence of all of your competitors.
Find an Opportunity
From there, identify the product you want to sell and perform targeted research on competitors that sell the same product. During this time, you may want to consider listening to videos or podcasts that discuss entrepreneurship in beauty like, Bobbi Brown's Beyond the Beauty, to get insider tips about creating your own makeup line.
Find Your Niche
After you've researched the exact type of product you would like to sell, find your niche and perform even more research in that aspect. For instance, you may want to sell lipstick, but you should decide if your niche will be vegan lipstick or cruelty-free lipstick. Read up on these niches and learn what goes into the products so you have a good idea of what to model your own products after.
Perfect Your Product Plan
Throughout this research, you should be looking for ways to differentiate your brand from everything else out there on the market. Find your niche, find a problem, and then craft your products to perfectly fix the problem, meeting the needs of customers. Keep an eye on what customers and beauty experts are saying to give you inspiration for your own products and help you understand the evolving needs of cosmetics users.
Understand the Ingredients
After your competitor research, you should have a good idea about what ingredients to craft your products out of and which ingredients are necessary inclusions for your niche. Research ingredients, their shelf life, and the formulas of your products.
You should be creating products that offer customers something different, something beneficial, and a guarantee of quality. Work to understand labeling laws in your state and country, and consider any common allergens that might need to be disclosed on your products.
Find a Manufacturer
Source a manufacturer for your products using a website like this one that includes a directory of factories capable of producing various beauty products. If your products are in the sustainability and clean beauty niche, trace the supply line of your manufacturer; make sure the company is reputable and something you don't mind having associated with your brand.
If you are creating your own products, make sure to source ingredients that are of a high enough quality for cosmetics use. You should also look up the best ways to handle ingredients to ensure their safety and extended shelf life. This process requires more of a learning curve, but it does allow you to experiment a little more with ingredients and can help place you into the small business or handcrafted niche of beauty products.
Design Your Brand
The brand that you design should be unique and reflect your intentions for the product line. Everything from packaging to logos, to the color of your website, to the concept of your products needs to be aligned with one central brand. Keep your goals for your products in mind as you work to craft your brand, and make sure that every aspect of designing your brand keeps the products, their ingredients, and the impression you want to leave customers with at the forefront.
During this step, you may want to meet with graphic designers to help you create logos and brainstorm color schemes. You can also meet with freelance writers who can help you draft up copy for your website, describing products and accurately representing your goals and brand ideals to customers.
Secure an Online Presence
As soon as you have your product ideas, brand concept, domain names, and logos secured, you should be securing an online store as soon as possible. You want to make sure to choose a name that is unique and differentiates your makeup line, but doesn't infringe on anyone else's copyright, either by accident or on purpose.
Make sure that all your social media handles and your website name match, as this is the easiest way to help customers find your products across all websites. The most popular online stores for selling goods are Etsy and Amazon, but you can also purchase a website with an appropriate domain name and sell to customers directly from it.
If you need help designing your website from scratch and making it adhere completely to your brand, you can reach out to a freelance website designer who can help you get up and running. Be sure to include your brand mission, details about your product, an about section about yourself, and plenty of images of your products to help build trust between your customers and your makeup line.
Create a Marketing Strategy
Your marketing strategy is going to be the thing that brings customers to your makeup line and keeps them coming back for more. You should be creating a strategy that relies on social media, traditional media, and word of mouth in order to get your product in front of people. Make sure that all content aligns with your brand and the ideals of your makeup line, as this is a good way to build a positive reputation with customers.
A good way to help customers find your brand is by attaching a blog section to your website that discusses important topics in your makeup line's niche or in the beauty world in general. This can help customers build familiarity and gives you an opportunity to direct readers of the blog to your products whenever possible. Though you shouldn't try to oversell and bombard your customers with ads, as this can build discontent with the brand.
Seek out collaborations with YouTubers and other beauty influencers to help promote your brand and gain a following. Interact with customers on social media as much as possible to help promote your image and make the brand something that customers can relate to and will feel happy to buy products from.
You can read more about the tips and tricks of marketing a makeup line here.
Figure Out Your Business Structure and Plan
Once you have done extensive competitor research, have a good idea of the types of products you would like to sell, and understand your brand and marketing goals, you should dedicate some time to figuring out your individual business structure and business plan going forward.
Your business structure refers to whether you are a sole proprietorship, a limited liability company, or a partnership. There are many different types of business structures that adhere to different tax regulations and business needs, so make sure to understand the difference between each before establishing your structure.
You may need to file paperwork with your state or the federal government in order to fully establish your business. You should consult with an attorney or a financial advisor if you have any questions about how to properly establish your business and the best structure for your personal situation.
After you have decided on a business structure and taken steps to properly and legally establish it, you can start working on your business plan. Make sure to include things like regulation milestones that are required by your business structure or important things such as filing a trademark and purchasing domain names for your business. You should also include information on your brand, products, and a detailed marketing strategy. Basically, every step to creating your makeup line should be added into the plan and what you are doing to meet those steps should be elaborated on in each section.
Not only will a detailed business plan help you guide your work and research to meet your goals, but you can also use it to secure investors and lenders if you feel you need financing to start your business. This guide can help you understand how to craft a successful business plan.
Tips for a Successful Makeup Line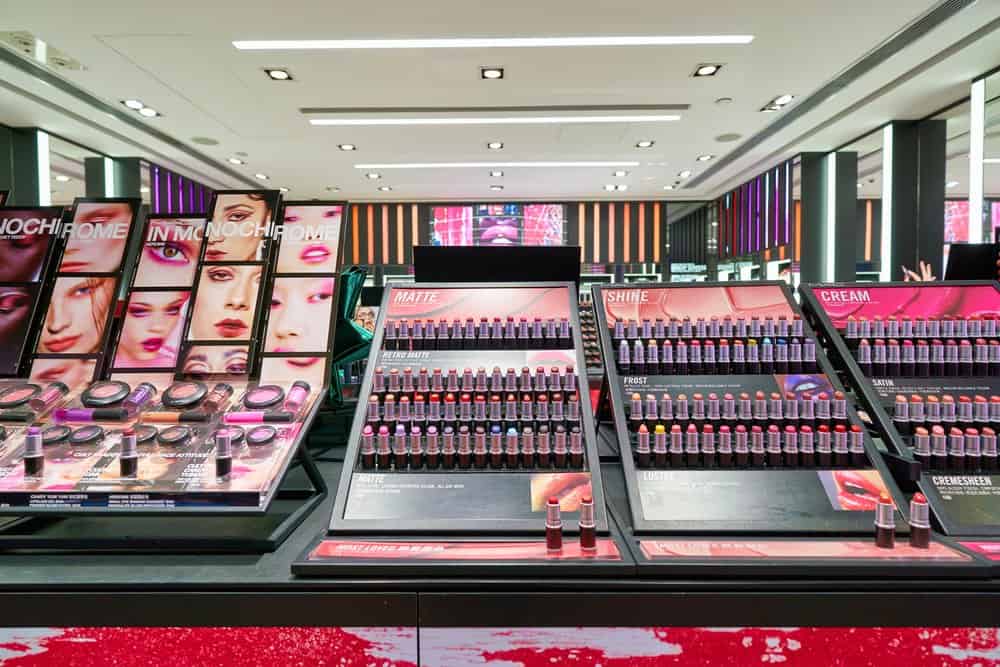 These tips will help put you on the road to success with your makeup line and place you one step closer to achieving your business goals.
Engage in Product Testing
One of the worst things you can do is give a formula to your manufacturer and then have the finished product sent off to your customers without any testing. You should be engaging in product testing every step of the way in order to guarantee that your makeup line is of a high quality and is useful to customers.
Don't be afraid to request prototypes of both the product and the product packaging to make sure that everything is functioning correctly, since extensive product testing can save you from major mix-ups and malfunctions and help you earn a reputation of high quality and attention to detail among your customers.
Offer Reliable, Affordable Shipping
Shipping your products can often seem like a daunting task, especially if you are in charge of all the product packing and shipping yourself. However, this is one aspect of your makeup business that has the potential to win over dedicated customers.
Shipping your products with high-quality safe packaging sent via a reliable, affordable shipping service can build repeat customers. You don't want to leave your customers waiting for weeks after ordering your products, nor do you want your precious products to arrive destroyed, as this will only lose you money and earn you complaints.
Factor shipping costs into your product pricing, and make sure that your products will be handled carefully. You should also develop a return policy that leaves no ambiguity when it comes to instances of product damage, return cost, and replacements in the case of extenuating services. You can perform more competitor research and model your policy after ones that are tried and true.
Dedicate Time to Building a Following
Once your makeup line is set up and products are starting to sell, make sure you set aside time to post on social media, create blog posts, or reach out and interact with beauty influencers. Even though the hard part of permanently establishing the business is over, you do need to maintain the brand and build a solid following of fans if you want the business to grow and meet success.
Make sure to prioritize customers in everything you do and provide stellar customer service, since proper, effective, and polite customer service can win you over loyal customers that will continually buy your products, even if something goes wrong once in a while. You can read more about how to craft a winning customer service strategy here.
You can also start to build a local, in-person following by attending small business events in your area and by selling your products at local markets. This can help increase brand awareness by word of mouth and may build repeat customers that buy your products online in the future.
Don't Rush Things
Every aspect of creating a makeup line, from research to designing a brand to setting up your online presence and building a reputation with customers, takes time. Success will not be instantaneous, as wonderful and stress-free as that would be. You will need to have patience and put in hard work to building up your makeup line, gaining reputation and sales as you go, before you can reach success.
It is important to remember that you cannot rush things if you want to truly reach sustainable, exponential success, but that dedication and hard work will do wonders for both your profits and your overall business goals.
Common FAQs for Starting a Makeup Line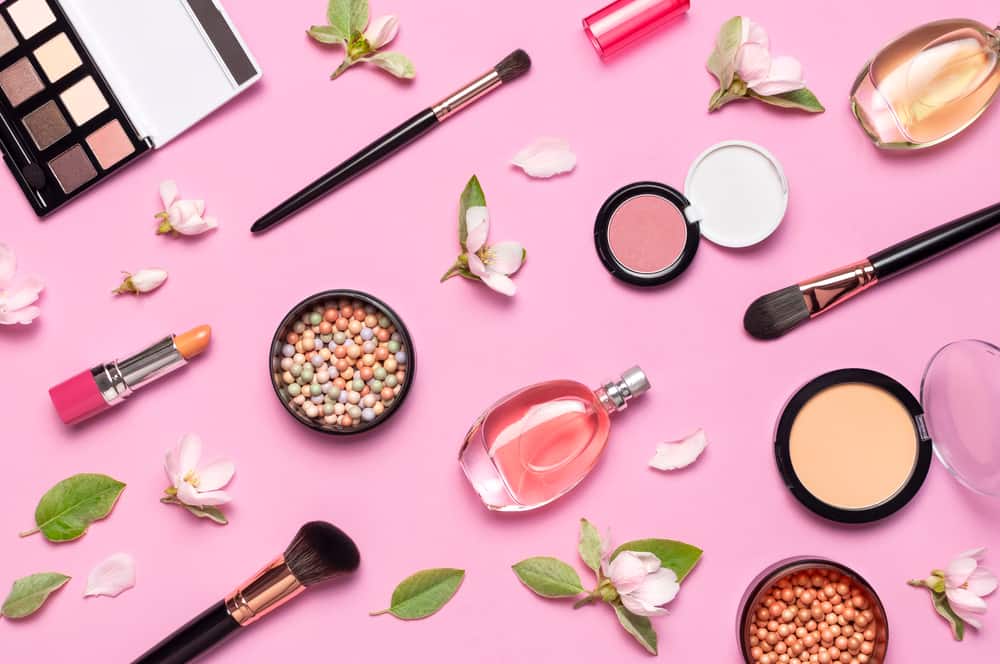 We've gathered some common frequently asked questions that often arise when starting a makeup line and put them in one place so finding answers is easy.
How Much Does It Cost to Start a Makeup Line?
Starting a business is generally not cheap and creating a makeup line is no different. An investment is required to secure domain names, branding, pay freelancers, form contracts with manufacturers, and create prototypes. In general, you can expect to pay between 5 and 25 thousand dollars when starting your makeup line, though this number is highly dependent on your location, your products, your niche, and the ingredients used.
If you are crafting your own products to sell, this cost may be a little bit cheaper, but that also depends on all of the other aspects of your business plan.
Can You Start a Makeup Line With No Money?
It is possible to start a makeup line if your funds are limited. There are several different methods you can use, in fact. The first way is to find a lender or investor to provide the funds for your business.
To do that, you will need a complete business plan that outlines your products, niche, and marketing strategies. Once you have the funds secured you can start your makeup line, but you will be on the hook for paying back the borrowed money, often with interest, which can make the entire process have higher stakes.
Another way to work with limited funds is to start small. Begin building your brand and online presence, hand-crafting items and sending them to customers or influencers who will then help to spread the word about your makeup line. You can set up a crowd-funding effort and offer incentives for people to donate to your makeup line, or you can set up a preorder of product sales and use the money advances to set up the rest of your business and start shipping products.
If you do decide to use crowd-funding or preorders, however, you should be completely prepared to deliver on products in a relatively quick time. You should avoid taking potential customers' money and disappearing for an extended amount of time or canceling your makeup line plans altogether, as this is a bad look for your brand and potentially illegal, depending on how you go about it.
What Is Private Labeling?
Private labeling is essentially contracting with a company that will produce products in your niche with quicker turnaround times and lower order quantities than other types of manufacturers.
Private labeling can be a good choice for those whose business is still on the smaller side and those who don't want to place massive product orders, but it may not be the best idea if you are interested in white labeling or you want to handcraft your makeup line.
You can read more about the differences between private labeling and white labeling in the cosmetic industry here.
Do You Need a License to Start a Makeup Line?
You do not need a license to start a makeup line, but there may be certain labeling regulations and other federal requirements you need to meet before selling your products. This typically depends on the ingredients of your makeup, but you should check the FDA website to ensure that you meet all requirements and that all of your products will be safe enough for customers to use.
How Should Makeup Products Be Priced?
In general, you want to price your products high enough to turn a worthwhile profit, but not so high that customers shy away from buying them. When calculating each product's retail price, take into account the cost of ingredients used, plus packaging, manufacturing, and overhead (general business expenses). You should then multiply this cost by 5 or 6, and you have your product pricing.
After releasing products to customers and receiving feedback, you can adjust your products' price up or down to see what works best with customers and keeps them coming back as loyalists to your makeup line.
Finding Success in Your Makeup Business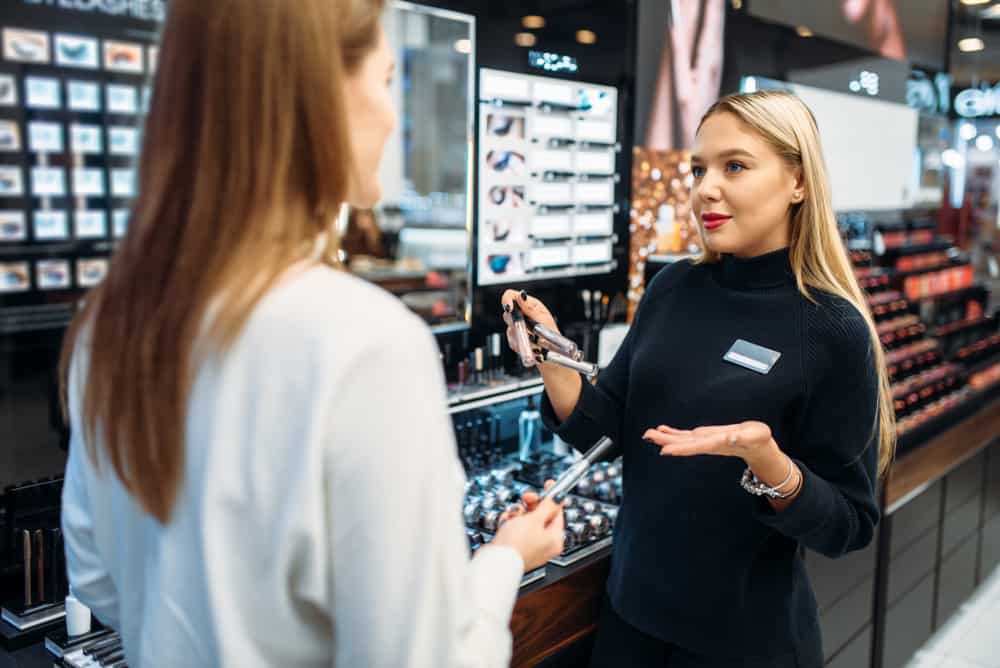 Starting a makeup line is a dream for many entrepreneurs and beauty enthusiasts, and it is not one that comes without hard work. Extensive research, planning, and brainstorming are all required if your makeup line is to grow and resonate with customers, earning itself a reputation and a loyal following.
However, as long as you understand the steps of starting a makeup line and work through creating your products and brand with patience and dedication, you will have a great chance of building up your makeup line and finding success in your business.