Keeping your face moisturized is important regardless of the weather outside or your skin type. It prevents the signs of aging like wrinkling, sagging skin, and collagen loss. It can also help even out skin tone and texture, control oil production, and generally keep your skin looking healthier and more radiant.
If you want to avoid the long list of strange chemical compounds in store brought moisturizers—or more likely, trying to avoid the double- or triple-digit price tags that come with them, DIY is the way to go. You can create custom formulas based on your exact skin type and climate, all while skipping those chemical additives and using affordable ingredients that can usually be found in your kitchen.
In this article, you'll find five recipes, each for a different skin type. Then, you can check out the ingredient index at the end for brief descriptions of what each ingredient does for your skin. That way, you can either try out the pre-made recipes or get extra DIY and craft your own custom skin-hydrating formula!
Oily Skin: Lemon and Aloe Gel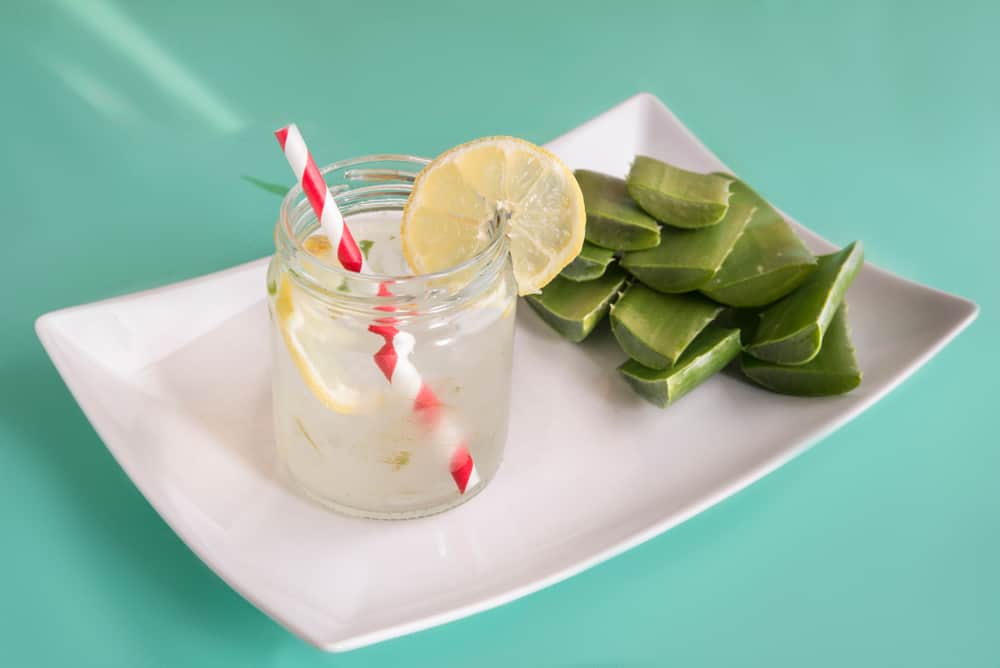 It might seem counterintuitive but oily skin needs moisture just as much as dry skin. All that excess oil production is your skin's way of saying, "I need hydration!"
In order to provide that hydration without clogging pores or causing breakouts, you need a formula that cuts through that greasiness at the same time that it nourishes your skin.
Here's the perfect DIY formula to do just that:
¼ cup pure aloe vera gel
3 tablespoons whole milk
2 tablespoons lemon juice
1 tablespoon olive oil
Simply whisk together all ingredients in a jar until fully combined. For best results, store this moisturizer in a sealed jar in the fridge. Apply it to your freshly washed face with a clean cotton ball twice a day, in the morning and before bed.
The lactic acid from the milk along with the citric acid in the lemon will help control oil and kill acne-causing bacteria. Meanwhile, the aloe and olive oil will get to work hydrating and repairing your skin.
For a richer alternative that can provide deeper repairs during the night, replace the aloe vera with additional olive oil and whisk until you have a whipped consistency.
For sensitive or inflamed skin, simply leave out the lemon juice. The chilled aloe and milk will calm inflammation and repair damaged or irritated skin.
Dry Skin: Vitamin E Butter
For skin that's flaky, parched, or chapped, you need a rich formula that not only provides deep moisturization but also creates a protective barrier that can lock in moisture all day long. That's exactly what this homemade recipe will do:
½ cup coconut oil
½ cup shea butter
1 teaspoon vitamin E oil
Optional: 2-3 drops essential oil (your preferred fragrance)
Directions:
Fill a pot with 3-4 inches of water and place it over medium-high heat.
Put shea butter in a clean mason jar. If your coconut oil is solid, put that in, too.
When the water bath reaches a gentle simmer, place the jar in the water.
When the shea butter is melted, remove from the water bath.
Immediately whisk in the coconut oil (if not already added) and the vitamin E oil.
Continue whisking until it has the consistency of a thick cream.
Allow the jar to cool on the counter until it reaches room temperature.
Once cooled, put the lid on and store in a cool, dry place.
This rich formula works best as a night cream, but in the drier winter months, it can also work as a day cream. The waxier shea butter will create a protective barrier on your skin to prevent cracking, redness, and other irritation caused by the cold, dry air.
While you can apply a liberal amount at night, be a little more conservative when using it as a day cream, especially if you have hopes of applying makeup or other products on top of it. It takes a long time to soak in.
Inflamed or Sensitive Skin: Cool Cucumber Cream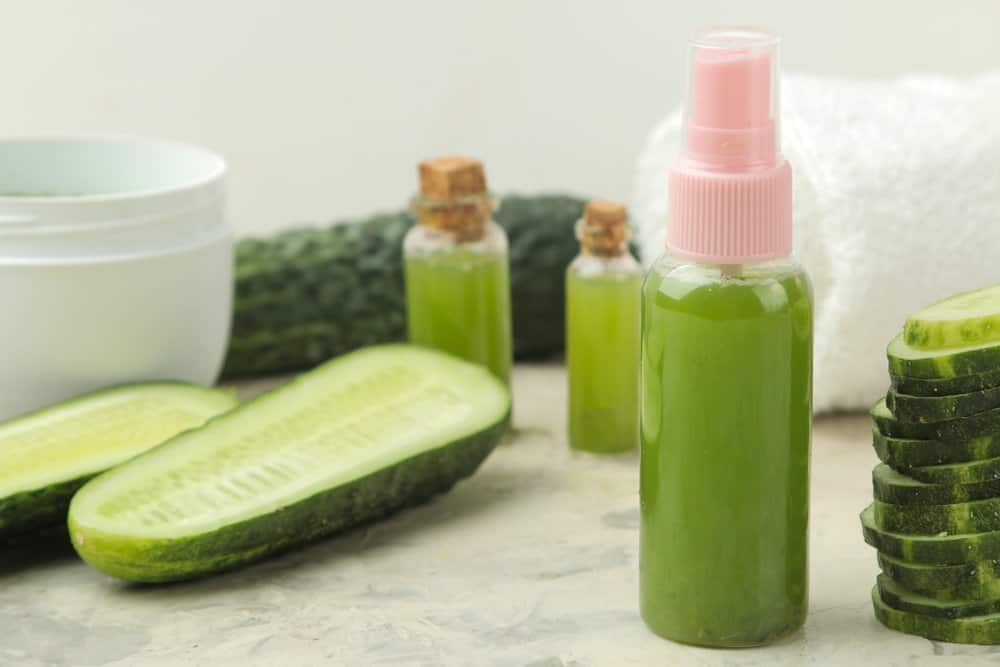 If you have sensitive skin or suffer from inflammation caused by rosacea, psoriasis, or cystic acne, finding a safe and effective moisturizer can be a struggle. You need a soothing and gentle moisturizer that can penetrate deep into your skin to heal from within without triggering flareups. For such a finicky and particular skin type, it's best to just make your own:
About 3 inches of cucumber
½ cup water
1 tablespoon aloe vera gel
1 tablespoon coconut oil
1-2 drops of lavender or chamomile essential oil
1-2 drops orange or lemon essential oil
Directions:
In a blender or food processor, pulse together the cucumber and water.
Let this mixture rest for at least 5 minutes or up to one hour.
Pour the mixture through a fine mesh sieve. Save the liquid. Toss the solids—or, better, blend them into a smoothie!
Add the rest of the ingredients to the cucumber liquid one at a time, whisk constantly until each one is incorporated.
The final result should be a light but creamy paste.
Scrape the mixture into a small jar or other container with a lid. Store in the back of the fridge to keep it extra cool.
You can use this formula as both a day and night moisturizer—which is good news, because it's so soothing you'll probably want to keep applying it all day long! As a day cream, it will help reduce redness and irritation while creating a thin, protective barrier to prevent new irritation during the day.
The chilled temperature provides added inflammation-soothing effects, but if the back of your fridge is turning it into ice, you can move it to a shelf in your door. When stored in an airtight jar, it will keep for about a month.
This is also a great option for instantly soothing post-beach day sunburns! Make sure to keep a larger batch on hand for summers!
Wrinkle Repair and Texture Correction: Almond Shea Cream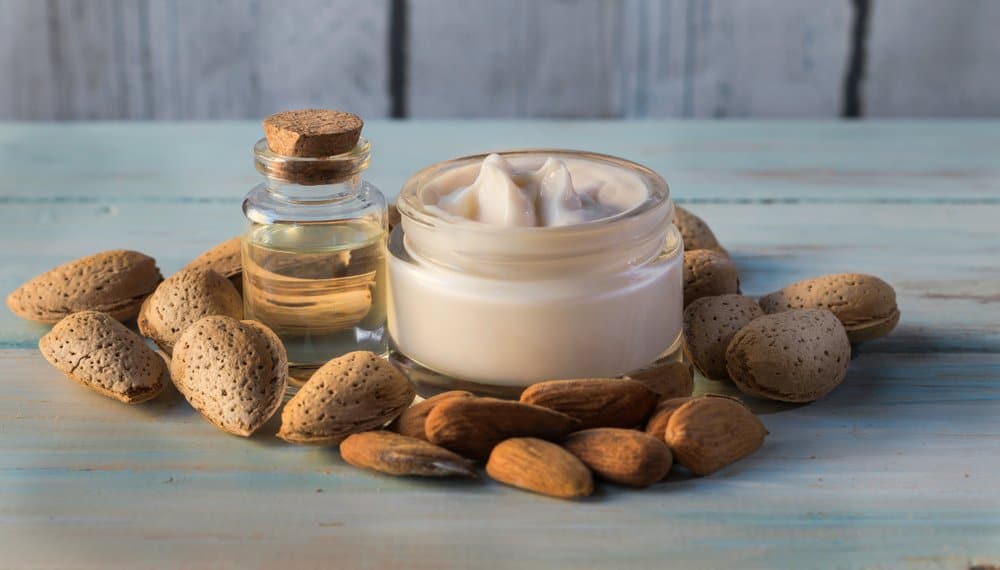 This recipe will help smooth out wrinkles, repair damage, promote collagen and create a youthful glow, all without harsh chemical peels or irritating treatments! It takes just a few minutes to whip up and makes enough for about three months of daily use!
¼ cup almond oil
1 tablespoon shea butter
2 tablespoon beeswax
2 tablespoons coconut oil
½ teaspoon vitamin E oil
optional: 2-3 drops essential oil (your preferred fragrance)
Directions:
Fill a pot with about 3-4 inches of water and heat it over the stove to a gentle simmer.
While the water heats up, add all of your ingredients to a clean mason jar. No need to mix.
When the water is simmering, carefully place the jar into the pot of water. Let it stand in the water until your ingredients have melted.
Once melted, whisk vigorously with the whisk attachment of a stick blender until it's fully incorporated and has a whipped cream consistency (about 3-4 minutes).
Once blended, remove from the water, and let it sit on the counter until it cools to room temperature.
Put the lid on and store it in a cool, dry place.
This is best used exclusively as a night cream. However, you can also apply a thinner layer in the morning as long as you give it enough time to fully soak in before applying makeup or other products on top of it.
If using as a day cream, we recommend skipping the essential oil to avoid competing fragrances with any perfumes, hair products, or other scented products you might use.
If using only as a night cream, adding 1-2 drops of lavender or chamomile can provide some soothing aromatherapy to help you wind down before bed.
Age Spots and Hyperpigmentation: Argan Black Tea Cream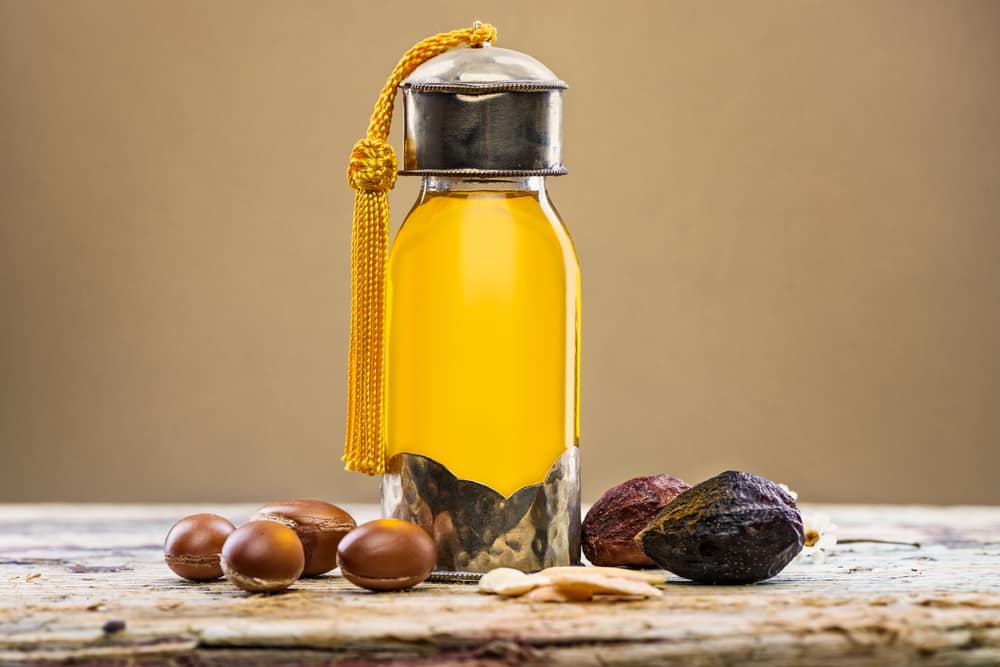 If you've got age spots, acne scars, hyperpigmentation, or other conditions that lead to an uneven skin tone, you need a moisturizer that can help brighten and even out your skin. Here's a recipe you can whip up in a few minutes:
¼ cup jojoba or argan oil
¼ cup milk
¼ cup black tea (freshly brewed)
¼ cup shea butter
3-4 drops orange or lemon essential oil
Directions:
Brew a whole tea bag into ¼ cup water for 6-8 minutes to create an extra-strong black tea for your moisturizer.
While the tea is still warm, whisk together all of your ingredients in a clean mason jar (or any container with a lid).
Once ingredients are thoroughly blended, leave on the counter with the lid off until it cools to room temperature (about 5-10 minutes).
When cooled, put the lid on and store in the fridge until you're ready to use it.
You can store this in the fridge for 1-2 weeks. If you don't think you'll be able to use up the moisturizer in that time, halve the recipe.
For the best tone correcting results, apply an even layer across your face and anywhere else that has age spots or hyperpigmentation every night before bed. It will take a while to soak in so make sure you have time to just relax and let it do its work.
To maximize the effects of this moisturizer, first prepare your skin by cleansing with apple cider vinegar. The acetic acid will add some skin brightening effects while also dissolving oil and dirt so that this moisturizer can absorb into your skin better.
You can also take this formula to the next level by blending a potent Vitamin C serum into it or applying the serum right before applying this moisturizer.
DIY Face Moisturizer Ingredient Index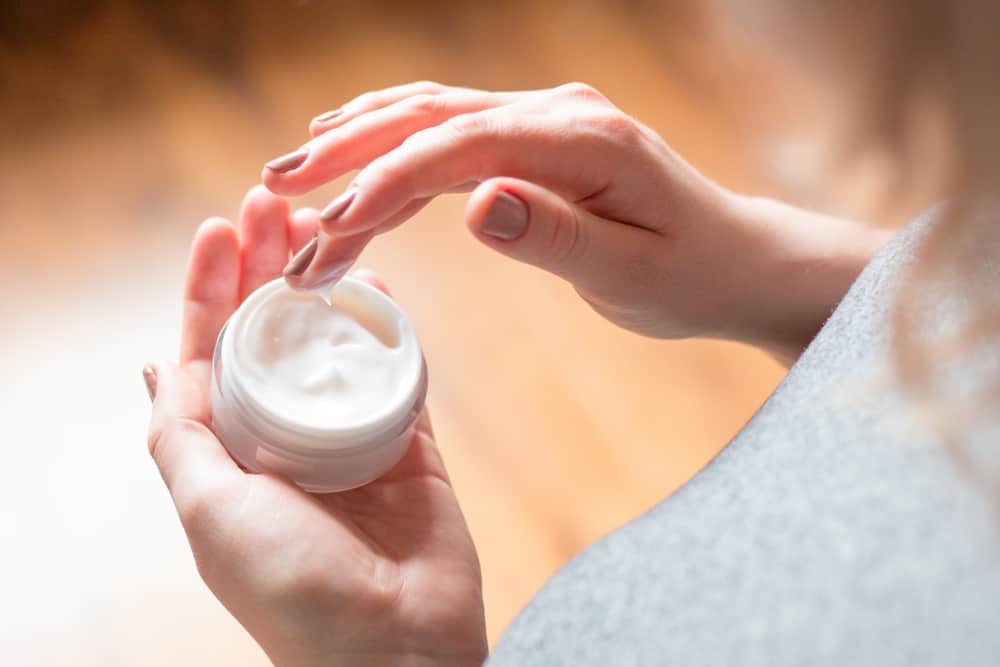 If the recipes above have inspired you to get creative with mixing your own custom moisturizer that perfectly addresses the unique needs of your skin, feel free to mix and match ingredients to find the formula that works for your skin!
To help you come up with that perfect formula, you can use this ingredient index. For each ingredient found in the recipes above, you'll find a brief explanation of what benefits they provide and what skin problems they are best at solving:
Almond Oil
Almond oil is high in vitamin A, vitamin E, omega 3 fatty acids, and zinc. Each of these plays an important role in your skin's health. Vitamin A helps smooth out fine lines and trigger new skin cell growth. Vitamin E prevents those cells from being damaged by sunlight and pollution. Fatty acids help hydrate and plump up your skin while also strengthening its natural barrier.
Zinc can help minimize acne scars as well as help heal acne. These effects are mild on their own, though. If you're crafting a moisturizer for acne-prone skin, almond oil should be used in combination with more potent acne-fighting ingredients like lemon and citrus essential oil.

Aloe Vera
Aloe vera is one of the best natural remedies for inflamed, irritated skin. The hydrating gel-like substance soothes burns, rashes, and can help control redness in rosacea. It's also a great alternative to richer oils if you have oily skin. It absorbs quickly and doesn't clog pores.
Argan Oil
Argan oil is one of the few oils that not only won't clog pores but also has anti-sebum effects. That is, it can actually slow down oil production, making your skin less oily. This makes it a great option for oily skin that still needs a richer, creamier moisturizer during winter months or in dry climates.
Beeswax
Beeswax is a great option for dryer and colder climates because it's better at locking in moisture and protecting your skin from those harsher conditions. As an added perk, it acts as a mild, non-irritating exfoliator. With regular use, old skin will slough away, and your face will start looking brighter and more evenly toned.
Black Tea
Black tea is loaded with antioxidants that will do your body good whether you drink them or smear them all over your face. The compounds in black tea are especially effective at brightening up age spots or dark undereye circles. The caffeine in the tea will help tone and tighten skin, so it's also a great ingredient to add to a day cream if you struggle with wrinkles or uneven skin tone.

Chamomile Essential Oil
Chamomile will soothe irritation and calm inflammation, so add this to your moisturizer if you have sensitive skin. It's great for rosacea, psoriasis, and acne-prone skin. In addition to calming your skin, it can also calm your mood. Add chamomile to your night cream for a dash of aromatherapy right before bed.

Citrus Essential Oil
Orange or lemon essential oil can be potent treatments for any skin type, but it's especially beneficial for acne-prone skin. Not only will citrus calm inflammation, but the citric acid will help fight acne-causing bacteria.
It's also loaded with vitamin C, which can help brighten skin, so add it to your age spot cream as well!
Coconut Oil
Coconut oil acts as a great moisturizer that can help boost collagen production, minimize fine lines, and even fight acne-causing bacteria. Apply it in light layers, though, as it's extremely slow to soak in.
Cucumber
Cucumber is another great ingredient for sensitive and acne-prone skin. It calms inflammation and minimizes swelling and puffiness. Combine it with aloe and chamomile for a great rosacea-calming treatment.
Lavender Essential Oil
Lavender is a great addition to just about any DIY face moisturizer. It can help fight acne breakouts, even out skin tone, and minimize fine lines. It also makes a great aromatherapy option so go ahead and add a few drops to your night cream!
Jojoba Oil
Jojoba oil is a great oil-base for most moisturizer recipes. It's naturally antibacterial and non-comedogenic, so it's safe to use on oily skin. Like argan oil, it also controls oil production and like coconut oil, it can help promote collagen production. It's one of the more well-rounded options. The only real drawback is that it tends to be more expensive than other oils for that reason.
Milk
Milk contains lactic acid which helps gently peel away dead skin while also hydrating and softening new skin. The overall result will be a brighter, more youthful glow. The key drawback with milk is that it will go sour so moisturizers that contain it have a short shelf life and need to be kept in the fridge. But as long as you only make what you'll use up in 1-2 weeks, you can avoid waste.

Lemon Juice
Lemon juice provides many of the same benefits as Lemon essential oil. The key difference is that the juice contains more citric acid while the essential oil contains more potent doses of antioxidants and other beneficial compounds.
If you're struggling with acne or oily skin, you want the added citric acid that comes with juice. For the best of both worlds, though, just use both!
Olive Oil
Olive oil is packed with antioxidants like vitamin A and E that can help repair and hydrate dry or damaged skin. It's great to use in a winter cream or a night cream. However, like coconut oil, it's slow to absorb and can clog pores if you apply too much of it. The key benefit it has over the oil options on this list is that it's more affordable.
Shea Butter
Shea butter is one of the most versatile moisturizing ingredients you could find. It soothes inflammation, evens skin tone, promotes collagen production, and can even heal acne scars and other sources of uneven texture.
It can form the base of your recipe if you need a richer, more protective formula but it can also be added as a secondary ingredient if you want those same healing benefits but in a lighter weight recipe.
Vitamin E Oil
Vitamin E oil will add a serious dose of one of the best antioxidants you could ever apply to your skin. Vitamin E is great for treating wrinkles, hyperpigmentation, and even acne scars. It repairs the damage that's already been done while also preventing new damage from occurring. As great as a concentrated vitamin E oil is, it's also a bit pricy.
Final Thoughts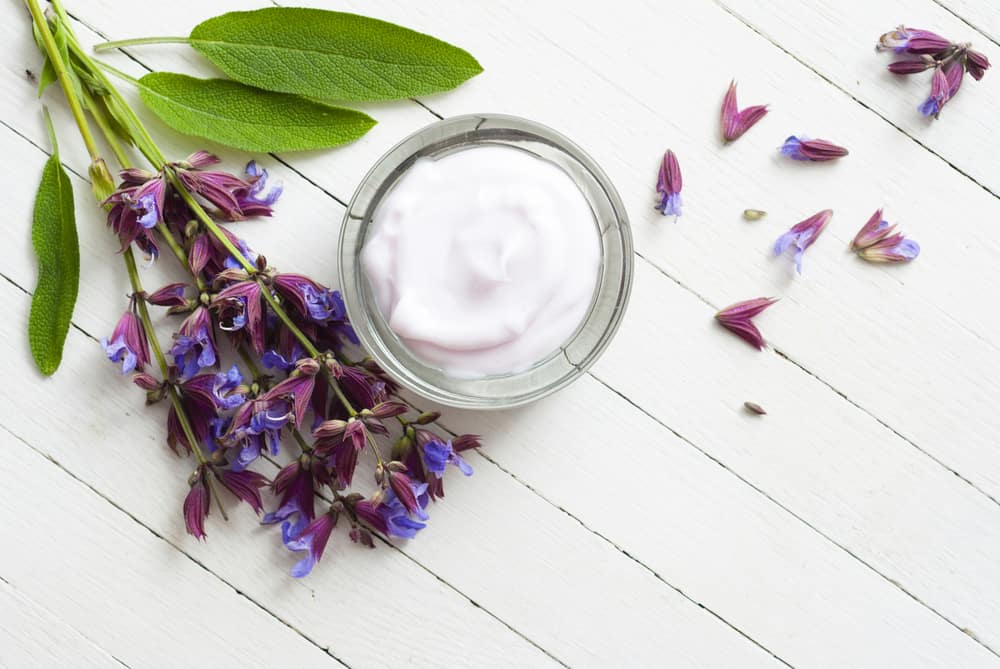 Whether you use one of the recipes we recommend above or you mix and match ingredients to create your very own, we're sure you'll find the perfect all-natural blend you need to give your skin the nourishment it craves!