Avocados have been having a Moment for the past half-decade or so, and it seems like you can find them on just about anything these days–faces included! Even though they might ultimately be more useful on a tortilla chip, their nutrients and hydrating properties make them perfect for a DIY face mask.
Today we'll be diving into our top five DIY avocado face masks, as well as what makes the avocado such a standout fruit, then we'll answer questions on how to use them properly as a face mask. Read on to learn more about this beloved superfood and how it can treat and rejuvenate your skin.
If a problem, don't worry, it's not a major issue. But if it's easy, I would appreciate it.
The Nutritional Breakdown
Avocados are packed with natural oils that can smooth, soften, and hydrate your skin, thereby reducing the appearance of fine lines and wrinkles. These natural oils and Vitamins C and E can also boost your skin's immunity against external environmental factors and stress.
You'll also reap the benefits of lutein in an avocado face mask, which is a carotenoid that promotes skin elasticity. The fruit's chlorophyll and oleic acid will also fight inflammation and reduce redness. This is great if you suffer from chronic skin conditions like psoriasis or eczema, and may also help even out your skin tone or repair cracked skin.
Acne sufferers will also discover that avocado oil's antimicrobial properties are great for fending off pimples and other unsightly comedones. Using avocado oil as a cleanser will also give your skin a supple, dewy appearance over time.
All in all, you can't go wrong with slathering some avocado on your face.
5 DIY Avocado Face Masks We Love
Now that you have a better idea of what benefits to expect from an avocado face mask, let's explore five of our favorite homemade versions.
1. Avocado and Honey Face Mask
Ingredients: 1 peeled and pitted ripe avocado, 1 tbsp. honey, a few droplets of your favorite essential oil (optional)
Prep Time: 5 minutes
Best For: Dry skin
Peel and pit one whole avocado and put it in a bowl. Add one tablespoon of honey and mix the two together until they form a creamy, uniform paste. Apply a thick layer to your face and leave it on for 10-15 minutes. Rinse it off with warm water, pat your skin dry with a fresh towel, and moisturize.
If you'd like, you can also add a few droplets of your favorite essential oil to the mix. Even though they don't offer any major dermatological benefits, they can still calm you down as you wear your face mask, thereby turning it into a therapeutic experience.
This mask is great for dry skin sufferers. The natural fats in the avocado intensely moisturize your skin while the honey cleanses and soothes dryness and redness.
2. Avocado, Banana, and Egg Face Mask
Ingredients: ½ ripe avocado, ½ ripe banana, 1 egg yolk
Prep Time: 5-10 minutes
Best For: Oily skin
Combine ingredients in a bowl and mash them together. Try to use an avocado and banana that are soft, but not overripe. Apply the mixture to your face and let it sit for 10-15 minutes. Rinse with warm water, pat your skin dry, and moisturize if needed.
If you have chronically oily skin, you'll be delighted to know that this DIY avocado face mask can help reduce your skin's natural oil content, thereby preventing future blemishes and breakouts. The banana will gently exfoliate while the egg hydrates and boosts your skin's elasticity.
3. Avocado, Honey, and Apple Cider Vinegar Face Mask
Ingredients: ¼ ripe avocado, 2 tbsps. honey, ½ tsp. apple cider vinegar
Prep Time: 5 minutes
Best For: Combination skin
Combine avocado and honey in a bowl and mix them into a homogenous paste, incorporating apple cider vinegar at the end. Apply a thin layer to damp, freshly-cleaned skin and let it sit for 10 minutes or so, or however long until it dries. Rinse with warm water, pat dry with a fresh towel, and moisturize, unless your skin is more on the oily side.
The apple cider vinegar in this face mask restores the pH balance to your skin and improves your overall skin tone. This is great for combination skin, which suffers from oily and dry patches at the same time. The avocado and honey deliver moisturizing and bacteria-fighting properties as well, making this one of the best all-around face masks on the list.
4. Avocado, Honey, and Yogurt Face Mask
Ingredients: 1 peeled and pitted ripe avocado, ⅓ cup plain yogurt, 2 tsps. honey, 1 tbsp. lemon juice
Prep Time: 5-10 minutes
Best For: All skin types, especially sensitive skin
Add ingredients to a blender and blend until smooth. Apply a thick layer to damp, freshly-cleaned skin and let it sit for 20 minutes. Rinse with warm water and moisturize skin if need be.
For sensitive-skinned faces or faces looking for a general moisture boost, you can't go wrong with this avocado, honey, and yogurt face mask. In addition to its hydrating and antibacterial features, the yogurt will gently exfoliate your skin, reduce fine lines and wrinkles, and fade blemishes and dark circles. The lemon juice acts as a natural astringent as well, so it'll bust blackheads and prevent skin from getting too oily.
5. Avocado and Apricot Face Mask
Ingredients: ½ ripe avocado, ½ ripe apricot
Prep Time: 10 minutes
Best For: Tired skin
Mash the apricot and avocado in separate bowls and then mix them together into a uniform paste. Apply a thick layer to your face and let it sit for 30 minutes, or wear overnight for a bigger hydration boost. Afterwards, rinse off the mask with warm water, pat your skin dry, and moisturize.
If your skin is looking a little tired–meaning it's a bit drier, wrinklier, or more uneven than usual–use this DIY face mask to pep it up a bit. The fatty acids in apricots moisturize and soften skin, and act as a natural emollient to help strengthen your skin's natural moisture barrier.
Other Common Ingredients in DIY Avocado Face Masks
You'll be delighted to learn that most of the ingredients you'll need for DIY avocado face masks are already in your pantry and fridge. Let's talk a little about the dermatological benefits of some of them.
Honey – Honey's anti-inflammatory properties make it great for soothing skin conditions like rosacea, eczema, and minor breakouts. It's also antibacterial and antiseptic, ridding your skin of acne-causing bacteria while still giving your skin a big hit of hydration. But that's not all–honey has also been shown to boost collagen production, which helps keep your skin looking young and fresh.
Rolled oats – Oats and all their incarnations are popular players in skin products, whether it's colloidal oatmeal, oat oil, or oat extract. The reason you see it so frequently is because it balances the good and bad bacteria on your skin's surface while also soothing redness and itchiness. It's also full of nourishing compounds that cleanse, hydrate, and protect your skin. What's more, rolled oats' rough texture act as a gentle, all-natural exfoliator as well, which will slough off layers of cakey and flaky skin.
Bananas – The benefits bananas provide your skin are just another reason why you should play with your food more often. Despite their mushy texture, bananas are a surprisingly effective exfoliator. Because they're packed full of antioxidants, they also provide a lot of skin-firming and wrinkle-reducing benefits for your skin. Like rolled oats and honey, they also have anti-inflammatory properties, thanks to their Vitamin A, manganese, and zinc.
Yogurt – Yogurt is one of the most versatile natural skin products you can find; it soothes sunburns, treats skin infections, reduces dark circles, and fades hyperpigmented spots and blemishes. The lactic acid in yogurt is also a wonderfully gentle exfoliator, making it perfect for sensitive skin.
Eggs – Both yolk and egg white deliver some seriously skin-smoothing TLC to your face. The lutein in the egg yolks–which is also found in avocados–hydrates the skin and boosts its elasticity while the albumin in the egg whites simultaneously firms up and repairs it.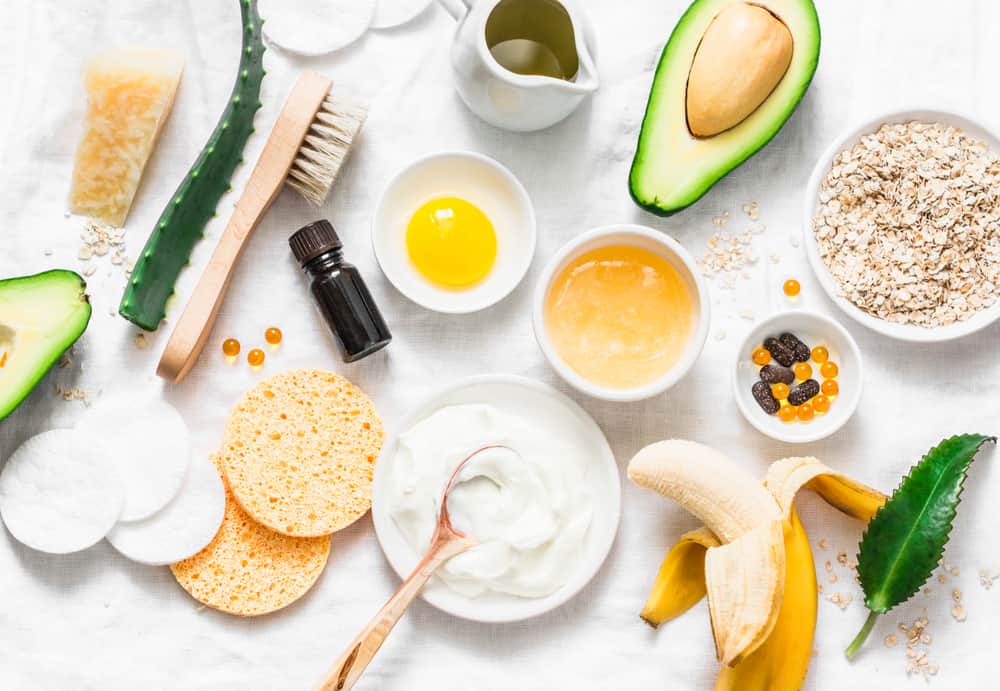 How to Use a DIY Avocado Face Mask FAQ

Of course, we're fully aware that you might have some reservations when it comes to coating your face in a mushy, green avocado mixture. For this reason, we'll address some of the most frequently asked questions surrounding DIY avocado face masks.
How Can I Apply Avocado to My Face?
Of course, there's more to reaping those avocado-y benefits than just cutting one in half and placing the halves on your face. Most DIY avocado face masks require you to mash it up so that you create a smooth, paste-like texture that's both easy to apply and rinse off.
As mentioned earlier, you can also use avocado oil as a cleanser. Counterintuitive as it may sound, cleansing with avocado oil is an amazing way to clean and hydrate your skin without stripping it of its natural, protective lipid barrier, which allows the good bacteria to continue working their magic.
To cleanse with avocado oil, squirt a dime-sized dollop or so onto the palm of your hand and rub your hands together to coat them well. Then, gently massage your entire face and let the oil sit on your face for one to two minutes before wiping it off. This lets the oil lift the dead skin cells and other debris from your face so that it can easily wash off.
Once that's done, wipe the oil off with a warm, wet washcloth. Try to wipe gently, otherwise you could damage the skin or risk a breakout. Use a smooth, non-abrasive washcloth if possible. In the end, your face should feel well-hydrated and not greasy.
However, keep in mind that your skin may go through an adjustment period, known as 'purging,' once you start using avocado oil treatments. This is because new skin treatments or products tend to bring different kinds of bacteria to the surface, which can clog your pores and have the exact opposite effect as desired on your skin. But don't worry–this period only lasts a week or two.
This video shows you the method of applying avocado to your face.
When's the Best Time for a DIY Avocado Face Mask or Oil Treatment?
There's really no wrong time, but we recommend doing a face mask or oil treatment at least an hour and a half before going to bed. This gives your skin time to soak in the nutrients before falling asleep, which is when your skin undergoes its routine repair process.
How Often Should I Do a DIY Avocado Face Mask or Oil Treatment?
Unlike store-bought face masks, DIY face masks have a short and simple ingredient list that makes them safe for everyday use, and DIY avocado face masks are no exception. Just try not to double up on face masks and oil treatments in a single day if possible, as there is indeed too much of a good thing. Your skin will likely get a bit greasy if you overload it with too much oil of any kind.
I Have Cystic Acne–Should I Use a DIY Avocado Face Mask or Oil Treatment?
If you suffer from cystic acne or have skin that's more on the sensitive side, you should consult your dermatologist first about whether you should try out these home remedies. Since your skin is aggravated more easily, you could end up doing more harm than good.
Final Thoughts
Making a therapeutic facemask from avocado using great natural ingredients is almost as comforting as using the mask itself. The pleasure of hydrating and delighting your skin while using your concoction makes it even better. So relax and know that your carefully prepared mask is natural, doing wonders for your skin, and – lest we forget – delicious!