Date nights are a special occasion. Whether you're going on a first date or your weekly date with your partner, the special event calls for preparation.
Though exciting, going on a date can be very stressful, too. If it's a first date you might wonder if you and the other person will get along well, or if it will end up being awkward. On the second date and onwards you already know what you expect, but you still want to look and feel your best.
One of the most stressful things about going on a date is deciding what to wear. You may have a closetful of clothes, but when the time comes to pick an outfit, it's like you have nothing to wear at all.
Choosing the Perfect Date Night Outfit
There are three major factors to take into consideration when finding date-night duds that both you and your date are sure to love: what the weather will be like, what you'll be doing, and where you're going. On top of that, you'll also want to keep your own stylistic tastes (and your date's, if you're dressing to impress).
Weather
Weather is important for obvious reasons. You don't want to wear a fuzzy jacket or a knitted sweater on a hot summer day. It's also not ideal to wear thin fabrics and sleeveless tops if it's a winter night.
Location
If you're going for dinner at a fancy restaurant and then a party you should choose an outfit that looks formal in the restaurant but it's comfortable to dance with later on.
Plans
Dates can take many forms. Dinner is the gold-standard, but a walk on the beach, a hot drink at a cafe, or even an outdoor adventure hike are just as fun. All these different activities call for a suitable outfit.
Rather than standing in front of the wardrobe with your hands on your hips thinking about what to wear, you should take action by looking at inspiration. And that is exactly what this list is for.
Style
Personal style always comes into play and in the end, you will choose something you're comfortable with. On this list, you will find traditional, vintage, and trendy looks so you're very likely to find one that's perfect for you.
Each outfit can be tweaked to fit your style or to put something you already own to use. A way to make an outfit shine and stand out even more is by adding a nice handbag, jewelry, and a fantastic face of makeup suited to your clothes.
Even with this in mind, it's not easy. That's why we put together this list of 50 different outfits to suit any situation.
1. Long-Sleeve Ruched Dress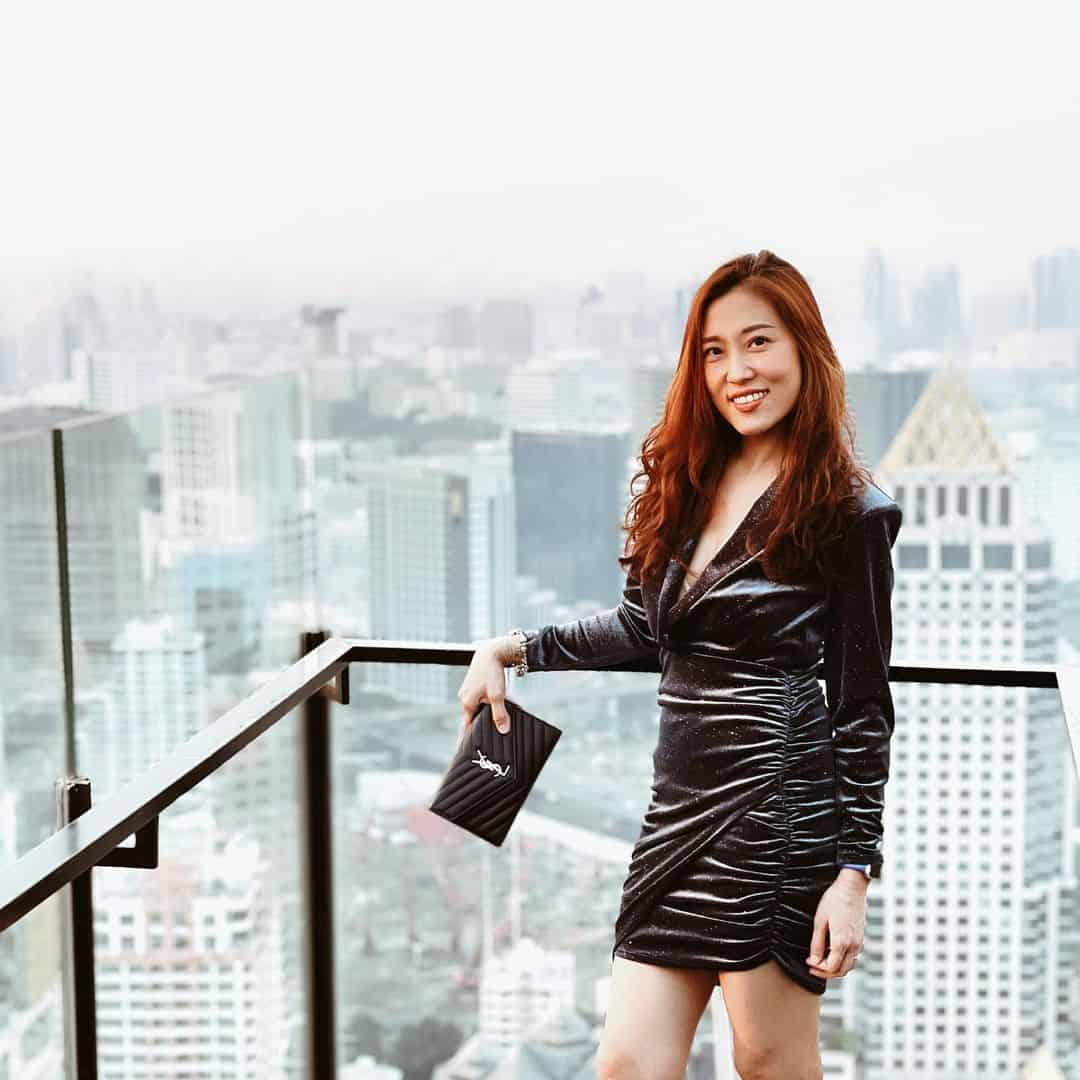 Image source
This long-sleeve ruched dress is an amazing option if you want to go for a classic date night look at a fancy restaurant. It would work for both warm and cold weather; just combine it with tights to combat the cold or wear it by itself if it's a warm night.
Black clothing is a popular choice as it's flattering and it hides imperfections. Plus, it goes well with everything. The lady in the picture has opted for a black clutch, and we can't see her shoes but imagine a nice pair of black heels.
2. Floral Top and Denim Skirt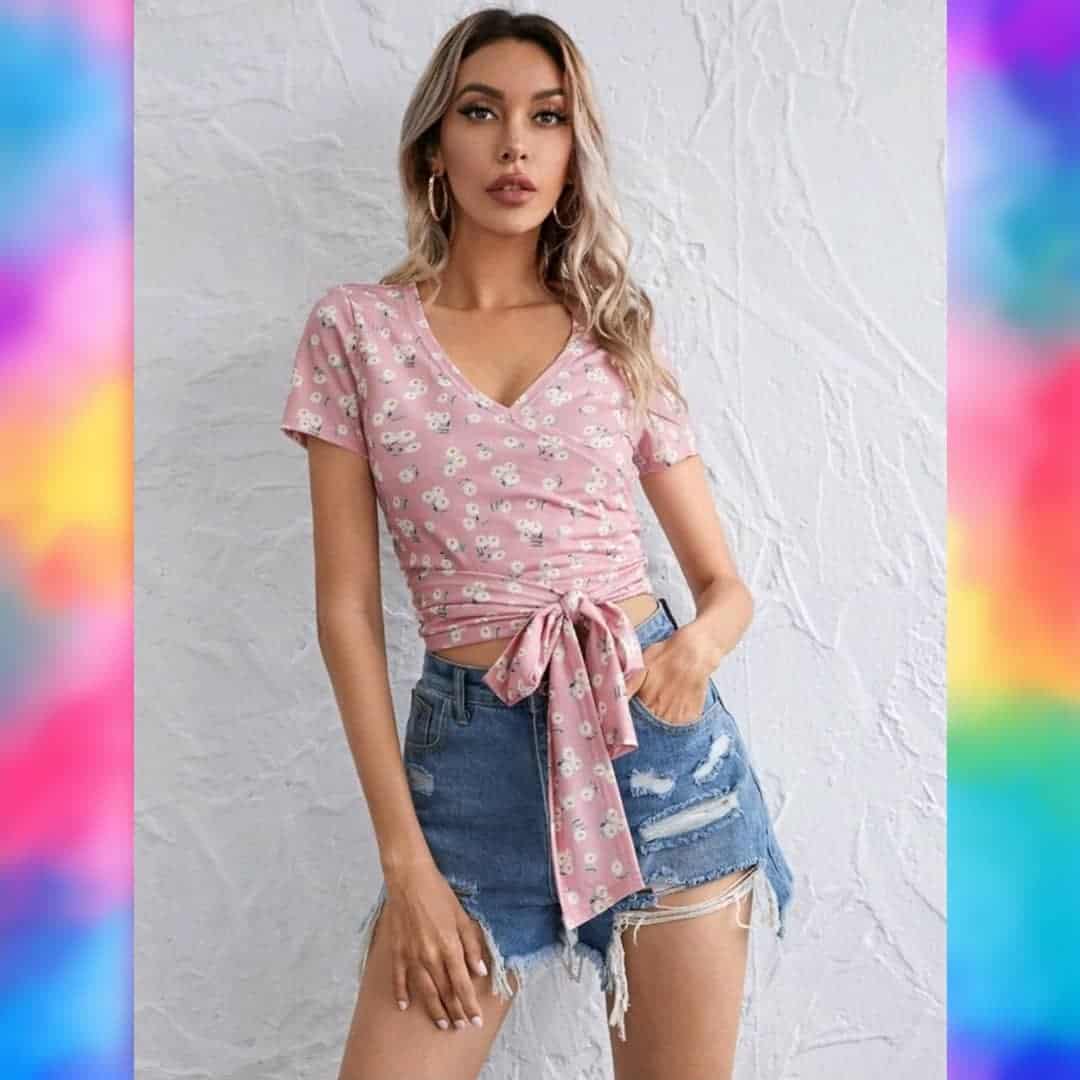 Image source
If you have a more feminine look and love floral summery patterns, this one is a good option. The floral top has a strip of fabric that ties at the front and gives the whole outfit a lot of substance. Without that detail, you might say that this look was too simple, but the same cannot be said with it.
Denim skirts were under the fashion radar for a while, but now they're rising in popularity, and we can see why—they look amazing and make for a great summer outfit.
This is the outfit to pick if you're going for dinner at a nice restaurant, but it fits the occasion perfectly if you're going for an afternoon tea and a walk on the beach or park.
3. Long Pleated Skirt and Patterned Shirt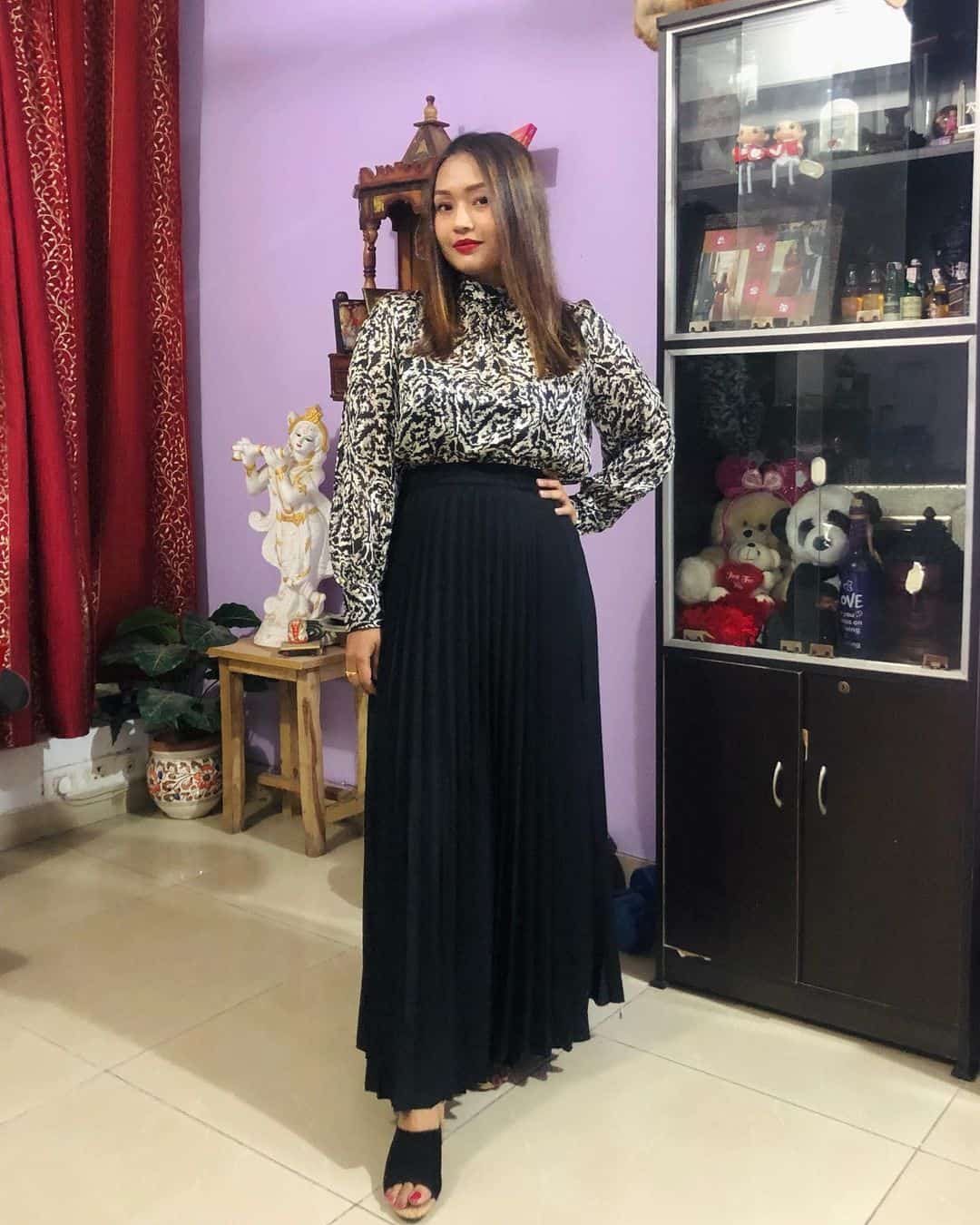 Image source
The best thing about pleated skirts is how comfortable they are. The cut hugs your figure and accentuates your curves, but if you're walking it won't hinder your legs from stretching. The fabric will move as you do, and the effect is really pretty.
Pleated skirts fit all kinds of outfits, from a casual one if you wear a crop top, to a formal and classy one if you wear a shirt like in the image. The batten makes it even better, as the white contrasts and the black matches the skirt.
This outfit would be perfect for an evening meal or even a date at a museum or art gallery.
4. Oversized Coat Over All-Black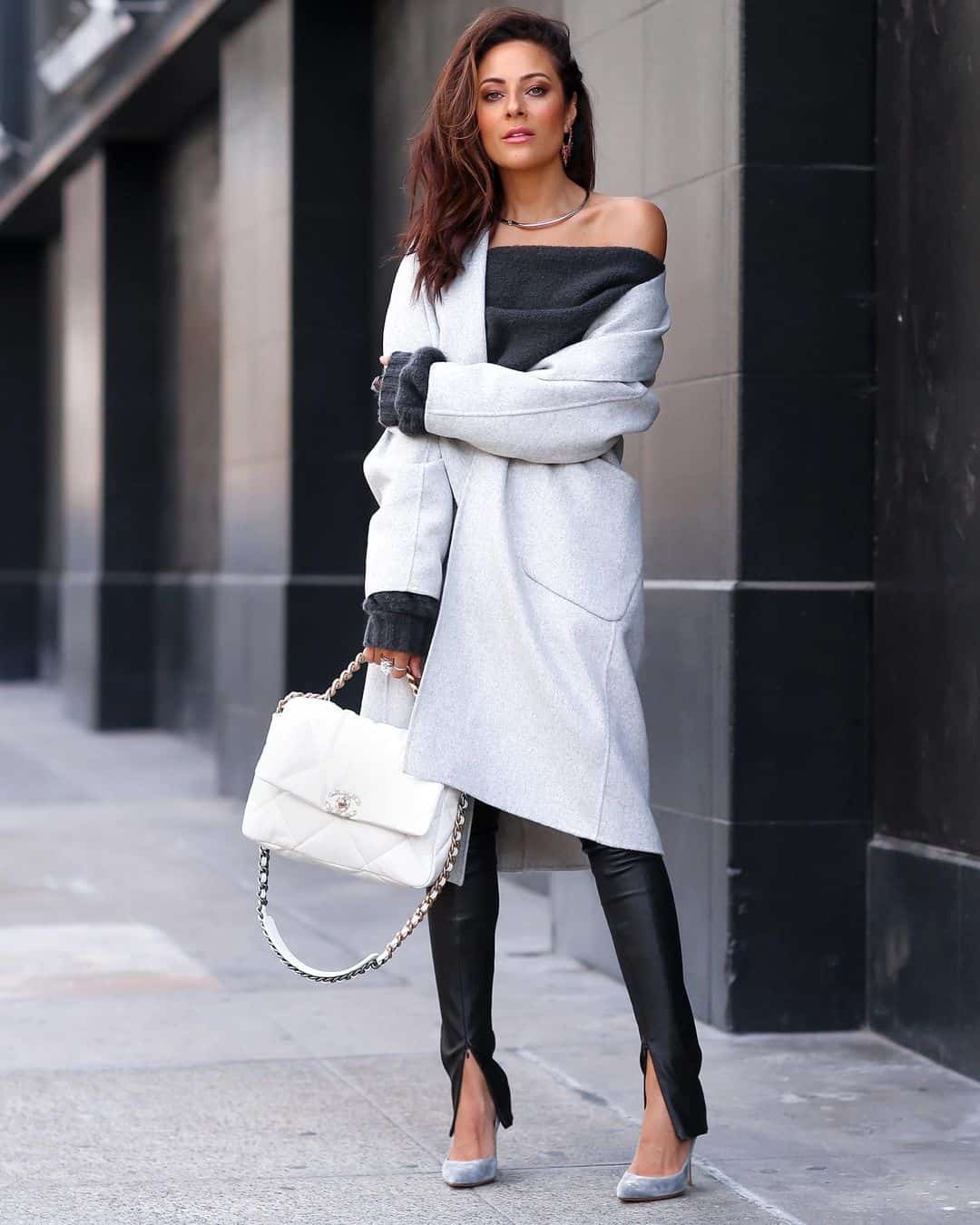 Image source
This outfit looks as classy as it looks comfortable. It's a mixture that's hard to achieve, but it guarantees that you'll never be underdressed or overdressed.
The wool pants and the off the shoulder top will accentuate your curves and make you look like a million bucks. The heels and handbag matching the oversized coat's color is the sweet cherry on top.
Oversized clothing is growing in popularity, and it's a trend that seems like it's here to stay. This outfit would be perfect for any occasion, from a meal at a fancy restaurant to a morning brunch.
5. Off the Shoulder Sweater Dress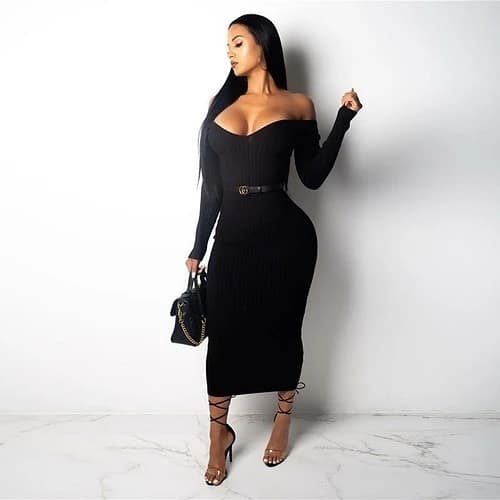 Image source
This off the shoulder sweater dress is another classic date night outfit. Black dresses are a safe choice, they're stunning and make your body look flawless.
Adding a belt over the dress is something you should try for yourself, as it makes any dress go from ordinary to elaborate. The black handbag and heeled sandals finish this outfit beautifully, proving that you don't need much to achieve a heartbreaker look.
You could wear this anywhere unless you're going to be active—it would suit better a restaurant or party setting. If you're going to a party, put a pair of flats inside your handbag, just in case your feet hurt from dancing.
6. Single Sleeve Top and Heine Faux Leather Pants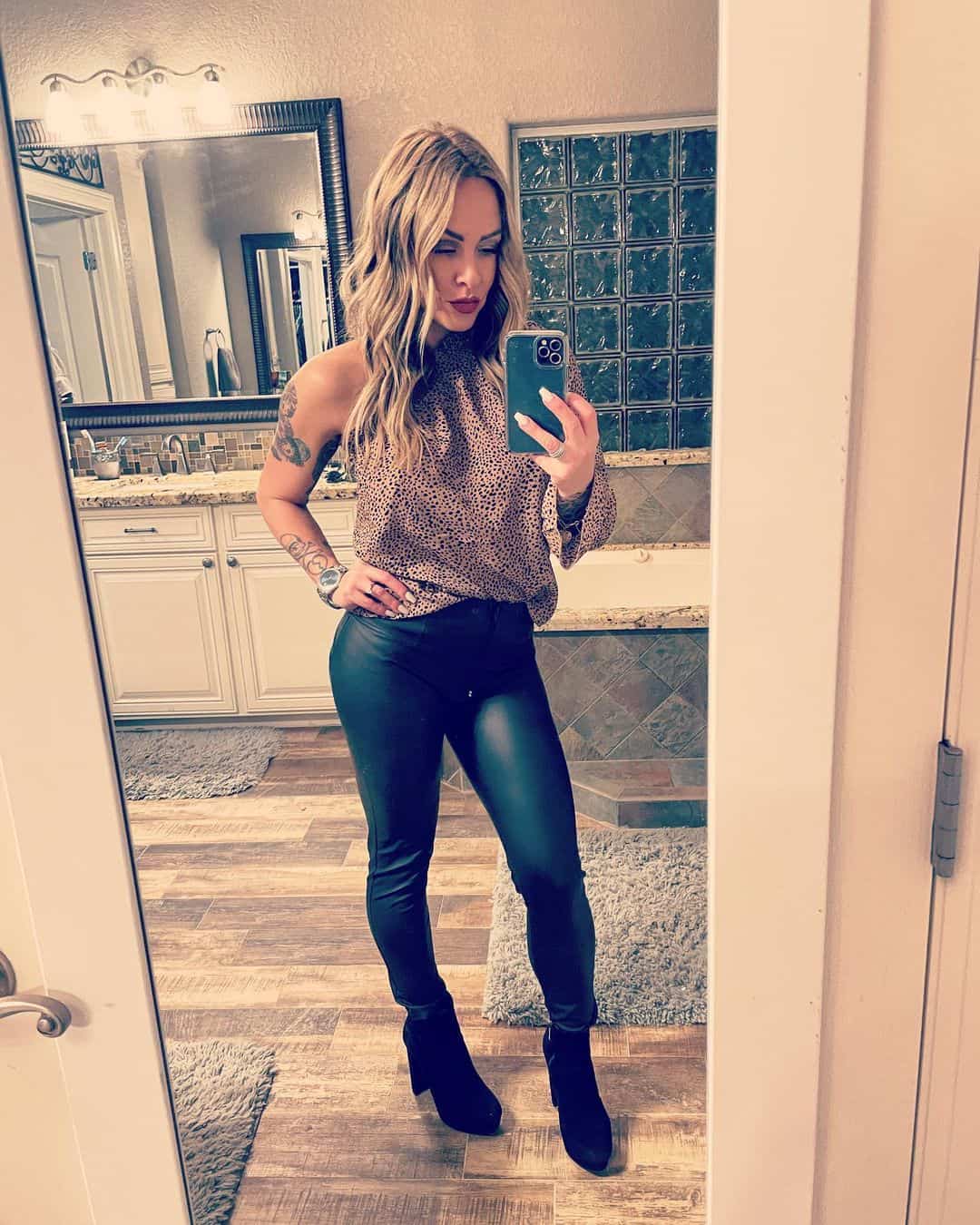 Image source
Leather pants are a stunning addition to any outfit; they make you look sexy, and like a force to be reckoned with. A confident look like this one will make you own the room anywhere you go, from a cinema date to a meal.
The single sleeve top in animal print just helps accentuate that whole vibe, and it looks amazing with the leather pants and black boots. You don't need anything else to complete the look, but if it's cold, a denim or leather jacket would look great.
7. Skater Skirt, Hoodie, and Heart Tights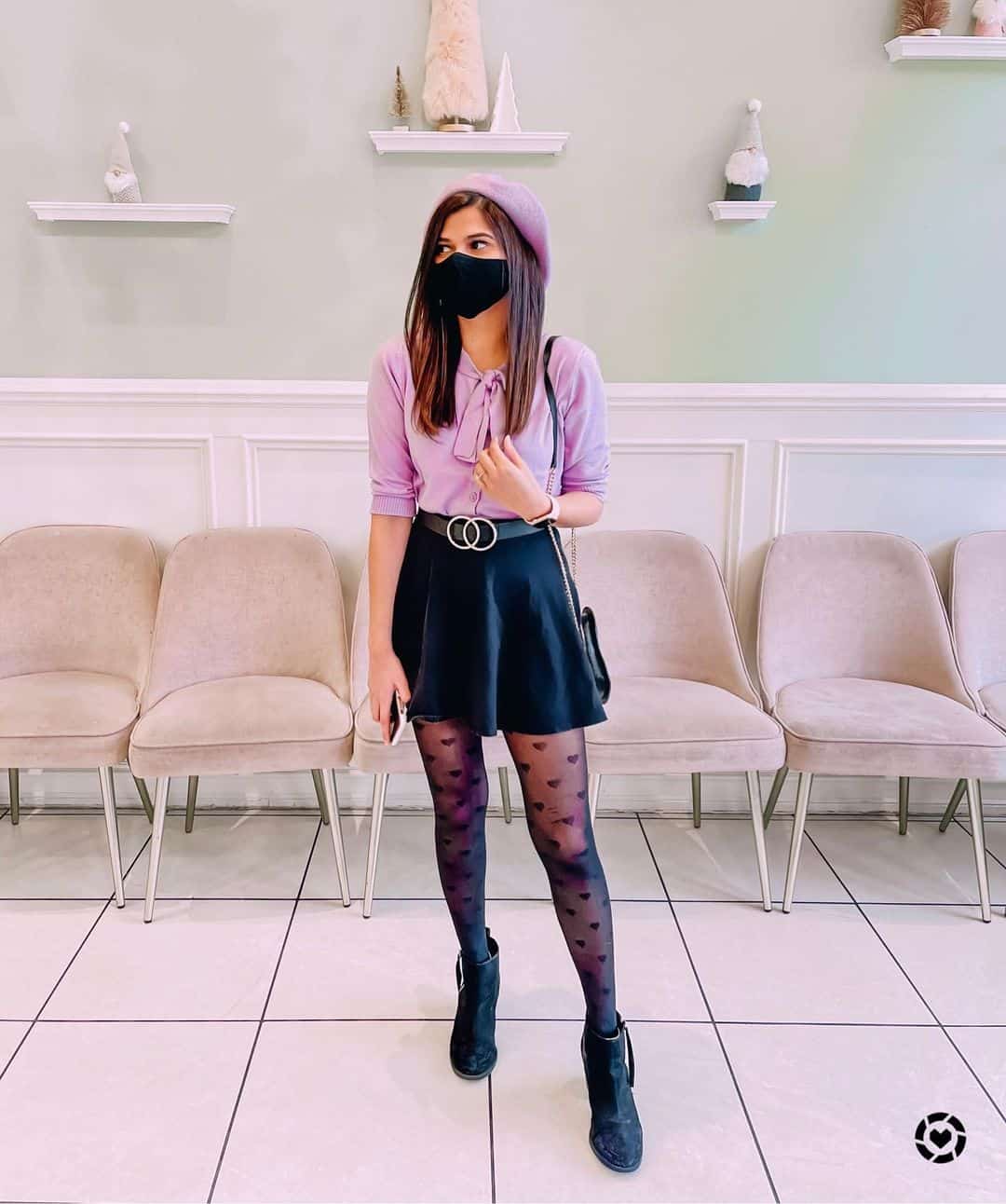 Image source
If you're going on a date in a more relaxed environment such as a walk in the park, a café date, or a visit to the amusement park this one is a strong contestant.
Skater skirts go well with everything. They don't hug your body, but provide a fun girly look. The hoodie may seem like an odd choice for a date, but look for one with a unique touch, like these two stips of fabric that tie at the front, making it look less casual.
To complement the outfit, try a belt, black boots, and heart pattern tights. The look looks very romantic, and hopefully your date will be too.
8. Mini Bodycon Skirt With Long Boots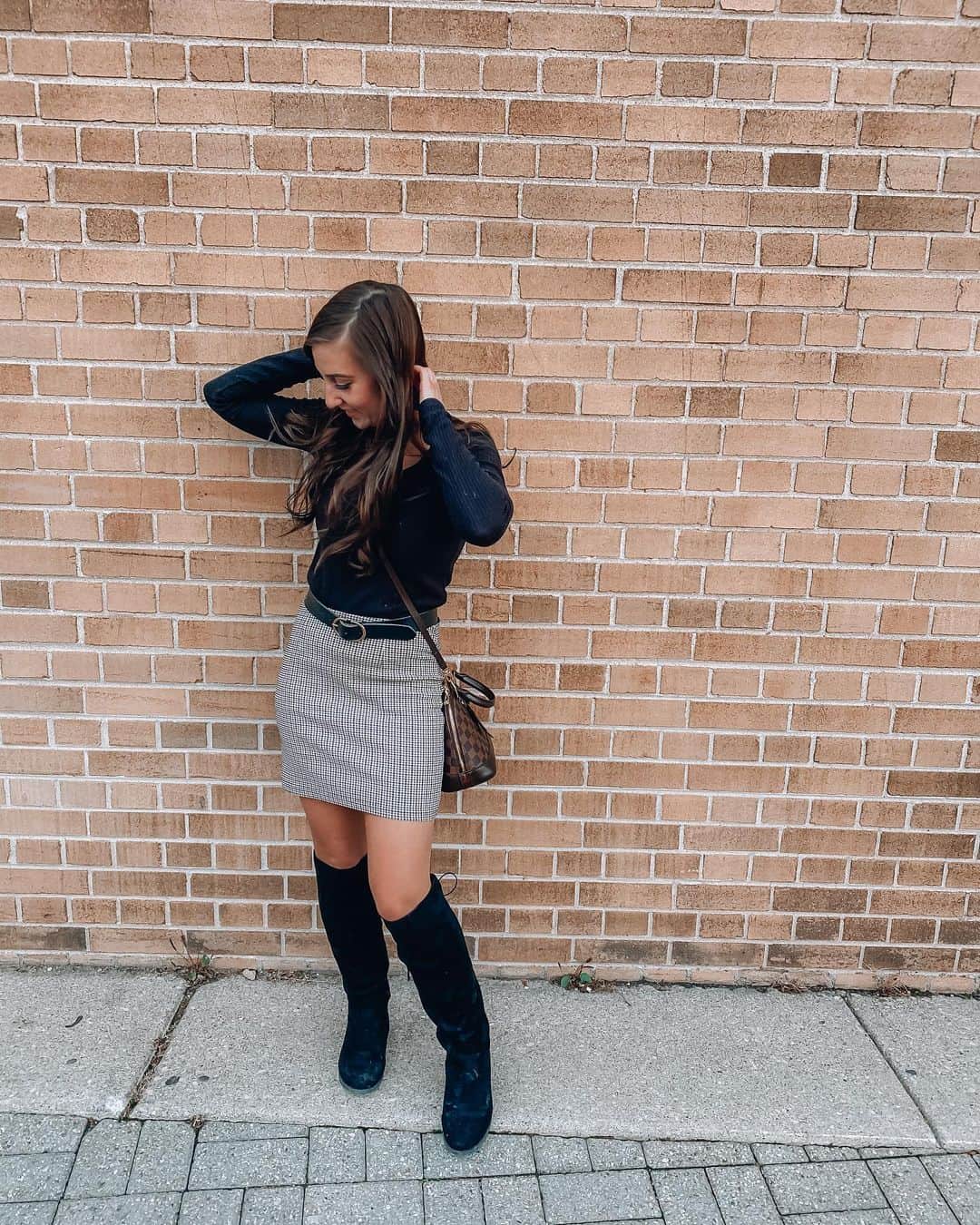 Image source
This one is perfect for you if you love simple but cute looks. It's also an amazing way to wear a skirt during cold weather without freezing, and it'll work not only at dinner, but at the after-party too.
The checked mini skirt has a vintage look that's very sought out according to today's fashion trends. Combine it with a black belt, sweater, and long boots, and you have a complete look. Pick a fleece-lined sweater, if you need to stay warm, too.
9. Corduroy Pants, Knitted Sweater, and Cowboy Boots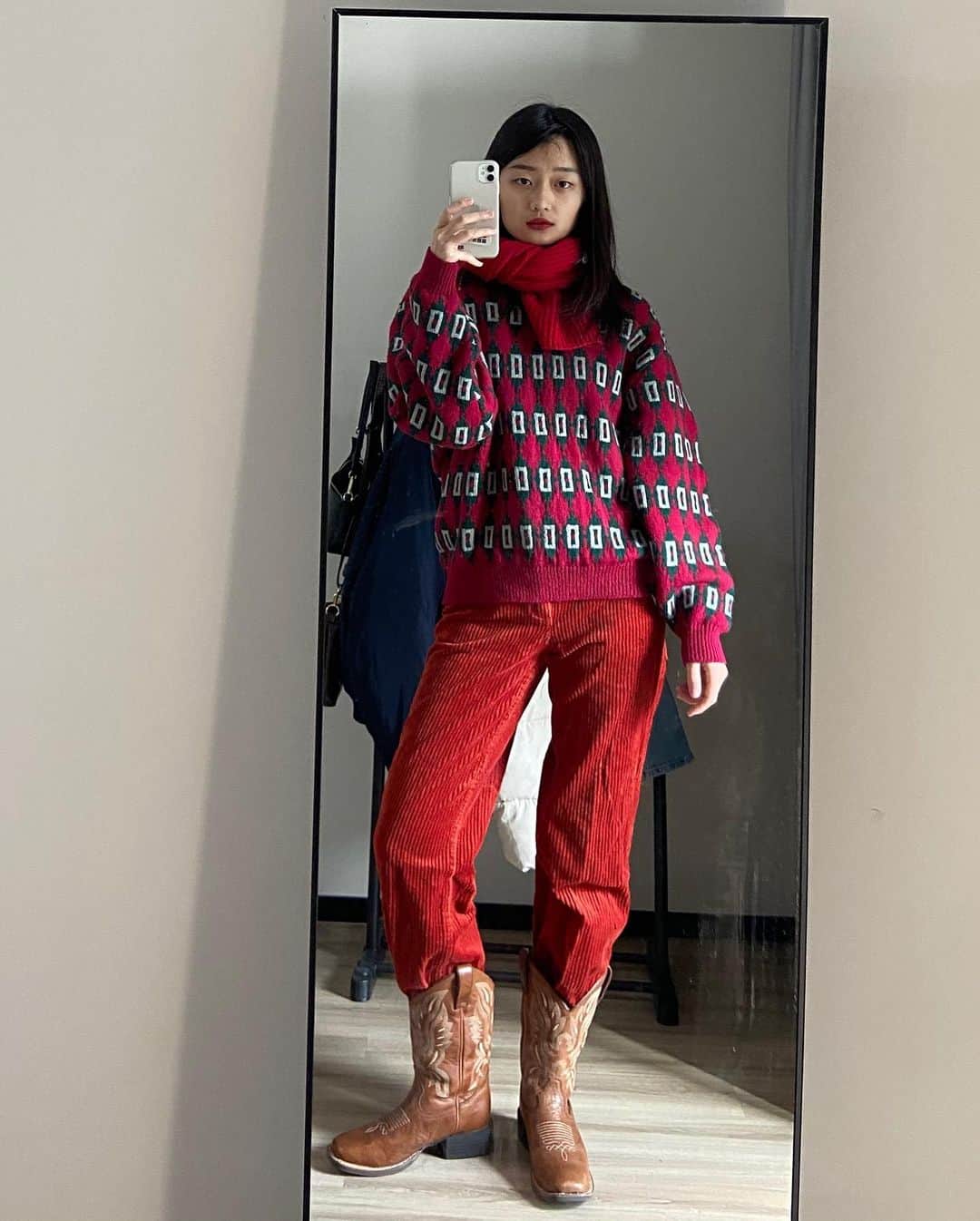 Image source
These days fashion doesn't follow one universal trend, and more and more people enjoy thinking outside of the box to create edgy and distinctive looks. This outfit is proof of that. It mixes three different elements that don't look great together at first glance, but the more you look, the more it stands out.
Corduroy pants are very comfortable and used to be very popular in the late 90s and early 2000s. They are making a comeback in recent years, slowly but surely. The cowboy boots, too, are a quirky choice, but combine very well with the corduroy pants and a warm knitted sweater. This outfit is perfect for a nice picnic at the park or a visit to the amusement fair.
10. Shorts and Crop Top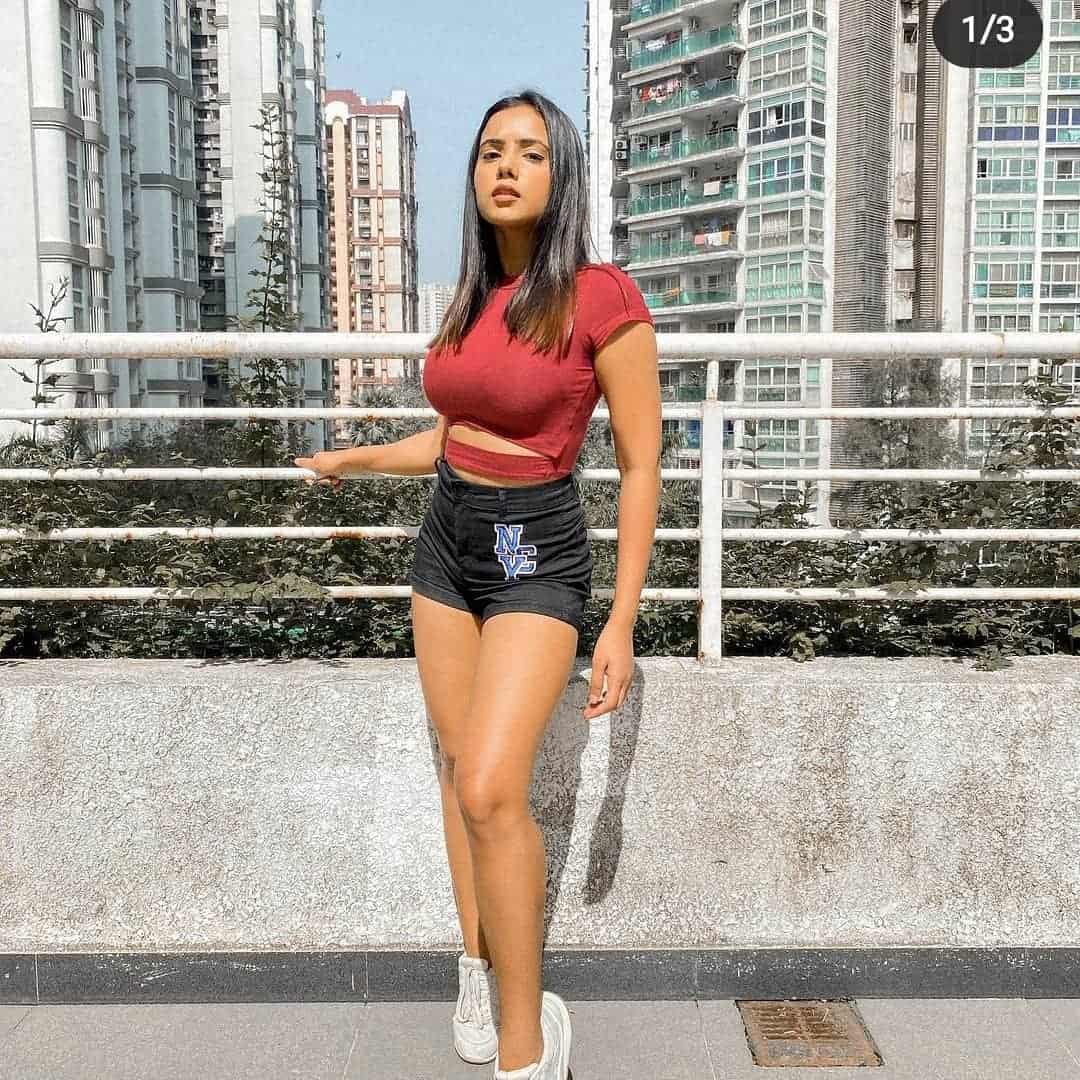 Image source
Dates don't need to be the usual dinner and a movie; nowadays people are getting creative when it comes to date activities. Some people are more in their element when at a park on a sunny afternoon, going on a hike, or playing a game of soccer, and what matters is having fun.
This outfit is for those dates that take you outdoors, to a sandy beach or a rocky mountain, where you still don't want to sacrifice style. The dark denim shorts are comfortable for walking, and the crop top will let you break a sweat without making you feel too warm. The final touch is the white sneakers so you can walk comfortably for long distances.
11. Ruched Red Dress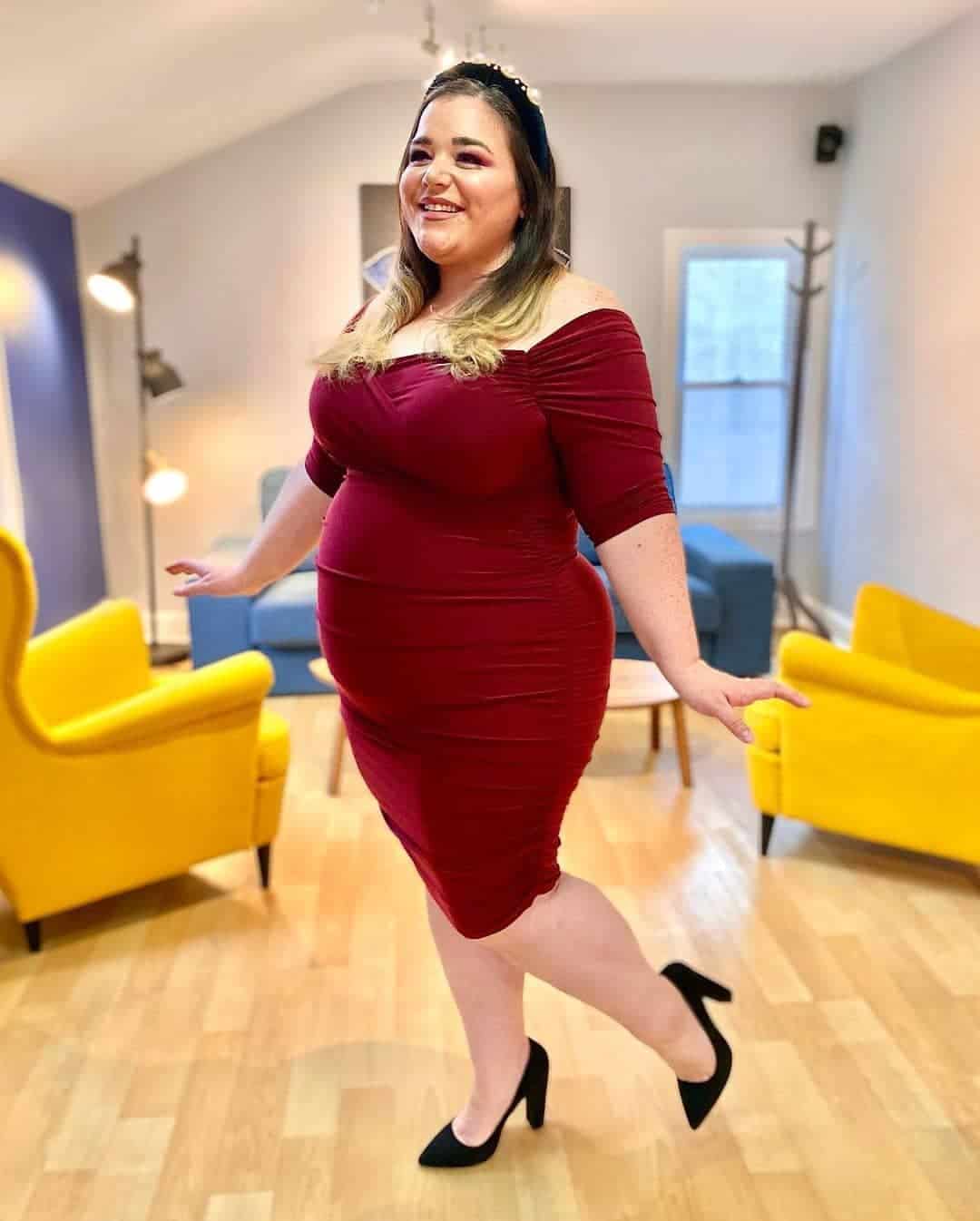 Image source
Red clothing is often associated with romantic occasions, so it is no surprise that it is a common choice for dates. This ruched red dress is tight-fitting, the sleeves are short, and it has a boat neckline, making it unique even in a sea of other ruched dresses.
Combine it with back heels and you have a perfectly complete look. Black and red are a perfect combination that seldom disappoints. This outfit is perfect for a meal at a formal restaurant.
12. Long-Sleeve Tent Dress With Belt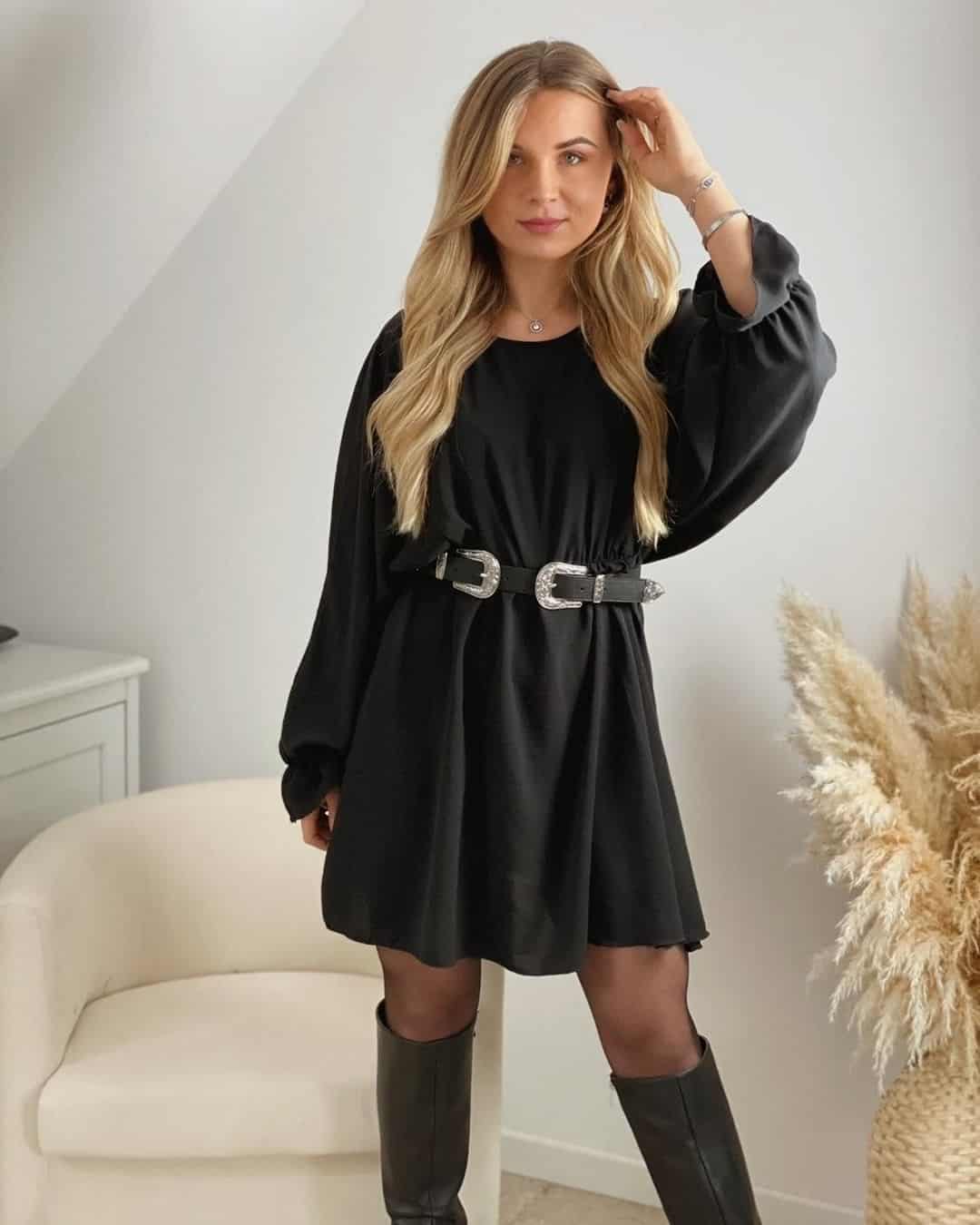 Image source
This combination is fantastic. The short tent dress with long bishop sleeves is already beautiful, but if you add a belt on the waistline you create a bohemian look for all occasions. It can suit formal occasions as much as it suits relaxed environments would look amazing on all body types.
The long boots and tights just make it look more complete. You could also add a black hat if you're going to be outdoors.This all-rounded look fits every taste, occasion, and weather.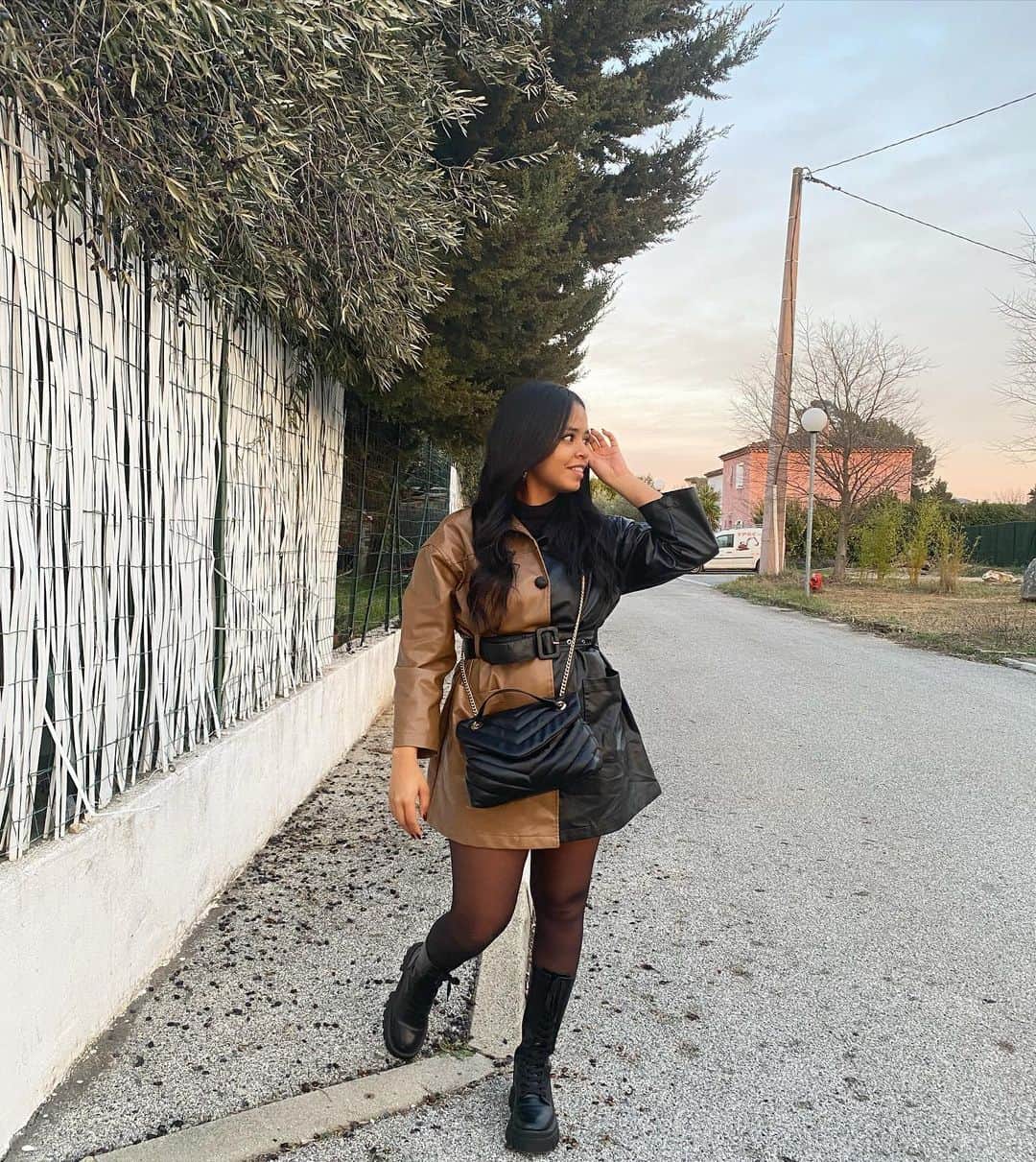 Image source
Some outfits are timeless, while some will make you look older or younger. This outfit gives a youthful vibe that will take ten years off your back. The button down dress, cut almost like a raincoat, would be fine by itself, but it becomes even better when you add a belt. Not to mention that each half is a different color, which is an amazingly adorable trend.
This dress, when combined with short boots and tights, is perfect for cold weather and would keep you warm and fashionable on a winter stroll at the park or any other outdoor activity. However, the outfit is versatile enough that it would also fit a dinner or cinema kind of date.
14. Sleeveless Polka Dot Crepe Dress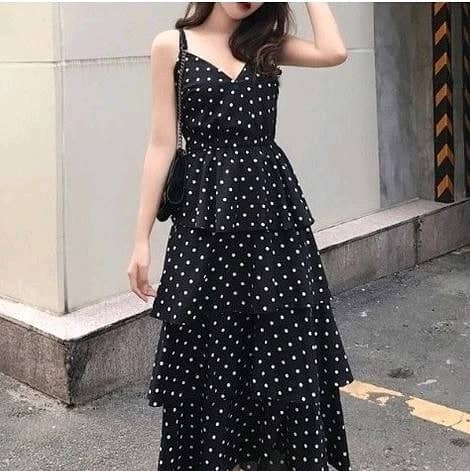 Image source
This long dress is an amazing choice for semi-formal dates. The long dress has some innate class, while the ruffle and polka dot will add a relaxed and fun touch to make this look fit in many different contexts.
You can take it for a picnic at the parkor brunch at a hotel restaurant, and you'll look like you belong in both places. Match this outfit with a nice pair of sandals and a small purse, and you have a complete look.
15. Long Pencil Skirt and White Shirt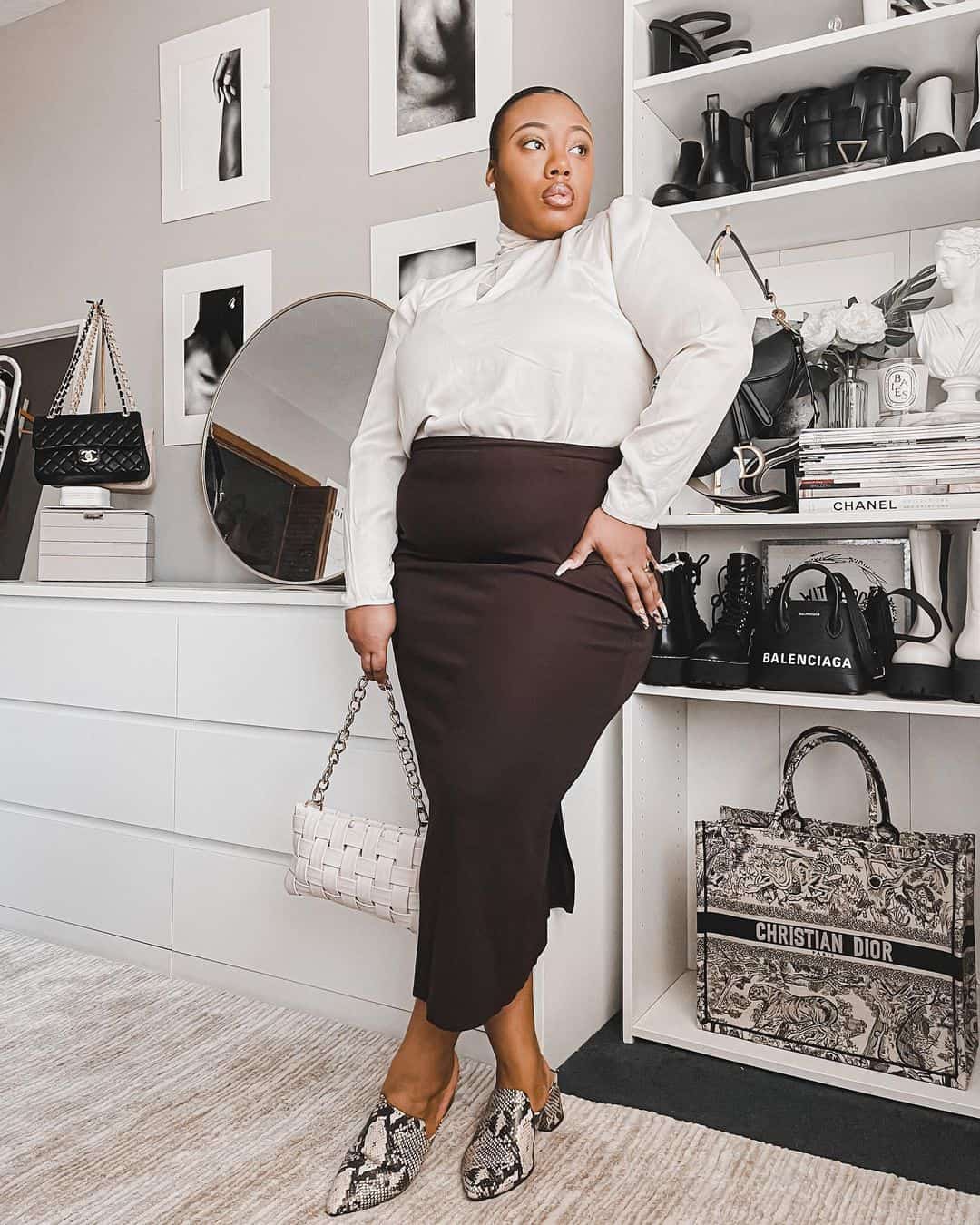 Image source
This outfit is only for selected occasions. If you are going to a fancy restaurant or a high-class party with thin champagne glasses and canapés. The white shirt combined with the midi pencil skirt will make you shine at formal events and make you look as if you're always ready to run to a meeting.
The snake-print shoes add a twist. Outfits like classic white shirts and black bottoms can be quite plain at times, and are often combined with black heels to match, but this outfit does something completely different and it works.
16. Short Shiny Faux Leather Skirt and Long Boots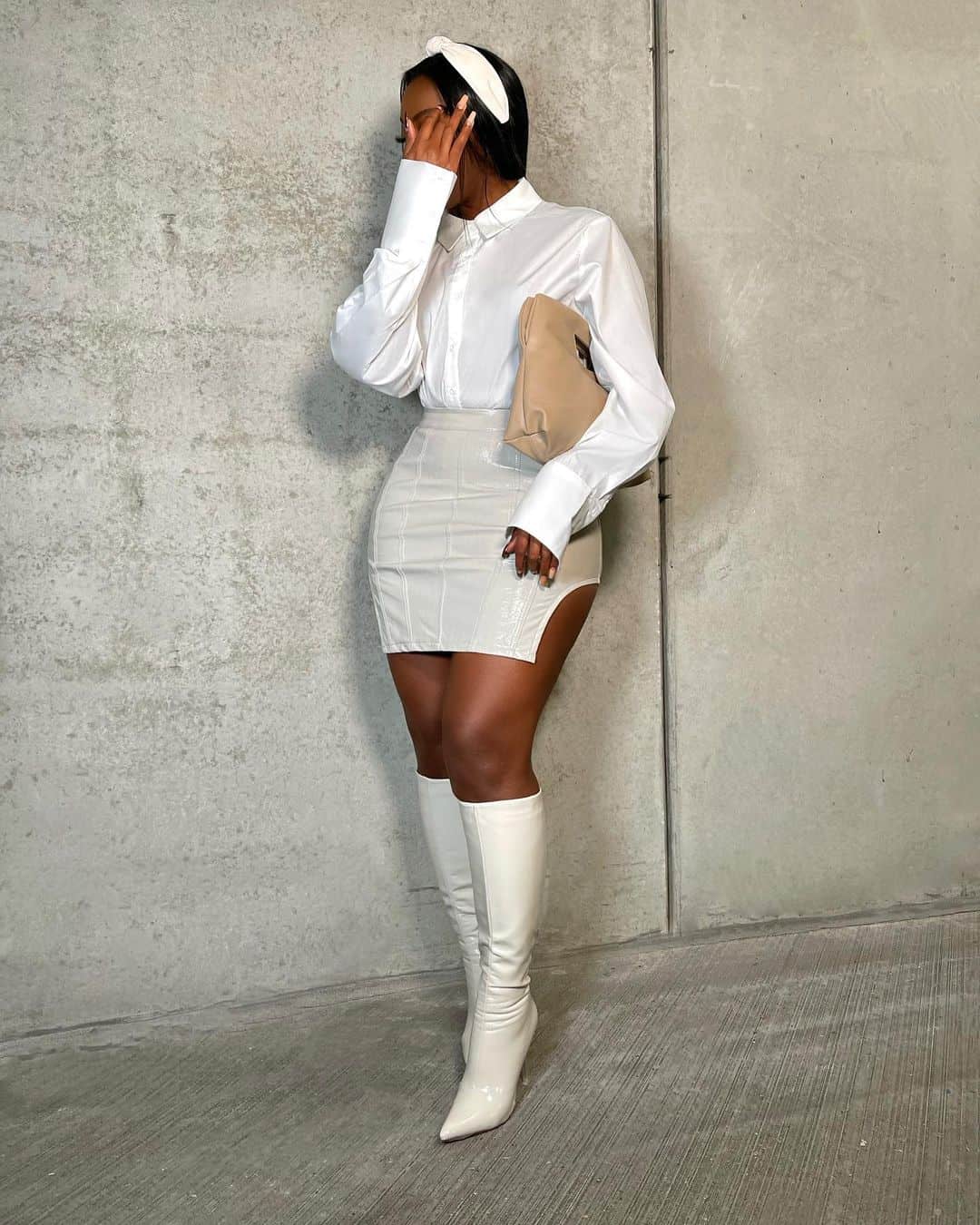 Image source
Just like all-black outfits are a prime choice, so are all-white ones. An all-white outfit may be less convenient if you're going to a big party because of unwanted stains that are almost inevitable in those environments, but if you're going to a restaurant and have no fancy plans after, this outfit is one you should consider.
It consists of a short bodycon skirt in faux leather, combined with a white shirt and knee-length heeled boots. The white hairband is another element that looks very graceful when pulled off right.
17. Mini Ruffle off the Shoulder Dress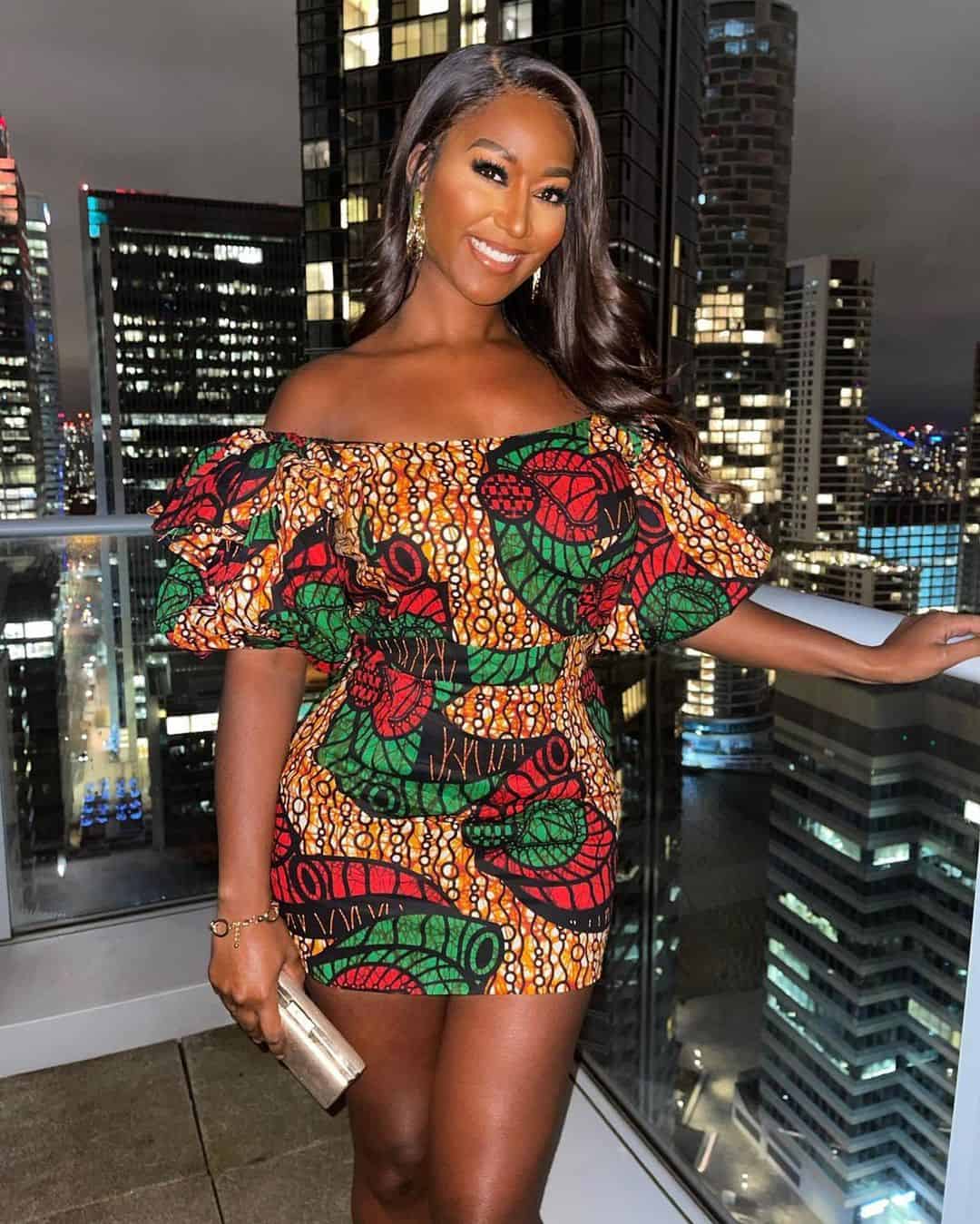 Image source
This outfit is a heartbreaker. The ruffled off-the-shoulder detail combined with the bodycon fitting of the rest of the dress will give you an amazing figure as well as a fun, relaxed look. The pattern comprising bright colors makes it even prettier.
This outfit would be ideal for a lively party or a meal followed by a few drinks. It has a fun vibe that's bound to contribute to smiles and uplifting thoughts. Combine it with a monochromatic purse matching one of the colors of the dress—and to make it even better, the shoes could match too.
18. Mini Checked Skirt and Long Suede Boots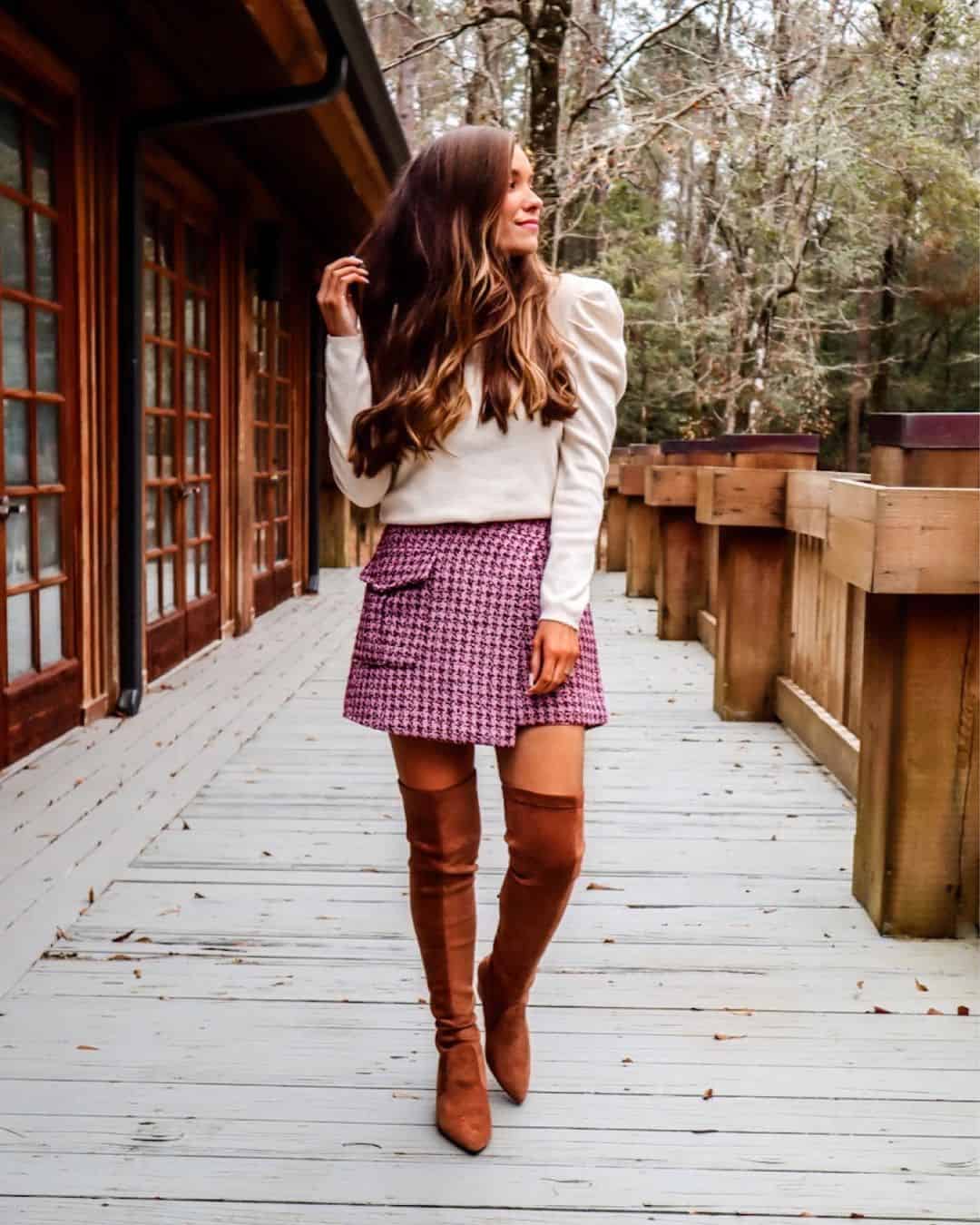 Image source
This cozy look is perfect for a relaxed brunch, a picnic, or even a walk across country fields. It's not too warm, but you won't be cold either, especially if you add a fuzzy white cardigan—which would look amazing combined with the rest of the elements.
The mini checked skirt is a popular choice, and this one has a nice big pocket for those of us who can't live without them, and the color is more inviting to features like the suede boots. Combine all that with the white fuzzy sweater and you have the perfect outfit to go on your country date.
19. White Flared Mini Skirt and Pinstripe Shirt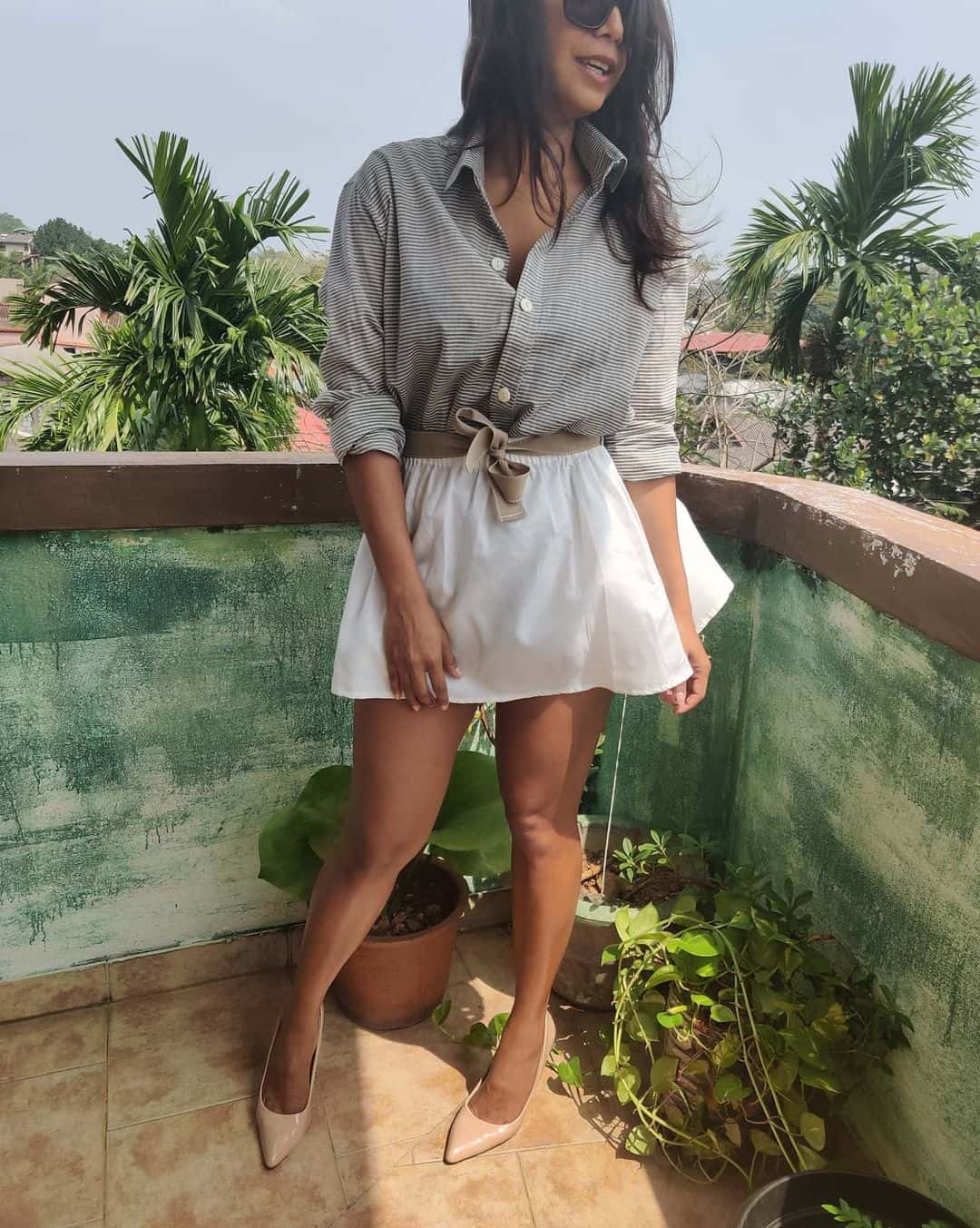 Image source
This outfit features a pinstripe shirt and a white flared mini skirt made of lightweight cotton. To complement the look, add a self-tie belt to make the combo look more like a dress than two separate pieces.
Wearing heels in a nude color does look nice, but it would look even better with short boots or a pair of white sneakers. This look is perfect for relaxed occasions such as a picnic at the park or a brunch date.
20. Checked Dress and Fluffy Jacket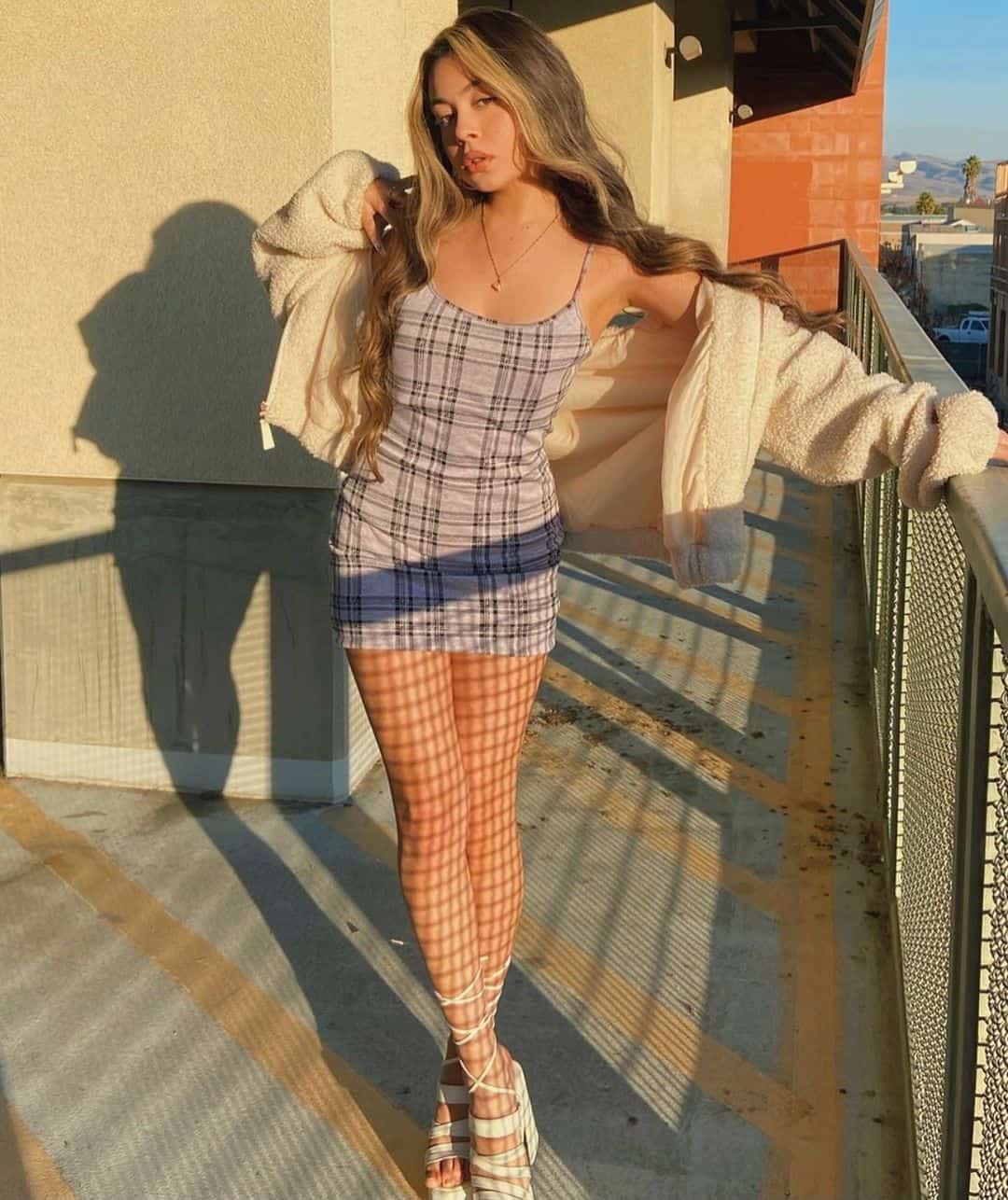 Image source
This bodycon checked dress is adorable by itself, but combining it with heeled sandals and a fluffy oversized jacket will make you look like a doll with this look, which would suit a lively party or a laid-back restaurant.
Surprise your date with this powerful combination of cute and trendy, and to make it even better, you can add a white purse and some silver jewelry. If it's cold, the oversized coat has you covered, but if that's not enough a pair of thin stockings will do the job.
21. Light Wash Jeans and Long Boots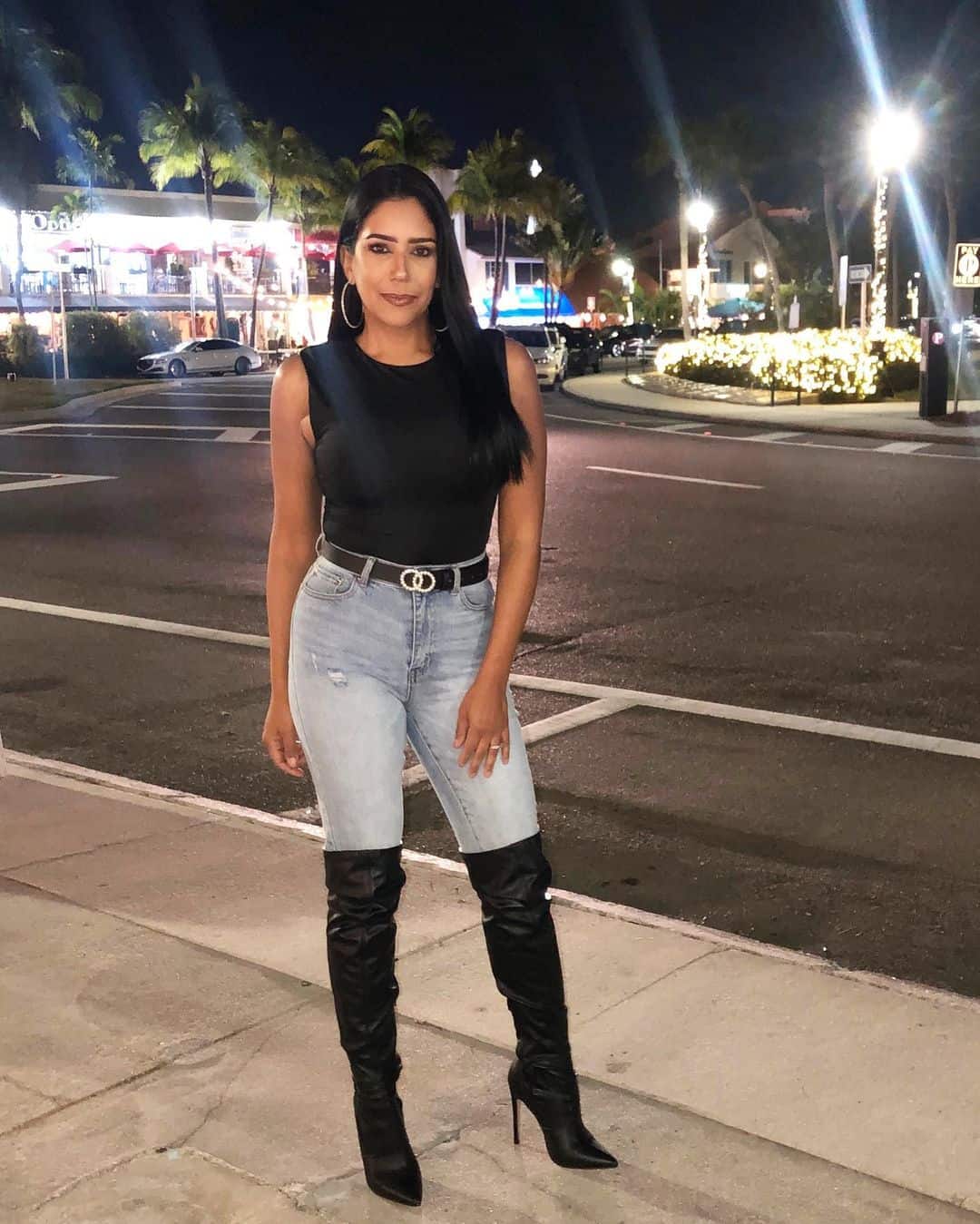 Image source
This outfit is a safe choice, especially if you don't know where you're going. You don't want to be underdressed or overdressed, so the best thing to do when your destination is a surprise is to find an outfit that would make you look like you belong anywhere.
These light wash jeans combined with a black top and black long boots do just that: you will look classy at a restaurant, and you will be comfortable at a party. Top it off with some black accessories and a black leather jacket if you think you'll be cold, and you're good to go no matter the circumstances.
22. Cozy Pink and White Date Night Outfit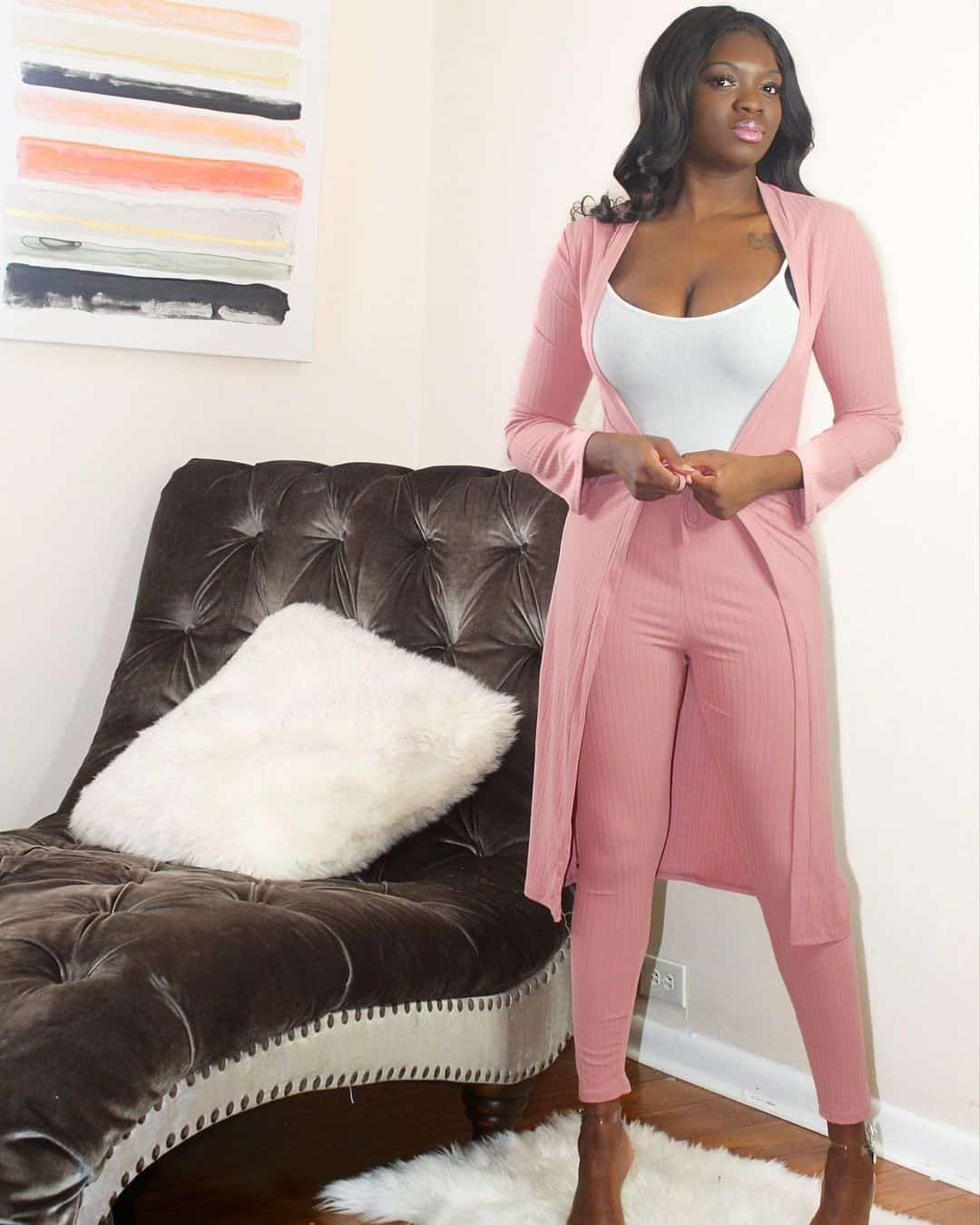 Image source
Red is considered the color of love, but pink can be a cute alternative. This look is as lovely as it is comfortable, and you'll feel like you're going out in your pajamas while still looking cute. Combine this with a nice pair of heels, or even white sneakers if the occasion calls for it. You'd fit in in any relaxed environment such as a walk, a picnic, or brunch.
The soft malleable fabric of the pants matches the fabric of the long cardigan, and the white spaghetti strap top in white matches perfectly. Just like red goes with black, pink goes with white.
23. Bell-Bottom Jeans and Fuzzy Wool Sweater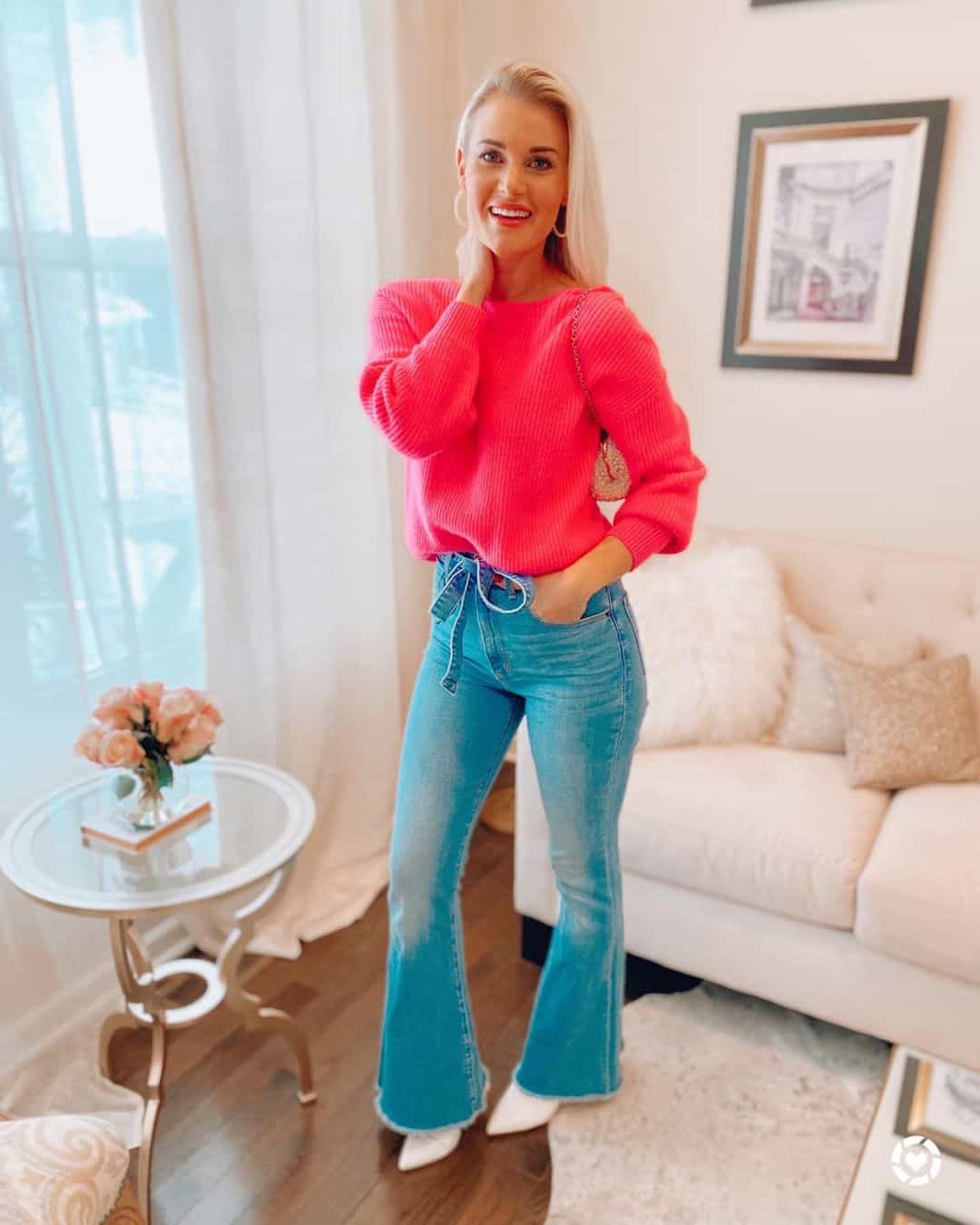 Image source
If you're looking for something basic and comfortable that still makes you look like you made an effort, this is the one. Bell-bottom jeans were a big trend a couple of decades ago, but have started making a comeback in recent years. These ones have a denim strap around the waist that you can make a nice bow with and use as a belt.
The fuzzy sweater takes this look to another level with its bright pink color, which is perfect if you enjoy a lively style and like to steer away from pastel and dark colors. The white pointy heels add a nice touch, but if you want to look even more relaxed, try some short flat boots.
24. Leather Corset, Jeans, and Snake Print Boots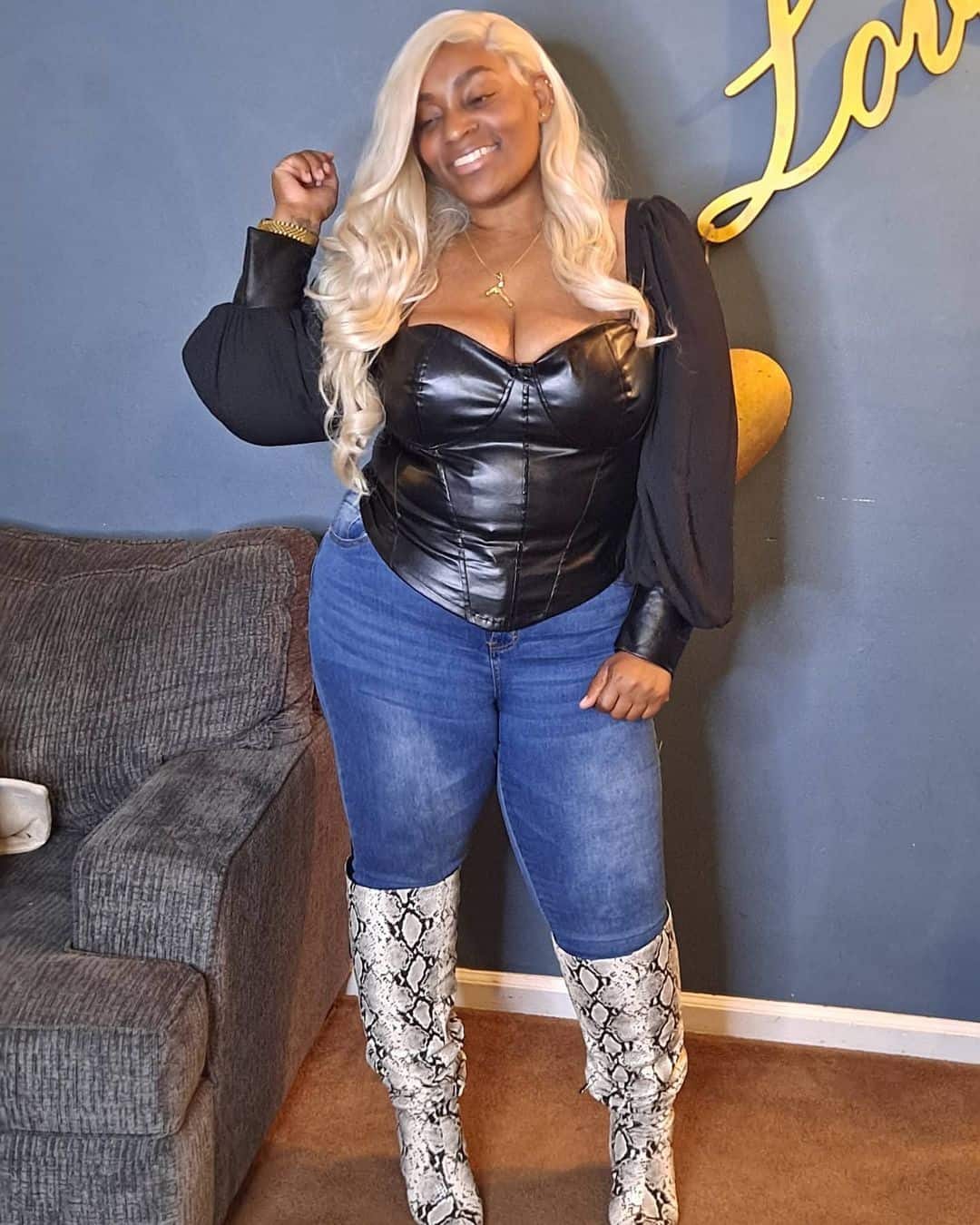 Image source
If you're getting ready for an eventful evening date that starts with drinks and ends with dancing, you should take a look at this outfit.
The star of this outfit is the top. The leather corset will accentuate your figure and make you look powerful and sexy. The sleeves make it even more interesting, with the black voile fabric and bishop cut being finished with black leather cuffs.
You can wear your favorite comfy jeans and not worry about looking too casual, because the other elements completely overshadow the jeans. The long snake print boots are a statement piece that will definitely make you stand out.
25. Duster Chiffon Coat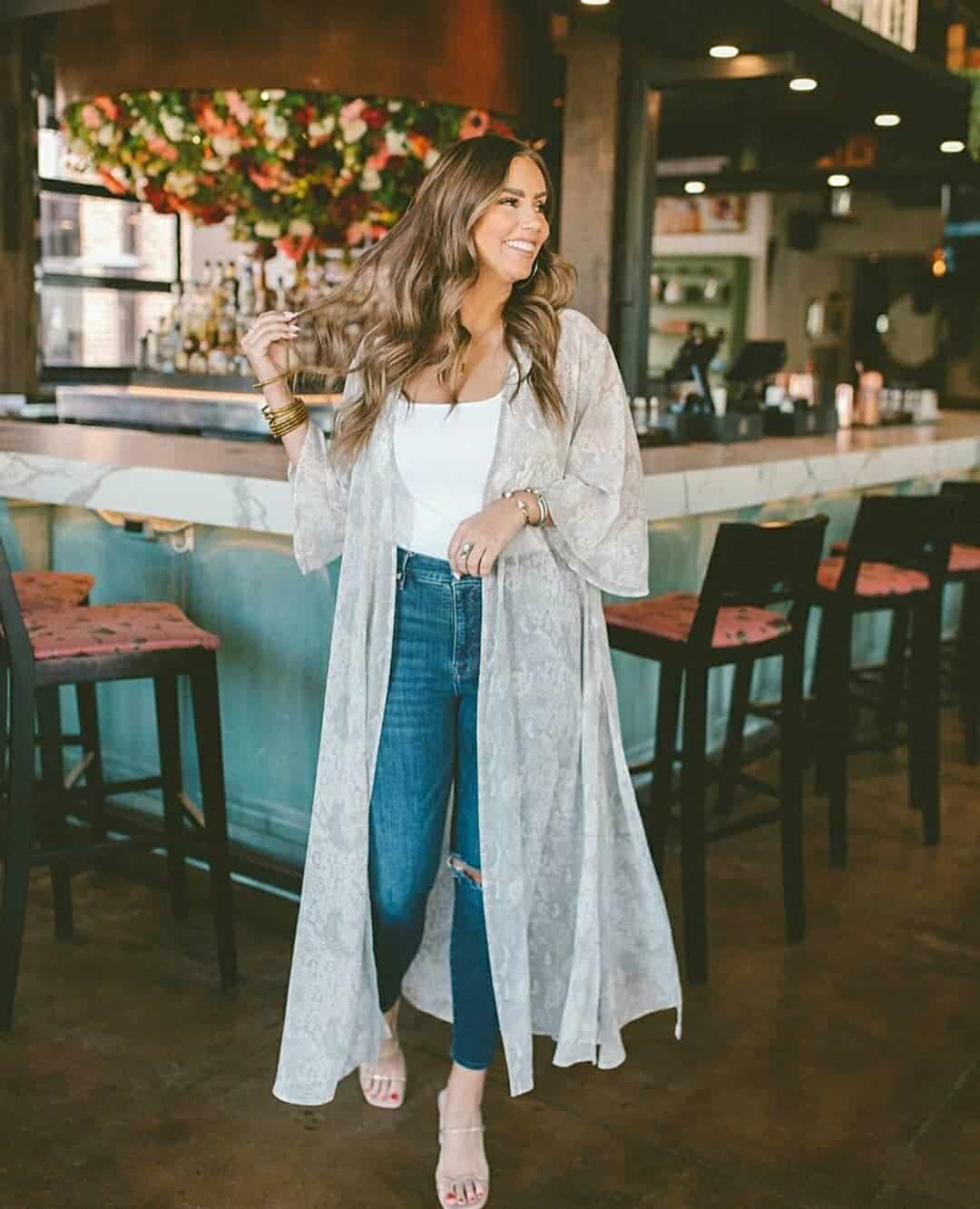 Image source
This outfit is sweet and simple, featuring a very basic white top and comfortable skinny jeans. You may think that that's not something you would wear for a date and more something you'd wear to the supermarket, but the outfit doesn't end there. The simple heeled sandals add some pizzazz, but the star of this outfit is the chiffon duster. No matter the basics you wear under it, the outfit will have an amazing effect.
Perfect for relaxed occasions such as a light lunch or brunch, a walk at the park, beach, or country fields, this truly well-rounded outfit should be on your mind whenever you can't figure out what to wear.
26. Lace Shirt With Ripped Jeans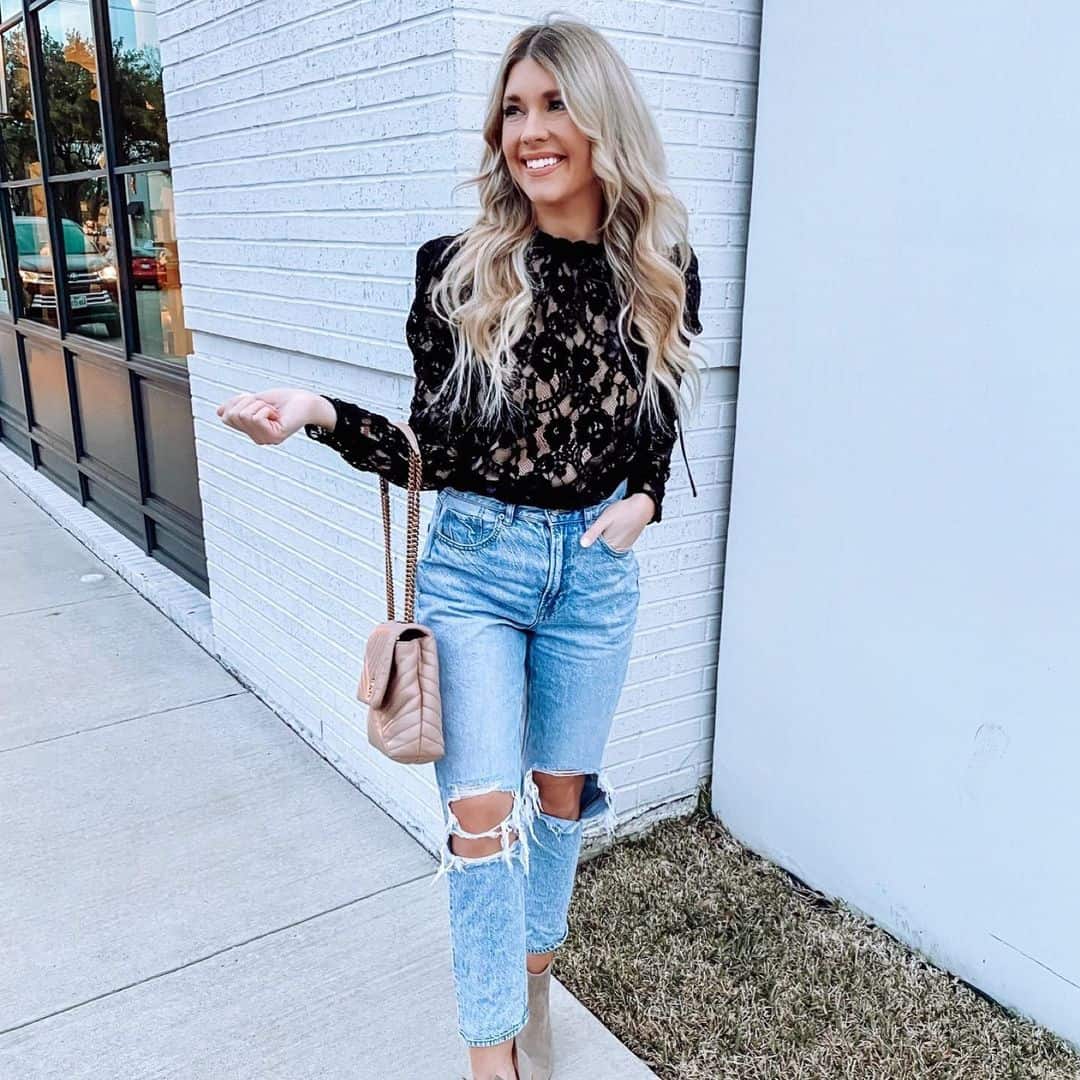 Image source
The magic of this outfit is that it combines formal with informal. The ripped loose jeans are comfortable and pretty, while the lace shirt adds a classier element to the outfit, so you can be dressed for a dinner at a fancy restaurant and a party after. Combine this look with a pretty handbag and some jewelry to make it even better. A nice pair of hoops or a watch would do wonders.
27. Valentine's Sweater and Faux Leather Leggings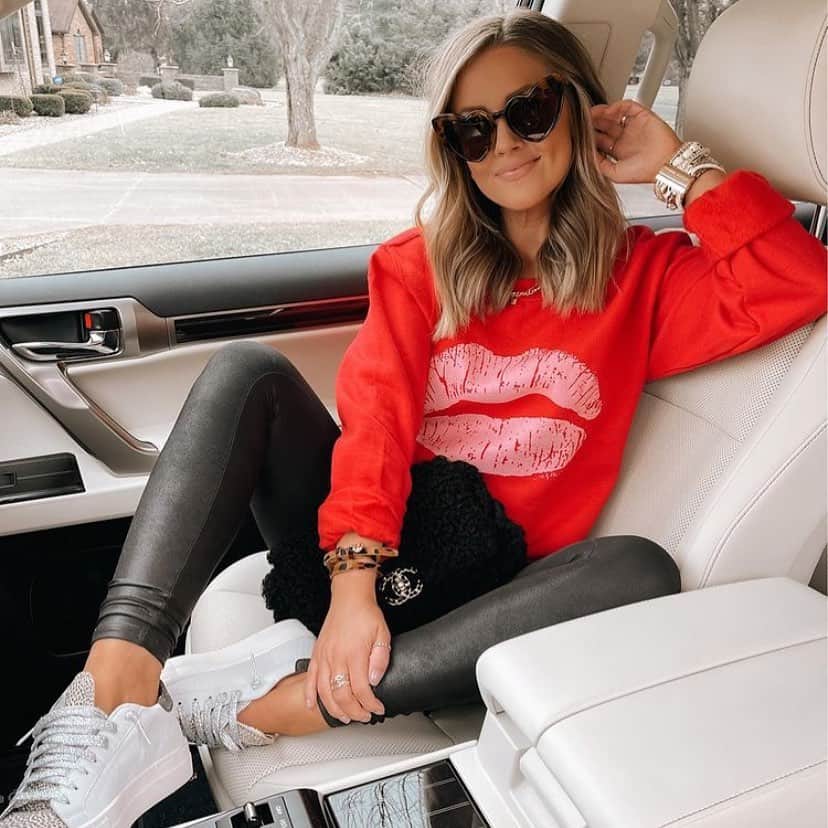 Image source
If you're going on a Valentine's day date, choosing an outfit that sticks to the theme is not only a safe option, but it can be a fun one too. Faux leather leggings are perfect if you want to accentuate your curves and show off your beautiful body, plus, they're super comfortable and if it's cold you can find them lined with fleece.
The sweater with lip print is adorable, warm, and comfortable, and it will give you a cozy look in contrast with the faux leather leggings. Top it off with white sneakers, and you're ready for a romantic dinner, a picnic, a party, a movie, or anywhere your date takes you to.
28. Monochromatic Emerald Date Night Outfit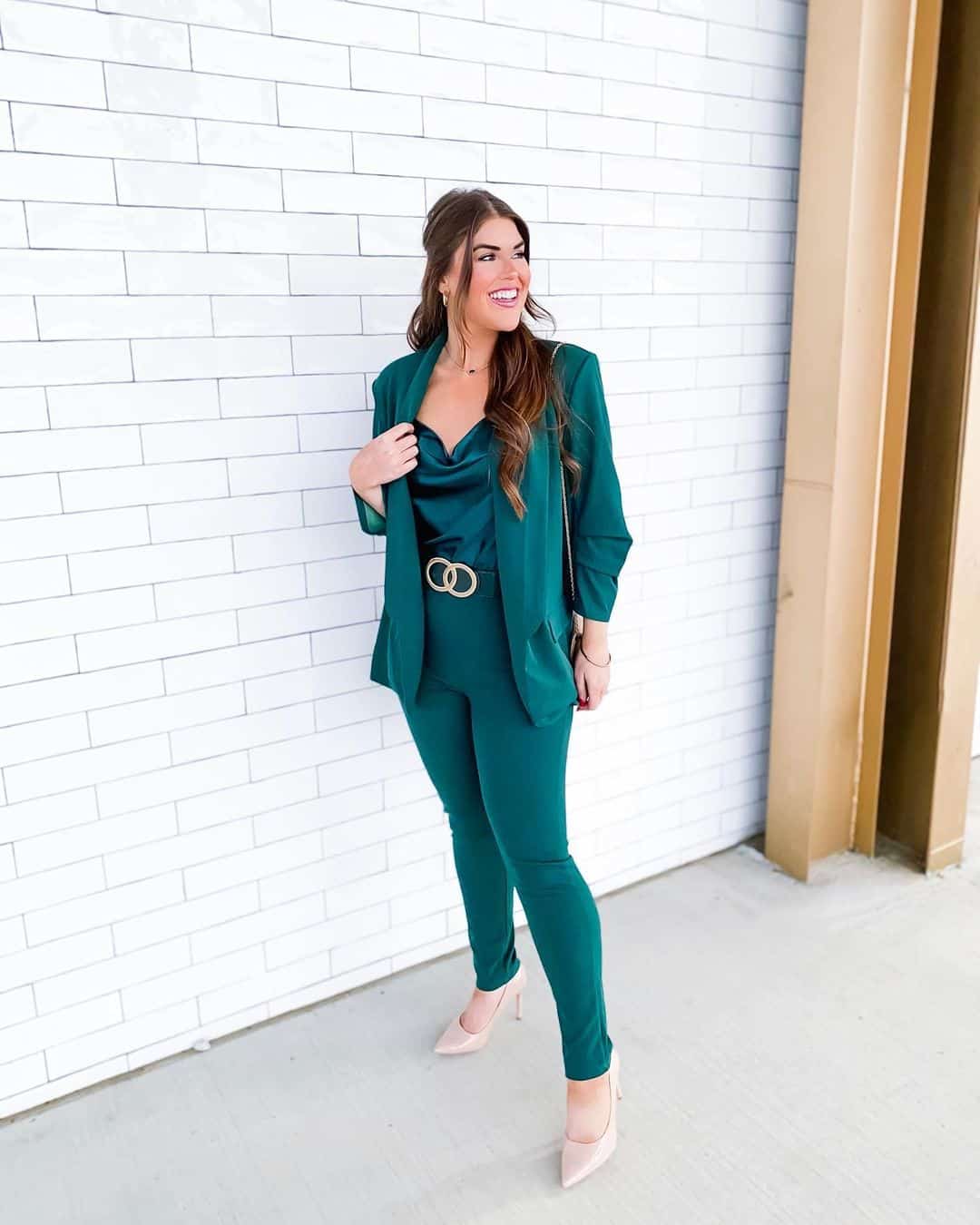 Image source
Long gone are the days when we had to match different colors to get a nice look; nowadays, our fashion sense tells us otherwise, and we can definitely slay with a monochromatic outfit.
This one combines a blazer and pants in the same fabric with a silk top, and all three elements in an emerald tone. The shoes are the only thing that's not emerald, but it's a nude color that doesn't overshadow the rest of the outfit. Finally, so the look doesn't become too boring, you can add a belt with a pretty buckle.
29. Faux Leather Pants With Spaghetti Strap Top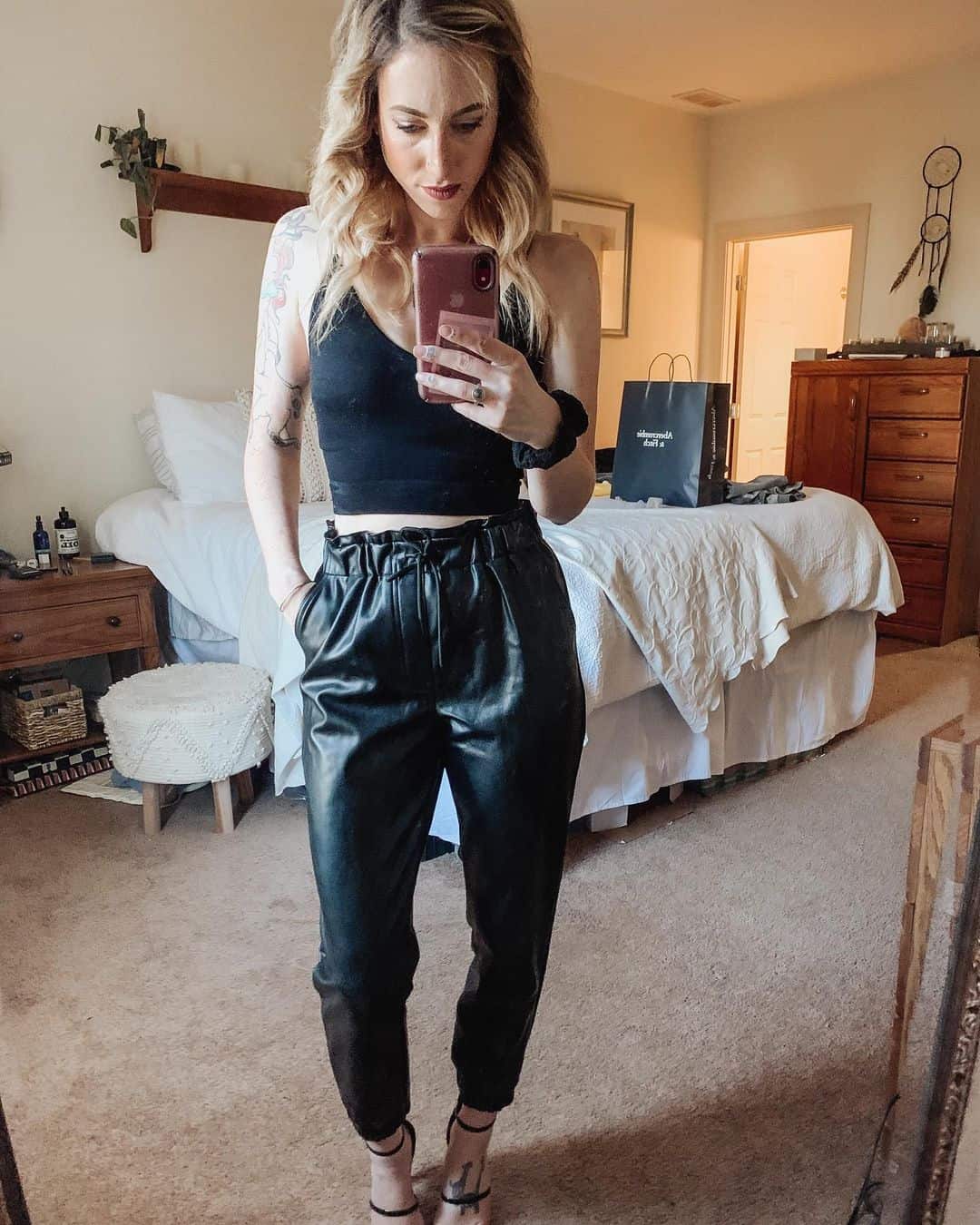 Image source
This simple outfit is perfect for any occasion. The spaghetti strap top combined with the faux leather pants are a mixture of relaxed and trendy, but the outfit also leans towards classy with the heeled sandals.
This outfit can also serve as a base so you can play around with other elements. You can add jewelry, a handbag, and more. Go for a blazer if you're going to a fancy party or restaurant, or you can add an oversized duster. There is enough wiggle room to make this outfit fit any style.
30. Oversized Sweater and Distressed Jeans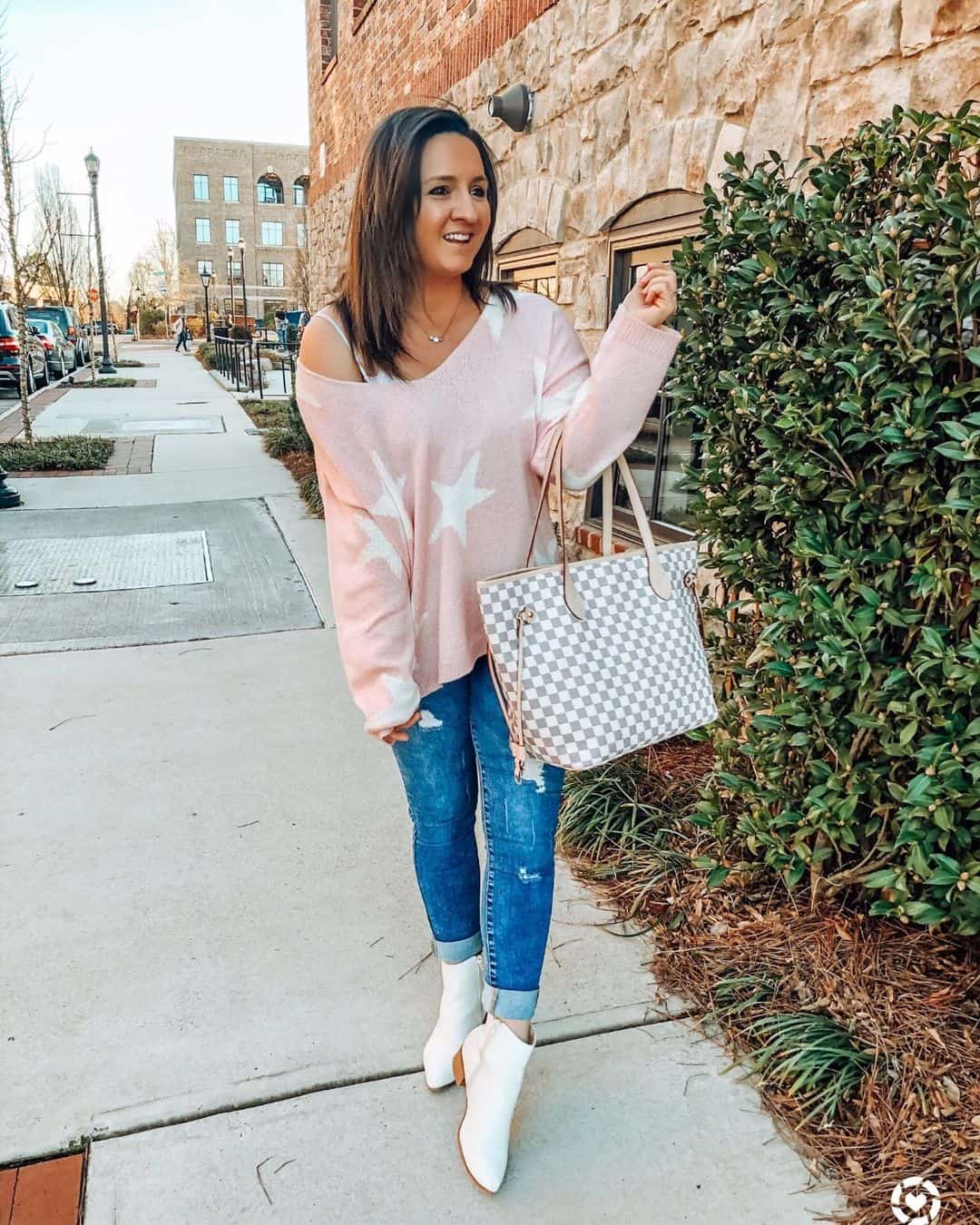 Image source
This relaxed look has you covered if you're going for lunch or brunch, a nice walk at the park or an amusement fair, or even a movie at the cinema. The oversized jumper will keep you warm whilst looking cute and girly, and the distressed jeans accentuate the feeling of comfort.
Add short white boots and you have a completed look that will stay engraved in your date's mind, and choose a simple handbag that won't contrast too much with the clothes.
31. Ruffle Swiss Dot Dress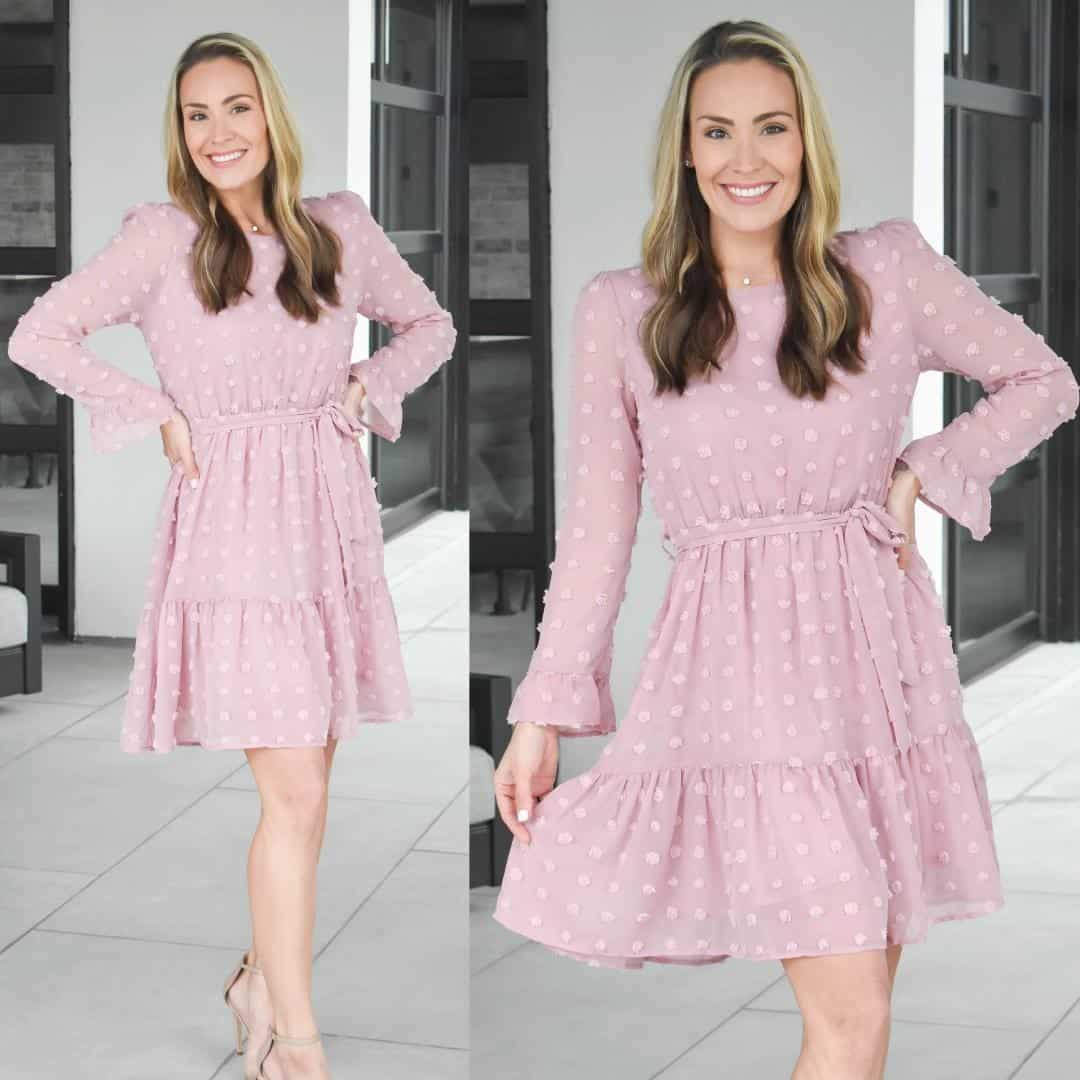 Image source
If you are a fan of cute and girly looks, this one is for you. This short ruffle dress is adorable and will make you look like a doll, especially if you factor in the beautiful pink color and Swiss dots.
What are Swiss dots, you ask? They are basically polka dots, but with some textured that protrudes from the fabric.
This outfit would be perfect for any occasion. Really, any occasion. It would be good for lunch and dinner, a party, or an outdoor activity, making this one of those outfits you should pick if you don't know where you're going yet.
32. Wool Pants and Heart Print Sweatshirt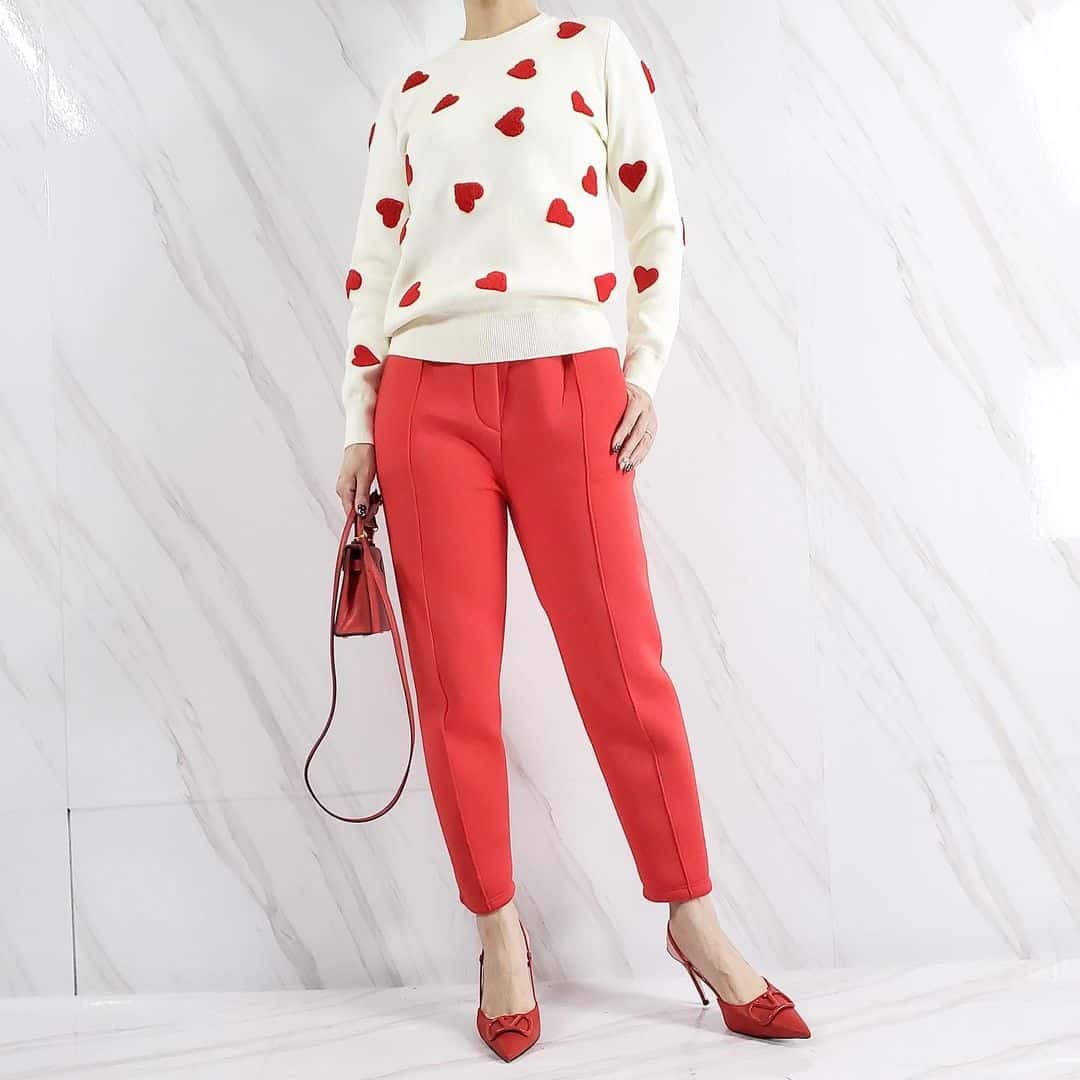 Image source
This outfit is the poster child for Valentine's day. But even if it's not Valentine's day, this outfit would be perfect for any romantic dinner date.
The red wool pants are beautiful and comfortable, a very desirable combination. The red heels and handbag are really nice details too, but the star of this outfit is the heart-print sweatshirt. It screams romance, while also being practical on a chilly February night.
To make this outfit even better, you could experiment with hair accessories such as a red bow pin or a headband.
33. Long-Sleeve Velvet Top and Fuzzy Trousers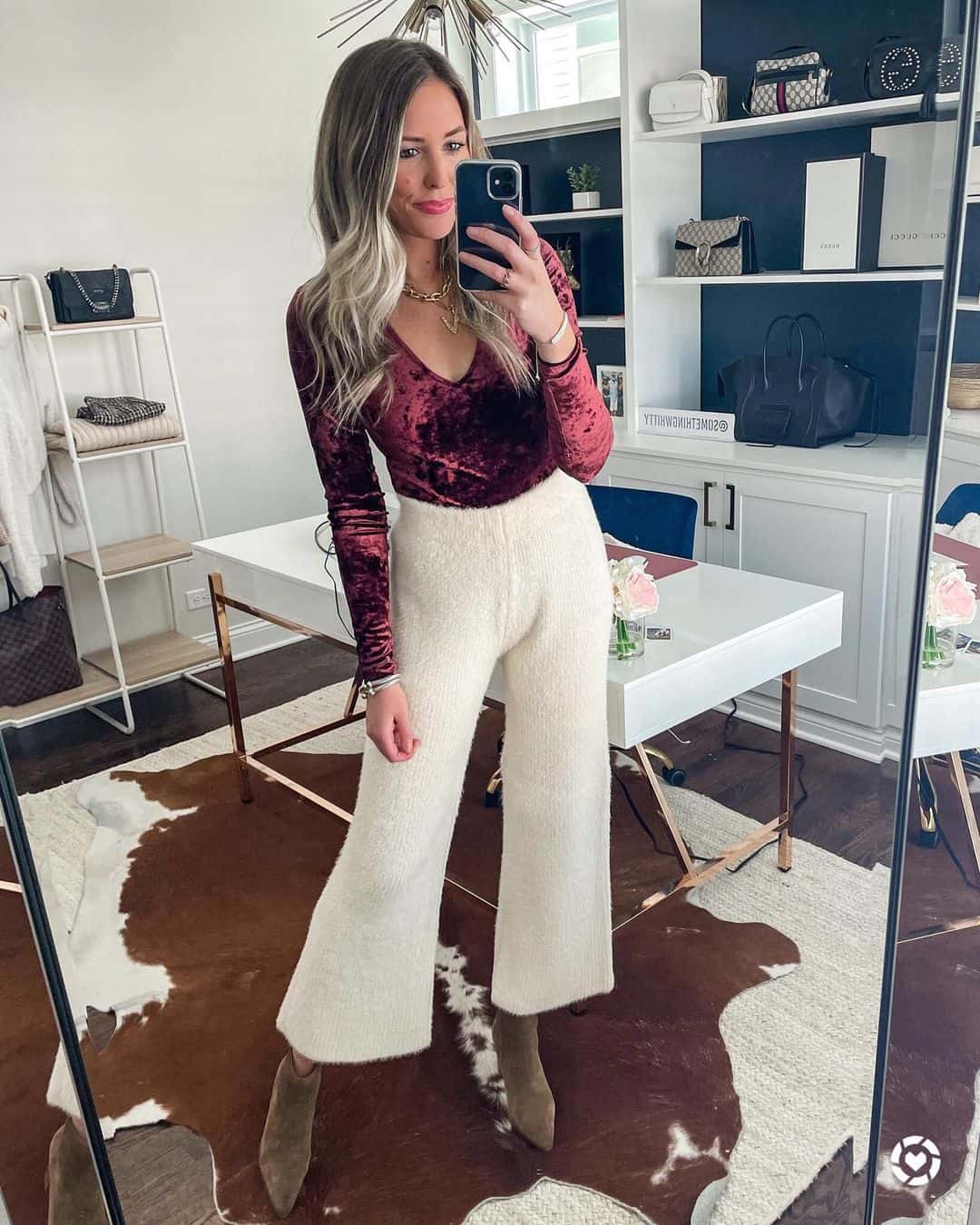 Image source
If you're looking for something super comfortable and warm that will fit a formal setting this is the one for you. The long-sleeve velvet top is really nice to the touch, and it looks amazing.
More importantly, have you looked at those pants? They look fashionable and would work really well in a fancy restaurant or a visit to a museum or art gallery, but there's a twist – they're fluffy. You are guaranteed to be warm and feel as free as if you were wearing a dress. Rest assured you could wear this anywhere and look like you belong: just make sure the weather isn't too warm otherwise, these trousers will break a sweat.
34. Floral Print off the Shoulder Dress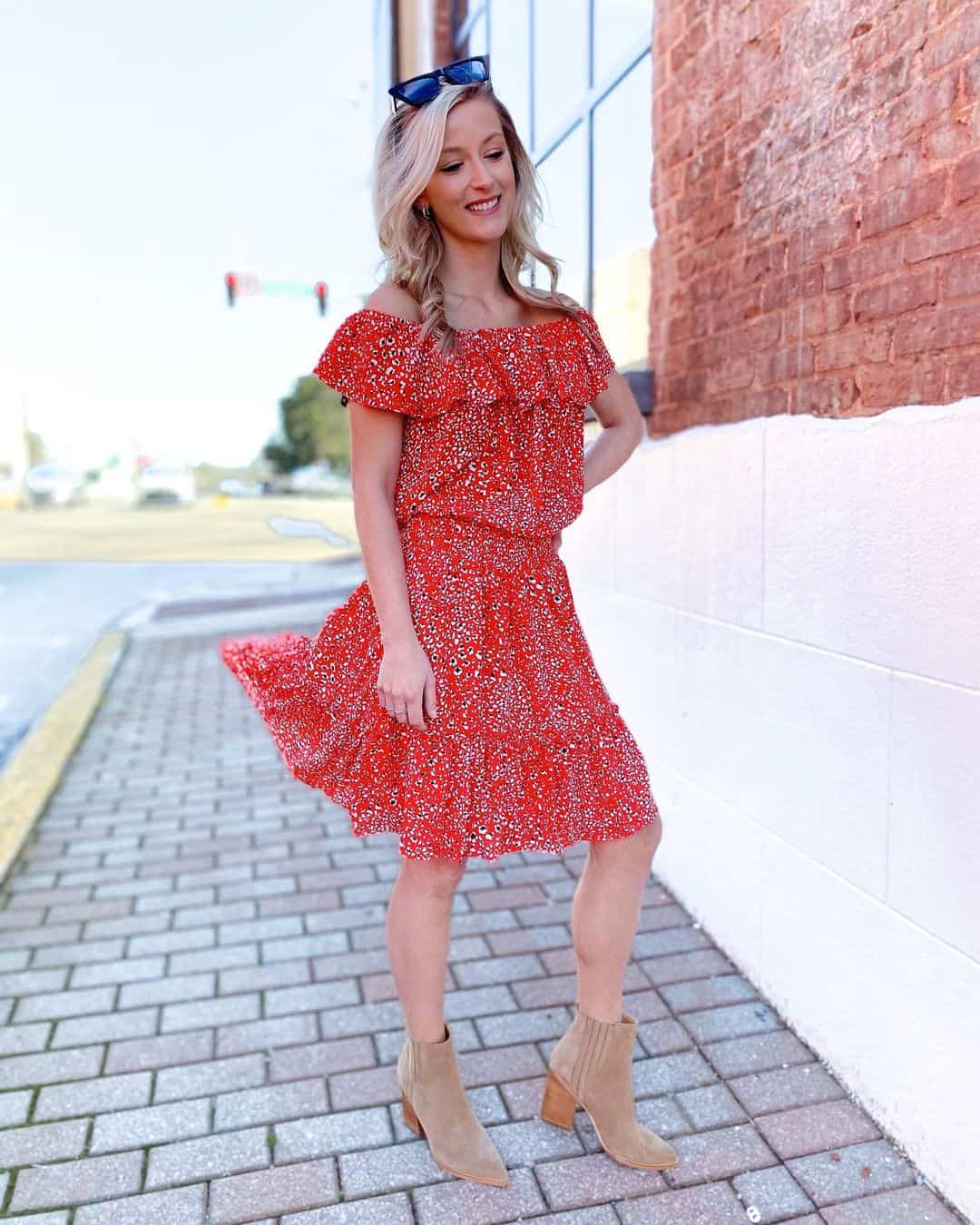 Image source
This outfit is the one for you if you're going on an outdoorsy date. A walk in the country fields, the beach, a picnic, an afternoon at the park or amusement fair. Any place where you're able to enjoy the sunlight and the warm breeze.
Floral prints come in many shapes and forms, and often the most important feature to take into account is the background color. This one has a red background, which goes perfectly with the light camel boots. You could also add a camel or suede handbag for a bit of variation.
35. Tie-Dye Bodysuit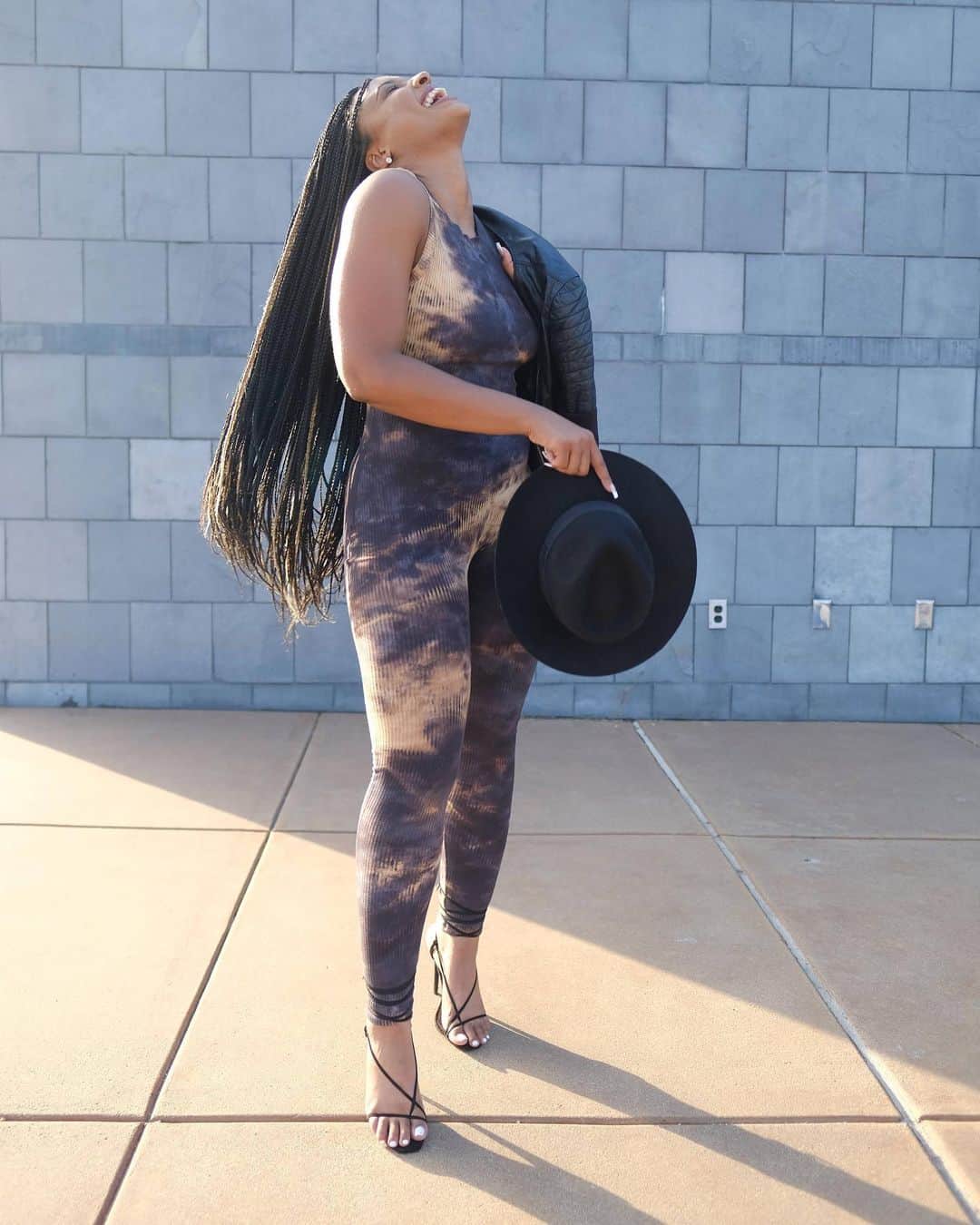 Image source
This tie-dye bodysuit will hug your figure in a flattering way and show off your every curve. This beautiful piece looks like a stormy sky, and we love to see it. It would be perfect for a fun outdoor activity or even a lunch date on a sunny day. If you add an oversized fluffy jacket (or even a denim one), you could use it on a cold winter day too.
36. Long Animal Print Dress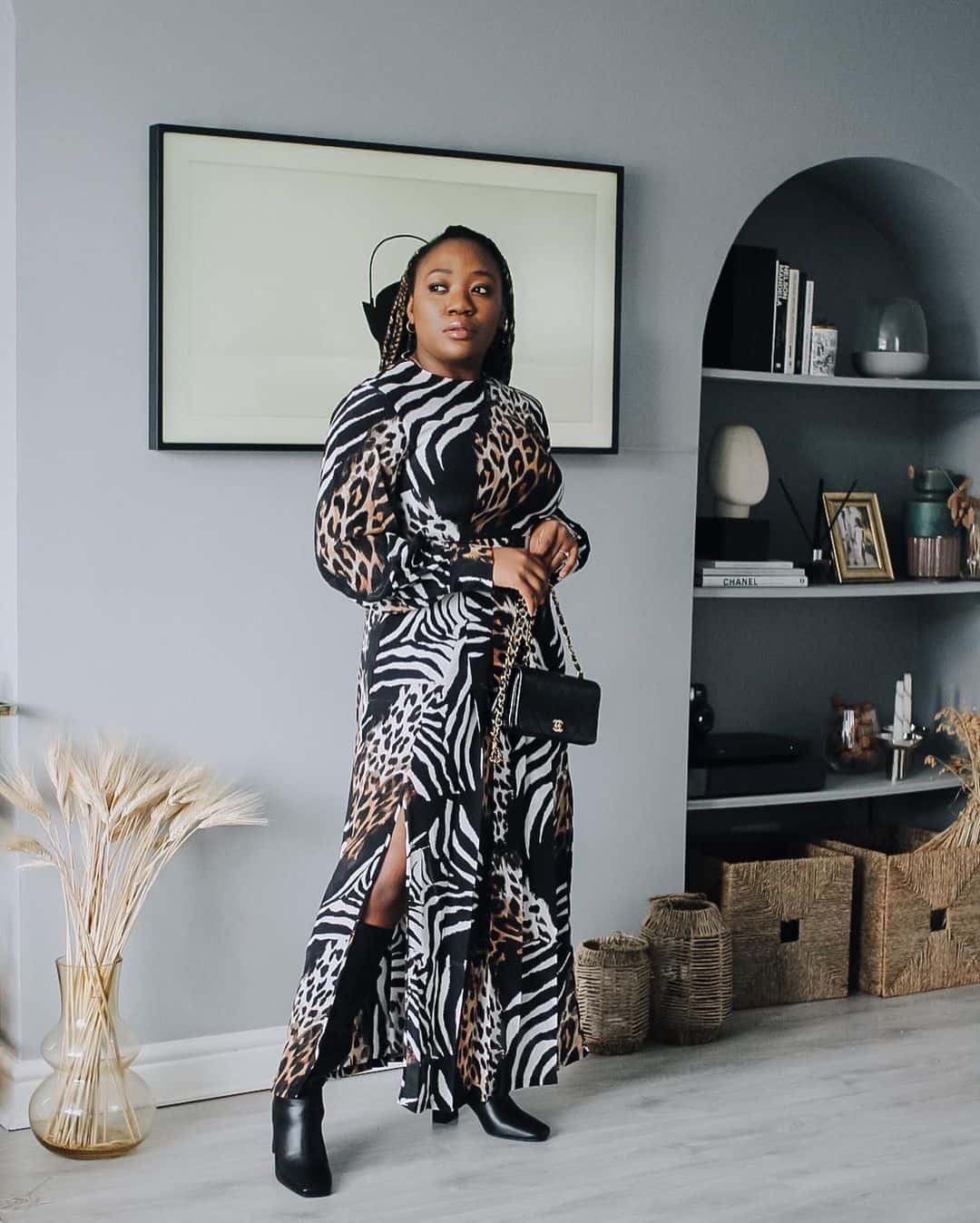 Image source
Animal prints make anyone look fierce and powerful, and this dress is no exception. The modest neckline cut and long sleeves give way to a long slit dress so you can show your beautiful legs.
This outfit would fit more formal dinner occasions, but there's no reason why you couldn't take it to a party too. Combine this look with a black handbag and black shoes to get the best effect.
If you really love this look, but your date is on a warm and sunny day, don't panic: you can still wear it and combine it with some nice sunglasses and a black sun hat.
37. Ruched Velvet Shirt Dress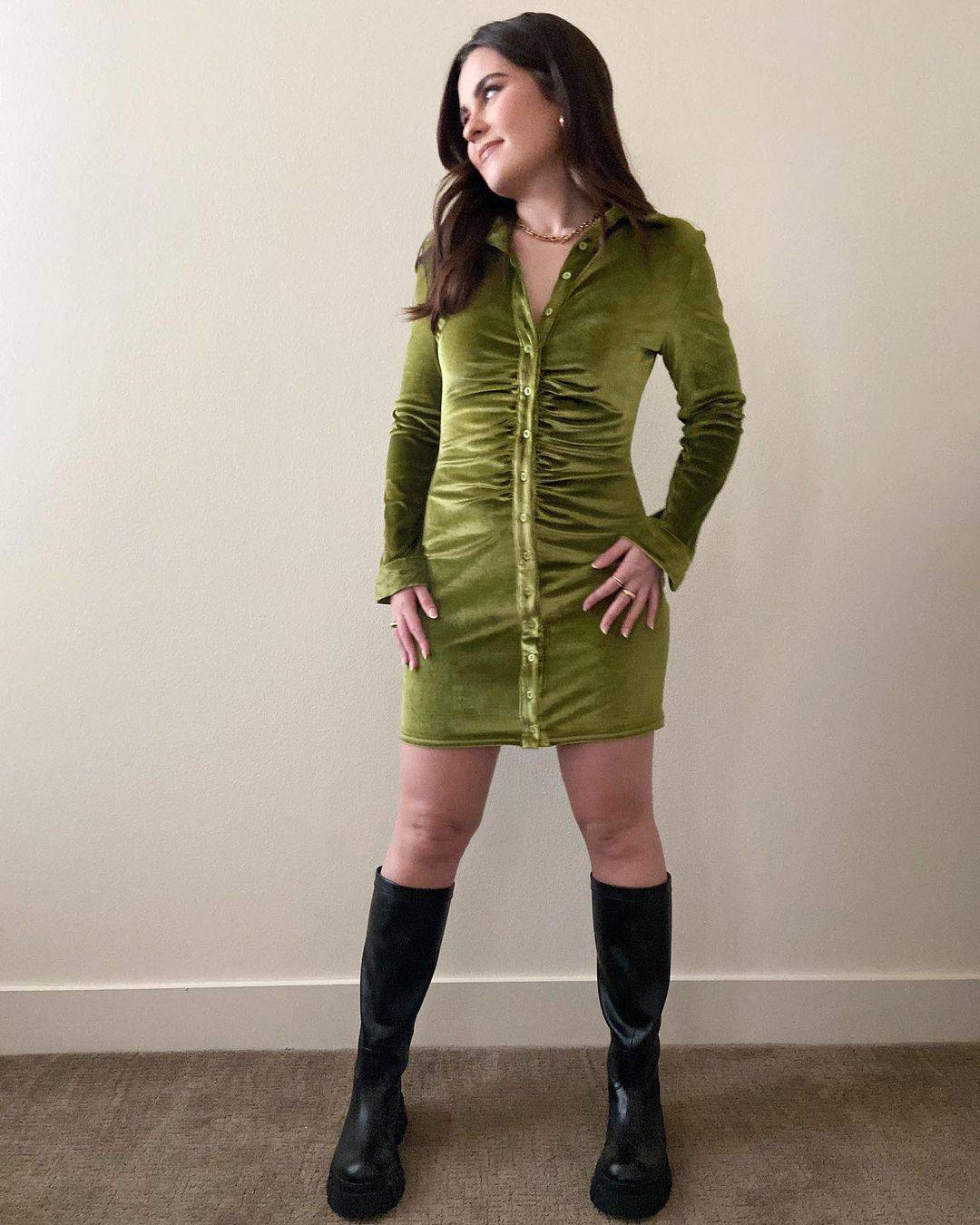 Image source
This one is for the velvet lovers. Velvet makes anyone look like a million bucks: it's shiny, it shapes the body well and it feels really nice to the touch. This outfit would fit every occasion, from an outdoor festival to dinner at a nice restaurant with a party afterward.
The long boots look really nice with the dress, and would help keep you warm if it's cold outside. But if it's warm, you can still rock this outfit: you just need to substitute the long black boots with short ones.
38. Midi Polka Dot Skirt and Denim Jacket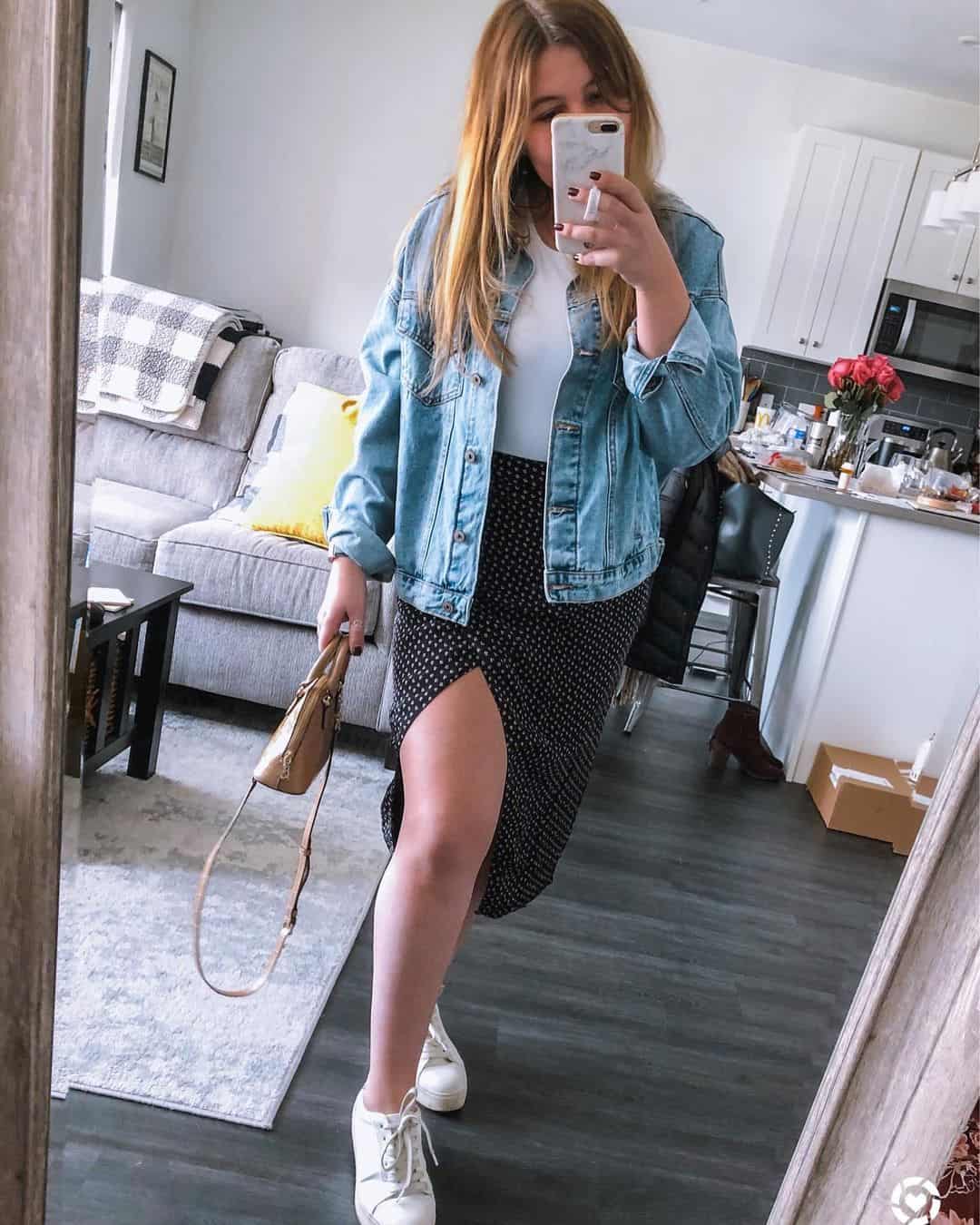 Image source
Vintage clothing is a trend that has been booming in the last few decades, with no signs of slowing down. One of the patterns that are popular in vintage looks are white polka dots on black fabric. This outfit has a midi polka dot shirt with a small slit, combined with a basic white top, white sneakers, and a denim jacket.
This outfit isn't for a formal dinner date, but it's perfect for more relaxed environments. Anything from brunch to a picnic or a walk is a perfect occasion to wear this gorgeous trendy outfit.
39. Off the Shoulder Flannel Shirt and Ripped Black Jeans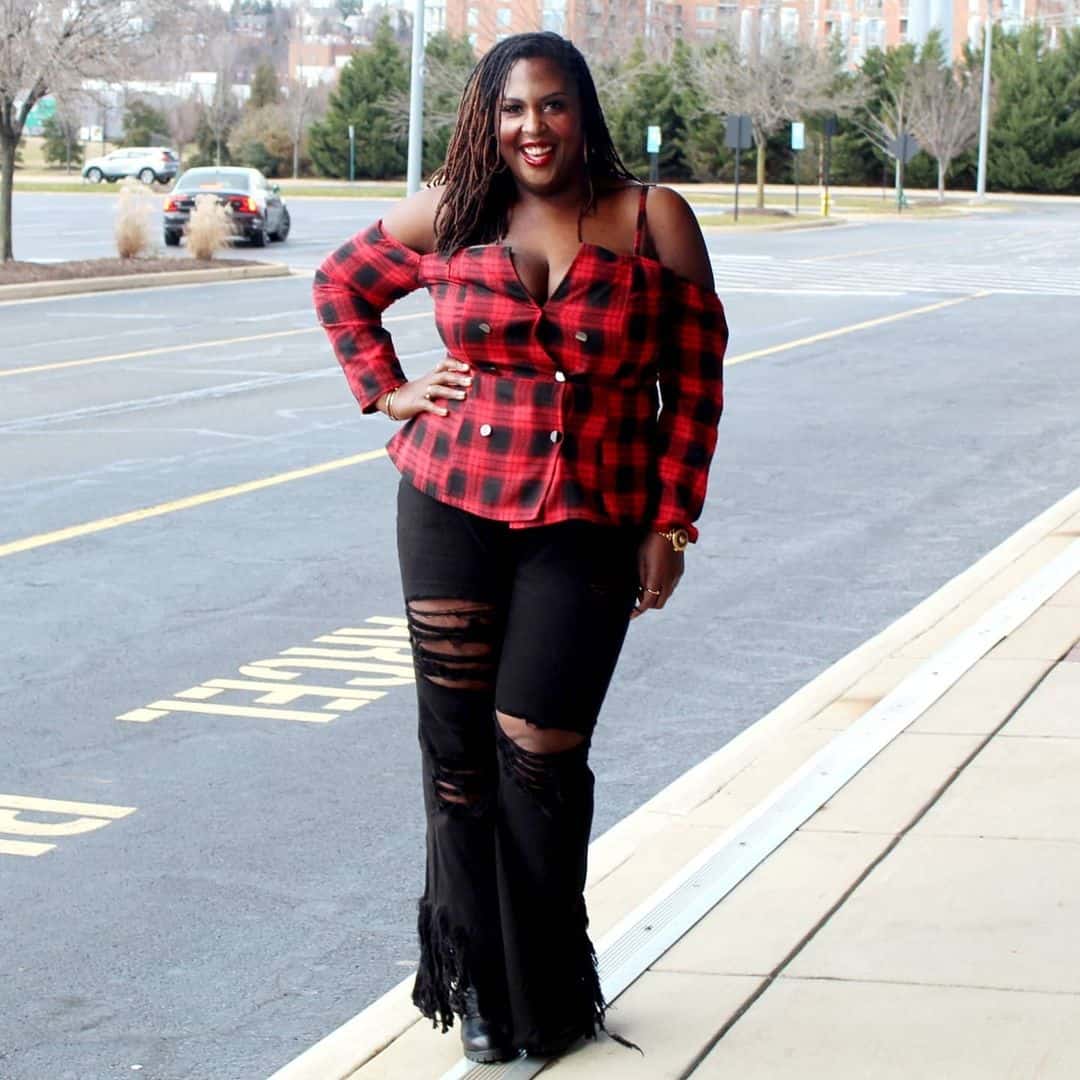 Image source
This combination of a flannel top with ripped black jeans is a universal outfit you can wear to any occasion. It will work in a restaurant setting, a cinema, and a walk at the part. If you're not sure where you're going yet, don't worry, this outfit will have you covered no matter where you go.
Since the outfit has so much potential already, you want to wear shoes that don't overshine anything else. Opt for something comfortable such as black short boots or flats. Combine this look with any black accessory and handbag, and you're ready to go out on your date.
40. Flare Pants and V-Neck Long Sleeve T-Shirt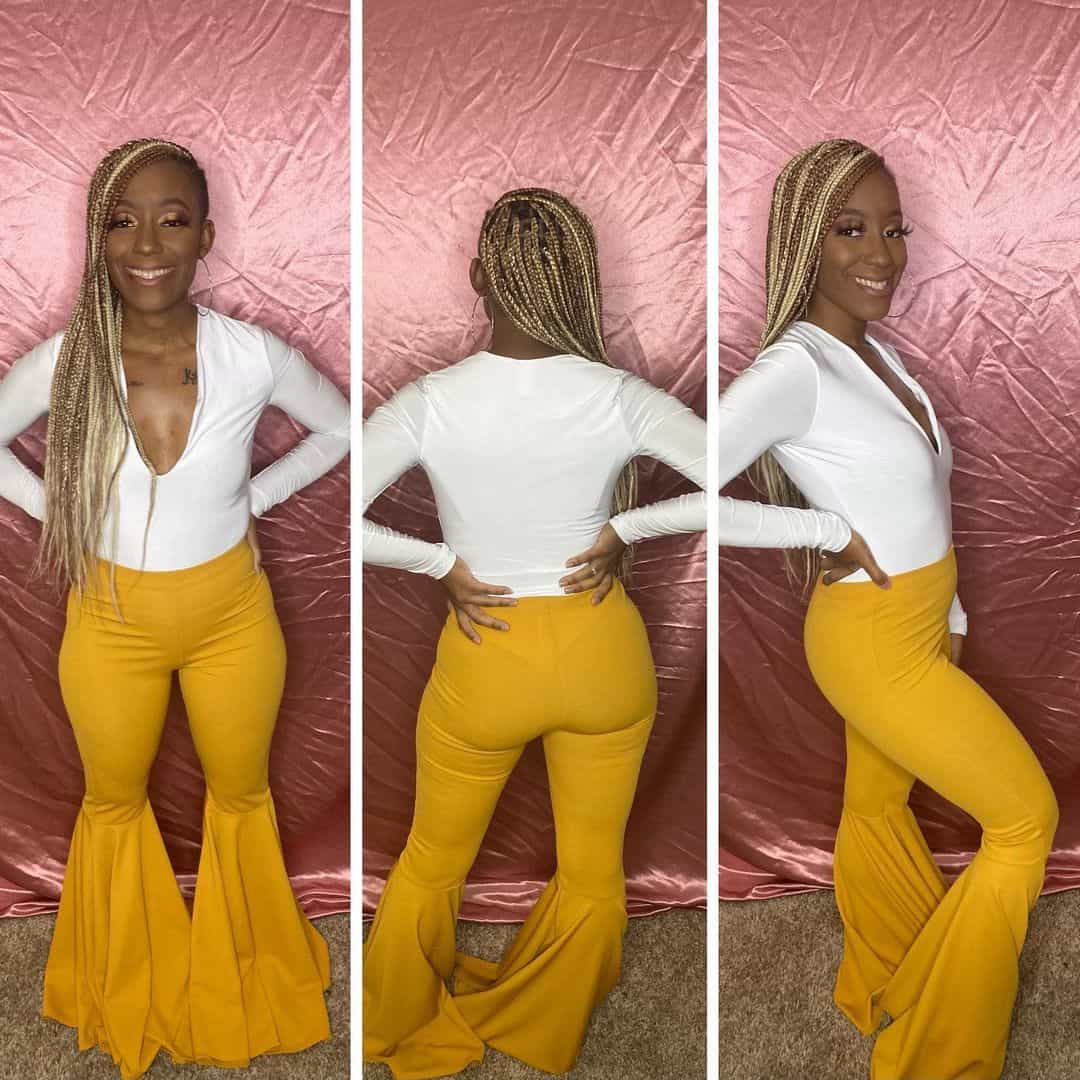 Image source
This outfit is for you if you're going on a dinner date but have plans to go out dancing afterward. You would stand out on any dancefloor and look good doing it. The V-neck long-sleeve top may be simple, but that's ok: the top isn't what makes this outfit fantastic.
The star of the outfit is definitely the flare pants. Just look how well they flow, showing off your figure down to the knees and then just dropping free down to your feet. If you're short, you may want to wear these with heels. But if you don't want to do that, you can always cut a bit of length, and no one would notice.
41. Long Cardigan, Crop Top, and Wool Pants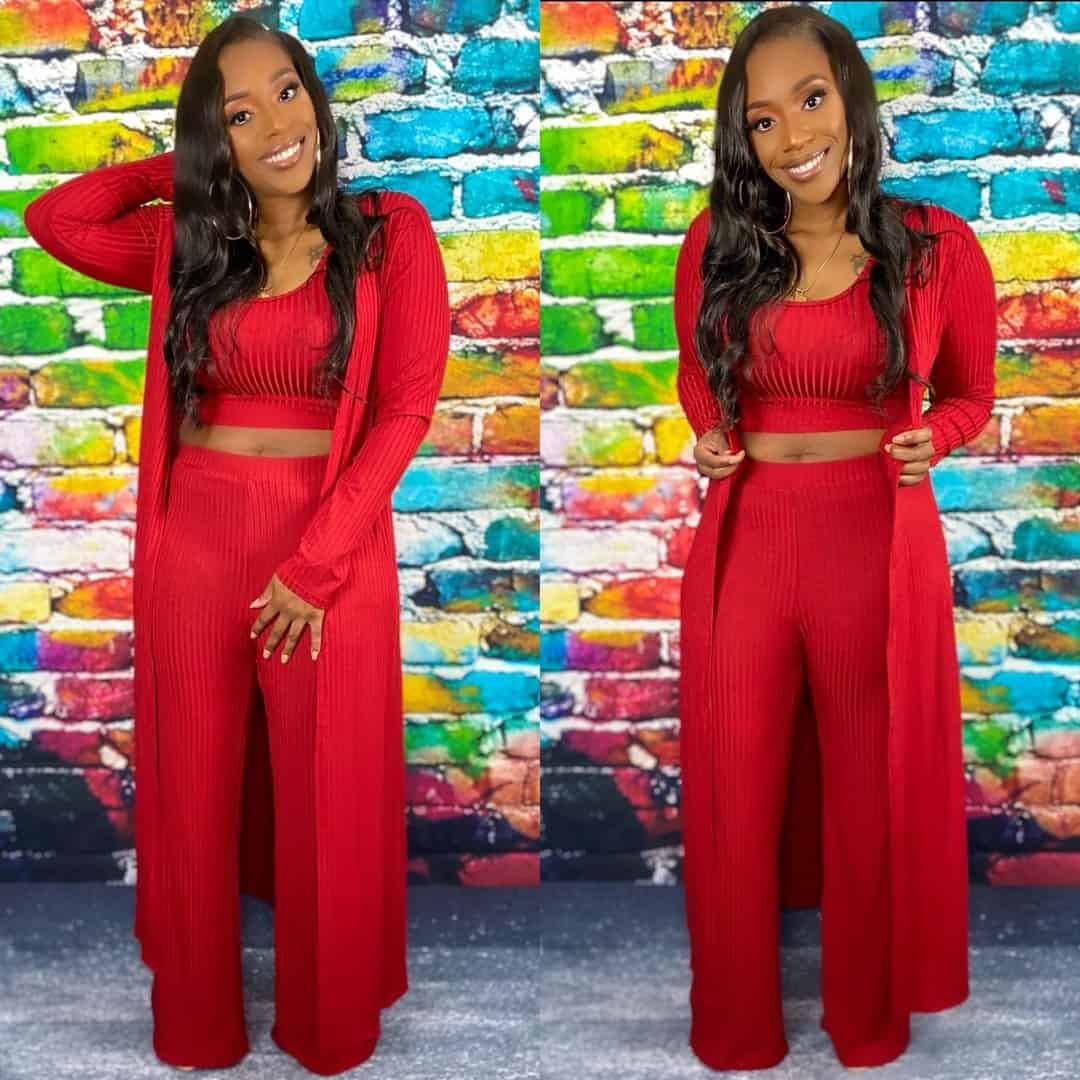 Image source
Here we have another monochromatic look, but time in red. Red is the color most often associated with love and romance, so it is a common choice for dates. This look would fit perfectly in a fancy restaurant context, but it would also be adequate for drinks and dancing later on.
The long cardigan is an element that adds beauty and uniqueness to any outfit, no matter how simple it is. In the same red tone, you can wear a crop top and wool pants and make a formal-looking outfit very comfortable.
42. Long Sleeve V-Neck Jumpsuit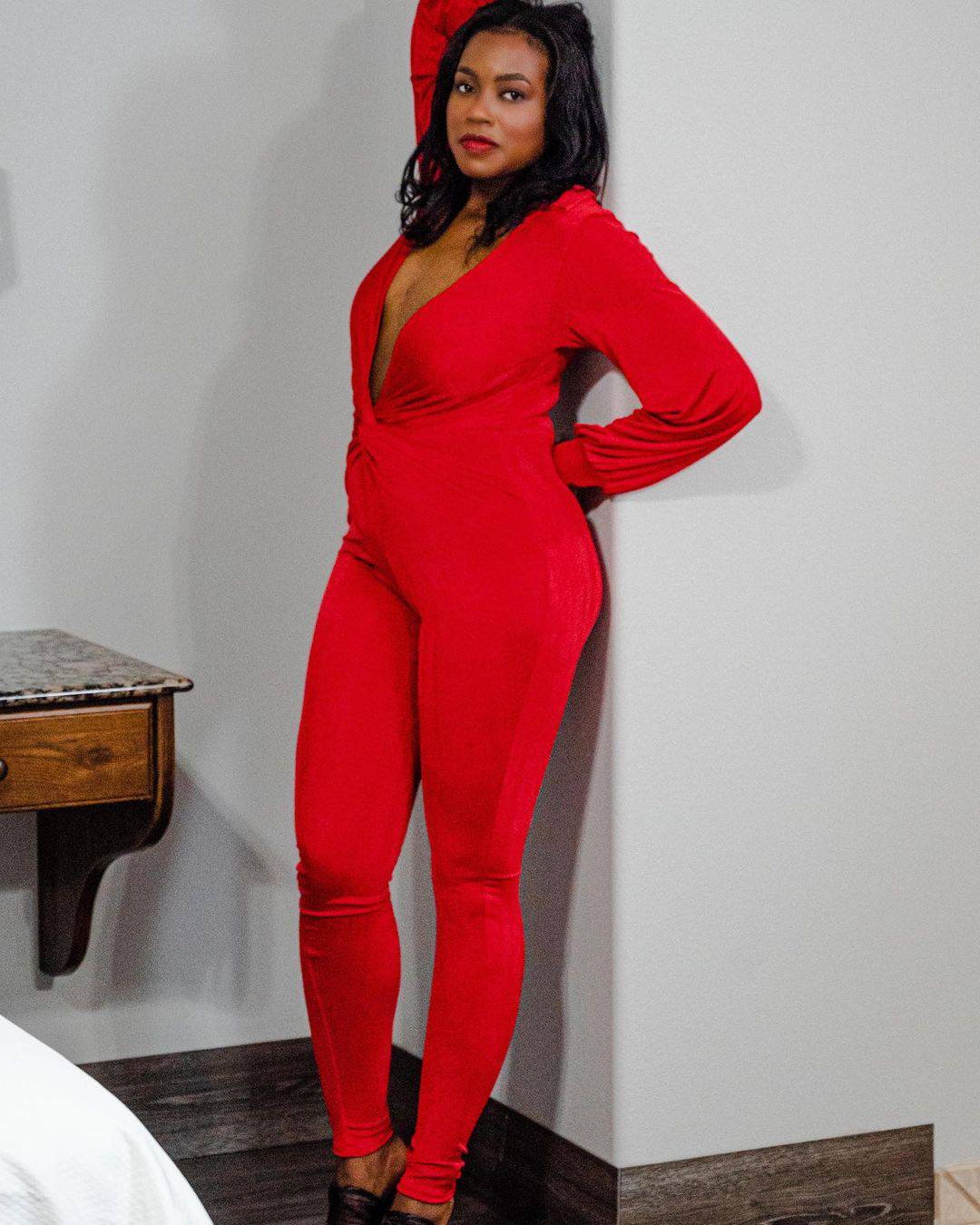 Image source
This three-piece monochromatic outfit stands out, even in a sea of similar reds Jumpsuits are very comfortable and accentuate every curve. This one has a low V-neck, so it would be ideal for a romantic evening as long as you don't wear a bra with it.
43. Tie-Bleach Distressed Jeans and Crop Top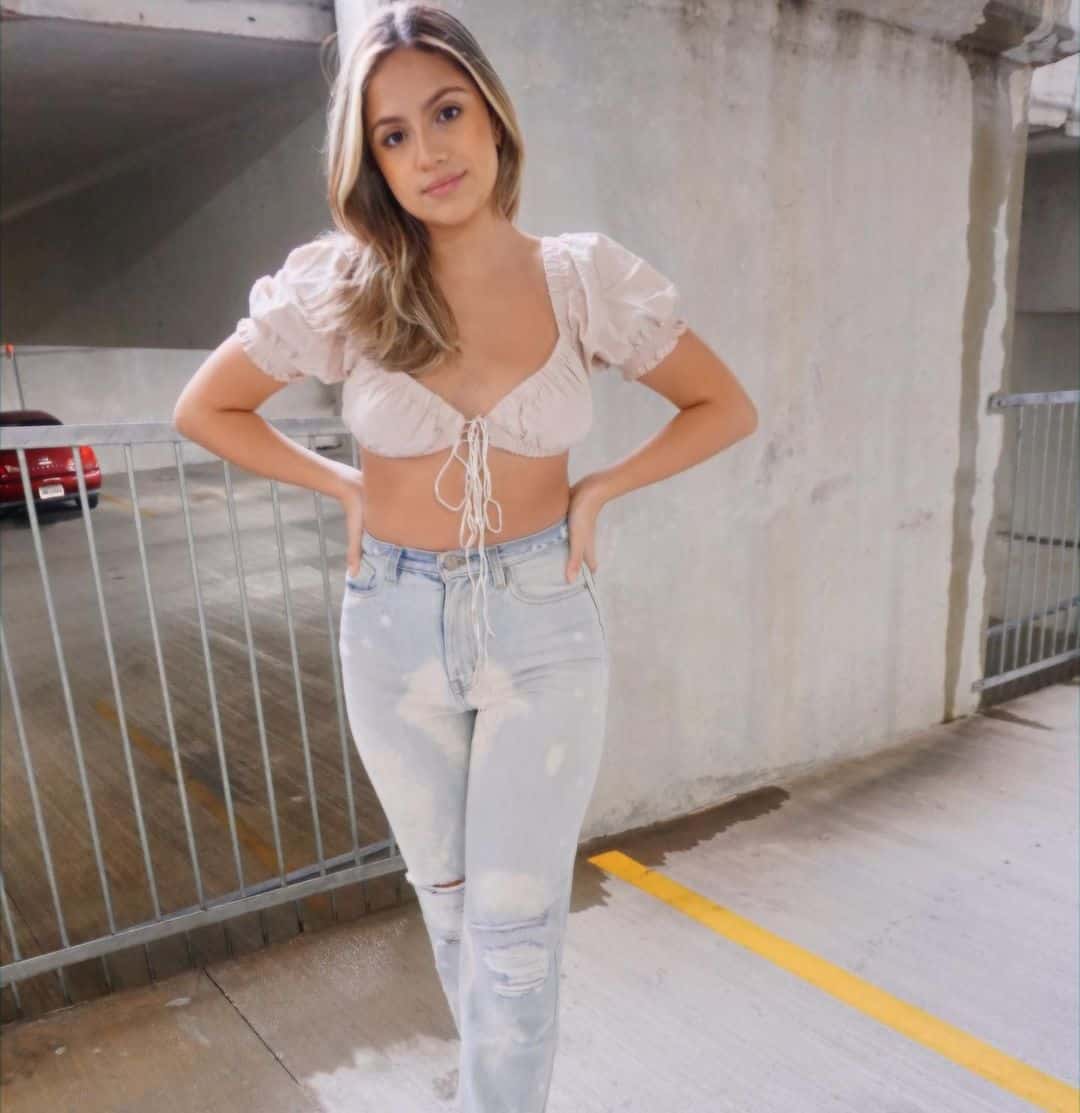 Image source
We have talked about how prominent tie-dye is in today's fashion, so it is no surprise that this trend has made it to the list more than once. Another way to modify your clothing is tie-bleach—which is, as you can imagine, the same as tie-dye but using bleach. It will discolor the clothes, creating big stains to form an awesome effect.
These tie-bleached distressed jeans look amazing combined with this small crop top. This outfit would be perfect for any outdoor date, or even a lunch or brunch date at a cozy cafe.
44. Oversized Coat Date Night Outfit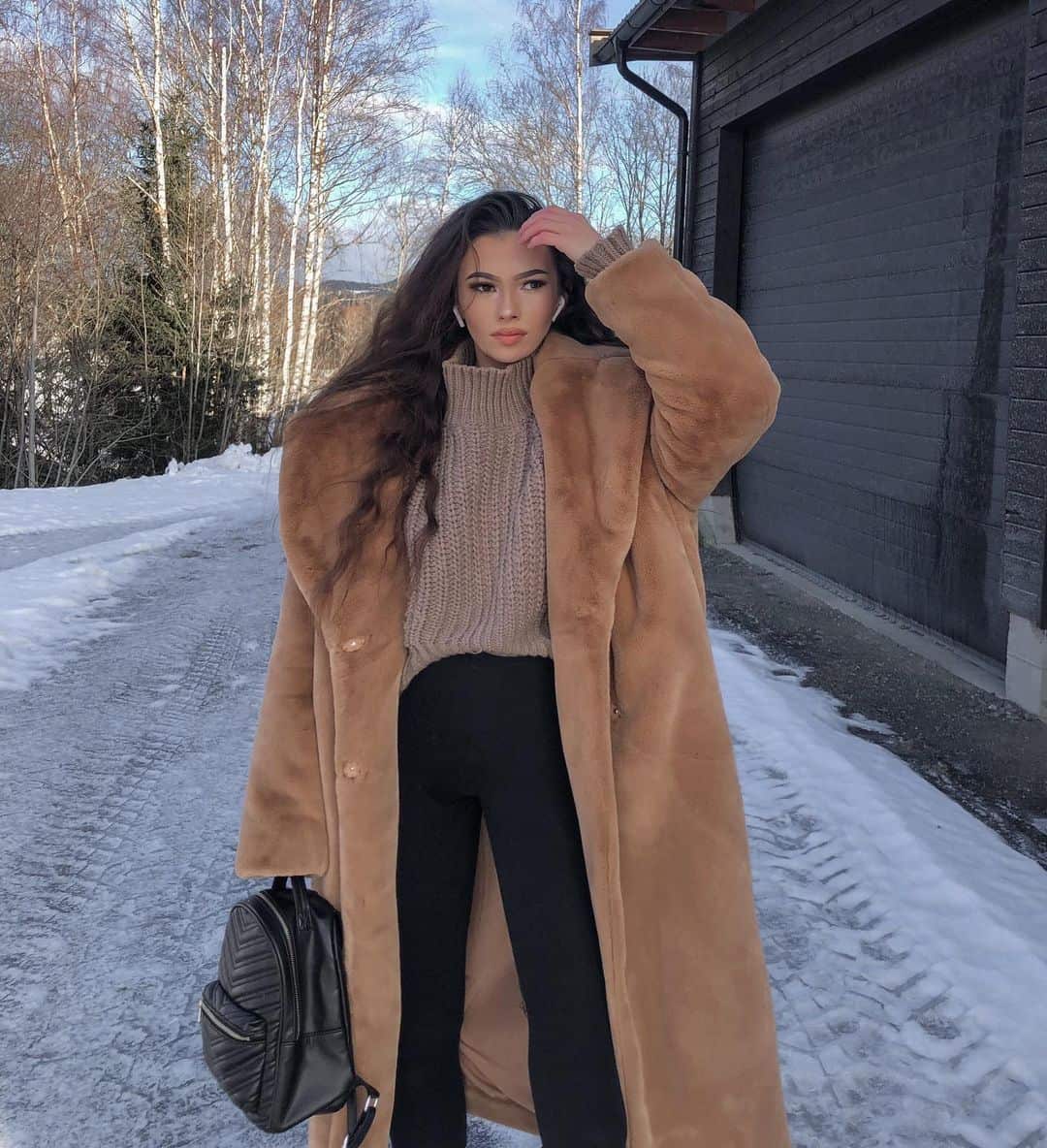 Image source
This is another outfit fit for every purpose. The knitted sweater and black pants are topped off with an enormous oversized coat. It is fit for every occasion, as long as it isn't hot outside. You will remain warm if you go for a walk or a picnic, and you will fit in at a fancy restaurant. As for a handbag, you should choose one to carry in your hand as the coat is so big that you wouldn't be able to wear it on your shoulder or back.
45. Faux Leather Shorts and Spaghetti Strap Top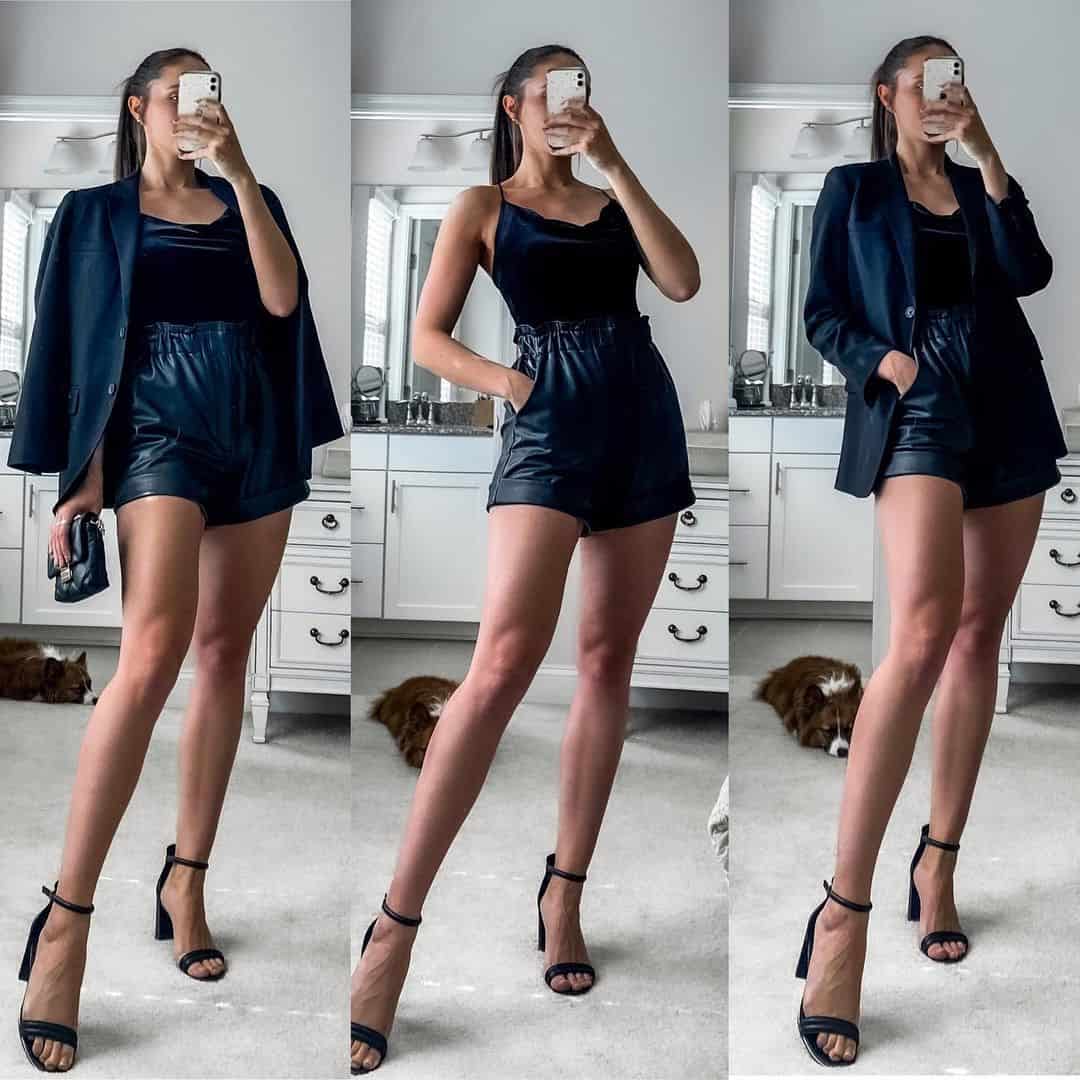 Image source
You can never go wrong wearing all black. These faux leather shorts combined with the spaghetti strap top are the basis for this amazing outfit. These two pieces by themselves look casual and comfortable, perfect for relaxed environments and outdoor dates.
When you add in the heels and black blazer, this former casual look turns into a classy, tasteful statement. You will fit in anywhere with this, no matter where you go or what you'll do. Just switch the heels for black boots if the date will involve a lot of walking.
As for accessories, you can go wild. Any color handbag will add a good twist to the look, and the same thing goes for jewelry—although it is always safer to stick to gold or silver pieces.
46. Babydoll Dress and Fuzzy Jacket

Image source
This beautifully patterned babydoll dress isn't going to accentuate your curves, but it will make you look adorable while feeling free and comfortable. The long suede boots and fluffy jacket complement the outfit and create a beautiful color scheme. The hat is a really nice addition, but if your date is indoors and you prefer not to wear a hat, the outfit will look just as good.
This outfit automatically makes you think of the countryside. Green grass fields, breathtaking landscapes, calmness, quiet, and peace. This outfit is the perfect fit for a walk in the park or the country fields. Did you know that horseback riding can be a fun date?
47. Single Sleeve Top and Ripped Jeans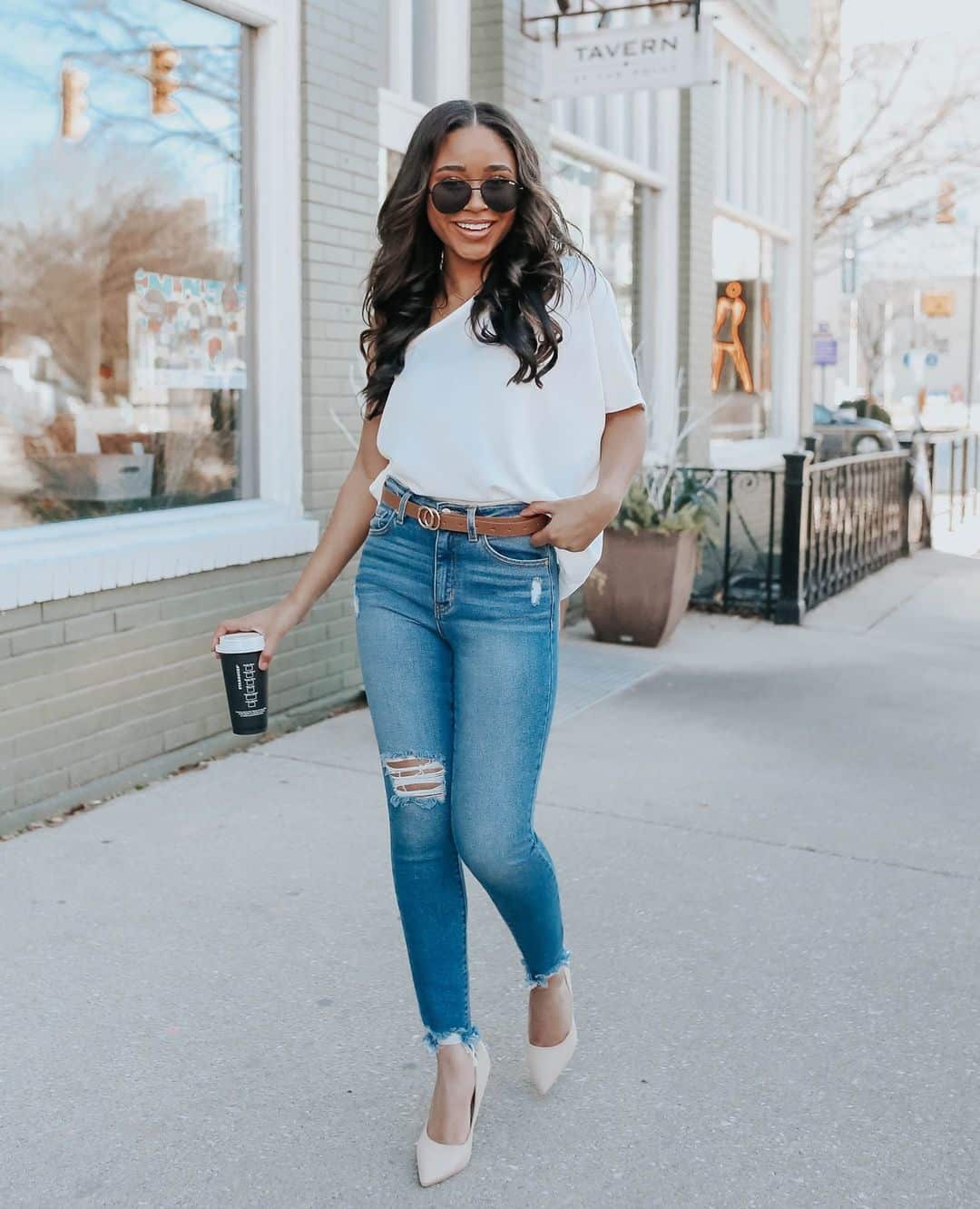 Image source
This outfit combines a single sleeve white top with ripped jeans and some basic nude heels. The overall look is a mixture of basic and chic and would be perfect for any setting, from an outdoor outing to a dinner date.
No outfit is too basic when you know how to give it a twist, in this case, the heels add the formal element, but if you prefer to wear or white sneakers this outfit would shine just as much—as long as you added some jewelry, maybe a watch, a belt with a pretty buckle, and a cute handbag.
48. Snake Print Pants and U-Neck Top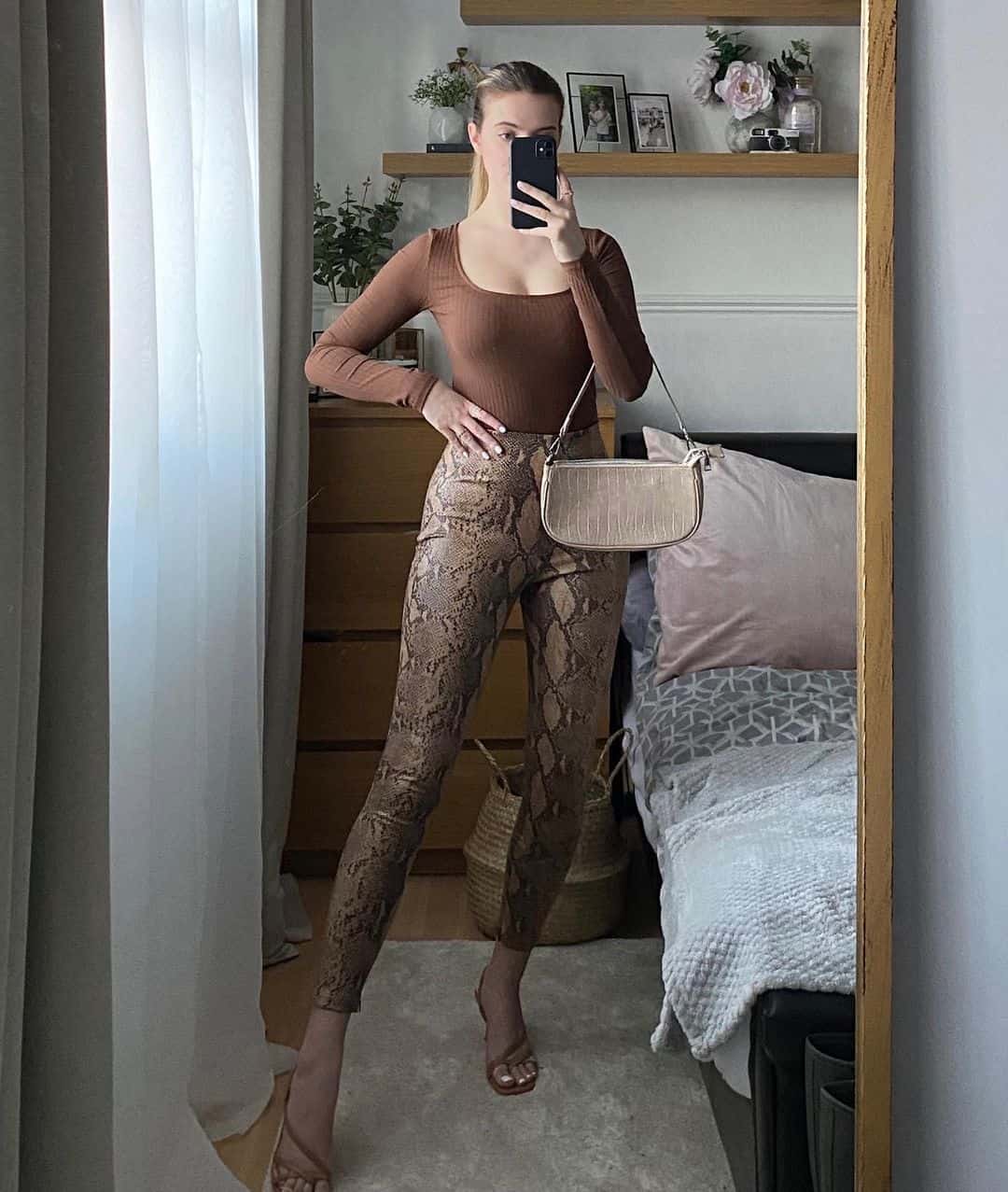 Image source
This monochromatic brown outfit combines a basic U-neck top with snake print pants and heeled sandals. Even the handbag fits the monochromatic pattern.
This outfit is good for any occasion, so if you still don't know where your date will be set, you will be safe with this choice. It is annoying when we have no idea where we're going, but that's what all-rounded outfits are for.
Combine this with some silver or gold jewelry and you'll look even more chic. If it's cold outside, a suede brazer or fluffy brown jacket would fit the theme perfectly.
49. Faux Leather Pleated Skirt and Graphic T-Shirt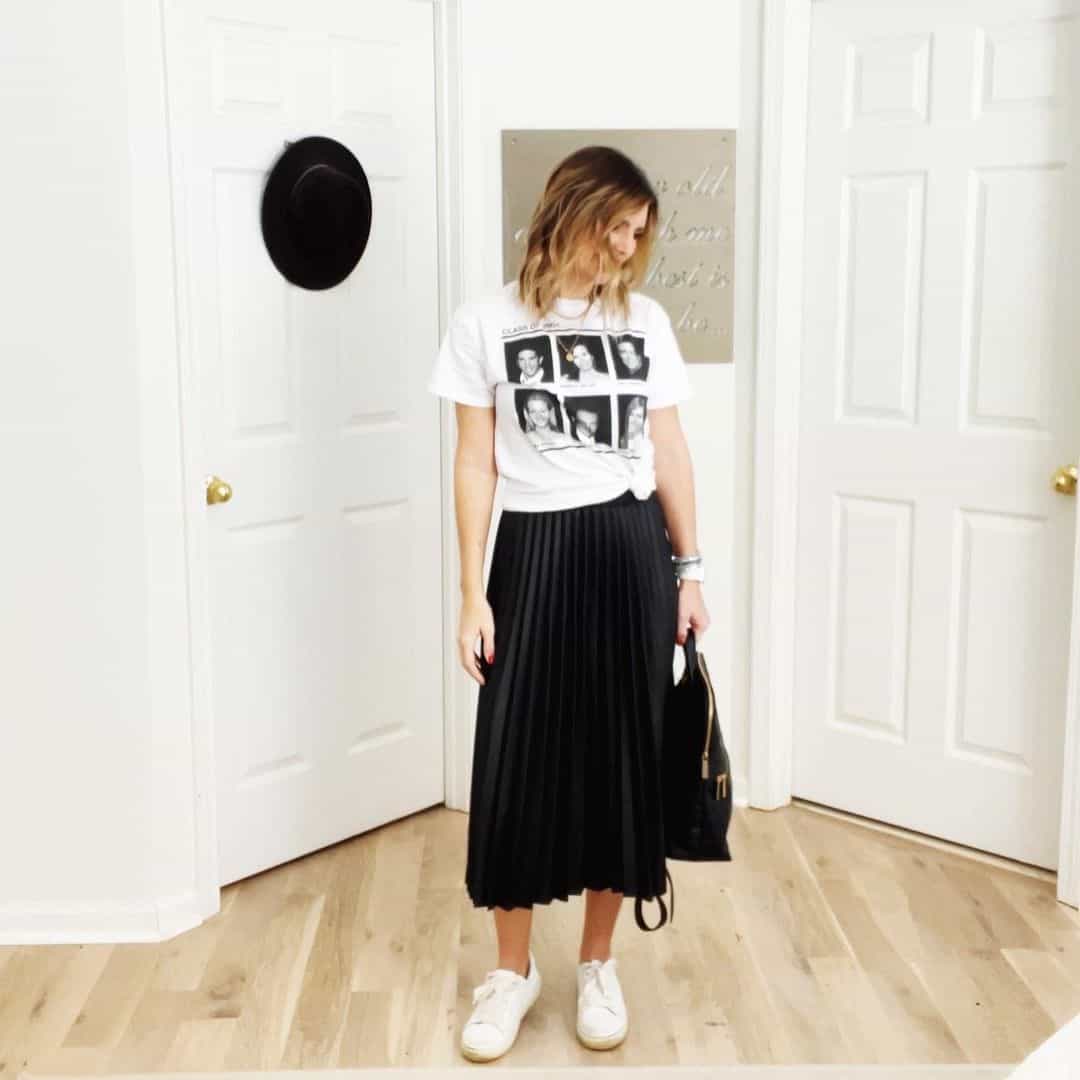 Image source
Here's another casual look that has some wiggle room to fit fancier contexts. The graphic t-shirt is a classic that has lost some popularity over the years, but now that vintage looks are in vogue, they're making a comeback.
The faux leather pleated skirt looks great with the black contrasts with the white from the T-shirt. To complete the look ,you can just add your favorite pair of white sneakers—and that's it, you're ready to go on your date.
If the weather isn't agreeing with you and you feel like you'll be cold wearing this, just add a faux leather or denim jacket.
50. Mini Striped Faux Leather Skirt and Turtleneck Sweater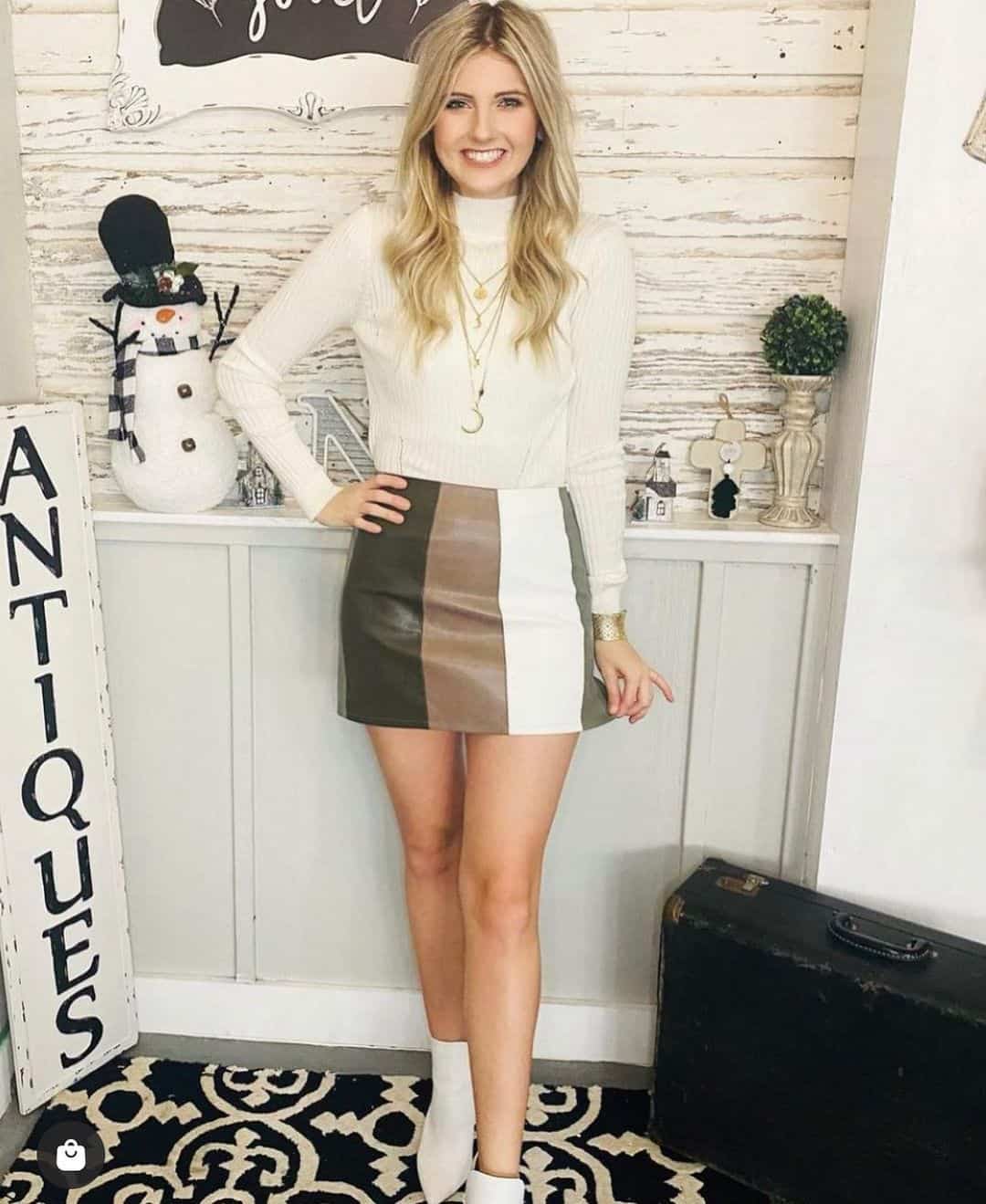 Image source
Finally, to end the list with a bang, you have this adorable outfit that would fit every setting and weather. If you haven't found one you like yet, this is the one to go for. You will fit in anywhere – a fancy restaurant, a cozy cafe, an amusement fair, the park, the cinema, and even at home, so if you're indecisive or you're not even sure where you're going, this is a safe option for you.
The white turtleneck sweater goes amazingly with the striped faux leather skirt, especially since each stripe is a different color—white goes well with every single one of them. And to complete the look you can wear short white boots or even sneakers.
With Great Outfits Come Great Accessories
Clothes are the core part of any outfit, but other elements are just as important and complement and improve any look. Accessories such as jewelry and handbags are essential to any outfit, so here are some amazing and affordable recommendations.
For Your Comfort
First, some things aren't meant to be shown but will help you feel comfortable and get the most out of your outfit. One of those things are low-cut socks, a must-have item for all occasions. A pair of these is invisible with the majority of shoes, which is desirable in most cases.
If you're going for a bodycon dress, you may also want something to hug your figure and hide imperfections. A waist trainer will comfortably do just that.
Another lifesaver are silicone nipple covers. If you've never seen these before, you're missing out. Some outfits just lose some magic if a bra is visible, and these things end that problem. If you are comfortable not wearing a bra, just pop these on and go enjoy your date without worrying about a visible bra strap.
Jewelry
Rings are a great addition to any look. If you love a good ring (or several), this pack includes black, silver, and gold tones, or these in silver and blue.
Another small accessory that can come in large multipacks are earrings. This pack of stud earrings is a perfect example.
Alternatively, if you prefer hoops and bigger earrings this pack has 36 different pairs in different styles. You can also opt for a mix and match multipack with earrings and necklaces.
Another very nice accessory to have is a watch, and this one comes with bracelets included. It's a whole look in itself already.
Bags
Handbags are many woman's best friends, and most of us can't imagine going around without one. Choosing the right one can be tricky as there are so many different types, made with different fabrics, and different bags are ideal for different occasions.
A crossbody bag is an amazing choice if you're going somewhere where there's a lot of people, such as a party. It's compact and it stays close to your body.
Long gone are the days when backpacks were just for school. Nowadays the backpack trend is on fire: they're functional, don't get in the way, and come with tons of storage space . Not to mention how cute they look. This PU leather backpack has all that, and it comes with a strap in case you want to hang it on your shoulder too.
Another option is to buy a full set of handbags, purses, clutches, and card-holders, so everything you have matches.
Final Thoughts
Hopefully, you have received enough inspiration from the outfits on the list. Once you have a good base outfit and some chic accessories, the hardest step has been taken—now you just need to get ready and go enjoy your date.