Anyone who has experimented with blue hair color knows that it is the perfect way to make a bold statement. With blue, as is the case with brighter colors, it is all about finding a hair dye that complements your skin tone the best. There are plenty of options to choose from, and there is no doubt that there is a shade of blue for every skin tone!
Shades of Blue Hair According to Skin Tone
An all-blue mane is a brave move that is bound to attract attention. Brighter blues require you to bleach your hair first, and sometimes, it might take multiple sessions to obtain the hue you envision. In cases like this, it is best to get professional help to ensure you get the color just right.
Lighter Skin Tones
Lighter or borderline pale skin tones go well with pastel blue hair color or perhaps teal hair color. If you are looking for a subtle hue, a tinge of baby blue is perfect to contrast your skin tone. Icy blue has a similar effect, making it another vibrant choice. Teal hair color works well if you do not want your hair color to overpower your features. It brings about a subtle contrast striking the right balance between your hair color and skin color.
Medium Skin Tones
Medium skin tones allow plenty of room for experimentation with the many shades of blue at your disposition – cobalt blue and a blue balayage work particularly well. Cobalt blue lets you play around with the many inflections it comes in – while a lighter shade can make your complexion appear brighter, a darker shade makes a subtle statement. A blue balayage incorporates multiple shades, each of which complements your skin tone in different ways.
Deep Skin Tones
Deep skin tones pair well with navy blue, midnight blue, and rusty denim hair color. Midnight blue is a deep, rich color that infuses character into your hair and is perfectly styled when let down with a few curls. Navy blue or rusty denim blue shades bring about a soft touch, working well with multiple hues such as purple or sapphire blue for a contrasting effect.
50 Blue Hair Ideas to Try Out Right Away
Blue hair could be the bright pop of color that your outfit or wardrobe is lacking right now. Whether it is plain blue highlights, an ombre blue hairstyle, or a bold all-blue bob, there is no shortage of options at your disposition.
1. Icy Blue Pixie Hairdo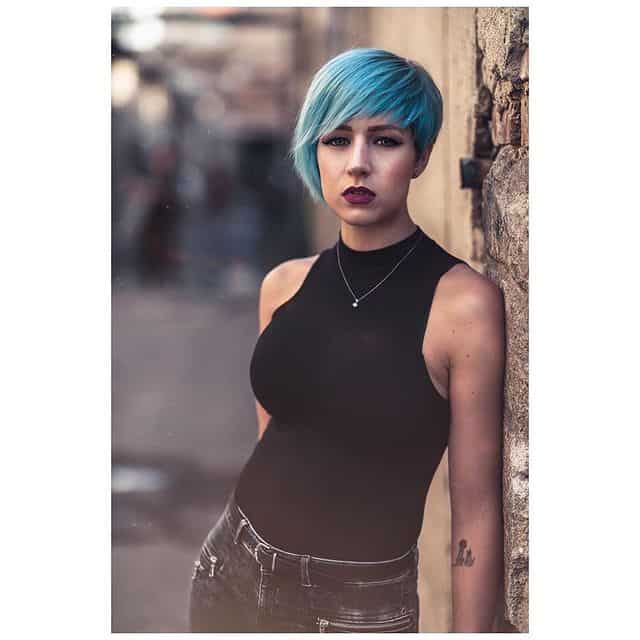 Image Source
Consider an inflection to the traditional pixie cut with bangs growing in progression from one side to the other. The darker blue-dyed roots gradually fade into a medium blue tone, finally blending into icy-blue tips. The longer side of the bangs softens the boldness of the dual blue-toned hair, creating a unique balance in the look. You can pair this versatile hairdo with an all-black outfit and sport it at a get-together with friends and family.
2. Denim Blue Layered Hair With Curtain Bangs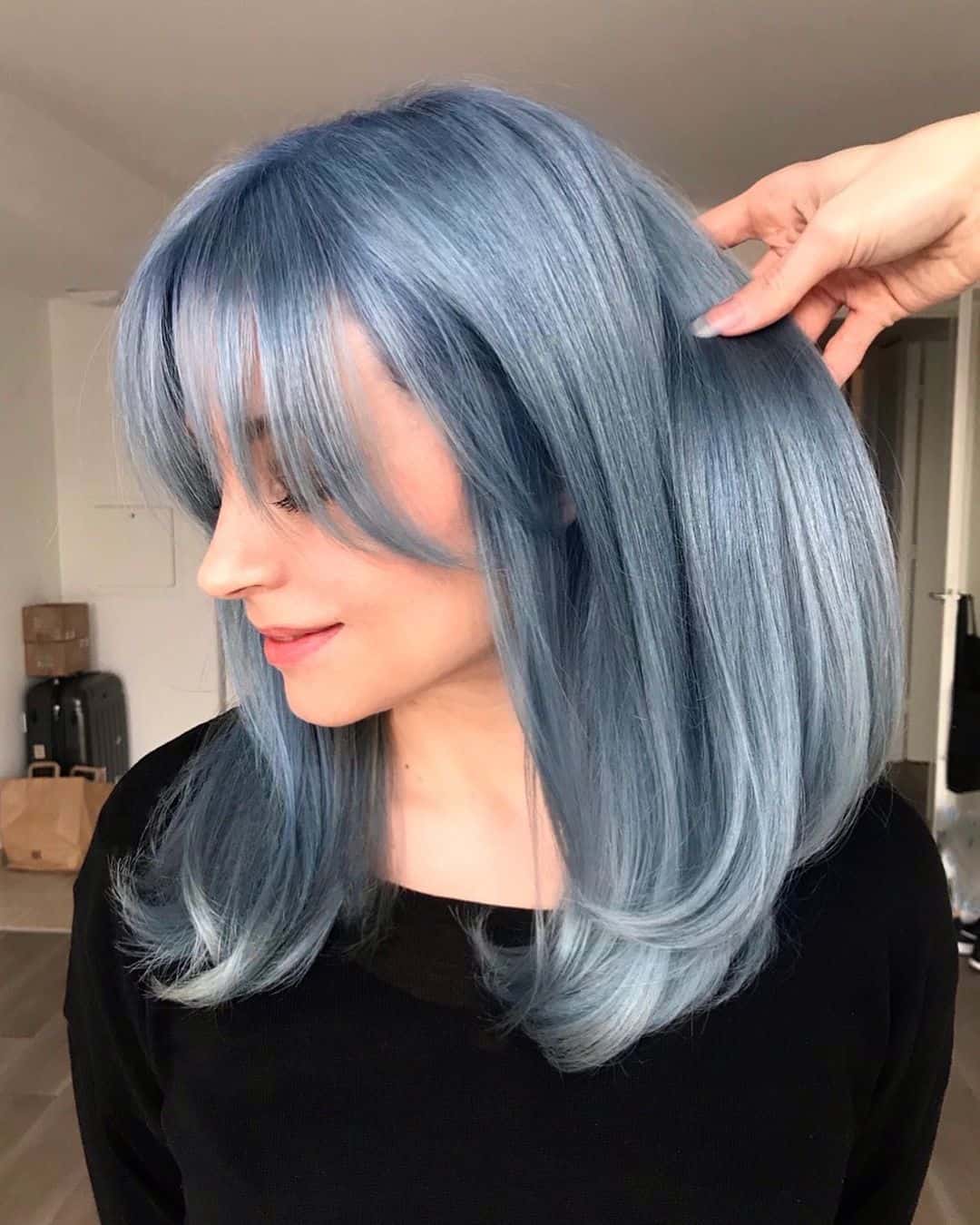 Image Source
Curtain bangs are a great way to shift focus from the length of your face, working particularly well with oval-shaped faces. This gradient denim blue hairdo is perfect to sport if you want a subtle, toned-down look that isn't too over the top. Shoulder-length layered hair with smoothened-out curtain bangs in shades of blue, grey, and borderline blonde, add a soft feminine touch, making it an effortless look to pull off.
3. Mermaid Blue Bob With Bangs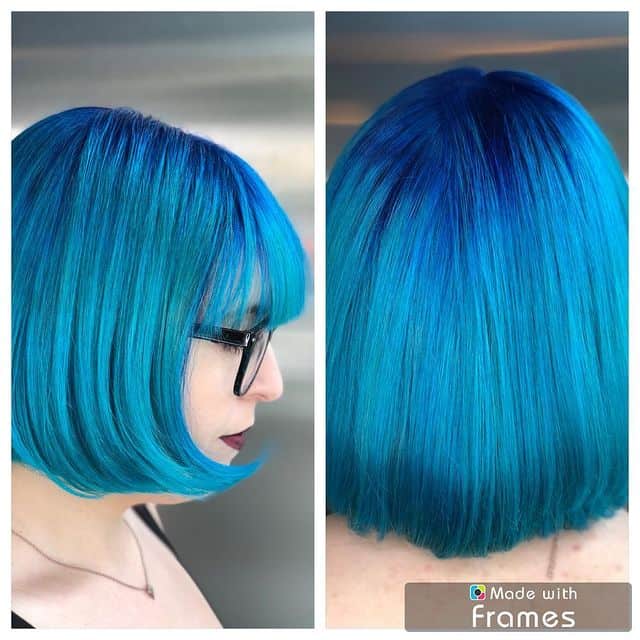 Image Source
This chopped bob cut with voluminous bangs exudes an Anime-Esque vibe, embodied further by the mermaid blue dye. Straightened hair accentuates the bold yet playful look that frames the face perfectly. Regular trimming of the ends keeps the hairdo in check, making it simple to maintain and pull off. The vibrant hair color allows you to experiment with many cute and fun looks. Consider teaming this single-toned hairdo with neutral-hued clothes for a casual day out with your friends.
4. Soft Beachy Waves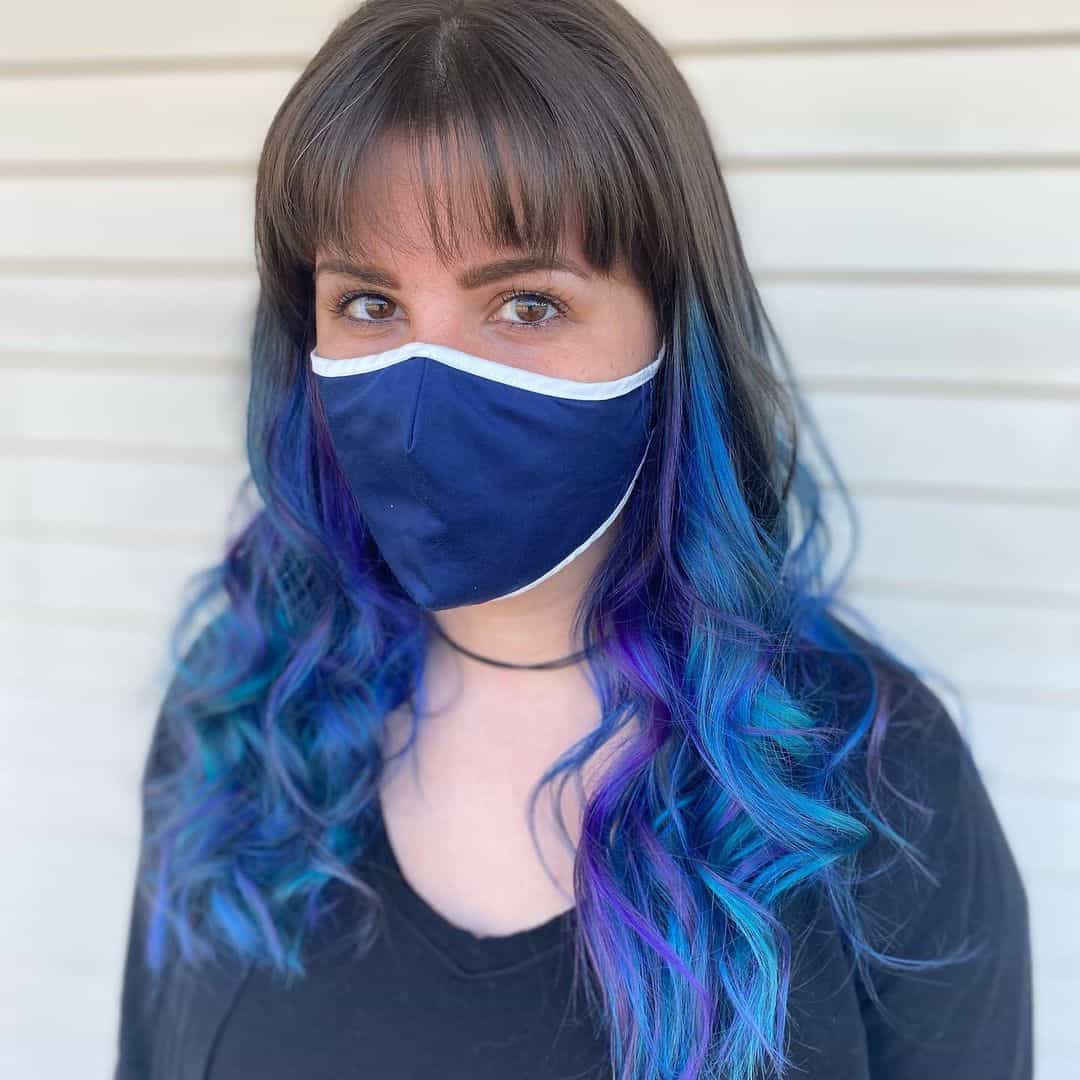 Image Source
This hairstyle begins with deep brown hair that fades into blue and purple ombre waves, adding a soft and subtle touch. The blunt bangs balance the medium-length wavy hair that rests gracefully on the shoulders. The gradual progression of brown to blue with streaks of purple makes the hairdo easy to pair up with just about any outfit. Hair extensions work just as well if you aren't looking to grow out your hair too long or dye it completely.
5. Misty Blue Voluminous Layers

Image Source
This layered wavy hairstyle adds volume along the length without making it seem heavy on the head. A misty blue dye adorns the loosely curled, medium-length hair from the roots down to the tips with graceful elegance. The silvery-white shine on the hair glistens in the light, contrasting the light skin tone beautifully. Sport this tasteful look with bold, vibrant makeup in conjunction with either a dark-hued outfit or neutral-toned clothes.
6. Electric Blue Loose Curly Afro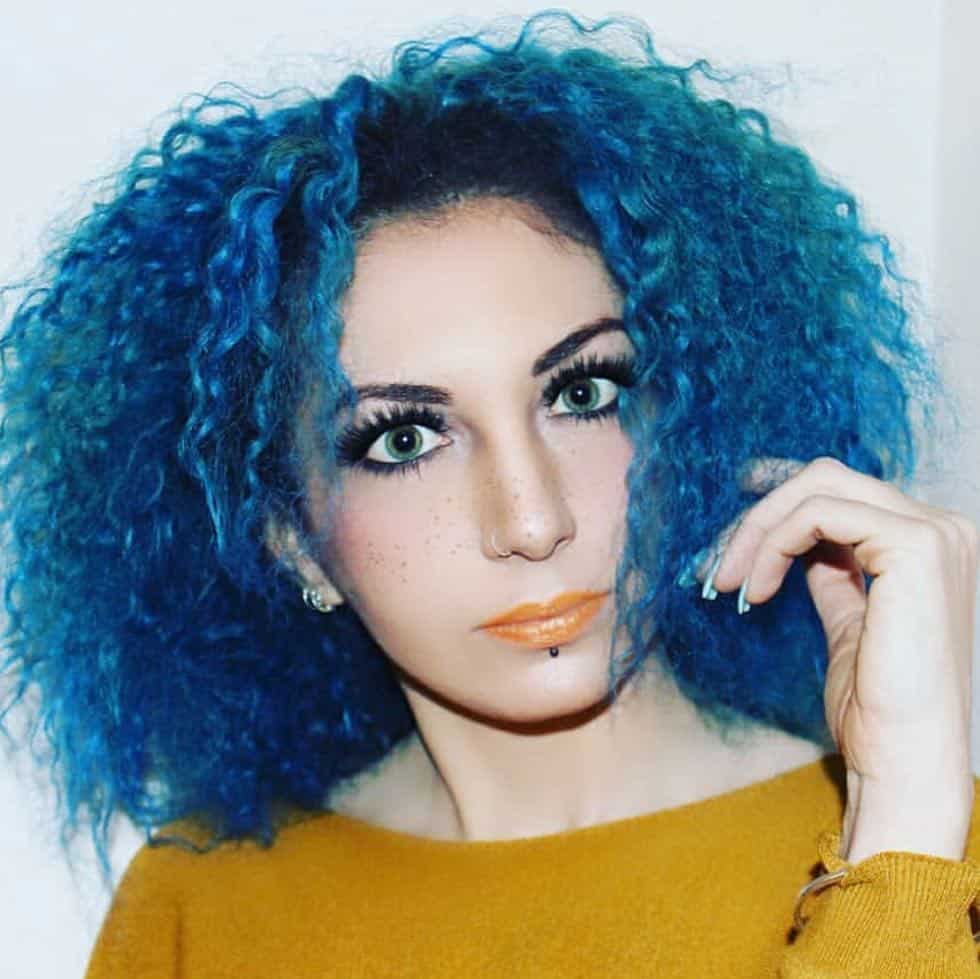 Image Source
This vivid hairstyle begins with dark roots that transition into curly frizzes of electric blue, fading into turquoise blue loose ends. The explosion of color is accentuated by the messy loose curls making the hair appear voluminous and fuller. A few loose strands in the front add a touch of softness to the otherwise bold afro that gently hovers over the shoulders. Bright-eye makeup alongside mellow-toned outfits that contrast the electric blue makes you look your best.
7. Medium Blue Wispy Pixie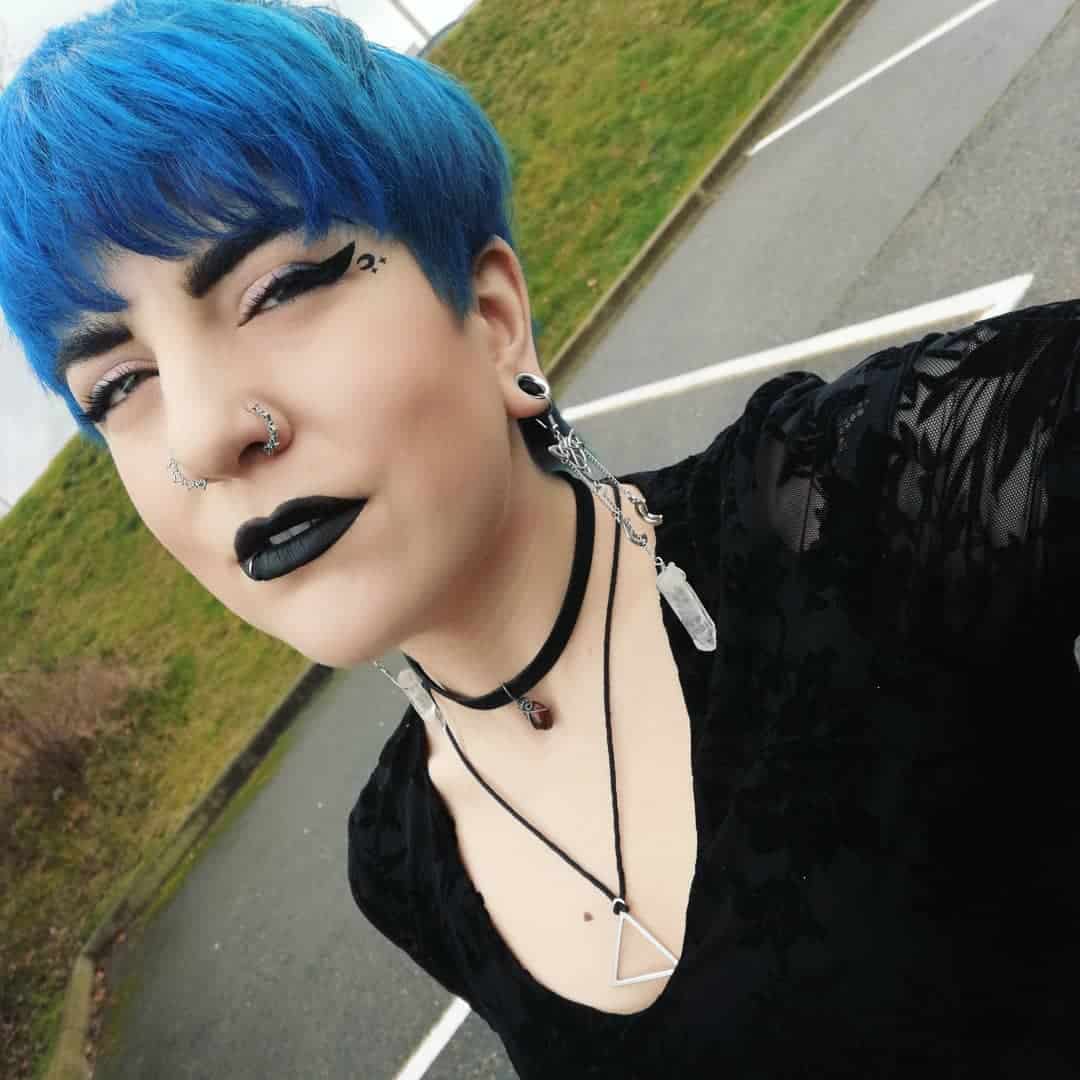 Image Source
This wispy pixie cut with baby bangs resting just above the eyebrows exudes a bold vibe, emphasized by the dark blue dyed pointed tips. The hairdo complements oblong-face beauties with a lighter skin tone, looking to add a pop of color to their lives. The hassle-free hairstyle is simple to fix and requires little to no maintenance, perfect for everyday outings. Pair this hairstyle with bold black makeup and a black outfit to pull off an emo girl vibe.
8. Indigo Blue Layered Waves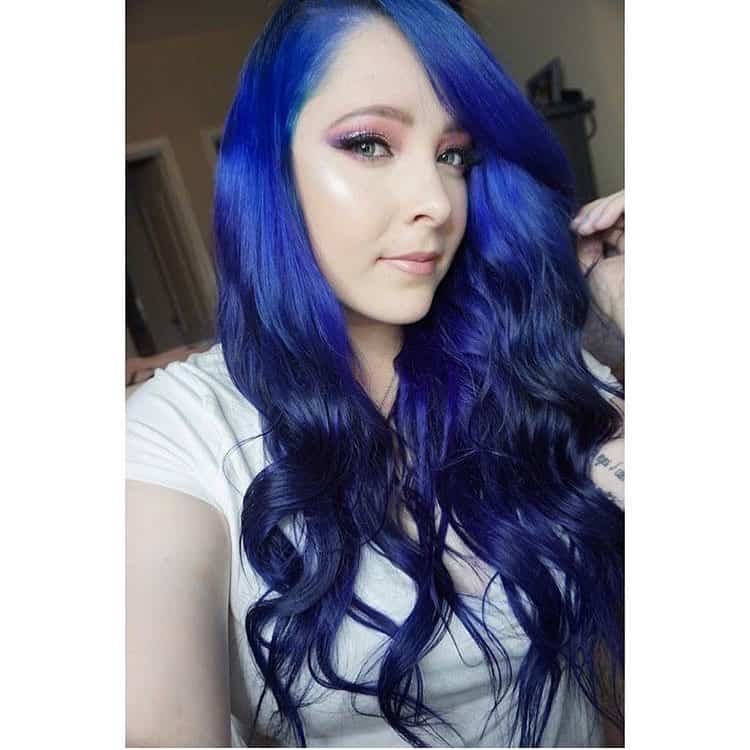 Image Source
This long, layered hairstyle with scattered beachy waves at the bottom imbibes character to your hair. You can dye your hair in an indigo-blue hue till mid-length and let the color gracefully fade into midnight blue ombre tips. The distinct indigo roots in contrast with the dark blue frames the face working well with oval or oblong face cuts. Highlight this hairdo with nude makeup alongside outfits with neutral shades for a tasteful go-to look.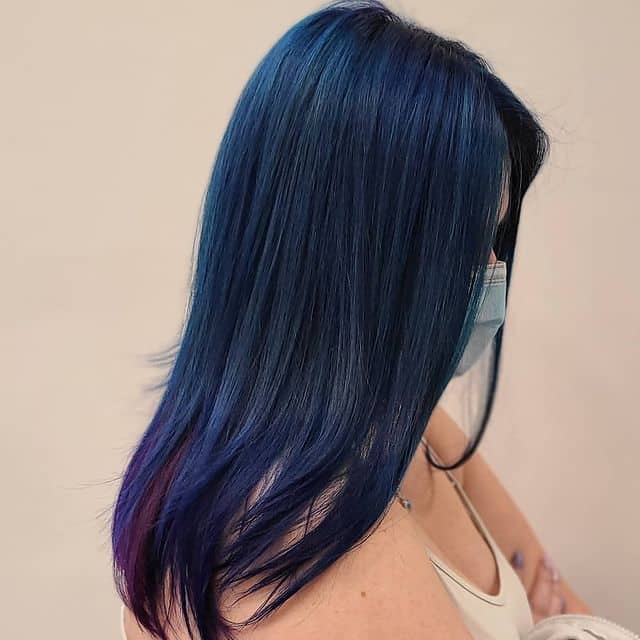 Image Source
Balayage is a coloring technique that injects multiple colors into your hair in a single sitting. Try a sharp mid-length layer cut that rests gracefully on the shoulder, and adorn the upper layer with a beautiful navy blue balayage from root to tip. Add a punch of blazing dark purple on the underlayer, beginning where the blue ends. Flaunt this unique mix of colors with smoothened-out straight hair to make a statement every day!
10. Teal Blue Voluminous Layer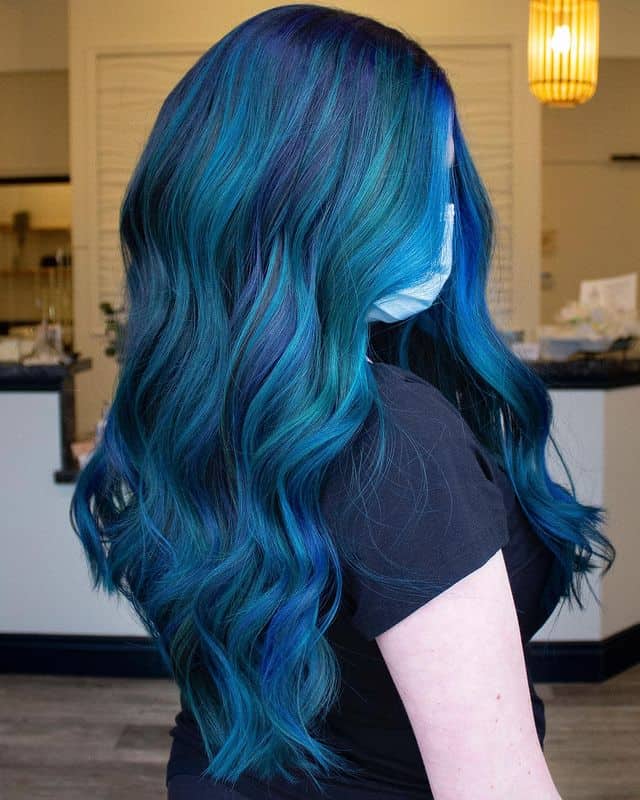 Image Source
Voluminous layered hair is one of the best ways of styling long wavy hair. This distinct hairdo begins with dark roots, transitioning into electric and teal blue pigments that fade elegantly towards the tips softening the loud colors. Violet streaks blend beautifully with the other colors, serving to distinguish each layer. To make this hairdo pop, blow dry your hair and curl it in loose waves!
11. Electric Blue Modern Mullet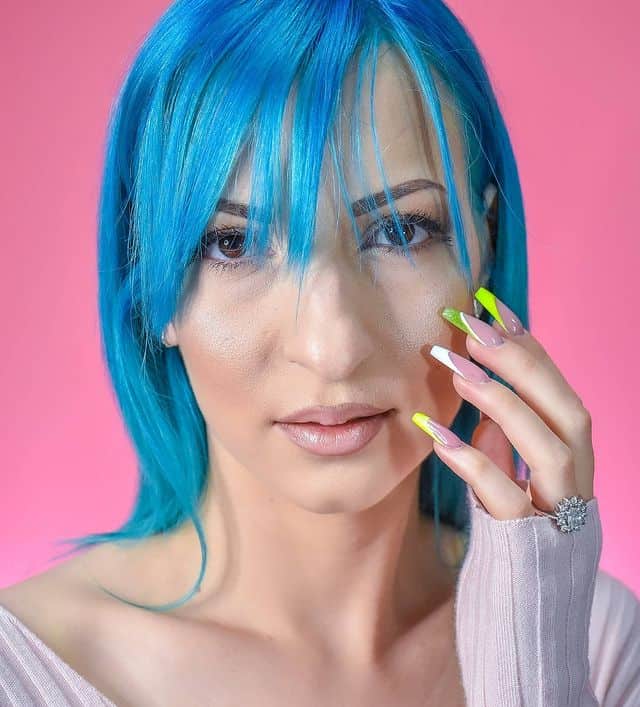 Image Source
Sharp long bangs swept aside for a graceful touch adds a feminine touch to this modern mullet. The deep incisions beginning mid-length reduces the volume of hair, adding a modern spin to the classic mullet. Electric blue hair color adorns the hairdo from root to tip, adding a silvery-white shine. Nude makeup complements the vibrant hairstyle best, allowing your hair to do all the talking!
12. Turquoise Blue Asymmetrical Bob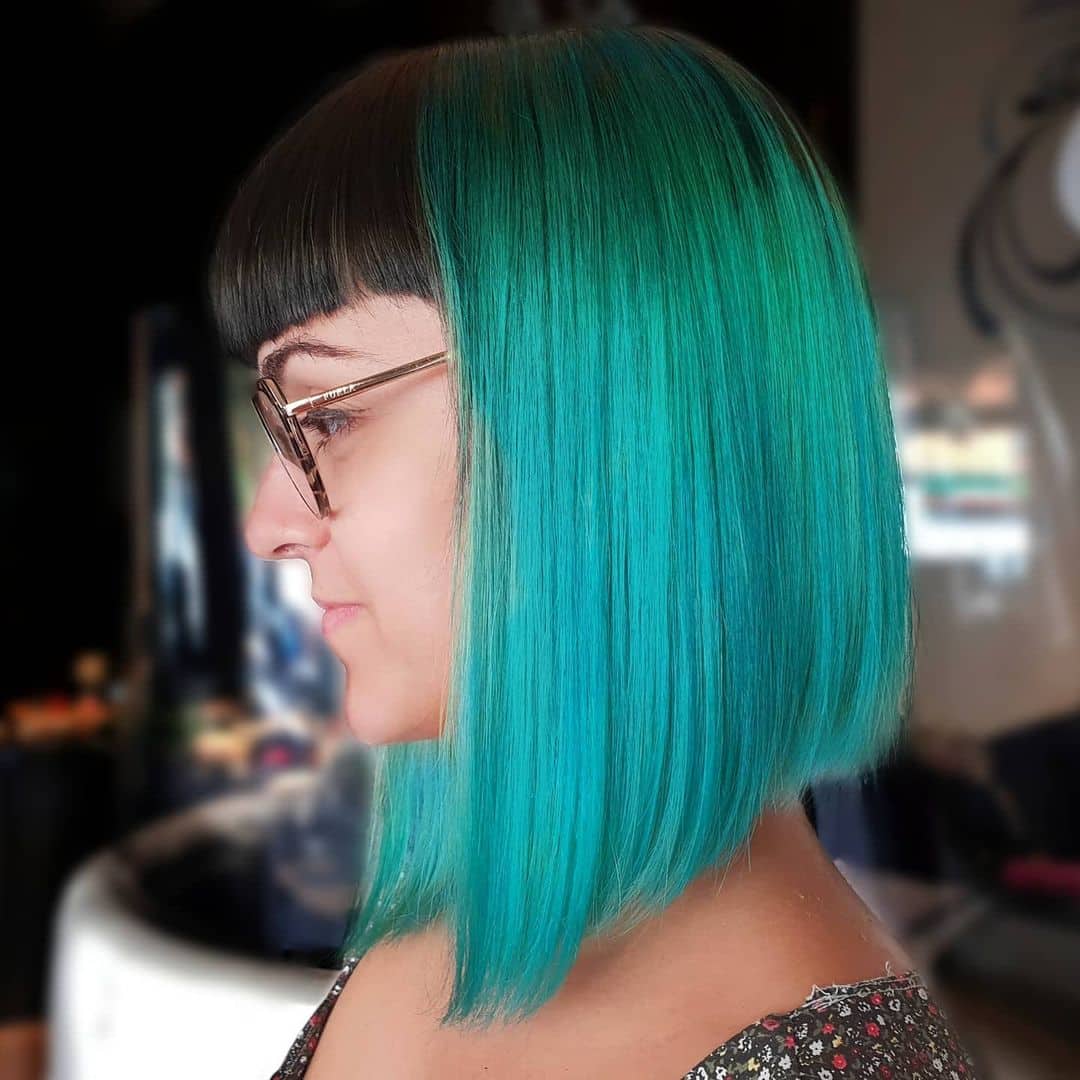 Image Source
This hairdo with longer sides dips in the middle creating an asymmetrical bob, offset by traditional bangs, making for a whimsical combination. The green roots fade into turquoise blue mid-length giving rise to mermaid-inspired hair. The distinction between the bangs and the locks is evident as the bangs retain their natural hue, making for quite the contrast! This versatile duo makes you stand out even with the simplest outfit.
13. Layered Curls With Mermaid Blue Highlights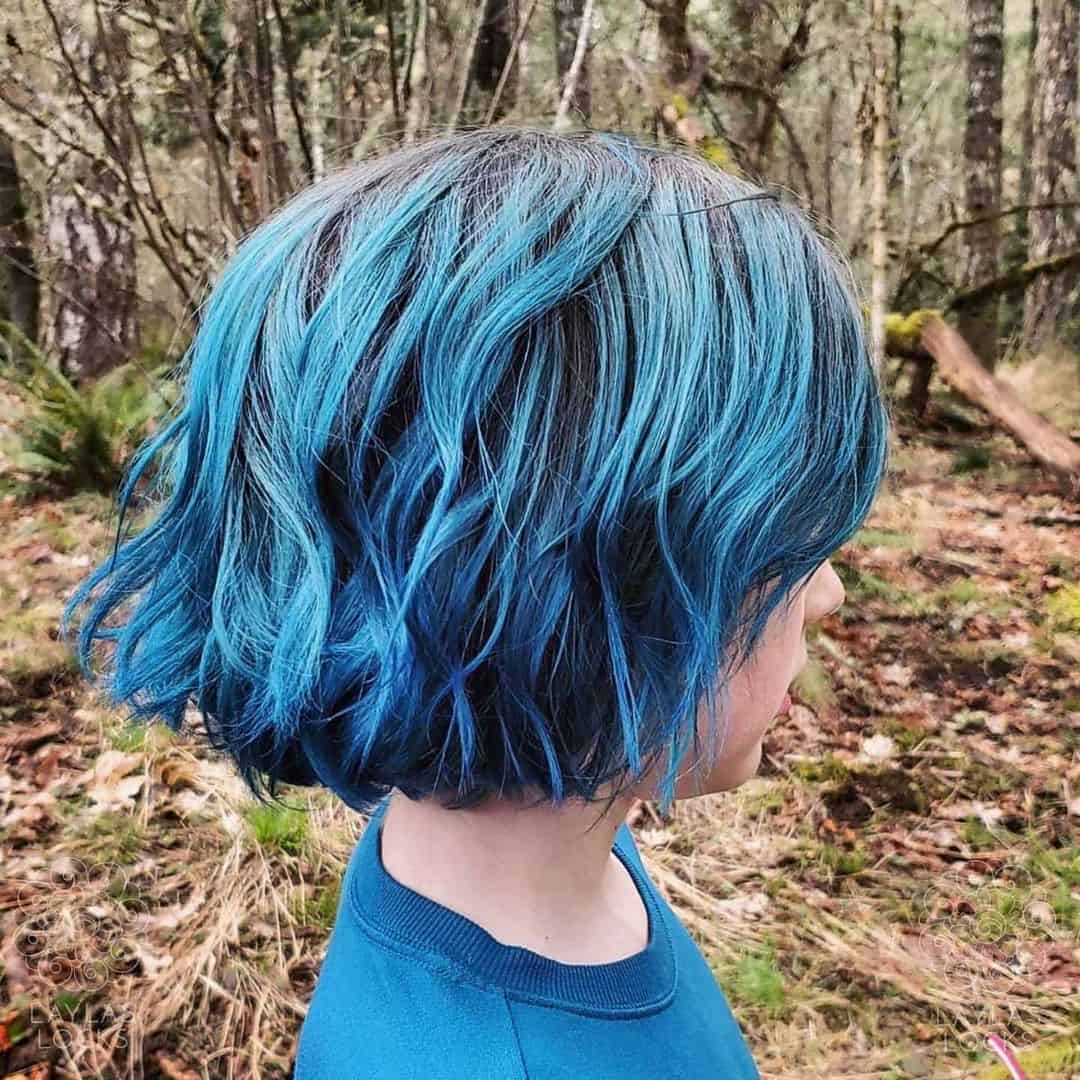 Image Source
Layered to perfection with messy waves, this short bob with splashes of blue caught in waves of jet black locks better make it to your style radar! Curtain bangs in streaks of mermaid blue and black, swept to one side blends into the neck-length hair almost effortlessly.
The blue-streaked upper layer rests tastefully on the black underlayer, making the distinction evident only at the roots. You can sport this fun look with casual outfits for a go-to summer look.
14. Dark Teal Blue Subtle Side Shave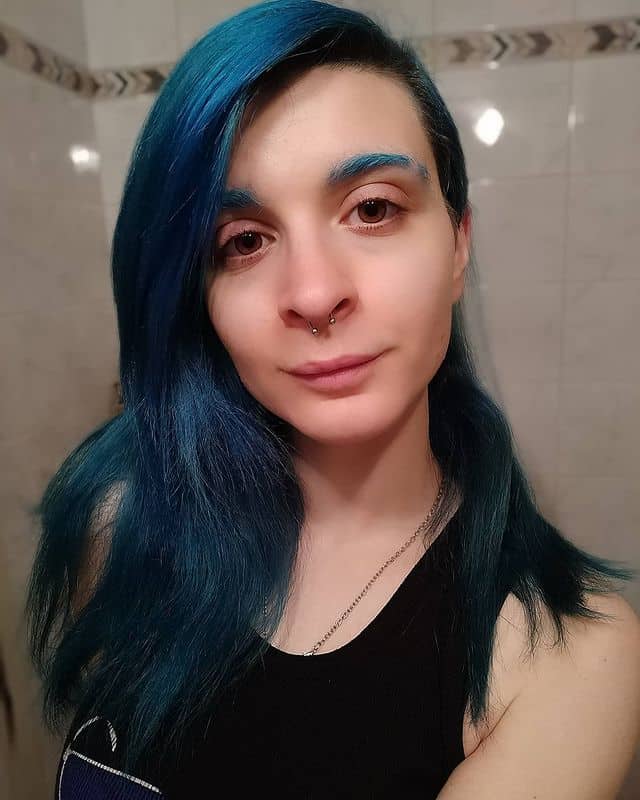 Image Source
This shoulder-length hairdo with a subtle side shave is bold and edgy at the same time. The dark teal blue dye highlights the sharp layer transition, evident at the lower half of the hair. The side-parted hair piles up on one side, adding a feminine touch, balanced by the side shave.
Dark teal blue roots lead to faded tips that blend in well with the natural hair color. A slight green tint on the swept aside fringe elevates the look further, while the dyed eyebrows add a nice touch.
15. Dark Blue Box Braids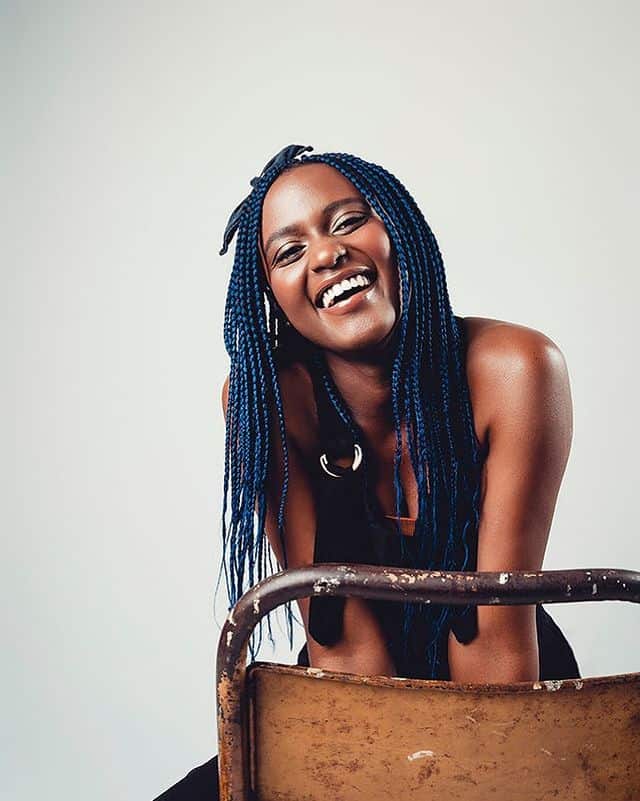 Image Source
Well-sectioned, trendy box braids are a great way to style medium-length hair. When adorned from the roots to the tips in dark blue dye, the braids can complement any skin tone without looking too over the top. The hairdo begins with tightly plaited strands that grow thinner at the bottom, secured with tie-up scrunchies. A casual outfit and nude makeup should be enough to polish off this look.
16. Cobalt Blue Bun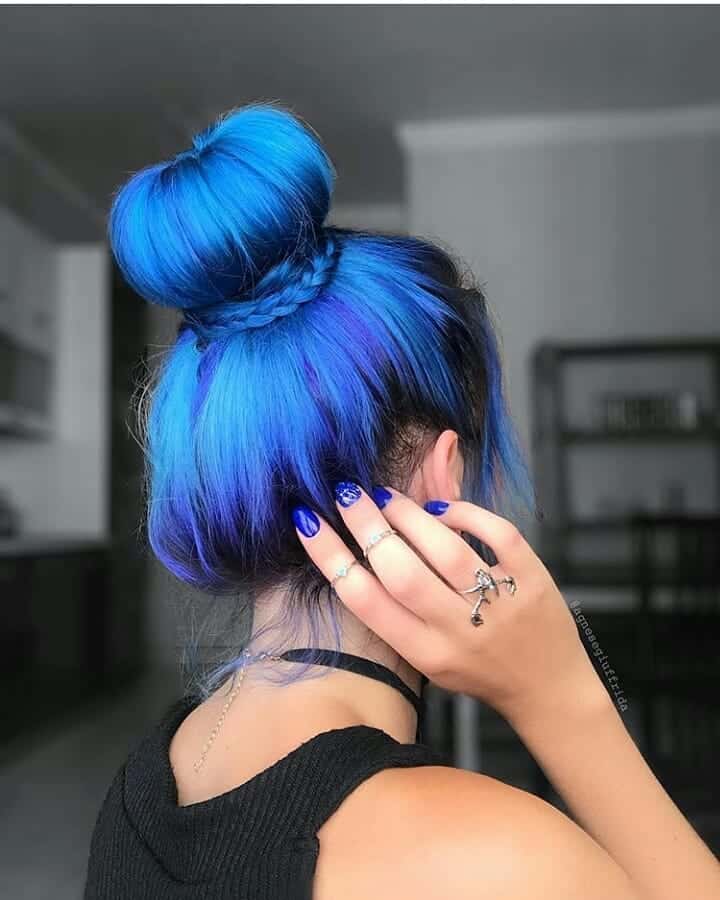 Image Source
This unique hairstyle keeps the natural black hue of the roots intact, proceeding to dye the remnant in vibrant cobalt blue. Streaks of purple on the underside of the hair inject a soft variant to the otherwise all-blue hair. When styled in a high bun with a braided strand wrapped around the base to conceal the scrunchy, the distinct color gradient is visible. Curtain bangs help to frame the face, while the messy bun steals the show.
17. Indigo Balayage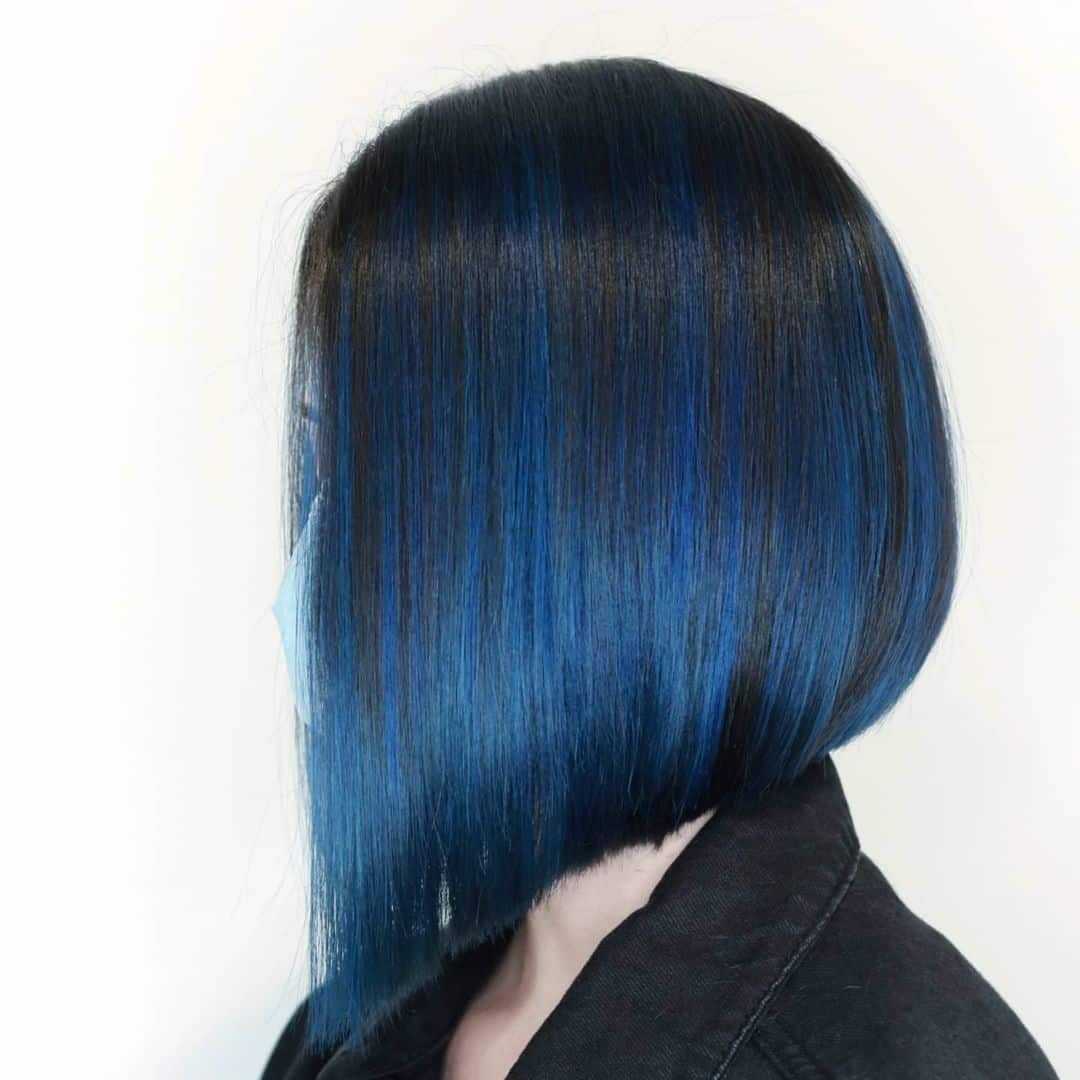 Image Source
An asymmetrical bob is a chic look to pull off at formal as well as informal events. This hairdo with indigo streaks infused into an all-black mane adds a hint of color that is subtle and stylish at the same time. The inward curled ends of the bob highlight the asymmetric cut, making for a sleek look. The streaks of indigo blue begin at the roots making a gentle progression into a lighter shade at the tips making for a bold and bouncy hairdo.
18. Aegean Blue Pigtail Bun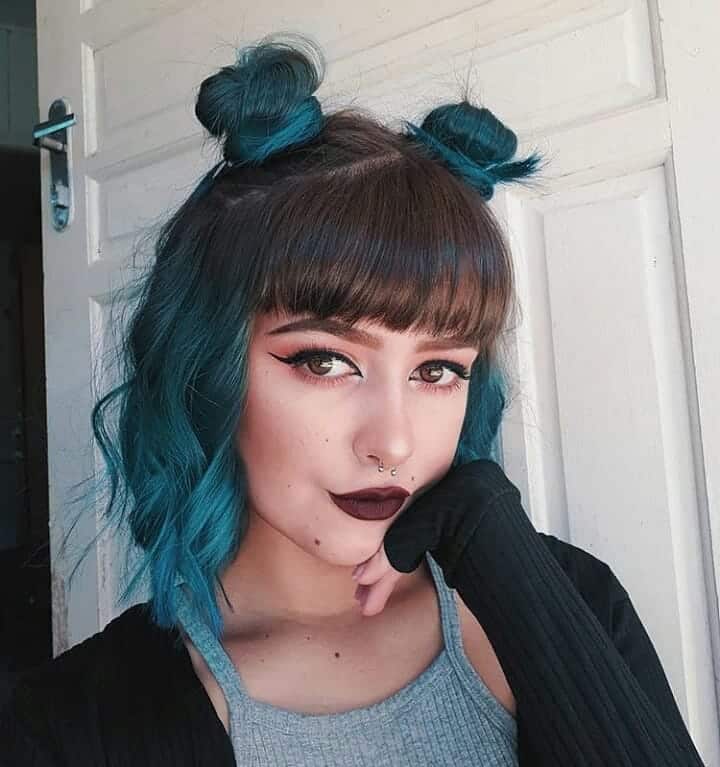 Image Source
This cute and edgy look begins with chopped bangs and roots left in their natural hue. The roots gradually fade into an Aegean blue tone that lightens towards the tips adding a tinge of color to the otherwise plain hairstyle. The curled A-line lob is styled elegantly into uptight pigtail buns of the same vibrant hue. This fun, casual look goes well with dark lipstick and highlighted eyes.
19. Black Ombre Berry Blue Layered Curls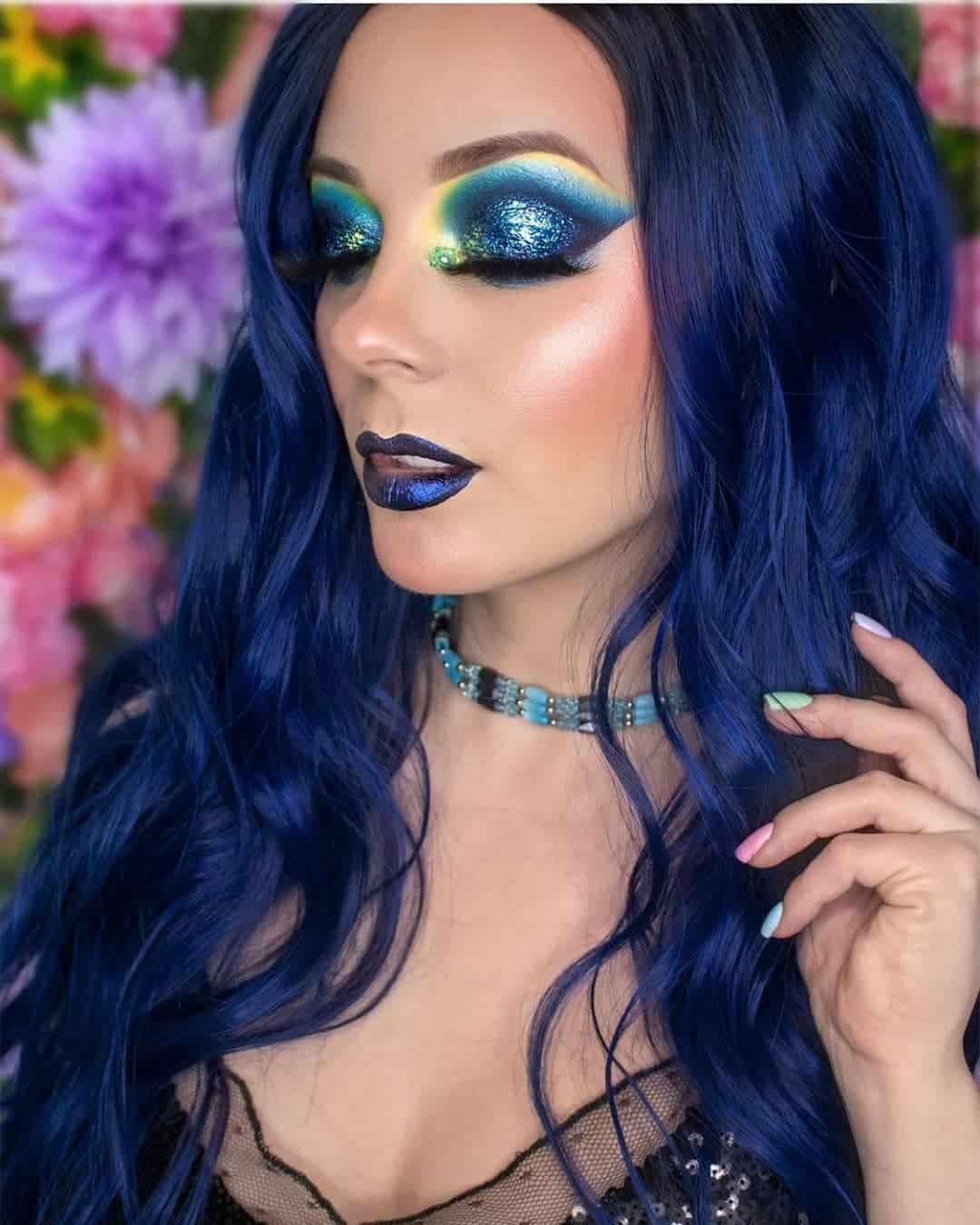 Image Source
A black ombre berry blue hair color is the perfect way to get a bold, sultry look that is extravagant and elegant at the same time. The voluminous hair is styled in curls to make it appear bouncy and wavy. The rich berry blue hue infused into the all-black hair right from the roots to the tips rests gently on the shoulders, making the hairdo perfect for a night on the town. Pair it up with glittery makeup and a glamorous outfit, and you are good to go!
20. Mermaid Blue A-Line Lob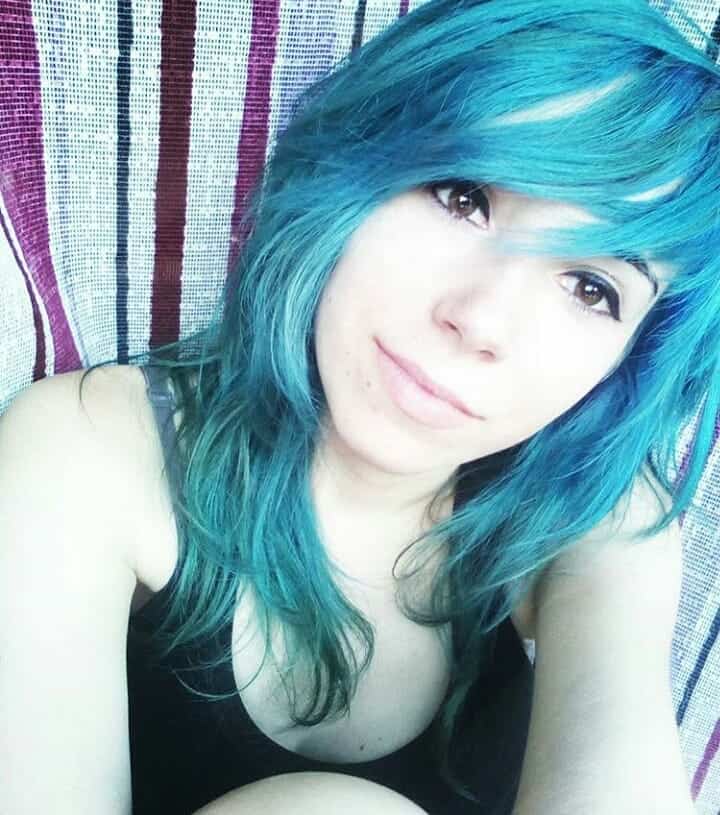 Image Source
This A-line lob with swept aside bangs makes for a messy yet casual hairstyle. The bangs frame the face elegantly, working particularly well with round face cuts. The dominant mermaid blue hue adorns most areas, sparing the dark blue dye at the roots and the turquoise shade at the tips. The messy layered hair exudes a youthful charm that is fun and playful at the same time, complementing just about any skin tone.
21. Icy-Blue Ombre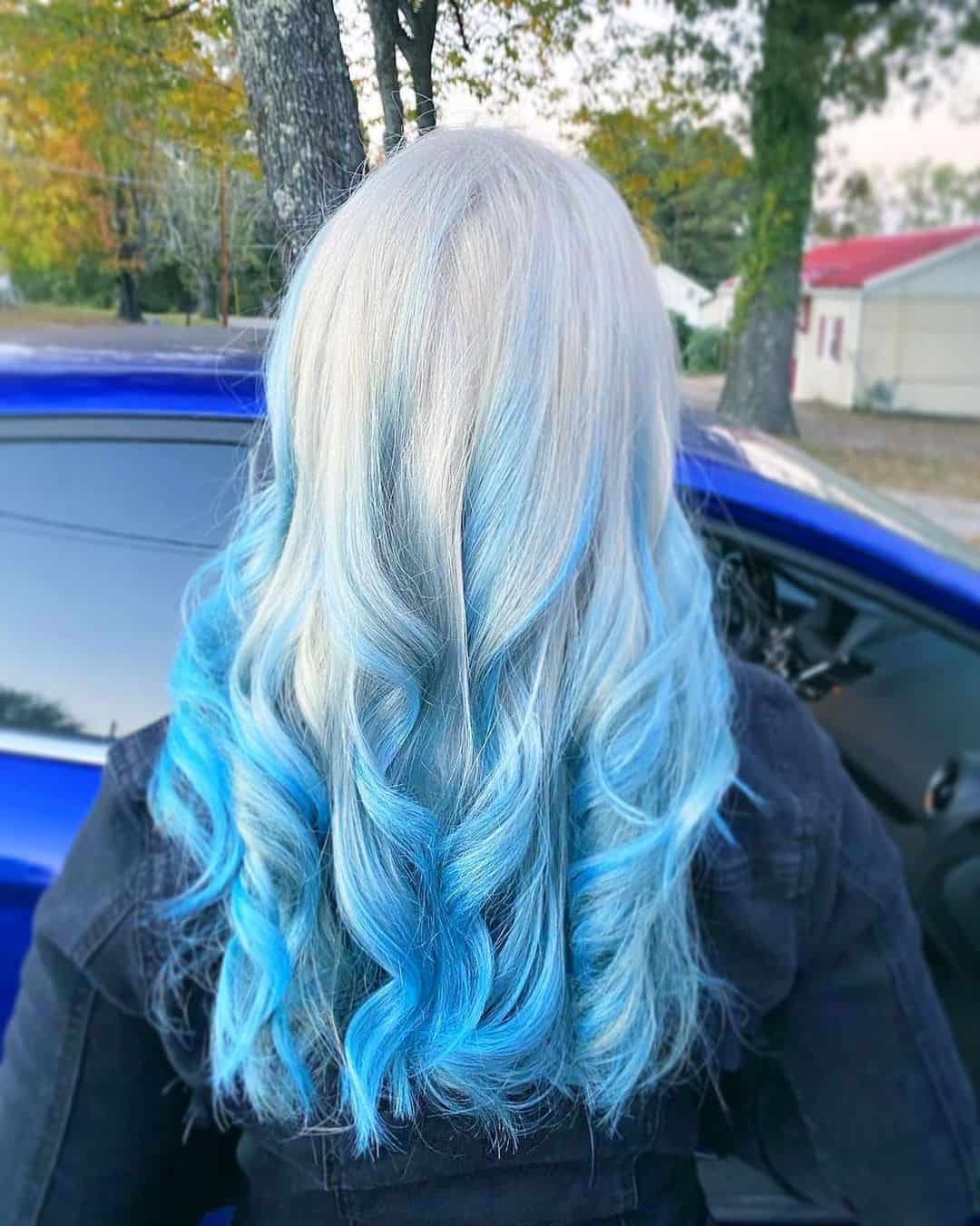 Image Source
This hairdo begins with platinum blonde roots fading into a curly icy-blue ombre. The blue streaks start pale, becoming predominant towards the tips, blending into the platinum hue to create a soft feminine touch. The loosely styled curls comprise an array of subtle colors, including grey, blue, and platinum blonde. When paired with a denim jacket, the contrast is evident, making for an all-blue outfit that you can sport for a fun day out with friends.
22. Pacific Blue Loose Braid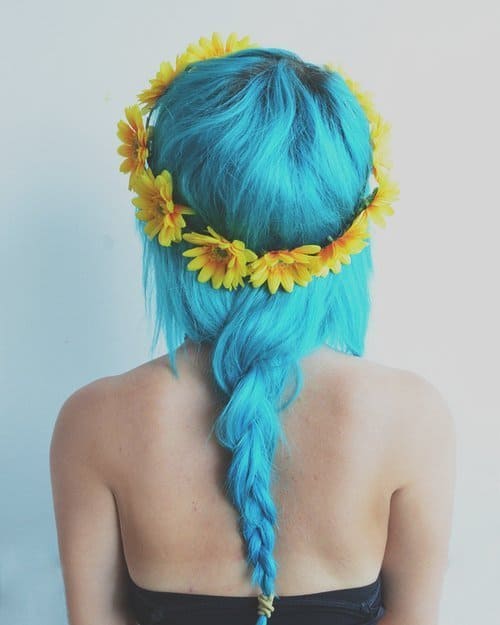 Image Source
Pacific blue-dyed hair is a sure-fire way to welcome the summer in style as this hairstyle depicts – darker roots gently progress into an icy-cool pacific blue hair dye that is impossible to miss. The messy hairdo begins with an inverted braid that makes its way into a regular one towards the end. Gently teased strands form the braid, secured with a mustard yellow scrunchy. A vibrant sunflower tiara adorns the braid at the crown accentuating the easy-going summer vibe.
23. Blue Dyed Dreads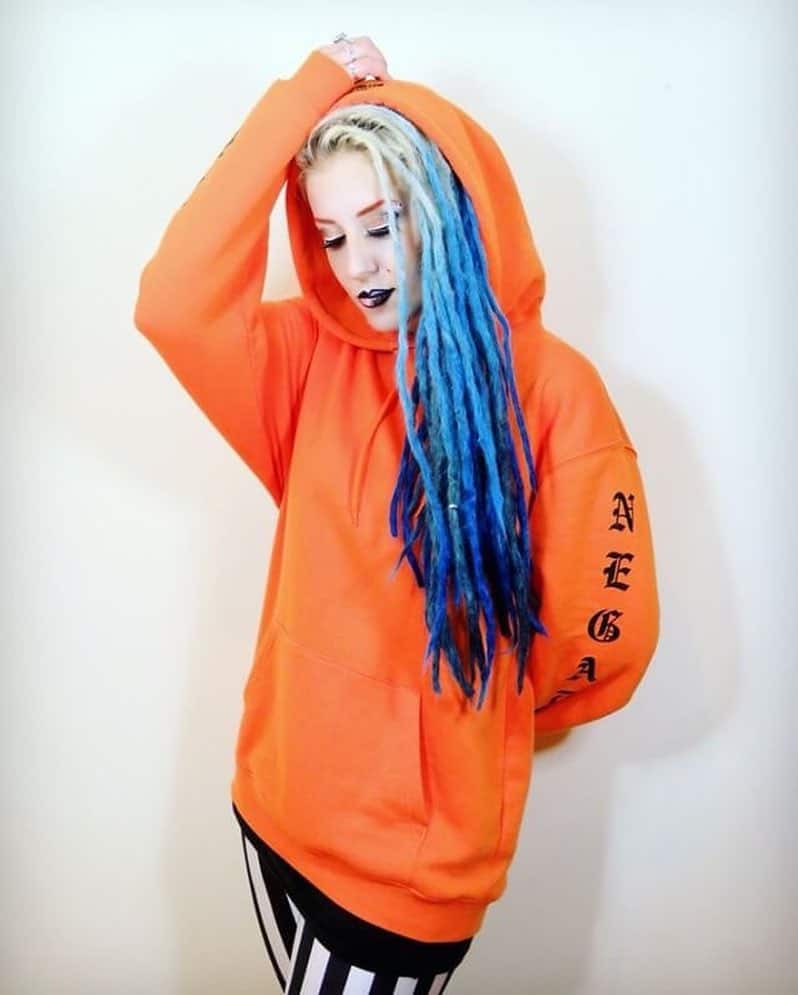 Image Source
Spruce up pale, freeform dreads with a splash of color from this vibrant palette of blue. Shades of icy, aqua, and turquoise blue blot the blonde hair around neck-length, creating a unique contrast while infusing character into the versatile dreadlocks. The mix of colors also gives rise to indigo streaks that are evident at the tips.
The general progression from lighter to darker shades shines a light on the color gradient used to style these lovely locks. Team this unique hairstyle with dark lipstick alongside shimmery eye makeup, and you are all set!
24. Dutch Braid Pigtails With Azure Highlights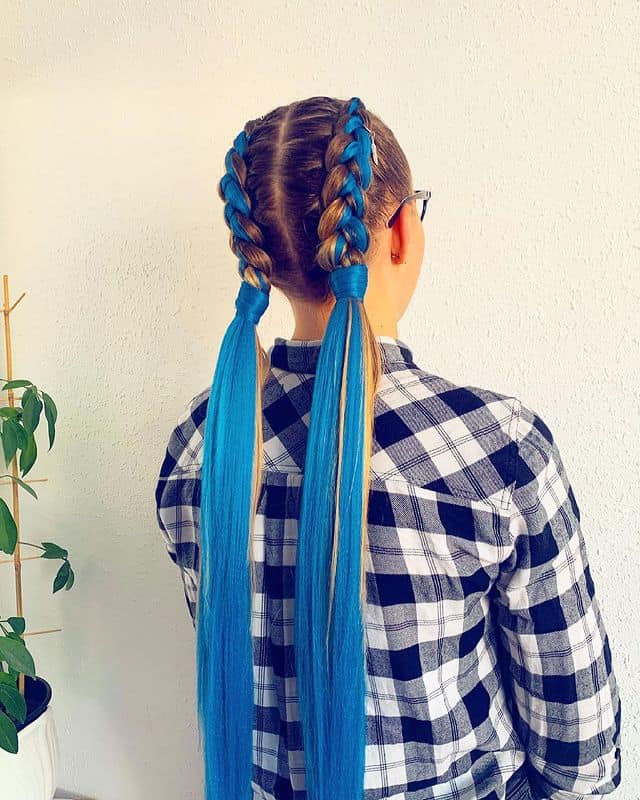 Image Source
This middle-parted hairdo with dutch braids on either side is a casual and trendy look to pull off. Azure-streaked highlights adorn the brunette braids that halt at the neck, giving way to pigtails on the sides, secured by wrapping the dyed strands around the scrunchies. Allow the ends to flow gracefully, flaunting the shiny, youthful blue highlights for a fun summer braided look. A small silver ring with an intricate leaf serves as the perfect hair accessory, reeling in a bling factor.
25. Pastel Denim Blue Hair With Long Curtain Bangs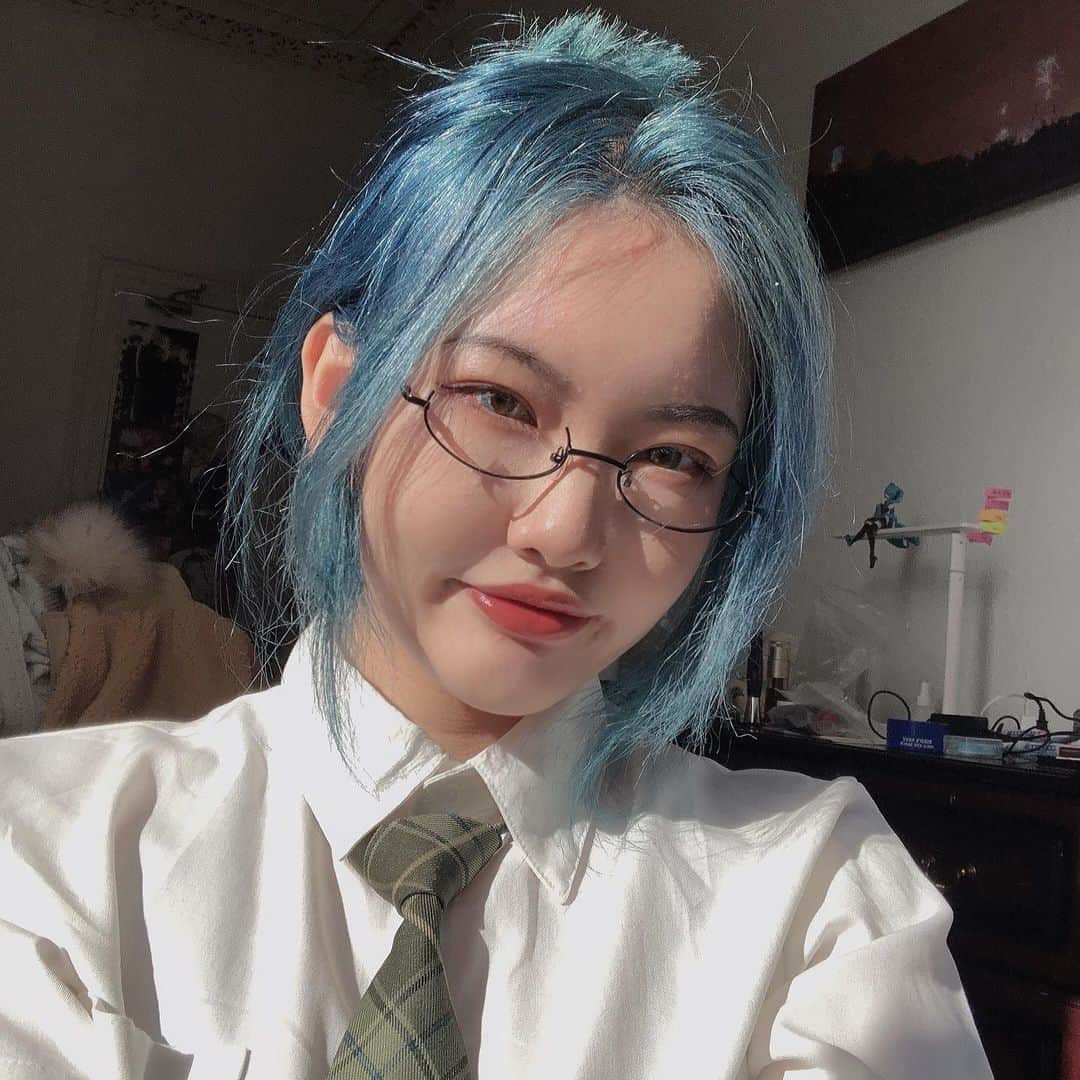 Image Source
Get an effortlessly chic look with a teased half-up ponytail with long curtain bangs as accompaniment. Dye this short hairdo in a pastel denim blue tone, with a greyish-white shine that glistens in the light. The curtain bangs help to frame the face, allowing you to experiment with casual and fun looks. A pair of glasses in conjunction with a neutral-toned outfit would be enough to polish off this look.
26. Mixed Blue Crinkle Dreads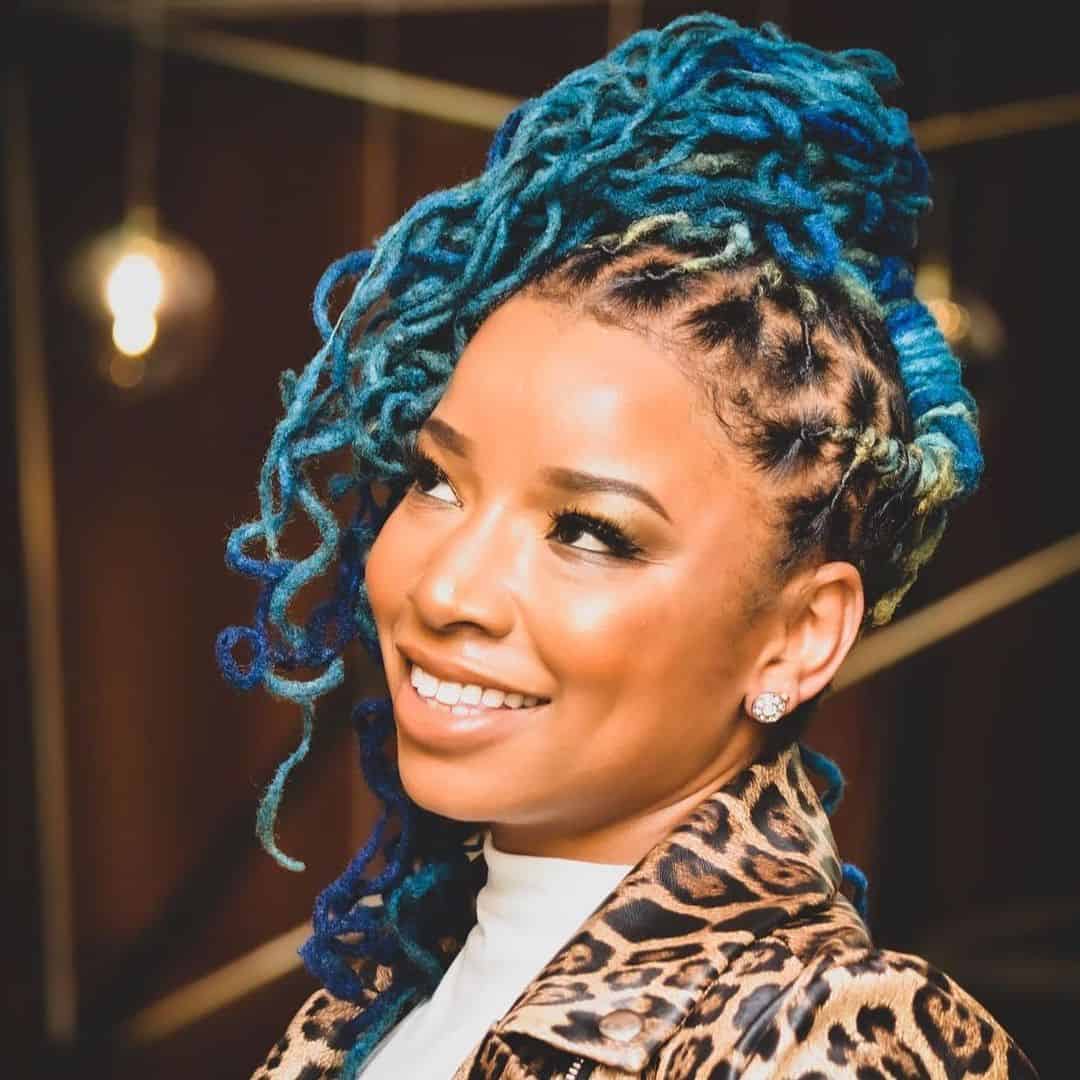 Image Source
Crinkle dreads add a quirky twist to the otherwise plain braids and are obtained by tying wet dreads in three-strand braids, allowing them to dry, and gently untying them for a casual and fun look. To pack in a punch, dye your hair with sapphire and navy blue hair color, styling your hair in a high ponytail, allowing it to hover towards one side. A few loose strands rest gently on the shoulder, adding an effortlessly chic statement.
27. Mermaid Blue Ombre Braids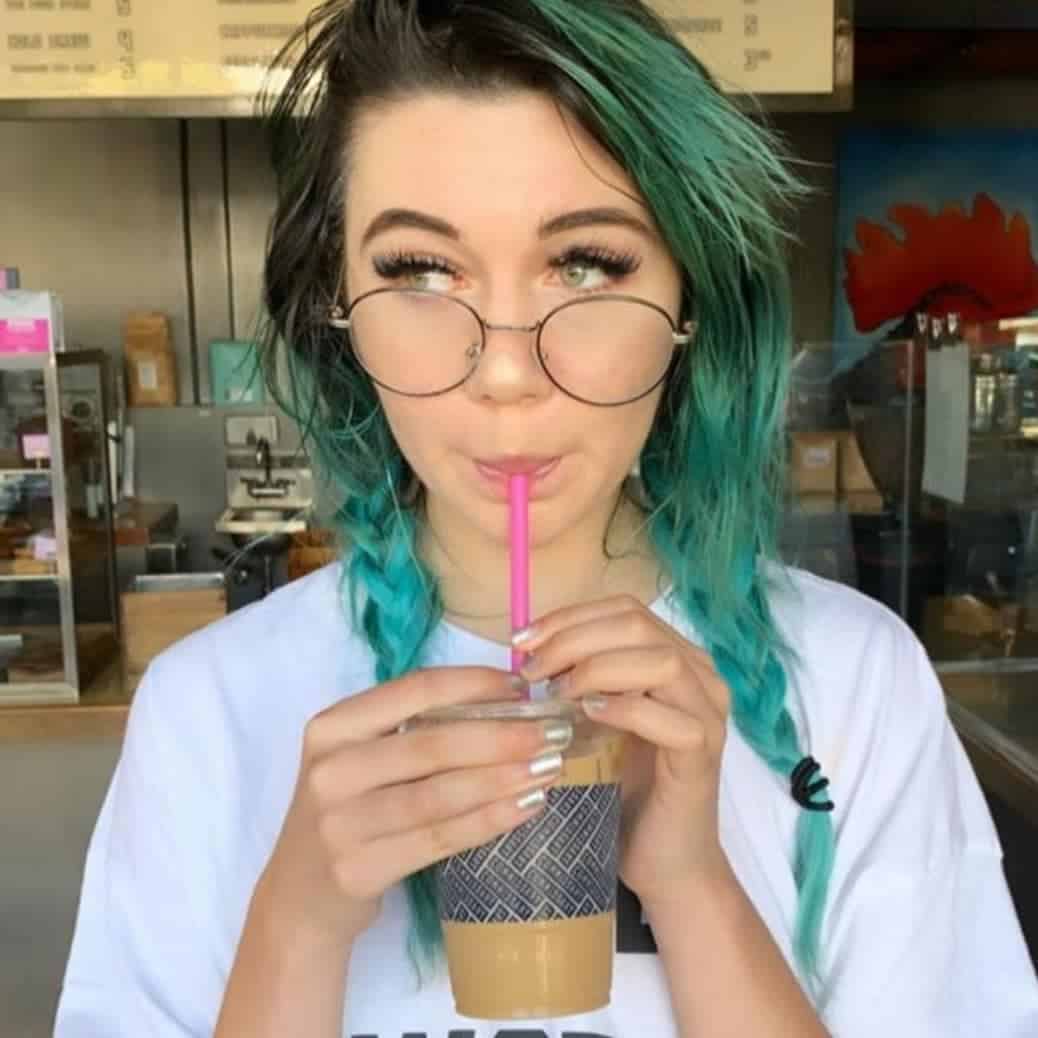 Image Source
This messy hairdo consists of a trio of colors that creates a chic look. The layered hair with long curtain bangs begins with natural black roots fading into a straightened mermaid blue ombre. The back-brushed, teased, long, black bangs with sharp ends in a pastel tiffany blue tone add a youthful feminine touch. Two simple three-strand braids rest on the shoulder elegantly, making for a fun look that works well when paired with a simple white tee and denim jeans.
28. Gradient Blue Dutch Mohawk Braid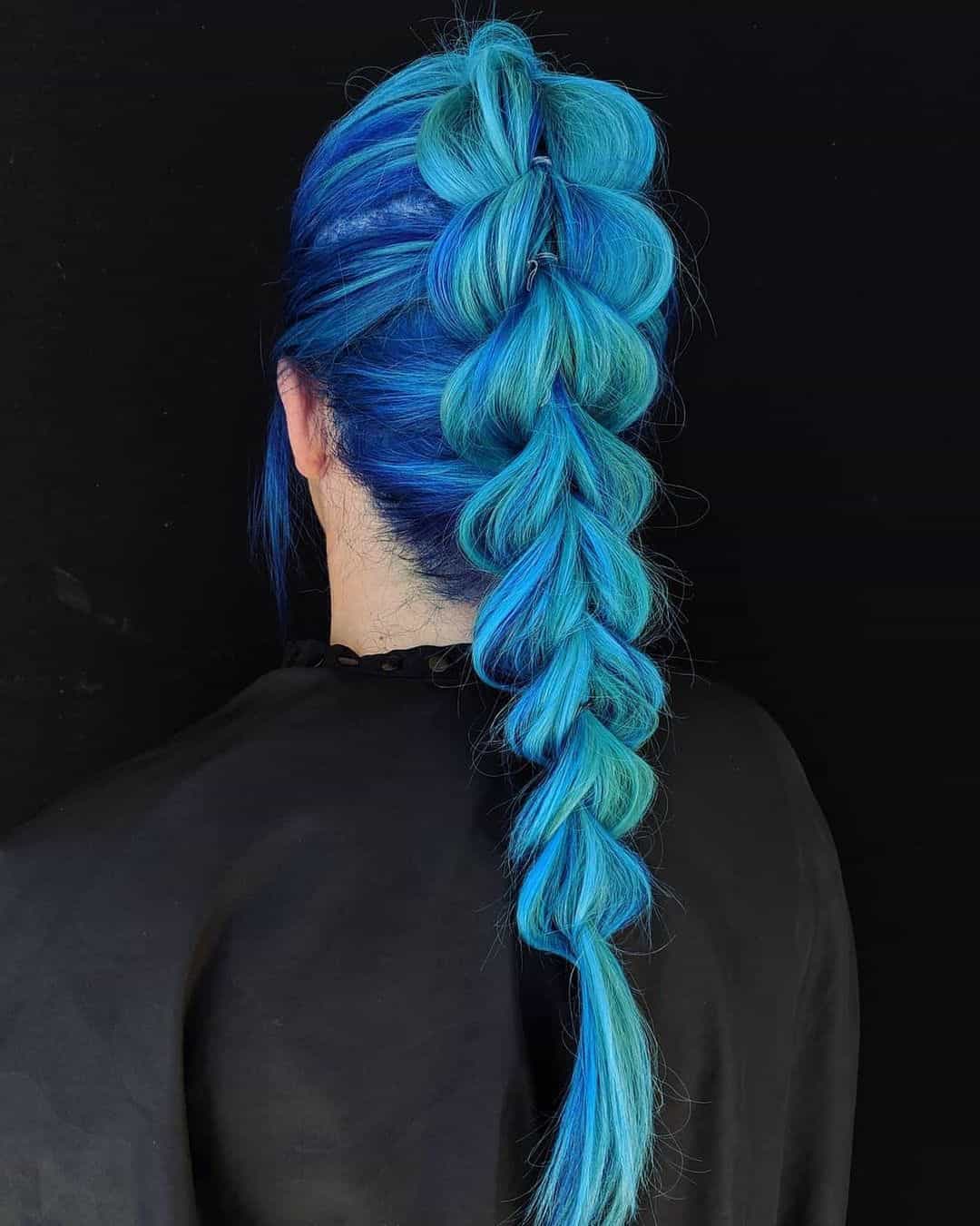 Image Source
A dutch mohawk braid keeps your hair set in its place for long hours while adding volume with its beautiful puffy pattern. To make the braid more prominent, consider a combination of Aegean and turquoise blue dye. While the Aegean blue hue imbibes a vibrant color to the base, the turquoise blue hue ripples along the length of the braid, adding a soft touch. A few teal blue streaks make their way into the merriment, while a loose strand frames the mohawk braid.
29. Egyptian Blue Ombre Fishtail Braid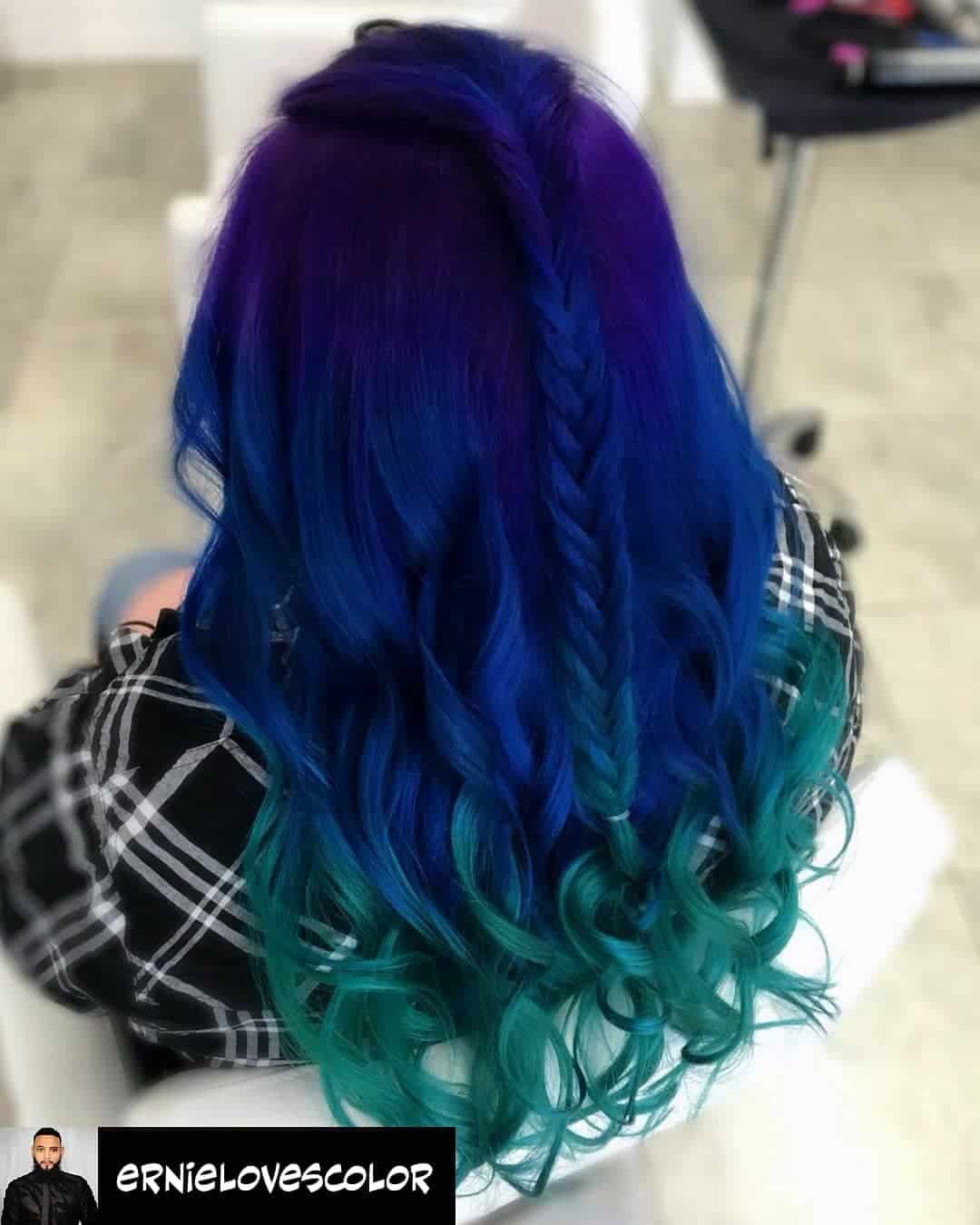 Image Source
This electric mermaid hairdo comes in a trio of vivid colors in a seamless blend, making for a bold statement. Berry blue dye offsets a deep violet tinge emanating from the crown of the head till shoulder-length. Ocean blue tips complete the look giving rise to a mermaid ombre hairdo, stylized by a thin fishtail braid in the center. Loose curls complete the look that works well with formal as well as informal outfits.
30. Multicolored Blue Blunt Bangs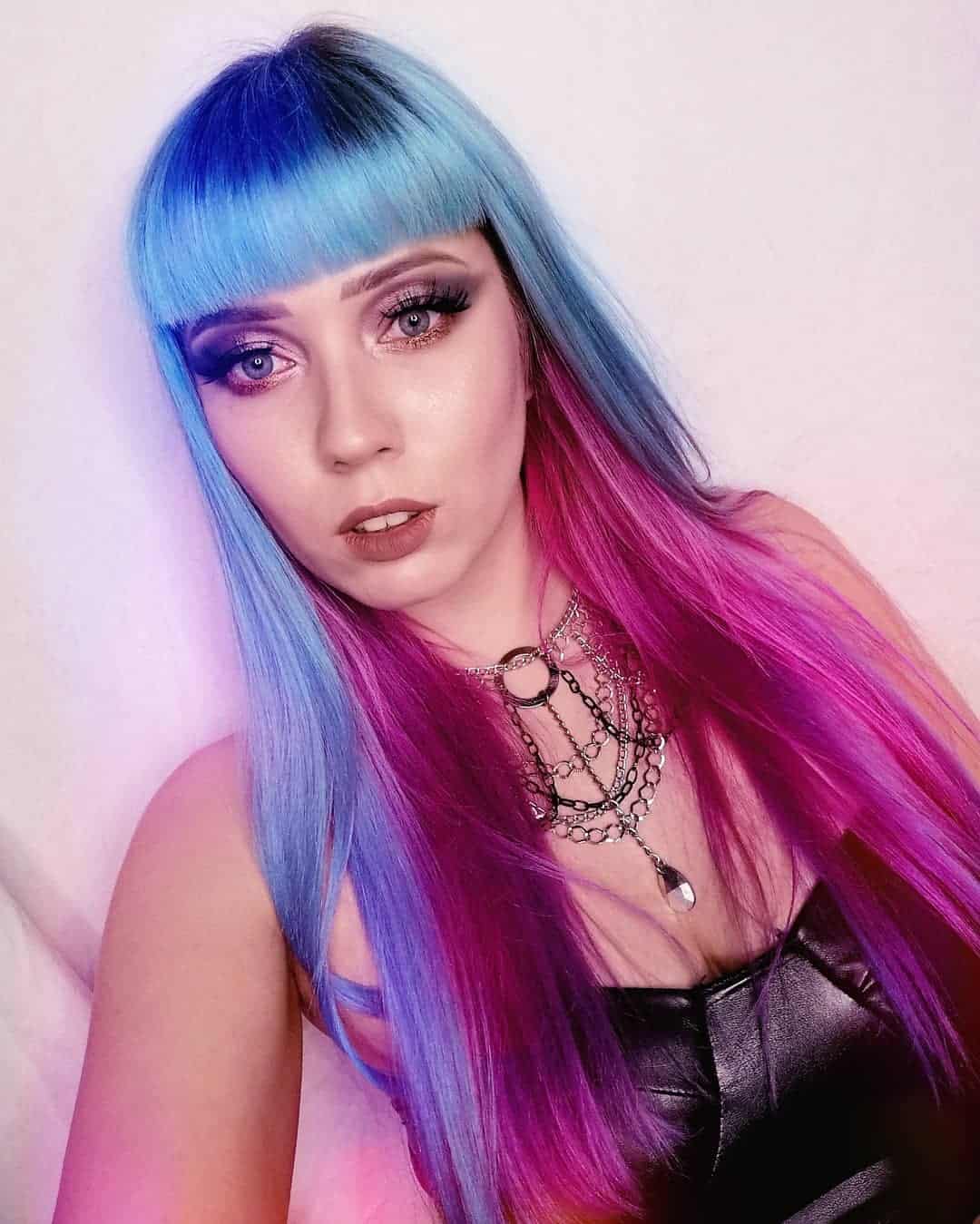 Image Source
This whimsical, bold hairstyle features pastel and Egyptian blue in conjunction with Fuschia pink. Black roots give way to lustrous blue bangs with a distinct color gradient. The upper layers of pastel blue-dyed hair meet the lower purple, magenta, purple, and pink-dyed hair in perfect harmony. The smoothened-out straight, long hair with the voluminous blunt bangs frames the face exquisitely, accentuated by the luster the vibrant color palette exudes.
31. Rusty Denim Blue Curls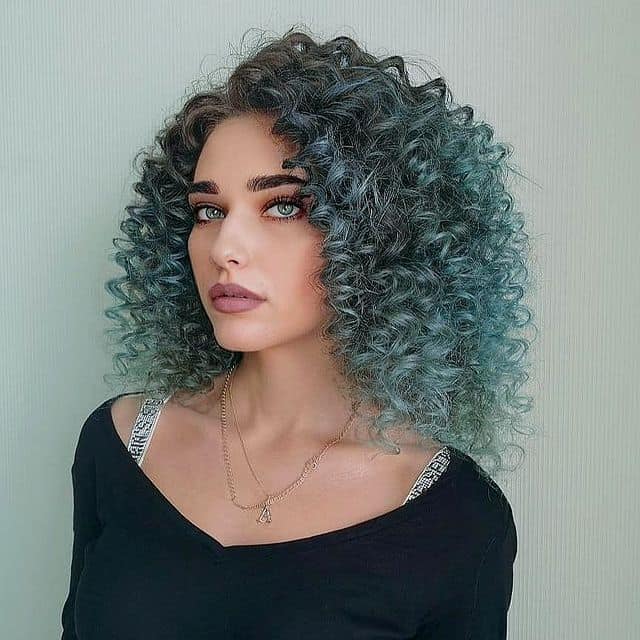 Image Source
This short hairdo begins with brownish roots transiting into messy, denim blue springy curls. The side-parted hairstyle piles up with curly strands on one end, making the hair appear fuller and voluminous, accentuated by the frizzy coils. The fusion of dark shades with a subtle denim tone creates a richness, perfectly balanced by the messy updo. The hairdo hovers just above the shoulder, pairing perfectly well with rusty denim contact lenses, making it ideal for formal events.
32. Powder and Sapphire Blue Highlights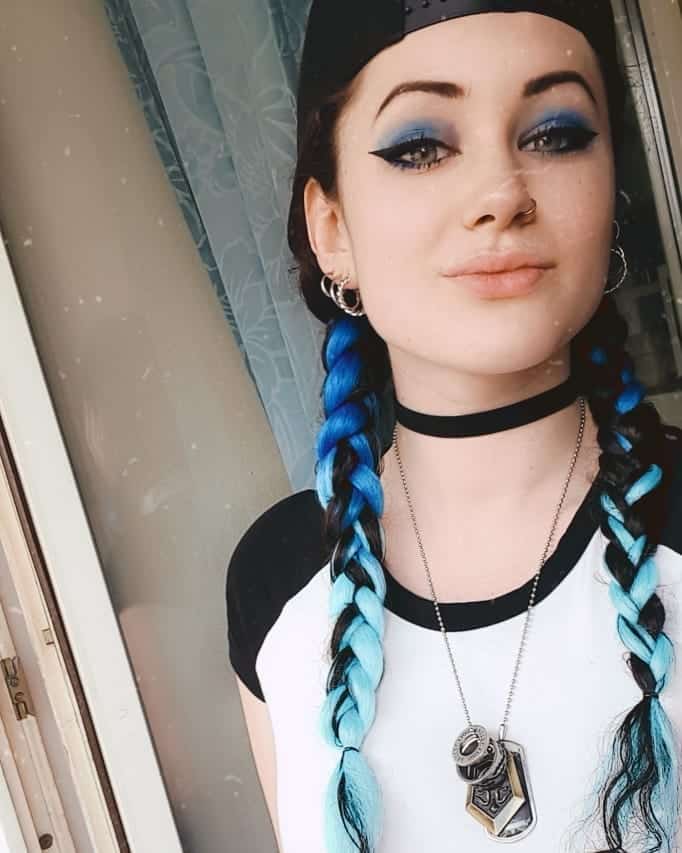 Image Source
This hairdo incorporates contrasting shades from the blue palette making for a fun, attractive look. Two regular three-strand braids rest on either shoulder, imbibing sapphire blue streaks that gently transition into icy powder blue tips. Hair extensions work just as well if you are not looking to streak your hair in these bold hues. The simple addition of blue dye rippling through the natural black-hued braid elevates the classic pigtail braid.
33. Electric Blue Afro Puff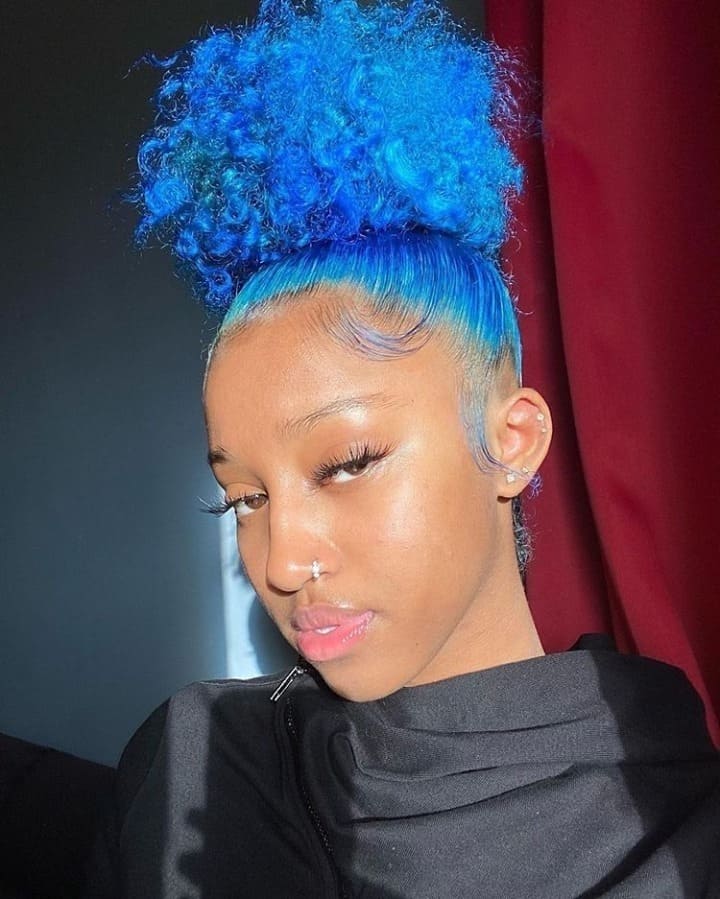 Image Source
This sleek high ponytail is the perfect way to style frizzy and curly hair. The electric blue hair dye adds a bright pop of color to the hairdo bound to get heads turning! The pacific blue roots give way to a vibrant electric blue hue that continues to the tips. A scrunchy or even a scarf can help to secure the ponytail with teased tips for a fuller, more voluminous look. Elegantly styled baby hair with hair cream rests on the forehead and sides adding a soft, graceful touch.
34. Middle Parted Ombre Long Box Braids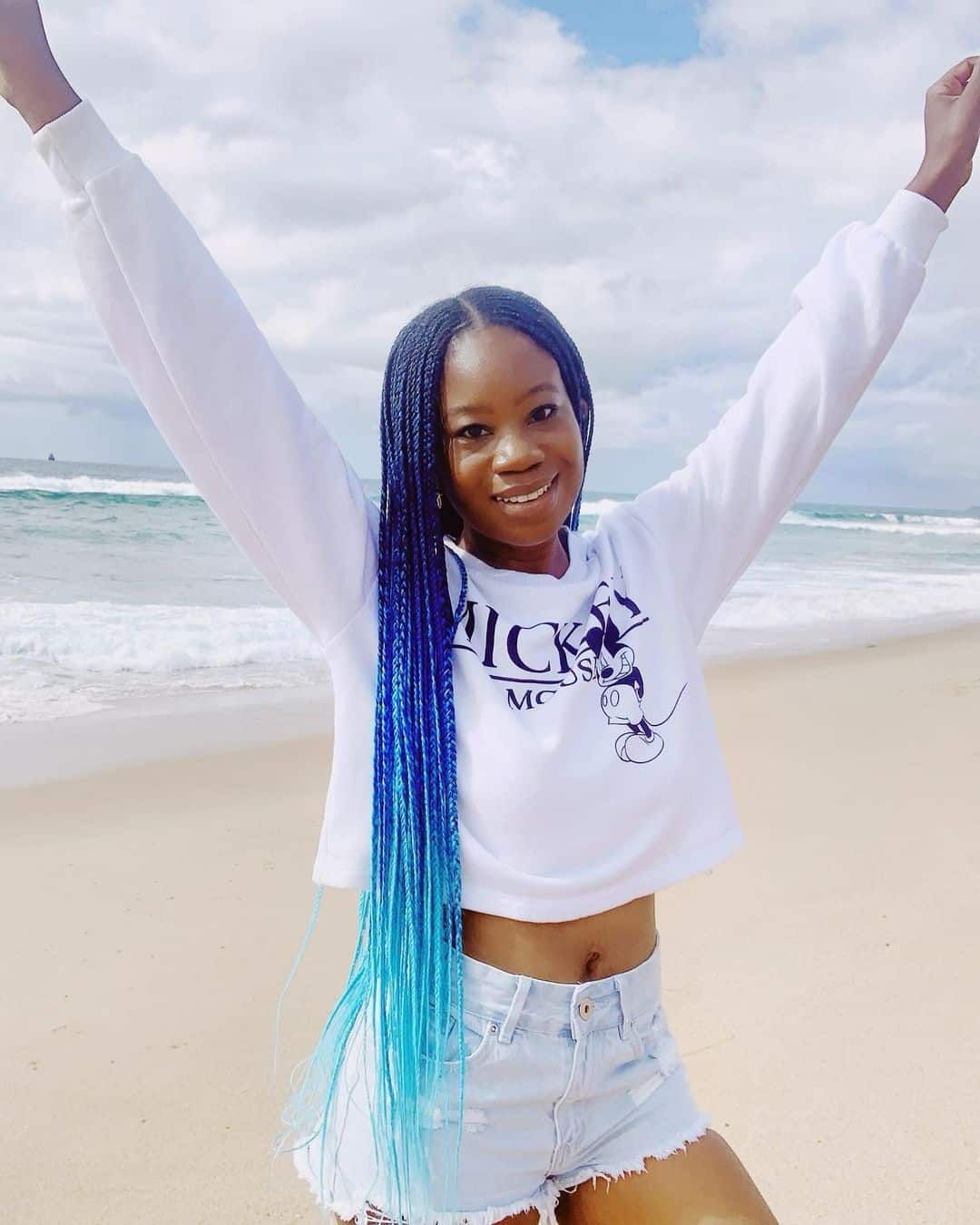 Image Source
These middle-parted, trendy box braids kissed with a cobalt blue tone that fades into sapphire blue mid-way, gradually blending into a powder blue towards the tips, make for a bold yet versatile hairdo. The well-sectioned ombre braids complement almost every face cut, working particularly well with oval or round-shaped faces. The long box braids hover carelessly on the upper thigh, pairing well with a white crop top and light blue denim shorts for a bright beach day.
35. Midnight Blue Wavy Hair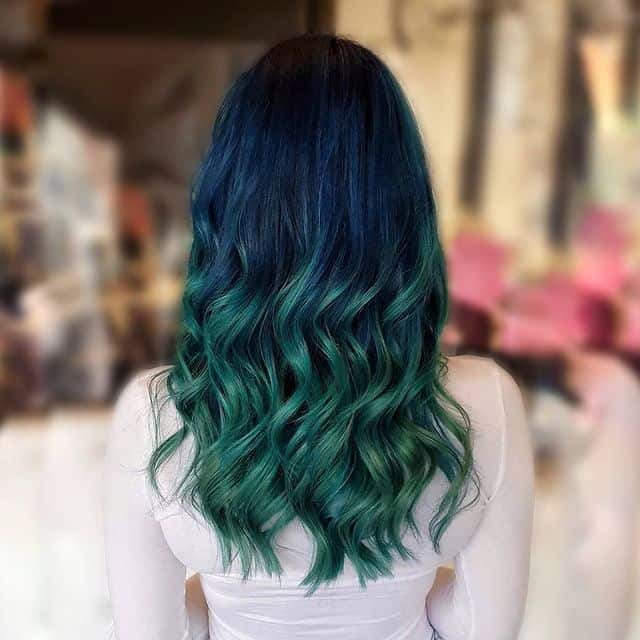 Image Source
This hairdo begins with midnight blue roots that gently flow into a pool of olive green waves. The fusion of these two hues gives rise to an overall mustard hue that tints the hair, apparent at the tips. The scattered wavy curls make the mid-length hair appear voluminous, while the vibrant array of colors give it character. To make the hairdo stand out, be sure to pair it against a white top for a party-ready look.
36. Cobalt Blue Dutch Braid Pigtails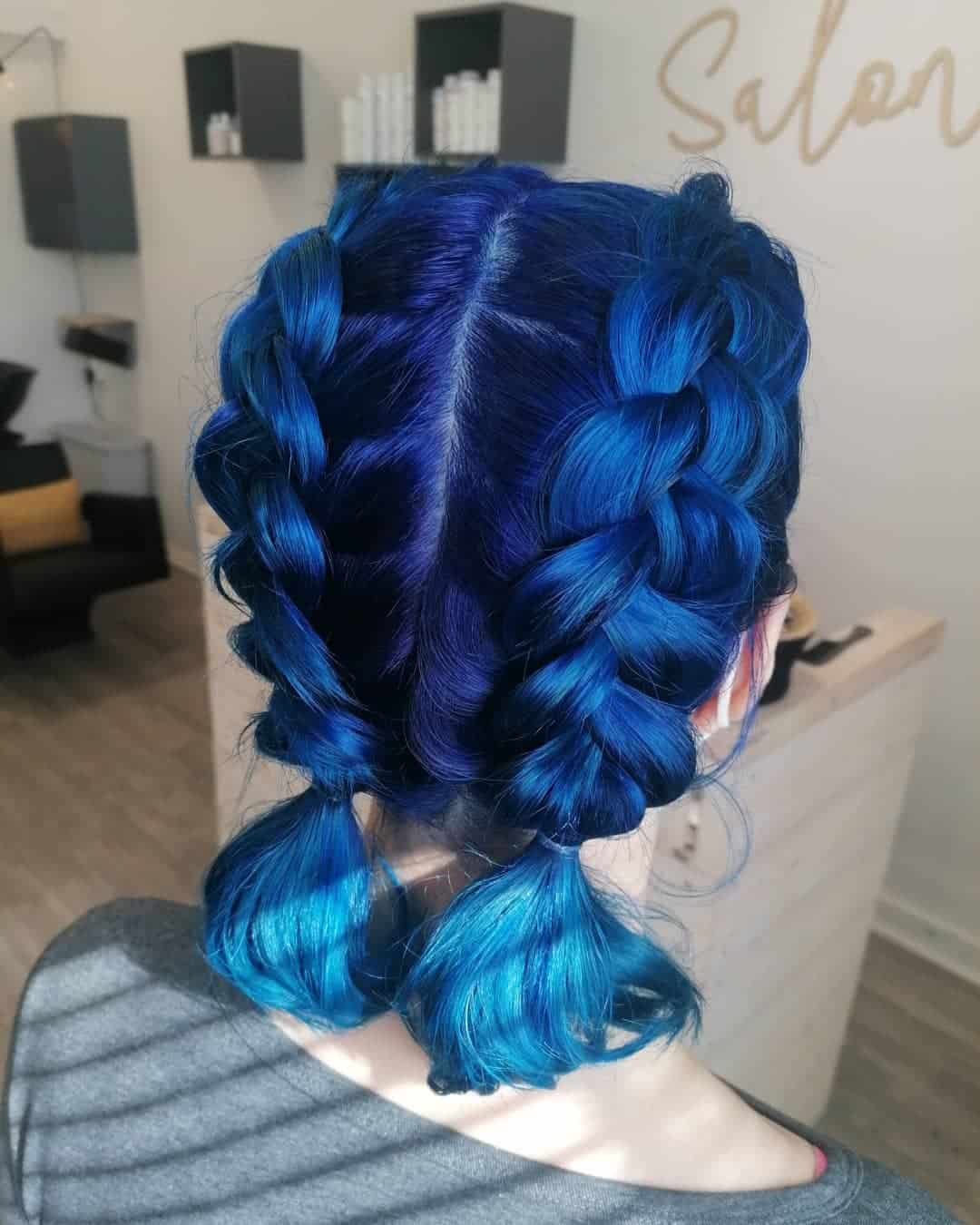 Image Source
Dutch braid pigtails are easier to notice on short hair when compared to longer hair. A navy blue base color gives rise to a magnificent dark cobalt blue that instantly makes the hairdo come alive. The middle-parted, well-sectioned dutch braids begin at the top of the head, continuing to the base before they are secured, while the rest of the hair forms pigtails. The gently teased ends balance the tight weave of the braid far too well.
37. Mermaid Blue Vintage Pin Curls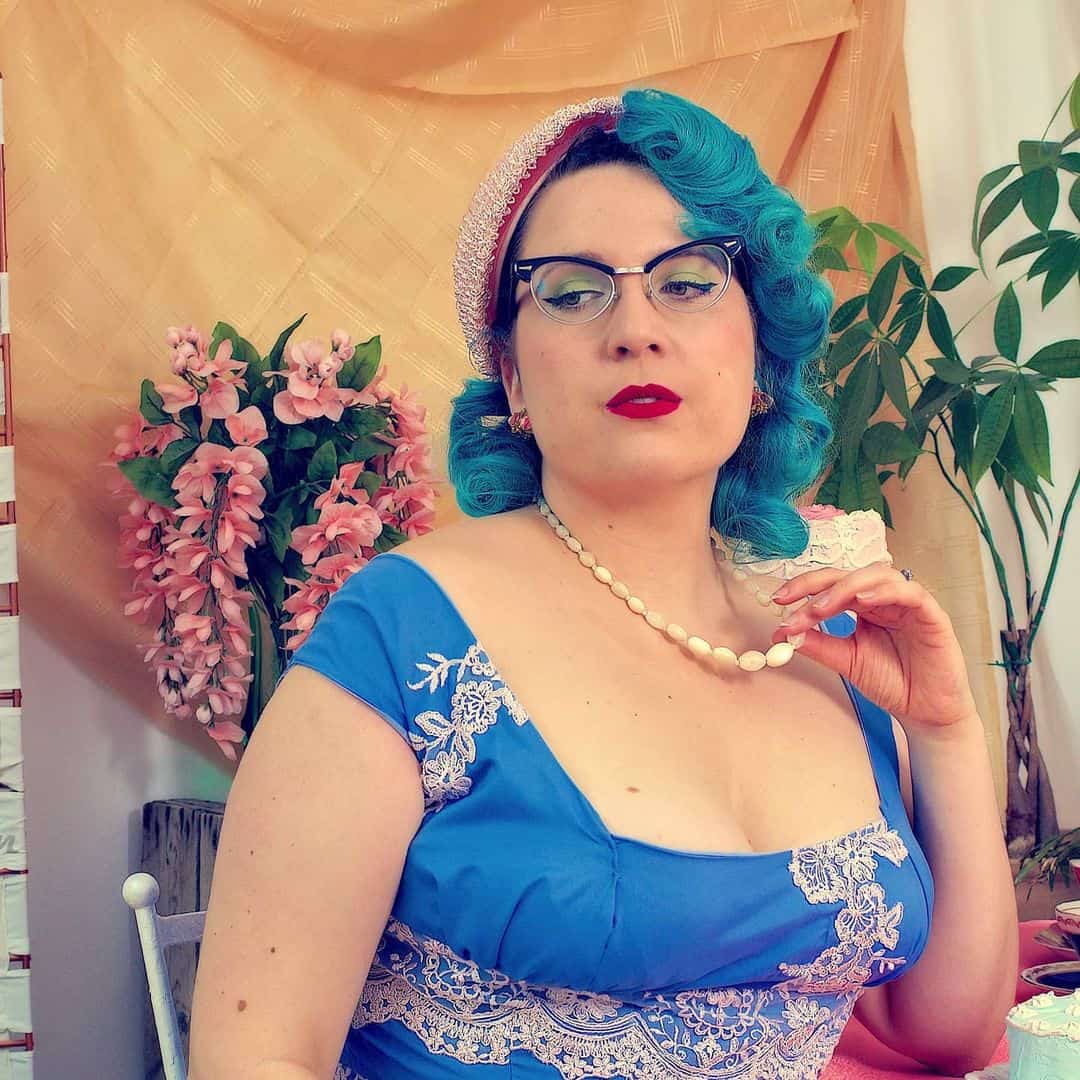 Image Source
This hairdo proceeds to create sectioned asymmetrical round curls in quick succession by styling the curls flat against the head and securing them with bobby pins. The side-parted hairstyle stacks the curled sections gracefully to frame the face as the ends gently stroke the shoulder. Dark blue roots pave the way for a lovely shade of mermaid blue, complementing the vintage hairstyle far too well. Team these retro curls with a beret hat placed sideways alongside elegant jewelry to finish it off.
38. Turquoise Blue French Braid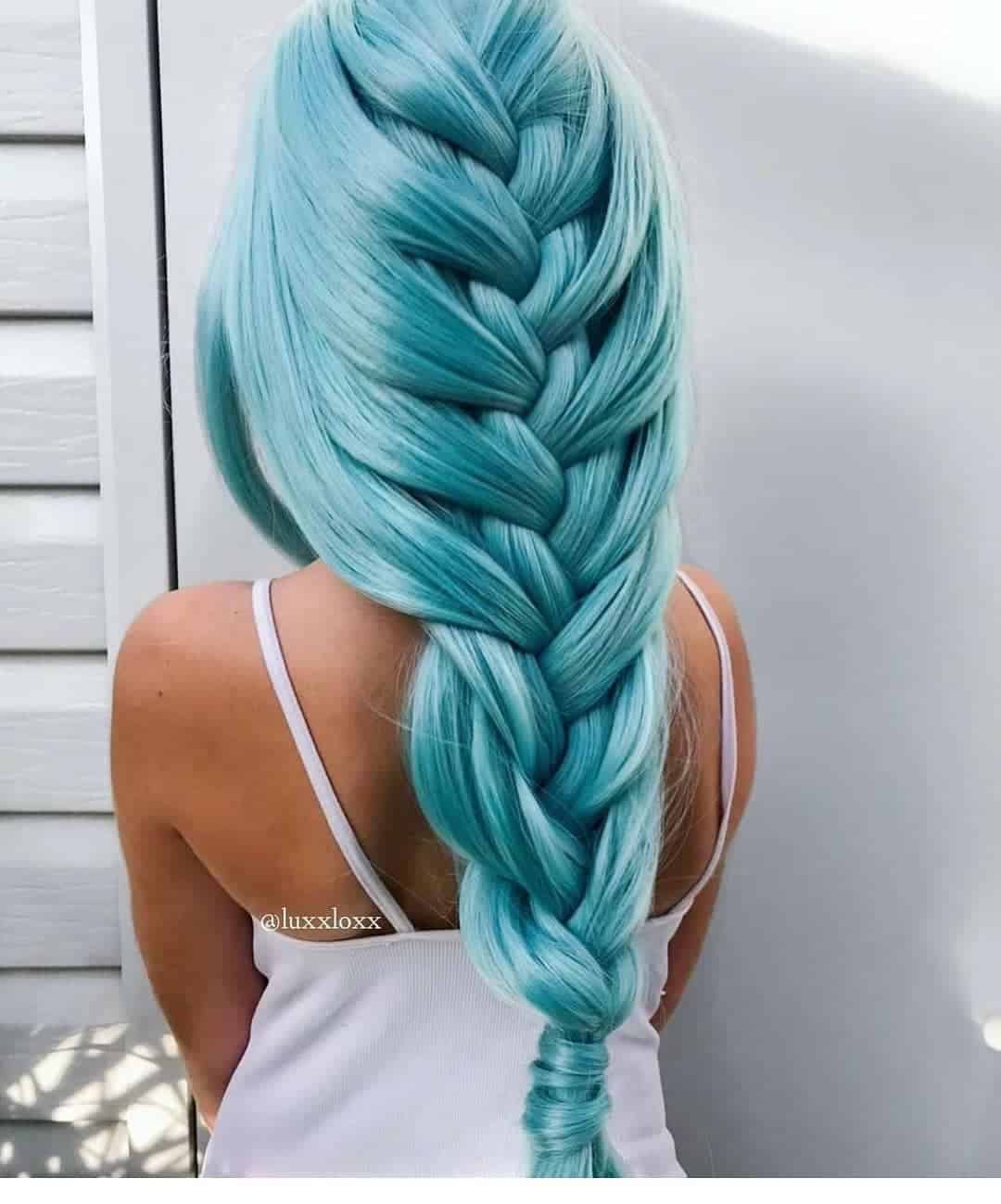 Image Source
This elegant hairstyle begins with three strands of hair weaved at the center, gathering sections of hair from the sides to add volume to the center braid. Pale turquoise blue hair dye adorns this lovely braid while a thick section of curtain bangs frames the face. A thick strand of hair wraps around the bottom of the smoothened-out, straight braid, adding a unique touch.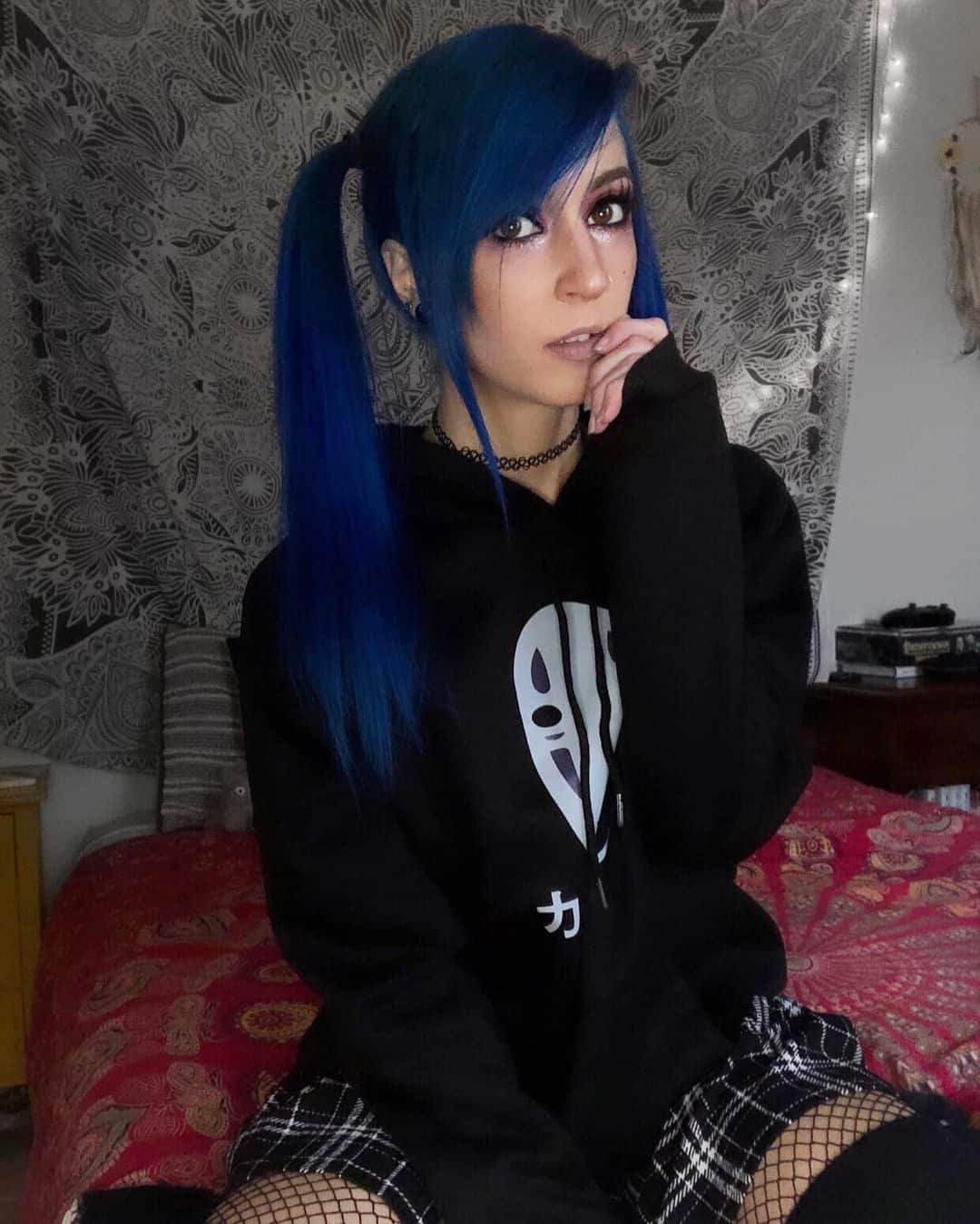 Image Source
If you're looking for a cute, edgy, playful school-girl hairdo, then this one is for you! Midnight blue-dyed side-swept bangs with sharp ends and a bump at the start prevent the hair from looking too flat. Two high ponytails on either side in a rich gradient navy blue with a tint of black adds a unique touch to the hairdo. You can pair the hairstyle with an all-black outfit, dark makeup, and bold accessories for the ultimate goth look.
40. Teal Blue Crown French Braid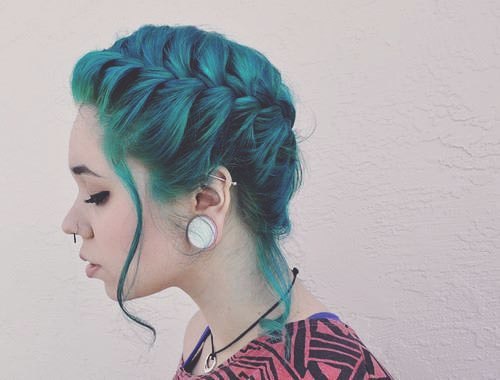 Image Source
This crown french braid paired with a balayage coloring technique creates a dramatic retro look. Turquoise blue roots fade into a black and teal blue-dyed well-knitted french braid that adds volume to the crown, making the hair appear fuller. The balayage color pattern enhances the shades of blue, blending seamlessly with the darker dye. Let a colored, wavy, single strand of hair flow down in the front and accentuate the look with a nose ring, studded earrings, and a casual summer dress for a beach party or get-together.
41. Turquoise Blue Woolen Dreadlocks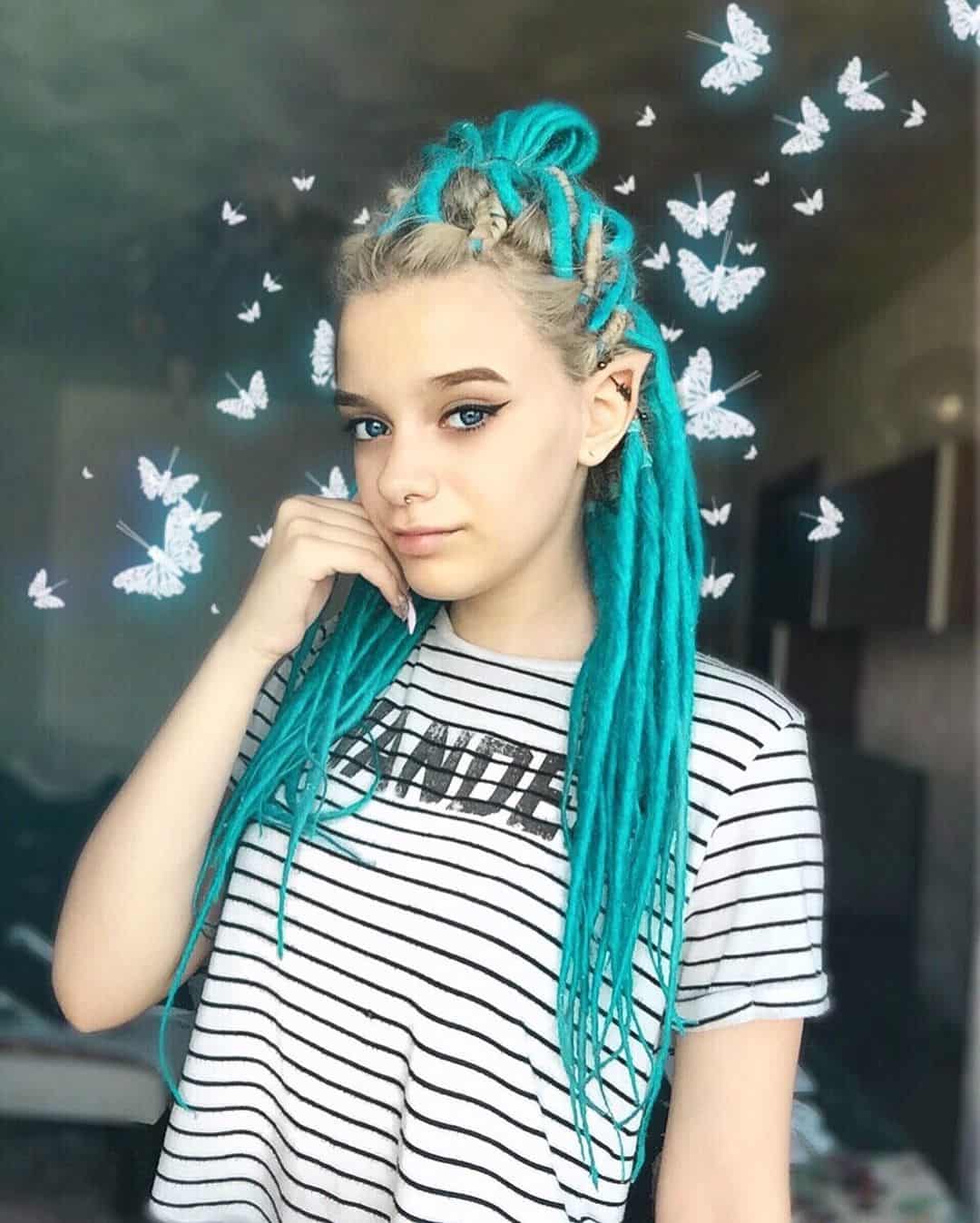 Image Source
Accompany your regular dreads with colored woolen wraps around them for protection against damage. Turquoise blue woolen dreads are a great choice in this regard as they contrast the blonde hue in perfect harmony. While some of the dreads keep their natural texture intact, the others have a vibrant turquoise wrap around them – some begin at the root while some begin mid-way. The sleek hairdo sees a natural progression towards thinner tips. Aegean blue lenses, alongside a casual t-shirt and jeans, pair up with this hairdo perfectly.
42. Sapphire Blue Messy High Bun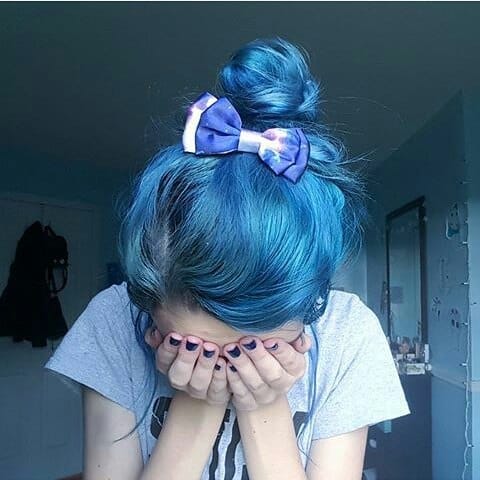 Image Source
Style your wavy mid-length hair as a side-parted up-tied messy bun with a few strands of hair wrapped around the base. You can dye this go-to fun updo in a sapphire blue dye with a silvery shine to it. The splash of a rusty denim blue undertone towards the roots blends pretty well with the sapphire dye. You can polish off the look with a cute galaxy blue bow clip around the bun.
43. Tiffany Blue Ombre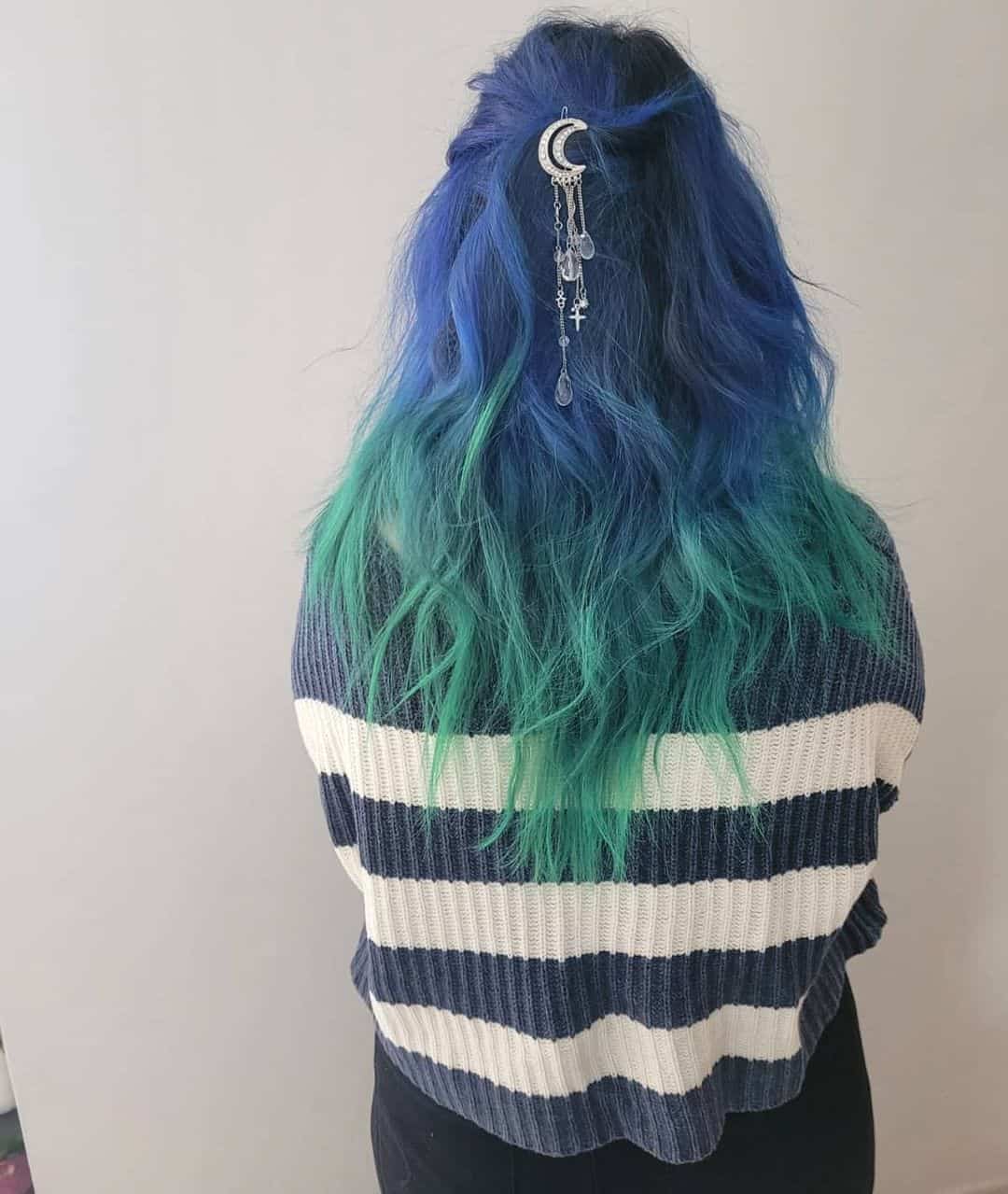 Image Source
Give your regular black locks a modish new look by chopping them in steep layers that form a V-shape at the back. If you're willing to go wild with colors, opt for a duo of navy and tiffany blue. The navy blue roots that still have a tinge of black give way to a shade of tiffany blue that continues till the tips. An intricate clip with dangling chains and stones adorns the lovely locks. Consider teasing the ends of this ombre hairdo for a messy finish.
44. Sleek Blue Top-Knot Half Bun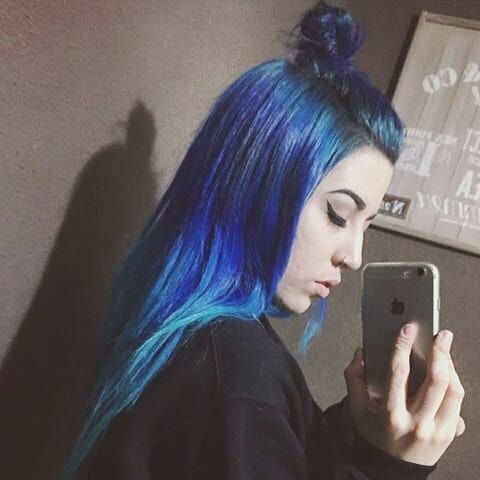 Image Source
Throw in vibrant splashes of hair dye picked from the stunning blue palette to create irresistible ocean hair. Try this seamless blend of sky blue, ultramarine, and navy blue, and wear your hair sleek and straight. This hairdo begins with slightly visible dark roots fading into a mermaid blue hue which glides into navy blue mid-length, elegantly blending with a bright ultramarine shade that finally fades into sky blue sharp tips. Polish off this versatile updo with a top-knot half-bun, letting the rest flow down gracefully.
45. Egyptian Blue Ombre Plaits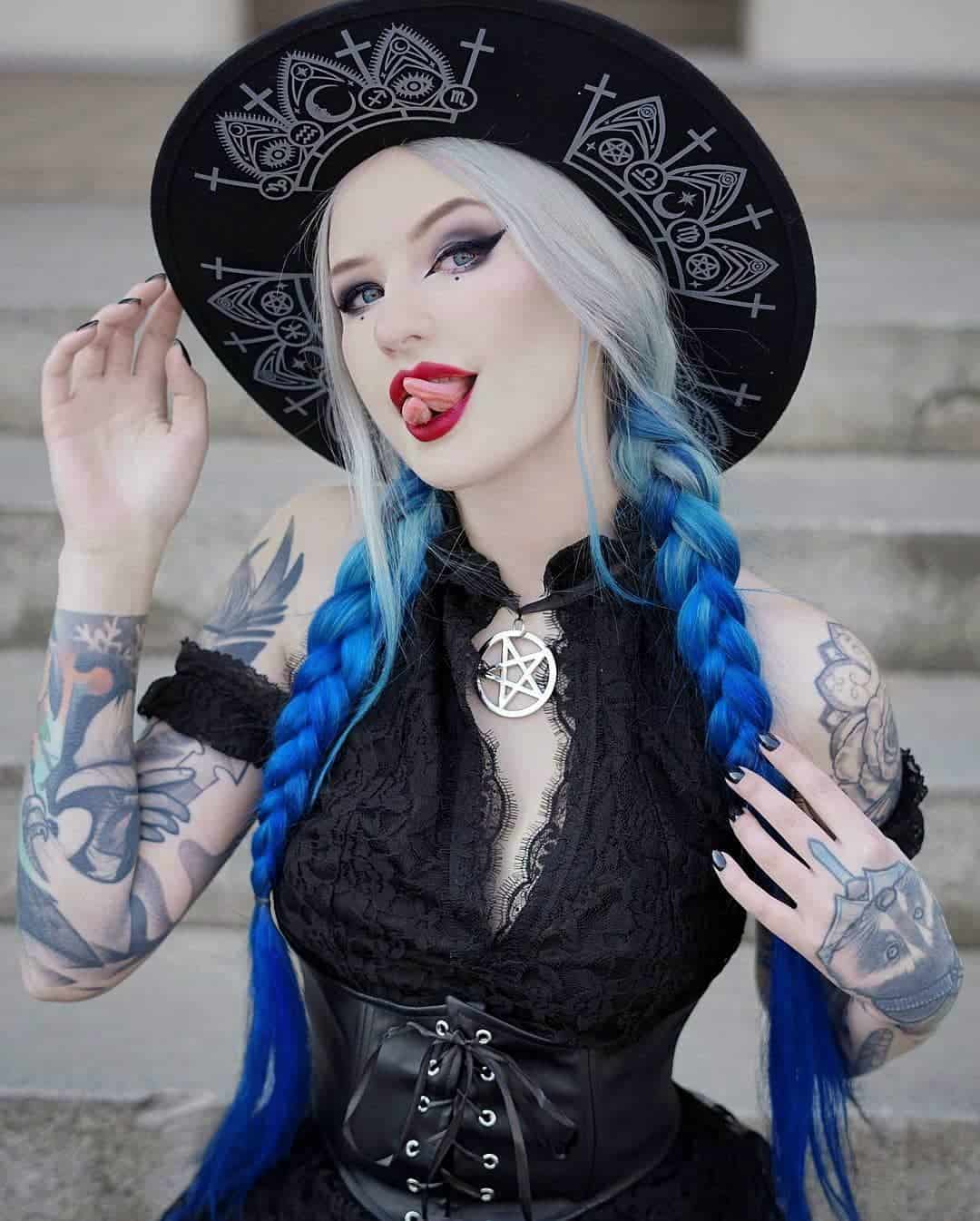 Image Source
Add a punch of a vibrant shade of blue dye to your long, straight, natural blonde hair. The blond locks graciously fade into an Egyptian blue hue, starting in a pale tone, gradually growing dark towards the ends, making them appear well saturated. Styling this ombre hairdo with two three-stranded long plaits dangling till your waist-line gives you an effortlessly chic look, while a thick strand of hair flowing down in the front frames the face elegantly.
46. Pacific Blue Multiple Strand Braid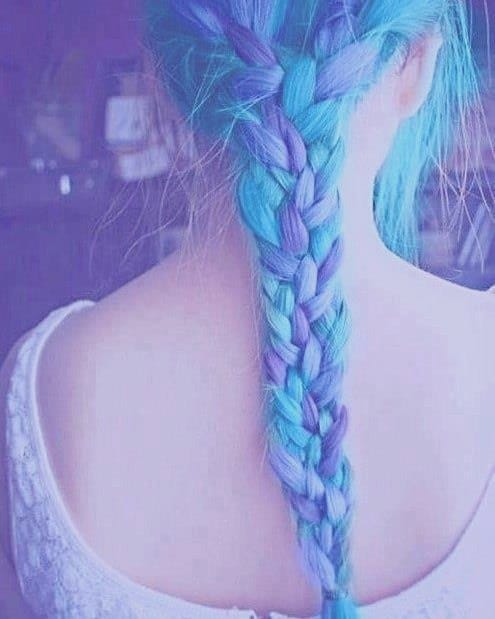 Image Source
A soft yet bright look is in the offing when you combine pacific blue hair dye with lilac highlights. The braided pacific blue base stands out in the multiple-strand braid that incorporates lilac highlights emanating from the side. Teased, long wispy bangs with a stroke of lilac frames the face, adding a soft touch. The unison of these soft pastel colors in this fashion creates a chic look that pairs well with neutral-toned flare outfits, perfect for formal or informal events.
47. Sapphire Blue Freeform Dreads With Kelly Green Dips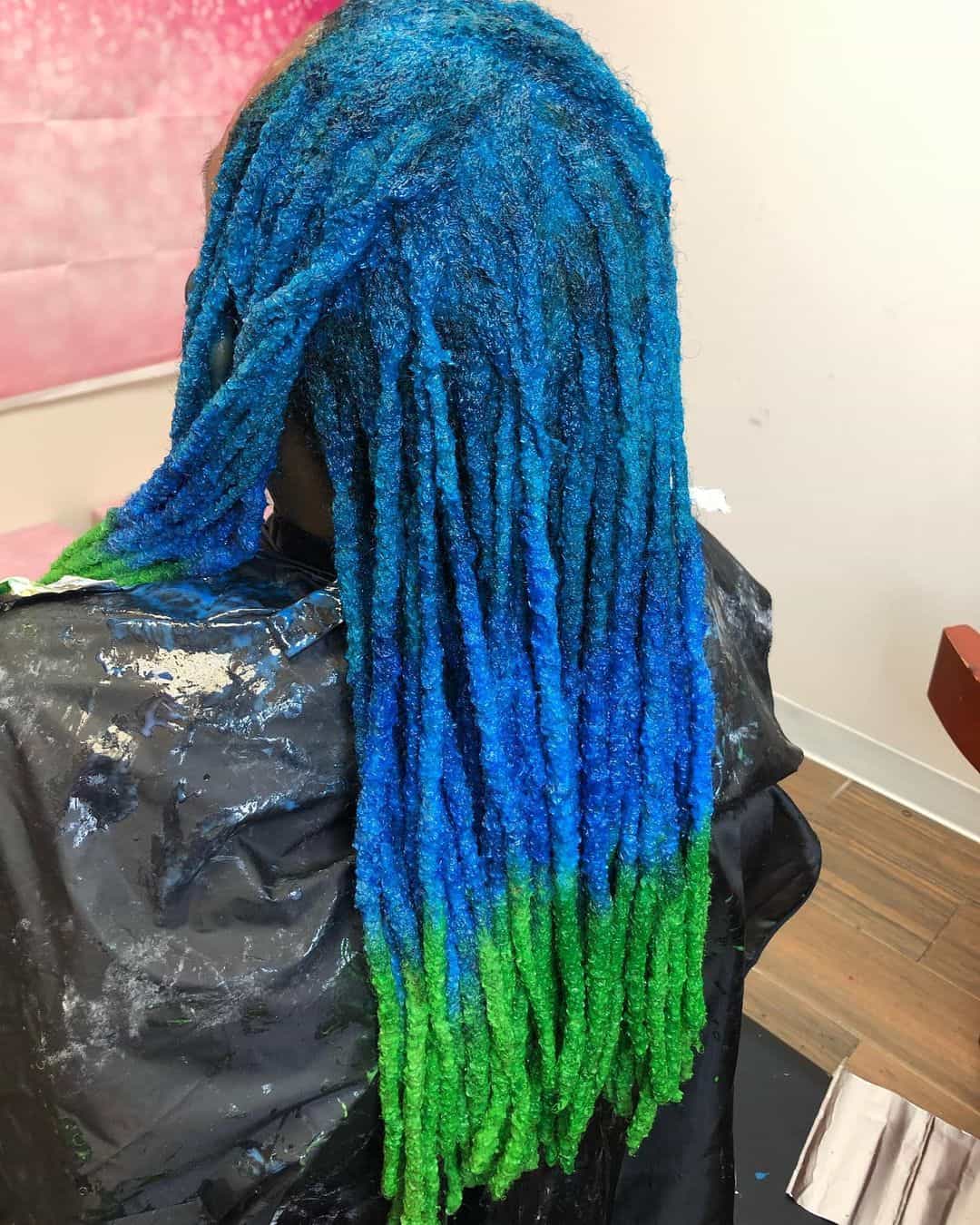 Image Source
Give your mid-length, freeform, black dreadlocks a new makeover with a sapphire blue dye covering three-quarters of the length. Vibrant kelly green dye covers the remnant adding a unique contrast to the hairdo. A tinge of indigo blue gently kisses the hair, gracefully fading into the sapphire blue. The tapered tips tie the entire look all too well. You can sport this hairdo with any mellow-toned outfit to accentuate the colorful hairstyle.
48. Denim Blue Balayage With Arched Bangs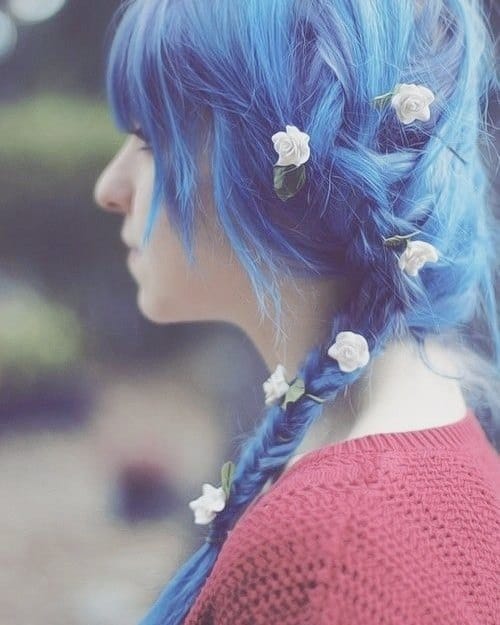 Image Source
A wispy layered lob is a beautiful hairdo to pull off, particularly if you have thinner hair. Styling the hair in a side fishtail braid creates a fun, playful look with a few of the wisps messily falling out of the braid. A balayage of denim, electric, and a greyish blue adorn the hair from root to tip, making it stand out vividly. Side-swept feather bangs that gradually progress in length from left to right frame the face. Add a few hairpins with intricate white roses, adorning the side plait to infuse an elegant boho charm.
49. Twisted Ultramarine Top Knot Ombre Bun With Undercut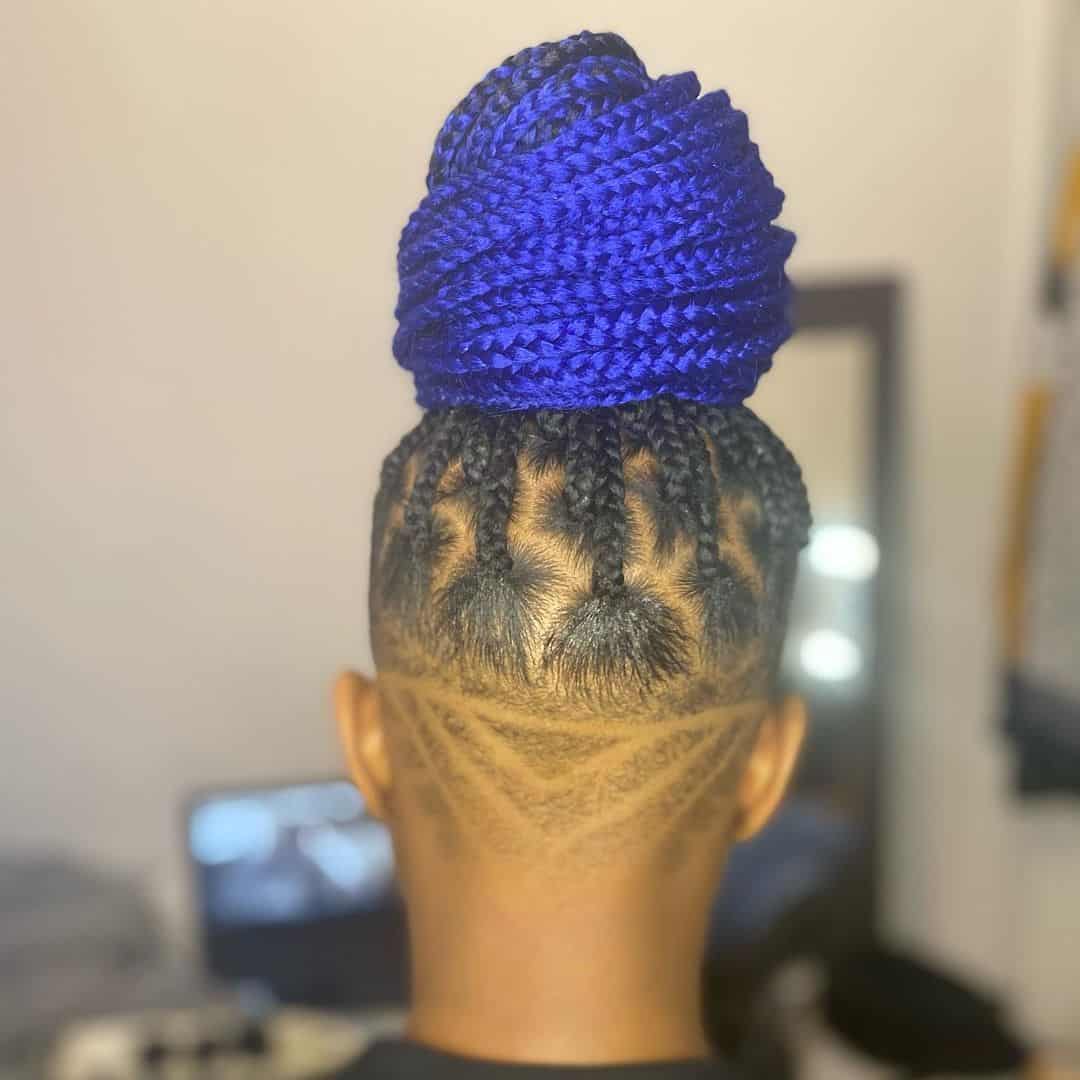 Image Source
It doesn't get better than box braids that start in their natural hue, gently progressing into a vibrant ultramarine hue. The twisted box braids elegantly rest atop the head in a stunning top knot. A bold undercut comprising inverted triangles balances the multi-textured and dual-toned look perfectly. The top knot braided bun showcases the thick, shiny, ultramarine blue braids that team up perfectly with the black roots, accentuating the glamorous afro look.
50. Long Electric Blue Pixie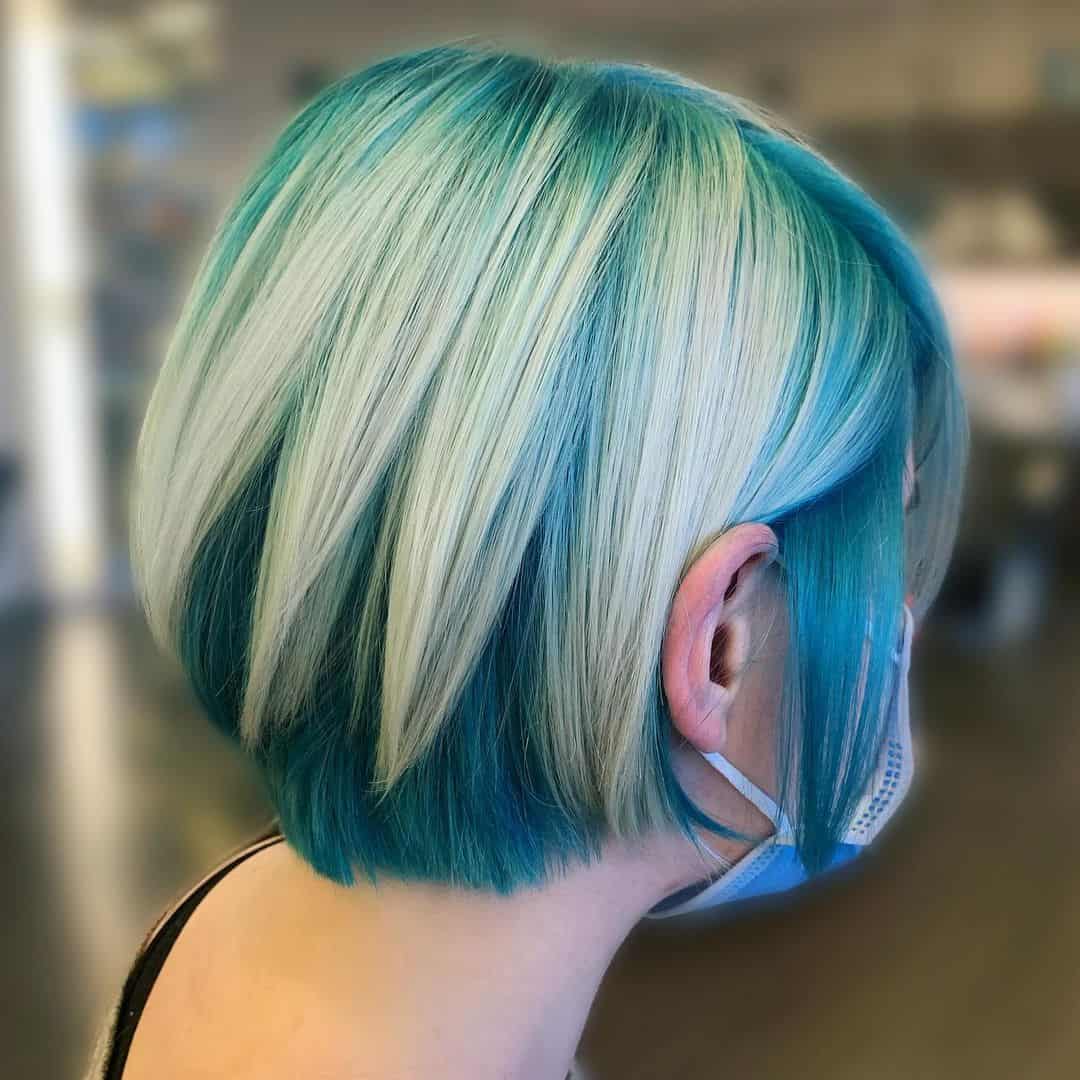 Image Source
Experiment with a long pixie cut with a sharp triangular upper layer adding a unique touch to this short hairdo. Adorn the underlayer with an electric blue balayage from the root to tip and dye the upper layer in a contrasting fall green dye, shaping the triangular cut with a soft feminine touch. Embrace this balletic, colored haircut with side-parted sweeping bangs, framing the face elegantly.
How to Look After Your Blue Hair
As is the case with any colored hair, your new hue requires special care and attention. Regardless of whether you go with an all-blue hairdo or streak a few strands, be sure to keep these pointers in mind.
Switch up Your Hair Care Routine
When dealing with colored hair, it is wise to use a trio of shampoo, conditioner, and hair mask that deals specifically with color-treated hair.
Reduce Heating
Try to reduce your use of heat-styling tools and opt for a hair putty product to dry your hair to make it look voluminous.
Schedule Regular Touch-Ups
Once your hair starts to grow, your roots will show regardless of which shade of blue you choose. Ensure that you book appointments with your stylist or keep the hair color stocked in your bathroom.
Final Thoughts
Hopefully, this article gave you plenty of ideas to style your hair. If you are new to coloring your hair, you can always opt for blue hair extensions – either wavy extensions or straight extensions, depending on your liking, blue hair spray, or blue hair wax. Start small and work your way up the boldest blue of the lot to look your best!