The Z Palette is one of the top customizable eyeshadow palettes on the market today. Thanks to its durability, style, and versatility, many consumers have fallen in love with the way the Z Palette allows them to create their own shadow palettes, complete with the perfect colors. However, the Z Palette can be on the expensive side, encouraging many to search for alternative products.
If you are interested in the Z Palette but aren't sure you have the budget for it, we're here to help you out. Below, we've compiled a list of the best dupe products for the Z Palette so you can customize your makeup arrangements for half the price. We've also included a helpful FAQ section so you can put any lingering worries about finding and using your dupe to rest.
What Makes the Z Palette so Useful?
Z Palette has made a name for itself by offering a line of empty magnetic palettes in which you can combine your favorite eyeshadows or other cosmetic products to create a customized line up. The Z Palette line also offers singular eyeshadows that you can purchase to place into your palette and depotting tools to help you remove your favorite eyeshadows from their original palettes to place into the Z Palette (we cover depotting more later on).
There are several different designs and sizes of the original Z Palette, which allows you to truly tailor the way your palette looks and pick one that fits all of your makeup. The Palette is also very thin, which makes it a good option for traveling or otherwise taking on the go.
One downside about the Z Palette, however, is that it tends to be on the more expensive side. It is often priced at $25 or more depending on the style and size of palette you select. Some consumers may not have the budget for this, which is where the search for budget-friendly dupe products comes in.
We've selected the best alternative options to the Z Palette available on the market today!
Top 5 Best Z Palette Dupes 2023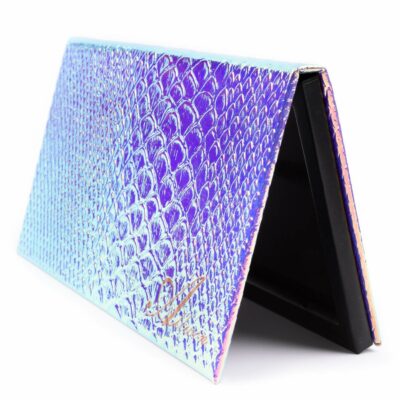 Why we like it:
The Allwon Magnetic Palette fits most budgets and offers a similar size and style to that of the original Z Palette.
Editor's Rating:
The Allwon Magnetic Palette is the perfect option for anyone who is searching for a Z Palette dupe on a budget. It is priced at around $10 and all varieties of the palette are easily found on Amazon, making it an easily accessible product. There are multiple case styles that range from bright and holographic to more classic designs, so you can choose the one that best fits your style.
The size of this palette is comparable to the Z Palette and provides enough space to put in at least 20 separate eye shadows. It also has a mirror on the inside of the case which is incredibly helpful for traveling and applying your makeup on the go.
The Allwon Magnetic Palette does come with adhesive magnetic stickers so you can add shadows that aren't in metal pans to the palette. However, these stickers tend to be on the weaker side and may move around easily. The palette is also not as deep as the Z Palette and may not be a good choice if you have several taller makeup pans.
Pros
Palette has a built-in mirror

Multiple case styles

Size is comparable to the Z Palette

Fits most budgets
Cons
Magnet stickers are on the weak side

Does not fit taller makeup pans
---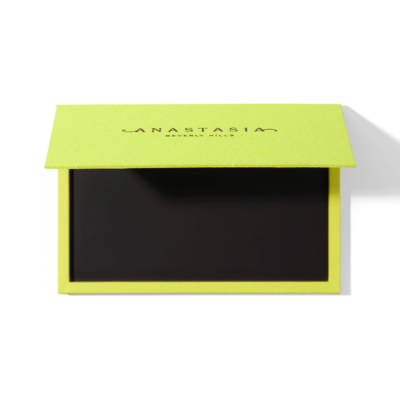 Why we like it:
The sturdy Anastasia Beverly Hills Case offers a similar experience to the Z Palette with its design.
Editor's Rating:
The overall appearance and design of the Anastasia Beverly Hills Magnetic Case is very similar to that of the Z Palette. Both products offer a deeper palette that can fit all varieties of makeup and a sturdy case exterior that can resist travel and most small drops. Despite coming from a luxury brand, this palette is actually more affordable than Z Palette. The magnet in the Anastasia Case is fairly durable and will prevent your makeup pots from sliding around once they are properly arranged.
Many consumers love the fact that the Anastasia Beverly Hills Case offers a selection of vibrant, glitter-coated options, in addition to frequent limited edition designs. The colors are timeless and the options are plentiful, which allows you to pick the palette that truly fits with your personality and style.
Unfortunately, the glitter from the cases does tend to shed and produce a lot of fallout, so if you don't want to risk getting glitter all over your other cosmetic items, you may want to choose a different case design or go with a different option on our list.
Pros
Design is similar to the Z Palette

Sturdy case exterior

Case color is vibrant
Cons
Glitter from case tends to shed
---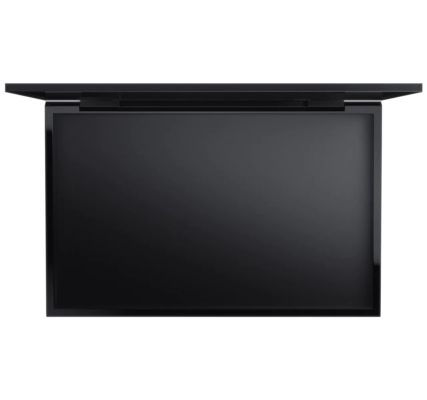 Why we like it:
The multiple sizes of the MAC Pro Palette give users maximum choice and versatility when it comes to selecting the perfect palette.
Editor's Rating:
There are multiple sizes of the MAC Pro Palette available. This gives users the maximum amount of choice and versatility when it comes to selecting the perfect product for their makeup collection. Similar to the original Z Palette, there is a clear cover on the MAC Pro Palette which allows you to take a peek inside the palette and check the contents without opening it. This can be very helpful for someone who has several different magnetic palettes.
MAC also sells eyeshadow-shaped circular inserts that fit into the basic empty magnetic palettes. This makes it easy to hold your makeup in place and keep everything together in a specific order. There are even additional insert options for rectangular shadows and blushes.
Unfortunately, not all palettes offered by MAC are magnetic and some need the additional inserts to ensure that your eyeshadows and other makeup pots stay firmly in place. For this reason, it can also be more difficult to travel with your makeup in the MAC palette as there is more risk of everything moving around.
Pros
Multiple sizes offered

Clear cover design

Eyeshadow inserts are available
Cons
Not all palettes are magnetic

Can be difficult to travel with
---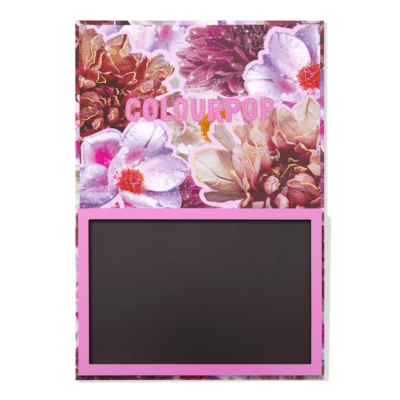 Why we like it:
The Colourpop Magnetic Palette is easy to use and a great choice for beginners to the world of customizing makeup palettes.
Editor's Rating:
The Colourpop Magnetic Palette is a great basic choice for a customizable palette. It is easy to use and makes a good choice for beginners who want to start out with something small instead of investing in the larger and more professional-looking Z Palette right away. The Colourpop Palette is compact, easy to travel with, and very sturdy. The closure on the palette is guaranteed to stay closed, so you won't have to risk your makeup tumbling out of it.
There are not as many case designs available with the Colourpop Palette, which may be a drawback for those who love having a variety to choose from. The colors on the palettes can also be a little dull and not as vibrant as they look in images; this can let down some consumers who prefer a brighter case design on their palette.
Pros
Case closure is very sturdy

Great compact magnetic palette

Easy to use

Good choice for beginners
Cons
Not as many design options

Colors on palette case can be dull
---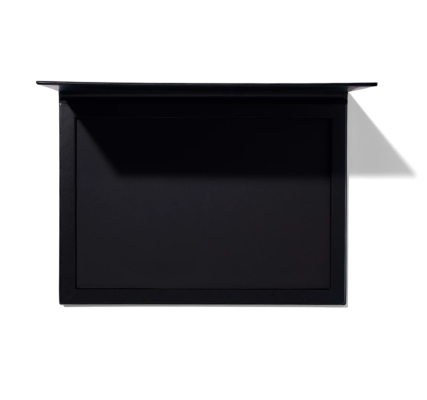 Why we like it:
The sleek design of the Morphe Magnetic Palette makes it durable enough for travel, and its large size makes it perfect for large makeup collections.
Editor's Rating:
The Morphe Magnetic Palette features a sleek design and large size that is perfect for extensive makeup collections. This is the perfect dupe for you if you need a lot of space to work with or you are doing freelance makeup artistry and need a trusty palette to carry around all of your cosmetics.
The style of the Morphe palette makes it very durable for travel and it can fit eyeshadow, blushes, bronzers, or other cosmetic pots. The magnet is incredibly strong so you can bring the palette anywhere with you without worrying about your favorite shadows breaking or spilling out of the palette.
On the downside, some users may find that the actual case cover (the top of the case) is a little bit thin compared to the Z Palette. This makes it a little more prone to being scratched up or dented than the Z Palette and can make the latch a little bit more flimsy.
Pros
Sleek design

Great for large makeup collections

Very strong magnet

Durable enough for travel
Cons
Case cover is on the thin side
---
Your Full Guide to Z Palette Dupes
Below, we will tell you everything you need to know about finding a Z Palette dupe. We'll also answer your burning questions about using your dupe palette and depotting your favorite makeup.
What to Look For in a Z Palette Dupe
When searching for the best Z Palette dupe, there are a few things you need to keep in mind to ensure you find a similar product.
Size
The original Z Palette does offer a few different sizes, so if you want a good dupe product, you should check to see if they also have similar size options. If the dupe that you are interested in doesn't have any additional sizes, you should check to see if it is at least as big as the medium Z Palette (a great basic option), which is 6.68 inches long x 4.125 inches wide.
Durability and Security
The Z Palette is fairly durable and offers a secure latch so that all of your makeup pots stay put inside the case whether you are storing the palette at home or taking it with you on the go. Whichever dupe you select should be equally as durable and close securely, as this will ensure that none of your makeup is ruined.
For an especially secure option, we recommend looking back at the Morphe Magnetic Palette.
Appearance
The design and style of the original Z Palette is sleek, understated, and offers a classic professional look. If you want to find a product that is exactly the same, you can look for these qualities in your dupe. Alternatively, you can find a dupe with a brighter or more vibrant case to add a touch of unique personality to your palette.
Price
One of the most important things about finding a dupe product is selecting one that is a little more budget-friendly than the original. In the case of the Z Palette, it is commonly priced at $25 and over, depending on the style or size of palette that you choose. To find the perfect dupe, you should look for options that are priced at or are less than $25, as this will give you the best value out of your dupe product.

Z Palette Dupe Frequently Asked Questions
The answers to these frequently asked questions can help put any lingering worries to rest when it comes to your Z Palette dupe.
What Kinds of Makeup Can You Put In Your Z Palette Dupe?
You can put any kind of makeup in your Z Palette dupe as long as the pan is removable and your palette is big enough to hold it. This includes things like eyeshadow pots, blush, bronzer, highlighter, and even cream makeup. As long as they fit in the case and are metal (or can have magnetic adhesive strips attached to them), they can be put into your dupe palette.
How Do You Organize the Makeup in Your Palette?
How you organize your makeup in your dupe palette is very much a personal choice. You can choose to keep similar colors in certain areas or arrange the inside much like a regular eyeshadow palette. Whichever way is easiest for you to use and keep track of should be the way you organize your makeup.

How Do You Depot Makeup?
If you are new to creating your own makeup palettes, you may be wondering how exactly to depot your current palettes and combine them all into one. Thankfully, this process is not very difficult. We recommend buying specialized depotting tools, but they're not mandatory.
To depot your makeup, you will need to place your existing palette over a source of heat. In most cases, this is easily done by heating up a flat iron, placing a piece of parchment paper between the heated metal and the palette, and allowing the heat to transfer for 30 seconds to a minute. The heat will loosen the glue around the metal pan, making it easy for you to take a depotting spatula or safety pin and pop the shadow out of place.
If you meet any resistance on your first attempt at removing the palette, heat it for another 30 seconds before trying again. The shadow should pop out of the palette easily without too much prying. You should also keep in mind that the rougher you are with the shadows, the more likely they are to break and crack before you can arrange them in your empty palette.
After you have your desired shadows removed, let them cool, and then place them in your dupe magnetic palette. You may need to apply adhesive magnetic stickers to the eyeshadow pots to make them stick.
What Is the Best Way to Change out Makeup in the Palette?
Once you have your makeup pots securely in your palettes, you may feel a little overwhelmed at switching them out. However, this is a fairly simple process. All you have to do is pick up the pots and exchange them; in the case that you have magnetic stickers attached to the pots, you may want to remove and reuse them by applying them to a different pot (this only works with certain types of magnetic stickers).
To clean your makeup palette in between filling it up with items, you can use a little bit of rubbing alcohol. Make sure to let it dry fully before placing a new makeup pot in the palette.
Perfect Palettes for Customized Makeup
The Z Palette is a crowd favorite for creating your own makeup palettes and storing spare makeup with ease, but it isn't the only option out there. Today, there are plenty of alternative magnetic palette products on the market that can give you the same results as the Z Palette at a more budget-friendly cost. Just make sure that you keep in mind the size, style, and durability of the palette you need, and you will easily be on the right track to finding the perfect palette for customizing your makeup.