When it comes to fashion choices, it often feels like we have two main options: sensible or stylish. If you don't fancy compromising and want a bag that looks great while protecting your belongings from the elements, you might have considered a waterproof tote bag.
The phrases waterproof and tote bag are two things many people would never associate with each other, but trust us — waterproof tote bags are a thing. And even if you don't trust us, you'll soon see for yourself that there are plenty of options out there.
You'll never have to worry about which bag to take out with you on a rainy day again. Just think of all that extra brain space you'll free up. Maybe you could use it to finally write that book.
Features to Look for in Waterproof Tote Bags
Most people buy whatever bag takes their fancy on a certain day, or the one that looks the coolest. But when you're shopping for a waterproof bag, you have to be a little more discerning. Here are the main features to look out for.
Water Resistant vs. Waterproof
Make sure you know whether a bag is waterproof or water-resistant before you buy it, or you could end up very disappointed.
A water-resistant bag will suffice just fine for more everyday uses, like walking through light rain for 20 minutes, but a completely waterproof bag is best for anyone who intends to use it under more extreme circumstances. Like a weekend of hiking and camping in a region that experiences regular rain, for instance.
Heavy-Duty
If you want to carry heavy items in your tote bag, make sure you opt for something that's sufficiently heavy-duty. One aspect to pay special attention to is the handles — how thick are they, and how well attached are they to the rest of the bag?
Of course, the strength of the material on the rest of the bag is also very important.
Material
Whether or not a bag is waterproof and sturdy mostly depends on the material used to make it – nylon is a lot more waterproof than cotton, for example.
We have a more in-depth breakdown of the different materials available in a later section.
Another aspect you might want to consider is how easy a material is to clean. You can toss some bags into the washing machine or wipe them down in a matter of seconds, whereas others need more intensive cleaning regimes.
Some materials are even stain-resistant, so you might get out of cleaning them altogether.
Design
There's no need to feel guilty about wanting a bag that looks pretty and colorful. Plenty of items on this list are both stylish and practical — whether you prefer something patterned, floral and summery, or monochrome.
Many of our selections offer so many different designs that you'll be struggling to know which one to choose!
Closure Type
One particularly important element of a bag's design is how you close it. Naturally, a waterproof bag will be less effective if it has an open top that can't be closed.
A zip is usually the best way of securing your belongings.
Size
Do you believe that good things come in small packages or that the bigger is always better? Either way, you'll find a bag size that fits your groove on this list, although they tend to skew on the larger side.
Just make sure that you know the measurement you'll need for the end-use you have in mind. Do you intend to use your bag to transport towels, a laptop, groceries, or something else?
Compartments
Few things in life are quite as satisfying as a bag with a seemingly endless number of pockets and compartments to fill with your most treasured belongings. Have a think about what you might use them for and how many you might need — some bags have compartments that are the perfect size for specific items, like phones or water bottles.
Hopefully, we've equipped you with the knowledge needed to make a wise choice about the bag you buy. As long as you keep your wits about you and don't get distracted by any attractive but non-waterproof bags, we're sure that you'll find the perfect tote for you.
Top 10 Best Waterproof Tote Bags 2023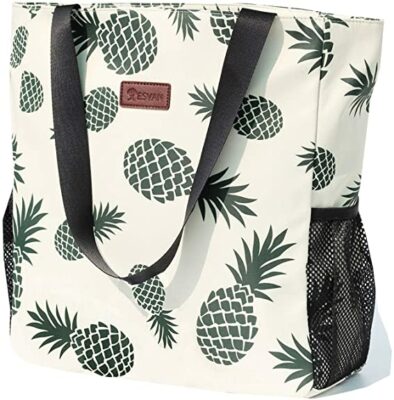 Why we like it:
Choose from a wide range of funky and fresh designs, safe in the knowledge that you have a sturdy bag that can withstand the elements. Plus, there are plenty of compartments.
Editor's Rating:
Quick Facts:
Size: 14.6 x 15.4 x 4.7 inches
Type: Water-resistant
Closure type: Zip
Material: Polyester
This is a bag that has just about everything going for it. There are more than 30 designs to choose between, most of them featuring attractive patterns like flowers or fruits – something is sure to tickle your fancy.
But this bag has far more going for it than just being aesthetically pleasing. The sturdy polyester material is extremely low-maintenance — it resists creasing and can even be cleaned in the washing machine.
The main downside is simply that the bag is water-resistant and not waterproof. It's a great option for casual occasions like heading to the gym or the beach, but not ideal for anyone who expects to be drenched with water for a significant duration.
Bag Design
If you're into compartments and want to be sure that you have a dedicated place to store everything you own, you're in luck. This bag has one zipped and two mesh pockets on the outside (perfect for a water bottle), plus two inner pockets.
It's also large enough to fit in the average laptop or beach towel, giving it a big enough capacity for just about everything. But it's still pretty lightweight and weighs around 13 ounces.
Unfortunately, the straps certainly aren't the most substantial you can find, so it's best to avoid overloading it with lots of heavy items in case you break it.
Pros
High quality and study material

Low-maintenance

Lots of designs to choose between

Various compartments
Cons
It's water-resistant and not waterproof

Straps are reasonably insubstantial
---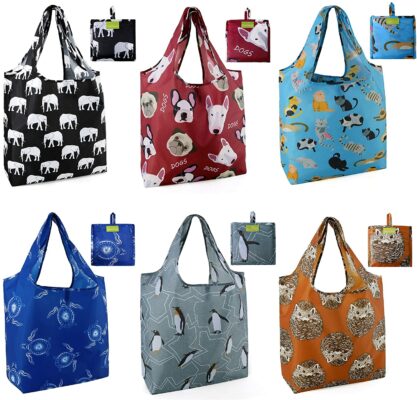 Why we like it:
Keep things simple with this lightweight tote bag, the perfect option for carrying your grocery shopping around while keeping it safe from the rain.
Editor's Rating:
Quick Facts:
Size: 11.73 x 6.85 x 2.5 inches
Type: Waterproof
Closure type: None
Material: Ripstop Nylon
Sometimes, we can overcomplicate the process of finding a waterproof bag. After all, nylon is one of the best waterproof materials around, and it also happens to be what the average reusable grocery bag is made of. Why not settle for one of these?
The BeeGreen reusable shopping bag is made of ripstop nylon, which happens to be what outdoor objects like tents and flags are made of too – so you can imagine how waterproof it is.
Ripstop nylon is also very durable and resists ripping. Then, when it gets dirty, you can simply chuck it into the washing machine. Simple!
If you're not fussy about having the most fashionable bag in your town and you want to save a few pennies, opting for this style is practically a no-brainer.
Bag Design
You can choose between block colors or a cool design featuring monkeys and bananas.
The bag design is extremely simple, with no zips or extra compartments or pockets. This might be inconvenient for certain purposes, like carrying around your valuables and electronics — but it's great for more casual uses and less precious belongings.
Like many reusable shopping bags, this tote comes in a super-compact pouch that you can keep in your pocket or glove department until your moment of need.
Pros
Machine washable

Very waterproof

Lightweight
Cons
No zip

Fewer designs to choose between
---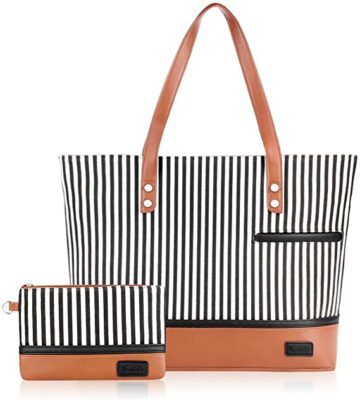 Why we like it:
It's not easy to find a bag that's both completely waterproof and looks fantastic, but this tote bag certainly makes it look like it's no big deal.
Editor's Rating:
Quick Facts:
Size: 18 x 5.5 x 12.5 inches
Type: Waterproof
Closure type: Zip
Material: Canvas and PU leather
Large enough for a laptop and just as attractive as a non-waterproof bag, this large tote bag is the perfect companion for any woman (or man) about town. Fit in everything you could possibly need, and find the perfect spot for each of them.
It's also fairly lightweight, weighing just under two pounds.
However, it's probably not suitable for every purpose. The design and structure definitely lend themselves to somebody who needs a bag for work or casual leisure obligations rather than outdoor pursuits. For something more practical but less fashionable, consider the ESVAN travel tote.
Bag Design
This tote bag has not one, not two, but eight pockets on the inside. Enough for everything you need to carry around all day, and then some! Since it's large enough for a tablet or laptop, it also features thick padding to keep your belongings safe.
It features a combination of nautical stripes in a monochrome color scheme and PU leather in a tan color, resulting in a chic aesthetic that will make all of your friends ask you where you got your bag from.
There are also four rivets attached to the bottom to prevent any friction with the ground and promote longevity.
The only design flaw is that the straps are relatively thin, so they could feasibly break after being loaded with too much weight.
Pros
Fully waterproof

Luxurious design

Features an anti-friction bottom
Cons
Not suitable for more practical uses

Fairly thin handles
---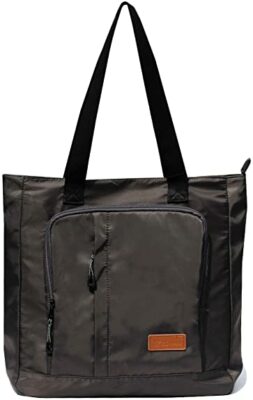 Why we like it:
If pockets and compartments are your thing, you're going to love this tote bag — it contains them on the inside and outside in all shapes and sizes.
Editor's Rating:
Quick Facts:
Size: 9.1 x 6 x 2.4 inches
Type: Waterproof
Closure type: Zip
Material: Polyester
This sleek and sturdy tote bag is perfect for a low-maintenance accessory you can take anywhere and everywhere. It's attractive enough to use for your day-to-day errands, yet practical enough for outdoor pursuits, too. What could be better?
Made of polyester with a nylon lining, it's also very low-maintenance and easy to clean. As an extra bonus, the material is free from phosphate and BPA, making it completely non-toxic.
And it's large enough to fit a laptop in!
One drawback is that some unlucky customers have noticed design faults with their bags, such as pockets that haven't been properly stitched up. Still, this seems like an occasional issue and not a common occurrence – and if it does happen to you, ESVAN lets you return the item.
Bag Design
In case you hadn't figured it out already, our favorite thing about this bag is the vast number of compartments and pockets. There's a big zip compartment on the outside (with multiple pockets and compartments inside of it) and even more compartments on the inside. Paradise, right?
Another highlight of this bag is that you can choose between more than 15 designs. Whether you're a plain black kind of person or a pretty paisley sort, you'll find something to suit your tastes.
However, one potential issue is that the straps might not quite be large enough for taller individuals (above 6 feet tall) to place the bag over their shoulders.
Pros
Completely waterproof

Lots of compartments

Comes in different designs
Cons
Occasional manufacturing errors

Straps might not be large enough for taller people
---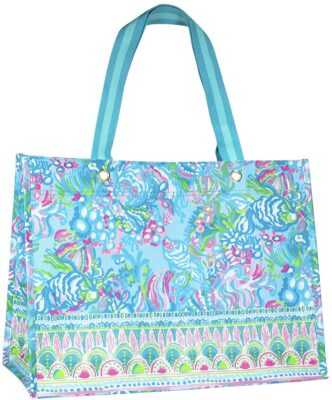 Why we like it:
Add a little color to your life with this pretty shopper bag. It's lightweight, water-resistant, and durable — a winning combination!
Editor's Rating:
Quick Facts:
Size: 20 x 10 x 15 inches
Type: Water-resistant
Closure type: None
Material: Polypropylene
Keep yourself feeling cheerful with this Lilly Pulitzer tote bag, the perfect choice for heading to the stores. Although it's designed primarily as a reusable shopper bag, it's pretty enough to take to the beach or swimming pool if you're so inclined.
It's made of polypropylene, a durable and tear-resistant material that's similar to nylon. Unfortunately, polypropylene is only water-resistant and not waterproof.
As you'd expect from a shopper bag, it's also extremely lightweight — just chuck it in your bag and go.
Bag Design
Unlike many shopper bags, this one has a handy interior pocket where you could put your phone, keys, or just about anything else.
The handles are sturdy and fixed with metal accents to ensure that the bag can stand the test of time. Sadly it doesn't have a zip to fasten it, so it's best suited to carrying around items that you're not worried about damaging, like your towel and swimsuit.
Pros
Attractive and colorful design

Sturdy handles

Contains interior pocket
Cons
No zip

Not completely waterproof
---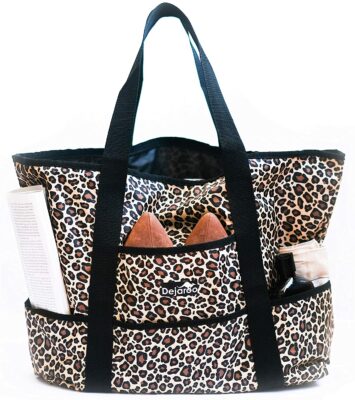 Why we like it:
For a fun and lightweight bag with plenty of compartments, look no further than this cute Dejaroo bag. You're sure to find a design you like, and it will contain all of your travel essentials effortlessly.
Editor's Rating:
Quick Facts:
Size: 16 x 15 x 8.5 inches
Type: Water-resistant
Closure type: None
Material: Ripstop Nylon
If you're heading out on a weekend trip or staying at a friend's house for the night, this bag is a great option — you can even use it for non-traveling occasions, like beach trips or exercise classes.
It's large enough to carry around all your essential items, it's lightweight, and it looks great.
Although it's water-resistant and not waterproof, it should weather a moderate amount of water since it's made of ripstop nylon.
Bag Design
This bag isn't just large enough to carry everything you could need — it also has seven pockets, so you can organize everything too. These are mostly open pockets on the exterior, but there's also a zipped compartment inside the bag.
Of course, some people would prefer to have more zipped pockets and not so many open ones. The main opening of the bag also doesn't have a zip, which is a serious drawback.
Basically, this bag works really well for some uses and not others. If you're traveling and want to carry around bulky, none-valuable items, the design works well – you can separate your items and have easy access to everything.
Otherwise, it's less useful. For a large bag that you can zip up easily, try the Bang&Carsen tote bag instead.
Pros
Comes in multiple designs

Large enough to use for weekend or overnight trips

Lots of pockets
Cons
Doesn't have many zips

Not completely waterproof
---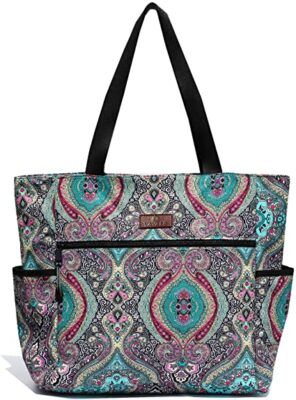 Why we like it:
Looking for something bright and cheerful yet also practical? This large tote bag should meet all your expectations and more, thanks to its low-maintenance and compartment-filled design.
Editor's Rating:
Quick Facts:
Size: 17.7 x 13.4 x 6.3 inches
Type: Water-resistant
Closure type: Zip
Material: Polyester
Although there are various bags on this list that have pretty designs, this VAVAER just had to be the winner on this front. It doesn't just have a lot of designs for the sake of it – each option is equally gorgeous.
There are more than 20 designs in total, and they span all kinds of patterns and colors. Most of them are bright and cheerful, but some are darker and simple.
It's also an extremely convenient bag to carry around. You can condense it until it's almost flat when traveling, and you can clean it in your washing machine.
Bag Design
This bag's design is simple and minimalistic yet effective. It features a zip compartment at the front, zip compartments on the inside, two large open pockets on the exterior that you can use for water bottles, and a zip fastening to close the bag.
That's what we like to hear!
However, the zip placement means that it's not possible to completely open up the bag. This shouldn't be a problem for most people, but you may find it annoying if you want to pack large items (like a towel or yoga mat) in.
Pros
Comes in lots of colorful designs

Includes plenty of compartments

Machine washable
Cons
Not completely waterproof

Zip placement doesn't allow you to open the back completely
---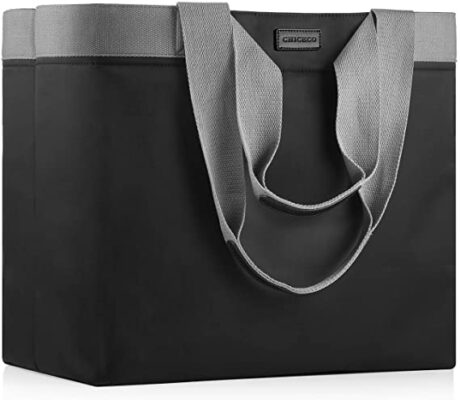 Why we like it:
You could probably fit half of the contents of your bedroom into this huge and sturdy bag. It will make the perfect companion for busy bees who want to be prepared at all times.
Editor's Rating:
Quick Facts:
Size: 16.5 x 8.6 x 14.5 inches
Type: Waterproof
Closure type: No zip
Material: 100D nylon
There's large, and then there's extra, extra large. Can you guess which category this CHICEO bag fits into? Just in case you can't figure it out for yourself, it's the second option.
At almost 17 inches wide and 9 inches wide, you could fit an A4 file inside and still have some room spare. There's also a slightly smaller extra large size (that's not a contradiction, we promise) in case anyone here thinks the XXL it's just too large.
Finally, it's very easy to wipe down and clean thanks to the waterproof lining and nylon surface.
Bag Design
Featuring a plain black and gray design, this bag probably won't be to everyone's taste. If you'd prefer something more stylish, we recommend the Boetru canvas bag instead. But this one is certainly practical!
Even the straps are nice and thick. They're made of a sturdy polyester and cotton blend and one inch thick to ensure that your bag won't break – even if you stuff it to the brim. It also has a detachable base to prevent bottom collapse and keep the bag in place.
The biggest flaw is the lack of a zip fastening at the top, which stops your bag's contents from being fully protected.
Pros
Fully waterproof

Lots of space

Study design
Cons
Doesn't offer any colorful or pretty designs

No zip closure
---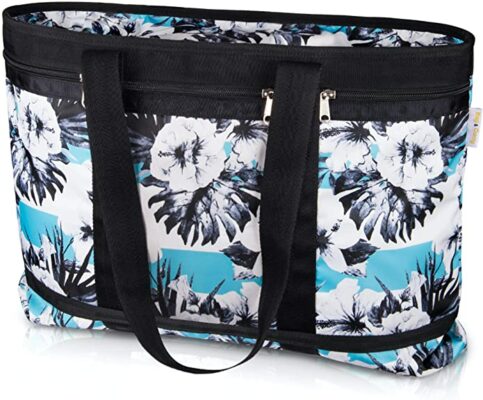 Why we like it:
Most people don't want to buy separate bags for different occasions, and this versatile tote ensures that you won't have to. You can stretch or pad it out to be different shapes depending on what you want to put in it on a given day.
Editor's Rating:
Quick Facts:
Size: 9 x 8 x 2 inches
Type: Waterproof
Closure type: Zip
Material: Nylon
This bag is so versatile that, depending on what you put in and how you pack it in, it can look like a completely different accessory. Fill it out normally and you'll end up with the shape of a standard tote bag (wide but comparatively short) — or take advantage of the extra space at the top to make it look longer and thinner.
The option you'll go far mostly depends on what you want to put inside it for a particular occasion.
Bag Design
This tote bag has a zip that spans the entire opening, making sure that everything on the inside remains safe. Slightly counter-intuitively, although the lining is waterproof, the zip isn't. Therefore, it's probably best to avoid this bag if you're expecting heavy rain.
You can choose between the same design in two colors: white and blue or green and coral. Both follow the same bag structure and feature multiple pockets to keep all of your belongings safe.
The manufacturers have gone to efforts to ensure that the material is sturdy – the handles are double sewn and reinforced to stop them from breaking, and the zipper is also extra strong.
However, despite the versatile design, the bag might not be quite as deep as advertised (two inches), so bear that in mind.
Pros
Has a zip closure

Versatile shape

Study material and design
Cons
The zip isn't waterproof

Not as deep as is advertised

Limited selection of designs
---
10.

Most Lightweight Waterproof Tote:

VOLGANIK ROCK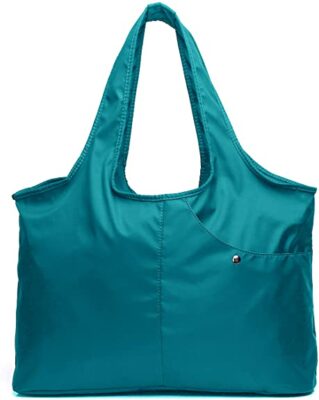 Why we like it:
Keep things simple with this lightweight tote bag, with some handy extra compartments for everything you might need to carry.
Editor's Rating:
Quick Facts:
Size: 11.9 x 8.4 x 1.7 inches
Type: Waterproof
Closure type: None
Material: Nylon
Practicality is the name of the game with this tote bag. It's made of a nylon fabric that's both waterproof and stain-resistant — but even if it does get dirty, you can easily clean it by wiping it down. And weighing just 11 ounces, it's hard to imagine anything that could be more lightweight and foldable.
This would be a winning deal if it wasn't for the high price tag. Although the specification of this bag is relatively similar to much cheaper items, this bag is more expensive than all of them. It's a price that doesn't seem justifiable, considering that the manufacturing is still relatively cheap.
We therefore recommend checking out a more affordable option too, like the BeeGreen reusable bag.
Bag Design
Other than its lightweight design, the best thing about this bag is probably the compartments it has. Although it looks like just another shopping bag at first glance, it actually contains dedicated pockets you can use for your wallet, phone, water bottle, portable power bank, and more.
It also has a zip closure, which most other basic tote bags don't offer. Does that justify the price? Maybe.
There are also more than ten designs to choose between.
Pros
Includes various zip compartments

Lightweight

Completely waterproof
Cons
Relatively cheap manufacturing

Expensive for what you get
---
How to Choose the Perfect Waterproof Tote Bag
You've seen what the market has to offer. You've realized that the market has a lot to offer. And now you're not sure if you managed to narrow the selection down at all.
If you need some extra guidance, we're right here behind you — here's a more in-depth analysis of what you should be looking for.

What Type of Material Is Best for a Waterproof Tote Bag?
Believe it or not, the various waterproof bags on the market can be made of very different materials. There are two main factors that distinguish them: how strong they are and how waterproof they are.
Here, we'll give a quick overview of the main materials out there, along with the pros and cons of each one. Then, in subsequent sections, you can figure out how waterproof and how strong you actually need your bag to be, depending on what you plan to use it for. Sound good? Let's do this.
Canvas
Canvas is a durable and robust material, but it's not completely waterproof on its own. However, many bags add a waterproof lining or apply other materials too. The Boetru tote bag combines canvas and PU leather to be ultra-waterproof.
A cotton and canvas blend is a mix that many people mistake as being 100% canvas. It often looks softer and is easier to maintain than a pure canvas bag (it's washable), but unfortunately, it's not as waterproof.
Oxford Cloth
Oxford cloth is a material that looks similar to canvas at first glance since it's breathable and robust. It's highly durable and made of synthetic fibers like polyester, making it easy to maintain too. Most importantly, it can withstand a certain amount of water, but it isn't completely waterproof (unless it comes with a waterproof lining).
Nylon
Nylon is one of the best-known waterproof materials out there. Although not all types of nylon are waterproof, the most popular (like ripstop) are, and they're often used to make a durable waterproof lining for less reliable materials.
Nylon is also very durable and flexible. Sound like what you're looking for? The BeeGreen reusable bag is a great option.
Vinyl
Vinyl takes you one step further than even nylon, providing absolute protection from water — a perfect choice for hikes or outings when you can expect to face serious amounts of rain or water.
Another advantage is that vinyl is easy to maintain and very difficult to break or damage. But, as you might expect, it's one of the more expensive options. As such, no vinyl bags made our list.
Do You Need a Waterproof or Water Repellent Bag?
Depending on whether you plan on using your waterproof tote to get through the monsoon season in India or make the 5-minutes walk from the subway to your apartment block under light rain, you'll need a very different type of bag.
Light Rain
If you only want to use your bag for casual strolls around your local area (or other cities), you're probably only going to be facing light rain and for a few minutes at a time. This means you have a little more leeway over choosing a water-resistant bag instead of a waterproof option.
Torrential Rain
It goes without saying that anyone who might face torrential rain needs to go for a fully waterproof bag. This basically applies to anyone expecting to be spending a substantial amount of time outdoors without shelter when there's a high probability of rain.
You can't always be sure whether you'll face light or torrential rain— but, if you're planning a serious outdoor pursuit like hiking, it's generally best to err on the side of caution.
Oh, and if you're expecting to be out in heavy rain often, you may also want to take a look at the best waterproof mascaras.
The Beach or Swimming
Anyone planning to use their tote as a beach or swimming bag will probably be ok with a water-resistant bag — unless you're likely to take your bag into the water with you. The Lilly Pullitzer tote makes a great bag for the beach!
Boating/Kayaking
Like those preparing to face torrential rain, anyone going boating or kayaking with their bag should go for something fully waterproof to avoid any nasty accidents. Come on – it's common sense!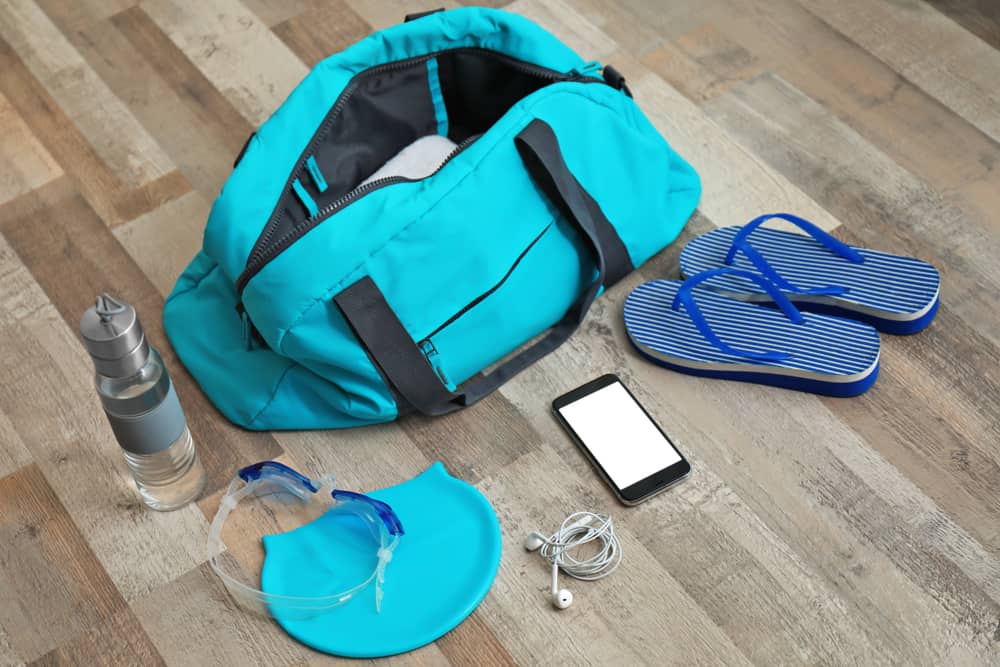 How Sturdy Should a Tote Bag Be?
An aspect of finding the right bag that many people overlook is just how strong they need their bag to be. If you've ever broken your straps by loading your bag with more heavy stuff than it could handle, you'll never want to make the same mistake again.
If you do want to choose a bag that's as sturdy as possible, we recommend opting for handles made of rope or thick nylon. Reinforced stitching also helps.
This will also look after your shoulders and arms and not put excessive strain on them.
How to Look After Your Waterproof Tote Bag
Just when you find the perfect waterproof tote bag for you, don't ruin everything by not looking after it properly. Here are a few tips to make sure you do exactly that.
Be extra careful if your bag comes into contact with saltwater, sand, or chlorine — all three of these liquids can damage your bag's integrity, or even lead to mold growth.
Check the label of your bag to find out exactly how you should wash it — every bag is slightly different depending on its material, and some can even be cleaned in the washing machine.
If there are no instructions, the best option is to use a healthy amount of warm water, with soap too, if there are dirty marks. This works great for Oxford cotton, nylon, vinyl, and polyester. But if you have a canvas bag, it's better to spot clean any dirty marks if possible, instead of giving it a complete rinse.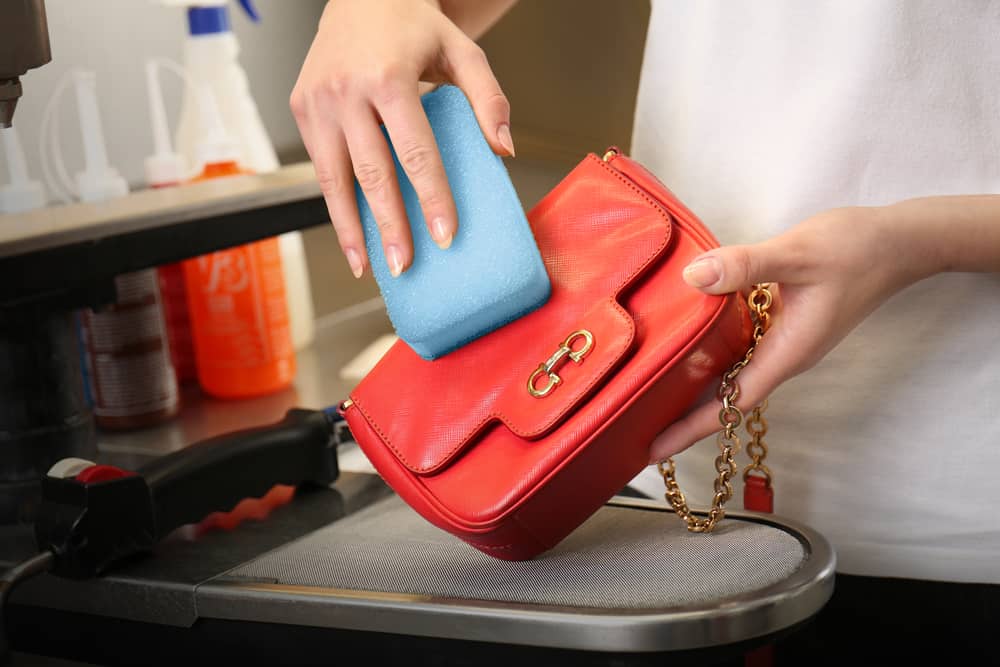 Extra Features to Look Out For
Sometimes, you don't even realize what you need until the time comes when you do need it. Do yourself a favor by doing some research in advance!
Storage Compartments
Multiple storage compartments such as interior and exterior pockets are a must if you plan on doing anything other than transporting your shopping from the supermarket to your house. This is one of the main issues with conventional canvas bags, which only have one compartment (the main compartment).
Having multiple sections is especially useful for keeping everything safe from water — it's no good using a sturdy waterproof bag if you're going to let your water bottle leak on your electronics. Having a separate pocket for special items prevents this from happening.
Closing Mechanism
Another important consideration is the closing mechanism for the bag — some have zips, magnetic fastenings, buckle straps, or even no fastening at all. Obviously, it's not much use having a waterproof bag if the water can just fall straight through the top of the bag!
Handy Extras
Some bags even come with special features like a separate wet bag, waterproof phone pouch, or even a keyring. These are unlikely to be the defining feature that makes you buy a bag, but they're added bonuses to be aware of.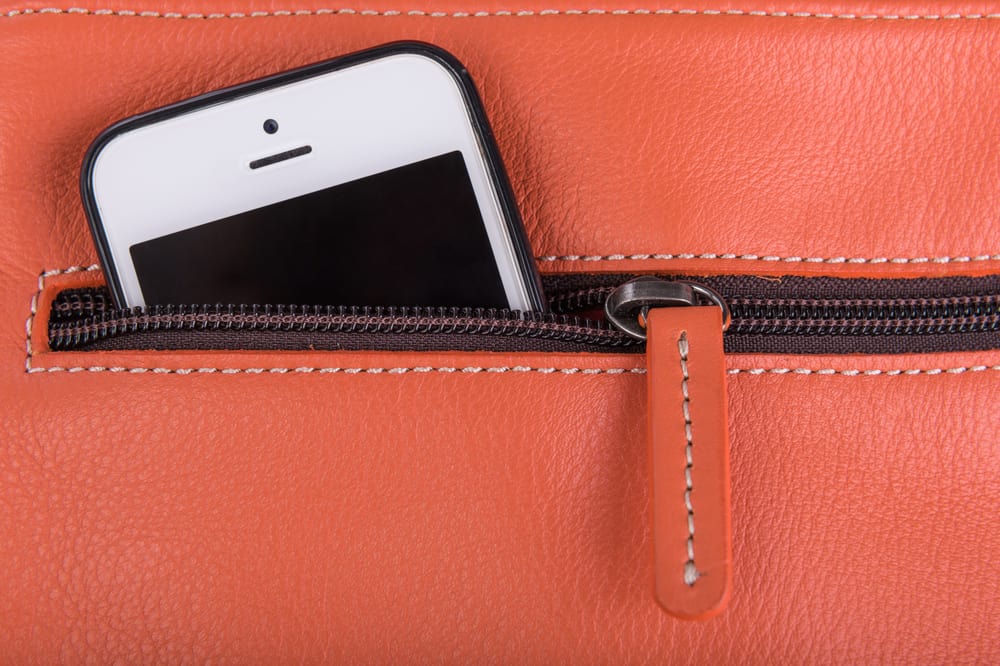 FAQs
There's always somebody who needs to know something more. But if that somebody is you then no worries, because we have a dedicated faq section. Aren't we nice?
Can a Waterproof Bag Be Immersed in Water?
You certainly shouldn't assume that every bag labeled as waterproof will survive intact and keep all your belongings dry if you drop it into a swimming pool and it falls to the bottom. Some bags are fully waterproof; others are only water-resistant — it depends on the material.
Are Dry Bags Waterproof?
Yes, a dry bag is another name for a waterproof bag.
How Do I Know if My Bag Is Waterproof?
Occasionally a bag looks waterproof but has no actual label to prove it. Is there any way to tell?
Unfortunately, the only true test is to submerge your bag underwater for a few minutes, then check the compartments. Unless you have a high risk tolerance and a lot of time on your hands, this isn't something that we recommend doing. Thankfully, our product reviews indicate whether the best tote bags are fully waterproof or just water-resistant.
Time to Zip This Up
See — style and practicality aren't mutually exclusive after all. They say life is about learning to dance in the rain rather than waiting for the storm to pass, and now you have a waterproof bag in your hand, nothing is stopping you from doing exactly that.
As long as you make sure the bag you opt for is the right type, size, and suitable material for whatever you plan to use it for, you should be good to go.
Soon, you'll find yourself wishing it rained more often instead of getting frustrated when you see it is pouring it down outside!