Because of their incredible practicality while still looking nice, satchels have been a very popular bag choice for both men and women for generations. Based on the latest trends, there is no sign of them going out of style anytime soon. It is hard to beat a bag that does it all while promoting organization habits that can be appreciated by both slobs and "type A" personalities alike.
A satchel is traditionally defined as any bag that can be carried over-the-shoulder and is secured closed by a flap. They are also referred to as messenger bags and are used commonly by students, professionals, and anyone else who is often on the go.
What to Look for When Shopping for a Satchel Bag
If you are shopping for a satchel bag, there are numerous important factors to consider that will help you narrow down your many options. Take a moment to get a quick introduction to the key aspects of this type of bag that you need to understand before making a purchase.
Materials Used
An important characteristic that should not be overlooked is the material from which the bag is made. Typical satchels are made from leather (or faux leather) or canvas, each serving different roles in terms of durability and style. If you wish to use your satchel in a professional setting, you may opt for one that has a briefcase handle in addition to the shoulder strap and may lean toward a leather look instead of something more casual.
Storage Sections
As with any bag, you will be filling your satchel up with a variety of different items. Choosing a satchel that is designed to hold the things you will have with you is important. For example, many satchel bags have a padded technology sleeve for your laptop or tablet. Most satchels will also have pockets on the outside of the bag for easy access to things like keys, a wallet, your phone, or other items.
If you will be using it on a commute in public transportation, does it easily situate on your lap or at your feet? Can you access your coffee thermos and phone with ease? Where will you store your valuables, and will they be safely fastened within? All of these and more are questions to ask yourself. As we explored and reviewed these bags, we kept all of these concerns in mind to make your satchel shopping experience as simple and easy as possible. We have ranked these bags based on a plethora of criteria including durability and longevity, style, functionality, organizational capacity and more!
Of course, there is a lot more to learn about satchel bags if you want to have in depth knowledge before making a purchase. For additional information, go to the bottom of the page for our full buyer's guide. For many people, however, the best way to discover which satchel is right for them is to start looking at the actual bags. With that in mind, please enjoy our list of the 10 best satchel bags in 2021.
Top 10 Best Satchel Bags 2023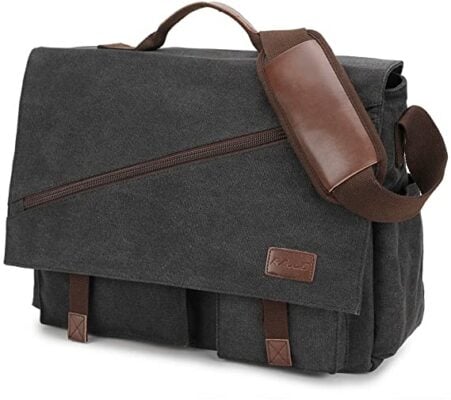 Why we like it:
This is a very durable bag that has room for all your things. It is also waterproof for extra convenience.
Editor's Rating:
This timeless canvas bag is perfect for a simple and streamlined organization system that will give you years of convenience in one bag. Made from a water-resistant canvas, you will not need to worry about a few raindrops while walking from your car into work or your favorite cafe. While it is listed as a men's bag, there is no reason a woman could not use this satchel as well, since it is gender-neutral looking in design. Plus, it comes in numerous color schemes.
You will love its durability. All of the seams are strong and reinforced so you don't have to worry when your workload is heavy, and your pockets are getting full. It has a huge capacity boasting numerous pockets ranging in size. The large outer pockets make for convenient places to keep a beverage, umbrella, or accessible snacks.
The flap of this satchel is secured in place by two strong buckles located on the inside of the flap, leaving a smooth, sleek outer look while being carried. Under the flap, you will find a zipper pocket that is an organized person's dream! It contains 8 card holding slops, two pen holding spaces, and a secure place to clip your keys along with ample extra space for other crucial items. Both the top briefcase handle and the over-the-shoulder strap are cushioned with padding for extra comfort. The only complaint you might have about this bag is that the 'leather' pieces are actually faux leather, which some people might not like. For a genuine leather option, check out the Clifton Heritage leather bag.
Pros
It has a large capacity with more than enough pockets for keeping contents organized

Seams are strong and well-built for durability

Suitable color schemes for both men and women
---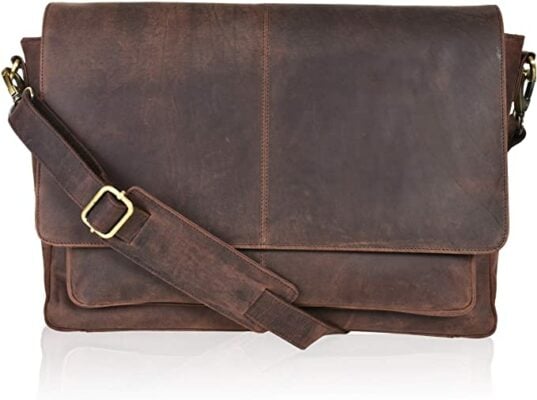 Why we like it:
This is a classic leather satchel that looks great and will last a lifetime.
Editor's Rating:
For a versatile satchel made of genuine leather that will not completely break the bank, the Clifton Heritage Messenger Bag is a terrific option. The inside of the bag boasts an efficient organizational setup that allows for bigger items like laptops and iPads, but also includes some smaller pockets so you will not lose little odds and ends in the bottom of the bag. There are slots for cards, pens, and a designated spot for a mobile phone. The main pocket has a well-padded divider for keeping electronics or work material safe and away from your other possessions.
The lining of the bag is a material which is both soft to avoid damaging your items but also durable and high quality, not to mention nice looking. The zippers, handle reinforcements, and stitching for the handle and straps are all stitched to last and strong in structure.
The locking closure on this bag is another notable feature as it is simple enough to open and close the fasteners with one hand for a convenient, yet strong option for keeping your belongings safe. Between the different colors and fastening options, you are sure to find one that suits your preferences.
Leaning more toward a business style of bag, it does have the convenient top handle to hold like a briefcase. The adjustable shoulder strap is strong and made of canvas and leather. Stylistically, this quality crafted bag can be dressed up or down and used for business or more casual settings. As with all genuine leather products, you will need to make sure to treat the material with a leather protection product to keep it looking its best.
Pros
Sleek Design for Business or Casual Settings

Very Durable Materials

Genuine Leather
Cons
Will Require Leather Conditioning
---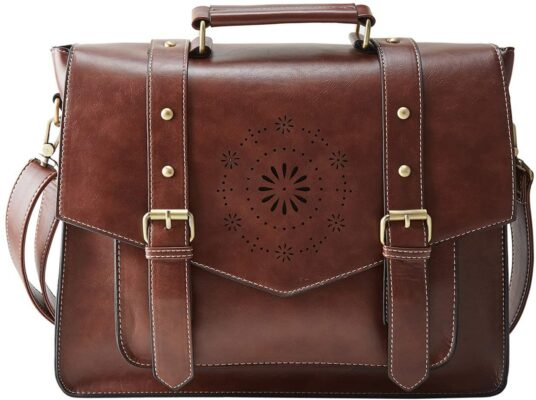 Why we like it:
This is an attractive bag with convenient storage sections that are easy to use to organize all your items.
Editor's Rating:
For women who want a bag that can be used in a variety of situations, but do not want to sacrifice on convenience, behold the Ecosusi messenger bag. As their name implies, this brand is eco-conscious and therefore avoids using genuine leather. Don't worry though, the quality won't be lacking with their "PU" (polyurethane) leather material which replicates the look, feel, and durability of genuine leather quite well.
This bag offers women more functionality and organizational potential than a typical purse, while still featuring a feminine feature of a trendy cut out design on the satchel flap. You will be able to hold all of your essentials, while also offering protection for items such as tablets and 14-inch laptops. The technology compartment is padded for extra protection and separated off to keep books, papers, and notebooks from rubbing against your laptop.
Internally, the bag also has a zipper pocket for containing odds and ends and two slip pockets for items like your mobile phone.  For women who are on the go a lot for work, this can also easily be passed for a more professional bag, suitable for just about every situation you will find yourself in. At first glance, the bag's flap appears to be fastened down by belt-like buckles, which look neat, but in all practicality, would be cumbersome to use. Behind those cute buckles, however, are the real fasteners: two easy-turn brass locking mechanisms, which are much more practical.
While this bag can certainly hold plenty of weight, the shoulder strap is not padded, which may cause some discomfort.
Pros
Real Looking Faux Leather

Professional Appearance

Holds Much More than a Purse or Handbag
Cons
Shoulder Strap is Not Padded
---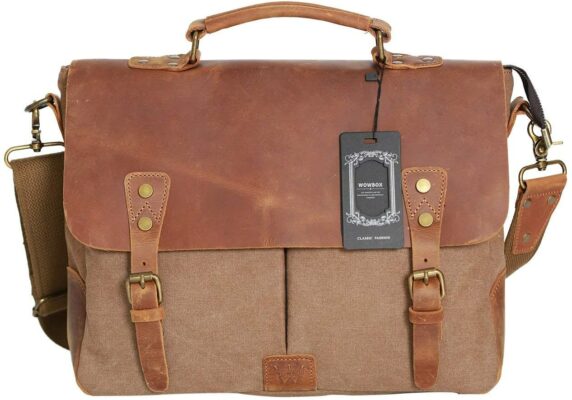 Why we like it:
The genuine leather looks and feels amazing while still being very durable and long lasting.
Editor's Rating:
Wowbox has designed this very stylish and practical bag to be used both in the professional realm and as an everyday bag.  Just from a first glance, you can already see how it is designed to be simple yet there is an elegant attention to detail. It is also a gender-neutral bag that everyone will love. The bag balances the rugged, durable, and dependable features of a canvas body, yet also highlights the good looks and long life of genuine leather for the satchel flap and some complementing details.
The belt-like fasteners on the flap, while looking great, would make for a difficult time accessing the inside of the bag on the fly. So, beneath these cosmetic buckles, which are only for looks, there are actually magnetic snap fasteners that keep the bag's flap securely in place. Upon opening the flap, you will find two front slip pockets for keeping things like a planner, tablet, or small notepad. You will also find the large, main compartment which is secured with a zipper. This compartment is lightly padded for a laptop or other technology.
Another notable characteristic of this bag is that its canvas body is also lightly padded on the bottom of the bag to absorb impact and keep your items safe. The shoulder strap of the bag is sewn with a heavy-duty canvas material and features some ornamental leather detailing. It is also entirely removable if you prefer to use only the briefcase handle at the top of the bag. Of course, since this is made with genuine leather you will need to condition it from time to time, which is a small inconvenience. If you prefer a faux leather option, take a look at the Ravuo messenger bag, which is the top ranked bag on our list.
Pros
Quality Genuine Leather

Practical Dividers for Great Organization

Gender Neutral Design
Cons
Not Waterproof

Will Require Leather Conditioning
---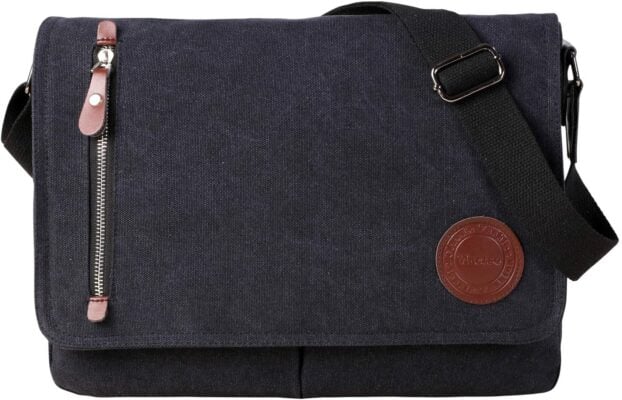 Why we like it:
This is a very durable bag that can be used in many situations. It is also very inexpensive.
Editor's Rating:
For someone hoping to get a satchel with more of a bookbag style and feel, this Mactso Vintage Canvas bag checks all the boxes. While it has a more academic vibe, it could certainly be used in a broad spectrum of ways from a casual day bag to a more professional setting depending on your line of work.
The outer look is one of a classic, almost throw-back sort of feel, while it still features the most essential features for the modern day professional or student. The spacious inner compartment offers more than enough room for a laptop and books. This large pocket is not only protected with the flap, but also secured closed with a zipper. Though it is rather roomy on the inside, this large compartment does not have a divider to section it off specifically for a laptop. So, if a padded technology pocket is crucial for you, this may not be the right option.
The main pocket's inner sides have slots for cards, a wallet, and a phone on one side and a zipper inner pocket for keeping valuables like keys. Beneath the satchel flap, apart from this large compartment, you will also find two outer pockets which are easy to access even while wearing the bag. While these pockets do not fasten closed with a zipper, they do have Velcro patches that will keep it safely closed.
The outer material of the bag is one of the best features: a scratch-proof and waterproof canvas keeps things within the bag well protected and ensures a long life out of this useful satchel. The outer zippers and straps are sewn with reinforced seams and a decorative faux leather. The shoulder strap is a very heavy-duty canvas material and can be adjusted to fit your preferences. Unlike many satchel style bags, this one does not have the briefcase handle at the top of the bag. If a briefcase handle is important to you, consider the Ecosusi briefcase messenger bag.
Pros
Great Classic Satchel Look

Very Affordable

Scratch Resistant and Waterproof
Cons
No Separate Technology Sleave

No Briefcase Handle
---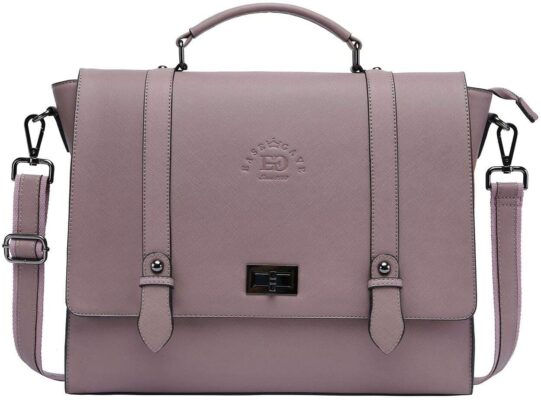 Why we like it:
You can get this satchel in a variety of different colors.
Editor's Rating:
This stand-out satchel is a professional and stylish woman's dream come true. It is the perfect laptop briefcase bag with the looks and appeal of a designer handbag. You can get this bag in multiple different colors to match your style. There are two spacious main compartments, a large zipper pocket, a padded place for storing tablets and tech, two side slip pockets, and a small zipper pocket for storing away the small important items that may be harder to retrieve from a large compartment.
On top of all of these easy-to-access storage options, there is also a bonus pocket on the exterior of the bag.  On the back of the bag, you will find yet another secure zipper pocket for super easy access without having to open the satchel flap. The fasteners on the flap can be difficult to open, especially when the bag is over-filled.
The bag boasts the chic appearance of genuine leather, but, in fact, is an eco-friendly faux leather which means it is slightly more water-resistant. This leather is good overall quality but may show signs of wear with frequent use. Another perk about this cute satchel is the practical shoulder strap. Oftentimes, women's bags are fitted with shoulder straps that are too petite or weak to manage a decent load. This option, however, has a shoulder strap which is reinforced with a strong, durable canvas material that will stand up to even a professional briefcase weight load.
Pros
Extremely stylish looking bag available in a large variety of colors

Practical and useful organizational layout for any purpose

Can be dressed up or down to compliment various occasions and outfits
Cons
Can Show Signs of Wear

Can be Hard to Open Fasteners
---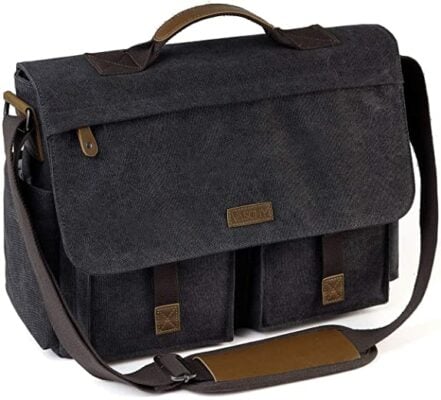 Why we like it:
This satchel is very strong and will last for years even with rough usage.
Editor's Rating:
If durability is the top prioritized characteristic in your satchel, you will be thrilled to learn of this Vaschy bag. Appearance wise, this bag has a classic, vintage look which is timeless and versatile. While it outwardly appears more masculine, it could also be used comfortably by women.
The exterior material is a waxed canvas that could stand up to just about anything you throw at it. It is quite waterproof, making it great for those who might end up getting caught out in the rain. On the top of the bag, you will find a briefcase style handle that is well-stitched right into the body of the bag. It also has an adjustable shoulder strap with a shoulder pad for carrying, but be aware that this shoulder strap is not removable.
The outside of the bag has two side pockets for water beverages and two large zipper pockets: one directly on the flap of the bag, and the other on the back of the bag. Below the flap, on the outside of the bag, there are two pockets, which is standard for many satchels of this style. Inside the spacious main compartment is a padded sleeve for a laptop or tablet. There are also card slots, a pen holder, slip pockets, and a clip for keys. You can get this satchel in four neutral color schemes.
Pros
Very Durable

Organized Smartly

Strong Straps for Carrying
Cons
Shoulder Strap is Not Removable
---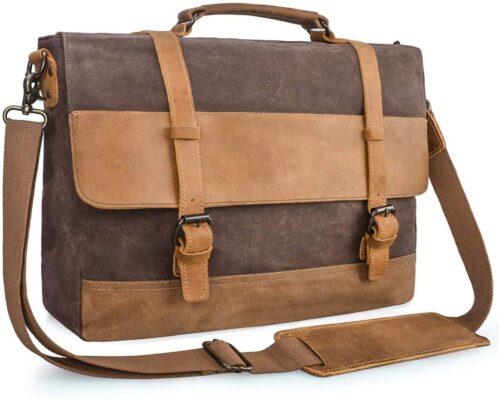 Why we like it:
This satchel has a minimalist feel to it that we absolutely love. Simple colors and fewer outer pockets than most others really make it stand out.
Editor's Rating:
While this satchel is marketed for men, the neutral colors and classic look make it desirable to everyone. To start, the material is genuine cowhide leather, which looks great and holds up to wear. In the places where the bag would take the biggest beating over time, the material is a waxed canvas, which is sturdy, durable, and water resistant.
With its simple, non-fussy outward design, it can be paired with any outfit and occasion and looks timeless. The top of the bag has a strong, useful briefcase handle for toting the bag by hand, and it also has an adjustable shoulder strap, which is removable. The hardware on the bag is not overly flashy, but rather simple and dependable.
The flap of the satchel appears to be fastened down by two belt-like buckles, but beneath these straps are the actual fasteners, which are magnetized snaps. In an effort to maintain the sleek, simple visual appeal of the bag, it does lack some pockets which are often found on other models of bags. If you prefer a satchel with more external pockets, you may want to consider the Seyfocnia faux leather satchel bag.
Pros
Attractively Simple Style

Quality Leather and Canvass

Removable Shoulder Strap
Cons
No Outer Pockets

Leather Will Require Conditioning
---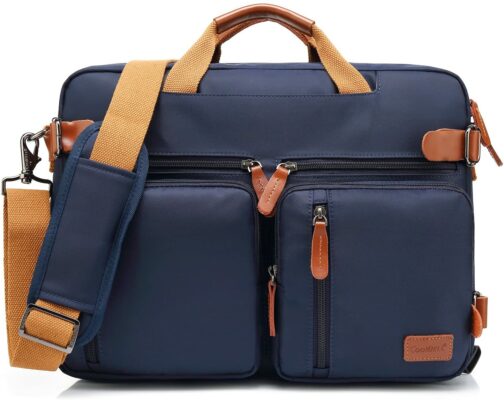 Why we like it:
This bag can be used either as a satchel or a backpack, which really sets it apart.
Editor's Rating:
While it may not be a traditional satchel style bag with a flap, those who are shopping for a satchel specifically for travel may wish to consider this CoolBELL messenger bag, which also converts into a backpack. For a professional with commutes or any serious jet setter, this bag will set you up with easy access to your essentials while keeping them safely stowed away while not in use.
Unlike the commonly used canvas or leather, this bag is made of a durable polyester blend of fabric, which is easy to spot clean and will not be ruined by a spill or stray raindrops. As a messenger bag, it has a canvas shoulder strap that is strong and adjustable, including a pad for safe carrying. It can also be carried briefcase style by the two canvas handles as the top, which are accented with leather finishes.
The unique feature of this bag is that it can also be turned on its side to function as a backpack. The shoulder strap is removable, and the briefcase handles are stowed away. When using it as a messenger bag, the backpack handles are hidden away in a compartment. If you envision a typical carrying bag, you might wonder how the contents of the bag would fare if it were tipped on its side to convert to a backpack. The designers of the bag thoughtfully included zippers on all four of the outer pockets to keep all your items safe and secure.
We definitely loved this unique take on a satchel, but if you are looking for something more traditional, you may like the Ravuo messenger bag and its classic look.
Pros
Convertible to a Backpack

Zippers Keep Belongings Secure

Waterproof
Cons
Made Mostly of Polyester

No Traditional Satchel Flap
---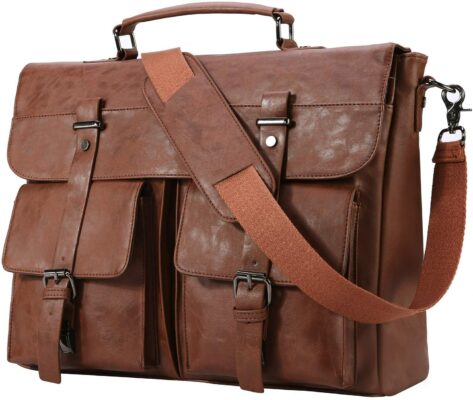 Why we like it:
You will find a pocket for just about everything you could possibly want to take with you on this great bag.
Editor's Rating:
If you need to carry a lot of items with you, this satchel is an ideal choice. It has numerous pockets both inside and out to make sure everything has its own special spot. Outwardly, this bag appears to be made of genuine leather, but is, in fact, made of polyurethane leather. This means it is far more water-resistant than real leather and will not require regular conditioning.
With a classic satchel look, you will see two exterior pockets below the satchel flap. Each of which can be secured closed with their own individual flaps fastened by magnetic snaps. Behind these are two bonus slip pockets! All of these outer pockets, as well as the main compartment, are also fastened down by the satchel flap, which closes with secure latches. Yet another exterior pocket can be found on the very back of the bag, which zips closed.
You can carry this bag either by the removable strap, which is quite comfortable, or the strong briefcase handle. Overall, there is a lot to like about this satchel, though the number of pockets can actually be overwhelming. You may find yourself searching through each one to remember where you placed an important item. If you prefer an option with fewer pockets, check out the Mactso vintage canvas satchel.
Pros
Lots of Storage Pockets

Highly Water Resistant

Comfortable Shoulder Strap
Cons
Lacking Water Bottle Pockets

No Zipper on Some Inner Pockets

Only Available in Two Colors
---
How to Choose the Best Satchel Bag in 2021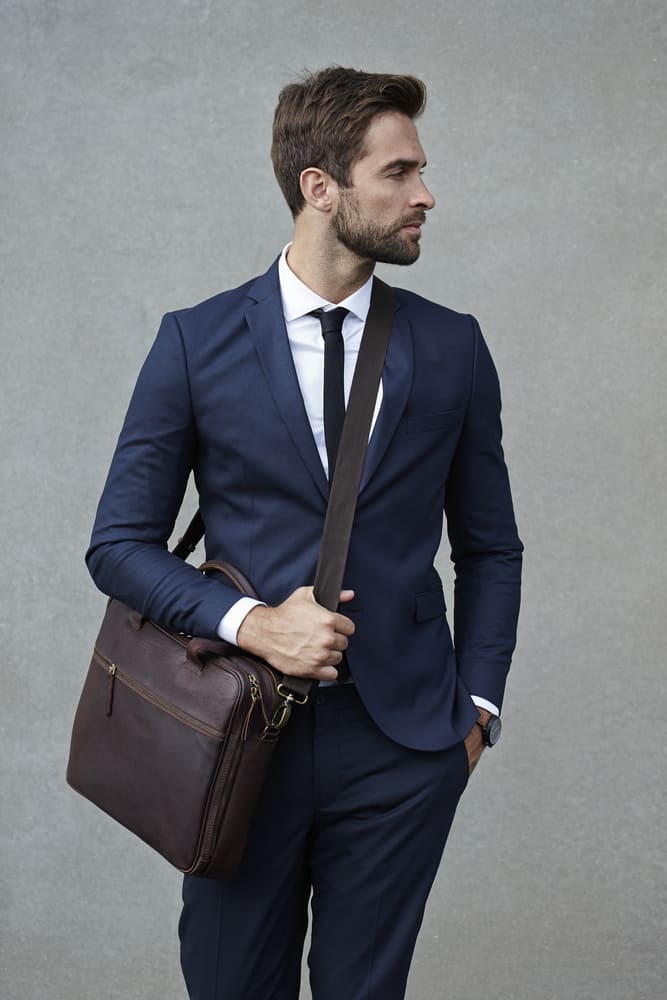 Satchel bags are one of the most flexible ways to carry your things with you. They are great for both men and women alike. In addition, they fit in nicely no matter where you are taking them, including to school as a student, to work as a professional, or even as a carryon when going on vacation.
While they have been around for what seems like forever, satchels continue to evolve with the styles and trends of the day without sacrificing their practicality and convenience. There are satchels which are marketed to men or women specifically, but most satchels are fairly gender neutral and can easily be shared between different users.
With so many options available to choose from, it is important that you understand everything you can about satchel bags so you purchase the one that will work best for your situation.
Types of Materials
One initial search online will quickly show you the range in materials available for satchels. While the material is, of course, important for determining durability and quality, it is also the biggest factor which drives the price up or down.
Leather
We found numerous options made of genuine leather, including the Wowbox Canvas leather bag, that is high quality. Those made with genuine leather are great, but they also tended to be the priciest. A genuine leather bag, as with all leather products, will soften and break in as it is used. To prevent this, you will want to purchase a good quality leather conditioner and learn how to condition the material to keep it looking great. If you want a stiff-bodied bag that stands up on its own, that may be harder to find in genuine leather.
Faux Leather
If you don't like real leather, you can also find plenty of satchel bags made from faux leather, such as the Ecosusi women's messenger bag. This material is more eco-friendly, don't always look convincingly like genuine leather. They do, however, resist water quite well, which is one of the reasons many people prefer them.
Waxed Canvas
Another material option that we really liked in the bags we reviewed is waxed canvas. Check out the Vaschy messenger bag for a great example of this material. This is a typical, strongly woven canvas material that has been treated with a thin wax layer, which makes it the most waterproof option. It is also the most durable when it comes to handling lots of wear or bearing heavy loads.
For those who just can't decide on a material, there are quite a few that are canvas with leather accents, such as the Ravuo messenger bag, so you get the best of both worlds.
Carry Your Satchel in Comfort With Quality Straps and Handles
As with any bag, it is important that you are able to easily carry your satchel with you everywhere you go. There are two main options when it comes to how you will hold your bag. An over the shoulder strap, and a simple briefcase style handle. Know what to look for in each of these options to ensure you do not get sore carrying your bag.
Shoulder Straps
Essential to a messenger style bag is a shoulder strap. Most bags allow you to wear it over the shoulder or crossbody for a more secure feel. All well-designed straps will be adjustable to fit your size. If it will be a bag that is shared between multiple people, or if you are taller than average, it may be worth checking the specific detailed descriptions that give the strap's length capacity.
While you can find straps that are made of leather, most companies opt for a canvas strap (sometimes with leather accenting) because of the strength of the material. In addition, the shoulder strap will get a lot of wear, so it needs to hold up over time. Most, but not all, have some sort of shoulder pad that can be adjusted along the strap to optimize comfort.
If you intend to carry fairly heavy loads (like a laptop and schoolbooks), it is worthwhile to ensure that you choose a very comfortable strap since you'll be hauling it across campus or on a long commute. Another aspect of the shoulder strap to consider is whether or not it's removable. If you wish to use the bag in a professional setting and want it to double as a briefcase, a removable shoulder strap is important. A good example of a satchel bag with a removable strap is the Clifton Heritage leather bag.
Briefcase Handle
While we are on the topic of satchels that do double duty as a briefcase, do make sure you pay attention to the handles found at the top of the bag. If you will solely carry your bag by the shoulder strap, then a briefcase handle is not necessary for you. If, however, you want the convenience of another carrying option and want to have a comfortable handle in case you want to remove the shoulder strap, make sure you pick a bag with a well-made briefcase style handle.
Most handles on the satchels we reviewed are attached to the bag with metal hardware, but some are stitched directly onto the bag. While the handles that are stitched on have a more casual look, they are usually quite strong and can handle heavy loads. With the hardware option, you will simply want to make sure you choose a bag with quality hardware, so the handle does not come apart from the bag while you carry it. You can see a great example of this type of handle on the Newhey canvas and leather satchel.
Securing Everything in Place
One of the many things that makes satchel bags popular is the fact that they can keep everything securely in place while carrying it with you. This is made possible by the convenient pockets and openings that can fit any item. Once in place, most of the pockets can be closed using zippers, magnets, buttons, or other fasteners.
Strong Fasteners
The hardware of your satchel will include zippers, zipper pulls, buckles, snaps, magnets, and other fasteners to secure everything in place. When shopping for a satchel bag you want to make sure that the fasteners are made with good quality metal to ensure they do not break and spill your belongings everywhere.
While secure fasteners are critical, you also want to have easy access to the contents within the bag. This often means using simple magnetic snaps, quick zippers, or other similar options to keep everything shut.
Keeping Everything Organized
Simply adding on a bunch of pockets and openings to a bag does not make a good satchel. Each storage compartment needs to be the right size, shape, and in the proper position to provide you with the most convenience possible.
To start with, look at how many pockets you will actually use. For some people, having a ton of pockets like the Seyfocnia men's faux leather satchel is the best option. For others, having a more modest number of pockets, such as the Clifton Heritage leather bag is going to be the right choice.
Grab Your Favorite Bag and Hit the Town
Now that you know about all the key aspects of satchel bags, it is time to choose the one that will be perfect for you. In addition to factoring in all of the information above, you will need to look at each bag and choose the one that fits with your unique style. So, with that in mind, take some time to review our list of the 10 best satchel bags for 2021. We are sure you will find one that you absolutely love and enjoy for years to come.