Top 10 Best Piercing Numbing Creams 2023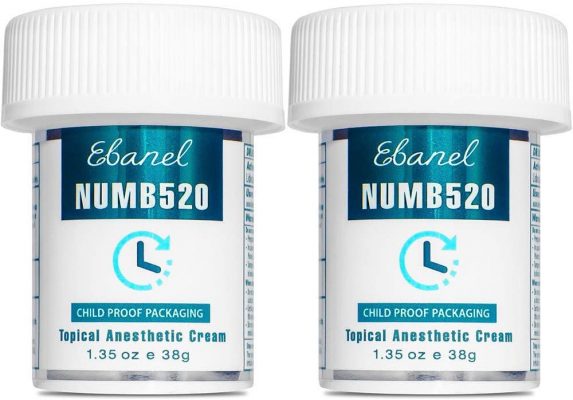 At a Glance
Active Ingredient: 5% Lidocaine
Intended Use: Pre-procedure
Pain Relief: Intense
This piercing numbing cream fully numbs the area to which it is applied. It includes liposomal in its ingredients, allowing it to provide numbing below the surface, unlike many other surface-only numbing creams. This makes it ideal for piercings with deep channels. In other ingredients, this numbing cream lists aloe vera, vitamin E, lecithin, and allantoin to hydrate the skin.
Standards
Ebanel 5% Lidocaine Numbing Cream is FDA compliant and certified according to the FDA's current Good Manufacturing Practices standards.
Application
This cream is oil-free to prevent the piercing needle from slipping during the procedure, but you will need to use gloves to keep the cream from affecting your hands. It can be somewhat expensive, and you may need to use a full container for one piercing. However, it is the most consistently effective cream offered by online retailers. This numbing cream should be applied 15 to 30 minutes before your piercing for maximum numbness, and lasts for approximately two hours.
---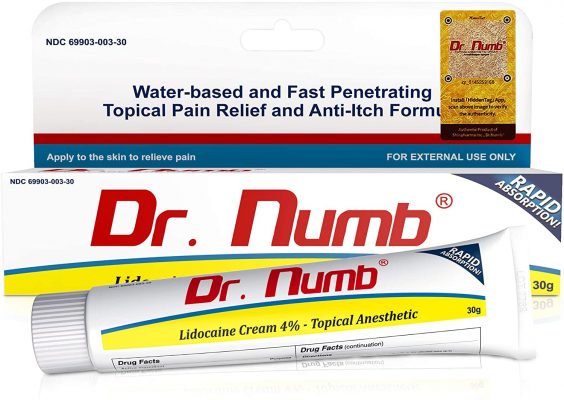 At a Glance
Active Ingredient: 4% Lidocaine
Intended Use: Pre-procedure
Pain Relief: Intense
Dr. Numb is one of the most superior numbing creams on the market. It may be expensive, but its double-layer method increases the potency of the lidocaine. Its fast-acting absorption makes it ideal for anyone looking to numb the pain of a piercing. Dr. Numb offers this 4% cream, designed specifically for piercings and tattoos, however, if you're looking for stronger relief, Dr. Numb also offers a 5% lidocaine option.
Standards
Dr. Numb is FDA and cGMP compliant and is authorized for over the counter sale in Australia, Canada, and the US. Piercing parlors recommend it, and home-piercers swear by it.
Application
This cream absorbs quickly and has one of the longest numbing windows on the market, advertised at between two and four hours for long-lasting relief. Its water-based solution offers quicker absorption and a more intense transfer of lidocaine. It may not be the best choice for anyone sitting for a tattoo, though, as it is most effective when applied over a small area.
---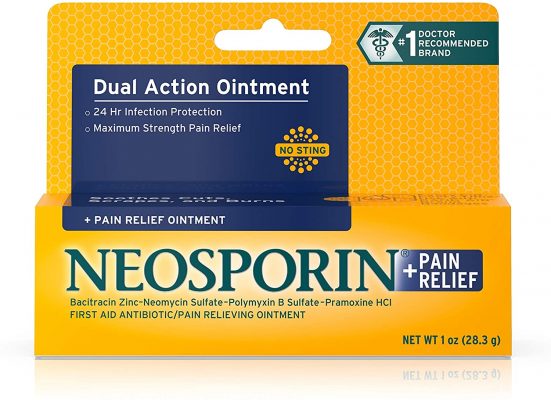 At a Glance
Active Ingredient: Bacitracin, neomycin, and polymyxin B
Intended Use: Post-procedure care
Pain Relief: Moderate
There's a reason that moms everywhere swear by Neosporin for scrapes, cuts, and worse. Neosporin offers pain relief and aftercare for shallow to moderately deep wounds, making it perfect for piercings. Its primary ingredient, bacitracin, is an antibiotic which helps prevent infection and scarring. It's not quite as fast-acting and many other pain relief creams. Instead of numbing the site of the piercing, Neosporin provides after-the-fact pain relief to ease discomfort associated with recovery and healing at the site.
Standards
Neosporin is the #1 doctor recommended wound care ointment. Where many OTC creams are only compliant with FDA standards, Neosporin is FDA approved.
Application
The most attractive feature of Neosporin is that it's rated for application on broken skin. If your piercing is still open, you won't suffer ill effects from applying this cream. After the numbing wears off, you can apply this cream one to three times per day for maximum pain relief and infection prevention.
---

At a Glance
Active Ingredient: 5% lidocaine
Intended Use: Pre-procedure
Pain Relief: Intense
Zensa may be more expensive, but it is ideal for extremely painful piercing sites. If you plan to get a piercing in a highly sensitive location, Zensa is a great option for serious pain prevention. It doesn't last as long as other creams, but it is far more potent than many other creams. Unfortunately, if you intend to cover a large area, you will need to use most of the tube. Zensa uses vitamin E as its anti-inflammatory ingredient.
Standards
Zensa Maximum Strength Topical Anesthetic is Health Canada certified and FDA compliant. It is also vegan-friendly and steroid-free. Steroids are anti-inflammatories, but if you are sensitive to steroids, they may cause a harmful allergic reaction.
Application
Unlike other numbing creams, Zensa, like Neosporin is rated for use on broken skin, meaning it can be used even after the piercing to provide numbing with no fear of adverse reaction at the site. Zensa should be applied 30 to 45 minutes prior to the procedure and lasts approximately 90 minutes after peak absorption.
---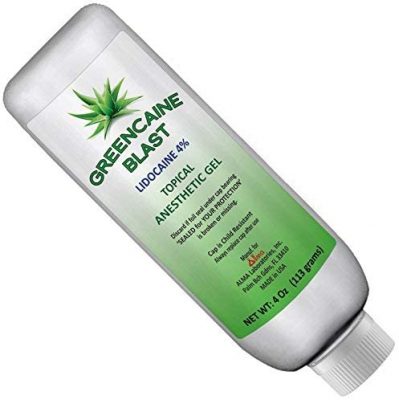 At a Glance
Active Ingredient: 4% lidocaine
Intended Use: Pre-procedure
Pain Relief: Moderate
Greencaine Blast is one of the more cost-effective pre-procedure numbing options. For a piercing, which only takes a moment, it is definitely effective. Beauticians conducting treatments with related pain, like waxing, micro-blading, and injections, have had great success using Greencaine to dull and eliminate client pain.
Standards
Greencaine is FDA compliant.
Application
Greencaine does not need to be wrapped to be effective, but saran-wrapping the site can extend its effects and intensify the pain relief. It contains aloe vera to soothe irritation, making it ideal for sensitive areas. It does not last as long as many tattoo-rated numbing creams, with an average window of just over an hour.
---

At aGlance
Active Ingredient: 5% lidocaine, 0.25% phenylephrine
Intended Use: Pre- and post-procedure
Pain Relief: Moderate
This spray is ideal for use on already sensitive areas or areas that may be hard to reach and cover. Ebanel 5% Lidocaine Spray is fast-acting, taking effect within minutes. It offers a piercing numbing experience with less hassle. If you plan to get a piercing in a textured area, this spray can help achieve proper coverage, even in hard to reach areas. However, you should not use this spray on your face, as the risk of it getting into your eyes or mouth is much higher with a spray than a cream.
Standards
Ebanel 5% Lidocaine Spray is FDA compliant.
Application
As a spray on anesthetic, it is ideal for areas you don't want to touch, and eliminates the need for gloves and area clean up after application. If you're in a time crunch and don't have time to apply numbing cream at home, Ebanel 5% Lidocaine Spray allows you to apply the anesthetic closer to your appointment and without the mess of creams or gels.
When using, you can spray once for moderate pain relief, or reapply five minutes after the first coat for enhanced pain relief. This spray is designed for a short window of use. It sets in within five to ten minutes, peaks at fifteen minutes, and lasts approximately an hour.
---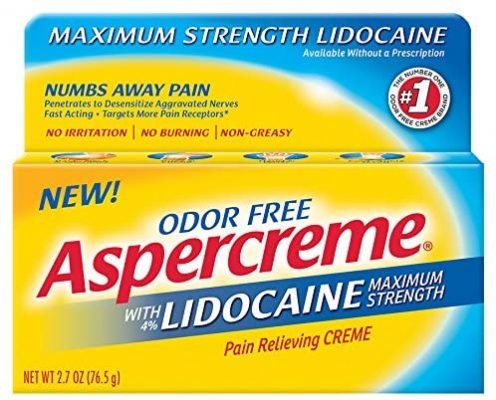 At a Glance
Active Ingredient: 4% Lidocaine
Intended Use: Pre- and Post-procedure
Pain Relief: Mild
Our budget-friendly option is ideal for anyone looking to reduce pain after their procedure. You may want to use a more powerful numbing cream for the procedure itself, and rely on a mild, less expensive pain relief cream for post-procedure care. Aspercreme Pain Relieving Crème with Lidocaine can be used to reduce the pain of the procedure, but it doesn't have the same effects as more potent numbing cream. You will likely still feel the needle, but pain associated with it will be reduced.
Standards
Aspercreme Pain Relieving Crème with Lidocaine does not advertise itself as FDA compliant. It is salicylate-free, making it ideal for those with salicylate sensitivities.
Application
Aspercreme can offer some pain reduction if used prior to the procedure, however it is best suited as post-piercing pain relief. It will not numb the area, merely reduce pain. It is odor-free and ideal for addressing low-level constant pain, rather than sharp, intermittent pain. It begins working quickly and offers up to three hours of pain relief.
---

At a Glance
Active Ingredient: 5% lidocaine
Intended Use: Pre-procedure
Pain Relief: Intense
LMX5 Lidocaine Pain Relief Cream is a powerful, medical-grade numbing cream. It is highly expensive, however, and may be overly potent for simple piercings. If you intend to pierce a highly sensitive area, this cream almost entirely eliminates feeling in the area. This cream is neck and neck with Zensa Anesthetic and Dr. Numb in terms of potency.
Standards
LMX5 is FDA compliant and recommended by the Baylor College of Medicine's Department of Dermatology.
Application
If you intend to have multiple piercings done in one session, LMX5 Lidocaine Pain Relief Cream is a good option, but for the average piercing it could be considered overkill. Because it is so strong, it carries a risk of overdose when applied to large areas. It takes approximately 30 minutes to begin numbing the area, peaks at one hour to 90 minutes, and lasts for two to three hours.
---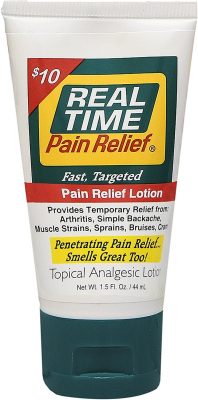 At a Glance
Active Ingredient: Menthol
Intended Use: Post-procedure
Pain Relief: Mild
Real Time Pain Relief Menthol Cream is a great alternative for anyone looking to relieve pain without the help of lidocaine or bacitracin. Menthol is a trusted pain remedy for muscle and surface pain. This cream also contains a variety of natural pain soothing ingredients, including capsicum, aloe vera, glucosamine, emu oil, witch hazel, willow bark, German chamomile, coriander fruit oil, tilia cordata, arnica, chondroitin, methylsulfonylmethane (MSM), calendula, St. John's wort, Roman chamomile, and centaurea cyanus. These supplements are naturally derived and can help ease swelling and circulation woes and reduce pain. If you're looking for a more natural pain reliever, this cream offers an abundance of natural extracts.
Standards
Real Time Pain Relief is FDA compliant and manufactured in a plant monitored by the FDA. This cream is also free of parabens, NSAIDs, and acetaminophen.
Application
Real Time Pain Relief is quick-acting and ideal for dull pain relief. It can be applied as needed, with no worries of an overdose, as its primary ingredient, menthol, is rarely harmful. It is odorless, despite being menthol-based, and is effective in minutes. It should not be used pre-procedure, as it is not designed to anesthetize the piercing site, but it can reduce the pain of a piercing in recovery.
---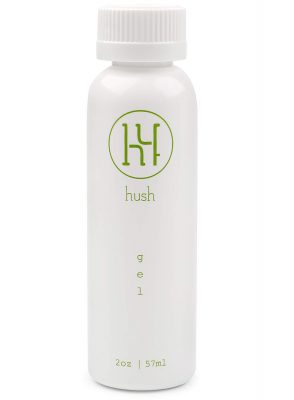 At a Glance
Active Ingredient: 4% lidocaine
Intended Use: Pre-procedure
Pain Relief: Intense
While not as powerful as our premium pick and not quite as consistent as our overall best pick, the Hush anesthetic is tattoo-strength and trusted by tattoo artists for helping numb sensitive areas.
Many other numbing creams contain epinephrine to reduce swelling, but Hush relies on botanicals like aloe, calendula, chamomile, and menthol. While this may seem like a downside of the product, it allows anyone with epinephrine sensitivity to use Hush Numbing Gel for their piercing procedure.
Standards
Hush Anesthetic Numbing Gel is FDA compliant, cruelty-free and vegan. It is also epinephrine-free.
Application
Hush should be applied one hour before your appointment and saran-wrapped for maximum numbing action. Hush is unique in that it offers a line of body products designed to help minimize swelling and extend pain relief. It offers a spray that you can put on while the area is sensitive to the touch to further relieve pain, and several other cleansing products that may help with recovery.
---