Top Picks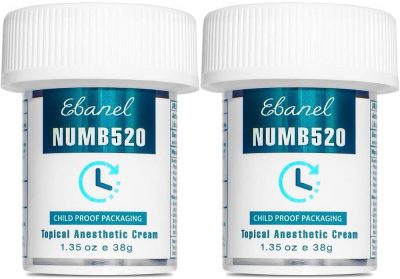 Ebanel 5% Lidocaine Numbing Cream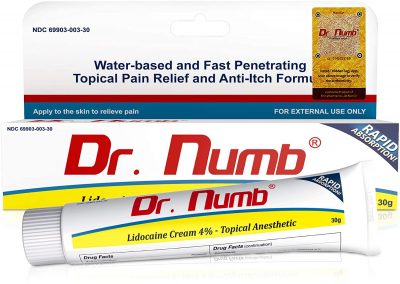 Dr. Numb 4% Lidocaine Numbing Cream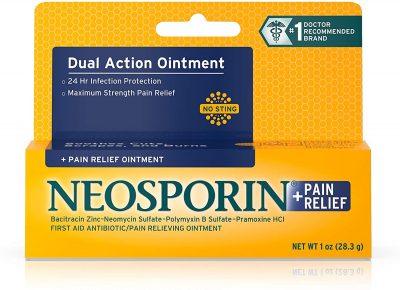 Neosporin Maximum Strength Dual Action
Previous
Next
If you're looking to get a piercing, chances are one of your top worries is the pain involved with the process. A piercing may look cool, but is it worth the pain during your appointment and the days after? Luckily, tattoo artists and piercers are well acquainted with both squeamish and "tough guy" clients. If your main concern in getting a piercing is the pain, talk to your artist about numbing creams. Many artists have them at their shops or will allow you to bring your own to your appointment.
How to Choose the Perfect Piercing Numbing Cream
Before we get into our recommendations for the best numbing creams on the market, there are a few things that you should understand so that you're able to make an informed decision.
Piercing Pain
When you get a piercing, you're going to experience two types of pain. The first type occurs right when you get the piercing. It is immediate and brief, but sometimes quite strong. Sometimes, people find this pain a part of the experience, but others prefer to avoid the unpleasant part of getting pierces.
The second type of pain is associated with healing and recovery. Your body thinks your new piercing is an injury, so it's using pain to draw your attention to it. This helps encourage you to keep the site clean, care for the piercing, and avoid infection.
For an in-depth discussion of pain and body piercing, our piercing guide discusses each type of piercing and the pain you can expect.
Anesthetics and Body Piercing
Pain after the fact is hard to dull, but proper care can help reduce pain, and there are pain relief creams that can reduce your discomfort. However, you can easily avoid the immediate pain of getting your piercing by using a localized anesthetic.
If you choose to use an anesthetic to numb the pain, you'll often end up using a numbing cream. This cream dulls the immediate pain of a piercing. You or your artist will apply the cream prior to your appointment, so that by the time your artist is ready to start, the site of your piercing will be numb. If you've ever gotten a cavity filled, your dentist may have used a similar topical anesthetic so you wouldn't feel the procedure.
What's in a Numbing Cream?
Most numbing creams are made of lidocaine, prilocaine, or tetracaine. These are anesthetics that block signals to the brain wherever they're applied. By preventing pain messaging from reaching the brain, anesthetics prevent the sensation of pain. Milder numbing creams might use menthol or bacitracin as their active ingredient.
Numbing creams may also contain a variety of other ingredients, such as aloe vera or oils. Depending on whether they're intended for pre-application or aftercare, they may contain anti-bacterial compounds to prevent infection or moisturizer to promote skin health. To learn more, take a look at our active ingredients section at the end of the article.
Things to Consider When Choosing a Numbing Cream
When deciding what numbing cream to use, your first priority should always be ingredients. If you have an allergy, sensitivity, or you wish to avoid addictive substances, you should check both active and inactive ingredients lists to make sure nothing is going to give you a bad reaction.
For each item on our list, we will highlight its active ingredient, as well as any unusual inactive ingredients that might case issues. If your piercing is in a highly sensitive location, you may want to avoid certain extra ingredients for your own health.
You should also consider whether the cream is intended for immediate pain relief or recovery-related pain relief. Certain creams will be better suited to different stages of pain. We'll be sure to let you know which cream is best suited for you.
You may also need to consider quality of the cream, including how intense the numbing action is and what kind of certifications it has. A highly-certified cream is more likely to have medical effects, while others may offer mild pain relief, with more of a focus on skin care in the area. We'll be sure to classify each product as offering mild, moderate, or intense pain relief, and we'll make a note of which agencies have approved it for use.
Now that you've gotten an idea of what you're looking for, let's jump in to our top ten list of piercing numbing creams!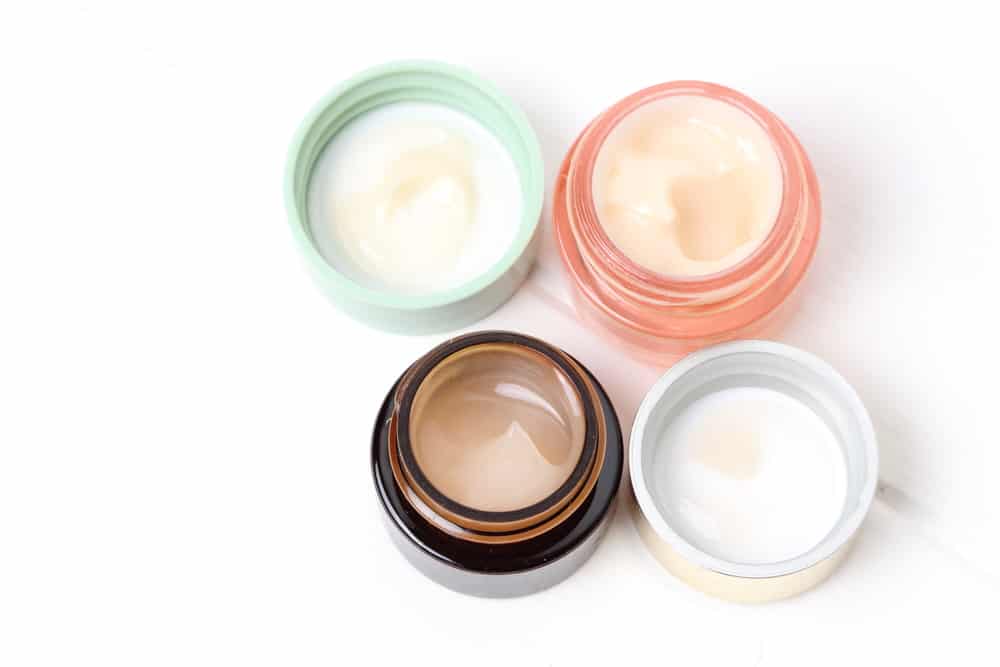 Top 10 Best Piercing Numbing Creams 2021
A Complete Guide to Piercing and Pain Relief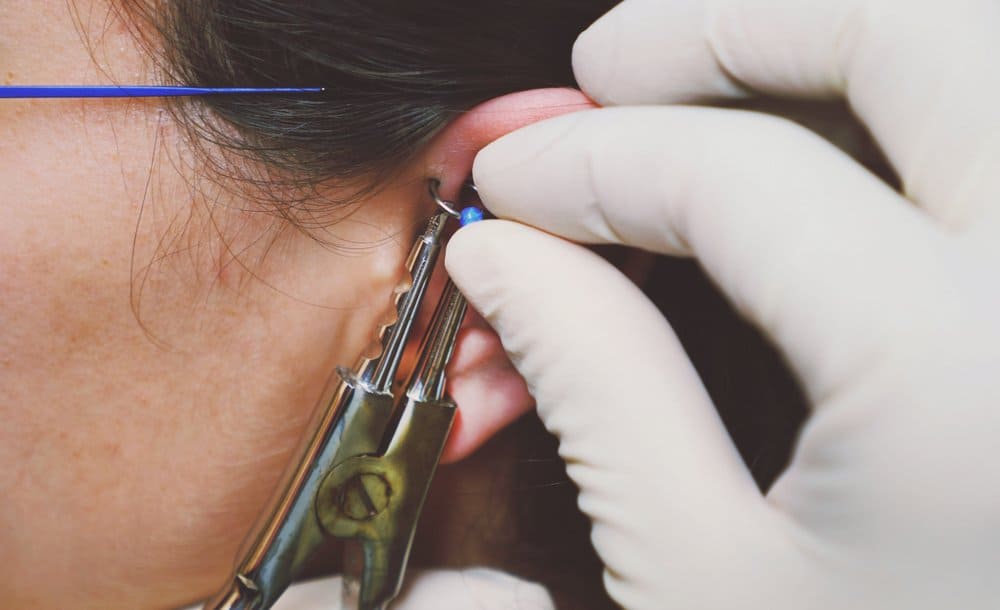 When you decide to get a piercing, your artist may recommend a numbing cream to you, but sometimes they leave you in the dark. You might be wondering how much pain to expect, what creams are best, and whether your pain tolerance is too low to get pierced without anesthetic.
When you get a piercing, it's important to be as knowledgeable as you can. You may have heard tales of little kids piercing their own ears while away at camp, but anyone who's tried a home piercing knows that things can easily go wrong.
A piercing, and any body art, is a commitment. You should be prepared to care for it both during the initial healing stage and for as long as you have it.
What to Expect
Almost every type of piercing will have some pain associated with it, but the intensity of the pain, the chances of infection varies depending on the type of piercing and where you go.
Ear Piercing
We'll start simple, with ear piercings. Piercing your ears in the lobe is one of the least painful types of piercings. The fatty lobe isn't terrible sensitive, and the softness means that it will provide minimal resistance. Ear piercings heal fairly quickly, as well, meaning they're less likely to get infected. Unusual ear piercings, like conch piercings or daith piercings, are typically more painful, but they're still low on the pain scale. Unless you are terrible anxious or you are a parent seeking to pierce your infant's ears, you shouldn't need to use numbing cream—though something mild like Aspercreme couldn't hurt.
Bellybutton Piercing
Piercing your bellybutton is slightly more painful than ear-piercing, and taking care of a bellybutton piercing can be difficult. However, belly buttons are essentially made of scar tissue, so they are less nerve dense than other areas.
Tongue Piercing
Tongue piercings are surprisingly low on the pain scale, but they can be incredible difficult to take care of. The mouth is full of bacteria that can infect a piercing, and it is easy to damage or delay healing by messing with your piercing. Numbing creams are for external use only, so you should not use any of the products on our list to prepare for a tongue piercing. You may be able to use Chloraseptic Throat Spray or ice as a numbing agent.
Eyebrow Piercing
Eyebrow piercing pain is right on the edge of being truly painful. Depending on the location of the piercing, the pain can be stronger or weaker. The further towards the center of the forehead the piercing is, the more painful it will be. If you have a low pain tolerance, you may find a numbing cream like the Ebanel 5% Lidocaine Numbing Cream helpful.
Lip Piercing
Our lips are highly sensitive, so a lip piercing has the potential to be quite painful. Placement is a highly personal choice, as is the type of piercing. If you're worried about pain, you may be able to decrease it with numbing cream on the outer site.
Dermal Piercing
A dermal piercing is any piercing that goes into the skin without coming out the other side. Dimple piercing, back piercing, collar piercing—all of these piercings are going to come with some pain. The more sensitive the area, the more likely you are to want numbing cream—and if you're particularly sensitive to pain, you might want something strong like the LMX5 Lidocaine Pain Relief Cream.
Nose Piercing
Nose piercing pain varies depending on where you choose to get the piercing. A septum piercing pierces the skin between your two nostrils. It may hurt a lot, but it should heal more quickly. Piercing your nostril will hurt less, but it will take longer to heal.
Nipple Piercing
Nipple piercing is up there as one of the most painful types of piercings. As an erogenous zone, it tends to send more intense signals to the brain. For women, nipple piercing pain can increase or decrease depending on your cycle and your sensitivity. Many people opt to use intense numbing cream to avoid the pain of this piercing. A more intense cream, like Dr. Numb or Zensa Maximum Strength, is a good choice for this type of piercing.
Genital Piercing
As can be expected, genital piercing is generally the most painful type of piercing. Genital piercings are usually placed in erogenous zones, meaning that they will be highly sensitive, and the different types of piercings in this region may vary in terms of pain. If you are sensitive to pain, you will almost definitely want a strong numbing cream. In this case, even the LMX5 Lidocaine Cream may struggle to fully dull the pain.
Of course, many people going for a more unusual piercing do so as a daring move. The pain of body piercing is seen as a rite of passage, or as a small price to pay for the adrenaline rush associated with it. Whether you decide to use a numbing cream or not, it is important to remember that your comfort is most important. Don't give in to pressures not to use a numbing cream if you feel certain that you don't want to experience the pain involved with body piercing.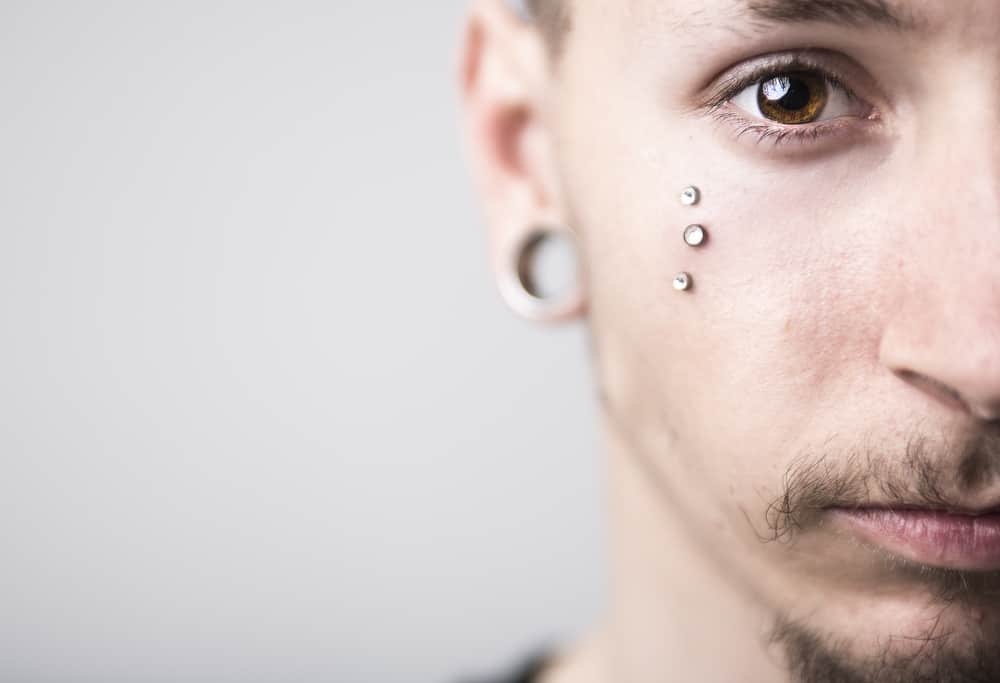 Choosing the Right Pain Relief for You
The market for pain relief can be confusing if you're not used to reading through ingredients labels and medical jargon. Looking through comments and reviews can leave you feeling less sure than ever. Glowing reviews are side by side with angry ones, but it's hard to know whether the poor reviews are due to the product not working or to the reviewer using it incorrectly. The simplest way to decide on numbing ointment is to look first at the active ingredients, identify safety concerns and reputability, and lastly decide what you're willing to pay for your ointment.

Active Ingredients
There are a wide variety of numbing and pain-killing drugs. From lidocaine to menthol to paracetamol, how strong they are and how local the effects are can vary dramatically. For localized anesthetics, lidocaine is generally the most effective at decreasing pain. It may be used by doctors, dentists, and surgeons for minor procedures. Unfortunately, like any drug, lidocaine can have unpleasant side effects if it mixes with other drugs.
Bacitracin, neomycin, and polymyxin B together offer pain relief and anti-infection support for wound care. Medications with these active ingredients act as great all-purpose pain relievers and aftercare options, but they don't provide anesthetic effects.
Menthol and other mild pain relievers don't provide anesthetic numbing, but they can help after the procedure. Menthol works by providing alternating warm and cool sensations on the skin. This is intended to distract from the pain, max out the nerves, and cause desensitization in the area.
Other ingredients, like steroids, aloe vera, botanical extracts, and vitamin E may also be included to prevent inflammation and swelling or soothe the skin.
Safety Concerns
When you're picking out a medication, especially a medication from online retailers, you may be worried about safety. Unfortunately, the FDA doesn't regulate over the counter medications as stringently as you might expect. They approve drugs and active ingredients, but not necessarily specific products. Instead, they use something called the current Good Manufacturing Practices to regulate drug production.
However, there are cases in which the FDA might specifically approve certain combinations. In our list Neosporin is approved by the FDA. Zensa Maximum Strength claims to be approved by the FDA, but, like other products in our list, it isn't specifically approved, merely FDA compliant.
Our Best Budget Piercing Numbing Cream makes no mention of FDA compliance, but the Aspercreme company and this creams active ingredient, lidocaine, are FDA compliant.
If you want to check a specific drug for safety, the FDA has a searchable database of safety information for each drug.
Other Concerns
No doubt, when choosing your cream, you may have specific concerns unrelated to the quality of the pain relief. For vegans, there are two great numbing cream options: Hush Numbing Gel and Zensa Maximum Strength Topical Anesthetic. Both of these products are guaranteed vegan-friendly and cruelty-free.
If you wish to avoid specific ingredients, Real Time Pain Relief is NSAID and acetaminophen-free, Hush Numbing Gel is epinephrine-free, Aspercreme is salicylate-free, and Zensa Maximum Strength Topical Anesthetic is steroid-free.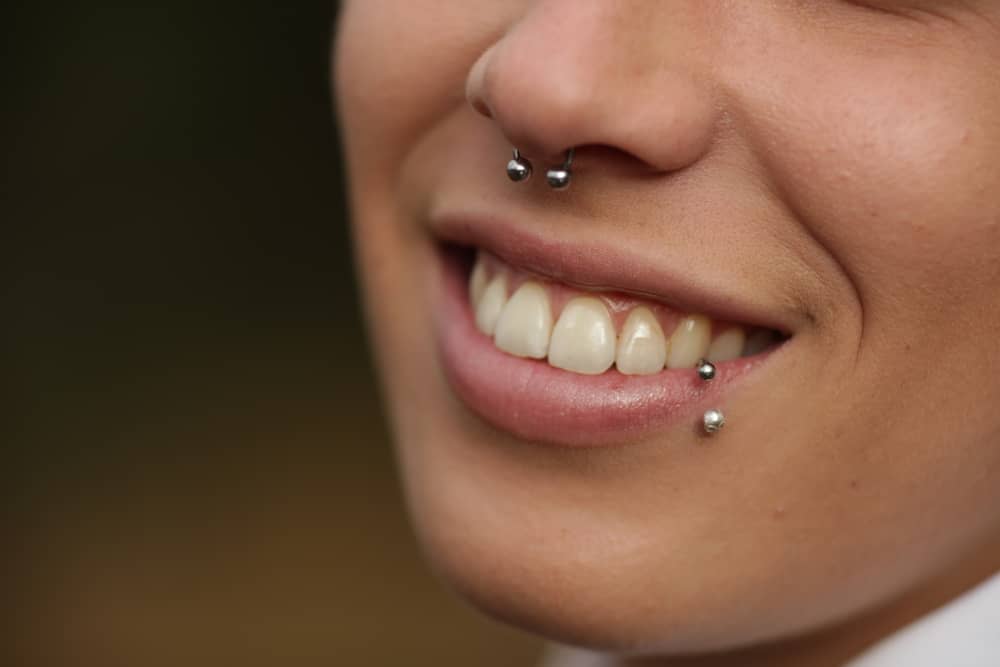 Final Thoughts
Whether you're an artist looking for a good piercing numbing cream to keep in your parlor or you're looking for a way to make your own piercing experience more pleasant, It's important to have up-to-date information about the market for anesthetics and pain relievers. There are many anesthetics on the market today, and there are great options to fit any price and purpose.