Commonly worn as a fashion item today, the nose piercing has a long history rooted in tradition. Since their origination around 4,000 years ago in the Middle East, nose rings and studs have been worn to symbolize everything from marital status to, in the case of western cultures, youth and rebellion.
Whether your nose piercing has a deeper meaning to you or if you just love the way it looks, there are a plethora of nose rings and studs available to help you further accentuate your style. The perfect choice for you will be one that works with your style while also fitting into your piercing comfortably.
To help you narrow down the choices of what to purchase, we've compiled a list of the best nose rings and studs for 2021, along with some piercing care and tips. Read on to learn all about nose piercings and figure out the best item for you.

How to Choose a Nose Ring or Stud
Before we get to our list, we first need to discuss some of the most important factors involved in choosing a piece of jewelry. To make sure your nose ring or stud is a perfect fit, you want to select a style that suits your tastes, and confirm that the material and gauge size will work well with your particular piercing.
Ring and Stud Styles
Today, you can find a whopping 19 different styles of nose rings and studs. In our list, we will be focusing on the 5 most common types that are found in jewelry stores and piercing studios.
Bone
Bone style studs have a straight post with a small ball on the end that keeps them in place. The ball cannot be removed, and is instead designed to slip in and out of your piercing as you change jewelry. This stud style stays in place very well and there is not a lot of risk for it to move around or slip out.
Pin
Similar to the bone style, the pin style is just a straight post. However, there is nothing on the end of the post to hold it in place. Instead, pins are designed to stay in put due to their snug size; you will want to make sure the gauge size you purchase is correct so that you don't lose your jewelry.
L-Post
One of the most popular nose stud styles, the L-post is characterized by a 90-degree bend in the post, forming an L shape. When it is inserted, the jewelry will lay flush against your nostril and the L-shaped post will hold it firmly in place.
Screw/Twist
A screw style stud, also known as a twist style, has a post with a U-shaped curve in the end of it. To insert it, you twist it into the piercing. Once you practice removing it, this style is easy to change out, but the jewelry may twist around more in the piercing than other styles because of the curved end.
Hoop
A nose hoop is a type of ring that comes in many different colors and styles. Generally, the hoop is inserted through the piercing where it meets the other side of the hoop and clasps together. Some hoops, like the ones designed for sternum piercings, may not create a full circle, but they are interested through the piercing in the same way. It is the most noticeable type of nose jewelry.
Prong vs Bezel Setting
The setting refers to the material holding a stone or jewel in place on the stud post. You will likely not have to consider this for a hoop style nose ring, because most hoops are circular and uniform; they will not have a jewel on the end of them.
A prong setting has small pieces of metal that stick out from the post and hold the jewel in place. A bezel setting is smooth all the way around the jewel, forming a border around it.
Material
The material your nose ring or stud is made of is one of the most important things to consider. You want to pick something that is both high quality and safe to put in your piercing hole in order to avoid experiencing infections or an allergic reaction.
Titanium
A common metal for use in all body piercings, titanium is probably one of the best choices of material for your nose jewelry. It is nickel free and biocompatible, so your body won't reject the metal. It is also resistant to bodily fluids, making it a good option for first-time piercings; the body will heal around the titanium without damaging or eroding it.
Niobium
Niobium is heavier and more expensive than titanium, but it is a very premium metal. It is also a great option for a starter jewelry piece. Make sure that whatever you buy is at least 99.99 percent niobium for optimal quality.
Surgical Stainless Steel
A cheaper alternative to niobium and titanium, surgical stainless steel is safe to wear in already healed piercings. Some types may have nickel in them, so if you're sensitive to nickel you should try and stay away from lower grades of this steel.
Gold
Gold is more expensive than titanium and niobium, but it is a good choice if you can afford it. It is a soft metal, and therefore does have alloys which can cause a reaction in some people. To avoid this, only wear gold after your piercing has healed and don't go lower than 14K.
Glass
Glass can be safe for use in a piercing if you are sure to get a sturdy, high-quality kind. Any glass you buy needs to be lead-free; safe options include soda-lime, borosilicate, or fused quartz.
Glass needs to be used in older piercings because it tends to run large; a piercer would have trouble fitting it into a brand-new piercing. Also keep in mind that the thinner the glass is, the more fragile it will be. Try to avoid very thin glass jewelry in your ear to avoid the risk of breakage and injury.
Type of Piercing
Nose piercings can be placed all over the nostrils and up towards the bridge of the nose. In our list, we will be focusing on jewelry that can be placed in the nostril and the septum.
Nostril
This is the piercing that most people think of as a "nose piercing." It is placed directly in the middle of the nostril, with some variation based on your individual nose structure. It can be placed on either side of the nose and is one of the easiest nose piercings to get.
Septum
More difficult to pierce, the septum placement requires the piercer to go through the cartilage in between the nostrils. This type of piercing takes more time and needs more expertise to pull off; your piercer needs to have a good understanding of working with cartilage and the exact structure of yours before performing the piercing.
The septum is most easily decorated with hoops and rings, but you can also place smaller barbells into this piercing.
High Nostril
The high nostril is a unique take on a regular nostril piercing. It is placed higher up on the nose, closer to where the bridge starts. It can be hard to wear hoops with this type of piercing and is a little more difficult to pierce.
Gauge Size
The term "gauge" refers to the thickness of the post on your jewelry. It is measured in millimeters, and the lower the number is, the larger the gauge size. A piercer will likely start you off with an 18 gauge (1.02mm), and then when that is healed, most people switch to a 20 gauge (.81mm) because it is thinner and will leave a smaller hole. It is not usually recommended that you use a gauge smaller than 20 in your nose piercing.
Now that we've discussed the different piercing styles and types jewelry available, let's head straight into our list!
Top 10 Best Nose Rings and Studs 2023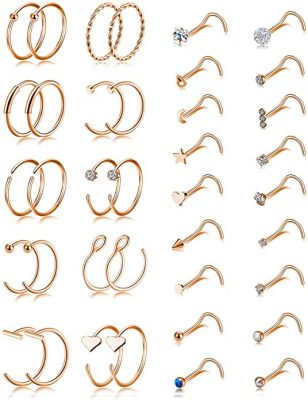 Why we like it:
Fitting most nose piercings and coming in a variety of styles and finishes, the Tornito set is a great nose jewelry starter kit.
Editor's Rating:
At a Glance:
Style: Hoop, Bone
Material: Stainless Steel
Piercing Type: Nostril, Septum, High Nostril
Gauge Size: 20
The Tornito set contains 38 pieces of nose jewelry, with half being hoop style, and the other half being bone style. If you don't like bone style, they also offer the screw and L-shaped post to be combined with the hoops. Many of the hoops and studs have a small decorative end with a jewel or metal shape. This set is perfect for someone who just got a piercing or someone looking to expand their jewelry collection with a variety of different looks.
If you are looking for a gift for someone with a nose piercing, this is a good option. It comes packaged in a high-quality gift box with each style of jewelry separated inside. This gift box is also a great place to store the pieces so that you don't lose them.
While Tornito does offer their sets in both rose gold and silver finishes, they are not as true to color as advertised. Instead of a bright finish, the real product is slightly duller. If you are looking for a brighter colored finish on your jewelry, look at the D. Bella jewelry instead.
Pros
Gift box packaging

Multiple styles and finishes

Variety of decorative shapes
---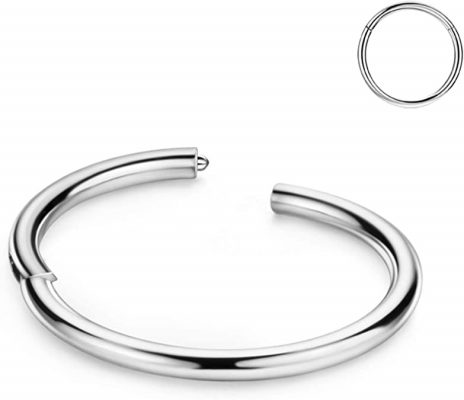 Why we like it:
FANSING nose hoops are made from tarnish-resistant stainless steel and come in multiple sizes and diameters, so you're sure to find one that fits you perfectly.
Editor's Rating:
At a Glance:
Style: Hoop
Material: Surgical Stainless Steel
Piercing Type: Septum, Nostril
Gauge Size: 10
Great for septum piercings and regular nostril piercings, the FANSING nose hoops come in several different colors and multiple gauge sizes and ring diameters. It makes a great choice if you are looking to get a ring with a tighter fit, since they do sell smaller hoops sizes than many of their competitors.
The hoop itself is easy to open and close. It has a clasp that holds steady for long-term wear. This makes it good for anyone new to nose rings or if you are looking for a hoop that will stay put for a long period of time.
The FANSING nose hoop may not be the best for someone who has sensitive skin or is sensitive to metals. Even though the hoop claims to be surgical stainless steel, there have been several complaints about the metal possibly being mixed with nickel or aluminum and causing a reaction in those who are highly sensitive. For a more hypoallergenic jewelry, check out the Monily Nose Studs.
Pros
Easy open and close mechanism

Multiple gauge sizes

Comfortable, tight fit
Cons
Not good for sensitive skin
---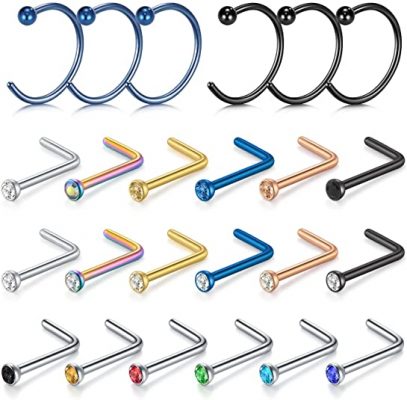 Why we like it:
Like the
Tornito
accessories, D. Bella nose jewelry comes in a set mixed with hoops and studs. The pieces are colored and offer quality at an affordable price.
Editor's Rating:
At a Glance:
Style: Hoop, L-shaped
Material: Surgical Stainless Steel
Piercing Type: Septum, Nostril, High Nostril
Gauge Size: 18
If you're looking for a set of jewelry that will always match your outfit, D. Bella jewelry is the way to go. The set comes in variety of colors from silver to rainbow. It also comes with a bonus set of clear studs that can act as a retainer when you want your piercing to be less noticeable.
You can buy the D. Bella jewelry set without worrying about wasting your money due to their 90-day money back guarantee. That gives you three months to try out the jewelry and determine if you like it or not. If it turns out it doesn't work for you, you can contact customer service to initiate a return.
The posts on the studs in this set may be too short for some. This can make them hard to insert and remove. They might also move around too much in the piercing hole, putting you at risk for losing it, especially if you are active. Zolure jewelry is a better choice if you want your studs to stay firmly in place.
Pros
90-day money back guarantee

Bonus clear studs

Value pack with color variety
Cons
Posts on the studs may be too short
---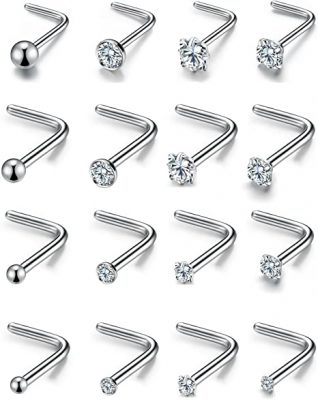 Why we like it:
Monily's Nose Studs feature different size cubic zirconia jewels and a sturdy L-shaped post to hold your stud in place.
Editor's Rating:
At a Glance:
Style: L-Shaped Stud
Material: Stainless Steel
Piercing Type: Nostril
Gauge Size: 20
These studs are a great choice for anyone who loves simple beauty. The bright cubic zirconia jewels are a classic style that fits virtually every user, male or female. Each nose stud set comes with four sizes of decorative jewels that range from small and understated to large and attention-grabbing.
The L-shaped post is a good option for anyone who wants their jewelry to be firmly held in place. It is easy to slide into your piercing and stays put without being too tight or uncomfortable.
Depending on the exact placing of your nostril piercing and your nose structure, the post length might be a little too long. This can result in the L-shaped bend being just inside your nose with the straight part holding the jewel sticking out too far. You can remedy this by manually creating more of a bend, or you can look into jewelry with a completely straight post, such as Thunaraz nose studs.
Pros
Sturdy L-shape post

Bright cubic zirconia jewels

Different jewel sizes
---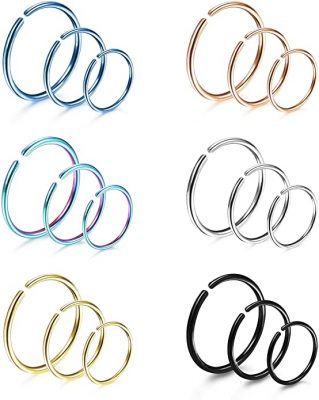 Why we like it:
Perfect for septum piercings, the LOYALLOOK Cartilage Hoop features high quality coloring and several different ring diameters.
Editor's Rating:
At a Glance:
Style: Hoop
Material: Stainless Steel
Piercing Type: Septum
Gauge Size: 20
Each set of the LOYALLOOK Cartilage Hoops includes rings in four different diameters. This makes it a great choice for someone who wants the option of wearing both large and small hoops depending on the day. It is also good for someone with a new septum piercing who isn't yet sure which diameter size fits them best.
The coloring on these hoops is high quality. It has a smooth finish and the colors don't fade or peel off, so it makes a great choice for someone who wants to make a statement with their jewelry. You can also check out Fibo Steel Hoops if multicolored rings are your thing.
These hoops are closed by pushing each open end together once it is inserted through your piercing. This can be difficult for some, and can result in the ring being bent out of shape if you apply pressure to the wrong parts. Check out FANSING for a nose hoop that is easier to close.
Pros
High quality coloring

Perfect size for septum piercings

Set includes different diameters
---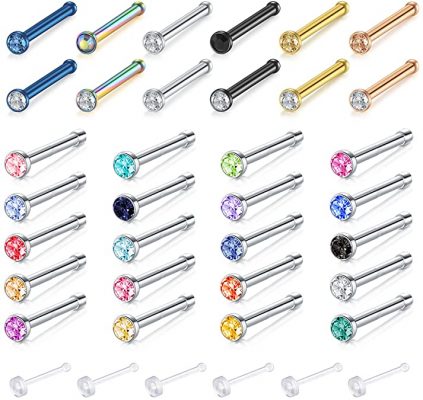 Why we like it:
The colored stones in Zolure's bone studs are long-lasting and add great flair for users of any gender or age.
Editor's Rating:
At a Glance:
Style: Bone Style Stud
Material: Surgical Stainless Steel
Piercing Type: Nostril, High Nostril
Gauge Size: 18, 20
This bone style stud is a great fit for any nostril or high nostril piercing. It is not too thick or too hard to insert and comes in both 18 and 20 gauge sizes for convenience. The stud itself is easy to clean due to the stainless steel and bezel-style setting on the stone.
The multicolored jewels are made out of Czech rhinestones. Each color is bright and long-lasting; the stones will not lose their color over time. This makes it a good option for anyone who wants to add colored flair to their style. For more colored jewels, look into Kridzisw nose studs.
Because this is a bone style stud, it does have a ball on the end of it that holds it in place once in the nose. This ball can be uncomfortable to some, especially those with a higher nostril piercing. We recommend getting the smaller gauge size if you want this jewelry and are looking to avoid any potential discomfort.
Pros
Long-lasting jewel color

Easy to clean

Great fit
Cons
End ball may be uncomfortable
---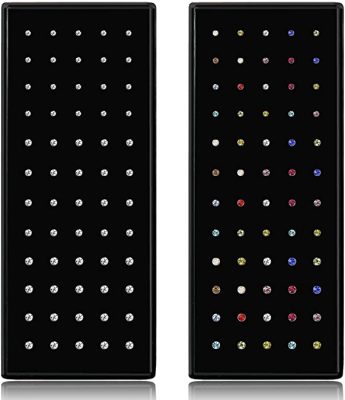 Why we like it:
This small pin size jewelry from Thunaraz is quickly inserted and comes in a huge set of 60 varied pieces, making it a must-have for those who love studs.
Editor's Rating:
At a Glance:
Style: Pin Style Stud
Material: Stainless Steel
Piercing Type: Nostril, High Nostril
Gauge Size: 22
This 60-piece set provides a huge amount of jewelry to anyone looking for studs. It is a great option if studs are your go-to piece to wear, or if you lose a lot of your jewelry. You will always have back-ups available with this kit.
The pin style is rather thin, coming in at a size 22 gauge. This is good especially for older piercings that have healed up quite a bit. The jewelry also has a 6-month warranty on it. Should anything happen to the post or stone, you can contact customer service for a replacement.
Due to the thinner size of this stud and the fact it is a pin style, the Thunaraz jewelry can fall out while you are sleeping. This can lead to lost jewelry, or in some cases, your piercing starting to close up while the hole is empty. If you are looking for something more secure, Brianna Williams nose jewelry might be a better choice.
Pros
6-month warranty

Thin pin style

60-piece set
Cons
Can fall out while sleeping
---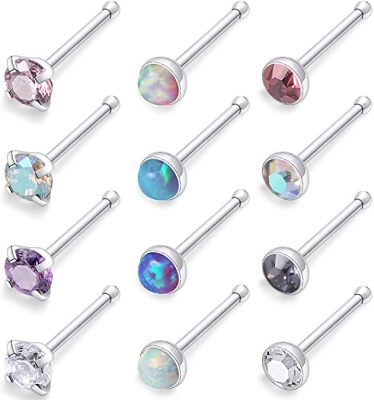 Why we like it:
With an assortment of stone types and colors in both prong and bezel settings, the Kridzisw Nose Studs are a great choice for anyone who looking for a unique stud set.
Editor's Rating:
At a Glance:
Style: Bone Style Stud
Material: Surgical Stainless Steel
Piercing Type: Nostril, High Nostril
Gauge Size: 20
Made with opal, crystal, and cubic zirconia, these nose studs are a unique addition to any jewelry collection. They come in a mix of prong and bezel settings, each one perfectly crafted to display the jewel. The most popular Kridzisw studs come in a bone style, but you also purchase them in a screw or L-shaped style.
There is a bonus storage pouch included with your purchase of these nose studs. This product is a great option for you if you want diversified style with a secure place to store your jewelry.
Even though the Kridzisw studs are a size 20 gauge, they do run a little smaller than that. They are not true to size and can be too small for those who are looking for a more attention-grabbing piece. For a larger set of nose jewelry, check out Zolure Bone Studs.
Pros
Prong and bezel settings

Three different stone types

Bonus storage pouch
---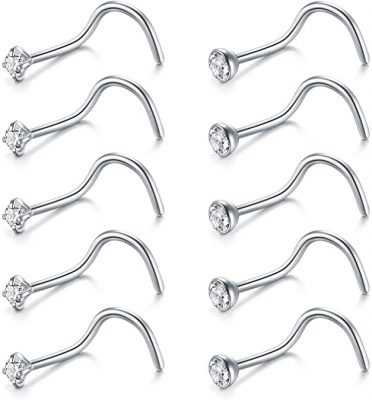 Why we like it:
These screw style studs are true to color and secure enough to sleep in for anyone who wants a low-maintenance stud.
Editor's Rating:
At a Glance:
Style: Screw Style Stud
Material: Surgical Stainless Steel
Piercing Type: Nostril
Gauge Size: 20
This screw style nose stud is easy to put in and super secure. The U-shaped curve makes it a good choice for anyone who is super active and wants their piercing to stay put. You can even sleep with this nose ring without fear of it falling out and disappearing sometime during the night.
Brianna Williams jewelry is very true to color and comes in silver, gold, and rose gold varieties. Each one is highly polished and tarnish resistant. This product makes a good choice for someone who prefers a simple colored, low-maintenance jewelry piece.
The curve on the end of this stud can be too large for some people. This makes it uncomfortable to wear for long periods of time because the screw will be irritating the inside of your nose. If you still want a screw style stud, try looking at the Tornito nose jewelry sets for a smaller one.
Pros
Secure screw style stud

True to color

Great for sleeping in
---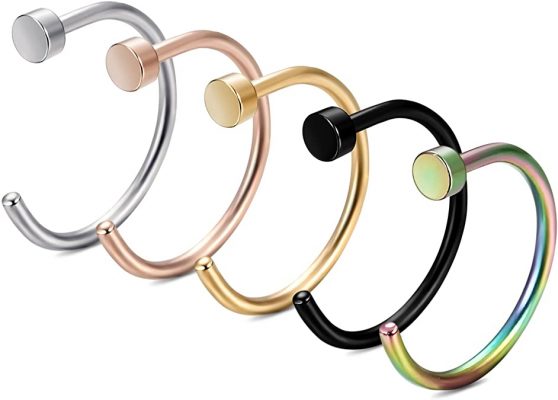 Why we like it:
The Fibo Steel Nose Hoops are safely anodized for color and come in a variety of smooth and patterned hoops that are sure to fit your style.
Editor's Rating:
At a Glance:
Style: Hoop
Material: Stainless Steel
Piercing Type: Septum, Nostril
Gauge Size: 20
Anodizing is the process of using electrolytic passivation to dye metal different colors. It can be performed on anything from titanium to stainless steel. Anodizing is generally regarded as a safer way to color jewelry because it doesn't require a paint or layer on top of the base metal to give vibrant color.
Fibo provides a selection of smooth hoops with decorative ends, and hoops that have a woven looking texture. They also offer faux hoops, a type of nose ring that looks like a hoop but does not form a complete circle.
The opening on some of these hoops is too large, making them hard to close once inside the nose. They can also break easily if they are constantly being adjusted and exchanged. FANSING nose hoops might be a better choice for you if you want something sturdy that is also easy to close.
Pros
Decorative hoops

Bonus faux hoop

Anodized for color
Cons
Break easily

Opening is too large
---
Your Full Guide to Nostril Piercings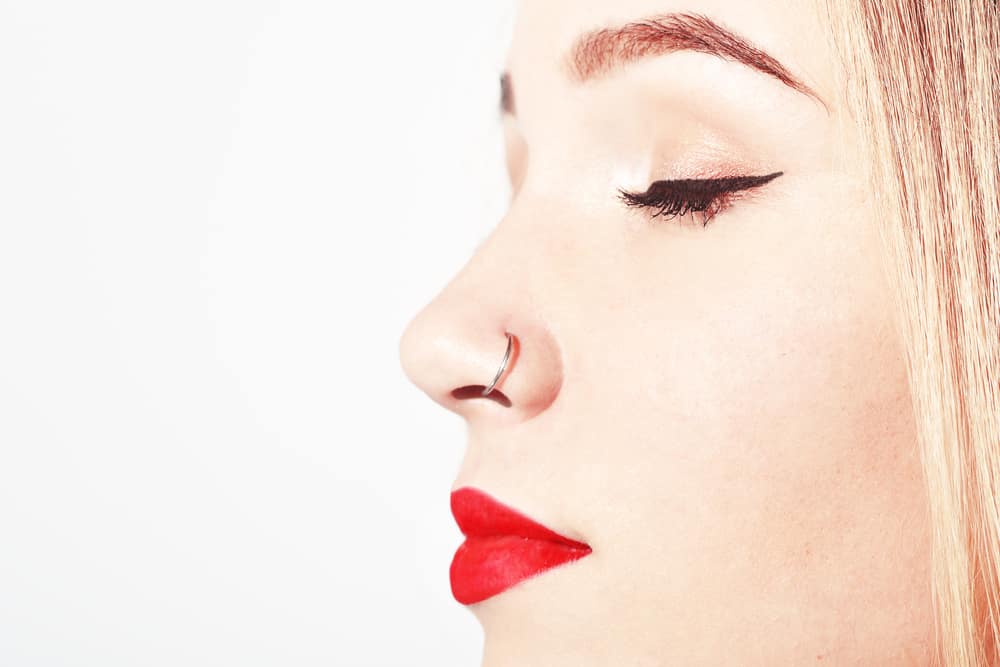 Even though they are one of the simpler piercings to take care of, it can still be overwhelming to remember everything that factors into the care or your nose piercing and jewelry. In our full guide to nostril piercings we will talk about first-time piercing issues and things to keep in mind when looking for jewelry.
What Jewelry Is Best for a Nose Piercing?
For starter piercings, a straight post is almost always recommended. This allows the hole to form in a healthy, uniform fashion. Your first nose stud will also be bigger than the final hole is intended to be. This is to make sure that the already swollen tissues don't become even more irritated or inflamed by a too-small piece of jewelry.
If you have already had your piercing for a while, any type of jewelry you prefer can be used as long as it fits your lifestyle. Check out our list above for a look at the options available.
Jewelry Materials to Avoid
There are some materials out there that you should never use in your nose piercing because they are poor quality and have been known to cause reactions. Always be sure to check the material your jewelry is made out of before using it.
Sterling Silver: Sterling silver contains other metals that may hinder the process of healing in new piercings and tarnishes when it comes into contact with bodily fluids. This tarnish can also permanently stain your skin.
Plastic: Plastic degrades, is too soft, and is not easy to clean. It makes it a bad choice to put in a sensitive area such as your nose piercing.
Plated Jewelry: If your new set of nose jewelry claims to be plated, you probably don't want to wear it. Plated jewelry is just a fancy term for a mystery metal that has been covered with a thin plate of stainless steel. Since you don't know what the metal is, you risk allergic reactions, irritation, and skin staining when using it.
Do Nose Piercings Hurt?
Whether or not a piercing hurts all depends on your pain tolerance. It will likely hurt more than an ear piercing, with added pain for a septum piercing, but will hurt less than a cartilage piercing. Piercings generally feel like a quick sharp pain followed by a dull ache for a few days.
Tips to Ease Pain
The best thing you can do to ease any piercing pain is to try not to stress out. Anxiety causes your muscles to tense which can make the piercing hurt more. Look into calming techniques such as deep breathing and avoiding caffeine before getting your piercing.
Make sure to go to a reputable piercer with experience and take proper care of your piercing afterward to avoid any extra pain or stress.
How Is a Nose Pierced?
The process for receiving a nose piercing is actually fairly simple. First, the piercer will sanitize the site and mark a dot where you want the piercing placed. Then, your nose will be clamped in place to hold it steady and the piercer will take a hollow needle and push it through your nose (this is the part that hurts).
After your nose is pierced, your jewelry will be inserted into the hole and left there until the area is entirely healed.
How Long Will a Piercing Take to Heal?
How long a nose piercing takes to heal depends on the placement of it. Some areas of the nose heal faster than other areas.
Typically, nostril piercings will take anywhere between 3 and 6 months to completely heal. Septum piercings heal faster at a speed of 6 to 8 weeks. This time varies greatly due to each individual's body and the care you take of your piercing after receiving it.

When Can I Change My Jewelry?
It may seem like a long time, but you should really only change your jewelry once your piercing is completely healed around your starter jewelry. This is especially important if you are prone to infection.
If necessary, you can take out your jewelry for a short period of time after 6-8 weeks for things such as x-rays, but you should take care not to leave your piercing open for a long time before it is fully healed. Nose piercings can begin to close up in a matter of hours. Try using a clear retainer if you can't have metal jewelry in, but need something to keep the hole open.
Piercing Care Advice
Once you get your piercing, or even if your piercing is fully healed, it is important to take good care of it. Treating it carefully will reduce risk of infections and pain in the future.
For new piercings, clean the piercing site twice a day, every day with a saline solution. Try not to clean any more or any less than this, as over-cleaning can lead to irritation and a slower healing time, and under-cleaning can cause infection.
Additionally, you always want to wash your hands before you touch your piercing to adjust or change it. This goes for both new and old piercings. Proper hygiene is the best way to keep your piercing clean and infection free.
How to Hide a Nose Piercing
Maybe your job doesn't allow them, or you are attending an interview and wish to ditch the nose piercing for the day. Whatever the reason, there are a few ways to make your nose piercing inconspicuous.
If your piercing is fully healed, cover it with makeup. Wear a piece of jewelry that is small and flat from the outside (such as the Thunaraz Studs) and apply a skin-toned concealer or foundation over it. You could also apply a strategically cut band-aid.
Use a retainer as a placeholder for metal jewelry. They are often clear or skin toned, so your piercing will be virtually unnoticeable.
If you have a septum piercing, buy a nose ring that can safely be flipped up. It will be hidden in your nose until you choose to flip it back down.
How to Clean Your Jewelry
Cleaning your nose jewelry is an important step in keeping your piercing healthy. Even if your piercing is completely healed, you should regularly clean your jewelry to avoid introducing any bacteria to the body. There are several ways to do this, some of which we have listed below.
Boiling Water: You can boil any jewelry for up to 5 minutes to sterilize it. Just make sure there are no acrylic pieces or real jewels in it first.
Soak in Mouthwash: This method works for tongue jewelry as well as nose accessories. Simply soak your jewelry in a non-alcohol-based mouthwash for a few minutes and pat dry. Again, don't do this if there are real jewels anywhere on the piece.
Get it professionally cleaned: For items that have real jewels or stones in them, like the Kridzisw Nose Studs, or are made with solid gold, you have the option of taking them to a professional jeweler for cleaning. There, they will gently steam clean your jewelry back to its former shining glory.
Things to Avoid When Getting a Nose Ring
When considering a piercing, there are certain things you want to avoid doing to ensure your piercing heals easily and infection free.
Getting Pierced With a Gun
We've all seen those mall kiosks promising a cheap, quick nose piercing. Almost all of these stalls use a "gun," a handheld instrument that drives a sharp point through the ear or nose.
Piercing guns are not the best for ear piercings, and they are certainly not built for nose piercings. They are less accurate, will hurt more due to the type of needle used, and cannot be properly cleaned between uses, putting you at high risk of infections and healing complications.
Removing a New Nose Ring at Bedtime
As we discussed above, you really don't want to take your jewelry out for an extended period of time before it heals. Doing so will likely lead to you losing the piercing as the hole begins to heal closed before you replace your jewelry.
Applying Cosmetics
Until your piercing is healed, you don't want to apply any type of makeup, sunscreen, lotions, or antiseptics over it. These can irritate the piercing and lead to infection.
Submerging Your Piercing
Summer may not be the best time to get a new nose piercing after all. A new piercing shouldn't be submerged in pools, lakes, rivers, or hot tubs until it is fully healed. These waters potentially harbor bacteria that can get into the unhealed area around your piercing.
You can, however, get your piercing wet when washing your face or showering. This type of water should not have any bacteria in it that will irritate your piercing.
Pro Tips for Nose Piercings
These tips will help you on your piercing journey when getting a new piercing or caring for old ones.
Start Small: Your first piece of jewelry will be in your piercing for up to 8 months. Choose something small and unobtrusive that will help you get used to the look and feel of a nose piercing. A great option for a small starter stud can be found in the Tornito jewelry set.
Invest in a Piercing Retainer: A piercing retainer is a small, plain piece of jewelry that you can use to fill your hole and keep it open when you don't want to wear larger metal jewelry. It is incredibly helpful if you need to have x-rays, or have a job that doesn't allow facial piercings.
Finding the Perfect Nose Ring or Stud
With so many things to consider, it's no wonder that the process of finding the perfect nose ring or stud can be overwhelming. However, if you keep in mind the style of jewelry you like the best and our tips of caring for your nose piercing and accessories, your decision should be easy to make. We hope this list has helped you in your search for the best nose ring or stud out there!