Editor's Note: If you're looking for an alluring and unique way to have fun, attending a masquerade is the best way to do it! Masquerades offer the chance to create intricate costumes and, traditionally, keep your face covered with an ornate mask. The whole thing lends to an evening of intrigue, and I've always thought of masquerade outfits as fantastic Halloween costumes. I find that a masquerade is the best time to let loose and really try new patterns, combinations, and styles that you usually wouldn't. Who knows – you might find your new favorite style while getting ready for a masquerade!
In need of inspiration for an upcoming masquerade event? At a loss about the theme, outfit, and don't know what to do for an appropriate masquerade look? Sit back, relax, and read on. This guide covers a lot of ground when it comes to creating a masquerade outfit from scratch. We've found 50 different masquerade outfit ideas you can explore, be inspired by, or directly copy.
Different Types of Masquerade Events
Not all masquerade events are royal balls where blushing maidens are introduced to society. There are many different types of events and various types of masquerade masks that go with them. Here are a few to let you get acquainted with the different ways and occasions where a masquerade mask wouldn't be out of place.
Masquerade Balls
These are traditional events held in luxurious accommodations. These balls are formal, have a dress code, usually evening gowns, and mask types are also subtle – no big feathery masks. You can sport jeweled, lace, metallic, or sequin masks to these events.
Masquerade Carnivals
These are annual events that take place at specific locations across the globe. Popular ones are The Carnival of Venice, Rio de Janeiro Carnival, etc. They usually have their own customs and traditions to follow. Custom masks, like the Venetian mask, are also designed for these events. These are city-wide parades with a large attendance. Historical and elaborate outfits are preferred, and the costumes and masks worn are specific, detailed, and follow proper themes.
Prom Night Masquerade
Prom night masquerades allow students to dress up in prom outfits (here's some prom dress inspiration) and matching masks in a variety of colors and textures. Unless a theme is specified—like "Comic Book" or "Fairytales"—one is free to dress up in their prom best. As you progress further up the educational ladder, you'll find that colleges, greek clubs, and the like also dabble in a bit of masquerade fun from time to time.
Seasonal Festivals
These festivals are usually held at the end of the harvest season, mark the summer or winter solstice, or celebrate the coming of spring. They're typically centered around a season and are festive events for small gatherings. In rare cases, an entire town might celebrate a harvest festival together and have a masquerade theme. They usually do not have any elaborate themes. A single color, or harvest colors, and other easily executable themes are generally in place.
Other Masquerade Events
Masquerade events can pop up in corporate settings where the theme would usually be formal or cocktail evening dresses. Local clubs and pubs might also host masquerade nights with set themes. Comic Cons do not necessarily have a theme besides cosplaying as a comic book or other fictional characters.
50 Best Masquerade Outfit Ideas
Here are our top 50 dazzling ideas for your next masquerade.
1. Classic Black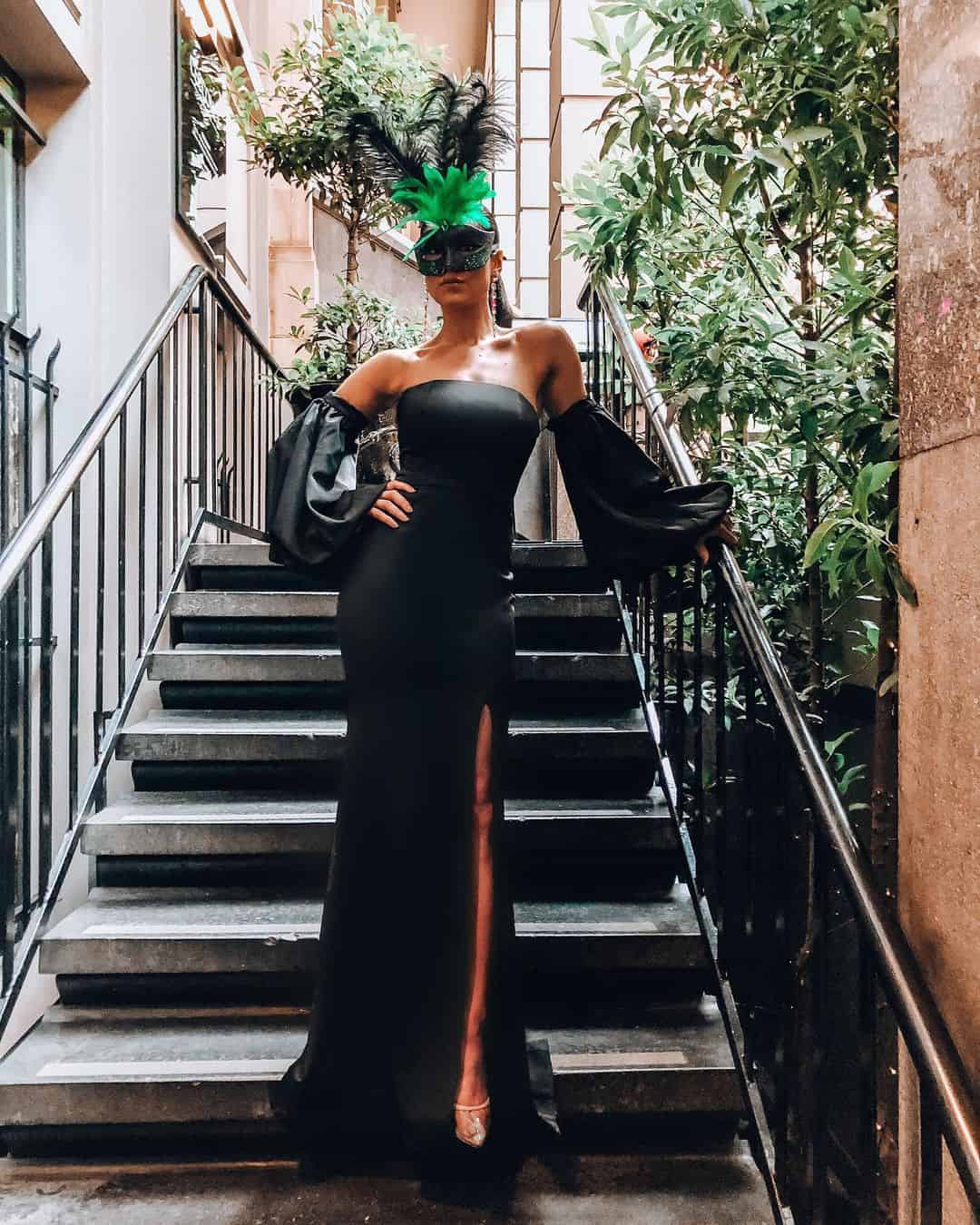 Image Source
Sleek black column gown accentuating your figure, check. Long side slit adding oomph to the look, check. A beautifully crafted mask that draws attention to itself with feathers in matching and complementary colors, check. Lo, and behold! You're ready to sashay down the aisle and be the quintessential masquerade ball belle for the night.
If you have a black gown or a black maxi dress, you can use it to create this look along with one of these fancy masks available online.
2. Fairy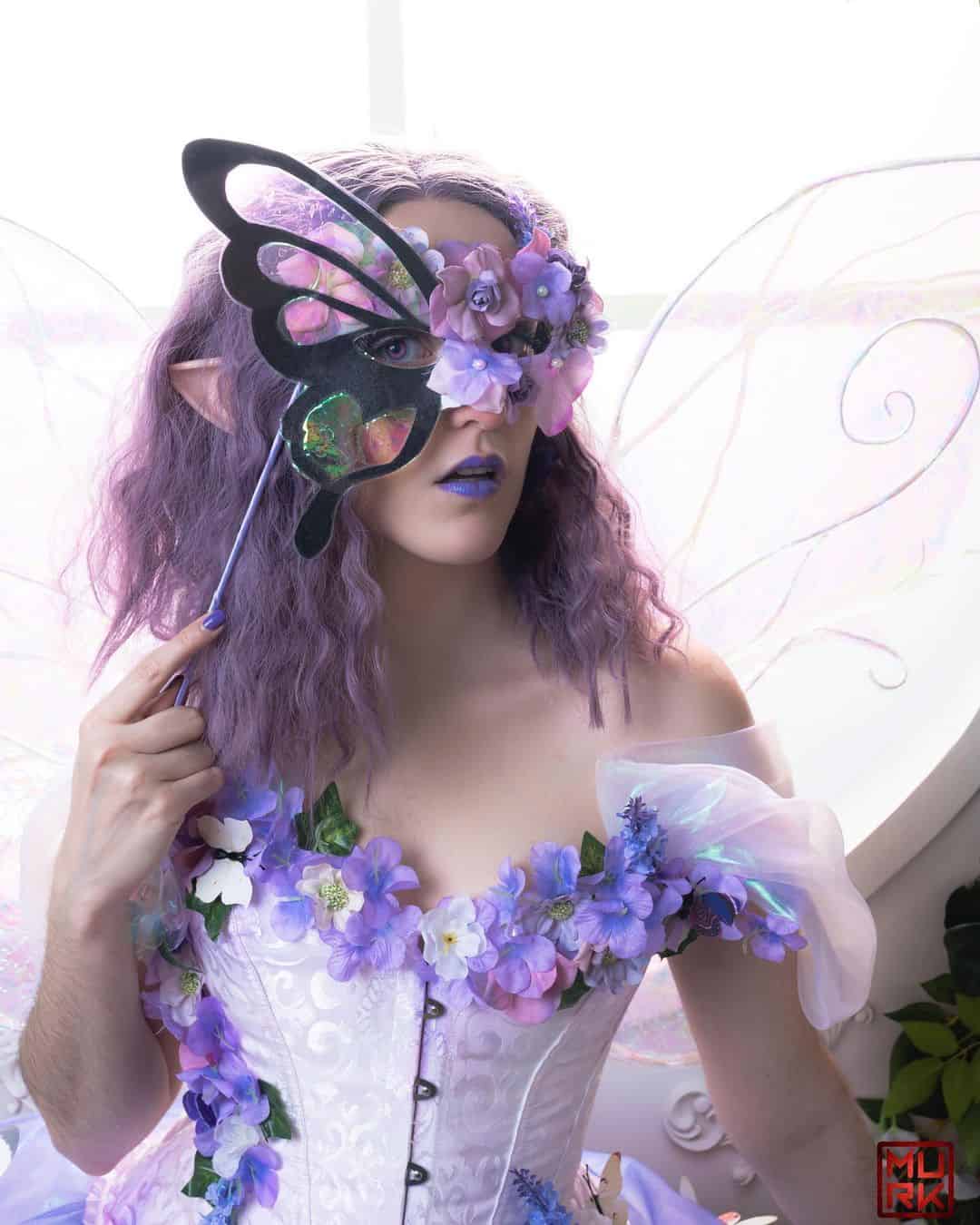 Image Source
Fancy face masks and fantastical creatures go together like a hand in a glove. No surprise then that a mythical, winged creature straight out of a fairytale should be our inspiration for the next masquerade outfit idea.
You can recreate this look with a knee-length dress that has a corset-like top with lots of lace and sequins. Opt for fancy ballet shoes to match the outfit. You can grab some wings to go in a butterfly route or skip them if you don't already have a pair.
Here's a collection of beautiful butterfly masks to get you started.
3. Wood Nymph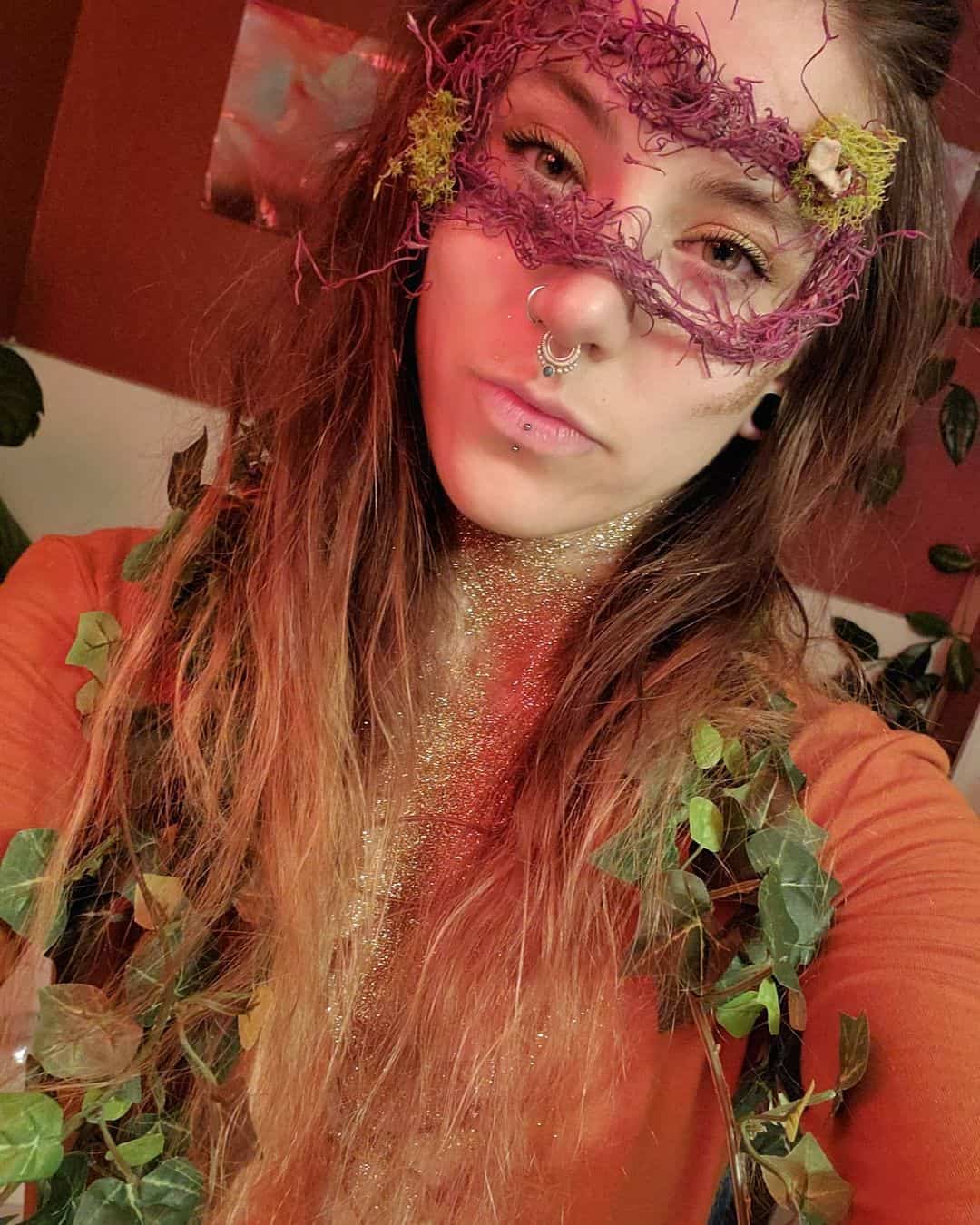 Image Source
You can source this outfit directly from your closet and make the mask out of twine, leaves, and some flowers. Pick up a rustic-looking dress in a shade of brown and dress it up with lacy leather accessories. Make the mask out of interlocking twine threads. Add a few leaves and dry flowers to the mask. Grab a few fake leaf hangings like these, drape them around your costume, and you're ready to grace the ball as a wood nymph.
If you're not in the mood to make the mask from scratch, here's one that fits the rustic dryad masquerade mask theme perfectly.
4. Sparkly and Sheer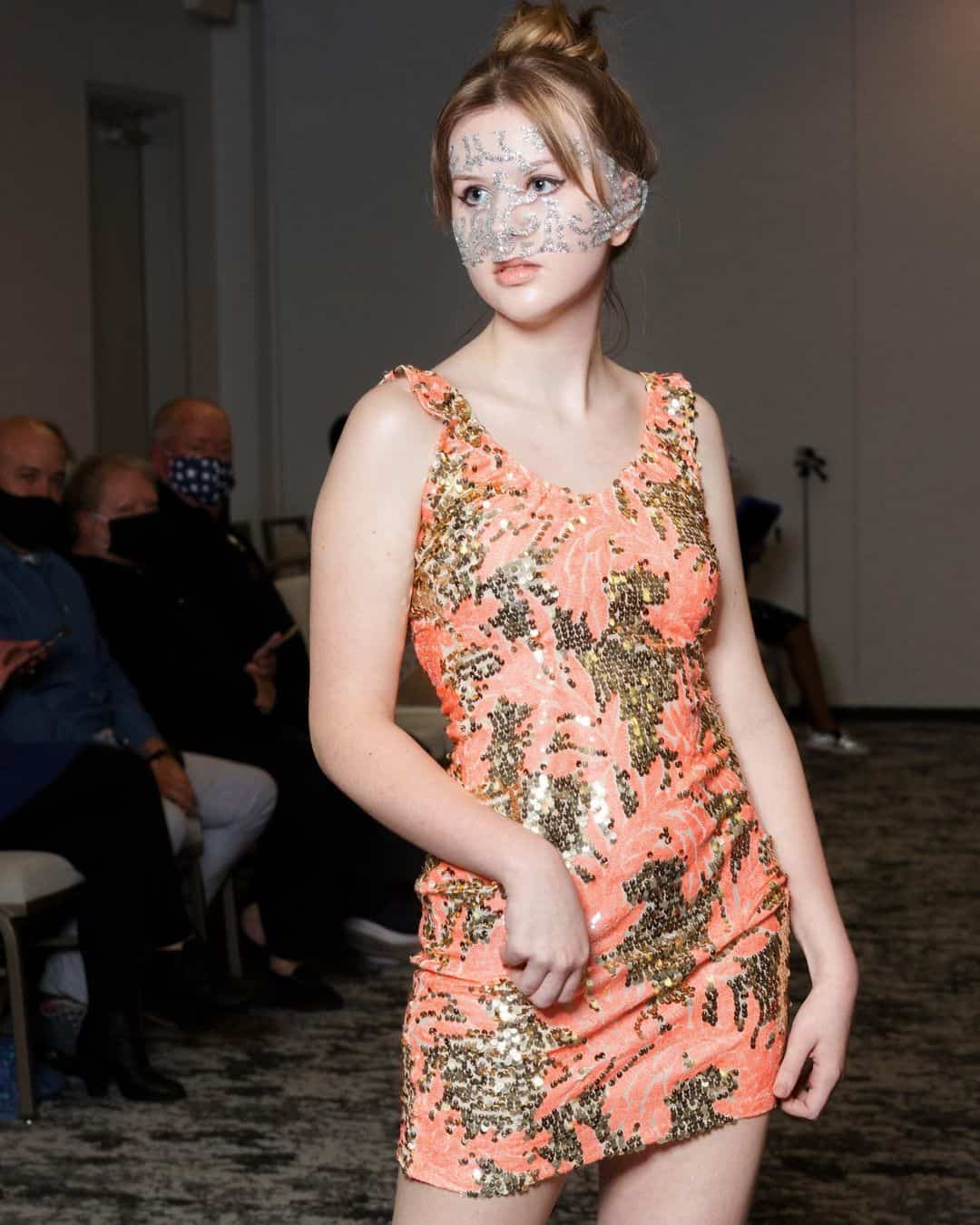 Image Source
This lovely outfit has two main elements—a bodycon dress with sequins and a sheer mask that complements the dress. You can add statement high heels in the same color as the dress to dial up the glamour. This is also a very economical outfit to recreate. There's no shortage of bodycon dresses available online. You can have a look at this backless option, choose a color that flatters you, find a sheer mask, and you're almost ready.
5. Kawaii or Anime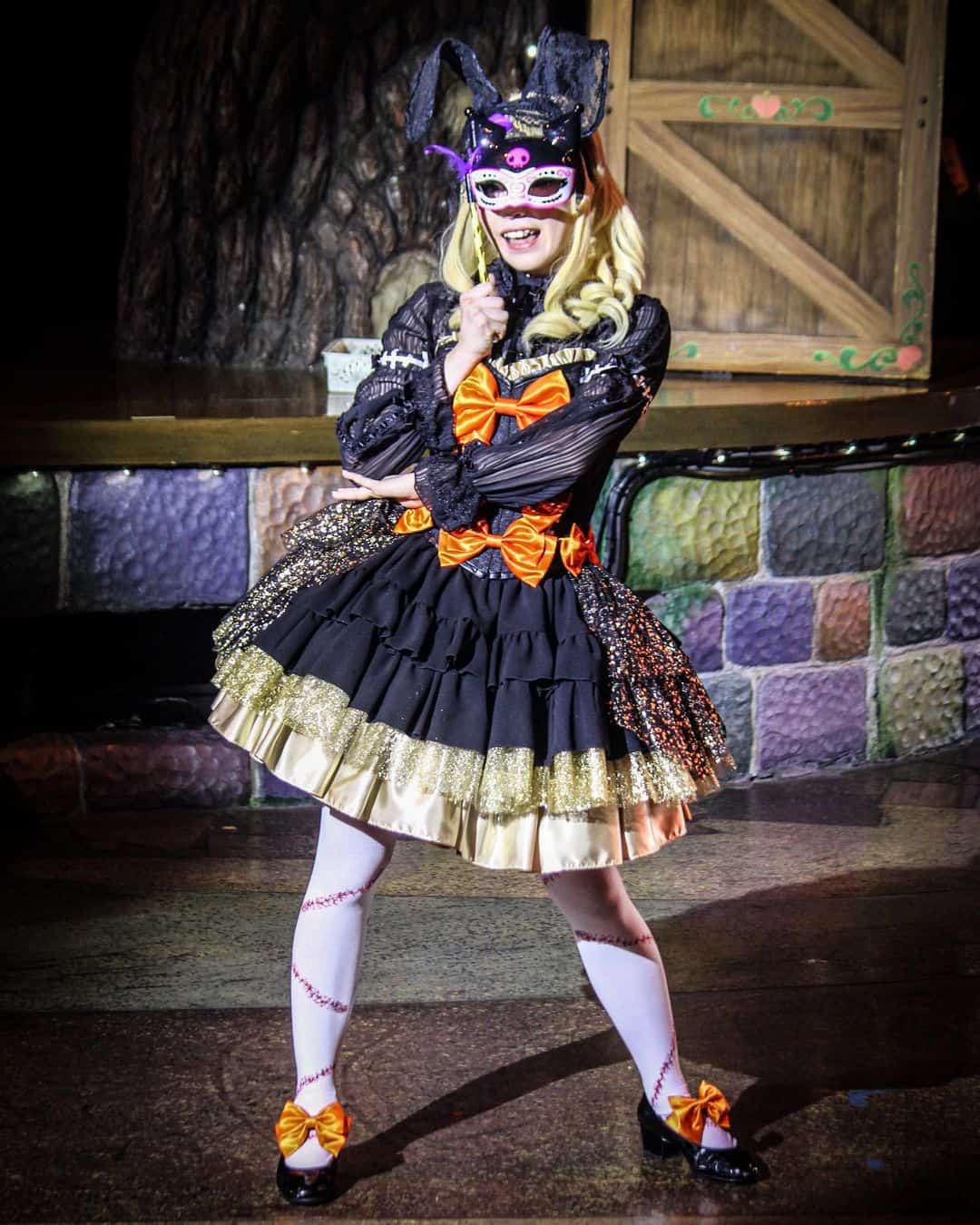 Image Source
"Kawaii" means "cute" in Japanese and has close ties to the anime genre. You can take your outfit inspiration from one of the 50 Anime Outfit Ideas here. Once your outfit is complete, look for a complimentary mask to don with the look.
These kawaii masquerade masks look lovely and can go with a lot of anime-inspired outfits.
6. Butterfly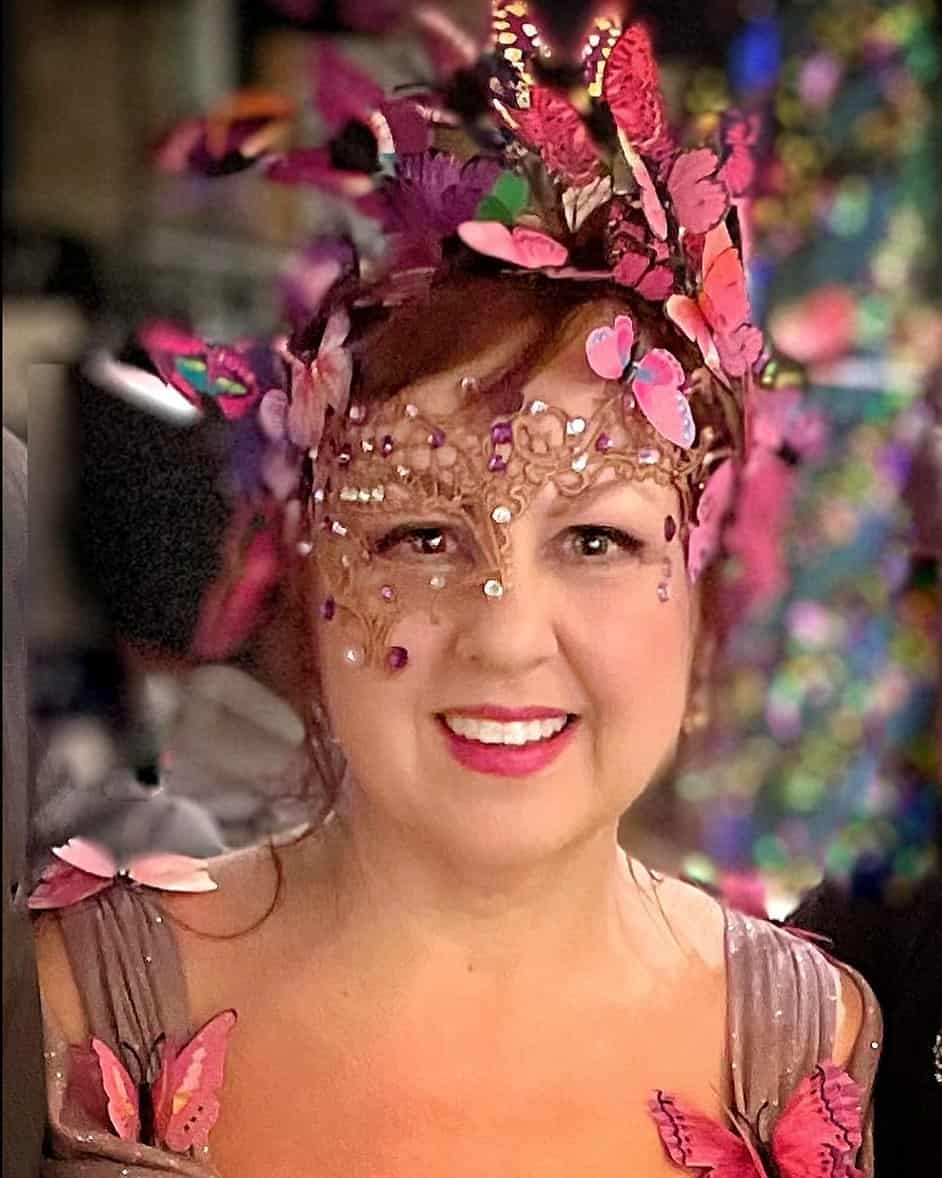 Image Source
As far as themes go, it doesn't get more whimsical than a butterfly-themed masquerade outfit. But, you don't have to take this theme too far into the cosplay zone. Use the theme subtly to create a unique outfit for yourself.
Here's a floral party gown with a subtle sprinkling of butterflies and a rhinestone butterfly masquerade mask to seal the theme. Let your free spirit take rein as you flutter into the masquerade party with a colorful dress, a butterfly masque, and a breezy attitude to go with it.
7. Peacock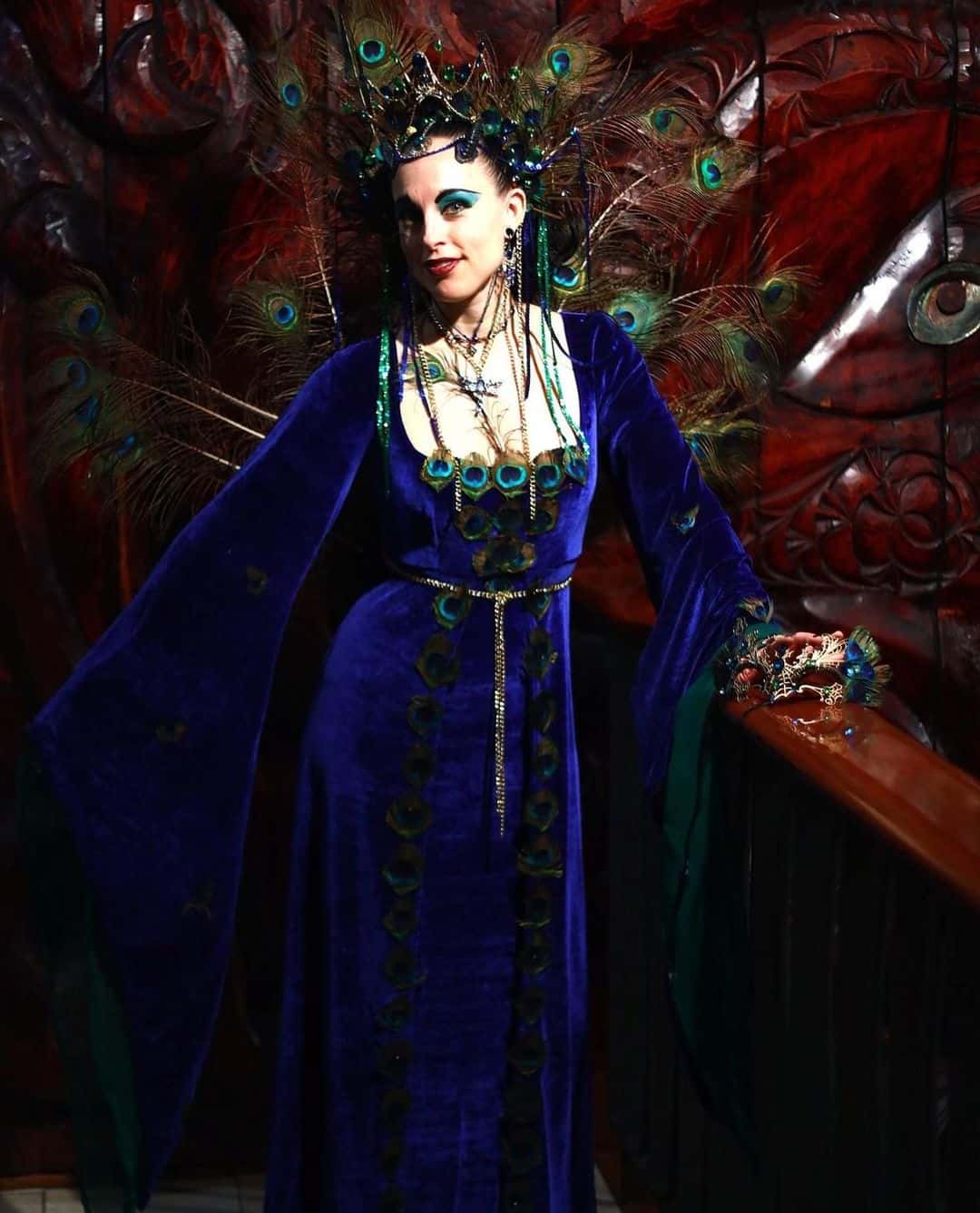 Image Source
Peacock-themed masquerade masks are pretty popular, and you can recreate one with ease and on a budget due to the wide variety of options available. Instead of going into full-on peacock mode, you can tone down the look by choosing a dress that matches one of the many colors in the peacock-eye. A dress in peacock-blue or green would be the ideal way to go. Then go all-out with your mask choice.
This peacock masquerade mask comes with a peacock feather fan to add more drama to the outfit, while this one is more subtle with a peacock feather hair clip attached to a golden masque.
8. Floral and Diamante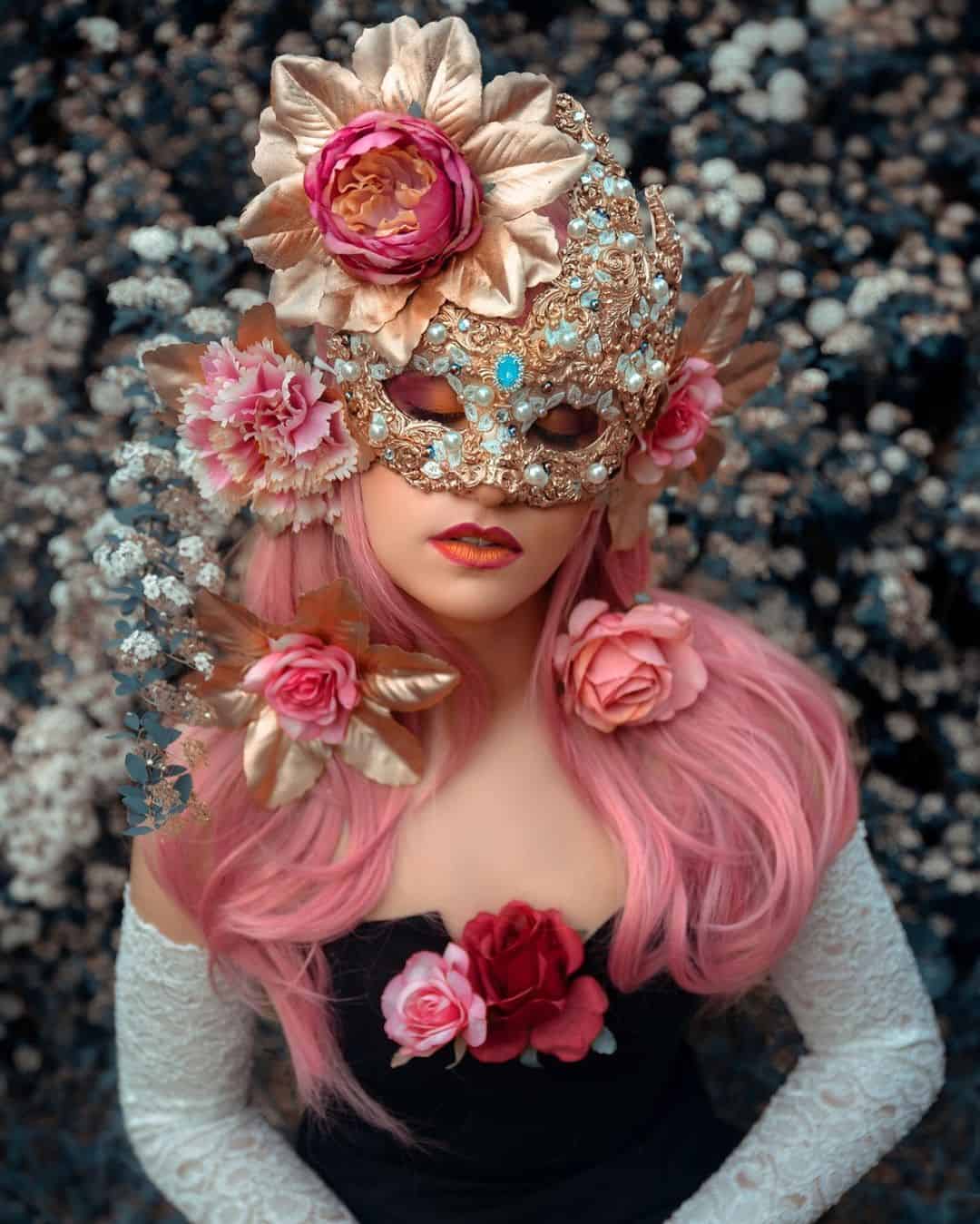 Image Source
This is a very cutesy look, with wild hair being the star attraction. The idea is to dress up your hair with feathers, diamante, rhinestones, flowers, and more. Go all out with the mask to create a piece of art along with long glossy extensions. You can dress up in clothes that match the dominant color of your mask.
For the dress, go with something soft, like a pastel color, that won't clash with your accessories.
9. Lace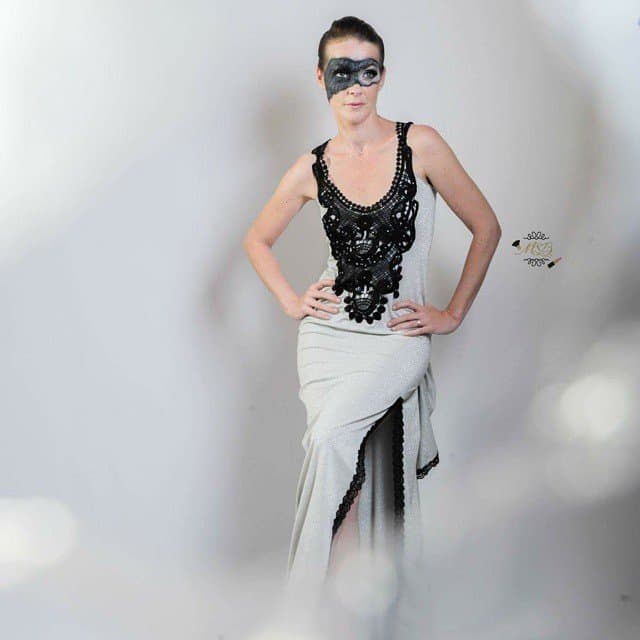 Image Source
Using makeup to create your masquerade mask isn't a novel idea but one you can execute in unique ways. You can pick a dress of your liking, something with elaborate work on the bodice. Then paint a detailed mask with makeup in a hue that matches the dominant color of your gown.
If you go with this theme, you'll have unlimited mask choices as you can use makeup to create any kind of mask. You can add rhinestones to the set-up, feathers in your hair, and other accessories to complete the look.
10. Renaissance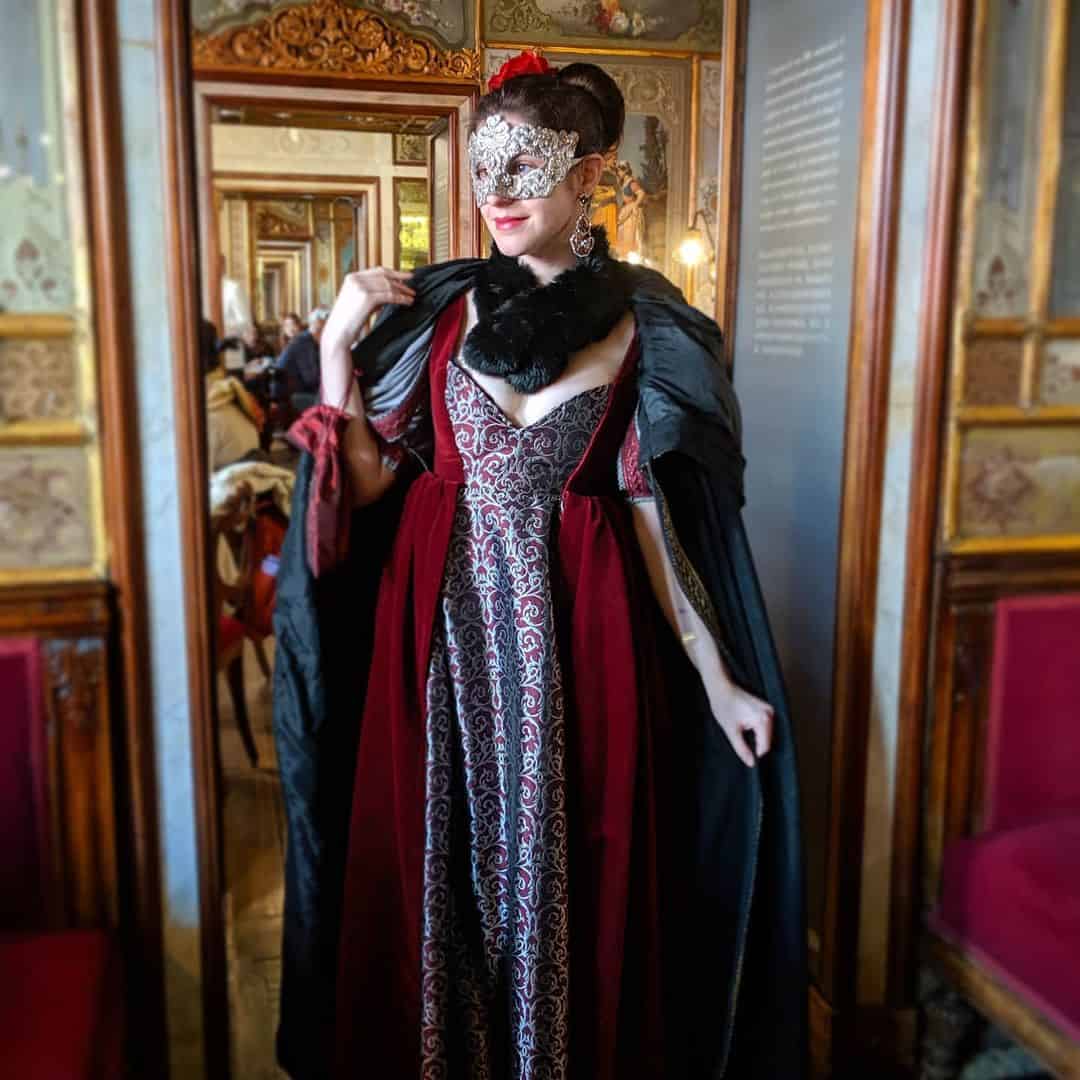 Image Source
This magnificent masquerade outfit is reminiscent of the renaissance era. Back when ladies would be dressed in elaborate costumes with many layers underneath to make big, flowing, poofy ballgowns. You can add a cape, fur, or a shrug to enhance your renaissance costume.
You may think these outfits would be challenging to put together, but that's not the case. If you're familiar with renaissance faire culture, you'll know how easy it is to source a costume online and pair it with a beautiful mask. Or, if you have the moolah to spare, you can commission a custom gown to create a one-of-a-kind look for yourself.
11. Fallen Angel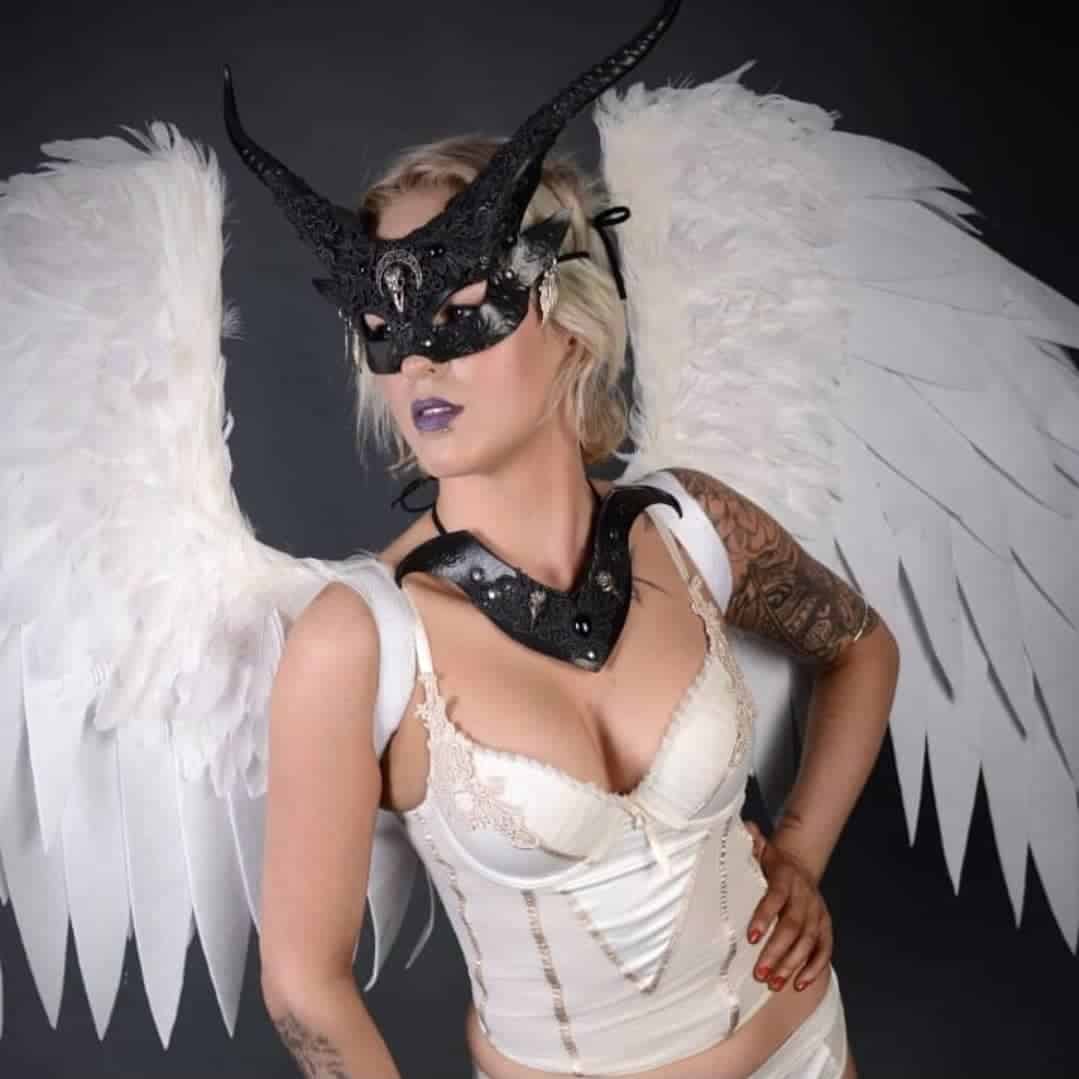 Image Source
Reminiscent of Disney's Maleficent, this look combines white angel wings with a black devil-horned mask to create a yin and yang masquerade outfit that straddles the line between good and evil. Here are a few metallic horn masks and some angel wings to get you started.
12. Sexy Red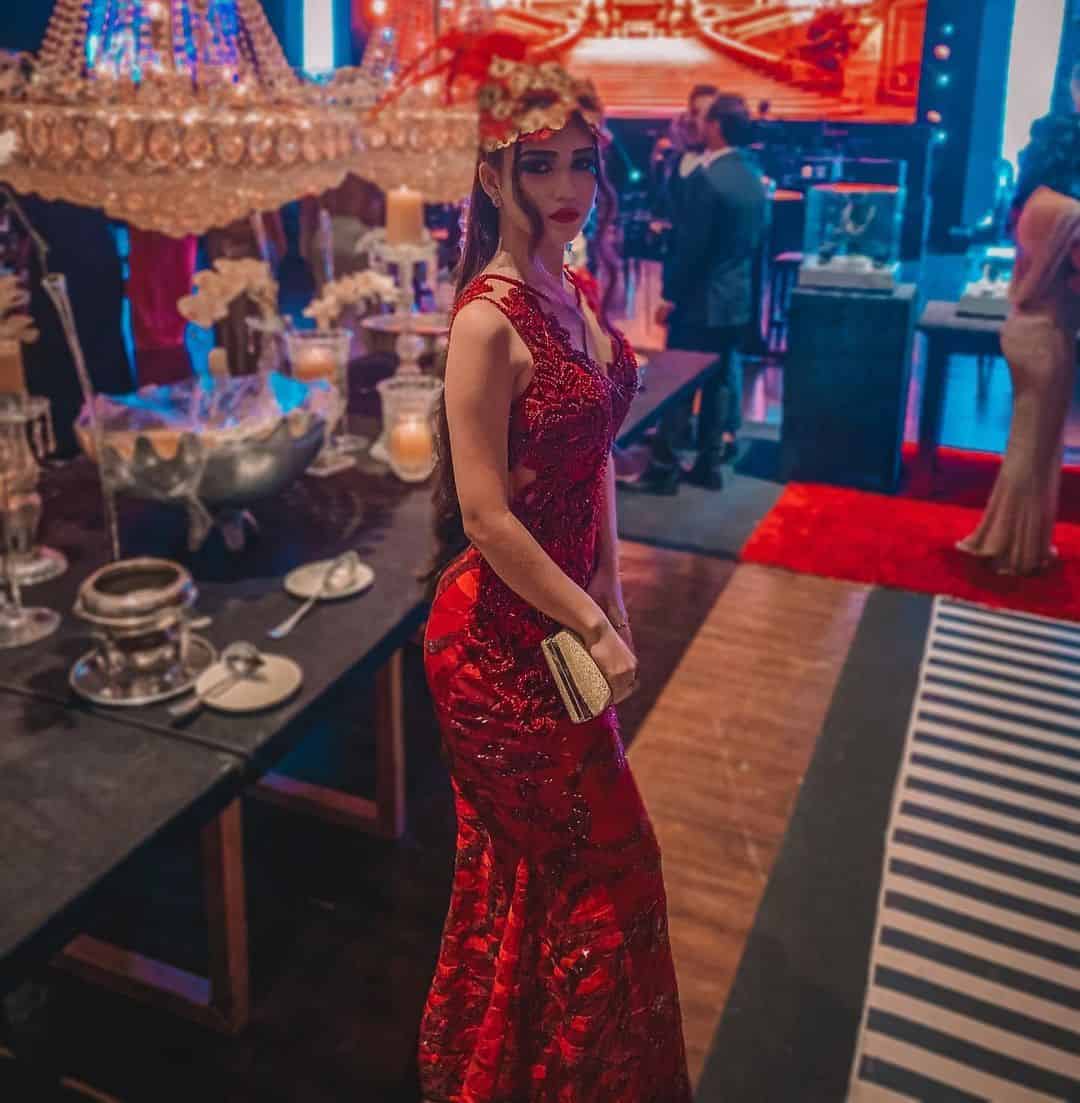 Image Source
Red is the color of power, and you can choose to display yours with a classic red gown paired with a beautiful red mask. If you're going with this monochrome look, make sure that all your accessories are the same shade as your gown, lest you end up looking like a swatch of red shades. Try pairing it with black accents for a gothic vibe or gold for a more upscale finish.
13. Parisian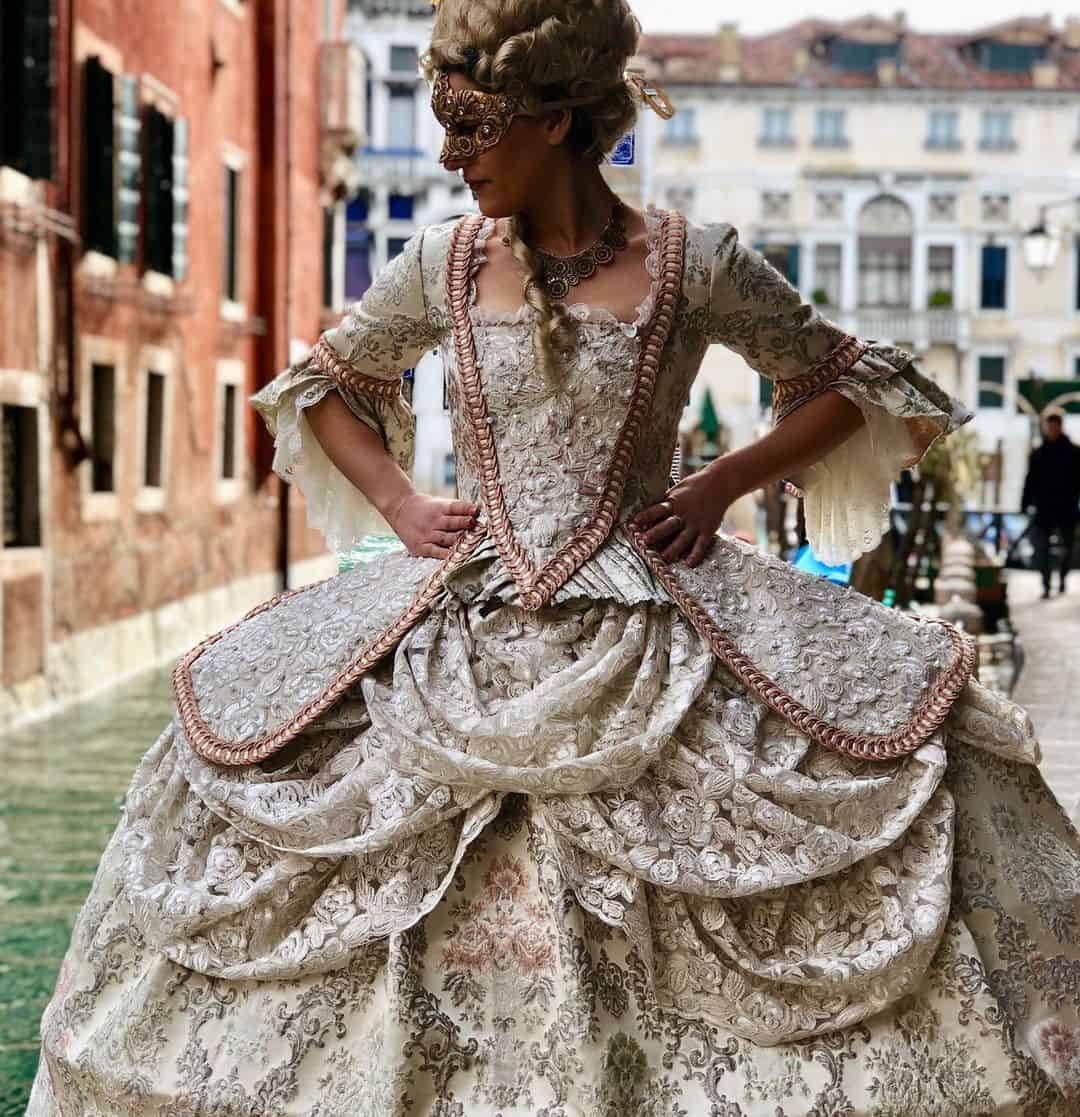 Image Source
This is an elaborate costume with lacework, brocade silks, corset, dress undercarriage, and much more. Historical ballgown costumes that need more than one person to help you get into the outfit inspire this look. An elaborate updo with hair jewels goes with the theme of this costume.
A beautifully crafted embossed mask embedded with rhinestones or sequins completes the look. Although this look will be heavy on your pockets, it will also be an experience to cherish.
14. Glitzy Harlequin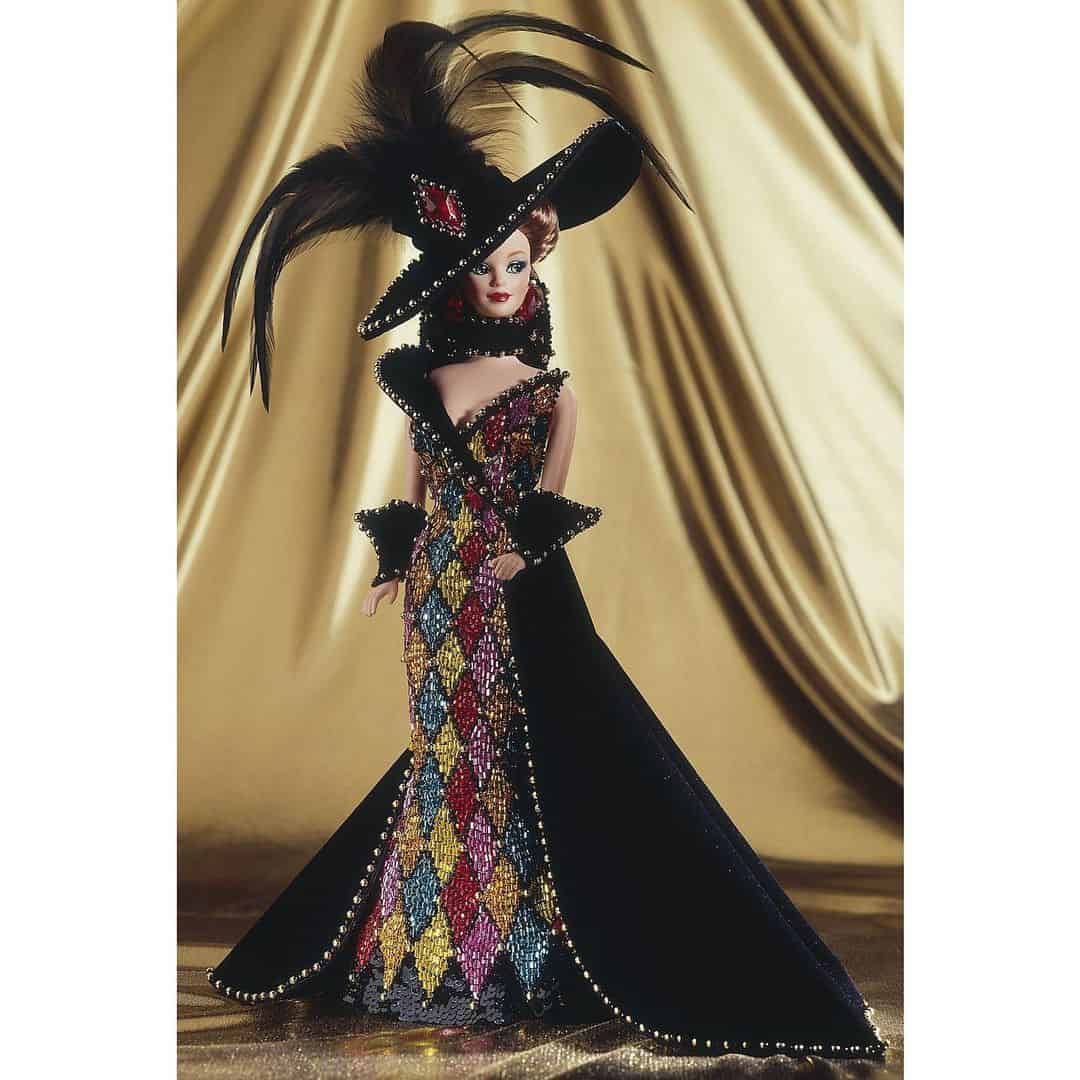 Image Source
This Bob Mackie-designed Barbie is outfitted with a structured sequin gown, and a fascinator with a wide brim. You can copy this look by grabbing your own structured gown and a matching mask. You might not find a similar gown with the harlequin pattern, but the idea is to copy the structural elements that create this entire look. Add some big stone earrings to complete the look.
15. Fantasy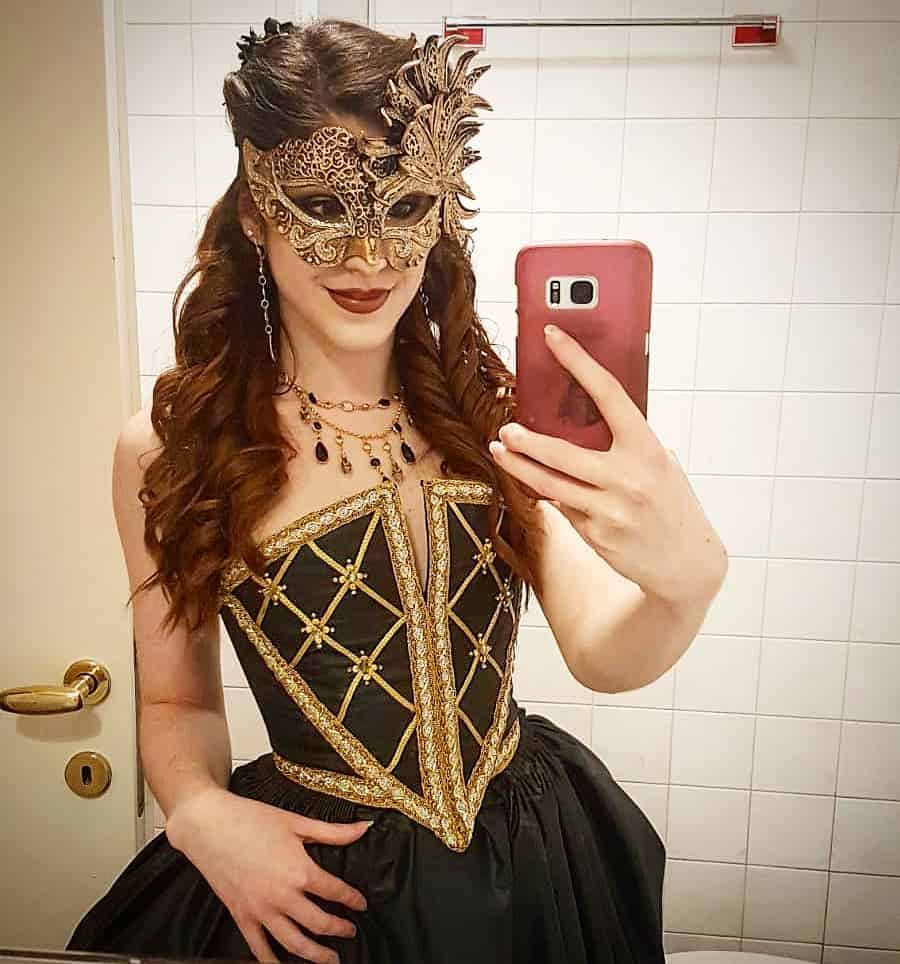 Image Source
This look is reminiscent of fantasy ballgowns. The critical element of this outfit would be a corset with lace, beads, or gold thread detailing. A flared skirt to go with the corset, long flowing locks decorated with sparkling hair accessories, and a Venetian mask in gold completes the look. Beaded jewelry with gold chains would be the ideal accessories of choice to go with this costume.
16. Gothic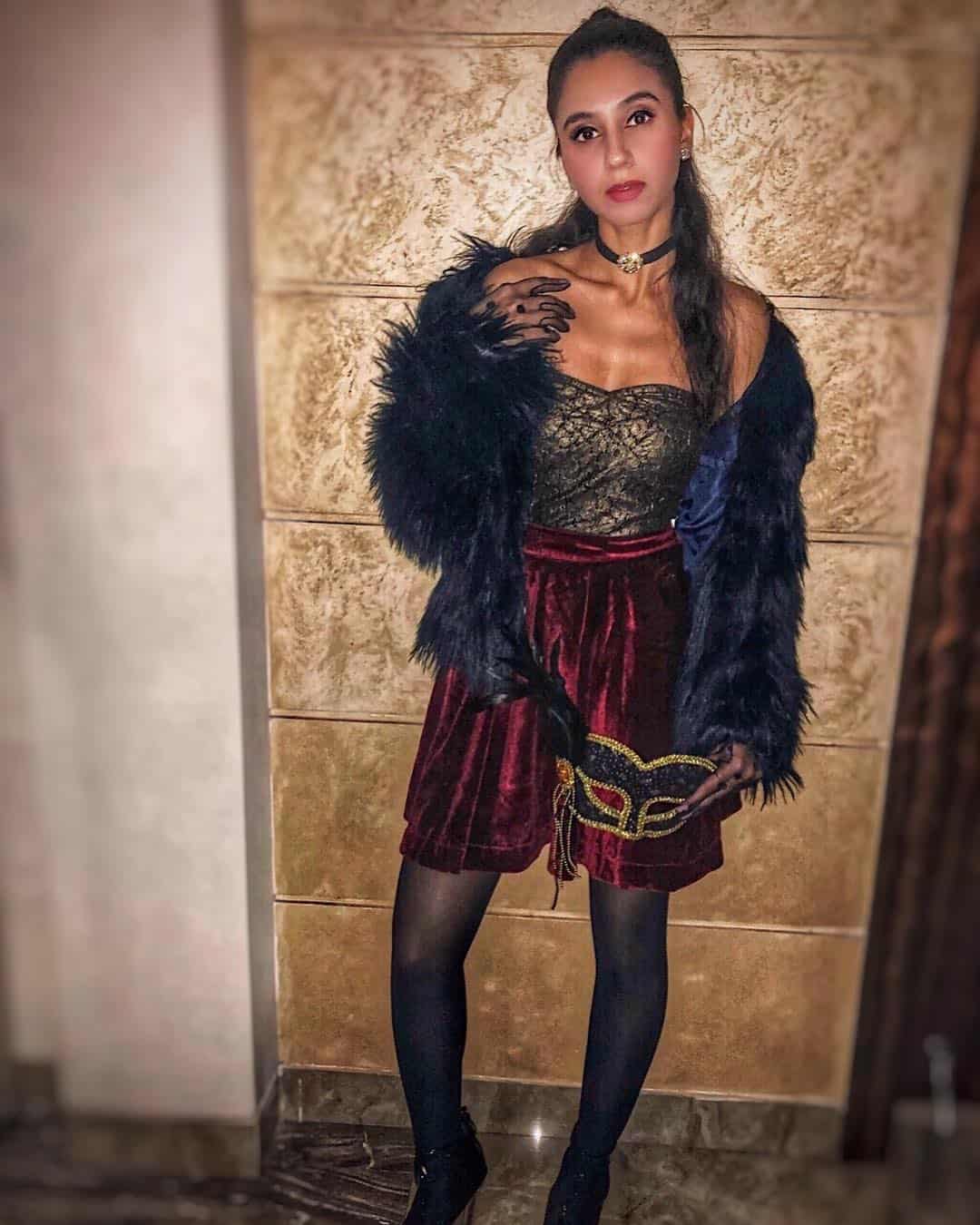 Image Source
This is not your typical gothic look with a long dress. It's a unique take on the gothic look with elements derived from a regular wardrobe. The idea is to go with all dark-colored pieces, use fur, velvet, and lace as much as possible, and complete the look with all black stockings, lace gloves, a choker, mask, and high updo.
Go with deep reds, greens, violets, or midnight blue colors to create your costume. Add a jacket or a cape to finish.
17. Harvest Goddess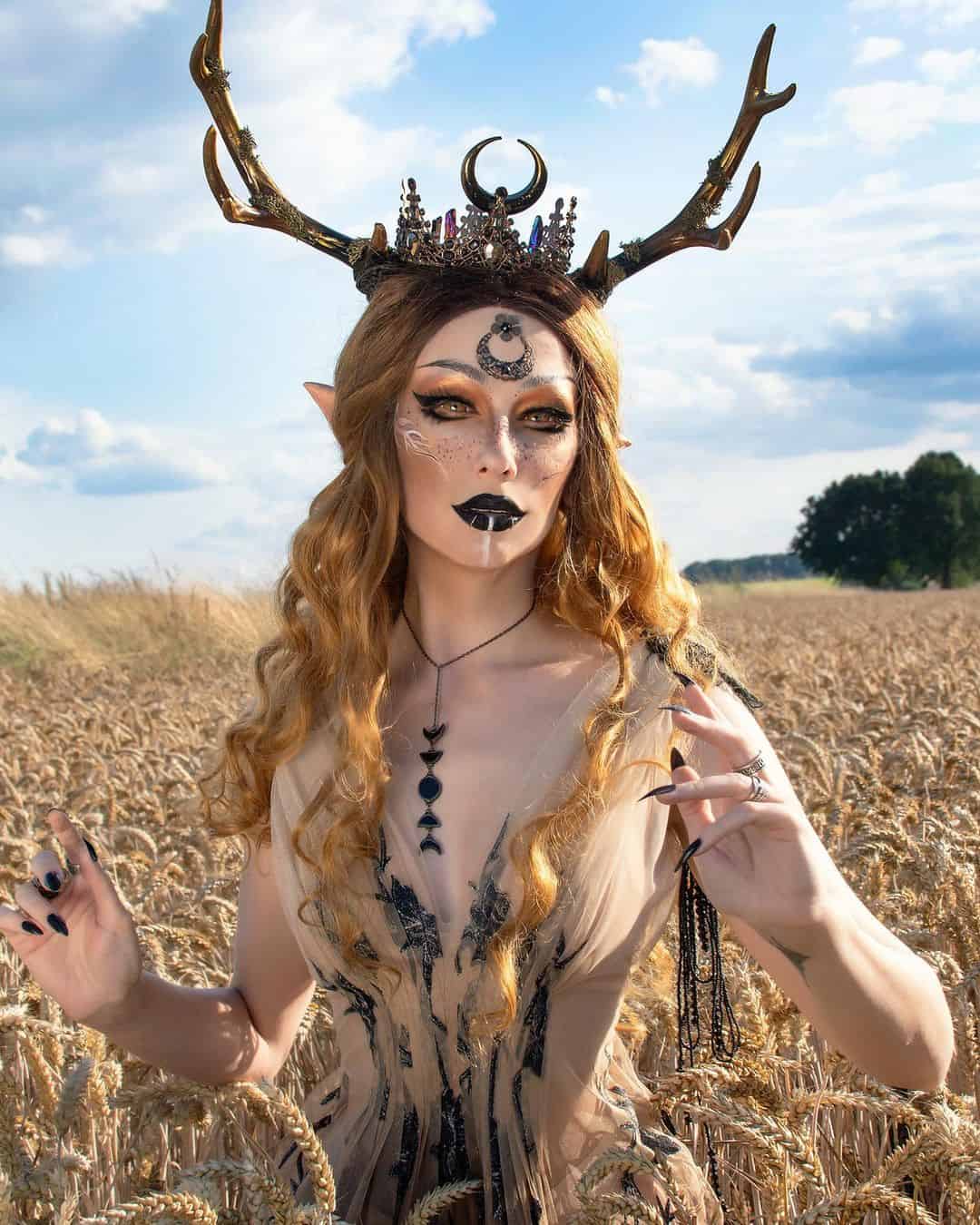 Image Source
Inspired by the Gaelic festival, Lughnasadh, which celebrates the beginning of the harvest season, this is a beautiful and earthy costume idea. Achieve it by wearing an earthy-toned long flowing maxi dress, preferably with floral or leaf motifs. Combine it with dark brown or black lips and nail color. Add nature-based elements like the crescent, accessories that carry harvest crop symbolism, and a crown to round up the look.
Add a nice lace mask in the nude to finish your harvest goddess-inspired masquerade outfit.
18. Gem Tone Sparkler

Image Source
Set the temperatures soaring with a risque masquerade outfit that's guaranteed to turn heads. Go for a deep V-cut lace evening gown that accentuates your assets in a bright gem-tone hue. Pair it with a stone pendant in the same color as your gown to draw further attention to your neck.
Keep the other accessories to a minimum, but go with a big matching masquerade mask with feathers or flowers. Round off the look with some sky-high stilettos.
19. Disney's Cruella de Vil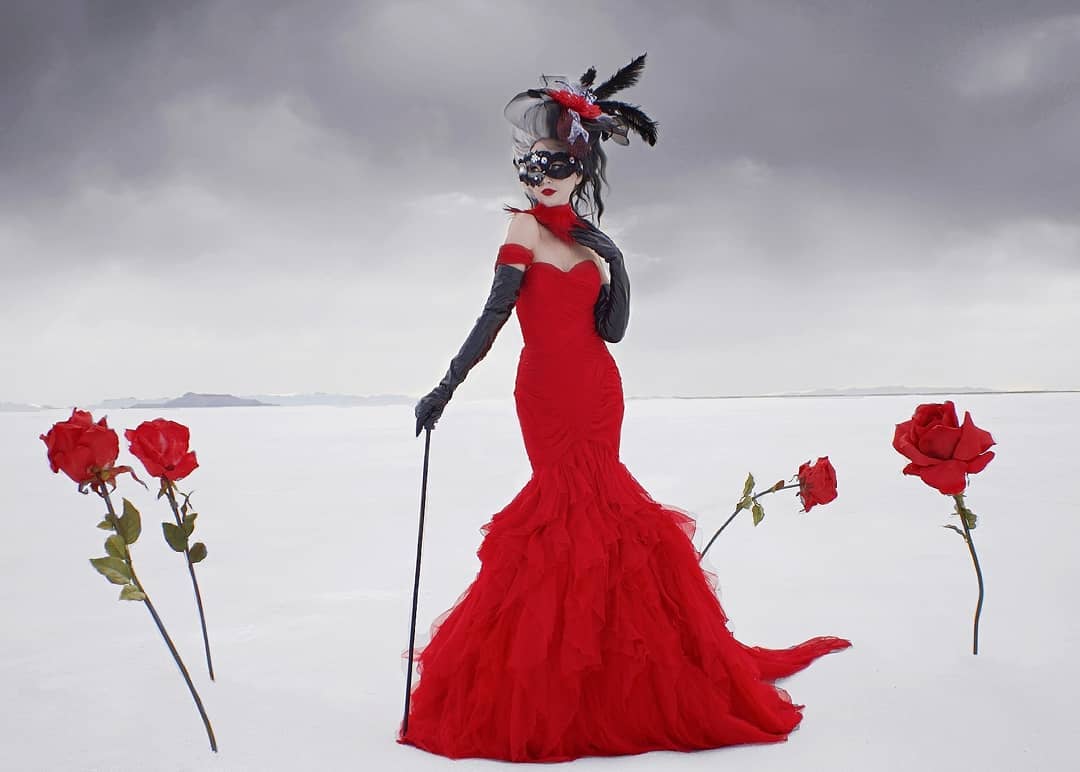 Image Source
Go unapologetically camp with this Cruella de Vil inspired masquerade outfit. You'll have to commit to all aspects of this look to make it a success. Otherwise, it will just end up being another evening gown look.
Wear a half black and half white wig, get a big feather and lace fascinator, long gloves, and don't forget to carry a black cane to complete the look. You can also purchase this Cruella de Vil costume instead of hunting for individual pieces.
20. Marvel's Black Cat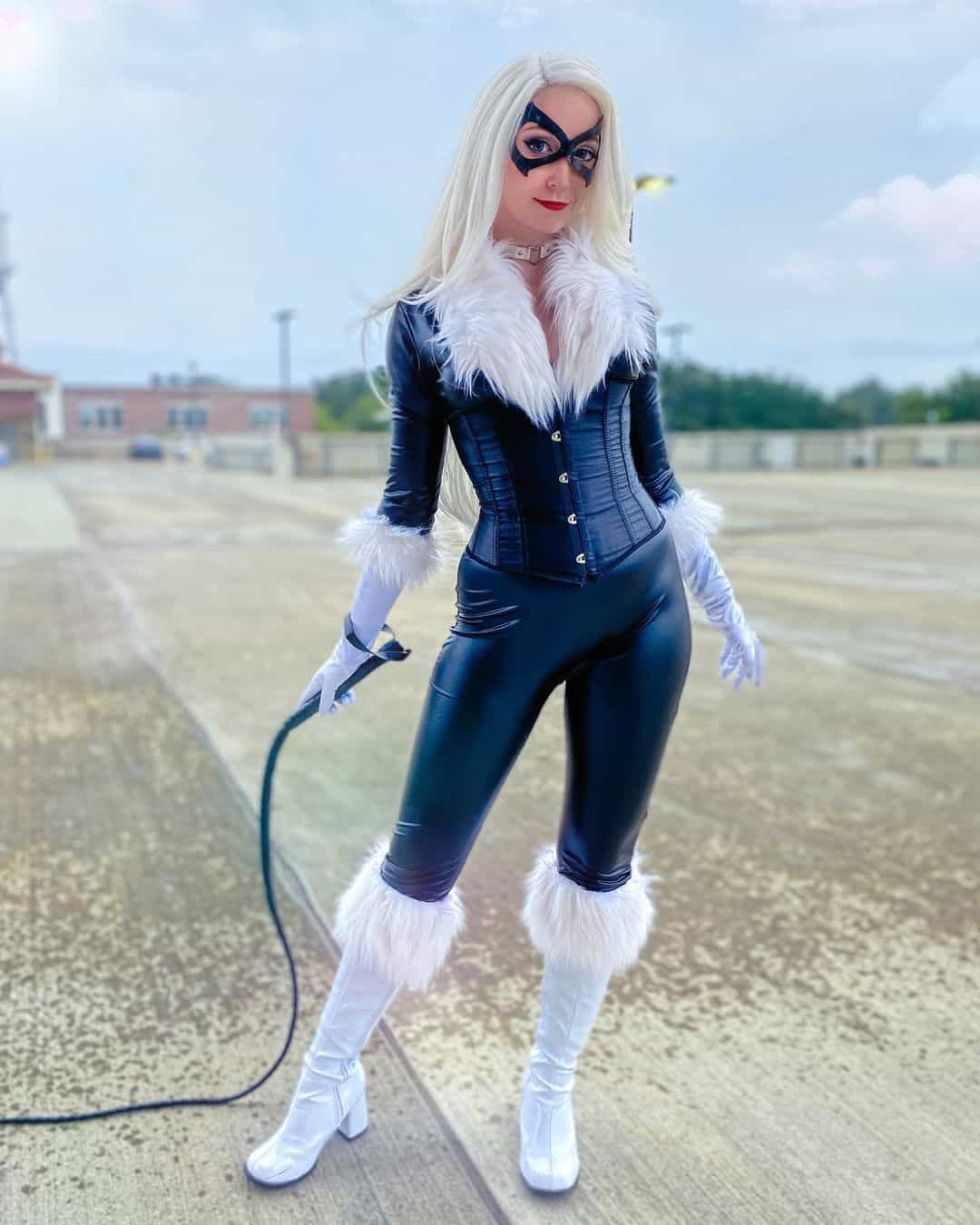 Image Source
Not to be confused with Catwoman, Felicia Hardy's famous character, Black Cat, from Marvel Comics is the inspiration behind this costume. To create the look, consider a black leather corset and black skin-hugging pants—white fur-trimmed knee-high boots and long gloves along with a simple black eye mask round off the look. The whip is optional.
You can also purchase a Black Cat costume instead. Avoid the cosplay tag by skipping the white hair wig and wearing boots and gloves in a different color.
21. Witchy White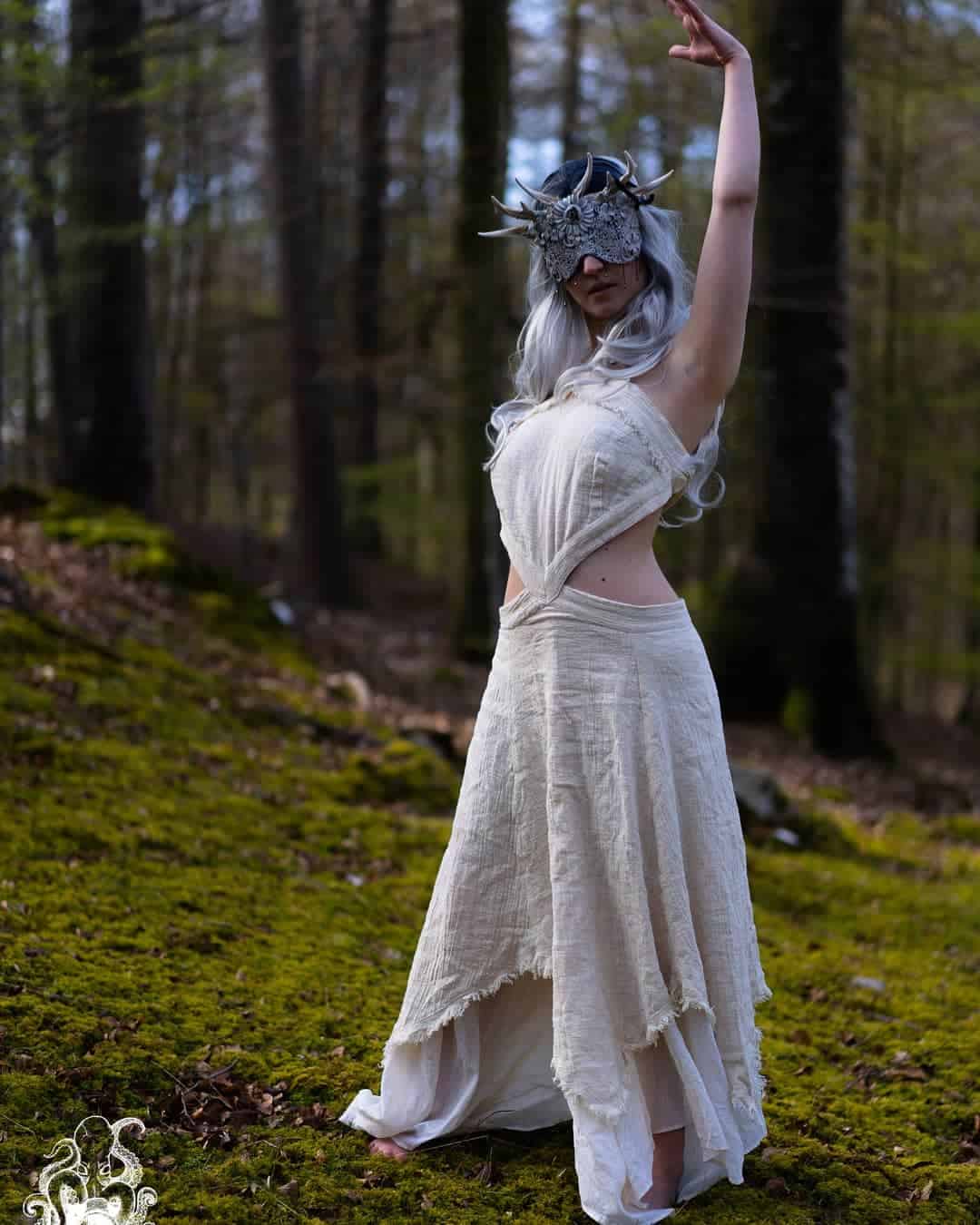 Image Source
This outfit requires some work to create that "wow" factor instead of a plain all-out white look. As shown in the picture above, go for a dress with an interesting cut and drape, so the monotony of white is broken down at regular intervals.
For accessories, choose a silver or white wig and a mask in the same color. Even better if the mask has horns and other symbolism that evoke a witchy vibe. Here's a white antlered mask that will help you get started.
22. Intricate Gold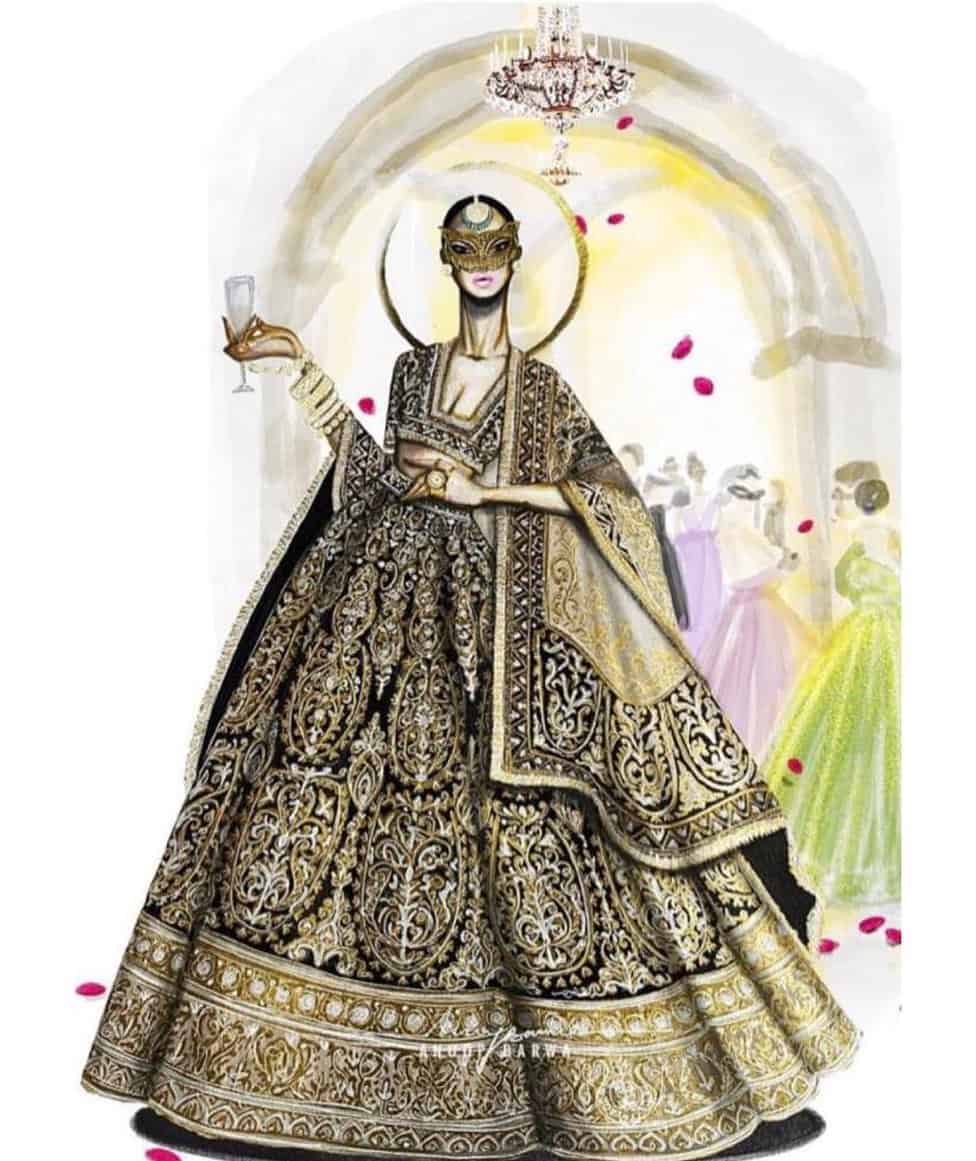 Image Source
With an elaborately detailed gold-threaded gown and slicked-back hair, you're sure to stun in this intricate gold look. If you're looking for a more budget-friendly option, find a black dress with gold beading or sequins. Then embellish it with lots of accessories.
Go all out with gemstone jewelry, big cocktail rings, chandelier earrings, and a headpiece.
23. Purple Gothic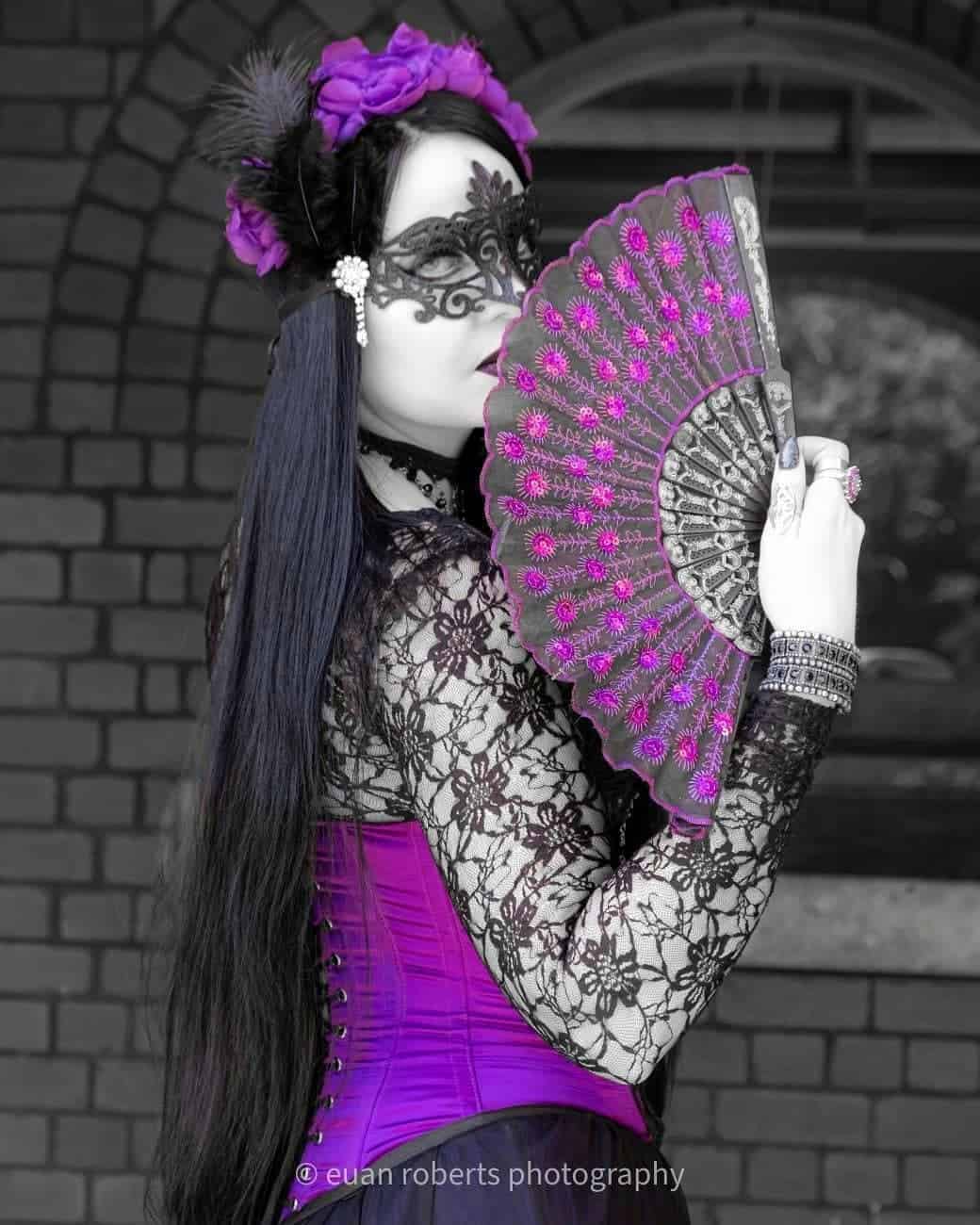 Image Source
Red and black are the colors that immediately spring to mind when you think of gothic fashion. But this outfit takes a detour with a neon purple and black combination to give a unique twist to the gothic theme.
The other outfit elements are de rigueur, like the lacy corset top, lace hand gloves, a feathered fan, a black choker, and a black masquerade mask. This is an easy masquerade outfit to recreate that also happens to be light on the pockets.
24. Floral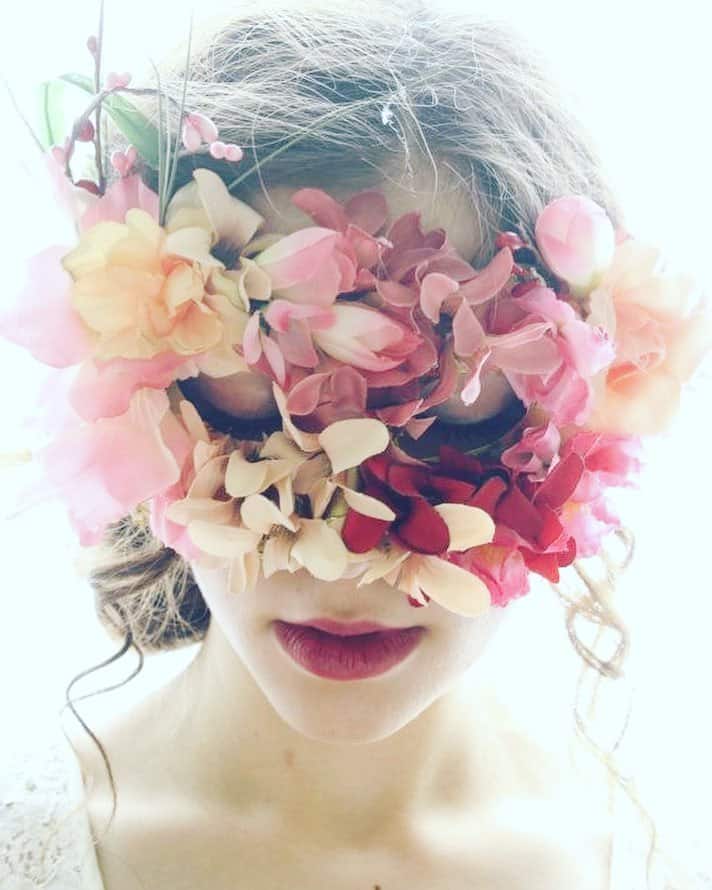 Image Source
You can recreate this look in any number of colors with a variety of dress types. The centerpiece of this look is an entirely floral masquerade mask. Create one yourself by affixing faux flowers to a plain mask.
Pair the mask with a gown, dress, or skirt in a soft pastel shade, which compliments the flowers in your mask. Sashay into the masquerade event like a bouquet of fragrant summer blooms.
25. DC's Catwoman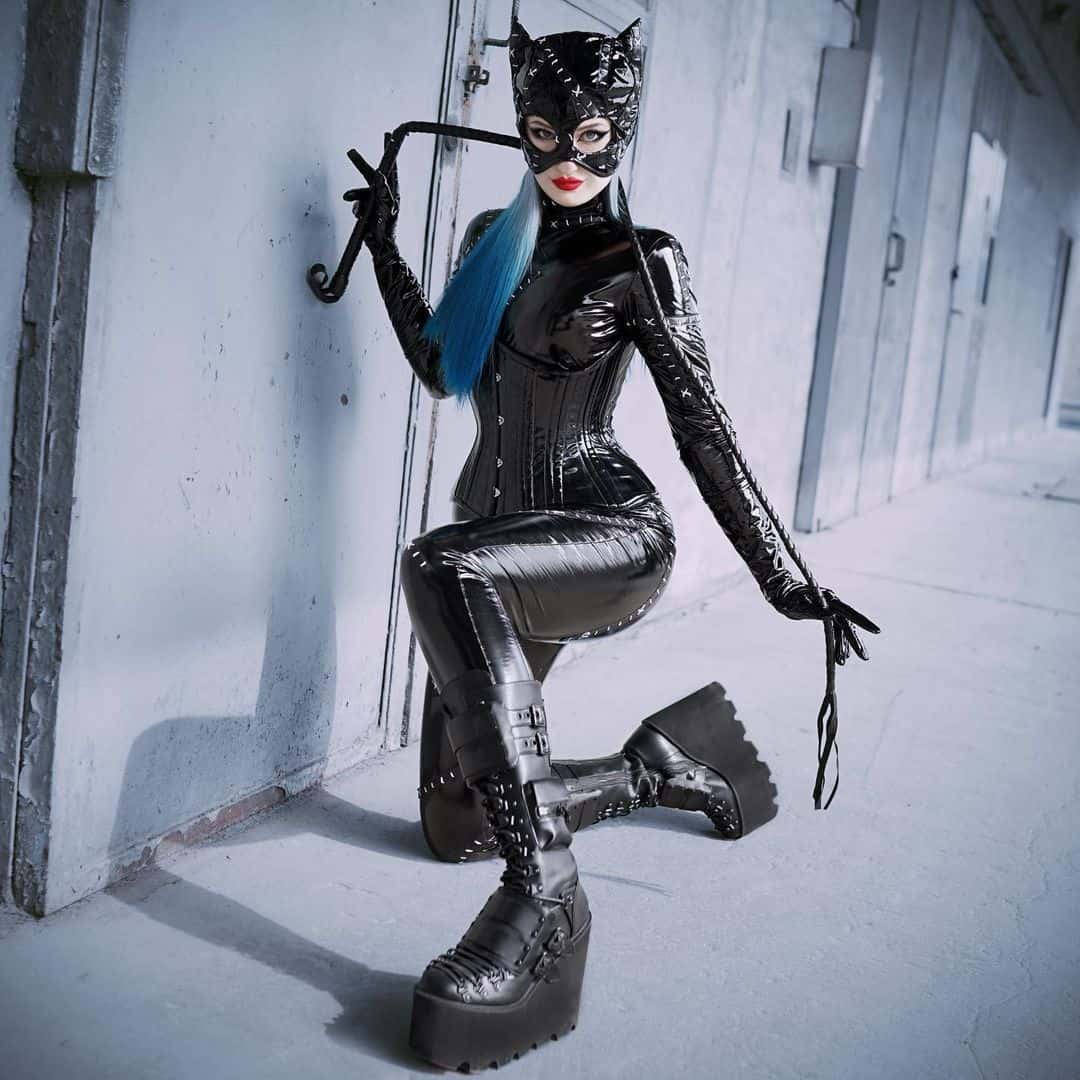 Image Source
Inspired by Selina Kyle from DC Comics, this is a full-body unitard in black leather. You don't have to stick to a black unitard though, just use the cat-suit as inspiration and go for a similar unitard in a color of your choice. For a more comfortable evening, find separates with a long-sleeved shirt and faux-leather leggings. Dress it up with bling of your choice, sky-high heels, and a mask in a matching color.
26. Steampunk Fairy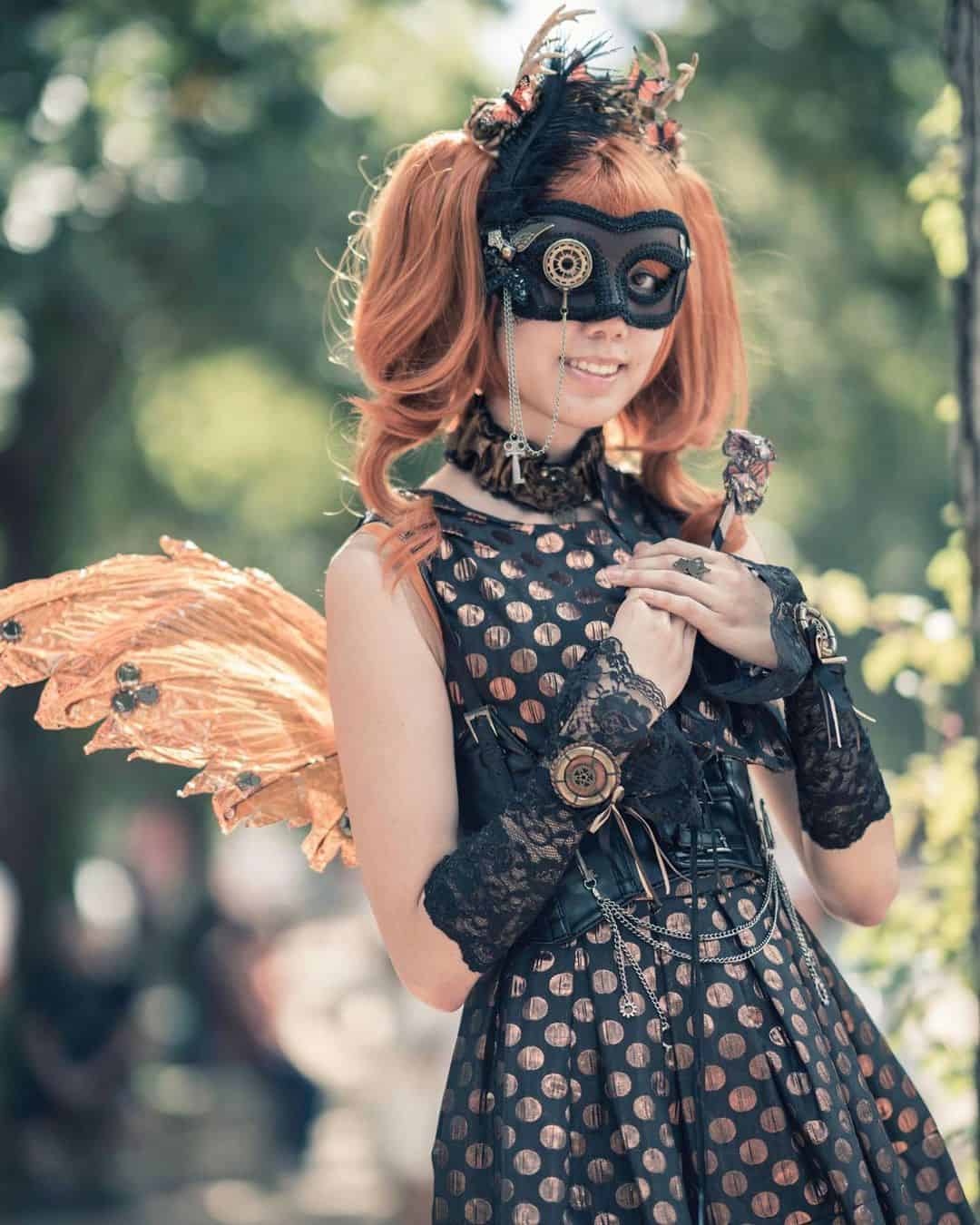 Image Source
Steampunk is a genre of alternative fashion that has a huge fan base. This unique steampunk outfit idea marries steampunk with fairytales. The result is an unusual fairy outfit with elements of steampunk enhancing the overall look.
You don't have to stick to the example shown here. Go for any steampunk-inspired outfit and add fairy tale elements to it like a butterfly mask to create unique cross genre masquerade ensembles.
27. Angelic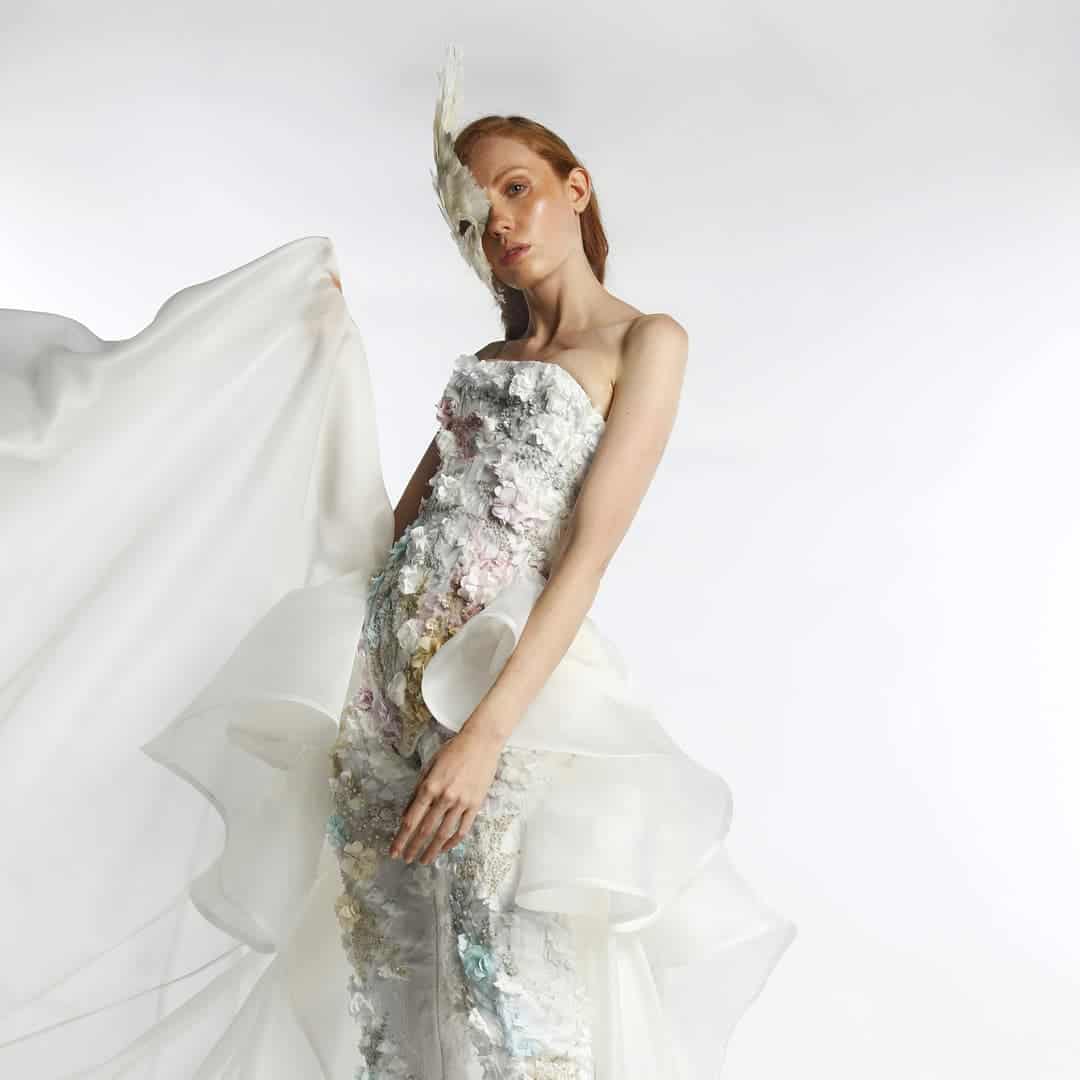 Image Source
Pick a high-end, couture jumpsuit to wear to your masquerade event. Pair it with matching shoes, a cape, and a single eye mask preferably made of feathers. It's a statement outfit that will stand out from the crowd due to its unique approach to masquerade fashion.
Here, the jumpsuit is the pièce de résistance of the outfit, so choose it wisely. You can add another layer to this theme by using a one-eyed phantom mask, steampunk mask, a spiky Black Cat mask, and so on.
28. Simple Column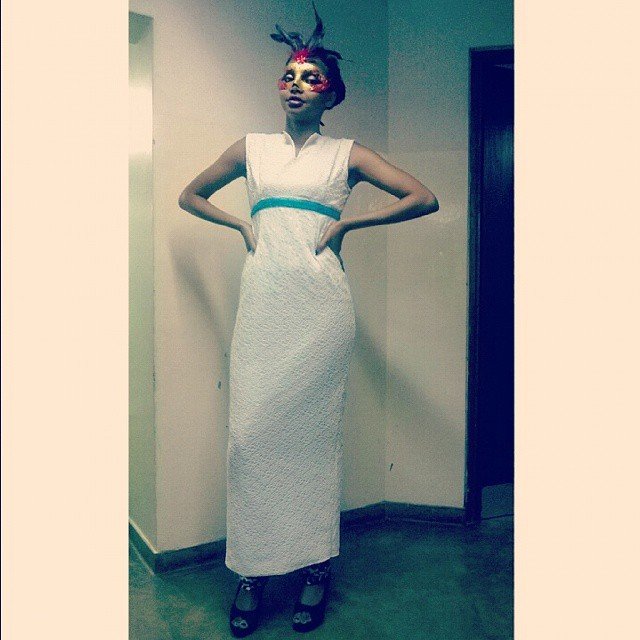 Image Source
Do you have an invite to a masquerade event but don't have the time or resources to fuss over an elaborate outfit? Fret not; we've got you covered. Just pick a simple, ankle-length column gown from your closet, add a nice belt to cinch the waist, and grab the most economical masquerade mask to go with the outfit. Just like that, you're ready to hit the road!
This set of masquerade masks works out to less than a dollar per piece and adds glamour to any dress.
29. DC's Batwoman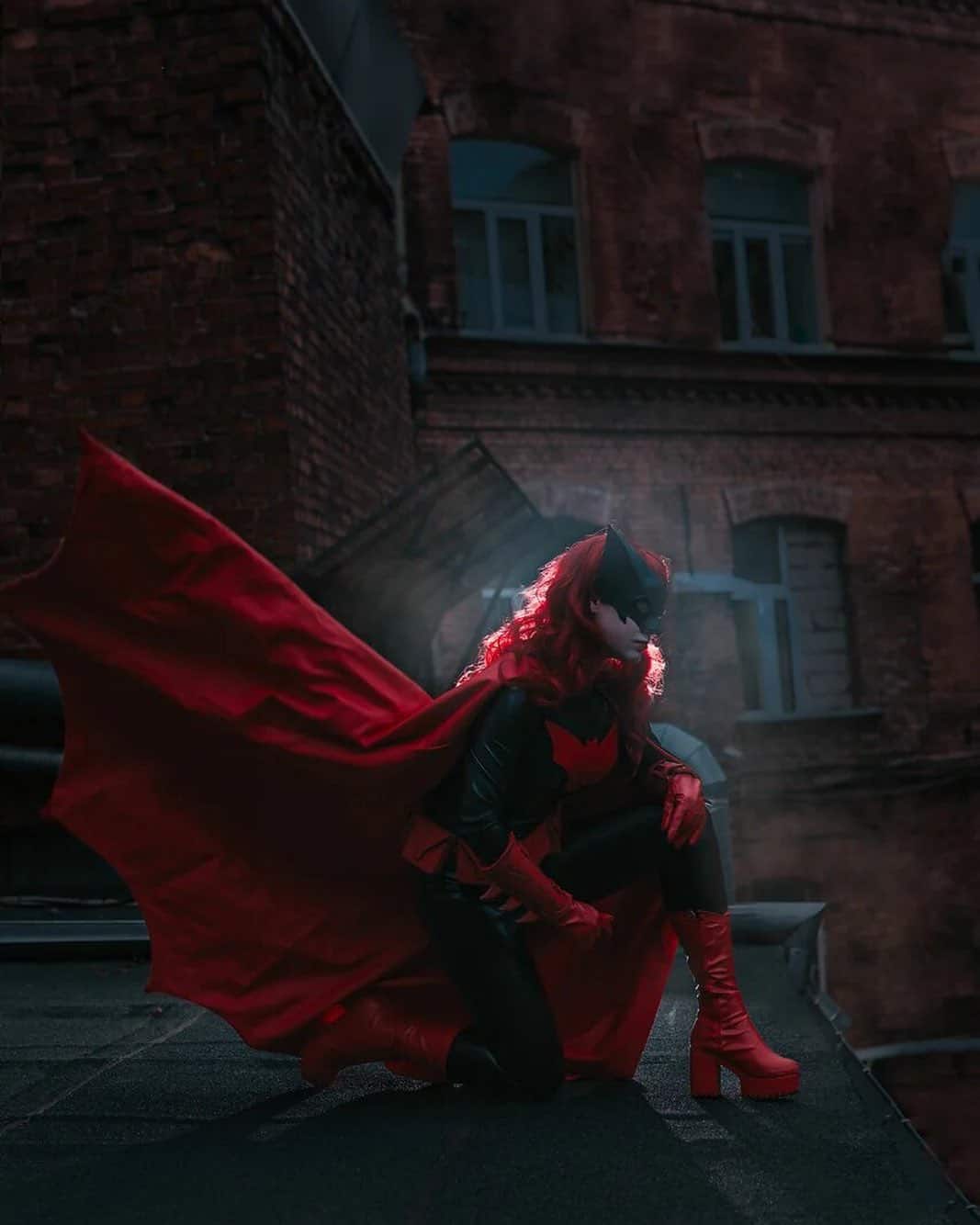 Image Source
Batwoman, from DC Comics, has a very different outfit compared to Catwoman and The Black Cat. As you can see, there's a cape involved besides the black unitard, not to mention the flaming red hair and the other red accents added to the costume that makes it unique.
Recreate this look with the help of a red wig, a very specific black Batwoman face masque, and a black unitard. Add a red and black cape for drama. Change up the other accessories to give it your own twist.
30. Venetian Carnival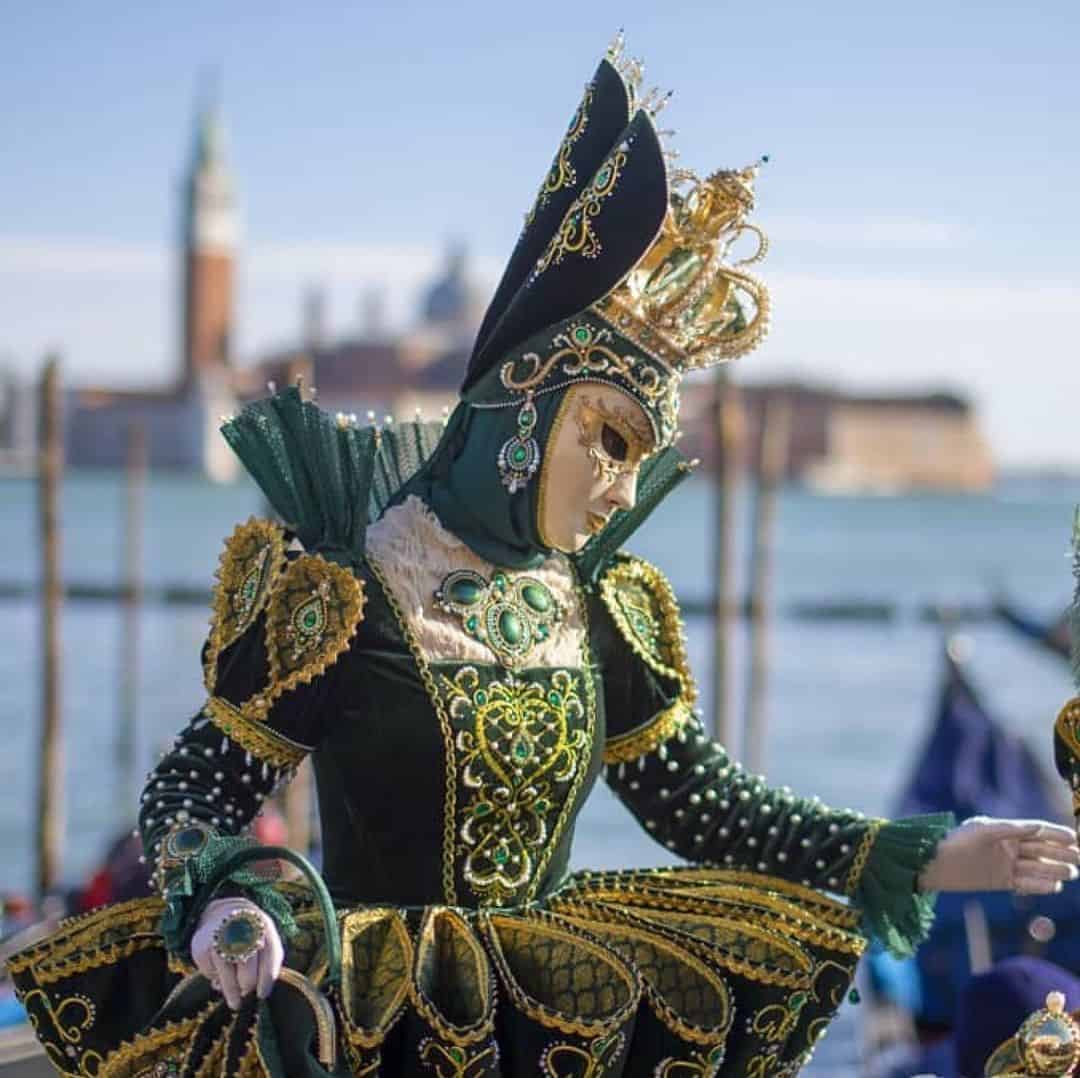 Image Source
Grab a dramatic Venetian carnival mask. Now create an outfit around this mask. Pick out the colors and patterns from the mask and choose an outfit that reflects a similar theme. Both the mask and dress should form a cohesive unit.
Venetian carnival masks are usually full-faced masks with cut-outs for the eyes and the nostrils. They bring drama to any gathering, and you should be prepared to go the extra mile to create an outfit that works with a Venetian carnival mask. These masks usually fit well with historical themes and renaissance faire outfits.
This is also an excellent excuse to wear a crown or tiara, feathers, gauntlets, greaves, and other accessories you would have no reason to don otherwise.
31. Red Latex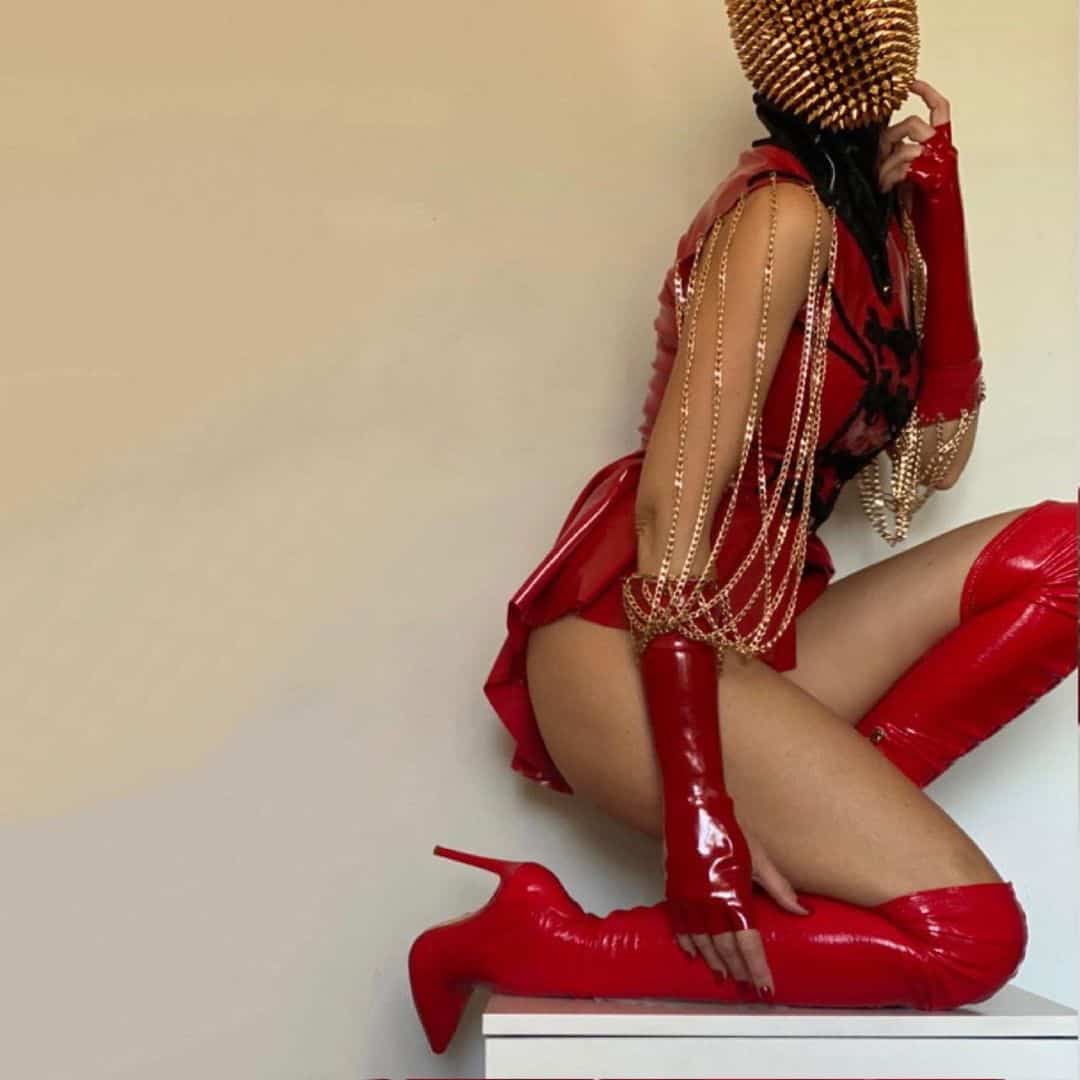 Image Source
This outfit is intentionally risque and requires boatloads of confidence to carry. You can create this look with the help of a latex leotard. If the leotard has frills, laces, and other accompaniments, so much the better. Latex heels and gloves add more oomph. Golden body chains, a black choker, and a full face-covering spiky mask round up this look.
32. Marvel Girl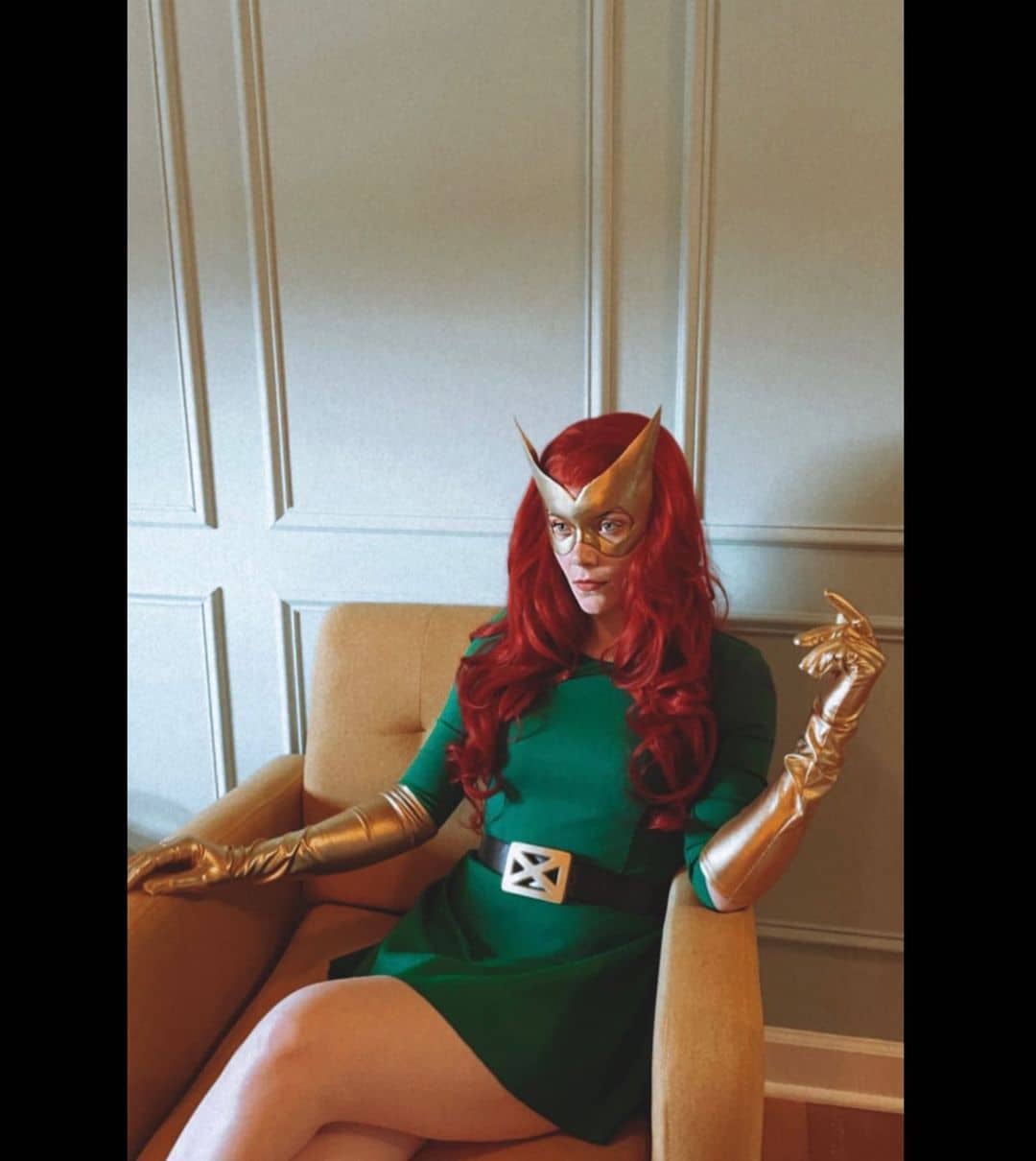 Image Source
Jean Grey, better known as Marvel Girl, or Dark Phoenix, sports this outfit in one of her many iterations. It's an effortless outfit to create, and you can play around with the color of the dress to personalize it.
It's a simple green mini dress worn with a black belt and a golden buckle. Golden gloves, a pair of golden shoes, and a golden mask finish the outfit. You can choose to ignore the red hair or contrast the color of your outfit with the color of your hair. For example, pink hair with a blue dress and silver accessories will make for a fantastic and unique Marvel Girl outfit.
33. Glitter and Glam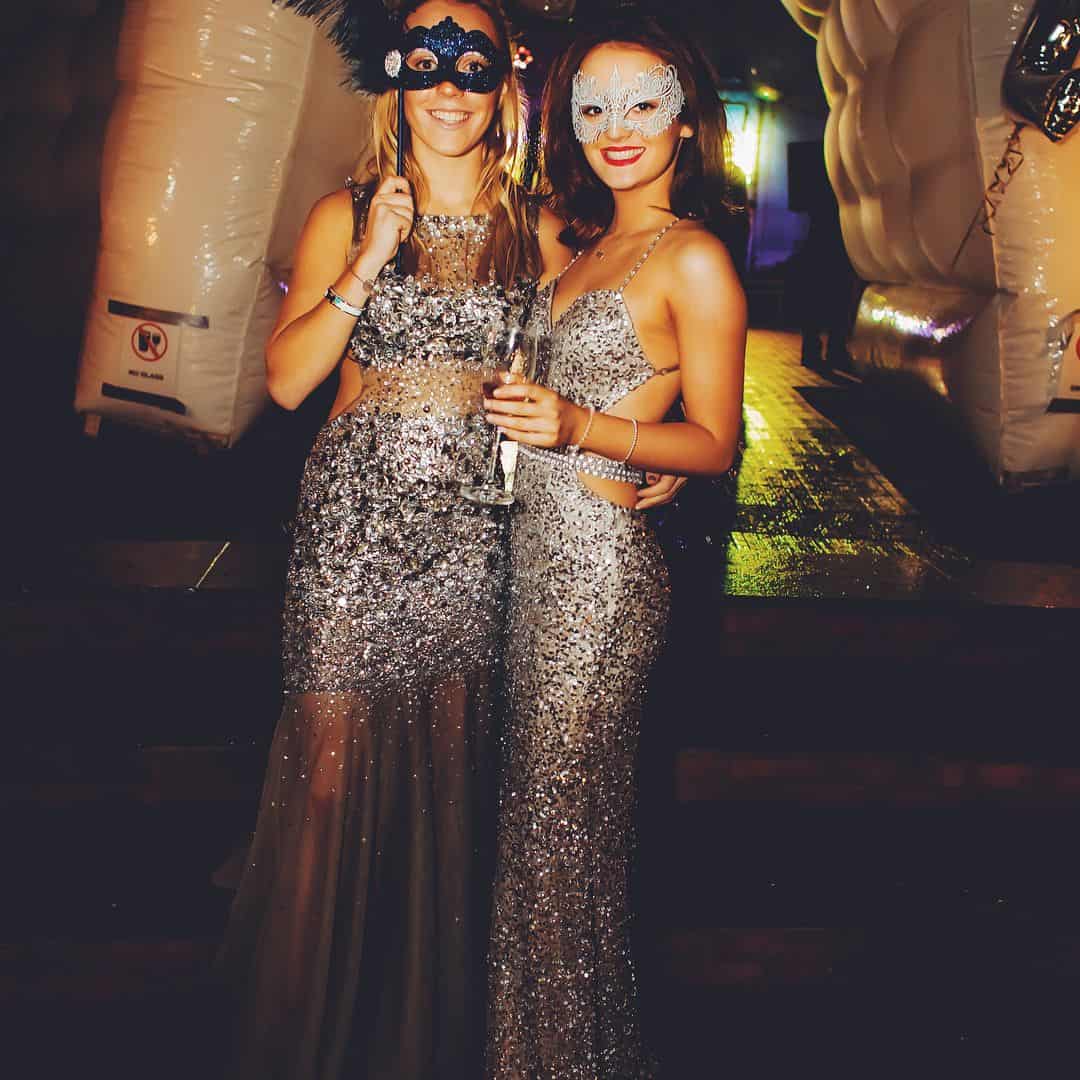 Image Source
Bring out your shiniest cocktail dress, accessorize it with some more bling, slap on a masquerade mask that's as glittery as the rest of the ensemble, and you're ready with your most dazzling masquerade ball outfit.
It's just a matter of opening your closet and choosing the most sparkly dress to wear to the masquerade party. If you want to tone down the disco ball effect, finish the look with jewel-toned accessories in deep blue, purple, or oxblood. Match your makeup with your accessories.
34. Roaring '20s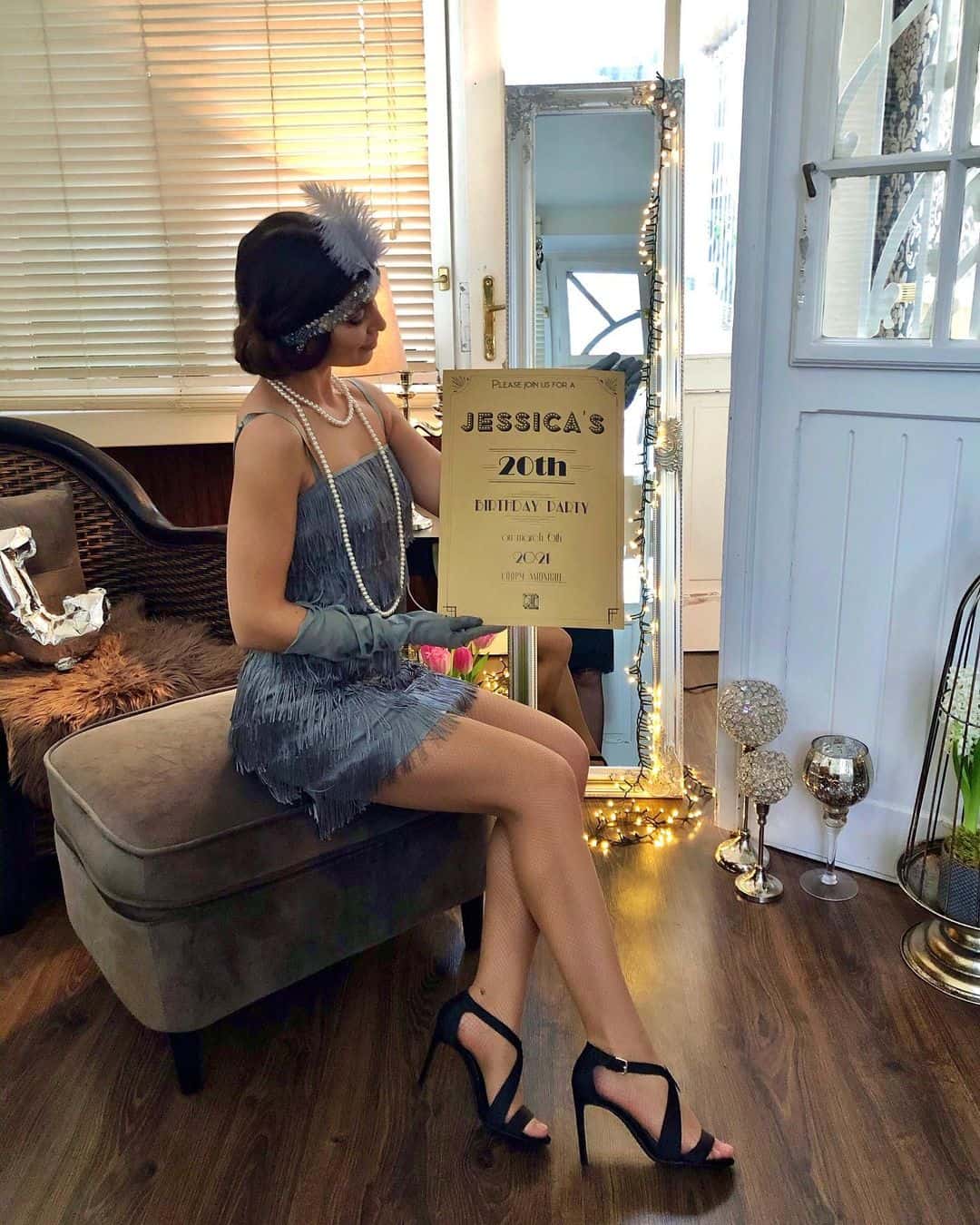 Image Source
The style of this era was epitomized by loose mini fringe dresses, long pearl necklaces, and a simple headband with a feather. Short haircuts were also in vogue during this time.
You can create this roaring 20s/Great Gatsby masquerade outfit with the help of an affordable fringe dress, a few strands of pearls, and a feathered masquerade mask.
35. Baroque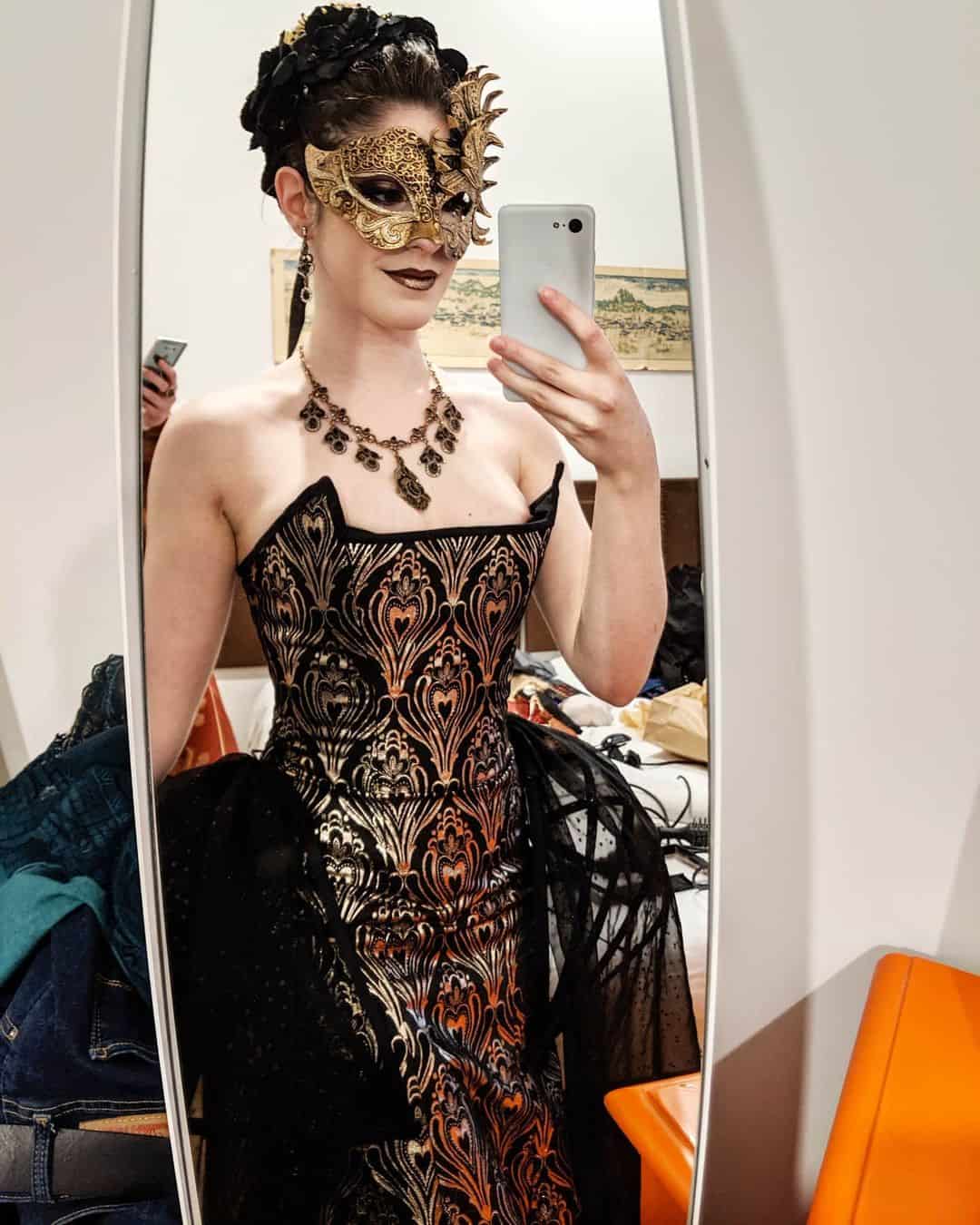 Image Source
Baroque style is inspired by the fashion, art, and architecture of 17th Century Rome, France, Italy, and other European monarchies of the era. The style inspired by this era incorporates a lot of details in costumes, masks, and other accessories. The overall result is a luxurious look fit for a King's ball.
This look sports a baroque style gown, an elaborate hairstyle, and a golden mask with delicate details rounds off the ensemble.
36. Casual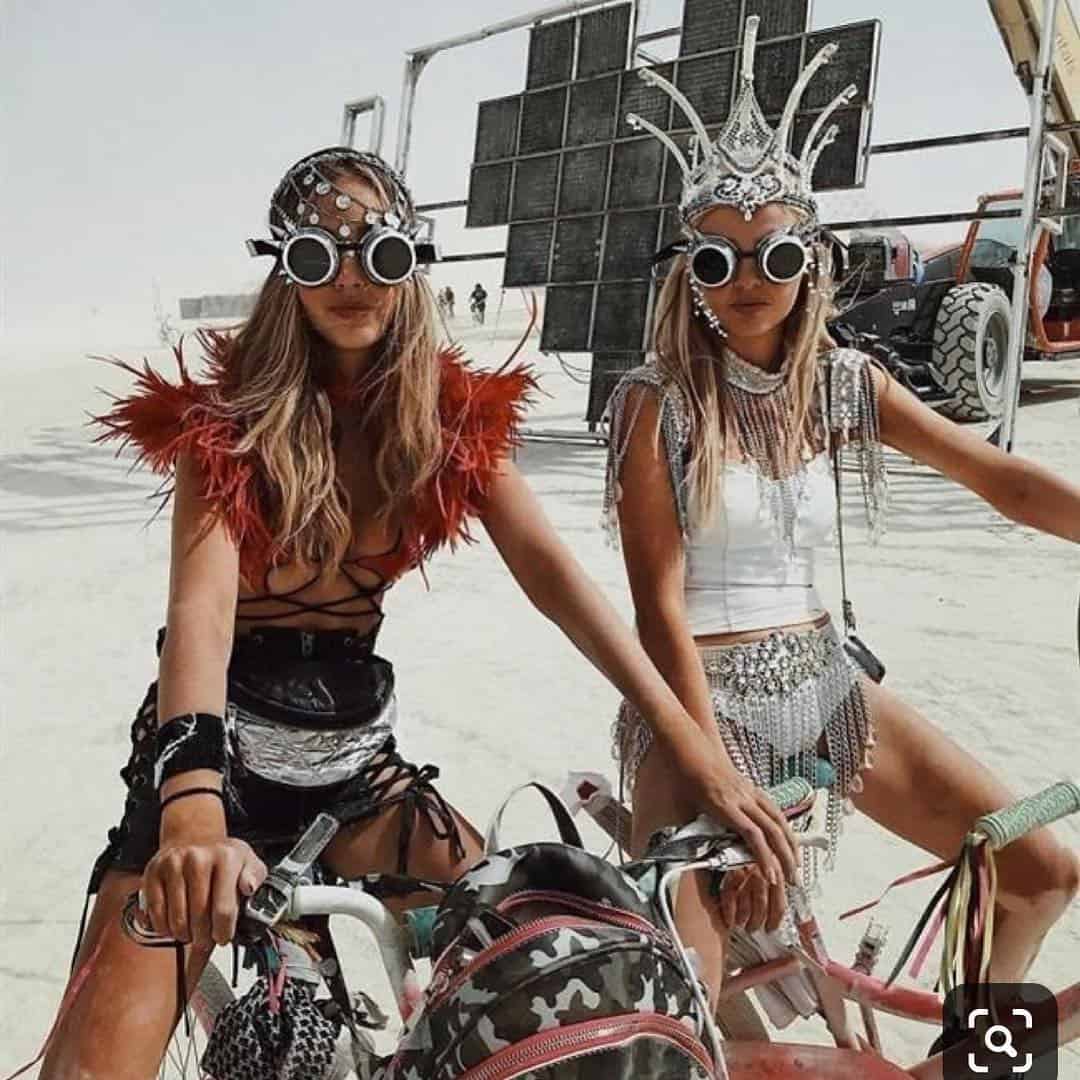 Image Source
Be it the Burning Man or Coachella; this look fits it at any music festival or casual night of fun.
Think dressed up bikinis, cut-off shorts, crop tops, sheer wraps, lots of tassels, jeweled sunglasses, boots, and so on. Less is more when it comes to the outfit choice, and dressed-up sunglasses with chains, hairpieces, etc., can usually double as your masquerade mask.
37. Steampunk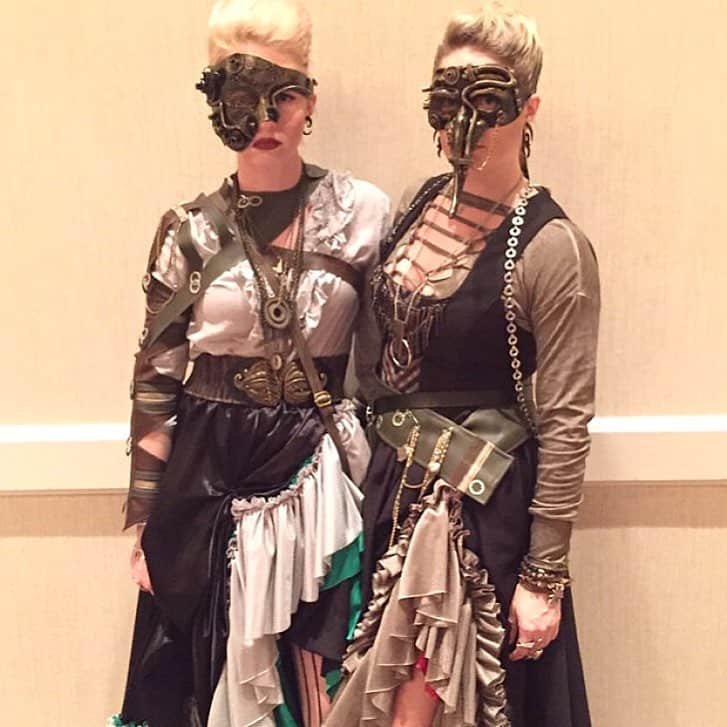 Image Source
You can depict steampunk fashion in a million and one ways. In this instance, a simple renaissance faire dress with a frilly skirt and lace-up blouse has been dressed up with the help of waist belts, body chains, steampunk-themed necklaces, rings, and wrist cuffs. A steampunk-based masquerade mask completes the look.
38. 50 Shades of Grey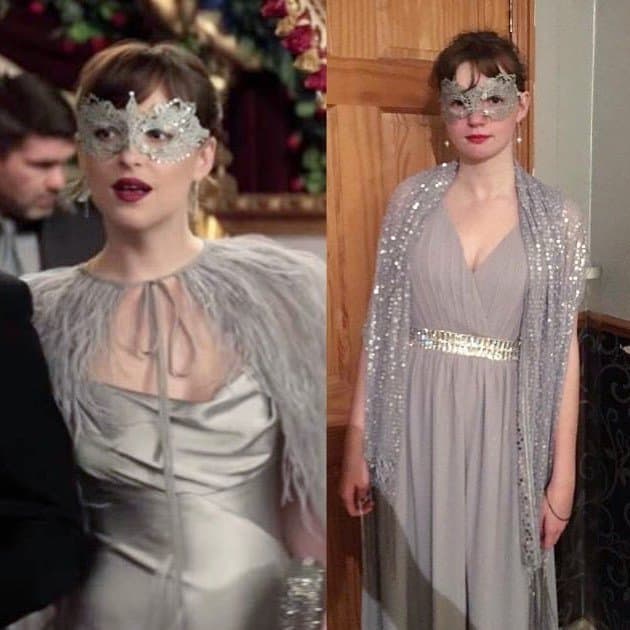 Image Source
Anastasia's masquerade look in the "50 Shades Darker" movie inspires this outfit. She wears this to the masquerade charity auction she attends with her beau. It's a simple silver gown paired with a matching shoulder wrap and a silver lace masquerade mask.
You can customize it to your taste by going with a silver cocktail dress, a sparkling silver metallic wrap, a silver clutch, and a '50 Shades Darker' mask that you can easily purchase online.
39. Deer and Raven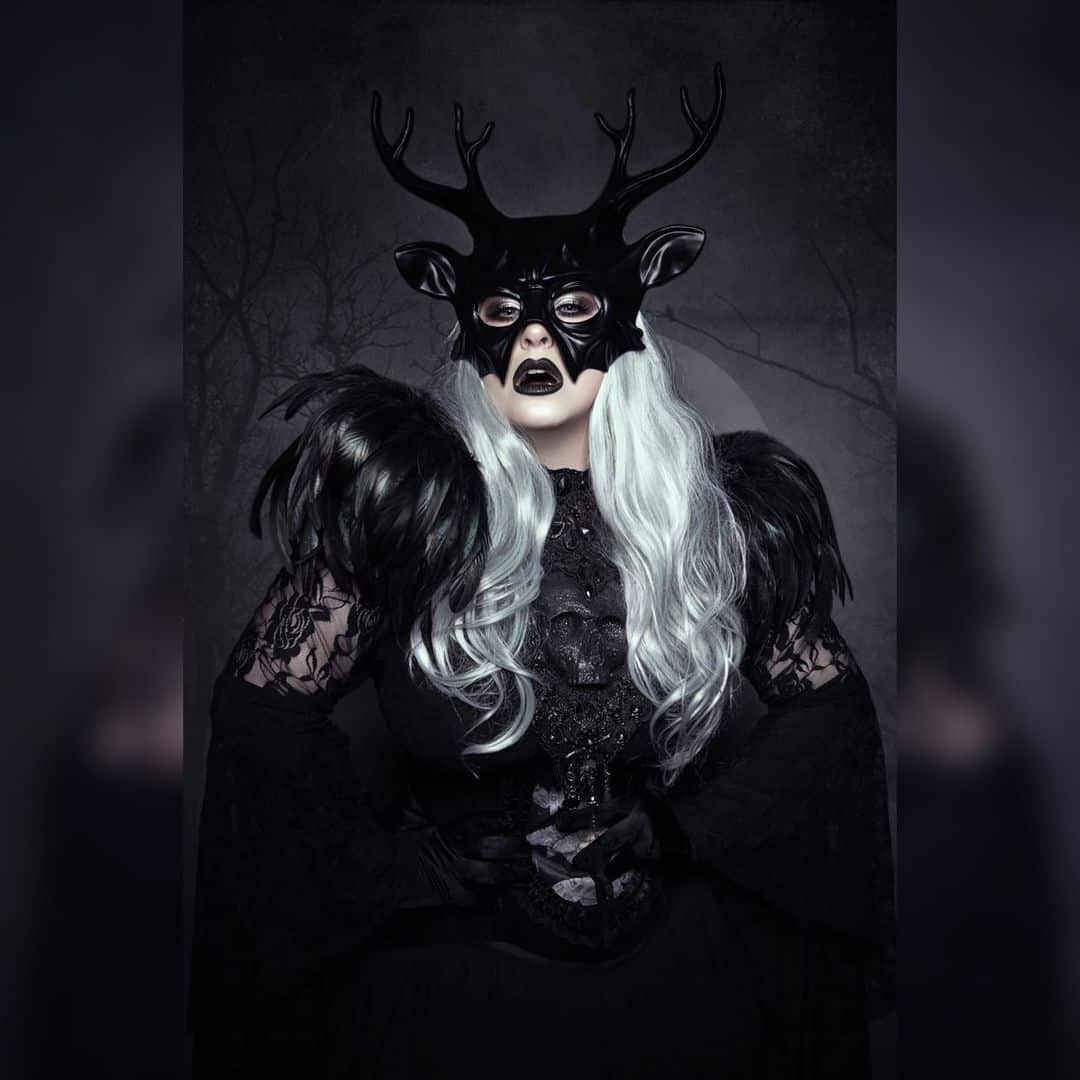 Image Source
Go for the sinister look with this deer-horned mask in black that's paired with a black gown, raven feathers, and white hair. Create this ominous look with the help of the many animal-themed or deer antler masks available online.
Don't forget to add some black feathers to the shoulders to create more drama. Shocking white or blue hair would also compliment the dark and dangerous vibe of this outfit.
40. Phantom of the Opera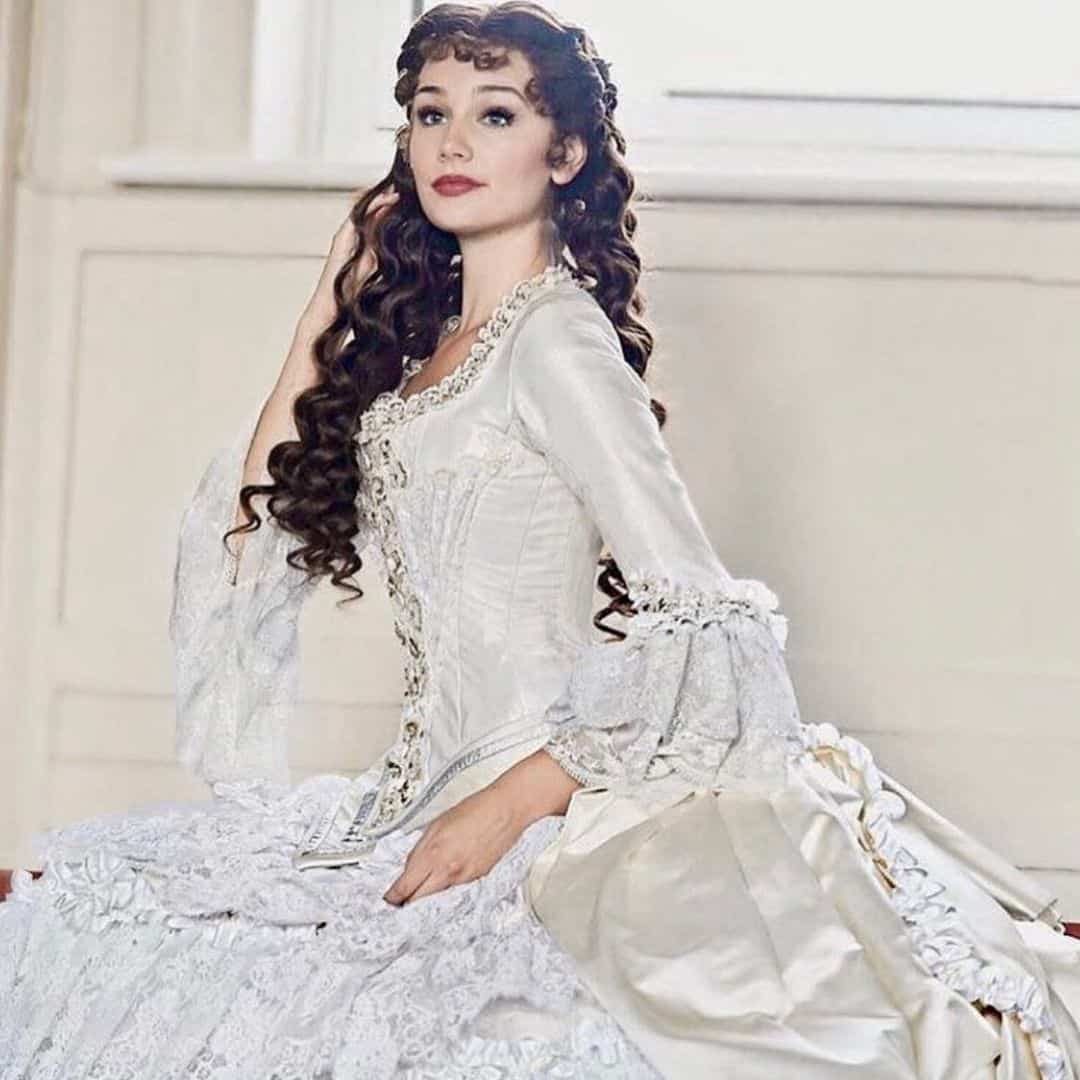 Image Source
Who isn't aware of this famous play based on Gaston Leroux's 1910 novel 'The Phantom of the Opera.' Christine Daaé, the female protagonist, wears several masquerade ball outfits during the course of the show. One is the famous white gown, and the other is the ombre pink and blue gown.
Both the looks are drool-worthy, and you can take these looks as inspiration to create your own Phantom of the Opera masquerade look. While the ombre pink and blue gown might be a tad difficult to procure, you can always play around with a white dress to create the other look.
41. Classic Harley Quinn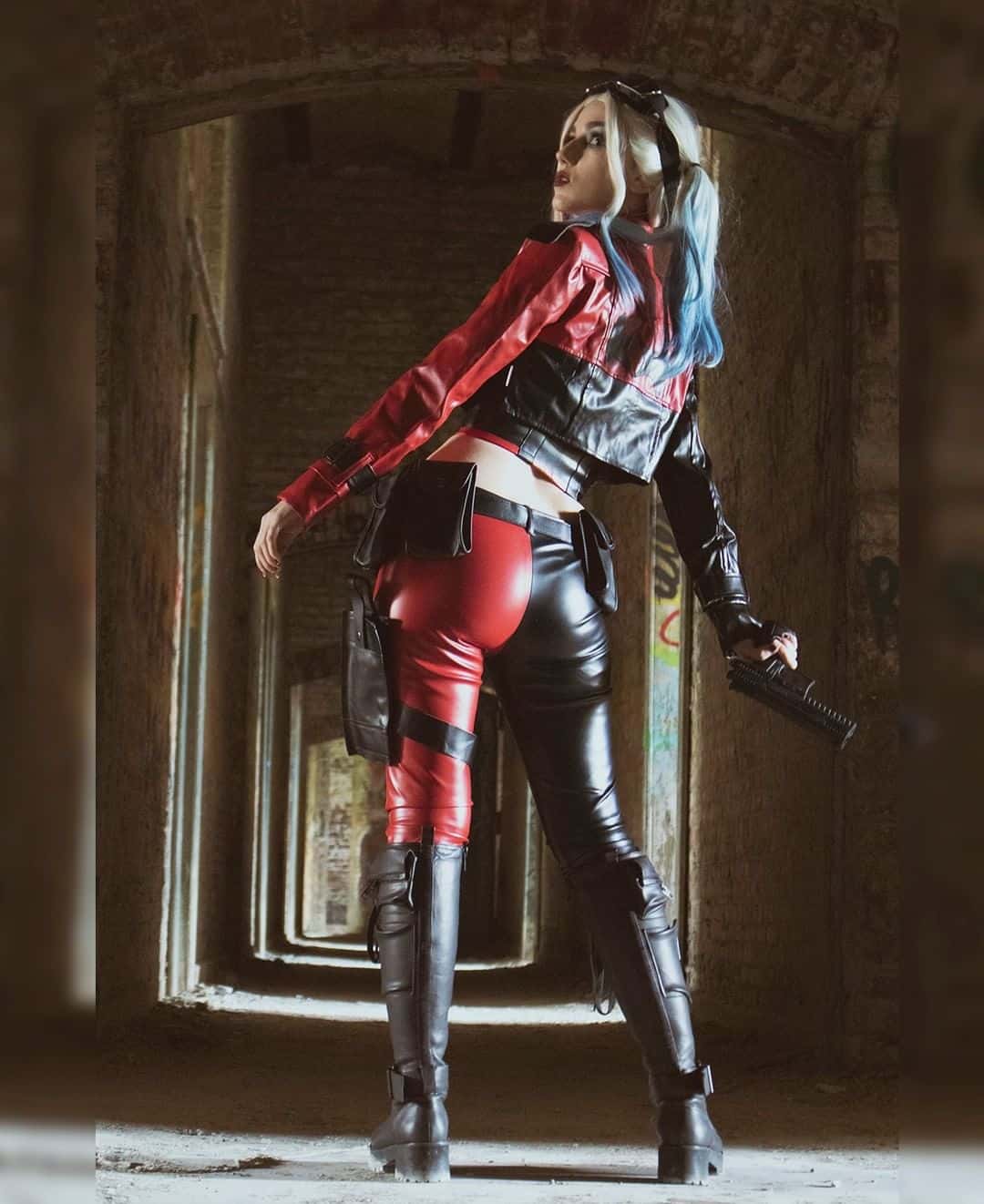 Image Source
Classic Harley Quinn is a colorful DC Comics character who famously sports half red, and half black outfits with the color scheme split down the middle. You can use this idea as the inspiration to create an outfit that's bifurcated by the color theme used. Or, you could make it half plain and half printed to bring out the contrast between the two sides of the outfit.
When choosing a mask, skip the big red and black horns but stick to the theme with a mask that also sports two distinct patterns.
42. Gold Accented Venetian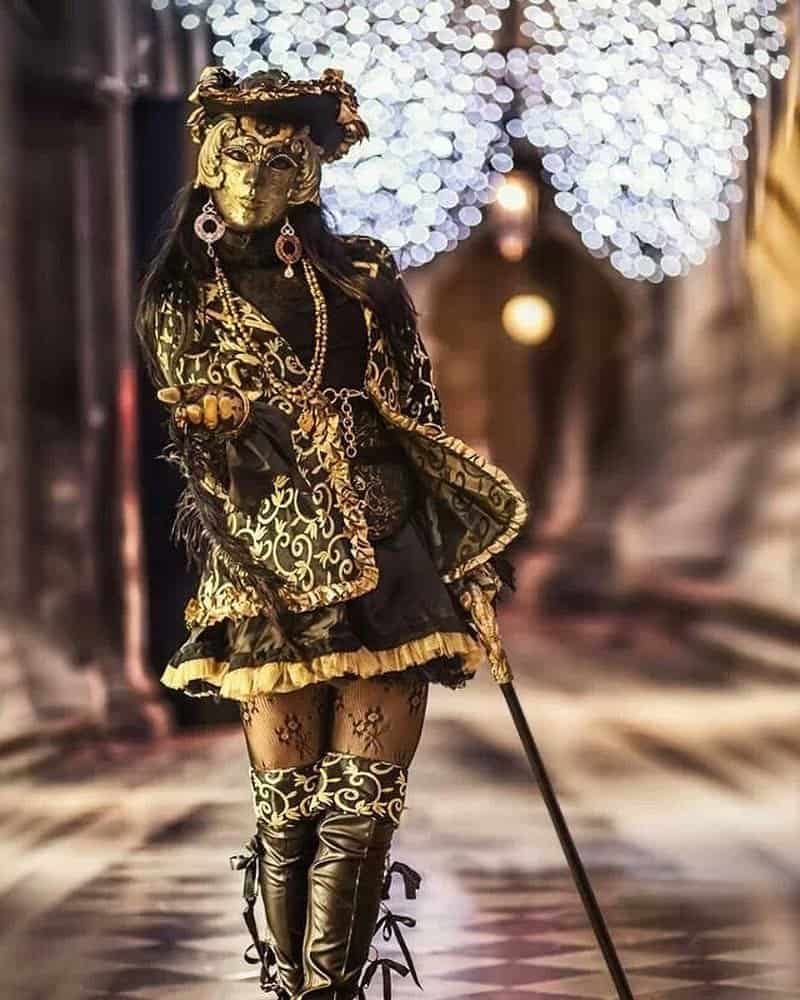 Image Source
We've already seen how elaborate full-faced Venetian masks are. You can create another outfit using a golden accented Venetian mask as the centerpiece of your outfit. Stick to a single color for the rest of the outfit. Whatever color you choose, make sure that there are a lot of golden accents throughout the look.
Whether you're using gold accessories, a dress with gold thread work, or a gold foil printed dress, lots of gold, a single color, and a Venetian mask is the basic blueprint to follow to create this outfit.
43. Bridal Masquerade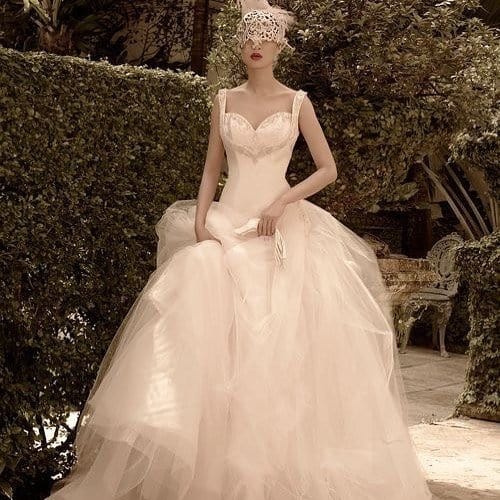 Image Source
Dying to don some bridal wear but haven't had the chance to yet? Rejoice, for you have the perfect excuse to try on that bridal gown you've bookmarked for ages. Pair it with a white lace and rhinestone mask, and ta-da! You're ready to step out in full bridal finery without being a bride. Why? Because it's your masquerade ball outfit theme for Halloween or the winter ball, or wherever you're wearing it—no further explanations are required.
44. Black Swan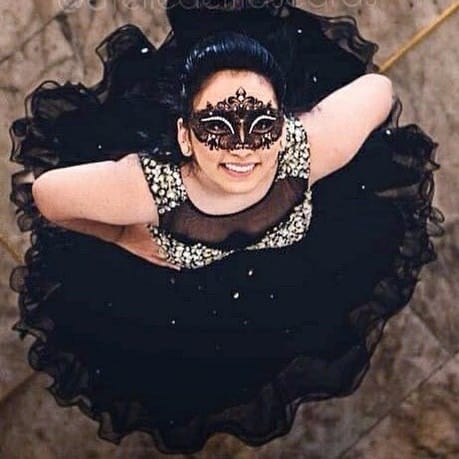 Image Source
Natalie Portman's ballerina character in the famous movie Black Swan inspires this outfit. It is easy to recreate if you have a tulle skirt or a tutu. If not, you can buy one for a few bucks and pair it with a black bodysuit or a corset.
Or, you can whip out your little black dress, even if it's a different cut and style, and wear it with a black tiara and a rhinestone mask. Sheer stockings and ballet flats complete this look.
45. Rococo Style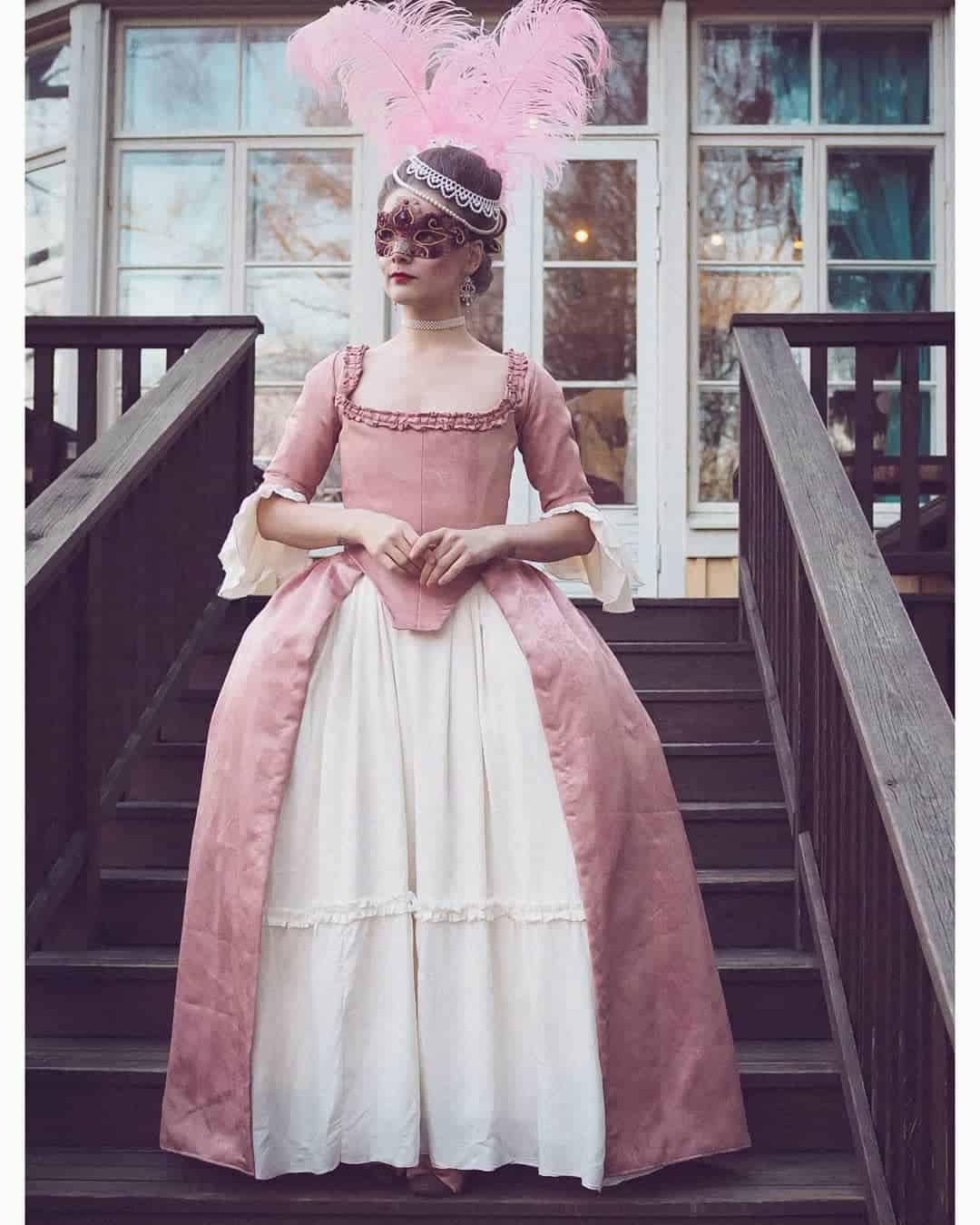 Image Source
The fashion of this period emphasized elaborate ornamentation, the use of muted pastel colors for evening dresses, and finely crafted accessories.
You can create your own Rococo-inspired outfit by choosing an evening dress in a light pastel color. Do not use more than one color palette to create this look. You can introduce variance by choosing a mask or an accessory in a slightly darker shade than the color of your dress. Keep the accessories classy with pearl strands, dainty earrings, and a delicate bracelet or ring.
46. Skimpy Lace With Pearls Mask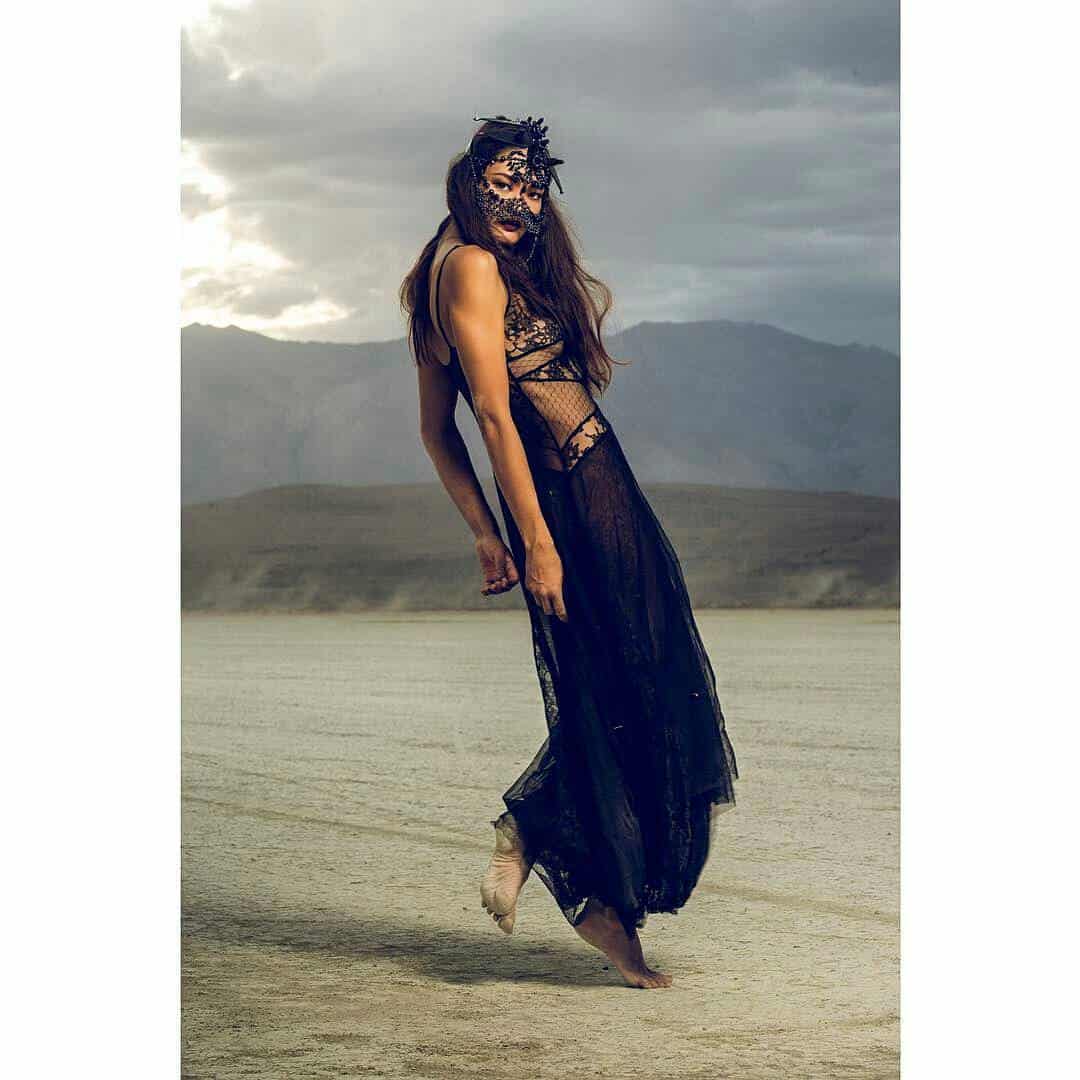 Image Source
The basic premise of this outfit is a sheer, lacy, loose flowing ankle-length dress paired with a lacy mask embedded with pearls. The overall effect is a sensuous masquerade outfit that teases the looker but still stays looking out-of-reach. It's on the risque side of the sexy scale but works in an evening cocktail atmosphere.
You can recreate this look in any color, but keep it simple. Lace is the crucial element here, and any accessories used should similarly follow woven patterns to stick to the theme.
47. Marvel's Cyclops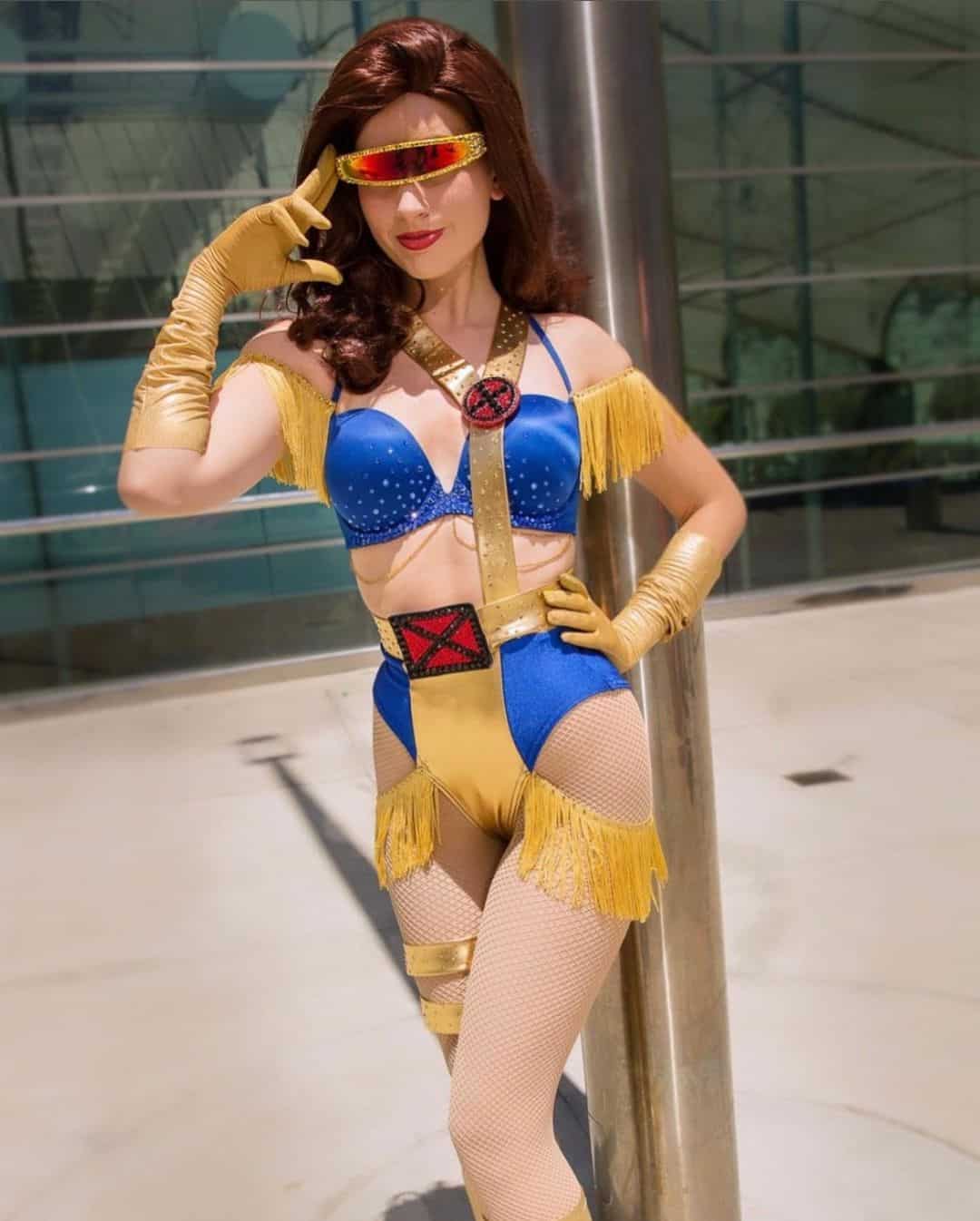 Image Source
This ensemble is based on a male comic book character, Cyclops, also known as Scott Summers. He's a Marvel Comics character who sports this blue and yellow outfit that has been adapted here in a very interesting way.
You can do the same by going for a yellow and blue ensemble and skipping the traditional mask in favor of the futuristic mirrored lens visor sunglasses. Take the look as an inspiration and not something you need to follow to the letter. As long as you have the visor and follow the blue and yellow theme, you're good to go.
48. The Witness Inspired Masquerade Outfit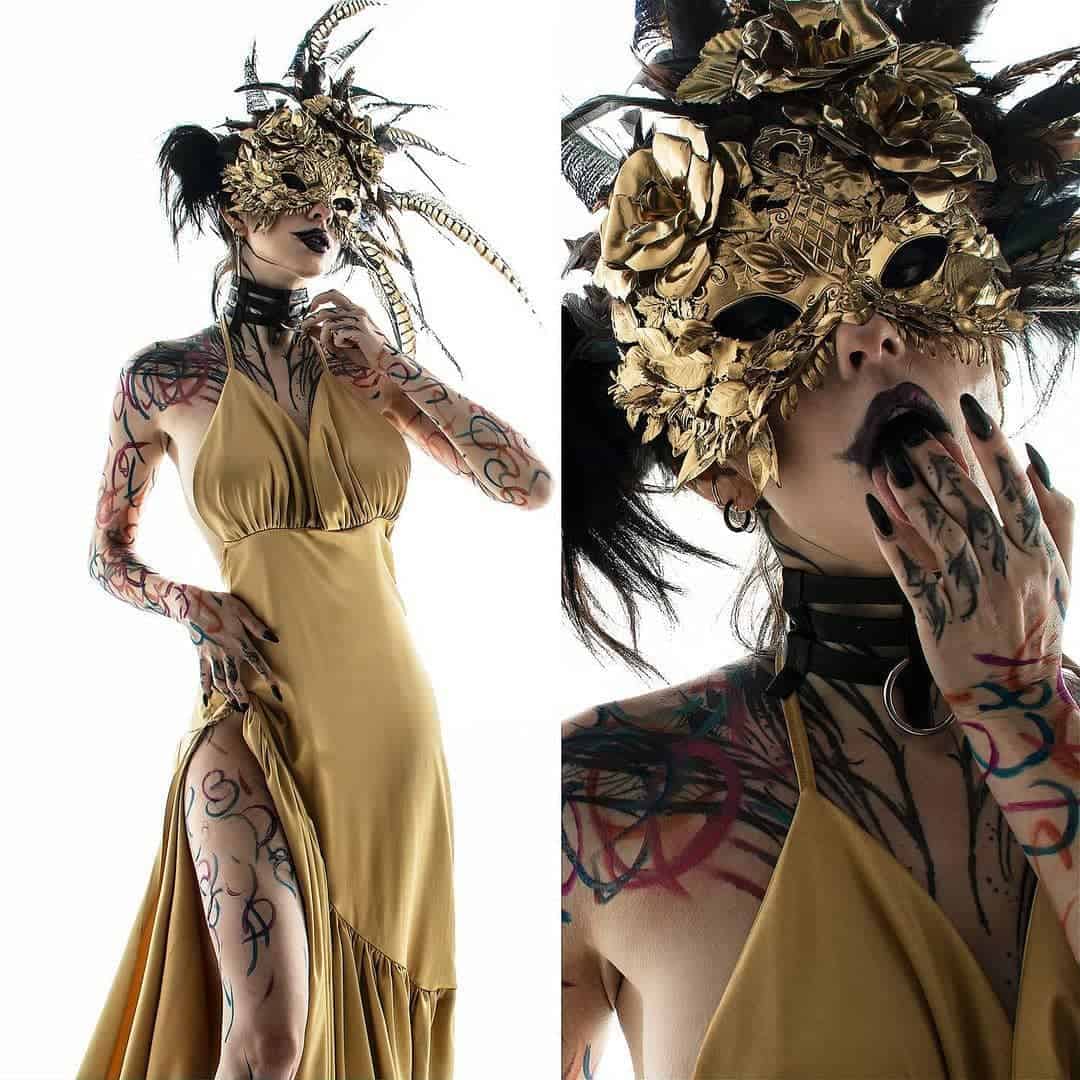 Image Source
'Love Death + Robots' is an animated TV series on Netflix with a small but cult following. One of the prime characters from the show, 'The Witness,' is the inspiration behind this masquerade outfit.
A champagne gold gown with a thigh-high slit, a black choker, a golden masque, and temporary tattoos covering the body constitute the various components of this look. You can also mimic her crazy updo to make it legit. The vibe you're going for is crazy and glamorous. Haphazardly placed tattoos all over your body should be more than adequate to create that vibe.
49. Colorful Beadwork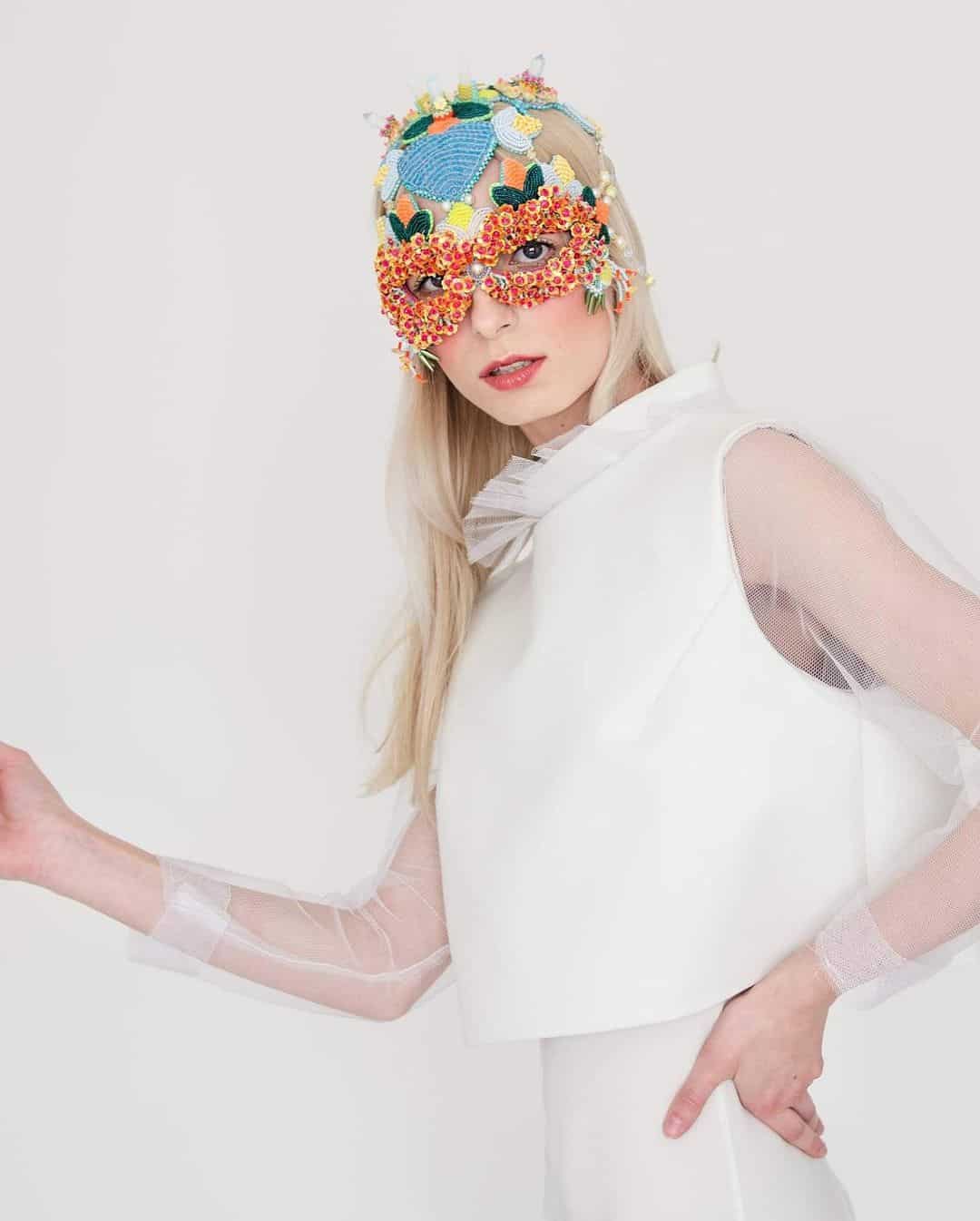 Image Source
This outfit is based on the concept of one stellar accessory paired with a simple dress to let the accessory shine. Here, the stellar accessory is a very creatively crafted mask that makes use of colorful beads. It is a standout piece that needs to be showcased on its own.
So, if you have a masquerade mask that's one of a kind and unique work of art, pair it with a simple, monochromatic dress, formal pumps, and a simple clutch. Let the mask dazzle your fellow attendees as you walk in to join them at this masquerade event.
50. Bejeweled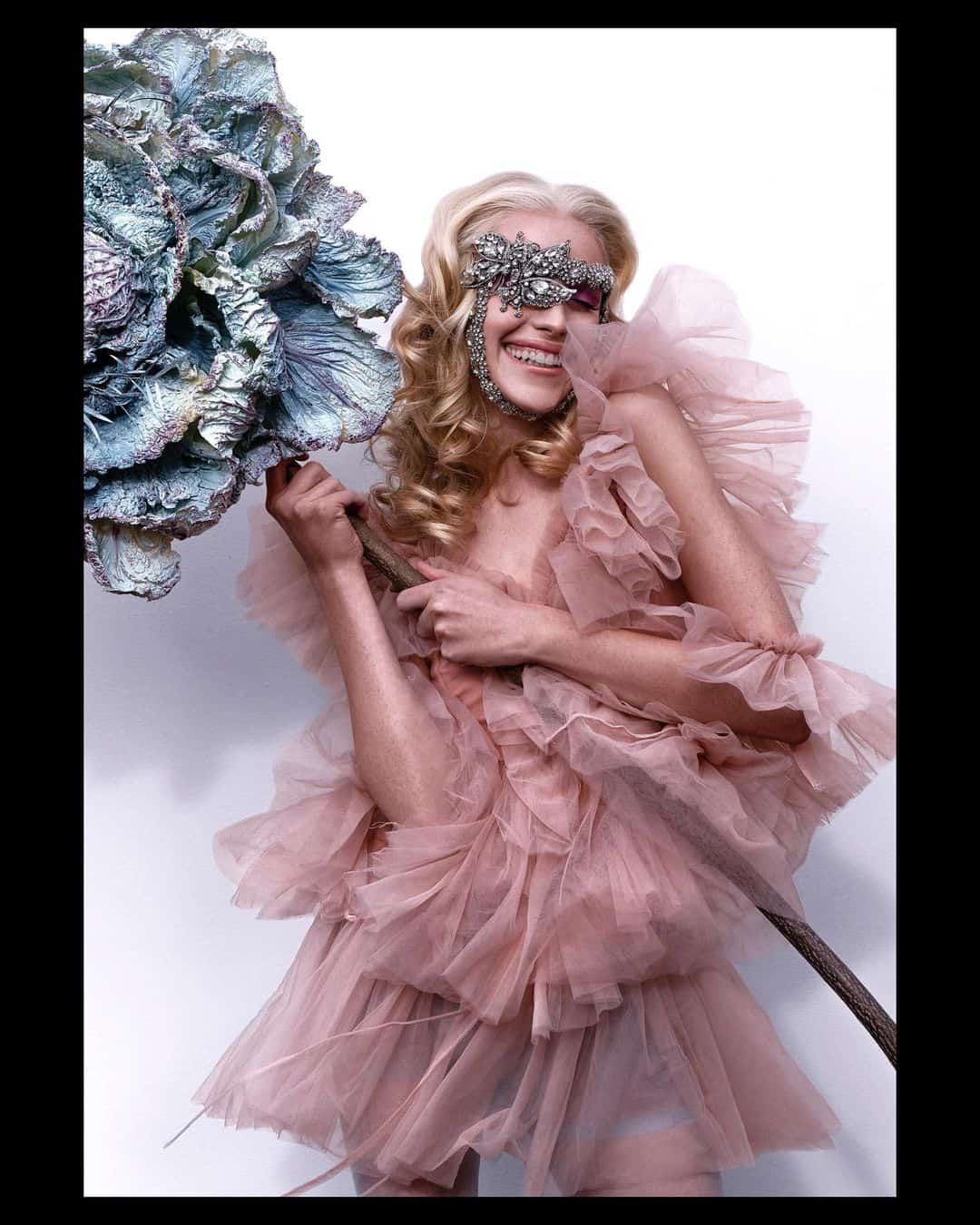 Image Source
This masquerade outfit also follows the same theme as the above idea, but it differs in the execution. Here, you are pairing a jeweled masquerade mask or a very craftily designed diamante mask with a cocktail outfit that also ups the luxury quotient of the mask. A cocktail dress in a soft peach hue and soft golden locks refine the entire look and elevate it to haute couture.
To recreate this look, buy an expensive mask, pair it with a dress in a soft pastel shade, and wear your locks in luxurious soft curls cascading down your dress. Formal pumps and a simple clutch round off this look.
Finding a Mask and Masquerade Outfit
Buying a Masquerade Mask
Masks for masquerade outfits can range from those that come in simple packs of 12 to intricately designed jewel-encrusted masks that can burn a hole in your pocket. The mask by itself doesn't always have to stand out. As such, an inexpensive mask should not make you feel out of place as long as it works with the rest of the outfit. When buying a mask, do not go over budget. There are plenty of wonderful options available for all price points.
Sourcing a Masquerade Outfit
Just like masks, you can also create masquerade outfits on shoe-string budgets regardless of the theme. You can pair up regular pieces from your wardrobe to create everything from historical costumes, a "Roarin '20s" look, or a racy modern outfit that sets pulses soaring. A little ingenuity will go a long way in keeping the costs low. Here are a few helpful tips for creating masquerade outfits with ease:
Purchase essential items that you can repurpose to create different themed masquerade outfits.
Spend wisely on knick-knacks like feathers, pearl strings, laces, pleated frills, wigs, gloves, stockings, belts, buckles, chains, tiaras, baubles, etc., to create a wide variety of outfits.
You can easily incorporate regular dresses from your wardrobe like the little black dress, evening dress, or a white skirt and t-shirt into your masquerade outfit to create elegant looks.
If you have them, shrugs, jackets, shoulder wraps, and capes can be used to introduce layers as well as hide inconsistencies in your outfits.
Glitter, sequins, rhinestones, and other bling will add drama to your outfit and make it look more expensive if used sparsely and creatively.
Themes are open to interpretation. Do not hesitate to provide a personal flourish to your outfit that walks directly in the face of the theme if you think it works. It's your idea of it that matters. But don't go blatantly disregarding any rules that could spoil the fun for others.
Final Thoughts
Masquerade balls are fun events to experiment with your outfit choices and try on new things. Create new outfits with regular wardrobe items, and have fun as you sport the most ridiculous or glamorous ensemble you can come up with. Masquerade masks make it possible to hide in plain sight even as you sashay around in a get-up you wouldn't wear otherwise.