Editor's Note: If you're looking for aesthetic inspiration for a spring and summer wardrobe revamp, anime is a great source because of its interesting use of patterns and colors. Pattern-mixing is one of my favorite things any time of year, but spring and summer make it easy to be playful with color!
Another great source of inspiration can come from your favorite anime characters (or characters you just love the designs of!) Even if you're not looking to do a full cosplay, you can still take elements of costumes that you like and incorporate them into your full look. For instance, it may be impossible to be Sailor Jupiter, but you can still give her a nod in your outfit with a pink and green color scheme!
Anime comics have taken the world by storm, and outfits inspired by the various characters portrayed in these comics have become quite the rage. What's one to do if one's in love with these characters and their style? Yokatta ne ( よかったね – good for you), we're here to help with your appetite for all things anime.
This guide is for those looking to incorporate anime-inspired clothing and accessories in their outfits and mimic anime character's style. Besides casual anime-inspired outfits, we've also featured outfits inspired by popular anime characters. In the case of character-inspired outfits, you don't need to recreate the outfit in its entirety; this isn't a guide to cosplaying. You can just take the theme or idea of the character's costume and recreate it with your own unique touch. For your convenience, we've also included online links to buy many of the featured pieces.
Different Kinds of Anime Outfits
Before you jump to the gallery, here's a quick guide to the kind of outfits we've covered and how you can create your own anime outfits based on the theme, color, and mood of the anime look. While a couple of looks are over-the-top (ott) and quirky, most of these looks can be worn on a daily basis.
Cute Anime Outfits
For a vast majority of the general public, anime looks instantly invoke cutesy looks. Even though this is untrue, there's a large section of the audience devoted to recreating cosplaying cute anime characters. We have many varied suggestions on how you can adapt this attractive anime phenomenon to your style.
Sexy Anime Outfits
Anime culture takes sexy to another level and fetishizes the 'Lolita' look to a great degree. Most sexy anime outfits are an offshoot of adolescent school-girl uniforms with a sexy twist. There are other ways of recreating sexy anime outfits if the 'Lolita' culture isn't your cup of tea. Browse through our gallery to find looks that are sexy and mature to boot.
Grunge Anime Outfits
Grunge and gothic vibes combined with sexy and cute anime looks make for a truly rad pairing. If you have the right degree of oomph, you can carry these sometimes hardcore, mostly outlandish looks and turn heads wherever you go. If not, well, you should never wear clothes that make you feel uncomfortable – the relaxed and cool vibe is lost, and you end up looking weird.
Harajuku Style Anime Outfits
Harajuku is a uniquely Japanese, ever-evolving, eclectic mix of different dressing styles like Gothic, cute, sexy, and colorful clothing that doesn't restrict itself to any single look-type or social norm. It's an expression of unique, personal styles that can take on elements from different fashion genres.
There are many other categories different anime looks can be slotted into, but we've only mentioned the above few for the sake of simplicity. Our gallery of the '50 Best Anime Outfit Ideas' is an excellent guide to follow if you're looking for inspiration to update your anime wardrobe.
50 Best Anime Outfit Ideas
1. Simple Beige Anime Outfit

Image Source
Inspired by Nanami's iconic outfit of a simple pleated dark beige skirt, matching jacket, a black shirt underneath, and a big, light yellow bow tie. Beige boots and black knee-length socks round-up her look.
You can adapt this look by changing the colors while keeping the pieces similar to those she wears. For example, you can pair an aqua green skirt, jacket, and boots with a pastel pink shirt and socks. You can skip the tie or go for a pastel purple printed scarf to finish your look.
2. Icy Blue Anime Outfit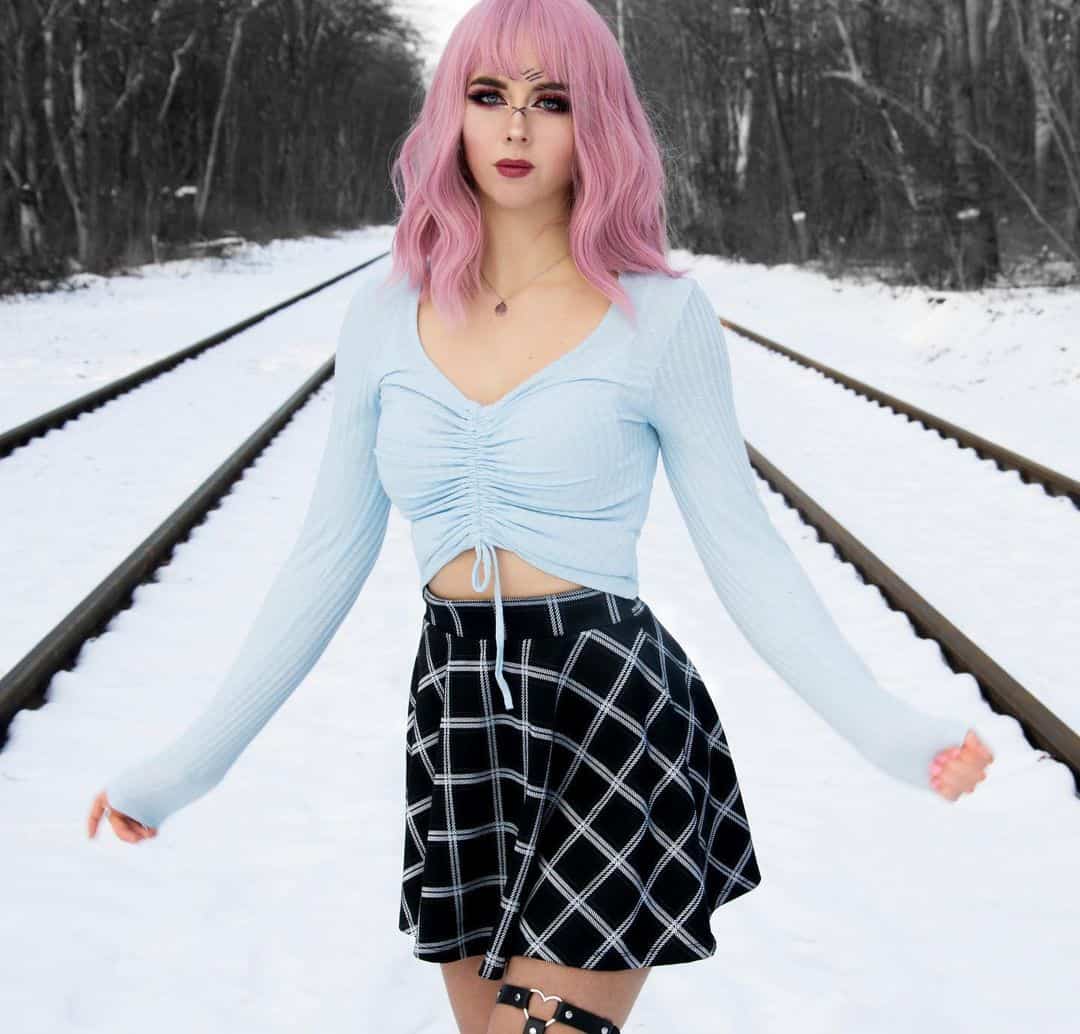 Image Source
We usually see a lot of pinks, blacks, and whites in anime-inspired outfits as far as colors go, while plaids are the most extensively used print patterns.
This outfit brings the cute quotient with an icy pastel blue, striped, full-sleeved crop top and trades in the de facto plaid print for a simple square-grid print, short, black skirt. The icy pink hair adds to the anime vibe of the outfit, but that's optional.
3. Harajuku Superhero Hybrid Anime Outfit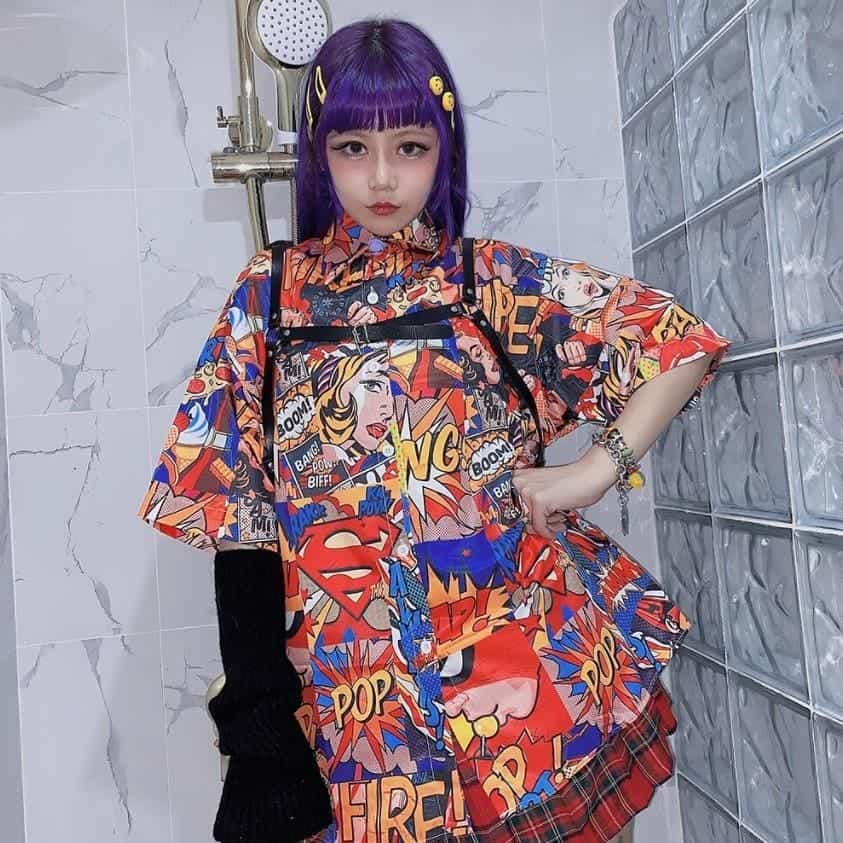 Image Source
This is more of an anime aesthetic than just an outfit. The busy print on the oversized shirt, superhero symbols, slim black suspenders, the short pleated plaid print skirt, and the complimentary hair color and styling all contribute to this look.
Since Harajuku doesn't stick to any lane, you can recreate this hybrid anime look by finding an oversized shirt with a busy print of any other theme you are a fan of.
4. Neko Girl Inspired Anime Outfit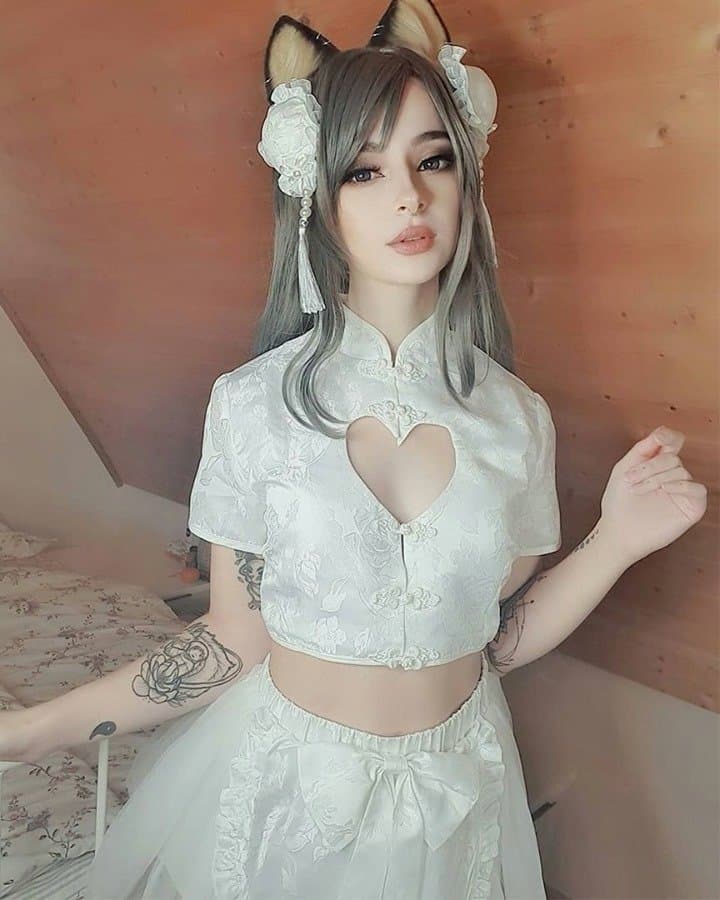 Image Source
Neko girls have feline features with a soft vibe to the overall look. This look features a pretty floral jacquard print, button-down, crop top with a prominent heart cut-out on the front. A matching maid skirt with a bow makes up the bottom half of the outfit.
Recreate this look with a maid skirt in any color and a matching button-down cute crop top. Neko girl vibes are brought about with the hairstyle with side-bangs, soft makeup, and fake cat ears.
5. Kawaii Pink Anime Outfit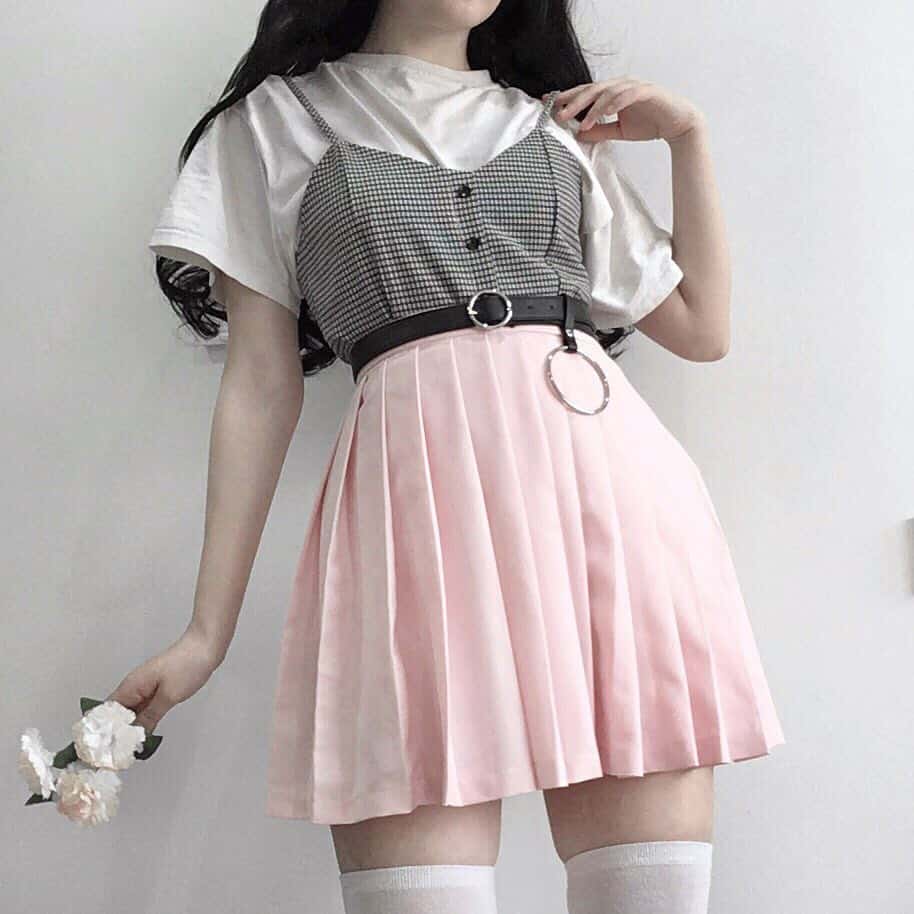 Image Source
This cutesy look is easily achieved with a short, pleated pink skirt in a shade of your choice. Though great as-is, you could pair it up with a loose V-neck cardigan in a muted shade of pink and round out this anime outfit with white sneakers and a pair of pink or white socks.
This look can also be varied with different shades of peach, pink, orange, and pastel colors.
6. Pastel Mishmash Harajuku Anime Outfit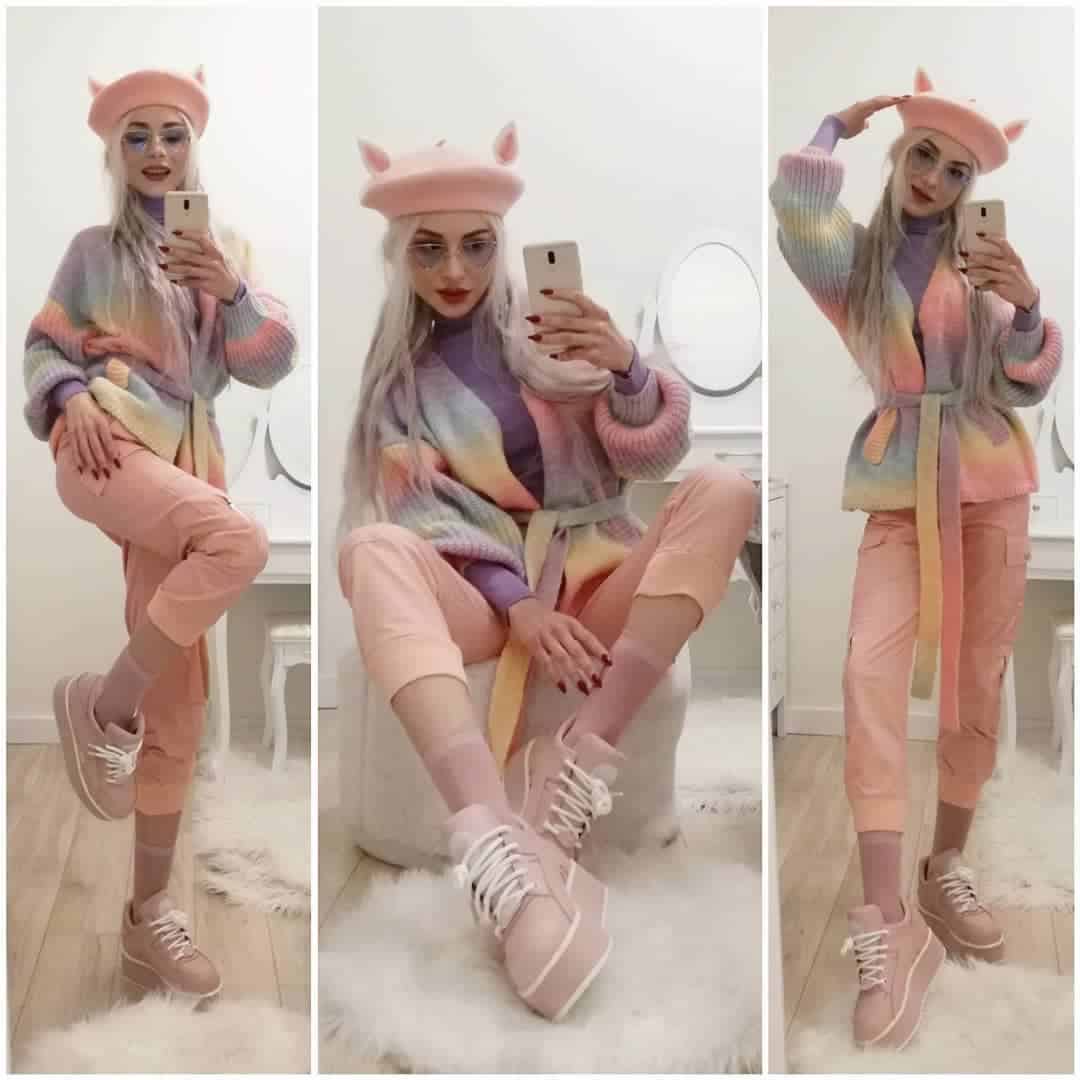 Image Source
This anime outfit moves away from the de-facto skirts and goes for comfort with a pair of pastel pink capris. A pastel purple turtleneck cardigan, underneath a short tie-front cardigan in different pastel shades, lends this look its Harajuku anime vibes. A pastel pink beret with cute ears, pink socks, and pink shoes round up this look.
Finding a cardigan that features a rainbow of pastel shades might not always be possible, so you can vary your look by incorporating items in different pastel shades to create a quirky, colorful anime outfit. You can see a less kawaii outfit in a similar theme here.
7. Bib Pinafore Anime Outfit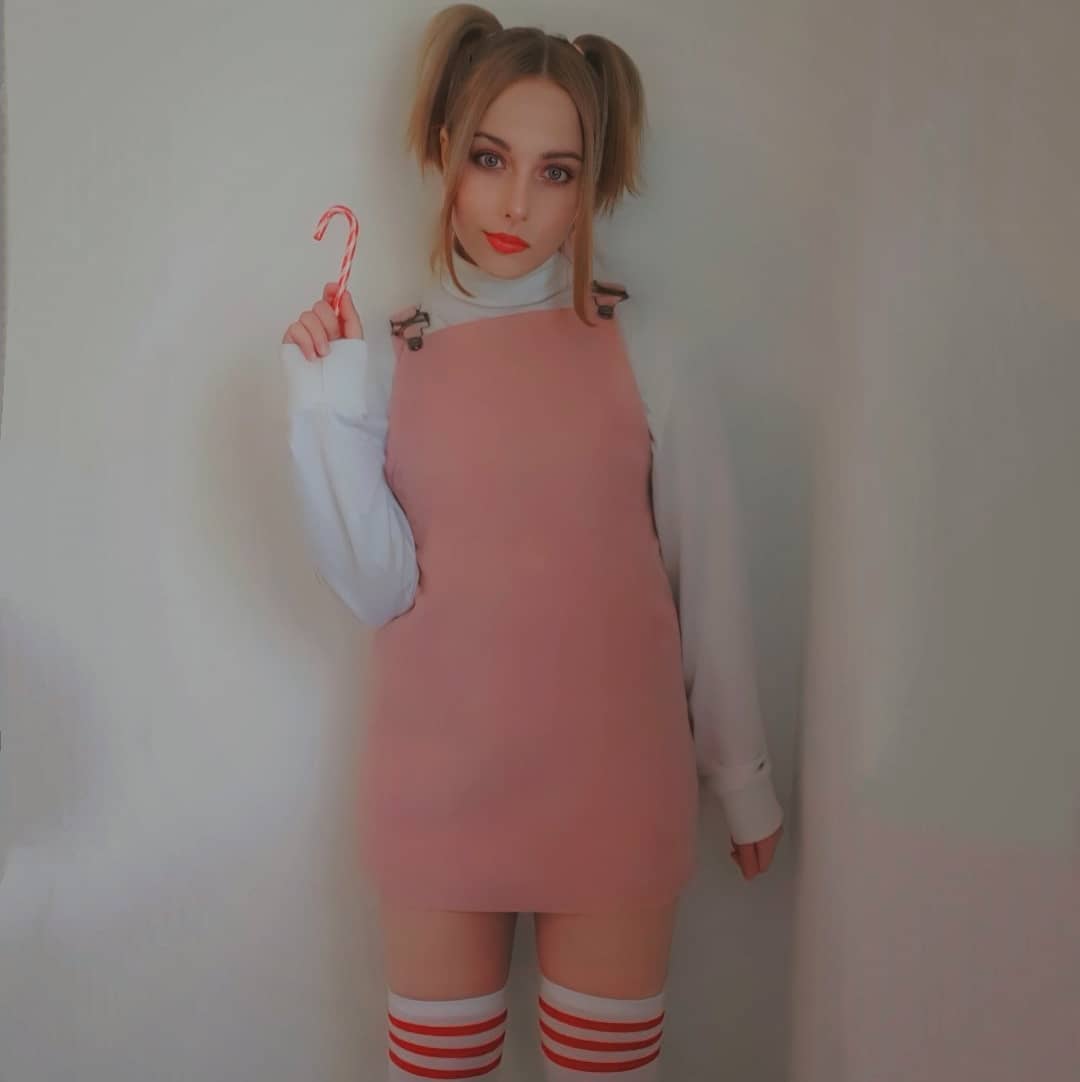 Image Source
This cute little outfit is pretty straightforward. It combines a short pastel pink bib pinafore dress with a polo-neck, full-sleeved, white shirt, and knee-high socks with bold red stripes. You can dial up the anime vibe of this outfit by tying up your hair in bunches.
The dress and the polo neck shirt are the key elements of this look, and you can go for any color of your choice to make up your own bib pinafore anime outfit.
8. Season Defying Anime Outfit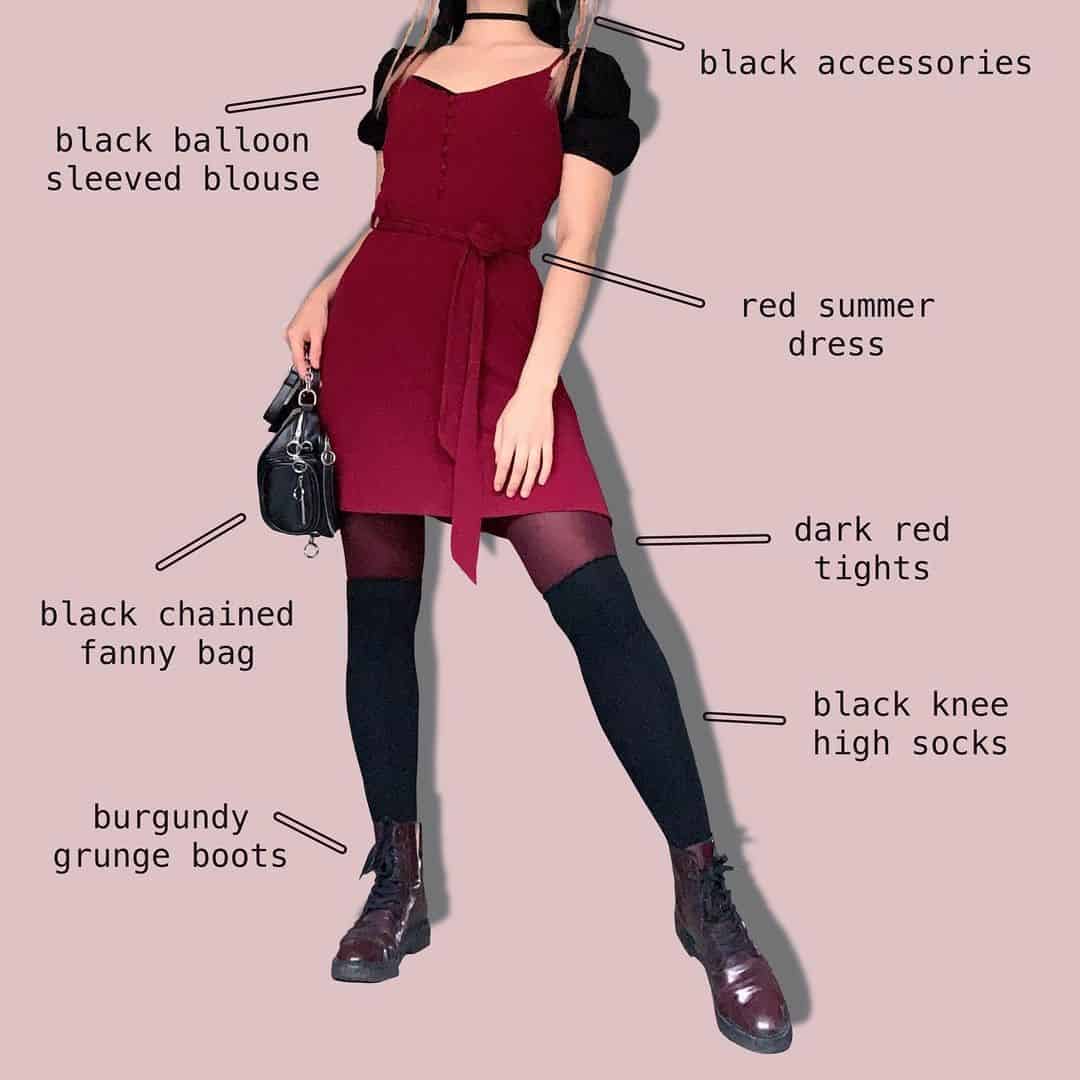 Image Source
Many anime characters are rebels who do not conform to the norms. You can take this concept and apply it to your outfit by wearing a cute outfit that would ignore the seasonal dressing norms. For example, this is a summer outfit worn in the winter months.
It features a simple red summer dress paired with all black accessories like a choker, knee-high socks, balloon-sleeved blouse, a fanny bag, and earrings. Burgundy grunge boots roundup this rebellious look that dares you to walk out in the freezing cold in this getup.
9. Air Gear Inspired Cool Anime Outfit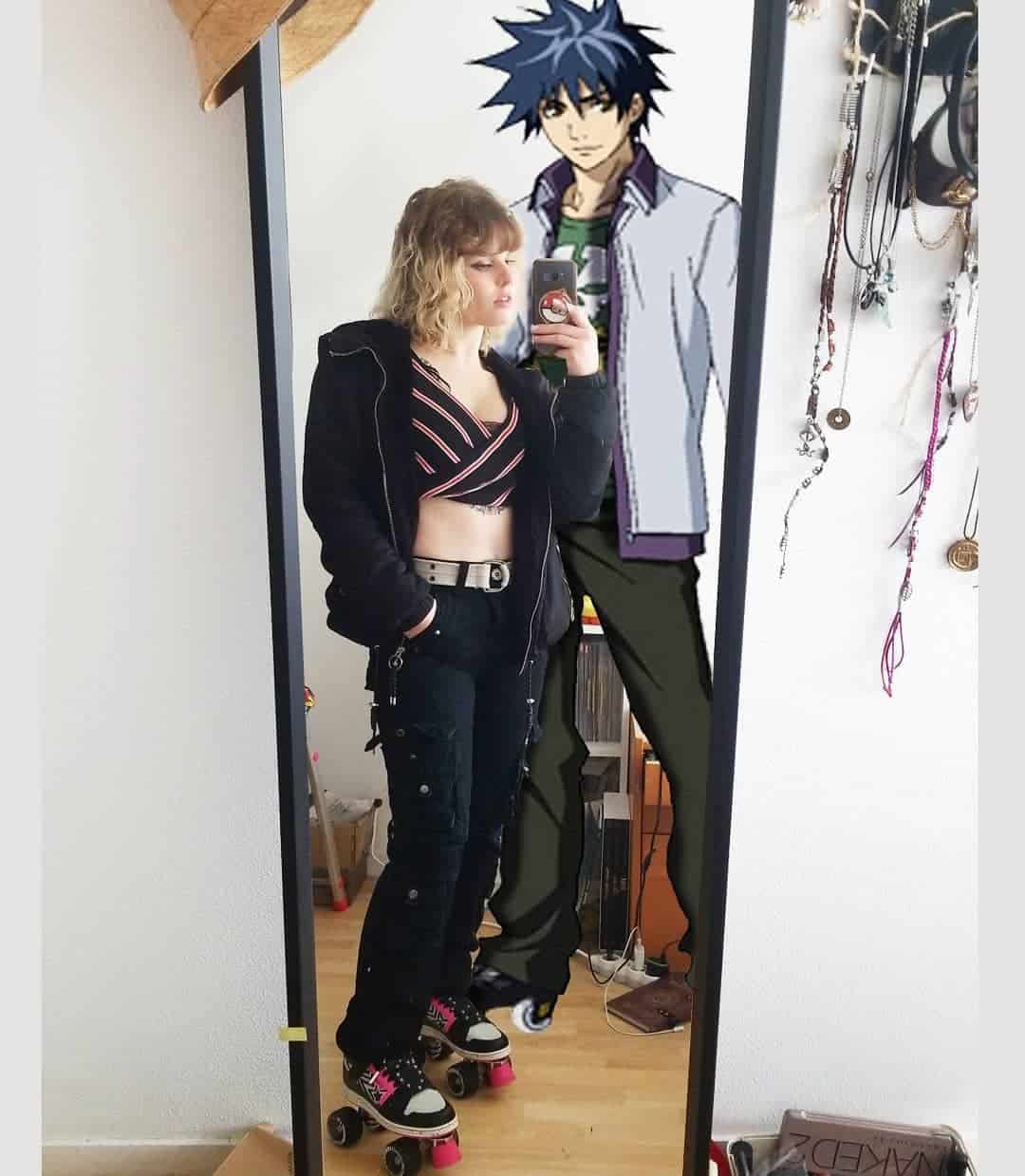 Image Source
This look is inspired by the character in Air Gear and features skates like the lead. It's a neat and minimal fuss look that can be created by using pieces from your wardrobe.
Black jeans and a black zip-up jacket are the items in focus. You can pair them with any black-adjacent sneakers and crop top. Rollerblades are optional if you don't have them. Finish this look with a wide belt and a cool hairdo.
10. Katara Inspired Casual Sporty Outfit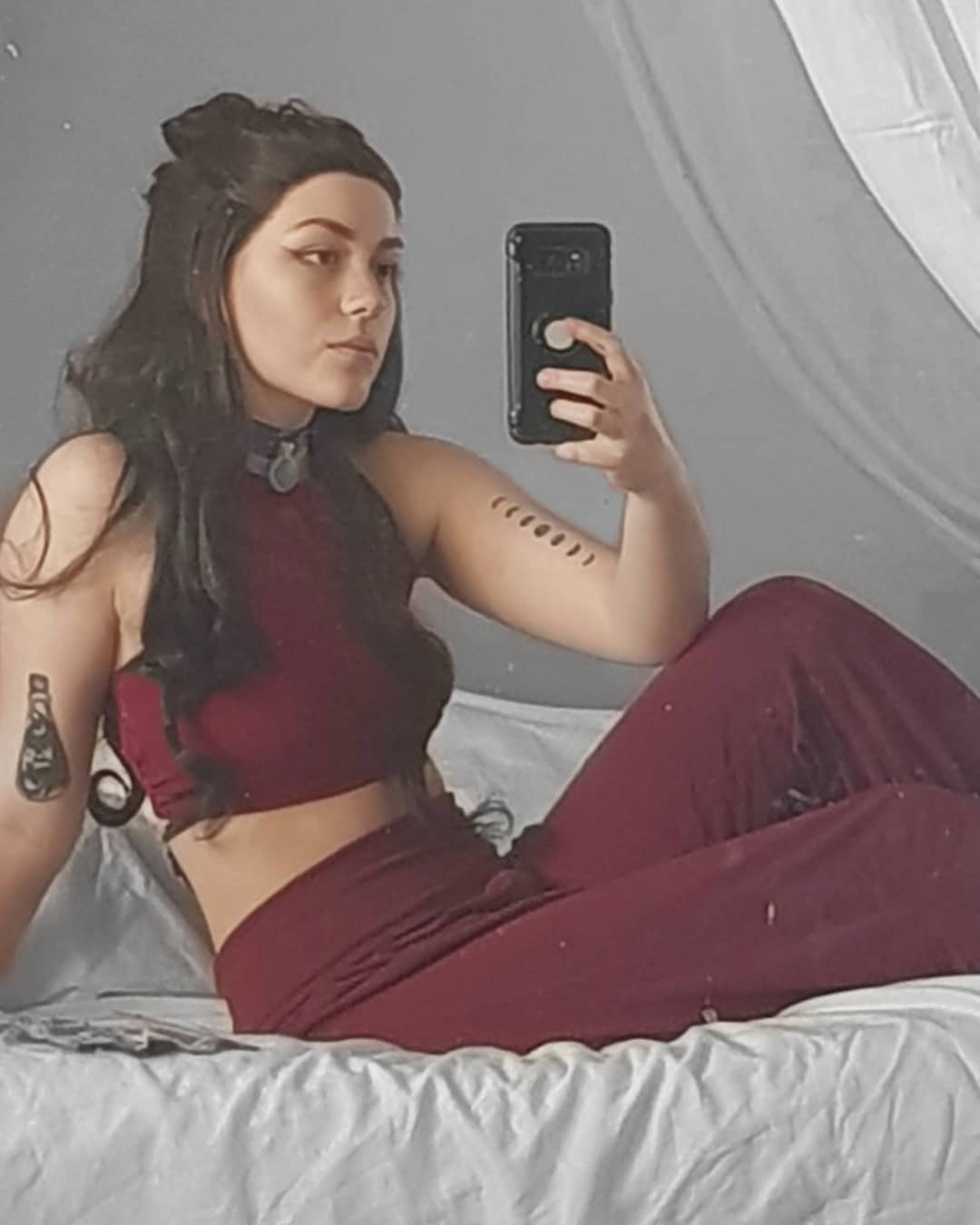 Image Source
This is an anime outfit inspired by Katara's cool martial arts threads. It's a sporty look that features a halter-neck, sleeveless crop top in maroon, and a matching pair of pajama pants.
The big medallion pendant on the ribbon choker is totally optional if you think it would get in the way of your exercise routines, but looks cool nevertheless.
11. Kawaii Lolita Girl Anime Outfit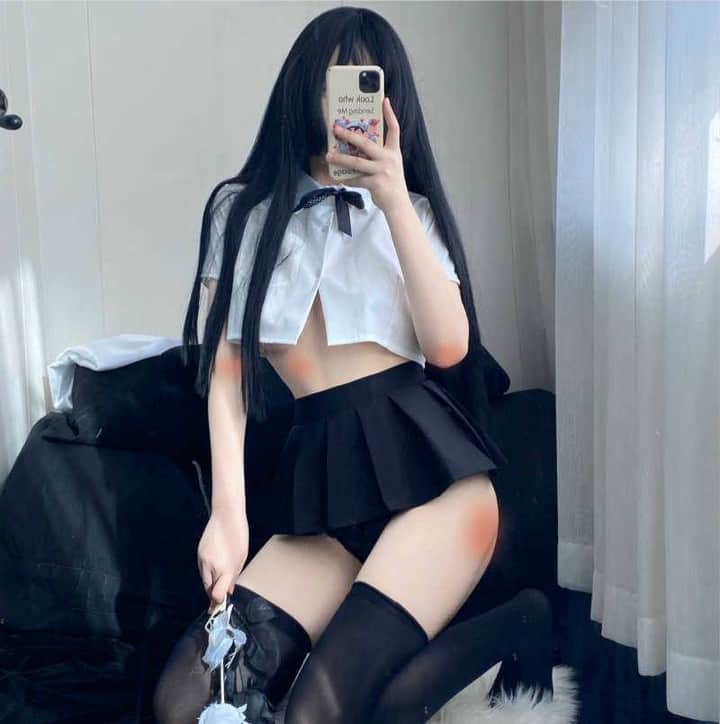 Image Source
The Lolita look makes for a significant chunk of the looks anime characters sport. This particular look is going for the sexy school girl vibe with a super short black pleated skirt, white cropped top open in the front, black thigh high socks, and a cute little black bow.
This is one of those anime-inspired looks that you really can't sport on a day-to-day basis but deploy as cosplay on special occasions.
12. Juvia Lockser Inspired Winter Chic Anime Outfits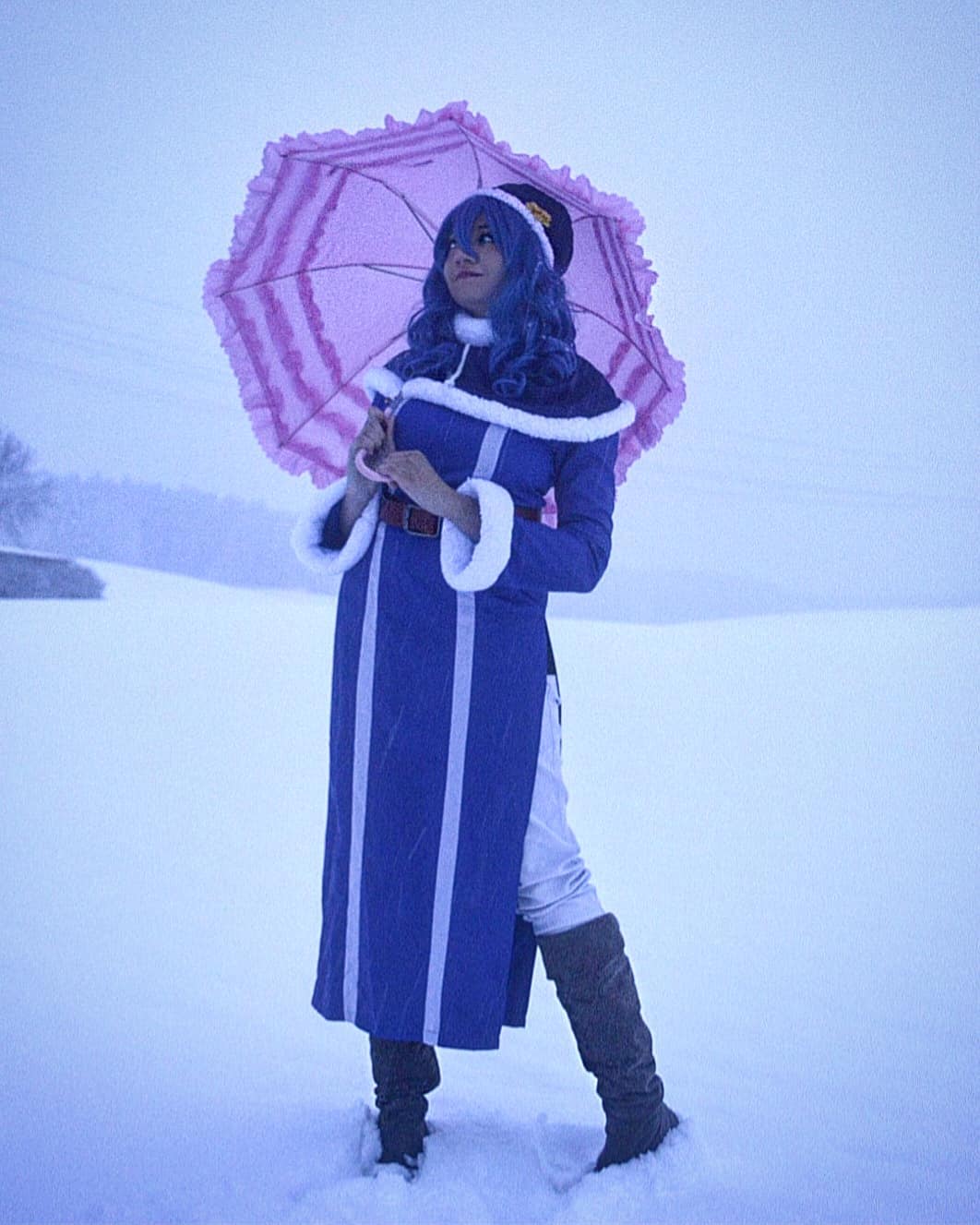 Image Source
Juvia Lockser is a well-loved character with an impressive blue-favoring wardrobe that complements her azure blue hair. This blue ensemble features a snug long coat with fur trims. You can find it here as a lot of cosplayers dress-up as Juvia.
You can adapt it into an everyday winter wear ensemble by skipping the costumey parts of the outfit. She wears it with a warm covering for her legs, which is impractical in a real-life scenario, so you can add a pair of winter woolens in white and a comfy pair of boots to keep the cold at bay. The pink umbrella is optional.
13. Gamer Girl Anime Outfit

Image Source
This is an elaborate outfit that takes a lot of pieces to put together. The cute cat stockings, the little Pokémon hangings, the chain belt, the garters, the layered crop tops, the suspenders, and the body chain all add to the drama of the gamer girl persona this outfit aspires to.
Although the lively hair colors are optional, something dramatic like highlights or spikes will complement the outfit well. Lastly, the makeup and nails are on point here, with the blue lip color matching the dark blue locks.
14. Haute Couture Anime Outfit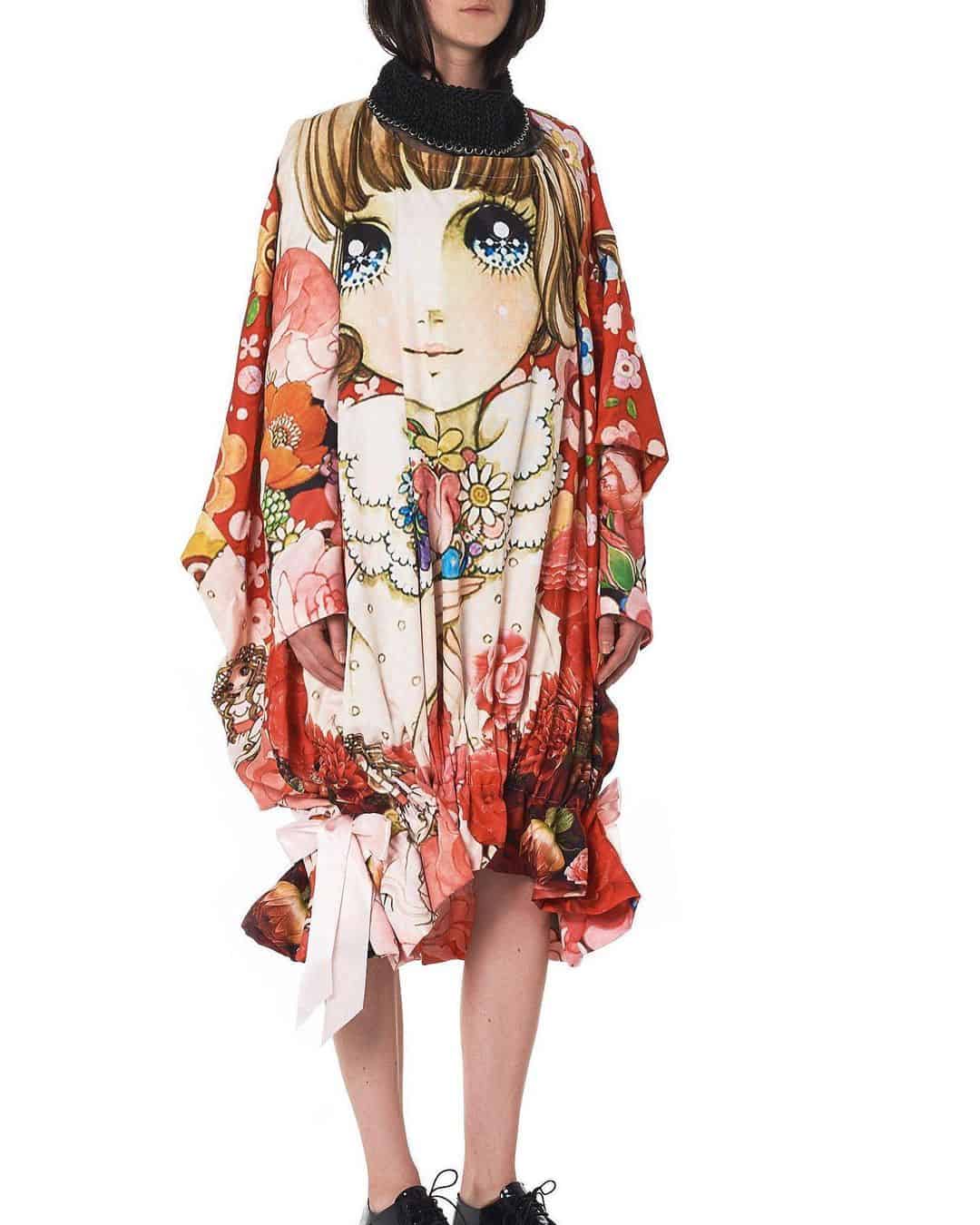 Image Source
Anime style isn't limited to street style or prêt-à-porter offerings. Haute couture collections also draw inspiration from this widespread phenomenon.
This unique creation is featured in the Japanese fashion label Comme des Garçons' Spring/Summer 2023 collection. It has a lot of different anime aesthetics on the printed long dress. You can see the rest of this collection here if you're planning to splurge on your next anime-inspired outfit.
15. Anime Printed Outfit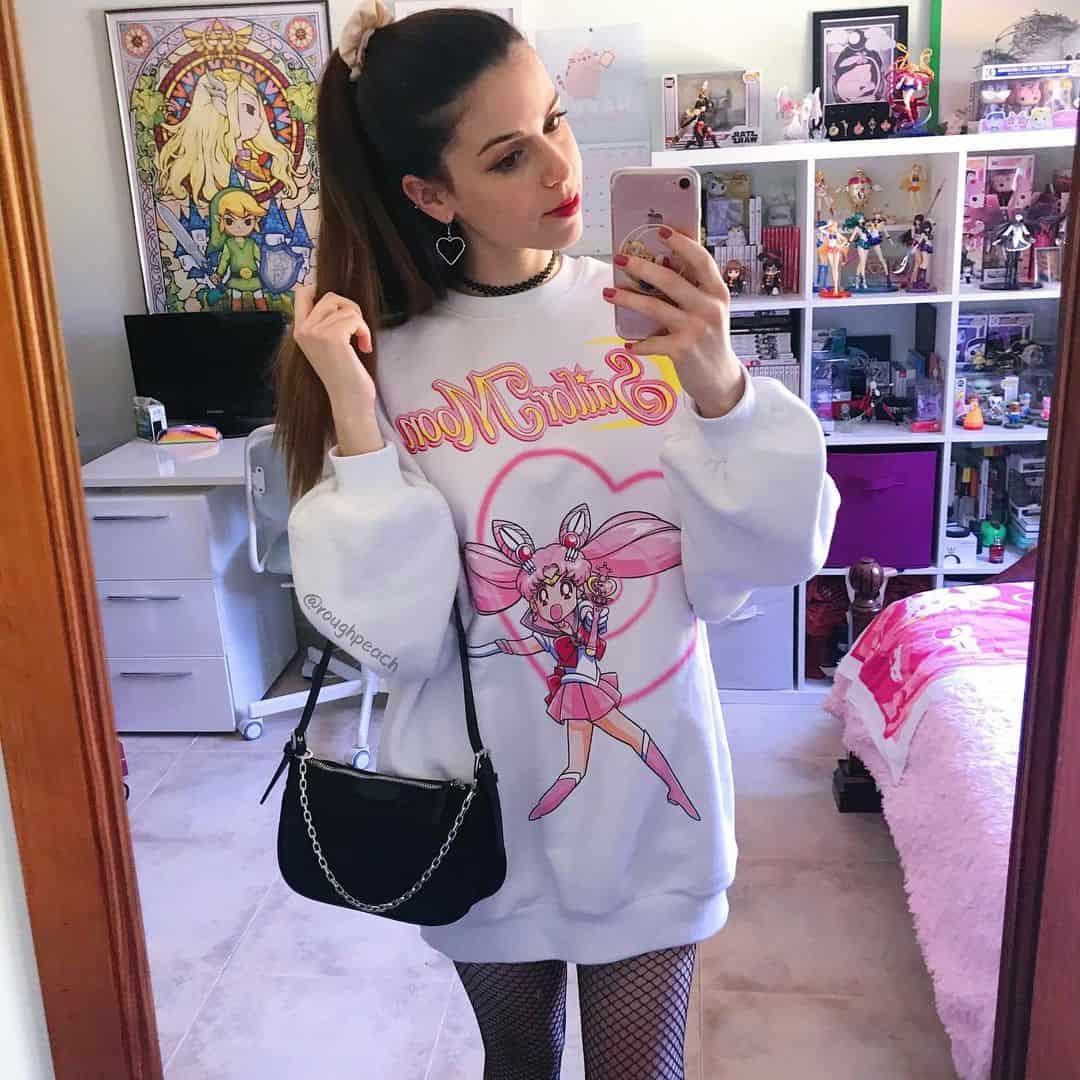 Image Source
Not all anime-inspired outfits need to follow the anime theme. You can also show your love for anime art by wearing a loose mini T-shirt dress that features your favorite anime character in print.
Pair this short dress with fishnet stockings and black sneakers to give it the anime girl spin. As long as the item of clothing featuring the anime print is front and center, you can recreate this look with 'umpteen variations.
16. Yellow Aesthetic Anime Outfit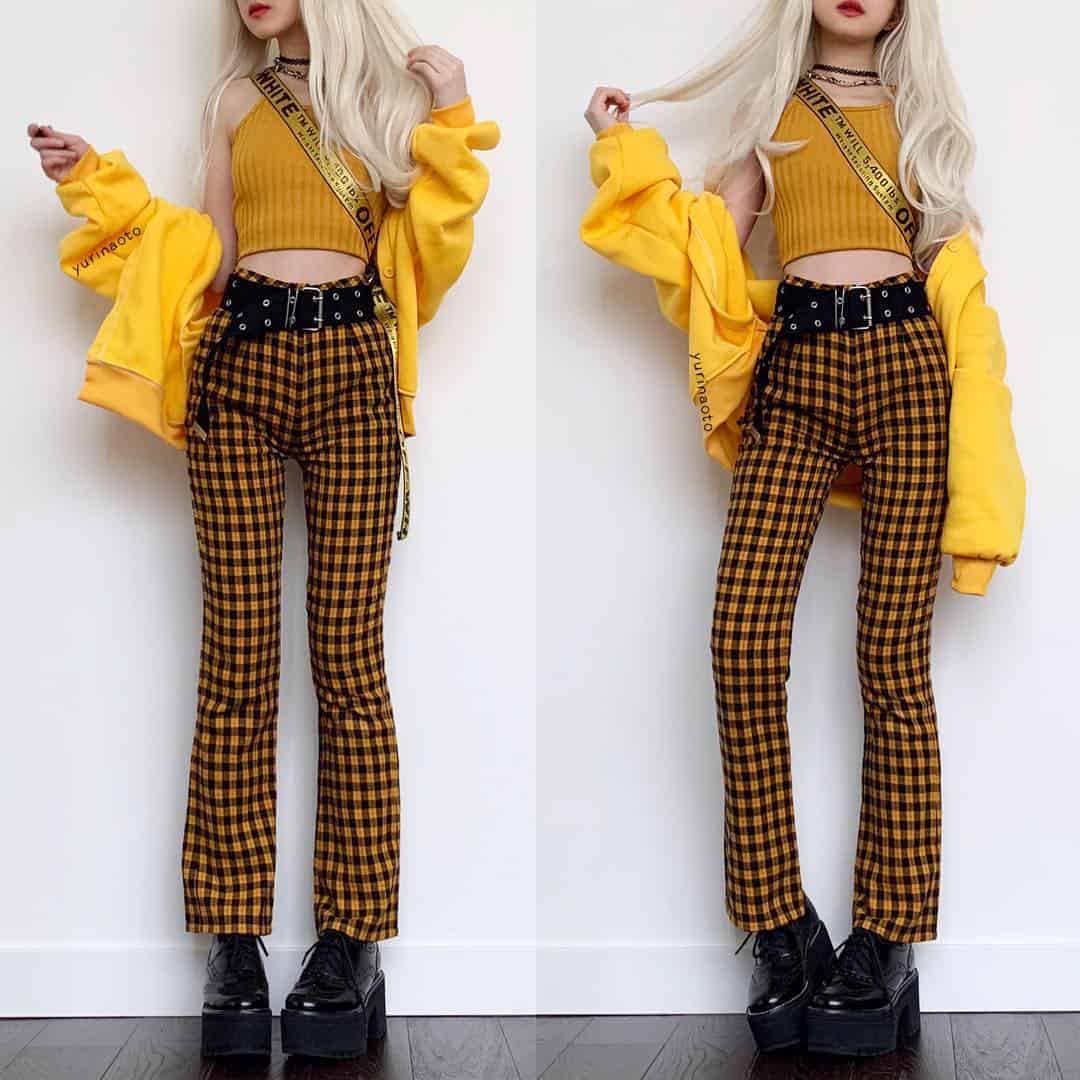 Image Source
The theme of this anime-inspired outfit is yellow with gold accents and black accessories. There's a ribbed crop top that's accessorized with a golden crossbody belt. The plaid print yellow trousers with flared bottoms are accessorized with a black wide waist belt. A bright yellow open front cardigan and black platform shoes finish the look with a flourish.
You can recreate this outfit differently if you have similar pieces all in the same color. Swapping out the trousers for a skirt or the platform boots for sneakers wouldn't take away from the color theme.
17. Sailor Moon Inspired Outfit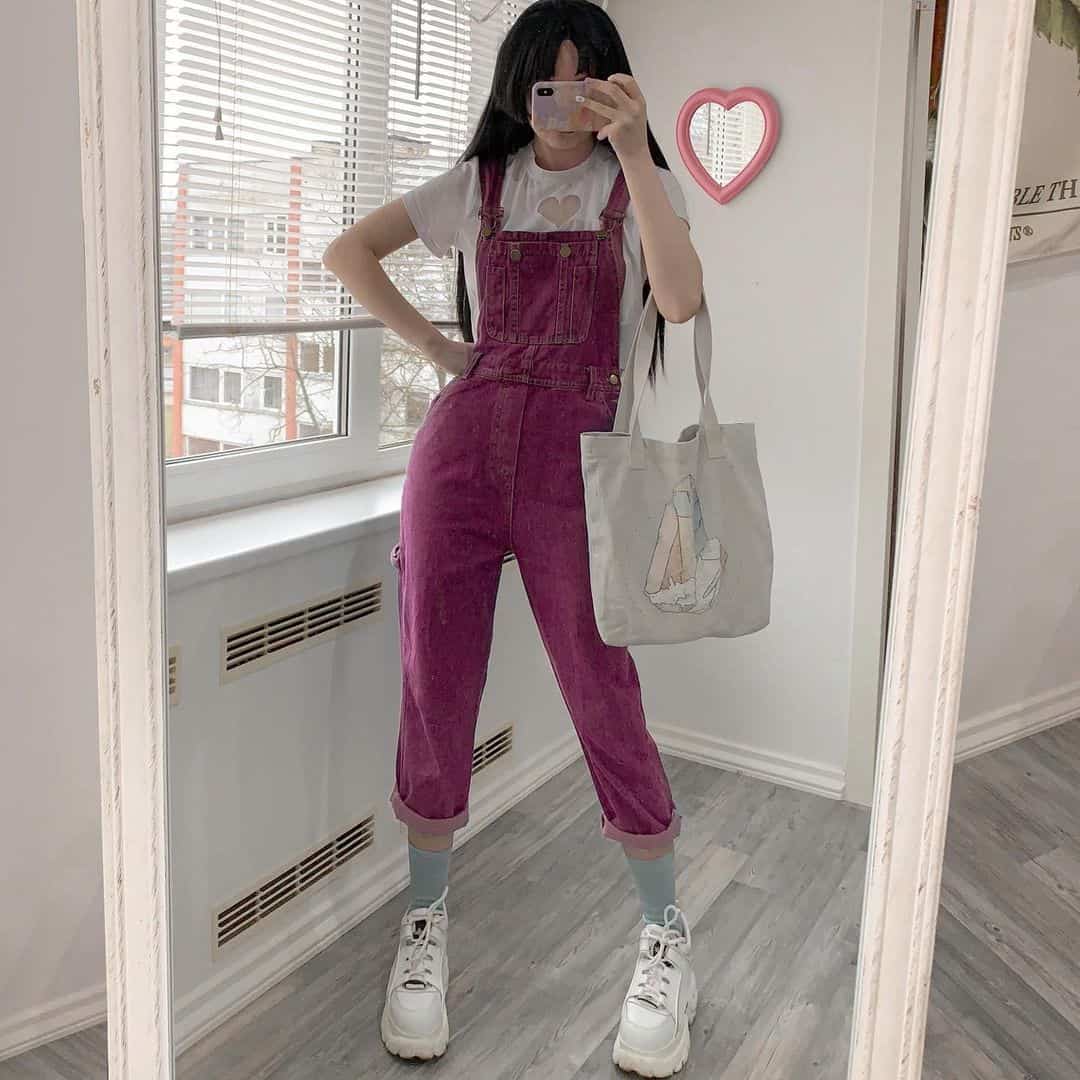 Image Source
Sailor Moon's outfits are quite iconic, and her famous pink overalls inspire this anime look. As shown here, you don't have to go for the same color, as long as you have overalls in a similar cut and style. Pair them up with a short-sleeved white T-shirt, white shoes, a contrasting pair of ankle-length socks, and a bag with a big printed picture, and you're good to go!
18. Seven Deadly Sins Inspired Anime Outfit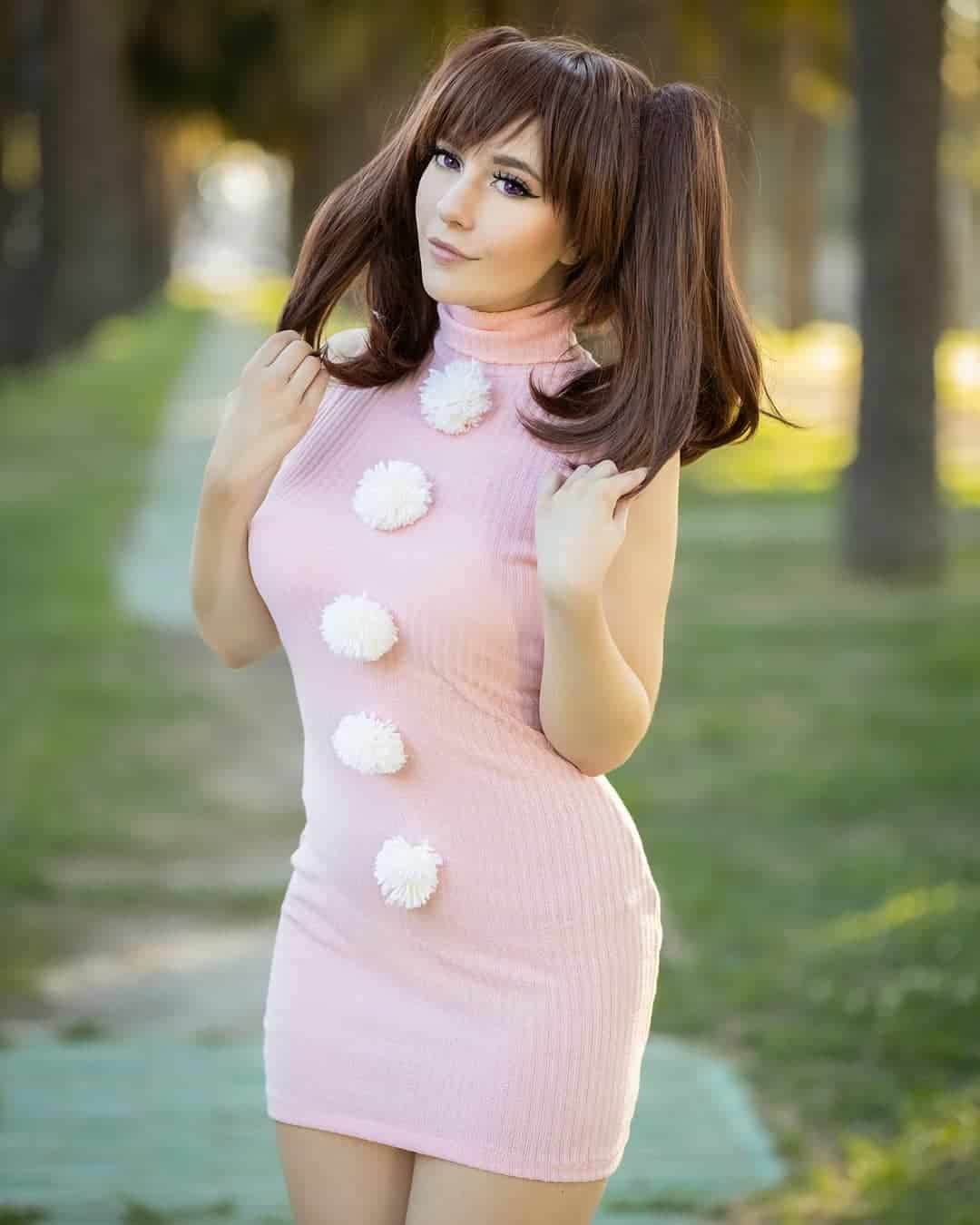 Image Source
Diane Nanatsu no Taizai is another character with an impressive wardrobe that's quite popular with anime cosplayers. This particular dress isn't one of her signature looks, but we think its simplicity makes it an easy yet cute anime outfit to recreate.
It's a simple ribbed turtleneck short dress with a line of cute white pom-poms going down the front. You can style it any way you like though we suggest white go-go boots and rose-gold accessories.
19. Ino Yamanaka Inspired Anime Outfit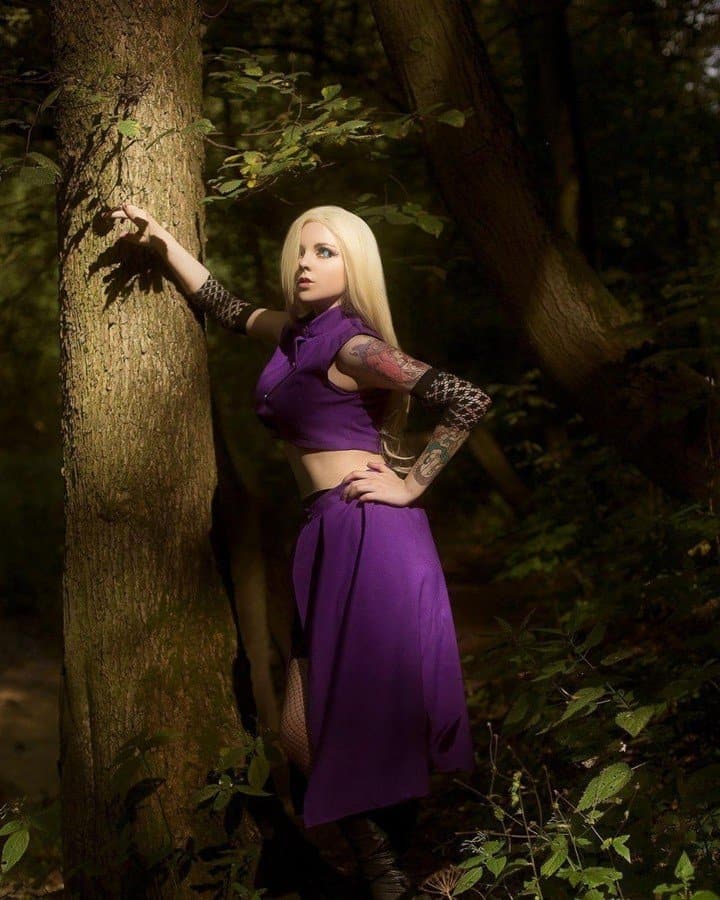 Image Source
Team Asuma's Ino Yamanaka wears this purple outfit in "The Last: Naruto the Movie." It features a low-rise, ankle-length skirt with a slit on one side, a high collared crop top in the same color, a mesh warmer on the left hand, and open-toed sandals.
If you've got the figure for it, you can flaunt this outfit in a casual setting with the right accessories. You can buy the outfit here and give it your own styling touches.
20. Tsunade Inspired Anime Outfit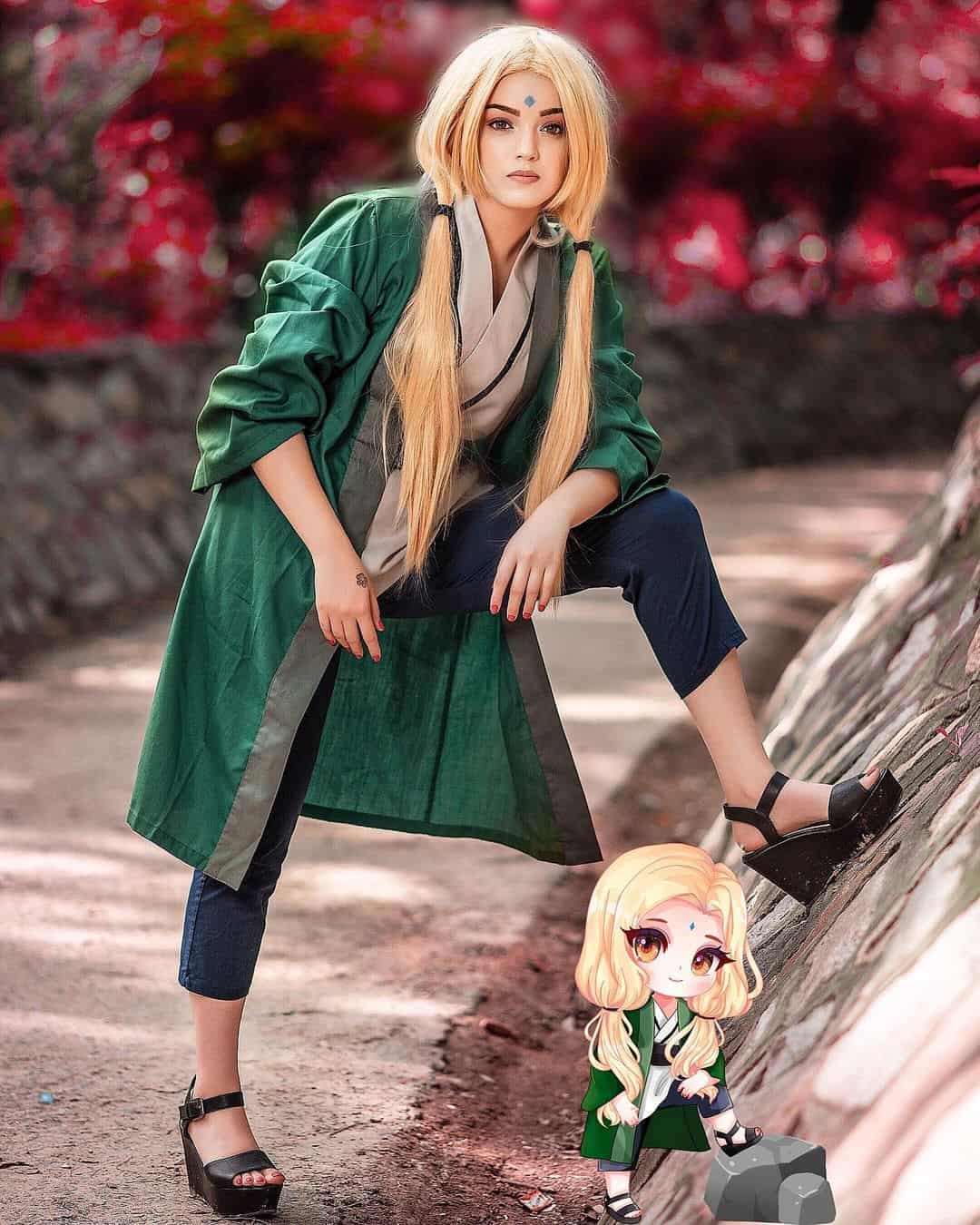 Image Source
Lady Tsunade wears a casual outfit of a green haori (Japanese open-front, loose-sleeved long jacket) with a sleeveless grey kimono blouse. A dark bluish grey obi and matching capri pants complete her outfit. Black open-toed block-heeled sandals finish her look.
You can add a violet diamond stick-on stud to your forehead to mimic her Strength of a Hundred Seal jutsu. Her top is low-cut, but you can wear one that's not as revealing if you so desire. You can buy her outfit here.
21. Hinata Inspired Anime Outfit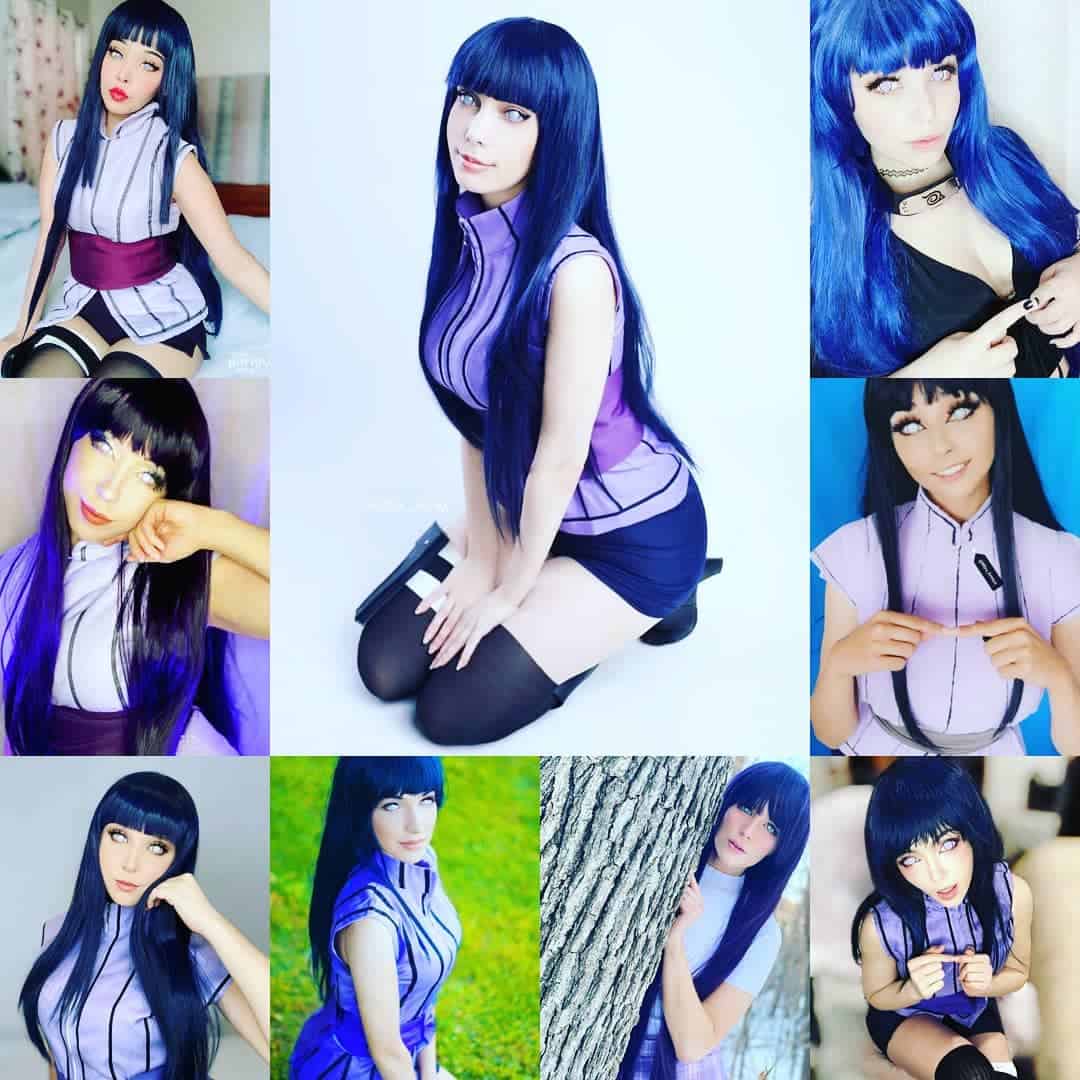 Image Source
Hinata Uzumaki from the Naruto anime series wears a silken lavender outfit that features a kimono style top with a high collar and vertical lines. An obi in a darker shade of lavender adorns her waist. Form-fitting navy shorts, thigh-high stockings, and black heeled boots roundup her look.
You can swap the shorts and stocking for a pair of dark blue trousers as shown here.
22. Glamorous White Anime Outfit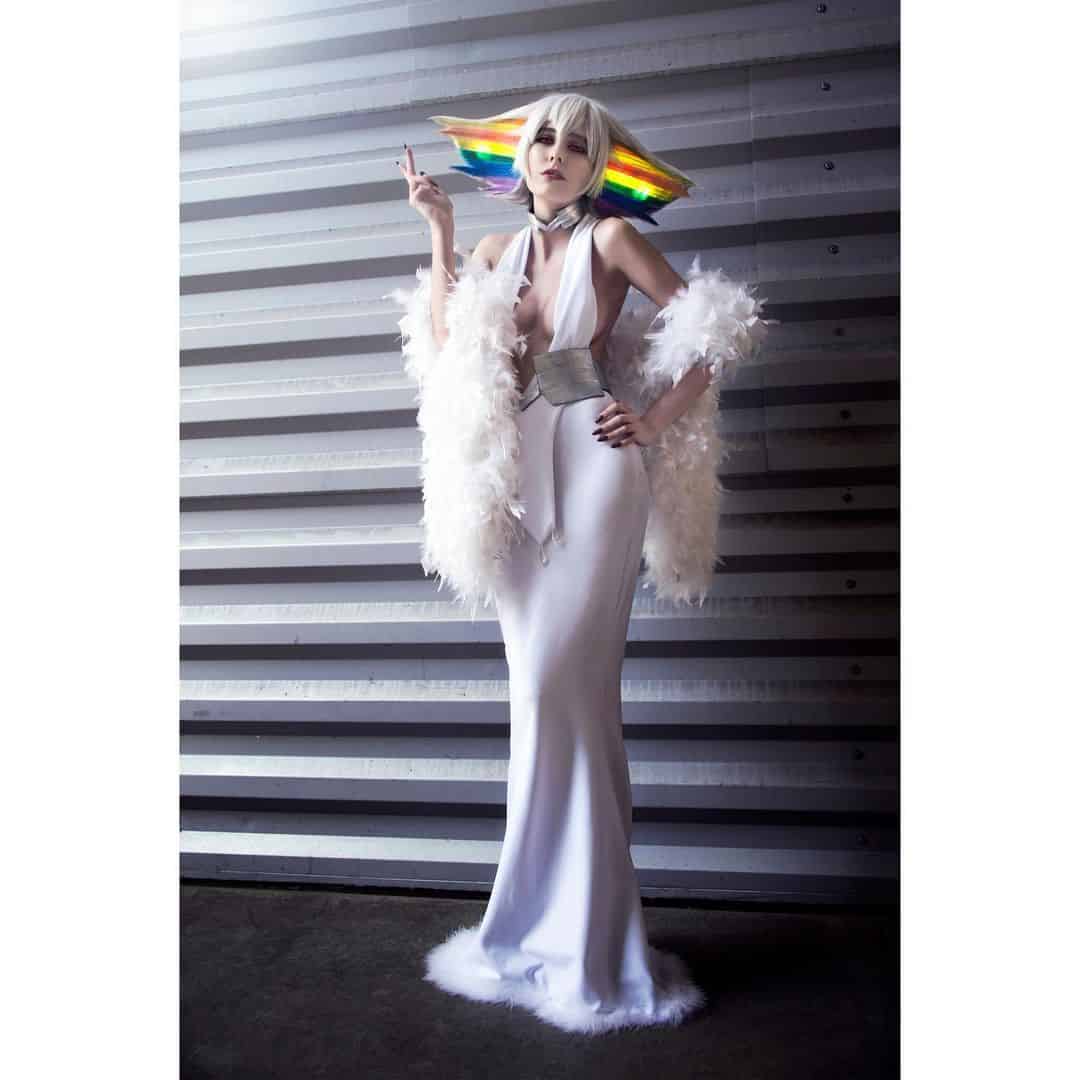 Image Source
This ultra-glam white gown with a plunging neckline is what Ragyo Kiryuin wears in "Kill la Kill." A silver collar at her neck, a wide silver belt at her waist, and a white feather boa complete her look.
The gown's plunging neckline makes it a risqué look, but if you have the right attitude, you can carry off this look without looking ott. Skip the colored hair unless you want to cosplay her.
23. Soft Summer Aesthetic Anime Outfit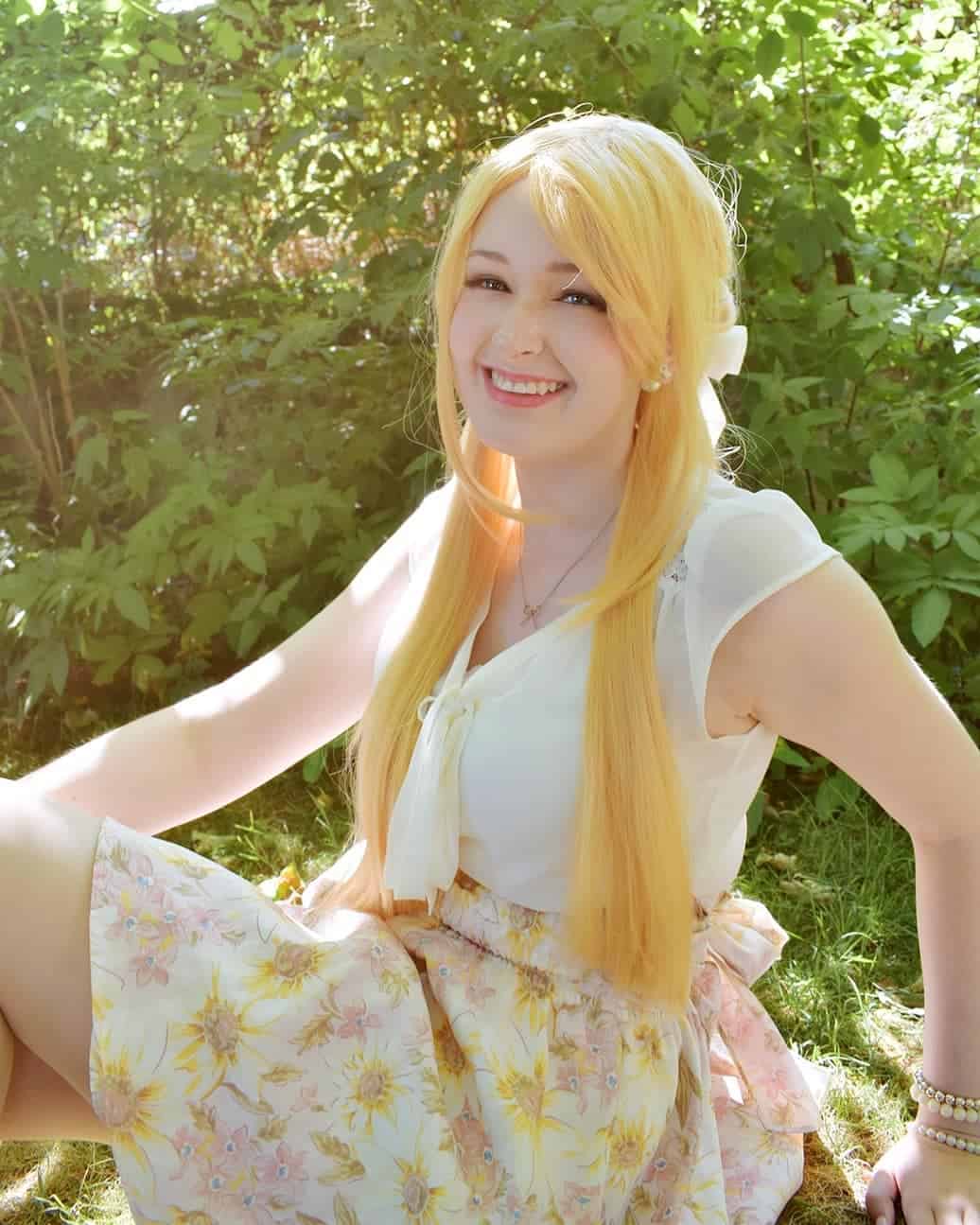 Image Source
Not all anime-inspired outfits need to have pleated skirts with harsh lines. You can go for a soft anime aesthetic with an off-white top and a floral print flared skirt in warm summer colors like yellow, orange, green, red, or pink.
Style this casual anime look with lots of pearl jewelry, ribbons in your hair, and cute sandals.
24. Heroine Inspired Anime Outfit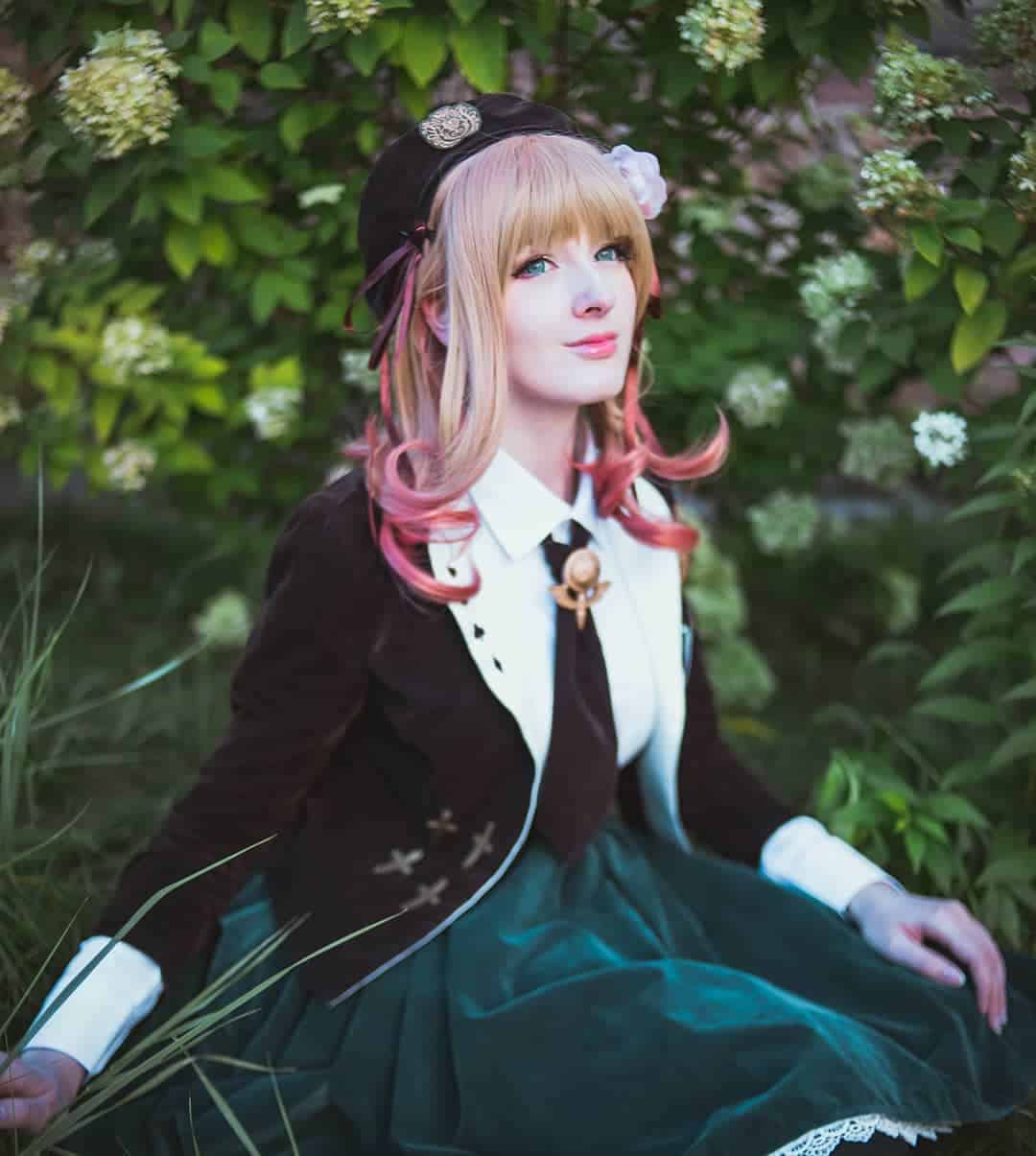 Image Source
The protagonist from the "Amnesia" anime series, Heroine, wears this teal pleated dress with a big bow below the bust, over a white collared shirt. A loose black coat with silver rose buttons, and a black beret featuring a pink rose completes her look.
You can recreate it with a dress in the same color spectrum as green/teal. Pair it with a black velvet coat and a beret. Add any floral motif of your liking to finish the outfit. You can buy Heroine's outfit here.
25. Pop Star Aesthetic Anime Outfit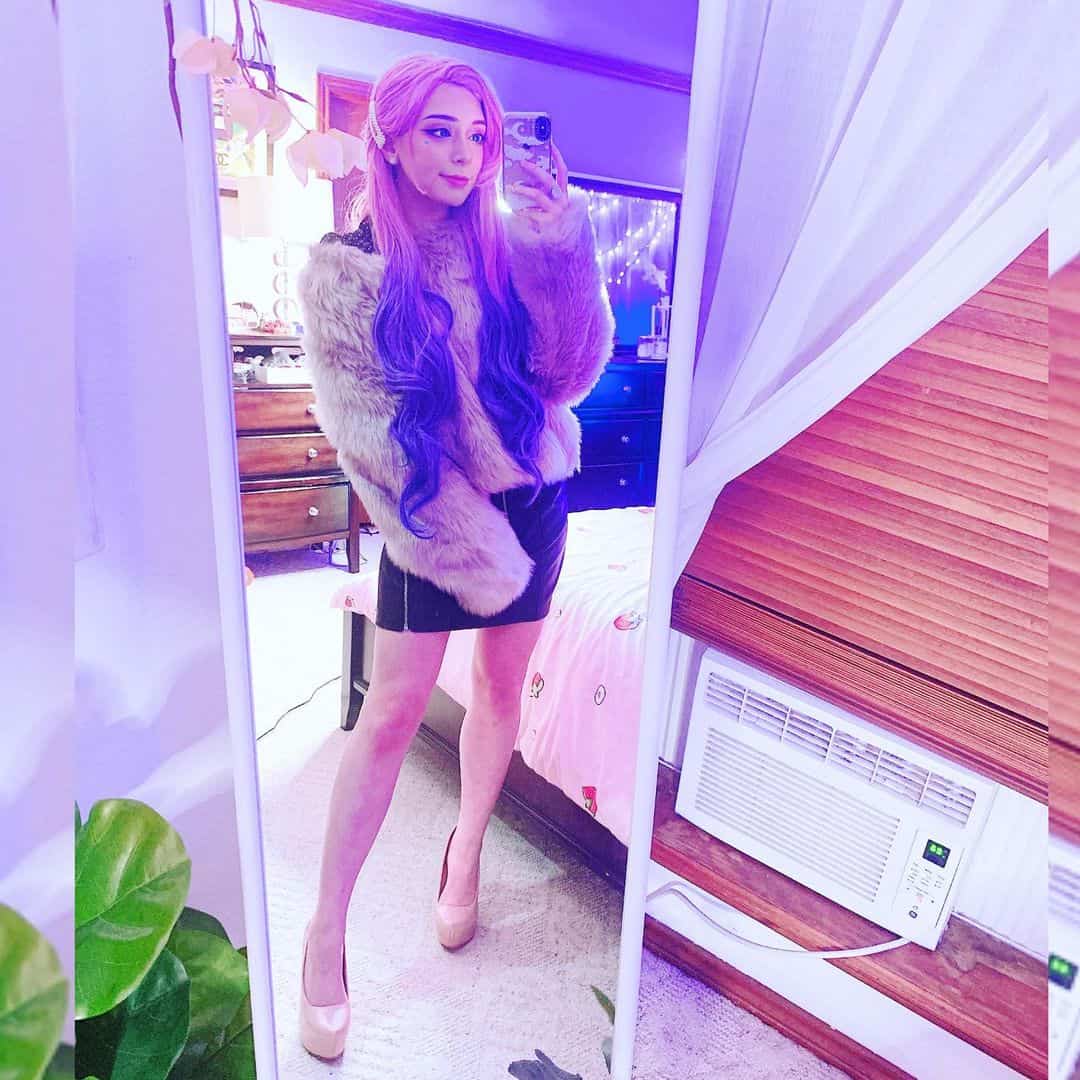 Image Source
This is quite an elegant outfit that will make you feel like a million bucks! Recreate it with a small, polka dots printed, loose top paired with a short bodycon skirt in the same color. Now add a plush fluffy faux fur coat in an eye-catching color and a matching pair of pumps to finish the look.
Get your hair and makeup on point to vibe with the aesthetic of this sassy outfit. Buy your coat here, and skirt here.
26. Misty Inspired Anime Outfit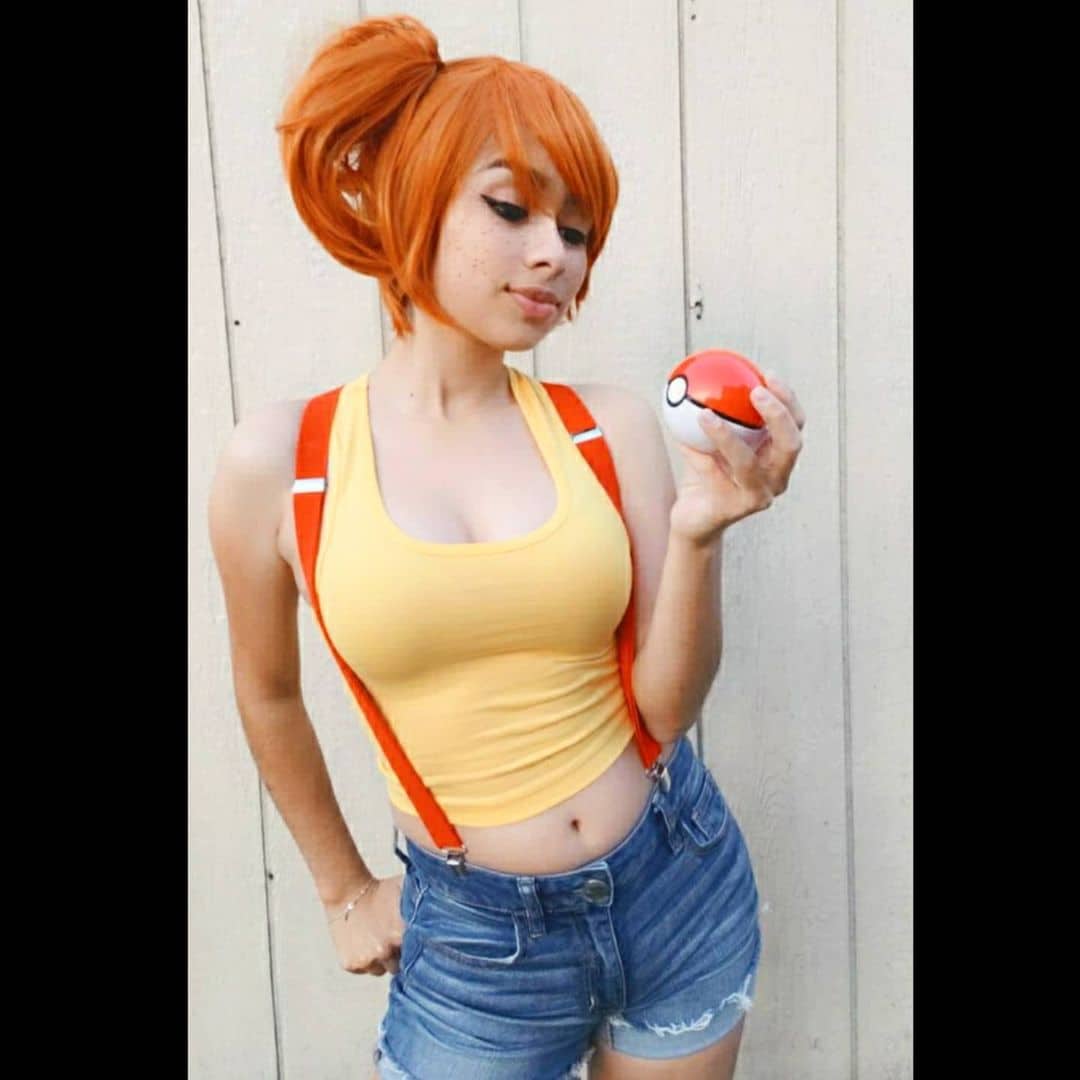 Image Source
Misty from Pokémon is a well-known anime character. One of her oft-worn outfits features jorts paired with a yellow crop top and reddish-orange suspenders. Her flaming orange hair adds drama to the outfit.
You can skip the orange wig/hair color and just stick to the basic outfit. Complete your outfit with a pair of high-top shoes in the same color as the suspenders.
27. Casual French Maid Anime Outfit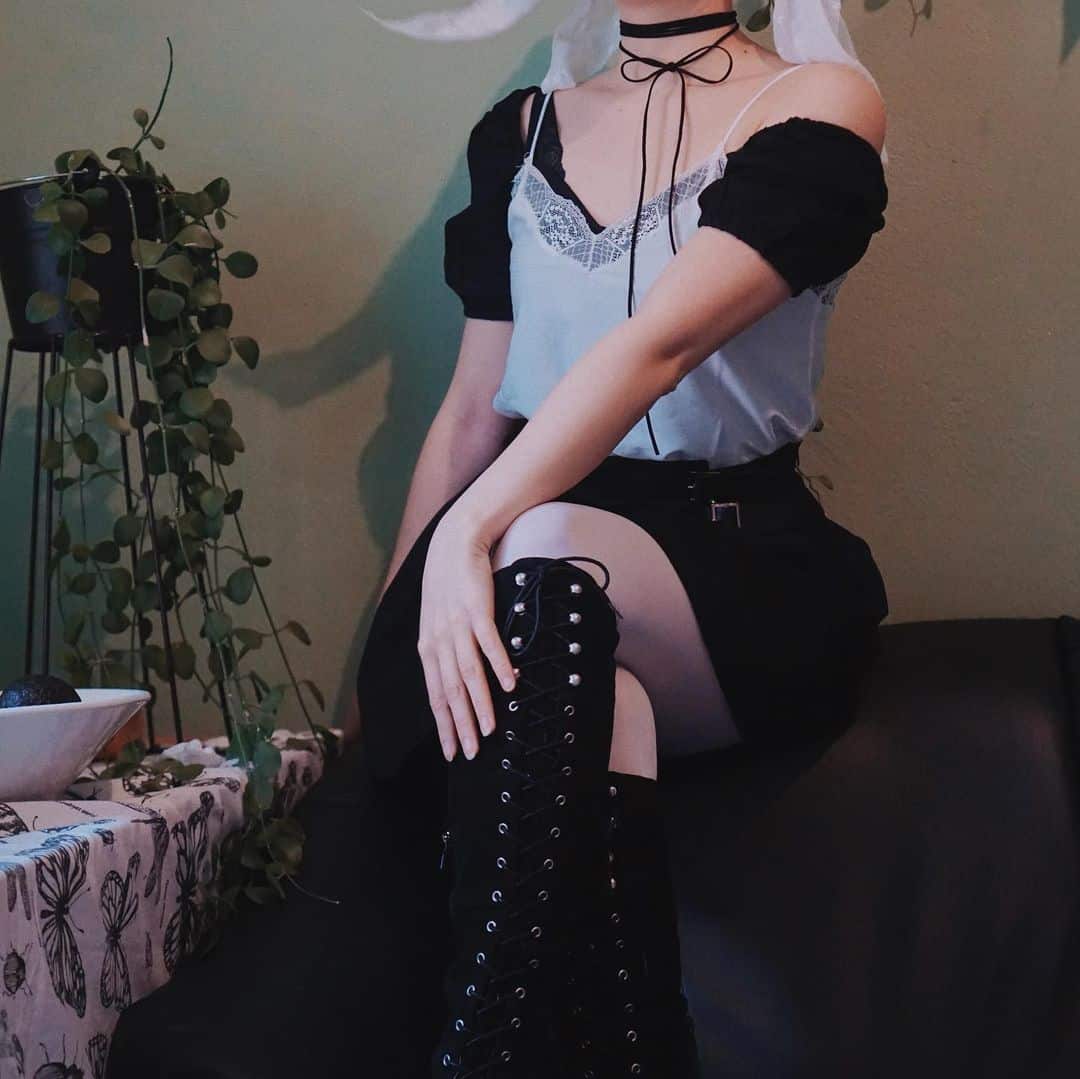 Image Source
The traditional French maid outfit is straight-up costumey and obviously can't be worn in a casual setting. This anime-adjacent outfit adapts the French Maid costume's theme and turns it into a more relaxed, everyday wear look.
It's a black-and-white ensemble featuring black accessories like lace-up knee-high boots, jewelry, belt, and wardrobe items like a black top and skirt. A white silk camisole and white stockings finish this look with aplomb.
You can wear this outfit in an informal setting without looking like you're in a costume.
28. Green Aesthetic Anime Outfit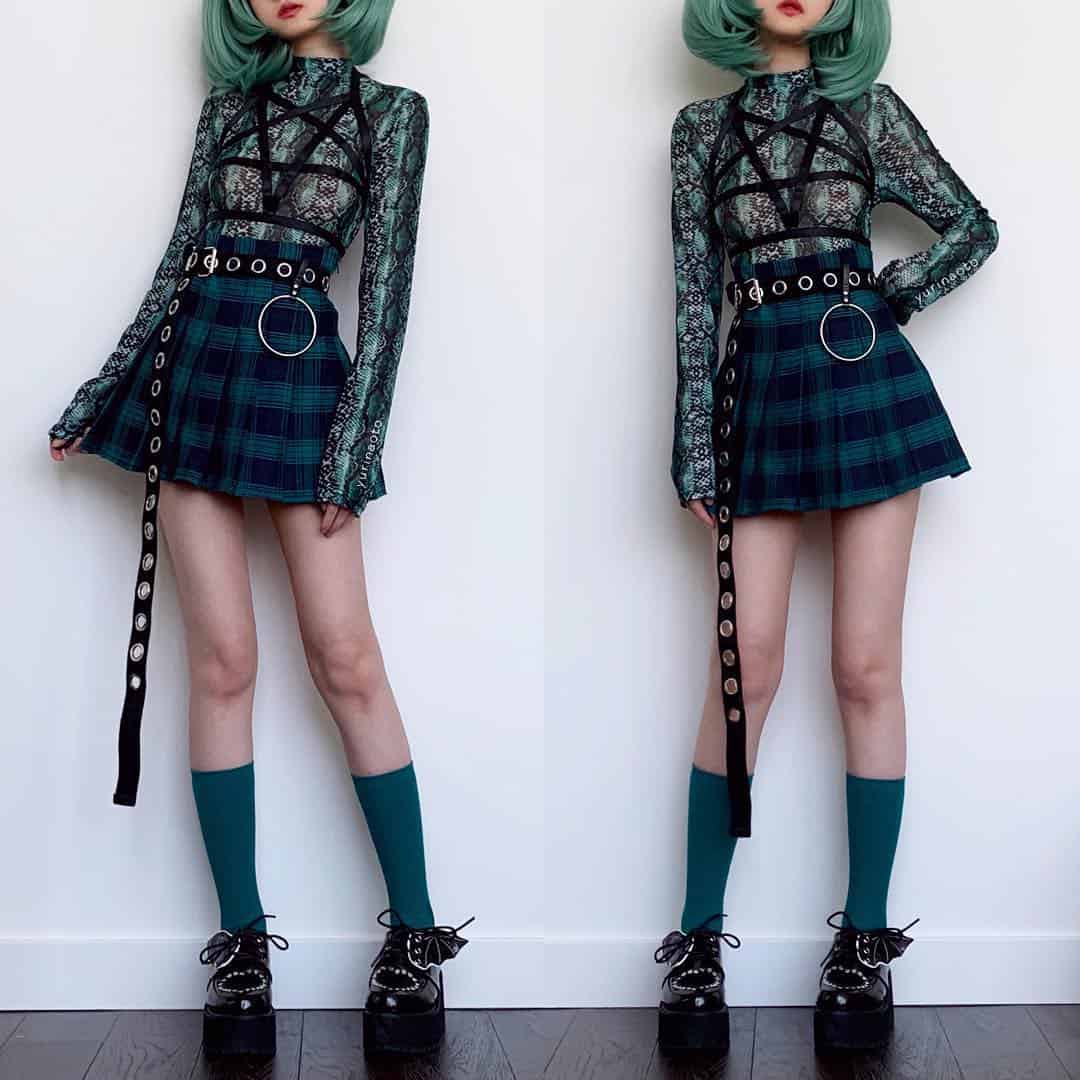 Image Source
This anime-inspired outfit successfully combines snake-print with green plaid without looking ott. The snake-print full-sleeved top is accessorized with a black harness to dial up the drama quotient.
The short skirt is also accessorized with a long black belt that dangles on one side. Below-the-knee green socks and black platform lace-up shoes round up the look. You can skip the wig unless you're 100% committed to the green aesthetic of the look.
29. Nezuko Inspired Anime Outfit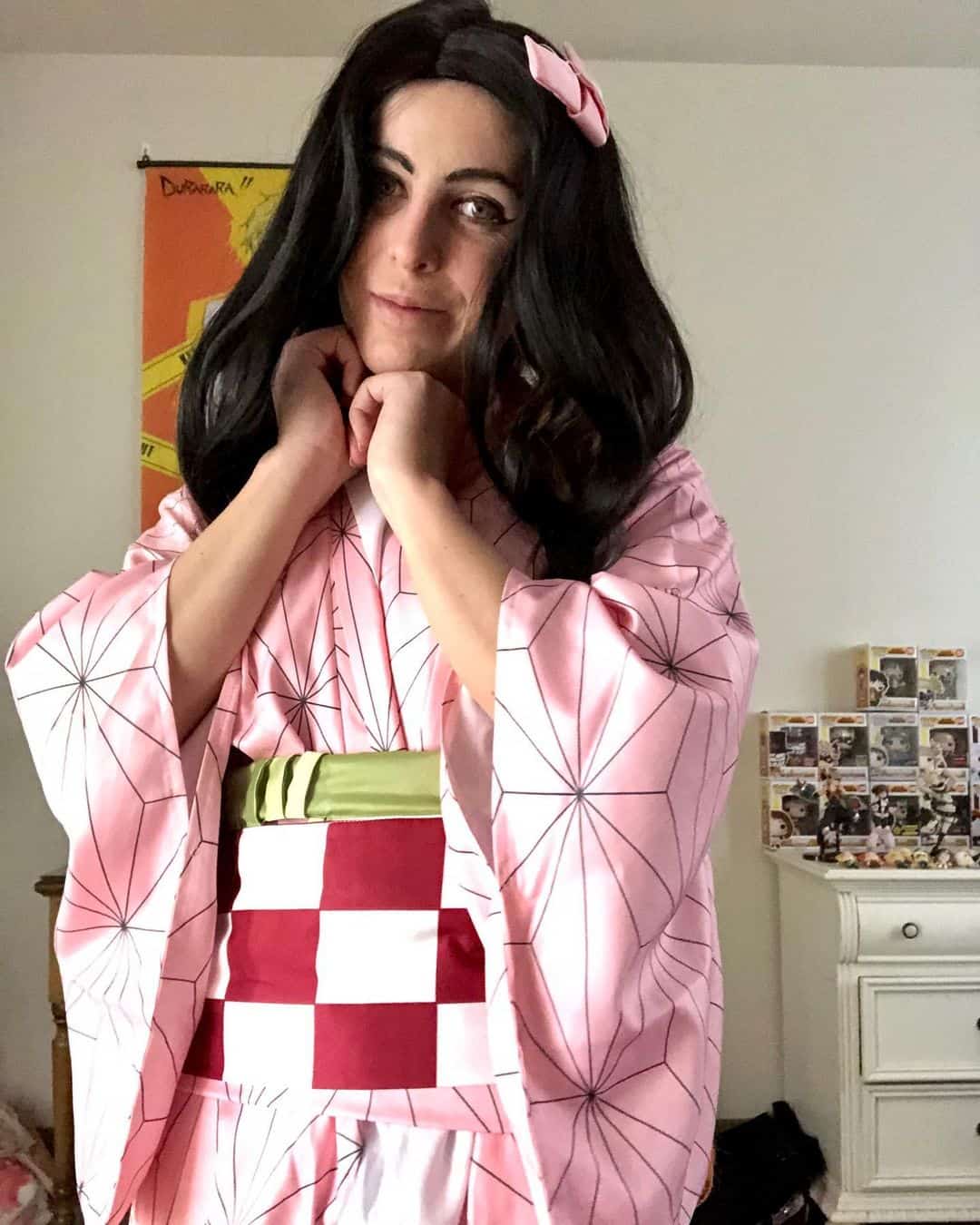 Image Source
Nezuko Kamado from Demon Slayer: Kimetsu no Yaiba is a cute demon who wears a pink kimono printed with the hemp-leaf pattern. A red and white checkered obi tied around her waist with an orange thread and a green band, and a dark brown haori finishes her look.
You can skip the other details and stick to the pink printed kimono and the checkered obi to wear to casual occasions. Buy the kimono here, or the entire outfit here.
30. Purple Aesthetic Anime Outfit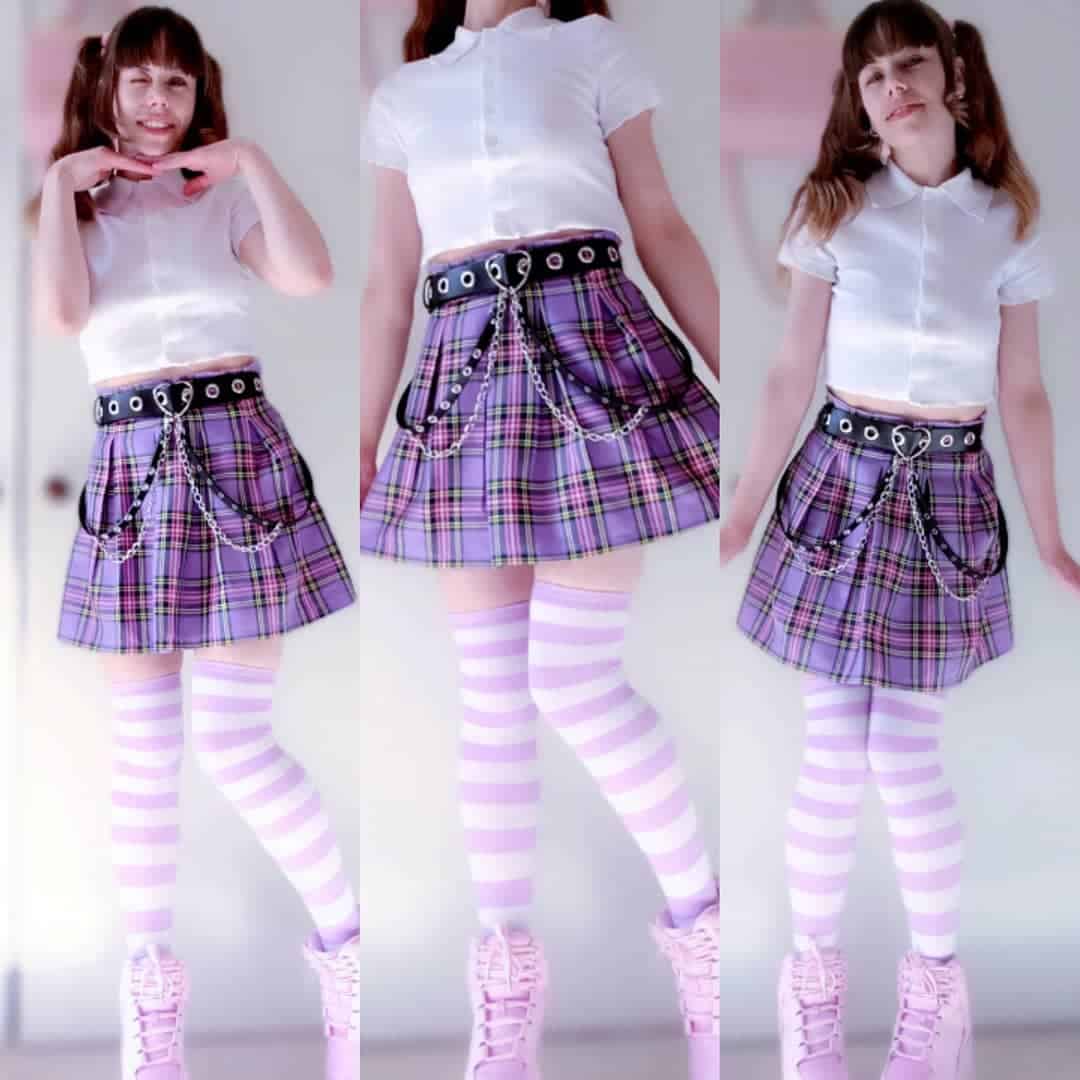 Image Source
This anime-inspired outfit's key features are the purple tartan skirt, lilac striped thigh-high socks, and the lilac wedge lace-up boots. The white top complements the socks, but you can go for a top in one of the tartan print's many colors.
The black suspenders hanging down the side bring more drama to the look. You can add a hoodie with anime print in a light color to accentuate the outfit.
31. Marnie Inspired Anime Outfit

Image Source
Marnie from "Pokémon Sword and Shield" wears a short orange tube dress with interesting accessories. You can recreate this look with considerable ease by sourcing the black jacket with silver buttons and appliques and the creatively designed boots from cosplay outlets online.
Swap out the orange dress for any other short tube dress in the peach – pink color spectrum.
32. Striped Cardigan Anime Outfit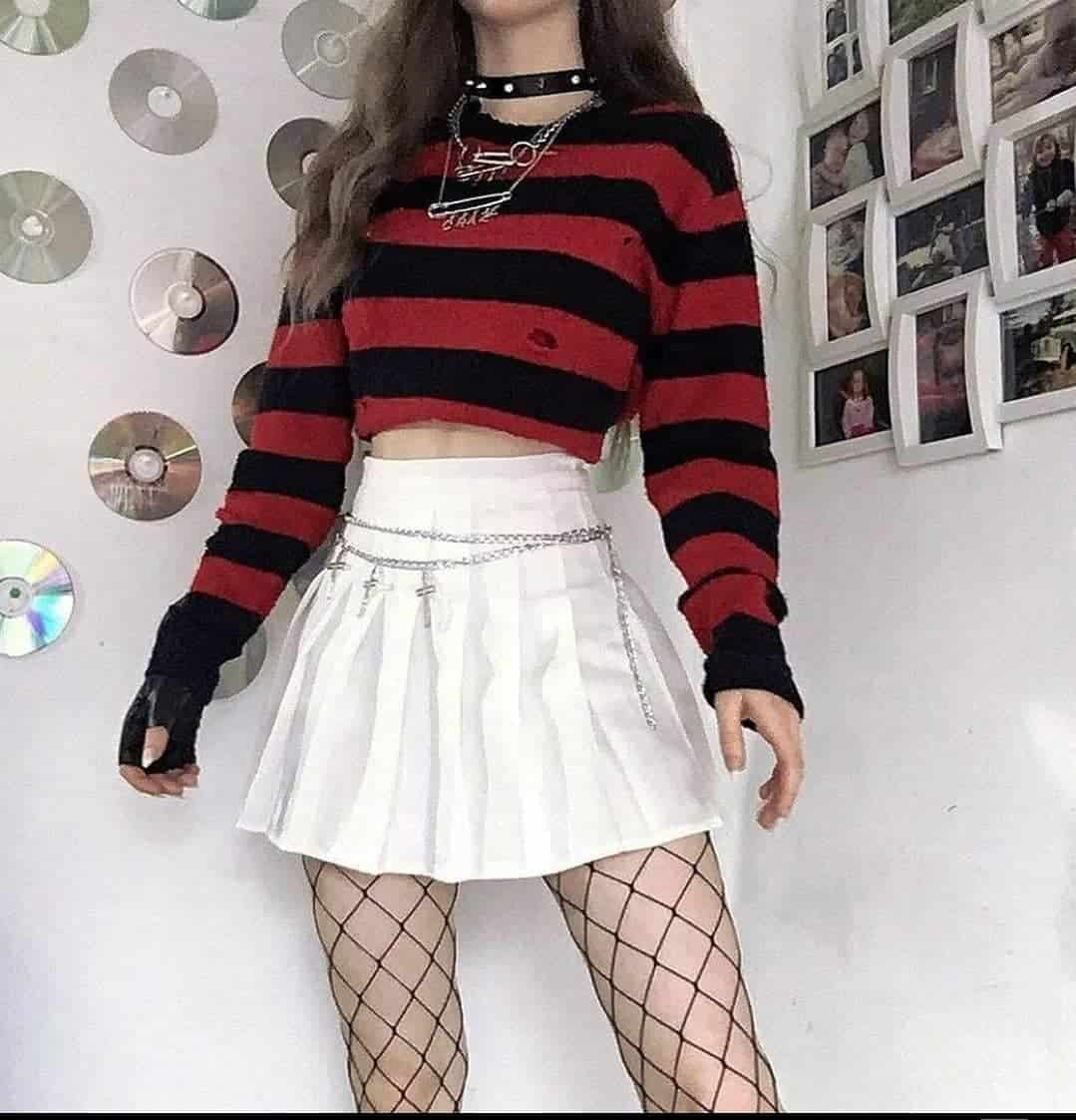 Image Source
Grab a striped cropped cardigan. Pick a short pleated skirt in a contrasting color. Stacked necklaces, a chain-link waist belt, fishnet stockings, and mid-heel ankle boots should round up your outfit. Add one fingerless glove to dial up the drama quotient of the look.
33. Soot Sprites Printed Anime Outfits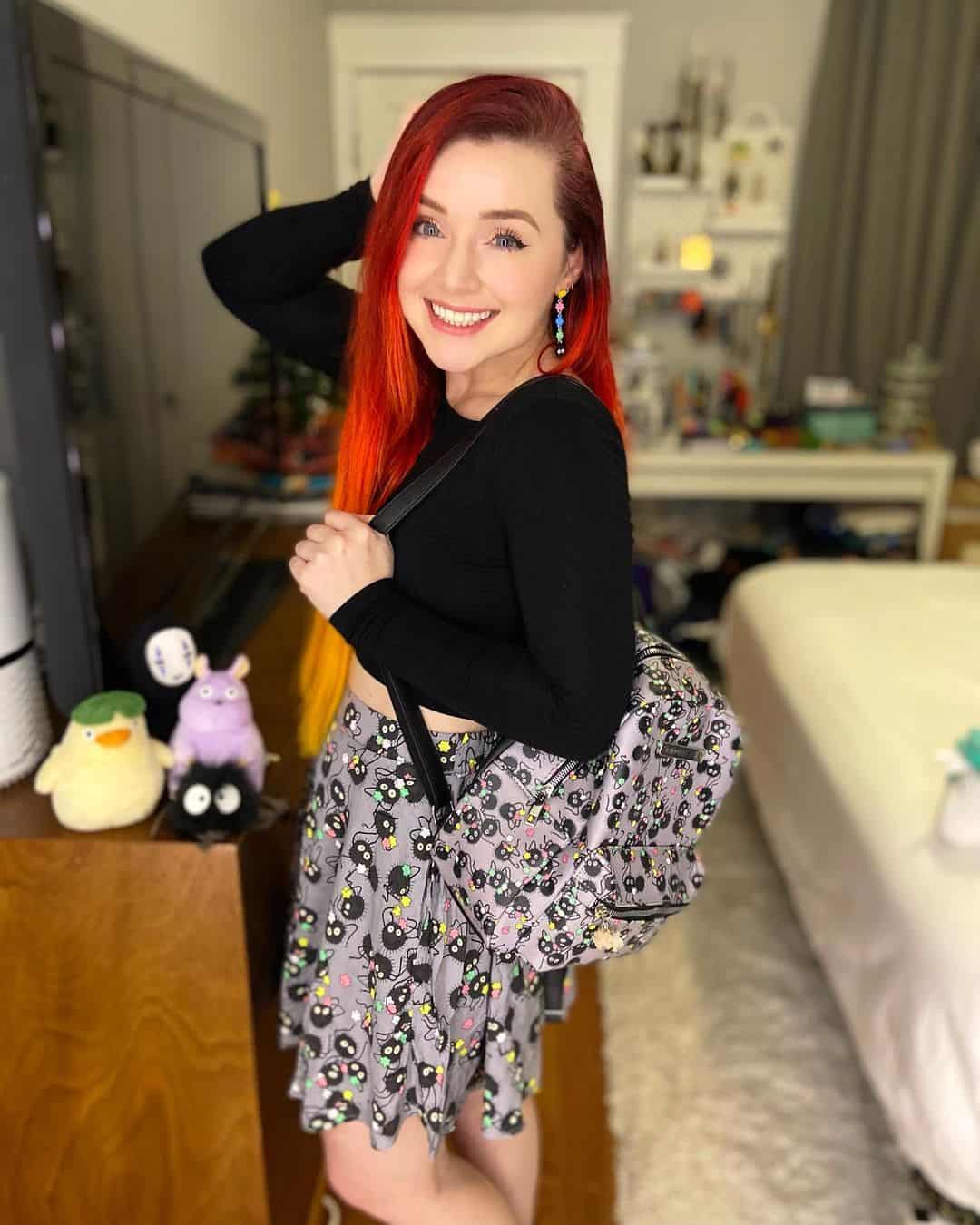 Image Source
Studio Ghibli's Spirited Away has these cute soot sprites that look ultra kawaii when printed on clothing and accessories. This anime outfit uses matching soot sprites printed skirt and bag to go with a plain black T-shirt.
Create your own 'Spirited Away' anime outfit with this soot sprites printed pink velvet skirt, paired with a black T-shirt, ankle-length pink socks, black boots, and one more soot sprite printed accessory like this bag or this pendant.
34. Jeans and Crop Top Anime Outfit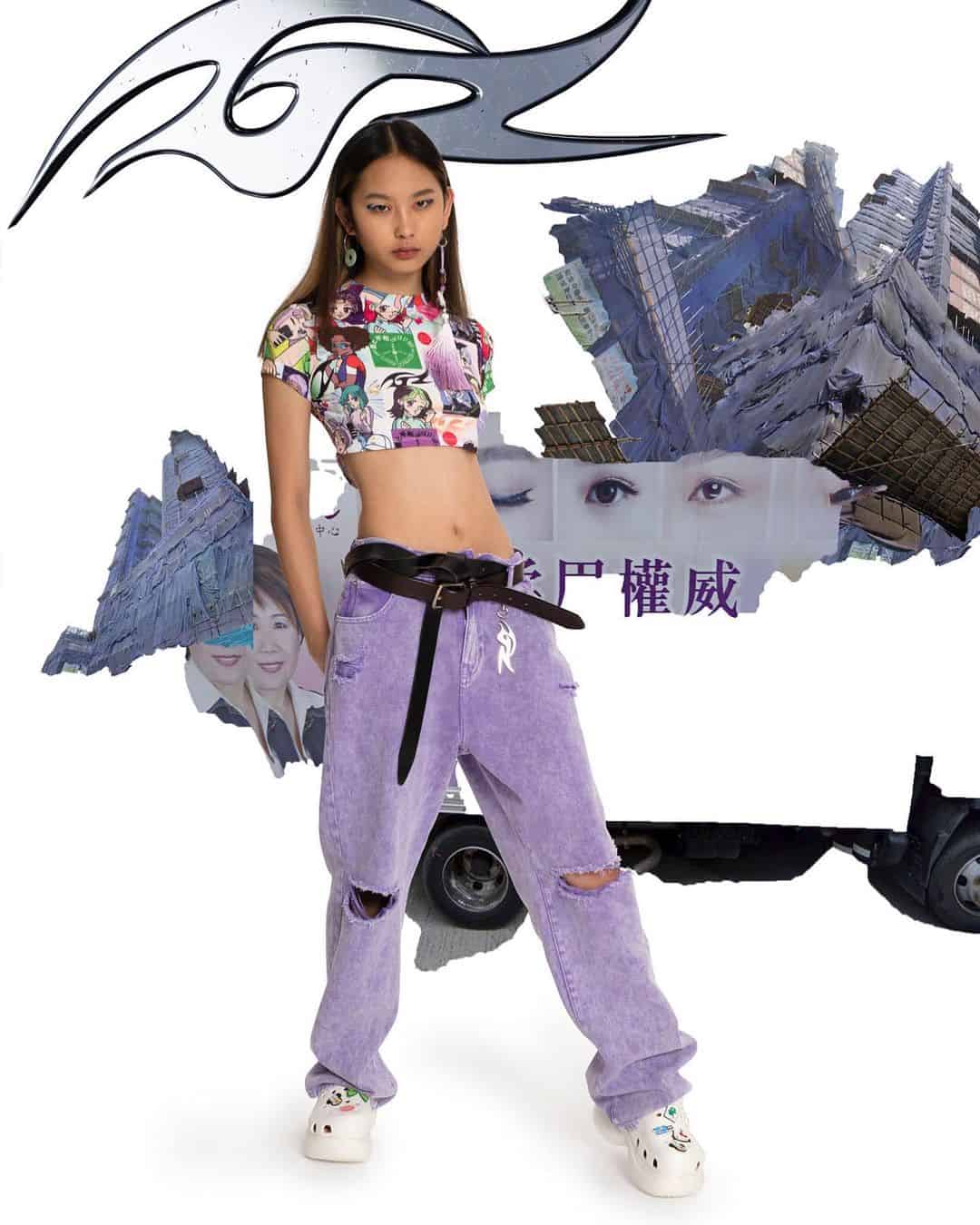 Image Source
This look features a super low-rise, loose-fit, acid-washed, ripped jeans held aloft with a black leather tie-up belt. A crop top contrasts the solid colored jeans with a busy anime print aesthetic. White platform crocs and big hoop earrings finish the look.
You can recreate this look with any colored jeans as long as your printed crop top features the color significantly.
35. Grunge Burgundy and Pink Anime Outfit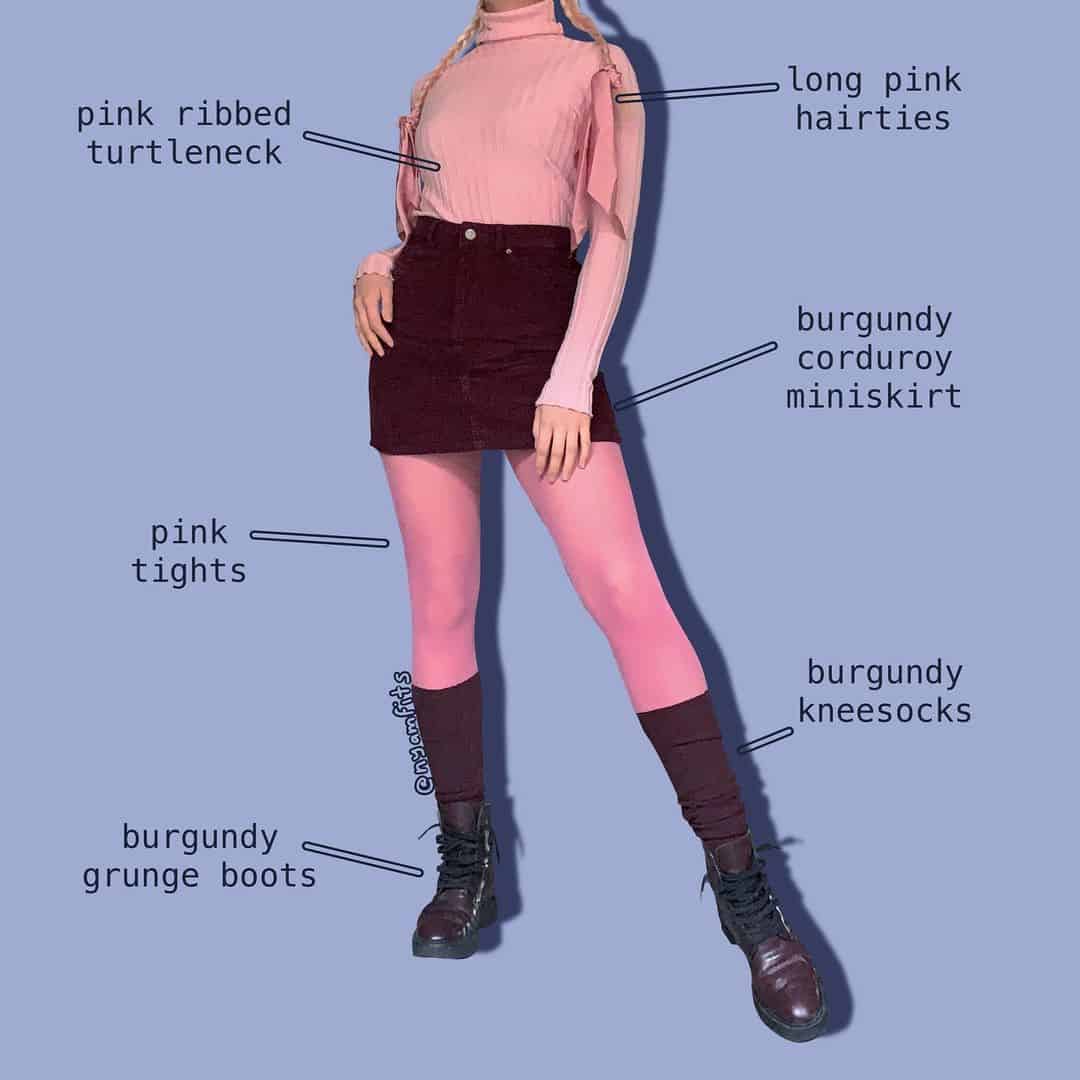 Image Source
This anime outfit is midway between sweet and grunge with a pink ribbed turtleneck, long pink hair ties, and pink stockings paired with a burgundy corduroy miniskirt, knee socks, and grunge boots. Bubblegum pink hair parted in the middle and tied up in bunches dial-up the anime vibe of this look.
You can try this look in a different light and dark-colored combinations like dark green and aqua, Prussian blue and icy blue, and so on.
36. Moschino's Anime Aesthetic Outfit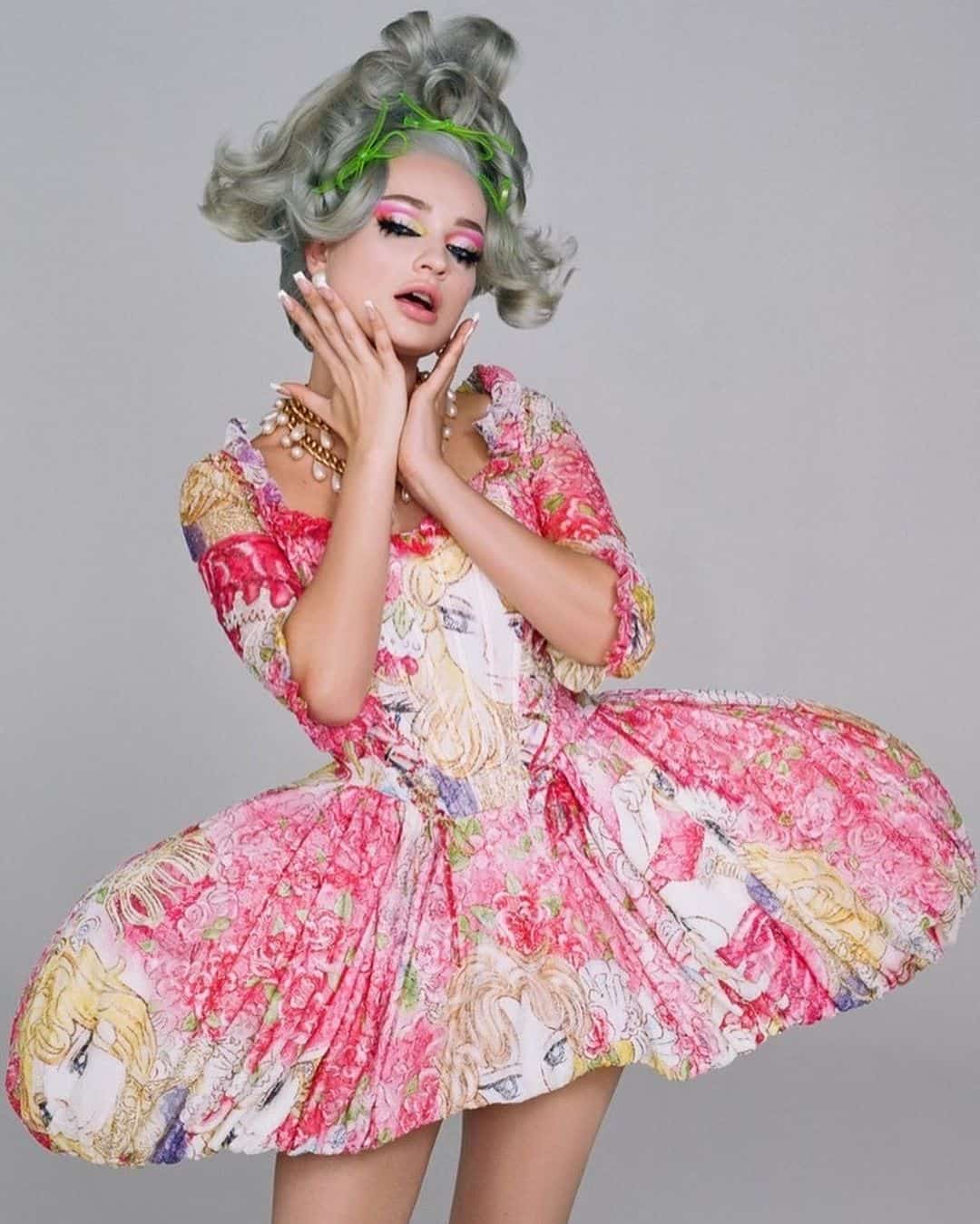 Image Source
Italian luxury label Moschino had many anime-inspired items of clothing and accessories in their Fall 2023 Ready-to-Wear collection. The pieces feature anime girls with big beautiful eyes and red floral prints, frills, big balloon sleeves, pink strappy sandals, lace tie-up boots, floral belts, and more.
You can draw inspiration from this collection to create your next anime-inspired outfit.
37. Preppy Style Anime Outfit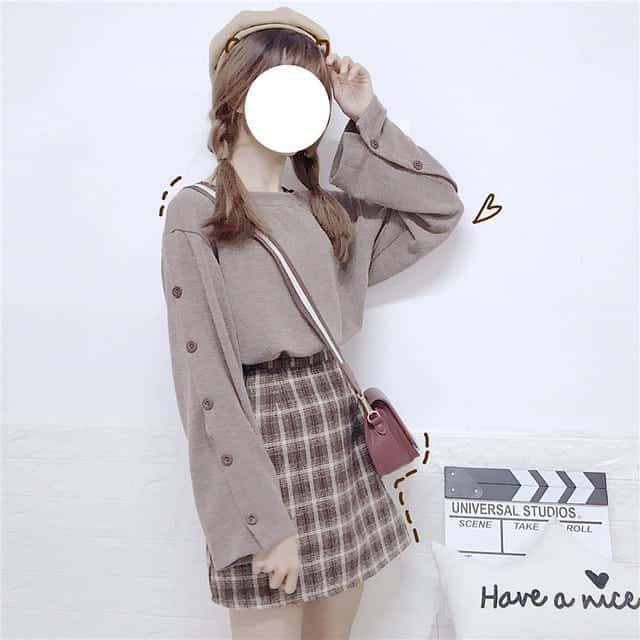 Image Source
This is an adult take on the typical school-girl's uniform. It features a brown and beige themed outfit consisting of a pullover top with full-sleeves and buttons down the sides. A plaid print skirt in the same color theme, a smart beret, ankle-length socks, and brown loafers complement the top.
A small brown side-bag gives the finishing touches to this cute look. If you're looking for an even more conservative recreation of this ensemble, you can swap the short skirt for a longer version, as shown here.
38. Miss Fortune Prestige Anime Outfit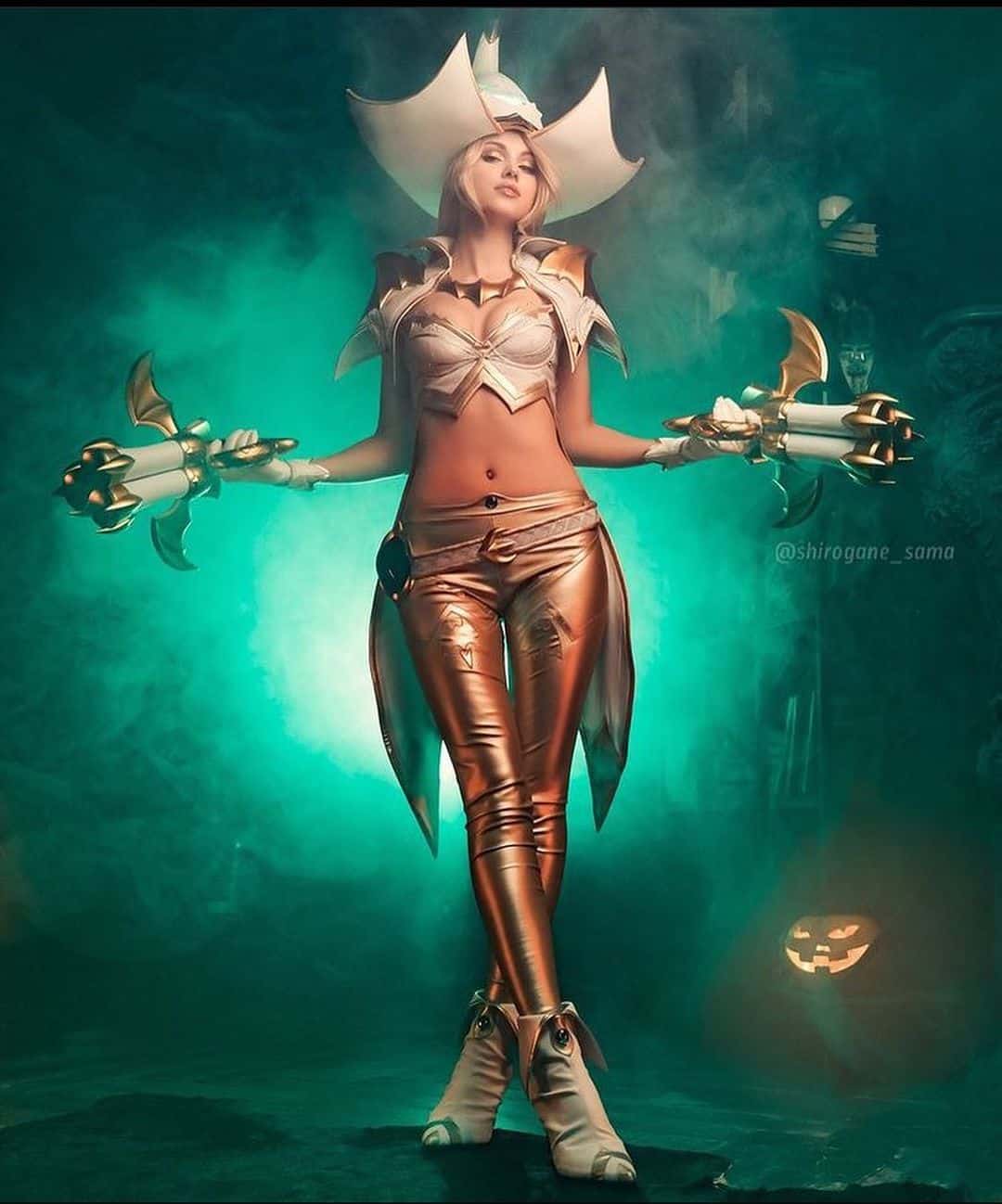 Image Source
"League of Legends" has a lot of fascinating characters that wear kick-ass outfits. Ruthless Bilgewater captain Miss Fortune is one such character famed for her looks. This skin is featured in the Prestige edition of the game and has her wearing a white and gold ensemble.
The low-rise, skinny golden leather pants and the white bandeau top with gold piping, combined with the white high-heeled boots, would make heads turn anywhere you go.
39. Sakura Print Kimono Dress Anime Outfit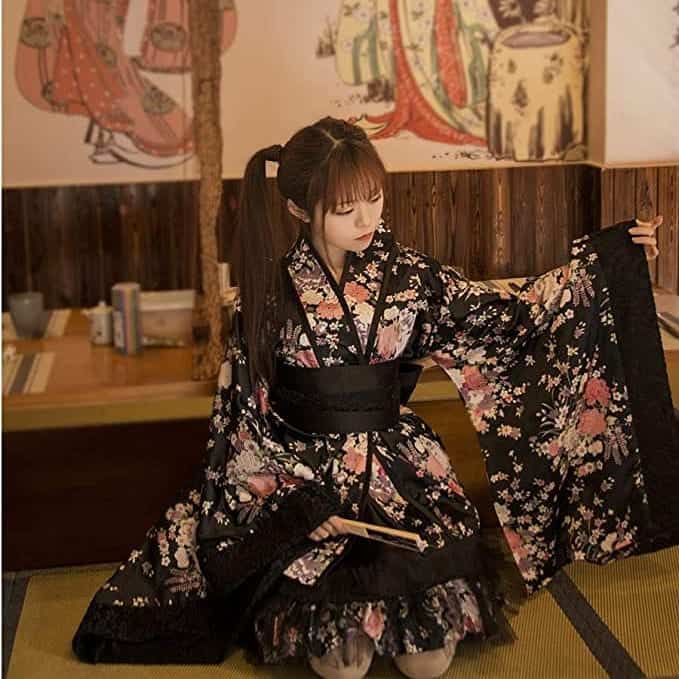 Image Source
Sakura, or the "Cherry Blossom," is Japan's national flower and many anime characters dress up in Kimonos that feature Sakura print.
Unlike traditional Kimonos, a Kimono short-dress with anime styling is the way to go, as shown here. You can buy a Sakura print dress online here and style it with kawaii headbands, matching stockings, and platform heels.
40. Animal Print Anime Outfit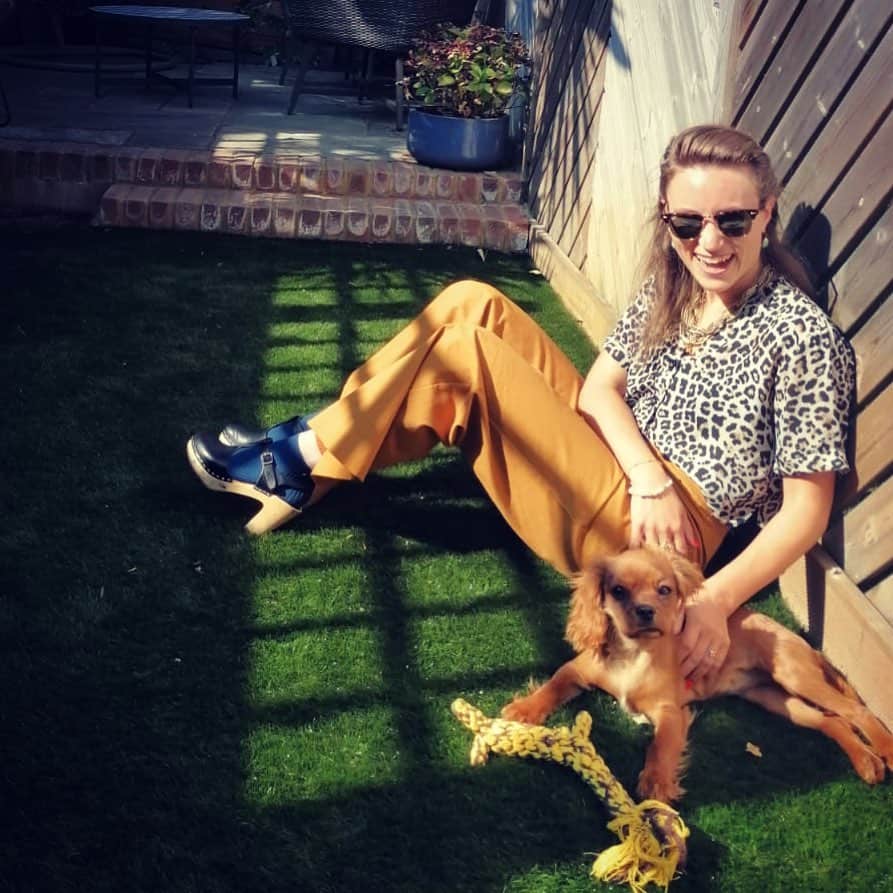 Image Source
Bring some fierceness to your anime aesthetic by adding a leopard print top to your outfit. Here the rest of the outfit is pretty plain, but you could add to the grunge factor by incorporating leopard print boots to the ensemble. Finish with a bottom of your choice – skirt, trousers, or jeans. Add a pastel pink oversized cardigan to look more kawaii!
Alternatively, you can go for an animal print jacket instead of a top and pair it with an anime print T-shirt. Chain-link belts or big statement buckles would also enhance the look.
41. Above-the-Knee Kawaii Dresses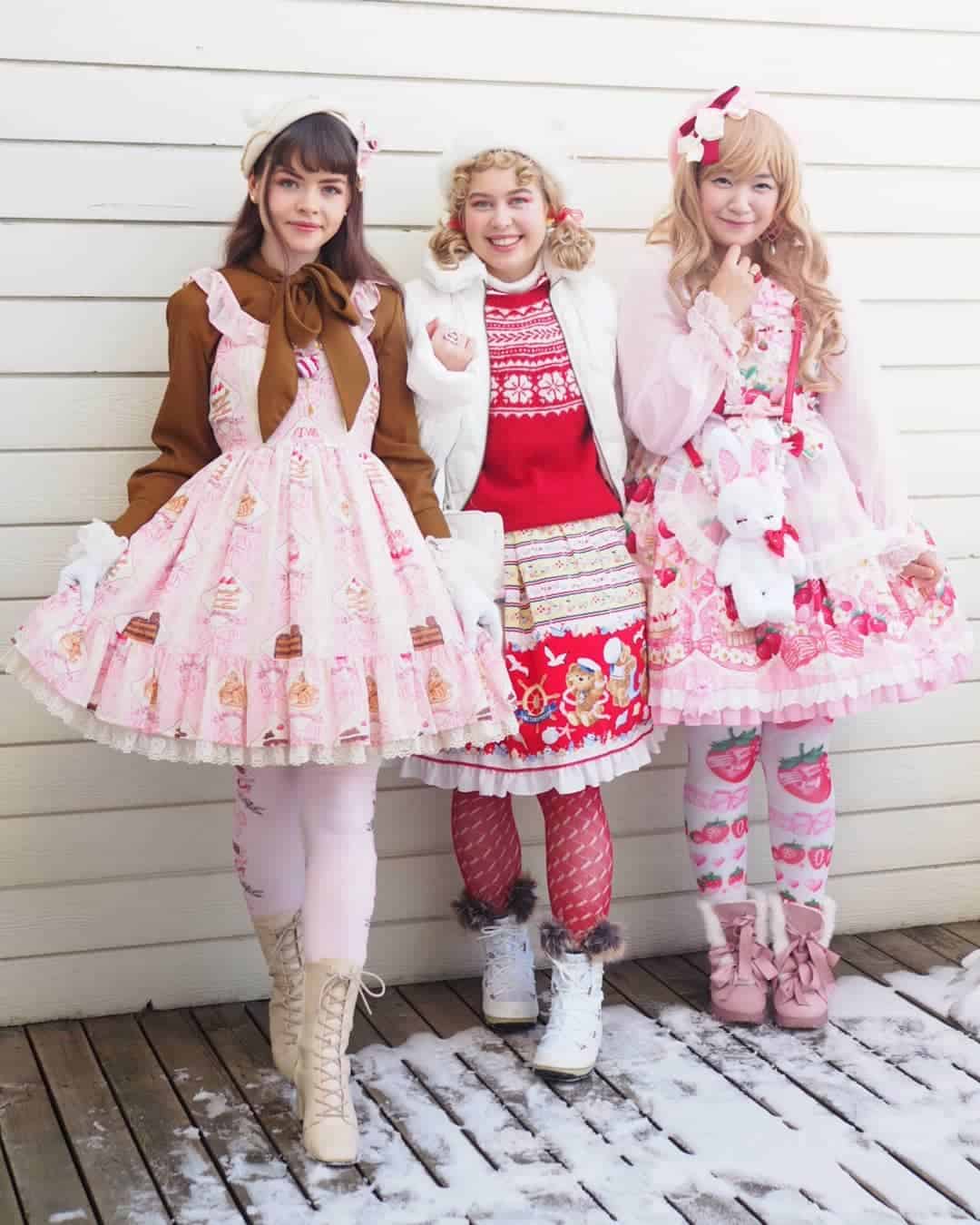 Image Source
If you like wearing cute dresses with hemlines that barely skim the knees, you can recreate the kawaii (cute) anime girl look by going for one of the three looks featured here.
Choose a dress that has a lot of details down the front, one that includes laces, frills, bows, floral motifs, and other paraphernalia that makes it look busy while retaining the cute factor. Assemble your outfit by combining this dress with printed thigh-high socks, lace-up boots, gloves, a mini side-bag in the shape of your favorite anime character, and a beret to roundup the look.
42. Nami Inspired Jeans Anime Outfit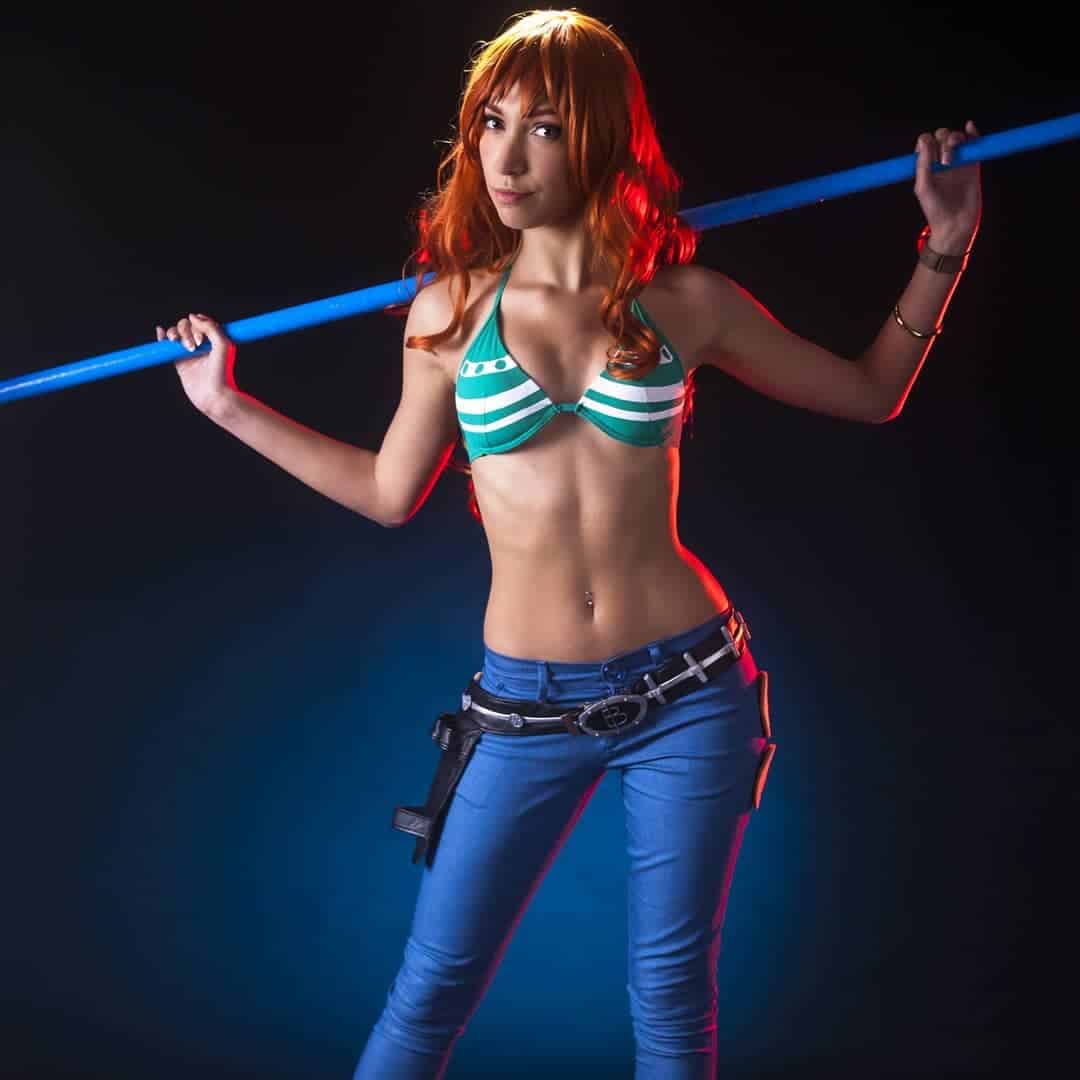 Image Source
Nami, the "Cat Burglar" from "One Piece" wears this easy to recreate outfit after the timeskip. The outfit features a green and white bikini halter top and super low-rise skinny jeans that reveal a bit of ass-cleavage. The outfit is accessorized with a black leather belt with a holster on one side, a chunky bracelet, pearl earrings, and her go-to orange stilettos.
If you have flat abs like Nami, flaunt them in a similar outfit with a bikini top, skinny jeans, and stilettos from your closet. You can add a white shirt tied-up in the front, as shown here, to wear it to places where the bikini top might be inadequate.
43. One Piece Inspired Anime Outfit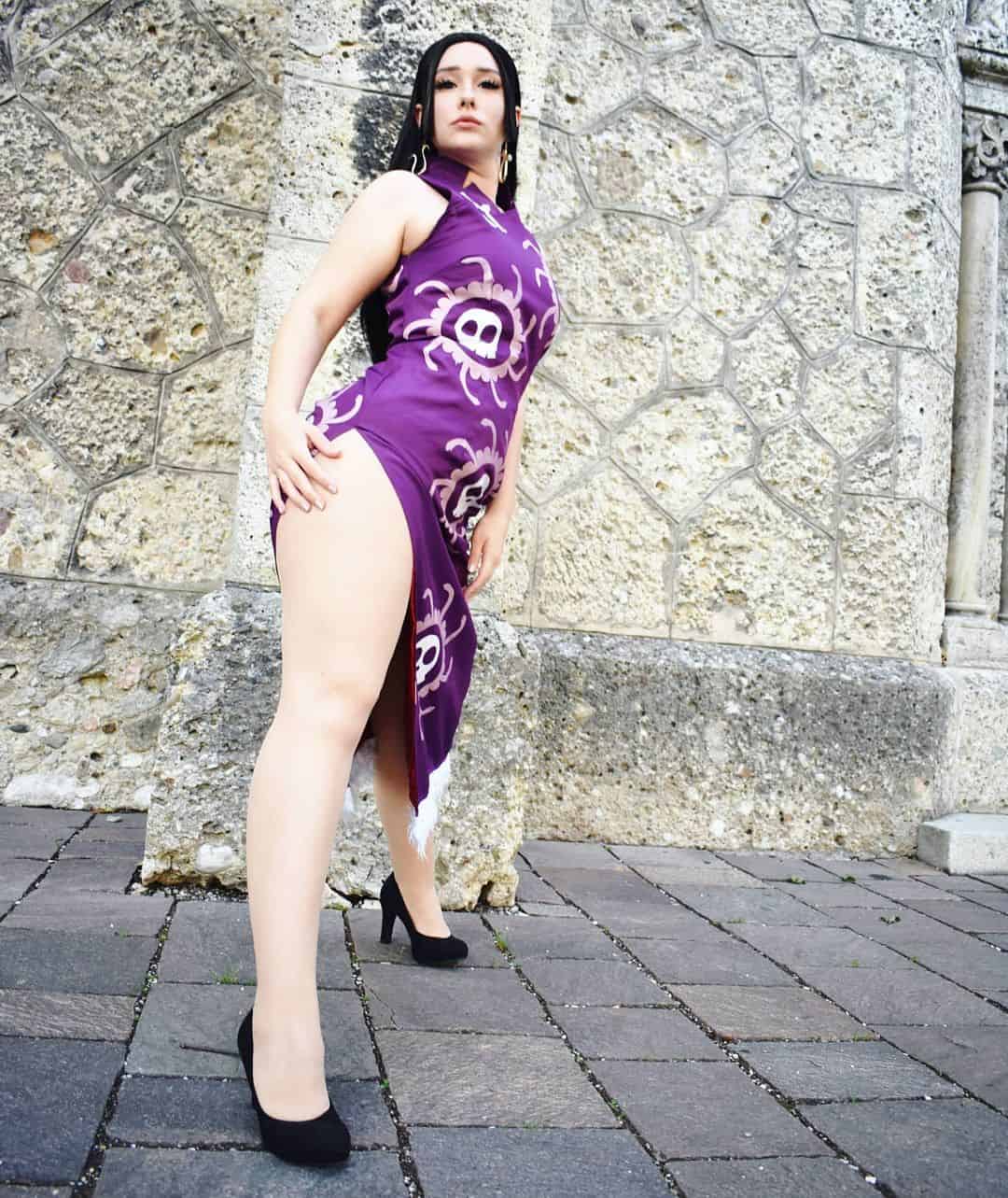 Image Source
The very sexy, confident, and powerful Boa Hancock from "One Piece" has a very vibrant and hot wardrobe. Her outfits are not for the faint of the heart. This particular Kuja pirate's print purple dress with fur-trimmed hem and a waist-high slit on one side is worn with a pair of blue pumps that match the dress's blue lining and snake earrings.
It's hard to find this exact dress, but you can go for something similar like this long dress or this modified purple dress, and style it with sky-high pumps, long earrings, and a confident attitude to go with the look.
44. Akali Inspired Anime Outfit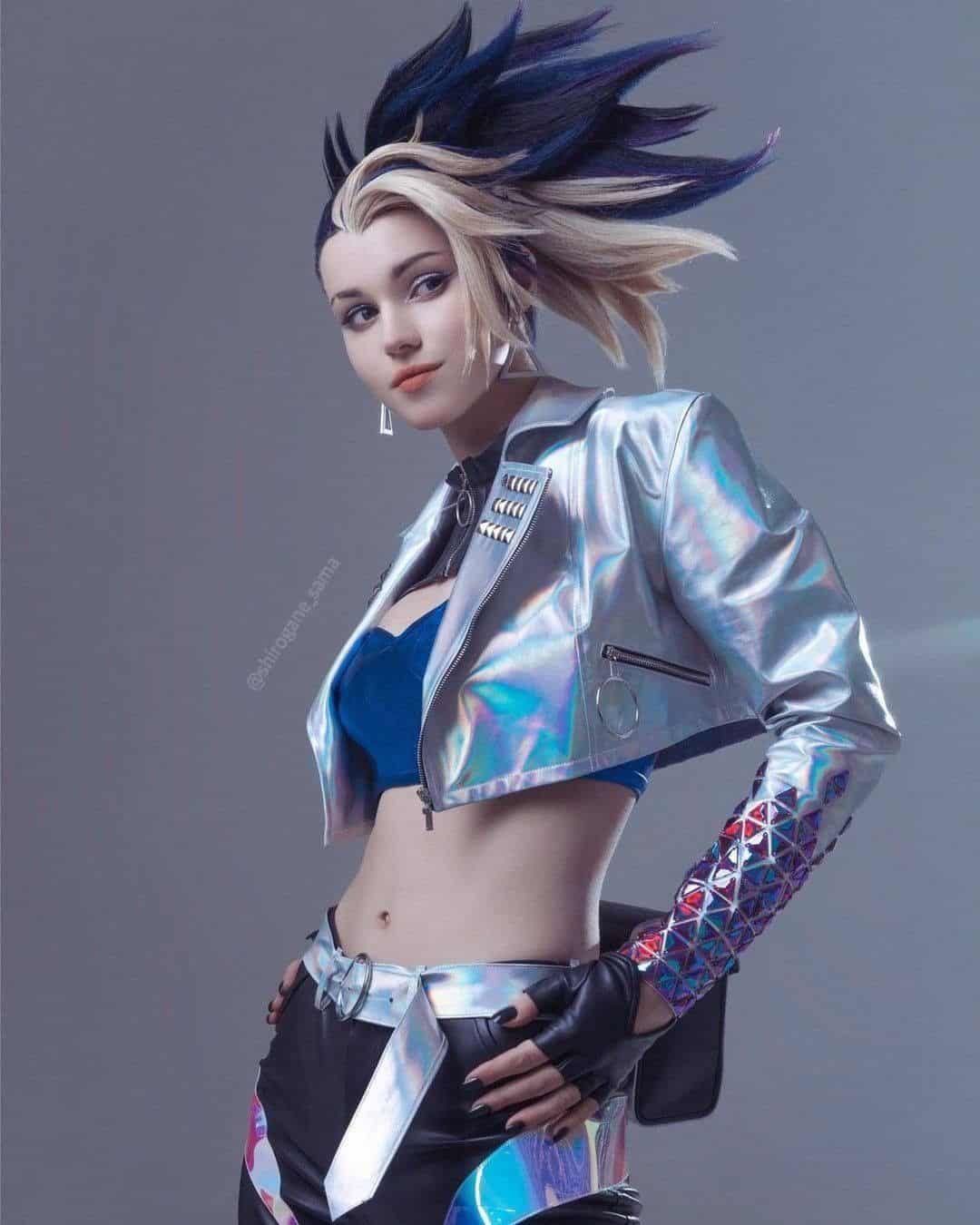 Image Source
KDA All Out Akali is one of Akali's 14 skins from "The League of Legends." This is a fierce party outfit perfect for pub-hopping sprees.
The black leather pants, the metallic silver crop bomber jacket, and the blue tube top paired with a mesh collar make for a stellar outfit by themselves. But, the detailing on all these items of clothing and the unusual accessories – silver belt, half-leggings, black sneakers, fingerless gloves, waist bag, and the geometric earrings take it to another level.
You can skip the bag, leggings, and gloves to turn it into a less costumey version. Buy your Akali inspired outfit here.
45. Simple School-Girl Anime Outfit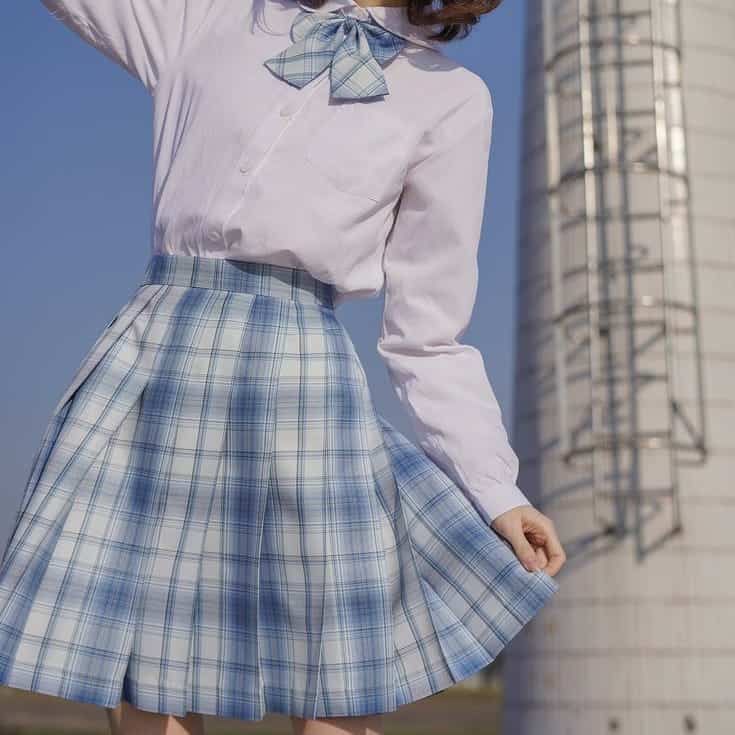 Image Source
This is probably the simplest anime outfit featured in our gallery. It pertains to the Lolita genre of the anime world and features a plain white short shirt combined with a plaid print, pleated, short skirt with a matching tie.
It's usually paired with below-the-knee black socks and black shoes. You can recreate it with any old white shirt and plaid print short skirt.
46. Shugo Chara Little Black Dress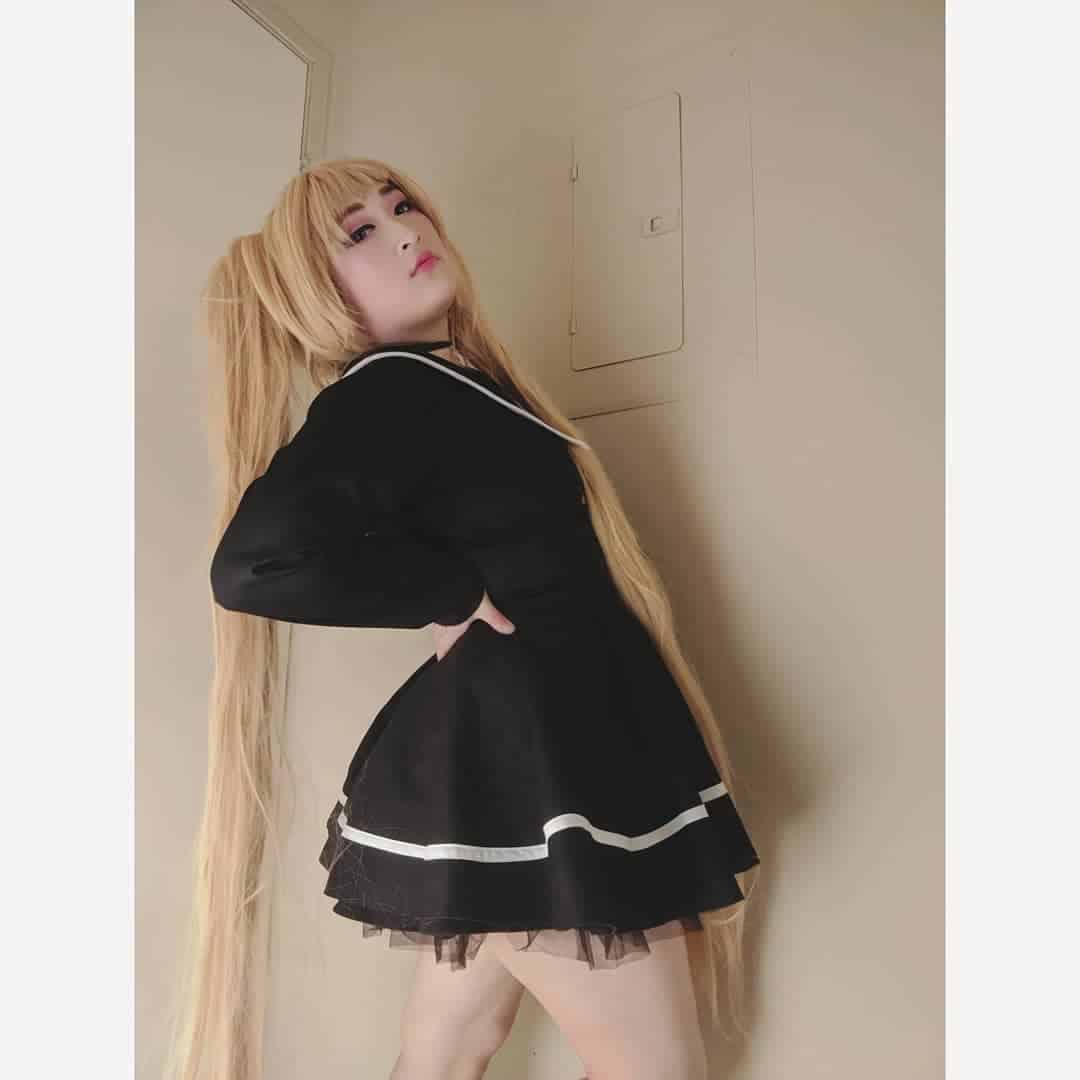 Image Source
Utau Hoshina sports a little black dress with a waist-cinching lace-up corset belt, thigh-high socks, Mary-Janes with ankle straps, and a black ribbon choker with a cross pendant.
Unless you're cosplaying her, you don't have to recreate the look in its entirety. The full-sleeved, flat-collared black dress and the corset waist belt are the critical pieces required to create this outfit. Once you have these two pieces in place, you can style the rest of it any way you like.
47. Sakura Kinomoto Inspired Angelic Anime Outfit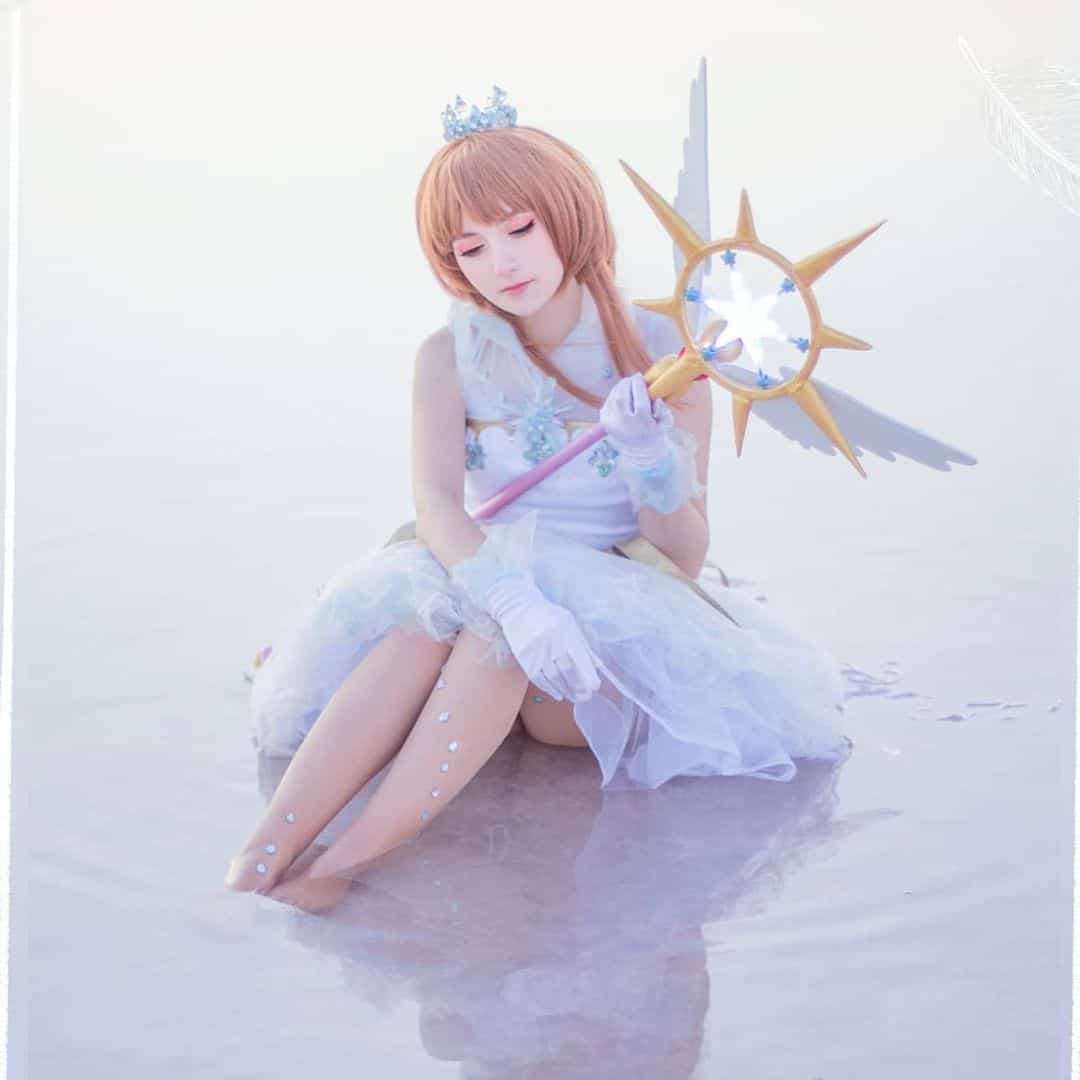 Image Source
The Cardcaptor anime series' Clear Card arc has Sakura wearing an angelic white costume with long trailing feathers, a wand, a crown, and blue appliques all over.
It's an eye-catching, shimmery dress that you can wear without the trailing feathers as a regular dress, as shown here. Style the dress with blue crystal accessories and white ballet flats.
48. Asuramaru Inspired Anime Outfit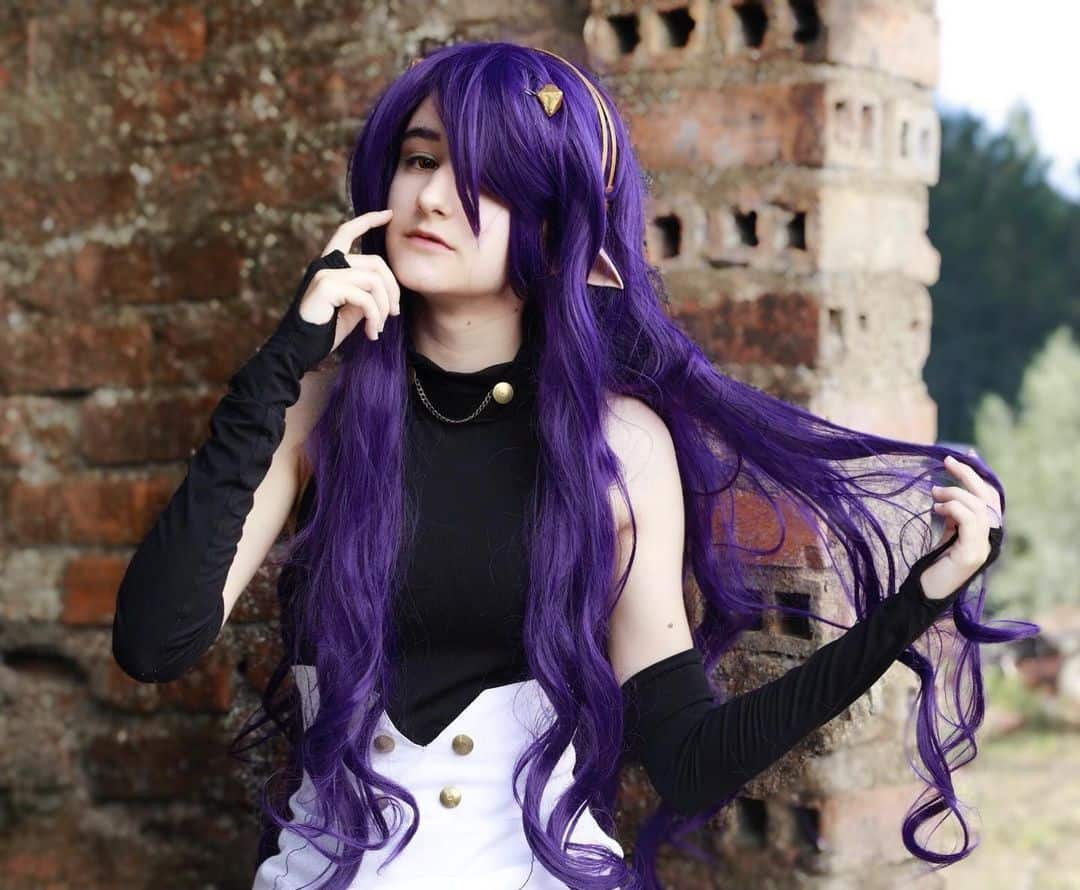 Image Source
Owari no Seraph's famous demon trapped inside a sword, a.k.a Asuramaru, wears an attractive black and white dress with a halter neck. Black fingerless gloves are the only accessory you sport with this outfit.
It's a reasonably casual dress that you can wear out on a date night if you skip the gloves, add a pair of nice pumps, and some gold jewelry to compliment the golden buttons.
You can buy the dress here and style it with accessories from your wardrobe.
49. Monokuma Inspired Yin-and-Yang Hoodie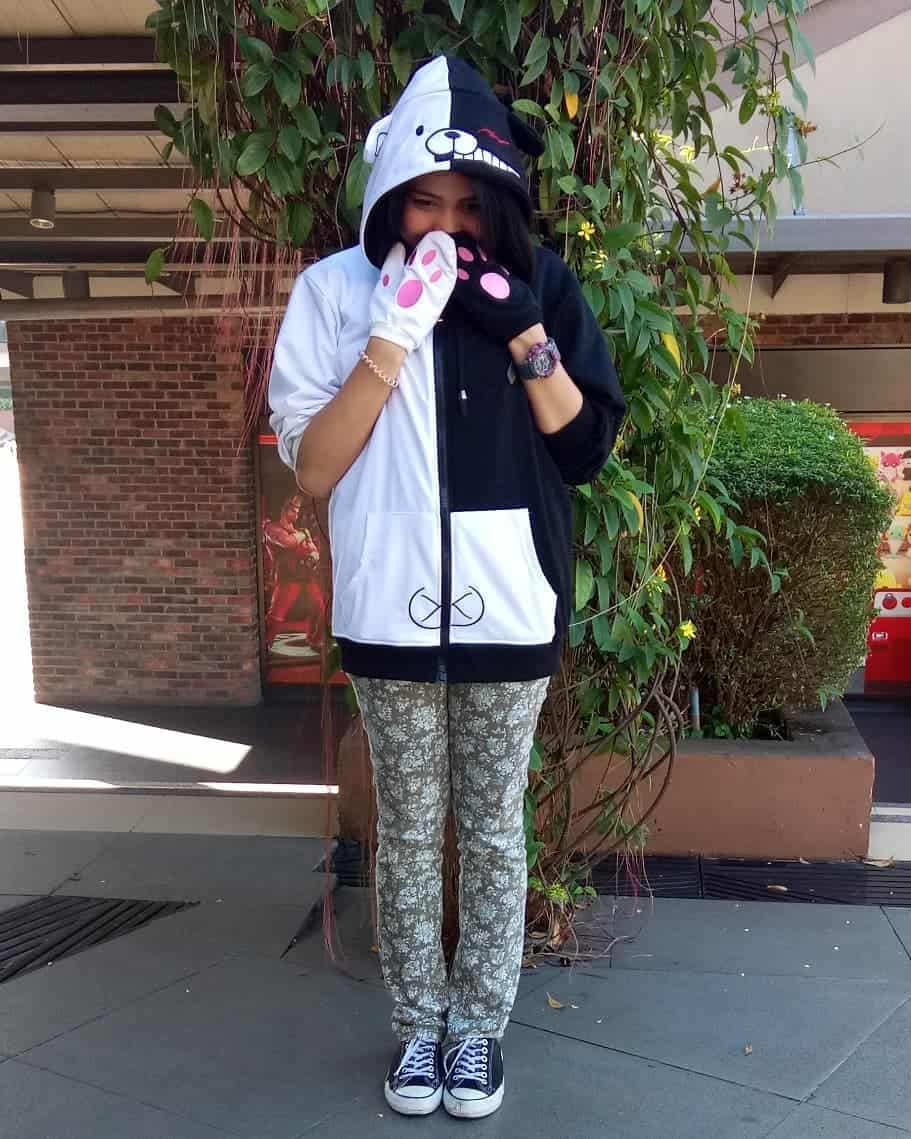 Image Source
Danganronpa: Trigger Happy Havoc's robotic bear, Monokuma, sports a half-black, half-white hoodie that reflects his Yin-and-Yang personality.
You can style this men's hoodie with a pair of comfy track pants and high top sneakers. Anime clothing is versatile and gender-neutral, and you can imitate any character's style without raising eyebrows. You can buy the hoodie here.
50. Korra's Blue Ensemble Inspired Anime Outfit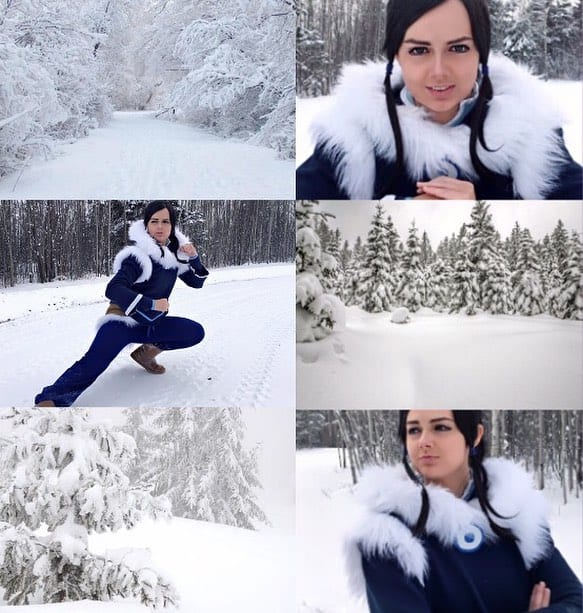 Image Source
Korra from "The Legends of Korra," in the Avatar universe, wears this blue ensemble with fur trims on the top and the trousers. Brown fur-trimmed boots and a brown fur-trimmed apron tied around her waist round up her look.
You can dress up like this rebellious reincarnation of the Avatar by going for a dark blue winter clothes ensemble with white fur trimmings. If you don't live anywhere that snows, here's a smart Korra inspired hoodie that you can wear anywhere, anytime.
Sourcing Your Anime Outfits
While cosplay outfits are readily available online and offline, creating a unique look for yourself inspired by anime will take a little research and creative utilization of regular and commonly available items of clothing and accessories. Here we list a few everyday items of clothing, standard colors, and some accessories usually found in most well-stocked wardrobes that can be successfully incorporated into a large number of anime outfits.
Scarfs, Stoles, Bows, & Ties
These items can easily be turned into big bows placed strategically to create drama, used as decorations for your bags/shoes, or tied in a hundred different ways to make your outfit pop. They're sold everywhere, have inexpensive options to choose from, and a single item can be incorporated in multiple outfits.
Pleated Short Skirts, Crop Tops, White Shirt
Pleated short skirts can be paired with all kinds of tops to create a lot of different anime outfits. If the skirt is in a plaid print, you can go for grunge, sexy, Lolita, and cute anime vibes. In the same vein, crop tops regularly feature in many anime looks, so does a basic white shirt with full sleeves and cuffs. So, you can consider a pleated skirt, a white shirt, and a crop top, essential wardrobe items for creating anime-inspired outfits.
Long Socks and Stockings
A lot of anime outfits call for wearing stockings or either thigh-high socks or knee-high socks. One pair each, in black-and-white, would go a long way in helping you create many anime outfits.
Pinks, Whites, and Blacks
Although anime doesn't automatically translate to cute and pink, it is a fact that you can create a lot of anime-inspired looks with pink colored clothing, a basic white shirt, crop tops, and black pieces of clothing and accessories. Even if you stick to these three basic colors, you can create unique anime outfits for days.
Hair & Makeup
Anime outfits are incomplete without the right hair and makeup to dial up your look's anime vibe. Although it's totally optional if you're merely interested in this culture for the character's exciting wardrobe, know that the right kind of styling is what makes these looks so eye-catching. So, if you're putting in a lot of effort to create your anime-inspired outfits, spend some time getting the hair and makeup right to pay proper homage to the genre.
ちょっとまって (ください) (Chotto Matte (Kudasai) – Wait a Moment, Please!)
We're almost done. In fact, we're done. Just wanted to leave a friendly reminder to choose your anime outfits based on your body type and the occasion. That's all folks, enjoy your sojourn into the world of anime dress-up.
頑張って! (Ganbatte – All the best!)