La Mer is a luxury skin brand owned by Estee Lauder. It started out with one moisturizing cream that became a cult favorite. Now, the brand has expanded to treatments and tonics for everything: From eye cream to hand serums, and even some makeup products. They all share the same base, La Mer's signature Miracle Broth.
Despite the expansion of the brand, their original moisturizer still remains one of their most talked-about products. Originally developed by scientist Max Hubert in the 1950s as a way to heal his skin after suffering from burns in a lab experiment gone wrong, the cream is touted as a sort of miracle. But, at almost $200 an ounce, it's a luxury not everyone can afford.
If, like most people, your budget won't stretch to accommodate the original La Mer moisturizer, what can you do? In this article, we're going to break down the key elements that make La Mer special, and provide you with some alternatives that will have a similar effect on your skin, but at a more wallet-friendly price.
What's so Great About La Mer?
La Mer's moisturizer is a very rich cream, so a little goes a long way. The Miracle Broth base is made from fermented sea kelp and algae with the addition of ingredients like wheat germ, alfalfa, and eucalyptus. Fermentation produces probiotics, which have become extremely trendy in the health and beauty market recently. By supporting good bacteria on our skin and in our bodies, they create a friendly eco-system that can function optimally with little intervention.
Sea kelp is also full of vitamins and fatty acids that can help rejuvenate and firm the skin. Lime tea is another featured ingredient of the cream. Lime is loaded with vitamin C, which can help make your skin glow, looking more youthful.
La Mer is recommended in particular for very dry and mature skin to help give it the extra nourishment it needs. Users swear by its ability to firm and refresh the face, neck, and decolletage.
The Not so Great
While La Mer contains a number of nutritious, skin-supporting ingredients, there are a few questionable ingredients as well. For people looking to have a cleaner skincare routine, the addition of mineral oil and paraffin in this product is a bit disappointing.
Mineral oil and paraffin are both by-products of petrochemical processing, meaning there's no environmentally sustainable way to produce these. While they do a good job of locking in moisture, they can be quite greasy and inelegant.
For dry skin, they are relatively neutral, but there are plant-based oils that offer much more nourishment and provide natural antioxidants. Mineral oil is one of the cheapest options, and since it's such a high percentage of the formula, it's disappointing in such an expensive luxury cream.
There are also a few ingredients that might be irritating to sensitive skin. To achieve the signature smell of the product, La Mer uses artificial fragrance. Synthetic fragrances are some of the most common culprits for contact dermatitis. This product also contains eucalyptus oil which, while all-natural, can be an irritant for sensitive skin.
If you're looking for face creams that have similar ingredients and offer dramatic moisture like La Mer, you're in luck. There are several options on the market that will help you save some money while giving you a luxurious amount of moisture.
Top 5 Best La Mer Dupes to Nourish Your Skin 2023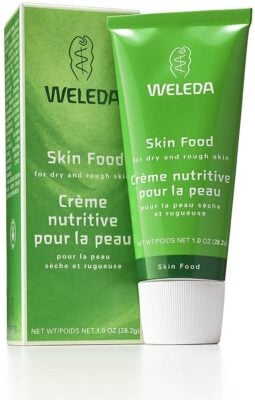 Why we like it:
This ultra-rich cream harnesses the power of plants in an all-natural recipe.
Editor's Rating:
Quick Facts:
Active Ingredient: Lanolin, Herb Extracts
Skin Type: Dry, Mature
This ultra-rich cream can be used anywhere where you have dry patches. Rough elbows? Flaky legs? Peeling cheeks? This cream has got you covered for a fraction of the price of La Mer. Gentle herb extracts like chamomile, viola tricolor, and calendula soothe and heal your skin.
Other all-natural ingredients make up the bulk of the product such as beeswax to lock in moisture and sweet almond oil to provide light hydration. Lanolin is a unique ingredient in this formula that provides rich moisture and helps create a protective barrier on the skin. Lanolin has a very similar composition to the natural sebum secretions of human skin, meaning it's easy for us to absorb and works well with our bodies.
Just like La Mer, this cream is thick and deeply moisturizing. It's also best for skin that needs more nourishment. The deep moisture can help soften the look of fine lines and wrinkles and the moisturizing ingredients can help restore dull dry skin.
Things to Watch Out For
Of course, due to the addition of beeswax and lanolin, this product isn't vegan. Weleda has a commitment to ethical farming, and these ingredients can be harvested without harming the animals involved, so this addition won't be an issue for all ethical shoppers. Some people still prefer to avoid animal products altogether.
There is also the addition of fragrance to this product. Unlike the synthetics that often fall under the heading of "fragrance" on cosmetic ingredients, Weleda uses essential oils to create their fragrance blend. Still, for very sensitive skin types, certain essential oils, especially when applied around the lips and eyes, can be irritating.
Pros
100% natural ingredients

Ethically produced

Adds moisture and supports skin's protective barrier
Cons
Not vegan

Essential oils can cause irritation
---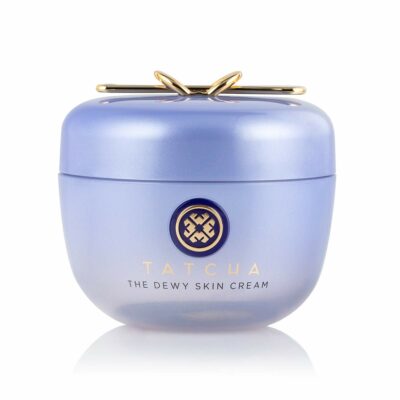 Why we like it:
This cream harnesses the benefits of probiotic fermentation and botanical extracts to create a dewy complexion.
Editor's Rating:
Quick Facts:
Active Ingredient: Fermented Purple Rice, Seaweed
Skin Type: Normal, Dry, Mature
This cream by Tatcha is luxuriously creamy without being thick or hard to apply. Like La Mer, it's loaded with nourishing extracts, but this one focuses on ingredients native to Japan, the company's home base. It also uses a base of fermented ingredients for probiotic benefits. In this case, the base is a mixture of purple rice and seaweed.
The proprietary formula also includes ginseng, a root that is renowned for its health benefits. Topically, it helps boost the complexion with antioxidants and improves circulation, which can encourage your body's natural collagen production to firm the skin. Tea leaves, marjoram, thyme, and mallow flower also feature in the recipe.
As a "dewy" cream, the moisturizer is meant to help your skin look naturally fresh and glowing. The formula has a mild plumping effect that can help minimize the look of fine lines and wrinkles as well.
Things to Watch Out For
If you like to have a matte finish on your face, you might not like the dewy look this product promises. This finish is very trendy throughout Asia and gives your skin a slight sheen. Many people find that it gives a youthful effect, but not everyone likes it. If you have naturally oily skin, it may make you look oilier.
This product also contains some fragrance that might irritate those with sensitive skin.
Pros
Uses fermented ingredients to improve skin

Plumping effect on the skin

Improves skin's natural collagen production
Cons
May not be suitable for oily skin

Fragrance may be irritating
---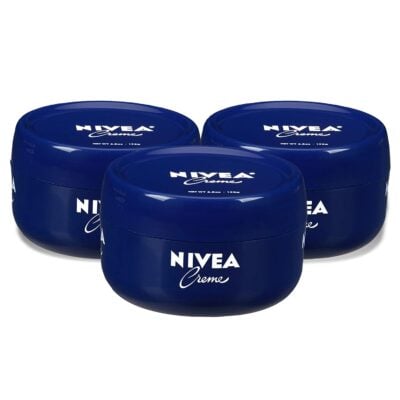 Why we like it:
This ultra-affordable creme has been a face and body moisturizing staple for decades because it really works.
Editor's Rating:
Quick Facts:
Active Ingredient: Mineral Oil, Vitamin B5
Skin Type: Normal, Dry
Nivea moisturizers have been a pharmacy staple in the US for decades, but the company started in Germany well over a century ago. Their basic creme is a favorite that many people have used since childhood to keep away winter dryness on their face and body.
This simple product, identifiable by its dark blue jar or tin and white lettering is certainly not a luxury product. However, many people swear by it and find that its moisturizing properties are similar to that of La Mer. Unlike La Mer, it doesn't contain many interesting extracts and additives, but the moisture-locking mineral oil and paraffin base that makes up the bulk of both products is very similar.
The formula also includes vitamin B5 which hydrates to promote smooth and healthy skin.
Things to Watch Out For
If you're looking for clean and sustainable skincare options, as with La Mer, you might be disappointed in this product. Its main ingredients are mineral oil and paraffin which also aren't ideal for oily skin. That's why many prefer this as a body moisturizer.
Many fans of Nivea will also tell you that the formulation sold in the US is also a little different than the European recipe. The European one is harder to obtain in the US, but fans report that it absorbs better and keeps its consistency longer than the American version.
Pros
Very budget-friendly

Great for the whole family

Very moisturizing
Cons
No sustainably produced

Quality difference between the North American and European versions
---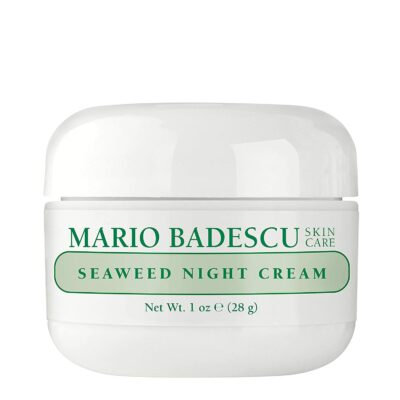 Why we like it:
Oily skin needs nourishment too, and this cream offers a vitamin-rich formula without added oil.
Editor's Rating:
Quick Facts:
Active Ingredient: Seaweed Extract, Hyaluronic Acid
Skin Type: Oily, Mature
Uniquely, this night cream from Mario Badescu deep treats your skin without using oils. Instead of oil, this cream combines hyaluronic acid, collagen, and elastin with seaweed extract to restore your skin. Glycerin, a plant-based humectant, is also featured in the formula to help draw in moisture and then trap it in your skin.
Like La Mer, a little goes a long way and the seaweed benefits are the main selling point of this product. However, this cream is much more effective for oily skin than La Mer. Since it doesn't contain any oil, it won't leave your skin feeling greasy or clogged.
Many people find that it's challenging to transition their products as they get older. They still may be coping with acne and oil while also noticing the first signs of aging. This cream is the perfect choice for that combination. It gives your skin the extra nutrition it needs to combat the signs of aging without causing extra oil or breakouts.
Things to Watch Out For
This cream won't be a good choice for people looking for deep moisture. Despite not containing any oils, it's also quite thick and needs to be thoroughly massaged into your skin, or else it can feel like a coating that sits on top.
The heavy fragrance of this product can also be a turn-off for some users. Not only is it irritating to those who are sensitive to synthetic perfume, it's a strong floral scent that may remind you of your grandmother's house.
Pros
Non-greasy, oil-free formula

Restores aging skin

Nourishing seaweed extract
Cons
Can take a while to absorb into skin

Not for dry skin

Strong perfume scent
---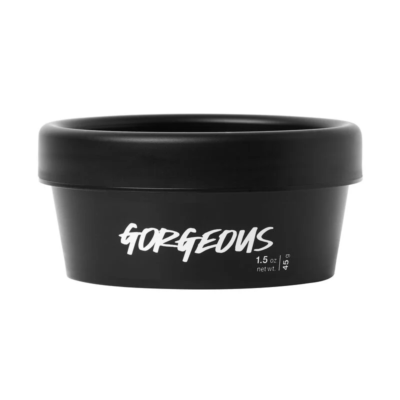 Why we like it:
Lush's skincare line has plenty of highlights, but this light cream provides a well-balanced recipe that conditions all skin types.
Editor's Rating:
Quick Facts:
Active Ingredient: Evening Primrose Oil, Pineapple Juice
Skin Type: All
Lush is famous for being that "smelly soap" store at the mall, but their eco-friendly practices and full skincare line make them worth a second glance. Out of their moisturizers, Gorgeous has gained a devoted following for its ability to condition any skin type. While it's the most expensive cream on our list, it's still significantly more affordable than La Mer, and its results might win you over.
Pineapple and other fruits extracts give a vitamin boost to this product. The natural acids of the fruit help cleanse your face of dead skin, making room for fresh skin cells to grow. This natural exfoliating effect helps your skin glow.
Orange blossom honey water is the first ingredient in this product. Honey has been used by humans for millennia as a skin treatment and the science backs it up: It has natural antibiotic properties that help control bacteria on the skin. It also acts as a natural humectant, drawing hydration to the skin. Besides honey, the recipe also features olive oil and avocado oil to moisturize.
Evening primrose oil is also featured in this product. This is a great all-over skin ingredient that helps balance the skin. It's often used for anti-aging, but it can also help control conditions like acne. Despite the intense blend of ingredients, this product remains surprisingly light and easy to wear.
Things to Watch Out For
Despite being around a quarter of the price of La Mer, it's still pricey. If you are looking for an affordable daily skin cream, this one may still be a bit expensive for your budget.
The lightness of this cream helps it work for more oily skin types and makes it a great summer moisturizer. However, if you have extremely dry skin it may not be enough, especially if you live in a dry climate or one with harsh winters.
Pros
Light and easy to apply

Balances multiple skin types

Hydrates and lightly exfoliates skin
Cons
Still somewhat expensive

May not be enough moisture for very dry skin
---
Glowing Skin on a Budget
Here are a few ingredients to look out for if you're trying to achieve that La Mer effect.
Seaweed
La Mer is named after the sea for a reason: The fermented seaweed in the recipe packs a ton of nutrients. Antioxidants and vitamins enrich skin products to help your skin heal from daily damage. Find it in our picks from Tatcha and Mario Badescu.
Fermented Ingredients
The good bacteria that makes yogurt and kombucha so good for your insides can also be great for your skin. By supporting your microbiome, those ferments help your skin become stronger so it can better fend off the attacks from environmental damage. The cream from Tatcha uses fermented ingredients to help protect your skin.
Plant Oils
While La Mer uses mineral oil as a big part of their formula, most of the options on our list use plant-based oils to impart extra moisture to your skin. The natural options often come with extra benefits like antioxidants, essential fatty acids, and anti-inflammatory properties.
Natural Humectants and Emollients
Humectants are ingredients that help draw environmental moisture into the skin, while emollients help create a protective barrier to lock in moisture and slow its loss. This helps prevent that dry feeling you might experience in the afternoon.
Lanolin is a natural emollient found in our pick from Weleda and honey is a natural humectant found in Lush's Gorgeous. FInally, vegetable glycerin plays the role of humectant in Mario Badescu's night cream.
Alternatives to La Mer
There's no denying that for its legions of fans, La Mer is an effective choice that adds a touch of luxury to their routine. Choosing something name-brand can sometimes be part of the appeal. While La Mer does include some great ingredients, it's not the only option out there for high-quality hydration.
As you can see, La Mer actually falls short when it comes to their base ingredients. There are more nourishing and natural options that still include some of the bells and whistles of La Mer, but at a fraction of the price. We hope our guide has inspired you to get the best skin of your life without blowing your budget.