Hair oils are a useful product that can be applied to virtually any hair type. They are known for their ability to penetrate deeply into hair strands and repair your locks from the inside out, softening and protecting each strand. For anyone with dry hair, hair oils can be a saving grace.
Dry hair is typically lacking in the vital vitamins, minerals, and hydration that keep hair looking soft and shiny. Often times, dry hair is also damaged from things such as heat styling tools and excessive UV light exposure. A regularly used hair oil can remedy this situation by nourishing hair, repairing broken strands, and strengthening hair. There are even oils available that can tame frizz and add shine to hair.
Selecting a hair oil to help your dry hair may be a little confusing at first, but there is no need to worry. We've created a list of the top 10 hair oils on the market for dry hair, so you can narrow down your choices and make your decision more easily!
What You Should Know About Hair Oil
Before we get to our list, we first need to discuss all of the important need-to-know facts about hair oils.
Why Use Hair Oil on Dry Hair?
Dry hair occurs when your hair is not getting or retaining enough moisture. This causes hair to feel rough and lose its sheen. It may also make hair breakable and frizzy.
Consistent use of a hair oil can repair these issues, strengthening hair and nourishing individual strands so your hair becomes moisturized, soft, and shiny.
Ingredients to Look For
There are several ingredients in hair oils that you can look for to make sure the product will be beneficial to your hair.
Coconut Oil: Coconut oil promotes scalp health, moisturizes hair, and can help to prevent hair breakage.
Argan Oil: Argan oil is extremely hydrating and provides softness and shine to hair.
Keratin: Keratin smooths out hair, decreasing frizz and making hair appear sleeker.
Biotin: Biotin can help strengthen hair and repair dry, damaged hair strands.
Ingredients to Avoid
In order to give your hair the maximum amount of hydration possible, you may want to avoid hair oils with ingredients such as sulfates, silicones, parabens, and alcohols. These ingredients can dry your hair out even further or cause a product buildup in your hair that prevents it from retaining moisture.
Oil Formulas
There are several different formulas that a hair oil can be packaged in. Your oil may only contain one or two oils, or it may be blended with other hair nourishing ingredients into a serum.
Serum
A serum is a hair oil that features many other ingredients intended to help repair and hydrate your tresses. They typically include essential oils, botanical ingredients, and fragrances, though they may irritate sensitive scalps or be too strongly scented for some users. Our favorite serum is GIOVANNI's 2chic Repairing Super Potion.
Traditional
Traditional hair oils usually consist of one base oil that may be blended with one or two more oils. They are usually very nourishing and generally don't contain an excess of added ingredients, essential oils, or fragrances. Traditional hair oils are great for intense repair, but not the best if you want to have extra added benefits in your product.
Spray
Spray hair oils will usually be serums, but are occasionally traditional hair oils. The only difference in this type of formula is that it is designed to be sprayed onto hair instead of applied with hands, making the oil a lot more lightweight. This can be great for thinner hair, but not the best if you need intense dry hair repair.
Added Benefits
Some hair oils contain added benefits that are designed to target specific areas of concern in dry hair, such as excess frizz and hair dullness.
Frizz Fighting
Frizz-fighting ingredients such as keratin and hydrolyzed proteins work to soften hair from the inside of the cuticle out and can greatly contribute to soft, smooth hair.
Shine Boosting
For extra shine in your hair, look for ingredients such as coconut oil and vitamin E, both powerhouses of hair nourishing benefits. Check out Redken Diamond Oil Glow Dry for a hair oil that adds intense shine to hair.
Fragrance
If you prefer your hair to have a light scent throughout the day, you can select a product that uses essential oils and natural fragrances to add a gentle fragrance to your locks. We suggest the Moroccanoil Treatment if this sounds great to you.
Now that we've discussed what to look for in a hair oil for dry hair, let's get to our list of the top 10 products available!
Top 10 Best Hair Oils for Dry Hair 2023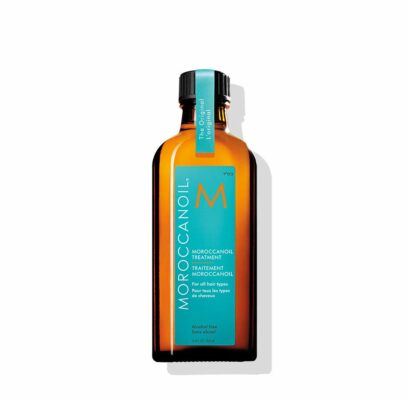 Why we like it:
The Moroccanoil Treatment is perfect for every hair type and has a completely residue-free formula.
Editor's Rating:
Argan oil is the main ingredient in this hair oil; it is a highly conditioning oil that provides hair with many necessary antioxidants. This leaves hair feeling soft and looking shiny after just one use. It also works on every hair type, so anyone looking to hydrate their dry hair can enjoy this oil.
The formula of this product has a very light, pleasant scent that is not overpowering. The oil does not leave residue behind in hair. It is fairly lightweight, and will not leave hair looking or feeling greasy. And if you are a fan of lightweight oils, we suggest checking out Verb's Ghost Hair Oil as well.
The size of this bottle is fairly small, especially for the price, which may make it not the best option if you are looking for something more budget-friendly. The bottle also leaks easily, meaning you will have to be careful with it when using it and when packing it for travel.
Pros
Does not leave residue in hair

Argan oil provides long-term conditioning

Works for every hair type

Light, pleasant scent
Cons
Bottle easily leaks

Small bottle
---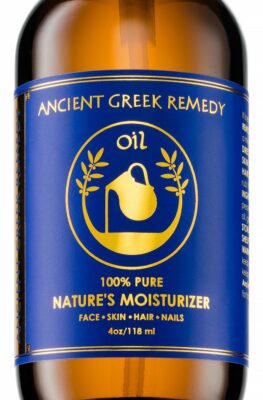 Why we like it:
The Ancient Greek Remedy Oil is blended with a limited amount of organic oils, making the formula potent and great for sensitive skin.
Editor's Rating:
If you are looking for a hair oil with limited ingredients, then this may be the best product for you. Organic olive oil is combined with almond oil and grapeseed oil to create a highly moisturizing and vitamin-rich hair oil. This product can be used on hair, nails, and skin, making it a very versatile purchase.
Because the oils blended into this product are all highly moisturizing, the Ancient Greek Remedy Oil can be used to treat scalp itchiness, dandruff, and skin conditions such as psoriasis and eczema. It is a great product for anyone with sensitive skin because the ingredients are all organic and pure.
On the downside, this oil may be a little too heavy for someone with thin or fine hair. It may leave this hair type looking greasy or weighed down. If you have this hair type and still want to use this oil, it is a good idea to use it overnight to moisturize your hair, washing it out in the morning.
Pros
Treats scalp itchiness and dandruff

Can also be used on nails and skin

Formulated with organic oils

Good for sensitive skin
---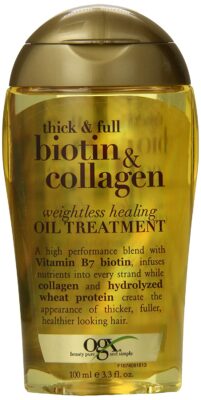 Why we like it:
OGX's budget-priced hair oil helps improve your hair's thickness and volume all for one affordable price.
Editor's Rating:
For anyone who is a fan of getting the most bang for their buck, the OGX Weightless Healing Oil Treatment is a great option. The product is affordably priced and can last a long time, making it a great economical product.
Biotin is blended into the formula of this product and nourishes each hair strand, adding health and shine to your locks. Collagen helps to improve the thickness and volume of hair, making your dry hair appear fuller and naturally soft.
Unfortunately, this product does contain artificial colorings and fragrances, and has a silicone blended into the formula. If you are trying to avoid any artificial ingredients, or have curly hair and are trying to avoid silicones, we recommend a product like Carol's Daughter's Goddess Strength instead.
Pros
Affordable

Added biotin nourishes hair

Collagen helps add volume to hair
Cons
Contains artificial colorings and fragrance

Contains silicones
---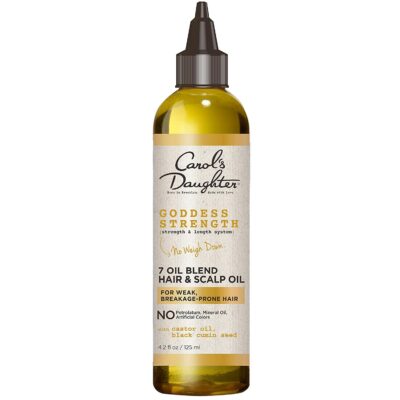 Why we like it:
Carol's Daughter's Goddess Strength hair oil is easy to apply and perfect for using on very damaged hair.
Editor's Rating:
If you have very damaged and dry hair, this hair oil is likely a great option for you. The formula consists of 7 different hydrating and repairing oils that all work to improve the look, feel, and strength of your hair. Curly and coily hair that is naturally dry can also benefit from this product.
There is an easy-to-use application tip on the bottle of this oil. The tapered end makes it easy to apply the oil directly to your scalp and then massage it in. Black cumin seed oil is blended into the formula to encourage hair growth and deeply nourish each strand.
There is somewhat of a strong odor with this product that can be off-putting if you are sensitive to fragrances. It is a sweet-spicy scent that tends to linger all day, and may cause headaches if you are averse to very strong scents.
It is also not the best oil for straight hair because of how heavy it is. We recommend a serum like GIOVANNI's 2chic Repairing Super Potion instead for straighter hair types.
Pros
Great for use on damaged hair

Easy to use application tip

Black cumin seed oil promotes hair growth

Works well on curly or coily hair
Cons
Overpowering fragrance

Not the best for straight hair
---

Why we like it:
Ideal for fighting even the most intense frizz, Biosilk's Silk Therapy Original Cure is powerfully smoothing.
Editor's Rating:
Biosilk's Silk Therapy hair oil uses hydrolyzed silk protein to help improve dry hair's texture. The silk fills in the gaps of dry and damaged cuticles, leaving hair feeling soft and looking healthy. It is great for use on hair that is very frizzy or has a lot of flyaways.
The formula of this product can also help to repair and prevent split ends. This makes hair look healthier and grow out longer without issue. It is great for use on coarse hair that needs intense smoothing to make it manageable.
This product can make your roots look slightly greasy. To avoid this, try not to apply the product very close to the roots, or select a product that has a residue-free formula like the Moroccanoil Treatment.
Pros
Fights intense frizz and flyaways

Hydrolyzed silk protein improves dry hair texture

Repairs and prevents split ends

Great for use on coarse hair
Cons
Can make roots look greasy
---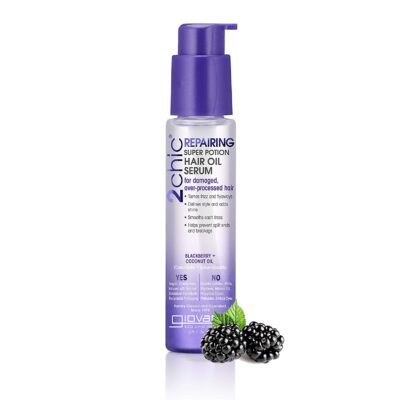 Why we like it:
This repairing hair oil serum is great for straighter hair types and is blended with botanical ingredients.
Editor's Rating:
For anyone who has straighter or wavy hair types, this serum is a good choice. It is not too heavy and not too intensely moisturizing that it will weigh hair down, but it does provide a good dose of hydration to hair with every use.
Botanical ingredients such as blackberry, acai, and black current extracts are blended into this hair oil to give it a light scent and hair nourishing properties. The formula is both vegan and cruelty-free, and free from parabens and sulfates, making it a good choice if you prefer more natural products.
This serum can be hard to wash out of hair and may leave a slight film over individual hair strands. Additionally, if you have thicker or more coarse hair, this may not be the best product for you. It is not as deeply hydrating as some of its competitors. We suggest Biosilk's Silk Therapy Original Cure if you have hair like this.
Pros
Works well on straighter hair types

Serum is blended with botanical ingredients

Vegan and cruelty-free
Cons
Not the best for thick or coarse hair

Hard to wash out
---
7.

Best Hair Oil for Thick Hair:

Davines OI Oil

Why we like it:
Great for use with thicker hair types, the Davines OI Oil has detangling properties and leaves hair irresistibly soft.
Editor's Rating:
This product is a great choice to use with hair that is thicker and still fairly dry. The formula is detangling and can help you manage and maintain your hair; after every use your hair will be softer, smoother, and easier to brush through and style.
Roucou oil, the main ingredient of this blend features both antioxidants and beta-carotene which help to improve hair's overall appearance and fight free-radicals that may be damaging hair. It also helps to protect hair against any environmental and UV damage.
This ingredient is produced with the more premium roucou oil and is expertly crafted, making the price land more on the expensive side. And a lot of the product is needed to deeply hydrate hair, meaning it may not be the best for someone who is on a budget. We recommend OGX Weightless Healing Oil Treatment if you are looking for a more economical hair oil.
Pros
Detangling

Great for thicker hair types

Features roucou oil for supreme hair nourishment

Protects hair against damage
Cons
Expensive

A lot of product is needed for deep hydration
---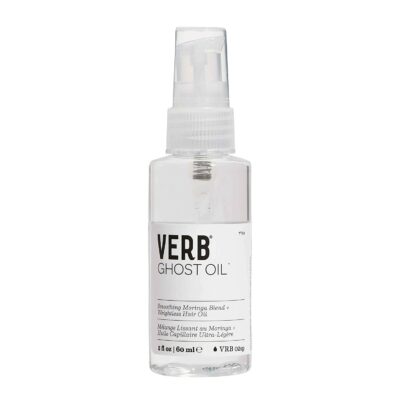 Why we like it:
This lightweight hair oil uses moringa extract to nourish and hydrate all types of hair and is great for use on fine and thin hair types.
Editor's Rating:
The lightweight formula of Verb's Ghost Hair Oil is non-greasy and perfect for use on all hair types. It is especially beneficial to anyone with thin or fine hair that is easily weighed down by hair oil. It effortlessly absorbs into hair for a flawless natural look.
Moringa – a plant with anti-inflammatory properties – stars in the formula of this product. The extract nourishes hair in addition to increasing hair growth and fighting against damaging free radicals. It makes this product a good choice for anyone who wants a powerful nourishing formula that can also hydrate dry hair.
The oil of this product does have a slightly thicker consistency than its competitors. This thick consistency can make it hard to apply and spread evenly throughout hair. It is a good idea to use only a small amount at a time and coat your hands with it, applying the oil to your hair gently via your hands. This can help you achieve a more even application.
Pros
Great for thin and fine hair

Lightweight formula

Moringa extract nourishes hair
Cons
Thick consistency may be hard to apply
---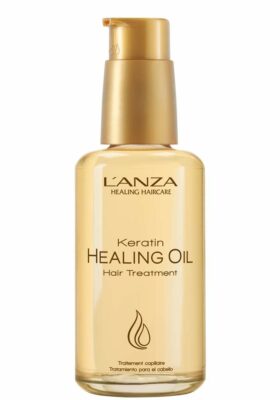 Why we like it:
L'ANZA's Keratin Healing Oil gives dry hair new life and works to repair weak and brittle hair.
Editor's Rating:
This product contains a propriety Phyto IV Complex blend of oils to improve hair hydration. The four oils in the blend absorb easily into hair and are packed with vitamins, minerals, and antioxidants that help make dry hair soft and smooth. They also give hair bounce and body that makes it look healthy.
This is a great hair oil to use on weak or brittle hair. Keratin smooths out hair cuticles and strengthens hair from the inside out, making hair appear less frizzy, sleeker, and full of life. It makes this oil a great option to use on dry hair that needs a boost of strength and hydration.
The pump on this product can be hard to control. It is difficult to administer a specific amount of oil at one time, so you may end up with too much or too little depending on the pump. To remedy this, you can place the oil into a different bottle or simply replace the pump to a more easily controlled one.
Pros
Great for use on weak or brittle hair

Keratin improves hair strength

Gives hair bounce and body

Contains Phyto IV Complex for hair hydration
---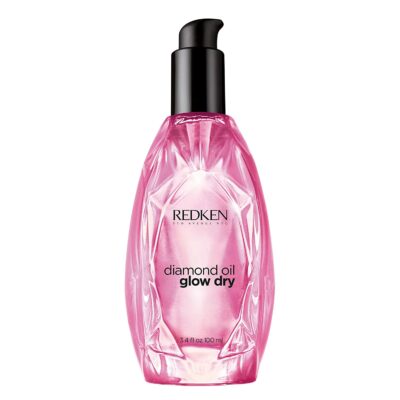 Why we like it:
Redken's Diamon Oil Glow Dry is great for use before heat styling and for when you need an extra boost of shine.
Editor's Rating:
You will be able to see the results of this hair oil after just one use; it provides an instant shine and softness to hair. Continued use will give a prolonged shiny and soft appearance for all hair types, making it a good choice if you are looking to improve the appearance of dull or rough dry hair.
This product can protect your hair from heat damage and may help to cut down your blow-drying time. It is a good choice if you are looking for a hair oil to use before heat styling and to help hydrate your dry hair while protecting it from damage.
The formula of this product contains alcohols, which may irritate someone with more sensitive skin. These alcohols can also become drying to hair over time, which can mean that this product is not the best choice for someone who needs consistent intense hydration. We suggest a product like Carol's Daughter Goddess Strength for hair that often in need of oil use.
Pros
Protect hair from heat damage

Adds serious shine to all hair types

Provides instant results
Cons
Formula contains alcohols

May dry hair out over time
---
Your Full Guide to Using Hair Oils for Dry Hair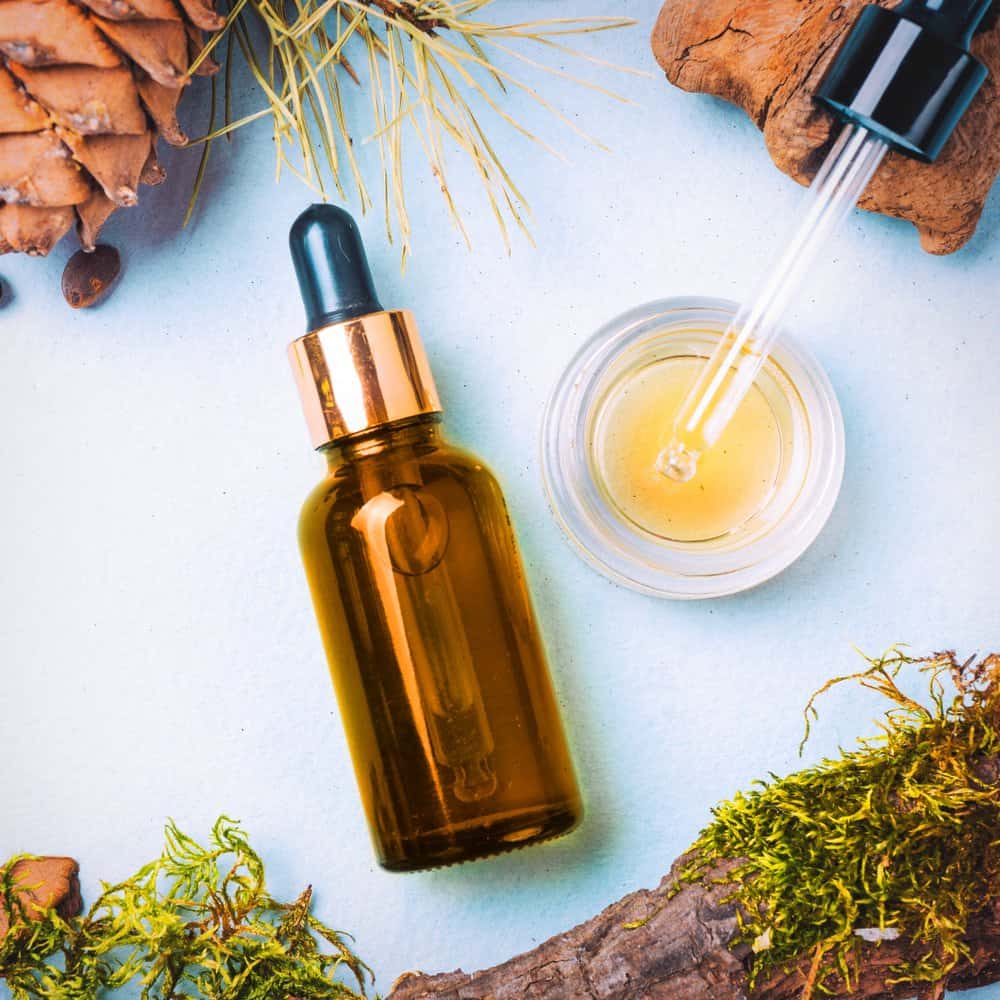 Want to know more about using hair oils on your dry hair? Read our full guide for all of the must-know information.
Benefits of Hair Oils on Dry Hair
There are many benefits that hair oils can bring to dry hair besides just hydrating your locks.
Nourishes Hair
Almost every ingredient in a hair oil is designed to nourish and hydrate hair. Oils contain essential vitamins and minerals that thoroughly absorb into hair, repairing damaged cuticles (the protective layer of a hair strand) and improving the overall appearance of hair.
Hair Strengthening
Even without added ingredients such as keratin, hair oils can be very strengthening to hair. The oil helps to repair bonds in the hair cuticles, increasing hair elasticity and improving its hardiness.
Protects Hair
Applying a light coating of oil to your hair before heat styling or sleeping can protect your hair from damage. The oil covers your strands, stopping excess heat from drying out and damaging hair and preventing hair from becoming tangled and frizzy as you sleep.
Treats Dry Scalp
Hair oil can moisturize the roots of your hair and your scalp, effectively preventing an itchy scalp and the formation of dandruff. This is especially helpful if you have sensitive skin and need something gentle to help stop dry scalp from occurring. We recommend Ancient Greek Remedy Oil as a gentle way to prevent itchiness.
Stimulates Hair Growth
If you are trying to grow your hair out, a hair oil may be just the product for you. Hair oil repairs breakage and split ends, allowing hair to grow out longer and look healthier without any interference or regular visits to the salon for trims.
Adds Shine
With every application of a hair oil, your tresses will shine as the oil is absorbed into your hair. As an added bonus, the longer you use a hair oil consistently, the more your hair will appear naturally sleek and shiny even on the days you don't apply the oil. Our favorite hair oil for increasing shine is Redken Diamond Oil Glow Dry.
How to Use Hair Oil
Once you get the hang of it, applying hair oil is a simple process and can easily be incorporated into a hair care routine.
Below we have listed the step-by-step process for using your hair oil as a dedicated hair treatment; using it as a heat protectant or a frizz fighting product may have slightly different application recommendations.
Always be sure to check the product recommendations before applying anything to your hair.
To start, create small sections in your hair. If needed, comb through each section to make sure there are no knots or tangles.
Place a small amount of oil onto your fingertips. Start at your scalp and the roots of your hair and work your way down to the ends.
Use a gentle circular motion as you massage the oil into your hair. Cover every strand of your hair thoroughly and massage for approximately 10 to 15 minutes.
After you have finished massaging, use a wide-toothed comb and comb the oil through your hair to ensure even distribution.
Twist your hair up, being careful not to be rough with it, and loosely fasten it in place.
Relax for 30 minutes while the oil works on your hair. Try to avoid touching your hair or removing it from its twist.
After 30 minutes, you can take a shower. Be sure to use shampoo and wash the oil completely out of your hair.
After you have washed the oil out of your hair, you can style it as you wish. We recommend using a towel or air drying it instead of using any type of hair dryer or heat styling tools.
When Should You Use Hair Oil?
You can apply your hair oil as a nourishing treatment after a shower or before bed, or you can use it as a heat protectant and apply a light layer to your hair before heat styling. You can use hair oil at pretty much any time, as long as you take care applying it and make sure to not leave it in your hair for too long.
How Often Can Hair Oil Be Used?
A dedicated hair oil treatment should only be used 1 to 2 times a week if you have dry or damaged hair. You may want to just use it once a week if your hair and scalp are naturally oily.
If you are using your hair oil as a heat protectant or a frizz-fighting product, you can apply a very light amount to your hair daily, as long as you remember to wash it out of your hair within a day or two.
How Long Should You Leave Oil on Hair?
You can leave hair oil in your hair as a treatment from 30 minutes to 23 hours. You can apply it overnight and sleep on it safely. However, you should be sure to wash the hair oil out after 23 hours to prevent any dirt buildup or hair weakening. You can read about these potential side effects below.
Hair oil that has been applied as a heat protectant or frizz tamer should be washed out with a day or two.
How Much Hair Oil Should You Use?
Typically, you should start with a quarter-sized amount of hair oil and add in small amounts as needed. The amount of hair oil you use will vary greatly depending on the formula of the hair oil, your hair type, and your hair length.
Try not to overapply hair oil as this can cause it to become greasy looking or easily breakable.

Side Effects of Using Hair Oil on Dry Hair
With correct use, applying hair oil to your dry hair is not likely to cause any significant side effects. However, if you are over applying the oil or allowing it to stay on your hair for extended periods of time, you may experience some negative effects.
Leaving hair oil on your hair for more than 23 hours can weaken your hair. While the oil is nourishing, too much exposure to it can stop your hair from producing its own natural oils, leaving your hair even more damaged and breakable. You should also not brush your hair or treat it roughly while oil is applied as this may cause pieces to snap off.
Additionally, applying hair oil too often can cause a buildup of product in your hair that attracts dirt and grease, making your hair appear weighed down or dull. Always be sure to wash hair oil out of your hair within a day of use to prevent this.
DIY Hair Oil Ideas
If you aren't ready to purchase a premade hair oil, you can try your hand at making your own. Base oils such as coconut, almond, and olive oil are all easily found around the home and are highly beneficial to hair. You can combine these ingredients with essential oils for fragrance and extra added benefits to make a perfectly tailored hair oil.
Check out this recipe guide for ideas on making a DIY hair oil.
Pro Tips for Caring for Dry Hair
Using a hair oil on a regular basis is just one part of a hair care routine that is designed to help repair dry hair. Try out these other pro tips to hydrate your hair and make it look its best all the time.
Supplement Your Diet
Adding omega-3 fatty acids, vitamin E, A, and B, and antioxidant-rich foods into your diet is one of the best ways to care for your dry hair. These essential ingredients boost your skin and hair health and improve its overall appearance over time.
Avoid Overwashing
Washing your hair too often can strip your hair of its natural oils, causing hair to become drier and creating frizz. Not having enough natural hair oil can also cause your hair to be weak or easily breakable. Skip one or two days between using shampoo to prevent overwashing.
Protect Your Hair
When your hair is wet it is in its most vulnerable state. Try wrapping wet hair in a microfiber towel after showering or washing your hair and allow it to dry while wrapped up, as opposed to air drying it down or heat styling.
Using this method can help protect your hair from damage while it is wet and allow it to retain the maximum amount of moisture possible as it dries.
Use Hydrating Products
Tailoring all the products in your hair care arsenal to be hydrating can be very helpful in improving the dryness of your hair. You may want to consider hydrating shampoos, conditioners, and occasional hair masks in order to deeply moisturize your locks.
Decrease Heat Styling
Heat styling tools can cause extreme damage to hair that is already dry. Try to avoid overusing heat styling and maybe take a hiatus for a month or two to allow your hair to become hydrated. Additionally, you should be using a hair heat protectant or a protective hair oil every time you heat style.
Consider Colder Water
Hot water, while feeling fantastic in a shower, may damage your hair if it is too hot. This is due to the heat scalding your hair and damaging it on a microscopic level. If your hair is very dry or damaged, you may want to use colder water to shower with, or limit your hair's exposure to hot water and rinse it using cold water only.
Which Hair Types Are Prone to Dry Hair?
While all hair types can become dry, hair that is especially coarse or curly/coily is more prone to dryness. This hair type can benefit from a hair oil that is deeply hydrating and smoothing, like the Moroccanoil Treatment.
How Long Does It Take to Fix Dry Hair?
If your hair is dry for reasons such as heat damage or using the wrong hair care products, it can take several months to fully rehydrate it and get it back to its soft, smooth self.
For hair types that are naturally dry, it can take a few months to get hair looking smooth and feeling soft, but you will likely have to keep up a consistent routine to maintain your hair and prevent it from becoming overly dry in the future.
Oiling Your Way to Hydrated Hair
For those of us experiencing dry hair, it may seem like there is no end in sight to the constant frizziness and hair breakage. Thankfully, hair oils are here to save the day and can improve the overall health, softness, and strength of your hair.
Be sure to select a product that has both ingredients and features that are important to you, and you will be oiling your way to hydrated hair in no time.