It's no secret that since launching in 2014, Glossier has become a favorite of the beauty world. We love Glossier too. Their products are fun and intuitive to use, but also high quality. Glossier's Haloscope highlighter made major waves when it was introduced and it has sold out multiple times.
So why is Haloscope unique when it comes to highlighters? And are there some more affordable options if you're trying to do beauty on a budget? This product guide will help you find a Haloscope dupe that you'll love.
What's so Great About Haloscope?
Glossier's Haloscope is a highlighting stick that has an outer "halo" ring infused with crystals and a center core infused with moisturizers. If you have very dry skin and want more moisture from your makeup, it's a nourishing and hydrating feature.
The outer ring is actually infused with minerals such as quartz, moonstone, and topaz to create a shimmery sheen free from glitter. This, combined with coconut, sweet almond, and castor oils creates a dewy finish. Many users love the natural "I just exercised" look this gives their skin.
It can be applied to the cheekbones, around the eyes, or any other area you want to brighten up. You can layer it over other makeup to give a soft glowy look, or use it by itself to help you look healthy and fresh.
With most highlighters containing quite a lot of sparkle to diffuse light, this is a refreshing change of pace. It creates a natural-looking sheen with no sparkle. The effect is subtle and can mimic a sunkissed glow with the shade Topaz.
We also love the fact that Glossier is cruelty-free and has a sustainable initiative that involves reducing packaging waste. Many of their products are vegan, but this highlighter does contain some beeswax to help give it rigidity. Haloscope is also fragrance-free, which is great news for folks sensitive to synthetic fragrance.
Why You Might Look Elsewhere
So, if Haloscope's cult status seems pretty well deserved, why would you even bother looking for a dupe? There are a few reasons. First, it is a bit expensive. Haloscope usually costs $22 per stick, which is 0.19 ounces of product, bringing the per ounce price to a whopping $115.72. Definitely a bit of a splurge.
Besides the price, there are also a few ingredients in the product you might want to avoid. For example, if for reasons either ethical or medical you want to avoid animal-derived ingredients, the beeswax in this highlighter may be a no-no.
If you have oily skin, the ultra-dewy finish of this may be a bit much for you as well. Something with fewer oils and less sheen may be more ideal.
So without further ado,here are the best Haloscope dupes that you should try.
Top 4 Best Glossier Haloscope Dupes 2023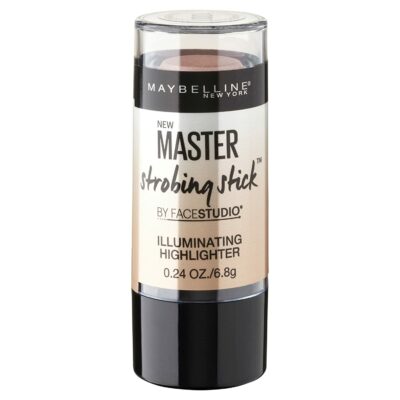 Why we like it:
For a fraction of the price, Maybelline gives us a highlighter stick that gives you the same subtle glow as Haloscope.
Editor's Rating:
Quick Facts:
Shimmer: Yes
Vegan: Yes
Cruelty-free: No
The ever-popular drugstore makeup brand Maybelline offers a surprisingly convincing dupe of Haloscope at a fraction of the price. Like Glossier's Haloscope, it comes in three neutral shades that will flatter most skin colors. This highlighting stick easily twists up for direct application to eyelids, cheeks, or over your cupid's bow.
The "strobe effect" is an iridescent shimmer, much like Haloscope, that comes from the finely-milled shimmer that is mixed into the product. The fineness helps it blend without making you look like you're covered in sequins. This recipe uses shea butter as its main plant oil to make the stick creamy and moisturizing.
The Strobing Stick is easy to apply straight from the tube and blend out with your fingers. It's a quick way to give yourself a fresh glow that's appropriate for daytime. It's not glittery or heavy, but can be built up for a more dramatic look if you like. The finish isn't as dewy as Haloscope, so if you like a more matter finish, this could work better for you.
Things to Look out For
The Strobing Stick definitely has more pigment than Haloscope. A collection of artificial colors surprisingly similar to the kind in your favorite gummies as a kid (mmm, Yellow 5 Lake, don't mind if we do) rounds out the ingredients for this product. That does make this more suited to bronzer or blush highlighting than the more sheer finish of Haloscope. It's also important to be aware of if you're sensitive to certain colorants. For a less pigmented shimmer, you can try our pick from Physicians Formula.
The overall texture of this is a bit drier than Haloscope, which is great news for oily skin. However, that means it won't be as moisturizing to dry skin and it may have a harder time blending over foundation.
Pros
Iridescent shimmer effect

Easy to apply

Enriched with Shea Butter

Similar daytime glow as Haloscope
Cons
More pigmented formula

Drier texture
---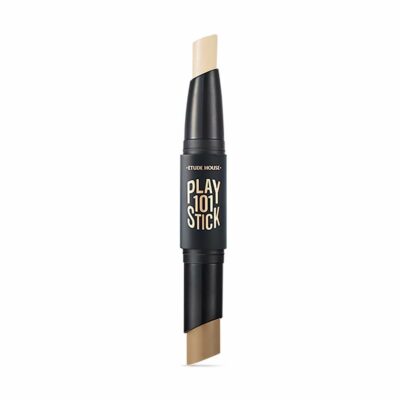 Why we like it:
This dual-sided stick offers a highlighter with a dewy but non-shimmery finish as well as a darker end for contouring.
Editor's Rating:
Quick Facts:
Shimmer: No
Vegan: Yes
Cruelty-free: No
If you like to both highlight and contour as part of your makeup routine, this dual ended stick from Etude House is a convenient time-saver. On one end is the highlighter. Similar to Haloscope, it's a creamy, blendable stick that has a slightly dewy finish. Theirs, however, doesn't include shimmer, helping it look more subtle.
On the other end is a contour stick for shading. Both sides are angled to make application and blending easy. These go on more quickly and blend out more easily than many powder contour/highlighters, for a natural look without a powdery finish. It's a convenient option to throw in your overnight bag for travel and makes experimenting with contour easier and less extreme.
While this is a bit different from Haloscope, the idea is similar. It makes playing with highlighter much easier since you can apply it directly from the stick and blend with your fingers. It also has a similar soft glow, but without any sparkle– perfect if you find even Haloscope too shimmery.
Things to Look out For
Obviously, if you have no interest in the contouring aspect of this duo, it might not be worth it for you. The contouring stick is actually slightly larger, so it accounts for more than half of the product.
While, like many Korean products, this gives a somewhat dewy effect, it's drier and less moisturizing than Haloscope. If you have very dry skin, or are applying it over matter-finish makeup, it may go on a little thick and you may have some difficulty blending it out.
This product is also limited to 3 very similar shades. While the tones are neutral, it might be a challenge to find an option that works for you, especially if you have darker skin.
Pros
Shimmer-free option

Convenient contour/highlighter combo

Dewy finish

Easy to blend with fingers for natural look
Cons
Not for people who only want highlight

Drier, less moisturizing than Haloscope

Limited shades
---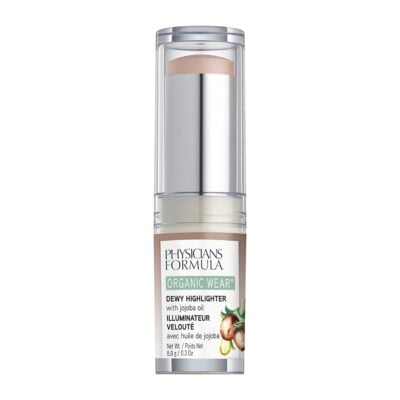 Why we like it:
This versatile highlighter stick is full of nourishing plant-based oils, offering the same moisturizing effects as Haloscope.
Editor's Rating:
Quick Facts:
Shimmer: Yes
Vegan: No
Cruelty-free: Yes
Physicians Formula is a popular drugstore brand that infuses botanical extracts and plant-based oils into their products and this highlight stick is no different. Like Haloscope, Dewy Highlighter is loaded with moisturizing ingredients. In this case, sunflower, grapeseed, and jojoba oils, and shea butter. Cactus flower and rosemary extract also appear in the ingredients.
Available in two colors, this creamy stick can do it all. Since it's a cream-to-powder formula, it also makes a great cream eye shadow or even a lip color. A small amount goes a long way to give coverage along your cheekbones, brow, and anywhere else you want to highlight. The shimmer factor is subtle, but adds a hint of natural-looking glow.
One thing is clear: this product blends wonderfully, making it great to use on its own or over makeup. It's very versatile, being more like a multistick than a highlighter.
Things to Look out For
Something to be aware of is how thick this product is. It's quite difficult to apply straight from the tube, going on thick initially. Warming it on the back of your hand and then applying it with your fingers or a brush gives you more control.
While this highlighter doesn't contain much pigment, like our pick from Maybelline, it isn't as sheer as Haloscope. That, combined with the thicker texture can make this more difficult to apply on mature skin since it can settle into fine lines and potentially draw attention to them.
Pros
Infused with plant-based moisturizers

Versatile multistick uses

Dewy shimmer finish

Very blendable with other makeup
Cons
Hard to apply straight from the tube

May be less flattering on mature skin
---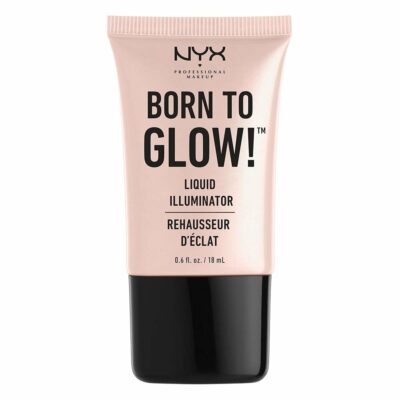 Why we like it:
Though technically a liquid, this affordable highlighter from NYX offers surprisingly similar results to Haloscope.
Editor's Rating:
Quick Facts:
Shimmer: Yess
Vegan: Yes
Cruelty-free: Yes
While NYX also produces a highlighter stick that's similar to Haloscope in texture, but in practice, we found that the overall sunkissed glow of this liquid illuminator makes for a better dupe. Available in four shades, this liquid highlighter has a thicker, non-watery texture and just a little bit goes a long way.
The liquid form-factor makes this more versatile than stick highlighters. A few drops can be spread over your whole face as an illuminating primer under your other makeup. You can also mix a drop in with your foundation, primer, or BB cream to help give your face a subtle glow.The liquid doesn't contain strong pigments, so it won't change the color of your base makeup if you blend them.]
And, of course, you can dab a little along your cheekbones and other key areas you want to highlight in a more traditional way. As a highlighter it gives that same shimmery, natural radiance as Haloscope, but is far less expensive. It goes on smooth (it can help your foundation look a little less cakey as well, if you're blending them) and gives your skin a light-reflecting sheen, like Haloscope.
Things to Look out For
While this product is very versatile and has its fair share of devoted fans, the shimmer doesn't seem to be as finely milled in this as it is in products like our pick from Maybelline, or Haloscope itself. This can result in a somewhat glittery look if you're using it on its own, especially if you apply with a heavier hand. If you prefer a subtle look, mixing it with your foundation or creams is a better choice.
This product also doesn't contain any of the natural moisturizers that Haloscope and other dupes on our list have. Users with dry or sensitive skin may find that this is a little harsh and it can make their skin feel tighter and more dried out in the areas they apply it. We would recommend this more for oily skin types because of that.
Pros
Only need a few drops

Can be mixed with other products for all-over glow

Low-pigment formula
Cons
Shimmer isn't as finely milled

Can be drying and harsh for sensitive skin
---
How to Find a Haloscope Due
So how did you decide on the best Glossier Haloscope dupes? We actually kept a few different factors in mind.
Finish and Pigment
The most important question is how similar a product looks once it's on the skin. We want it to have the same iconic dewy-but-not-sparkly finish, subtle level of pigmentation, and a few neutral shade options. On this front, Maybelline delivers the best results, although NYX comes close, as well.
Texture and Ease of Use
Texture is another aspect that makes Haloscope unique. It glides easily without being greasy, so it's easy to apply and blend out. It works well even over other makeup products. For a similar level of blendability, Physicians Formula delivers a great formula.
Skin-Loving Ingredients
Haloscope is extremely moisturizing thanks to its natural oils. If you love that about this highlighter, you'll want to choose a formula that also has nourishing ingredients. On this front, once again, Physicians Formula is the best Haloscope dupe, since it's made with a lot of natural plant oils.
You Glow Girl
When it comes to makeup, especially summer makeup, looking fresh, natural, and glowing is the goal for many people. While it's nice to have an over-the-top look once in a while, most of us want something more subtle for day to day. We want a product that makes us look fresh and healthy. Glossier's Haloscope can definitely give that sunny, glowy effect. But it's not your only option.
Thankfully, for all you budget-conscious beauties out there, there are a number of products that can help you achieve a radiant glow without sun damage. We're confident that with the help of this list, you'll be able to find a highlighter to fulfill your Haloscope dreams at a fraction price.