Of the many hair color trends that the world has seen, purple and violet hair dye are evergreen options that do not seem to go out of style. The impressive purple palette boasts hues such as Byzantium, lilac, lavender, wisteria, orchid purple, and mulberry, all of which can transform dull hair instantaneously.
Say goodbye to blonde or brunette hair and take the purple plunge to customize your hair color to complement your skin tone.
The Best Purple Hair Color According to Skin Tone
Customizing your hair color with multiple shades of purple to match your skin tone is a fun, experimental process that is bound to leave you flustered if you end up with the wrong shade.
Lighter Skin Tones
Lighter skin tones benefit from pastel colors such as lilac and wisteria purple. The hybrid of purple and blue gives rise to a dainty hair color that is feminine and soft at the same time. Silvery tints also deserve mention as they tend to balance out fairer skin tones far too well.
For lighter skin tones with a warm undertone, a mulberry hair color is a promising option. You could take things up a notch with a vibrant blend of pink, purple, and violet in a balayage of some sort. Whimsical orchid purple, with its blue undertone, also helps to flatter fairer skin types.
Medium Skin Tones
For medium skin tones, a cross between blue and purple is ideal – Northwestern purple closely mimics this color and can be toned down or up according to your liking. Plum hair color, in all its red and purple goodness, is perfect for medium-toned skin. Violet works just as well if you do not prefer a reddish tint.
Deep Skin Tones
Give glossy eggplant hair dye a go if you have deep skin – this dark purple hair color is perfect for neutral black and brown locks. The deep color adds a touch of royalty while infusing a youthful charm into your hair. A mix of grey and purple, too, works just as well, creating a beautiful smoky aura against your complexion.
If you fancy a combination of pink and purple, try out a magenta mane to effortlessly transform your look. It is the perfect balance of boldness and softness, ensuring that your hair color is not over the top.
50 Convincing Purple Hair Ideas
Are you just venturing out into the many options that the purple palette has to offer? This comprehensive list of ideas has got you covered – whether you are looking for simple hair colors to streak your locks or perhaps bolder electric shades.
1. Pale and Mauve Purple Pixie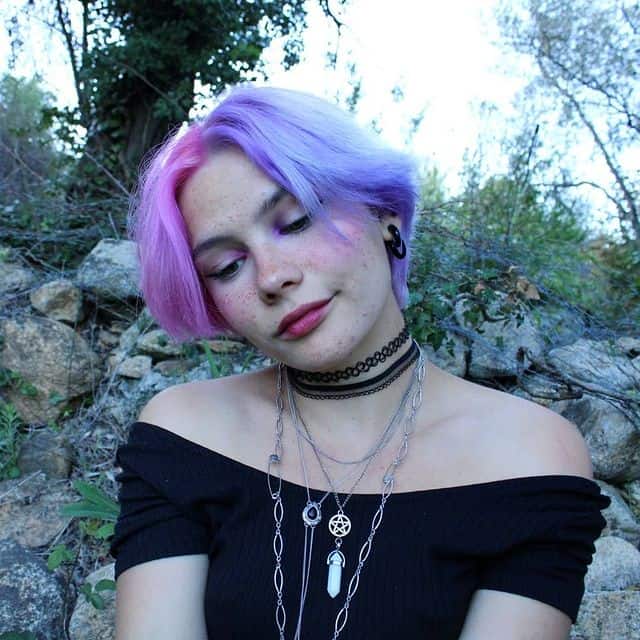 Image Source
This cute pixie with middle-parted, face-framing bangs makes the hair appear voluminous. A duo of pale purple and mauve purple dye adorns the short-length locks giving rise to a soft yet experimental look. The middle-parted hair sports pale and mauve purple hues on either side, making for a unique blend of colors. This dual-toned hairdo pairs perfectly well with either black or neutral-hued outfits.
2. Electric Purple Balayage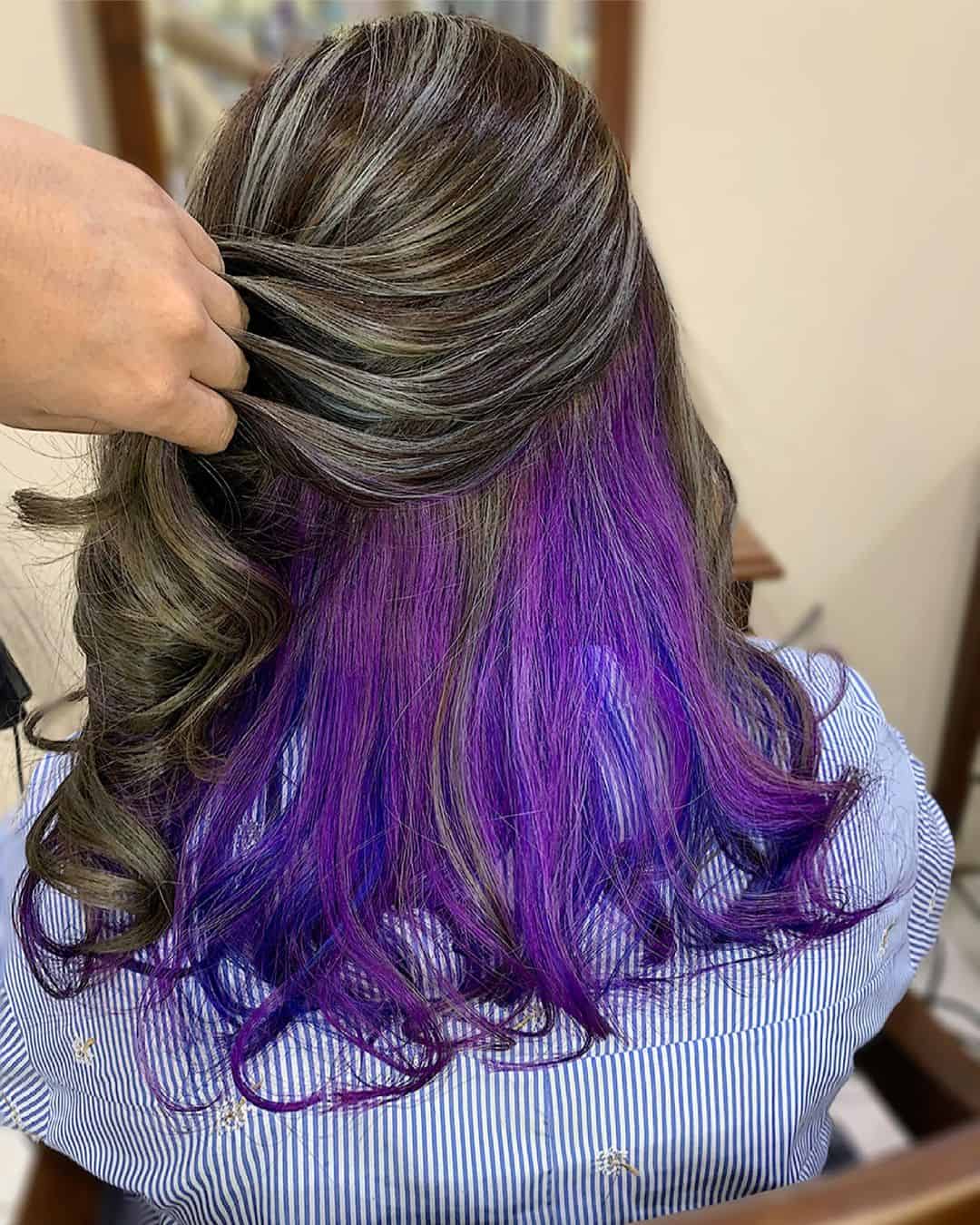 Image Source
Stylize your brown, mid-length, wavy hair with curls that are prominent towards the ends, adding volume to the locks. Spruce up the underlayer with a balayage of electric purple in conjunction with a vibrant electric indigo tinge to contrast the brown upper layer, accentuated with lavender blush highlights. Flaunt this beautiful hairdo by letting it flow down graciously while pairing it with a casual shirt and denim jeans for a go-to fun look.
3. Platinum Purple With Shadow Roots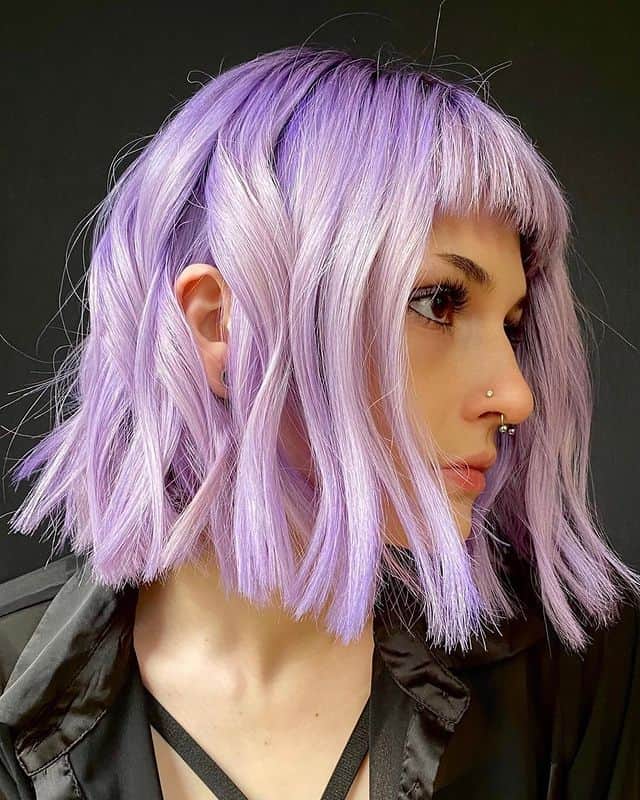 Image Source
A wavy lob is a flattering haircut to emphasize short hair that sits right above the shoulder. This hairdo begins with shadowy, dark roots seamlessly blending with a subtle Amethyst purple hue that fades elegantly into a mellow-toned, shiny platinum purple from the middle to the tips, with a pale purple tint to it. The waves make the hair look voluminous, while the platinum purple micro-bangs frame oblong face cuts perfectly.
4. Lilac Double Dutch Braid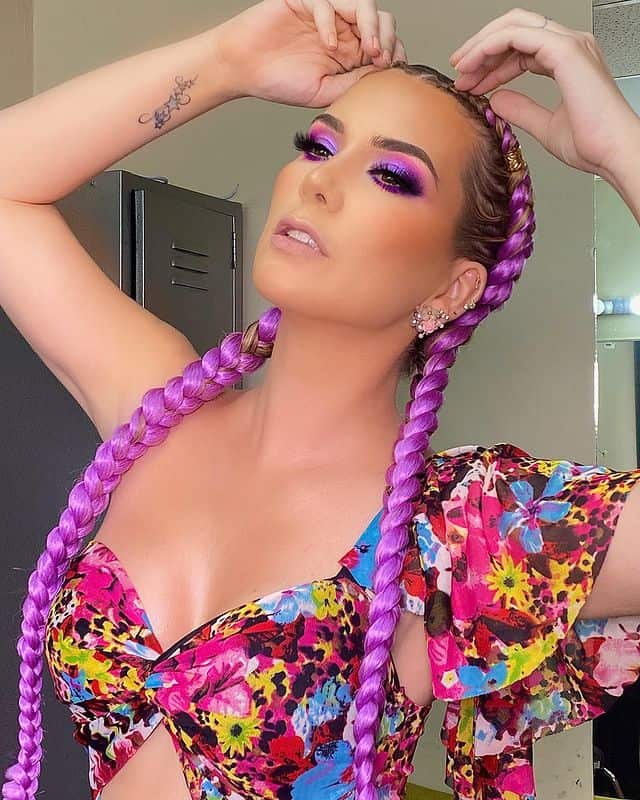 Image Source
Add a punch of this dynamic shade from the purple palette to infuse a youthful charm into long, brunette hair. This center-parted, double dutch braid hairdo starts with brown roots, graciously blending with the well-saturated lilac strands that progress towards thin, braided, scrunchy-secured ends on both sides. The embedded golden hair accessories accentuate the braids that trace the hairline in a curved, graceful fashion.
5. Simple Wisteria Plaits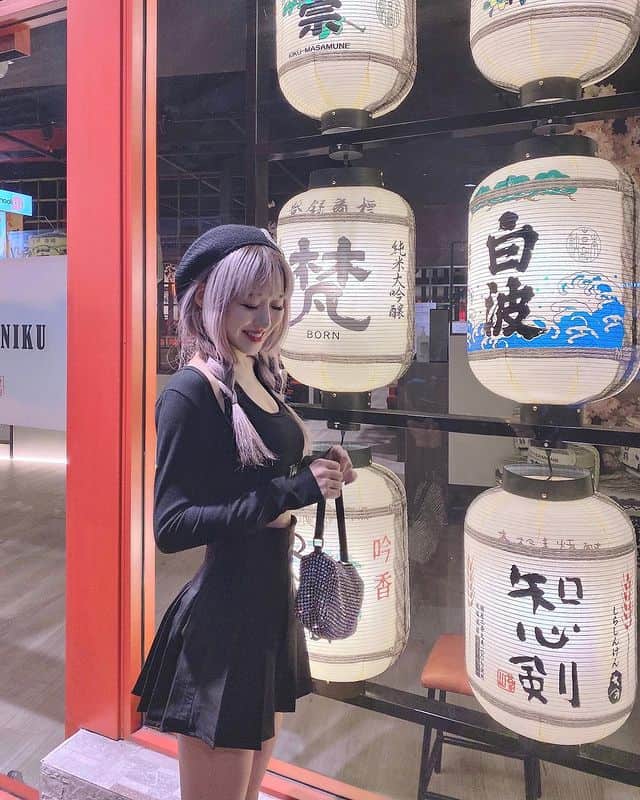 Image Source
This straight, smoothened-out, mid-length hair comes in this subtle wisteria hue from the purple palette. The voluminous, wispy bangs add a soft, feminine touch to the hairdo, while the rest of the hair forms two simple knitted, three-stranded plaits with scrunchy-secured ends, hovering on the bustline elegantly. The hairdo pairs perfectly with dark-toned outfits, creating a tasteful look without going over the top.
6. Mardi Gras Ombre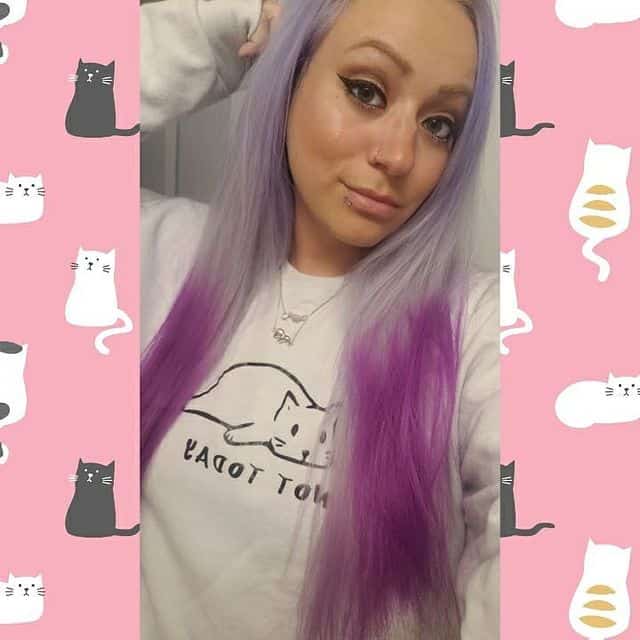 Image Source
Ombre usually defines a soft blend between two different tones to give your hair a whimsical touch. This straight and sleek, ombre hairdo begins with platinum blonde roots gradually blending with a subtle pale purple till the mid-length that fades into a beautiful mardi gras hue towards the tips. These contrasting colors harmonize perfectly with side-parted long hair, while a neutral-toned sweatshirt and denim shorts create a soft yet edgy look.
7. Fuchsia Pink Puffy Bun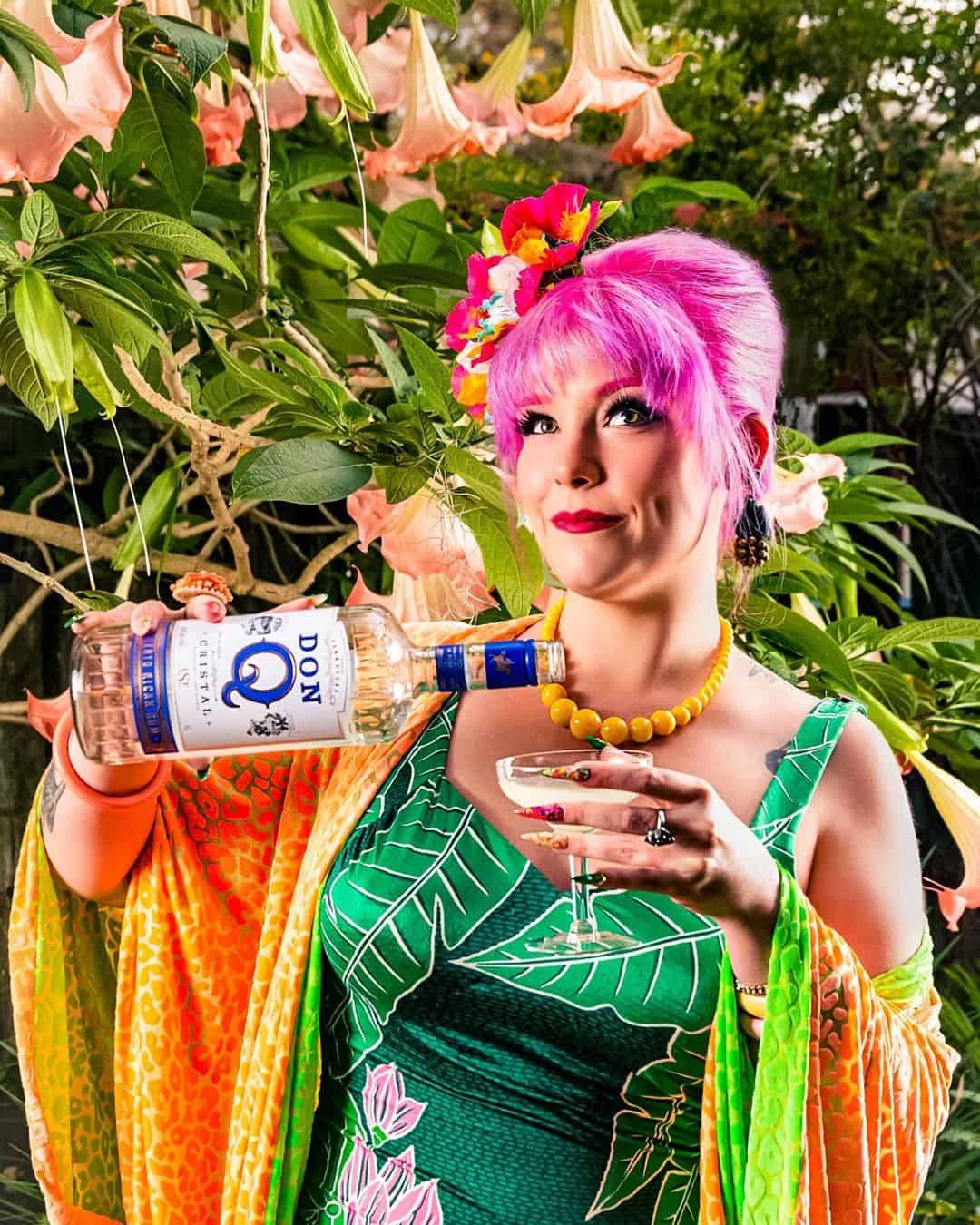 Image Source
Make way for a dramatic look with a puffy low bun with ruffled bangs that scream out for attention. The retro hairdo comes saturated in a vibrant fuchsia pink from root to tip, accentuated by the extensive puff that works well with short or mid-length hair infusing volume. The pink, arched bangs frame any face-cut graciously while elegantly grazing the eyebrows with a feather finish. Consider teaming up this youthful updo with bright outfits for a playful summer-ready look.
8. Bold Eggplant Loose Curls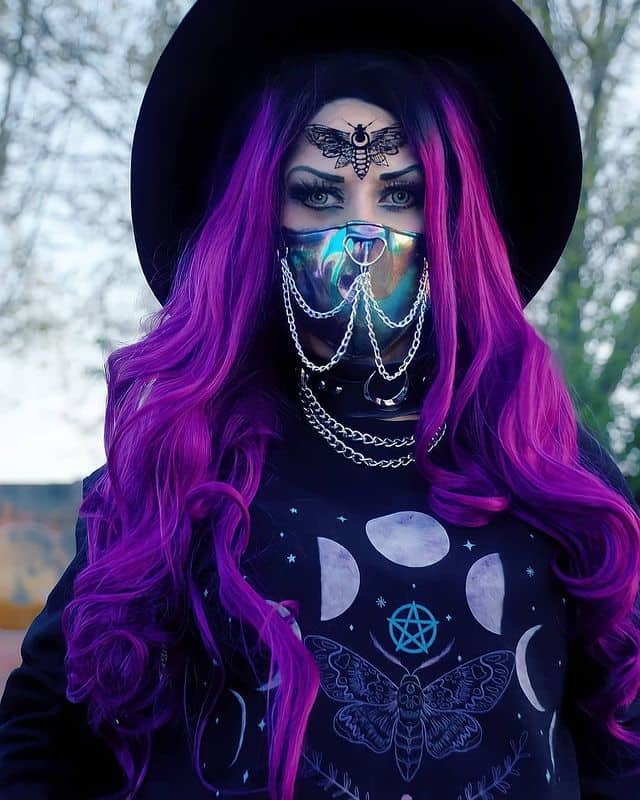 Image Source
This bold purple hairdo intertwines with a Columbia blue tone exuding a fearless gothic vibe. The shadowy, dark blue-ish roots seamlessly blend with the eggplant hue, derived from the purple palette with a grape tone that progresses towards the dark, curly thick ends. The thin Columbia blue strands combine graciously with purple shades, toning down the overall boldness in style.
9. Curled Purple Balayage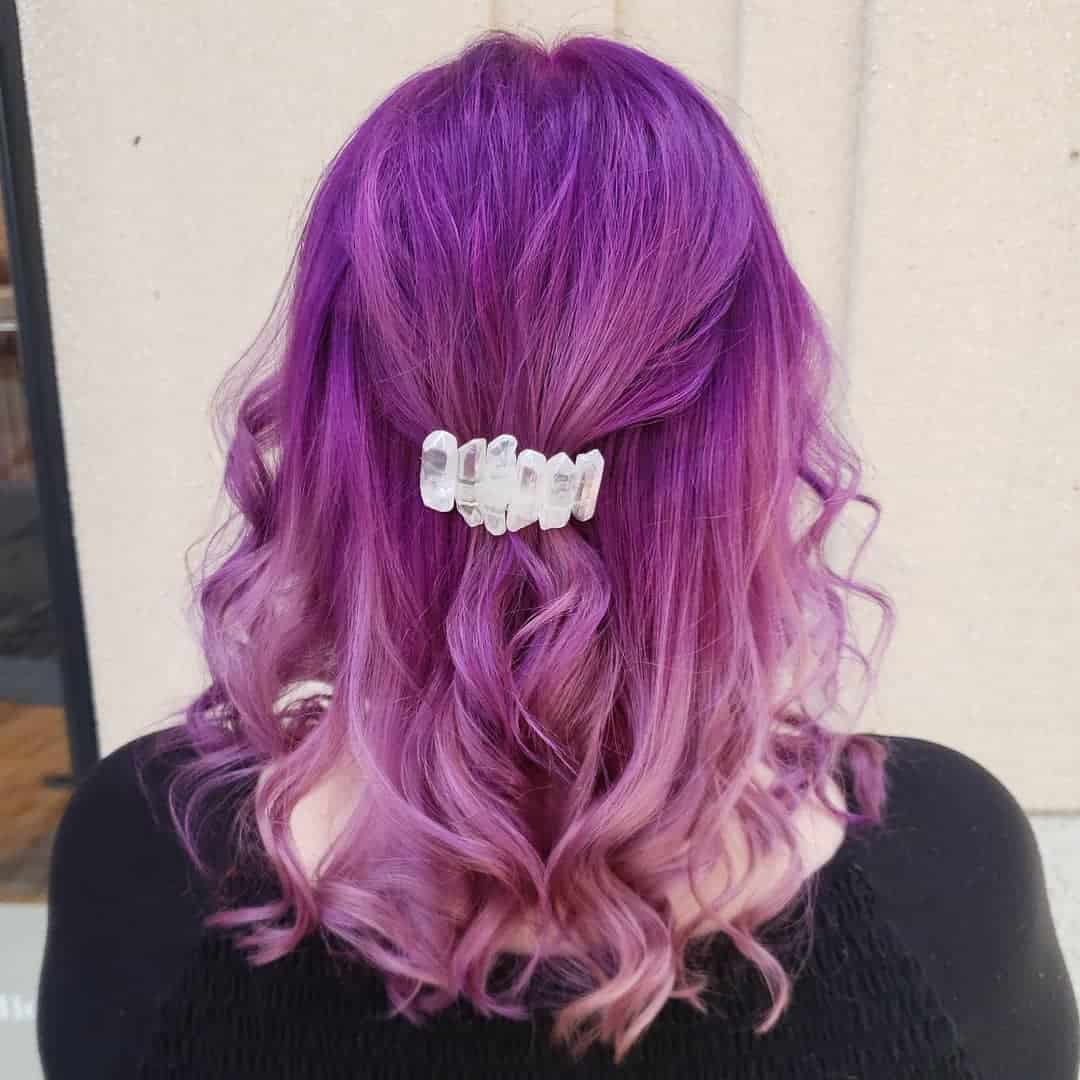 Image Source
Consider styling short hair with bouncy curls that graze the shoulder line gently. This purple balayage seems more like a reversed ombre that begins with mardi gras purple roots in a tint of light purple and a peachy undertone fading into subtle lilac curls. The curled locks make the hair look bouncy, while a half-pony secured with a stone-studded scrunchy in the middle adds a feminine touch to the hairdo.
10. Angled Bob With Plum Highlighted Bangs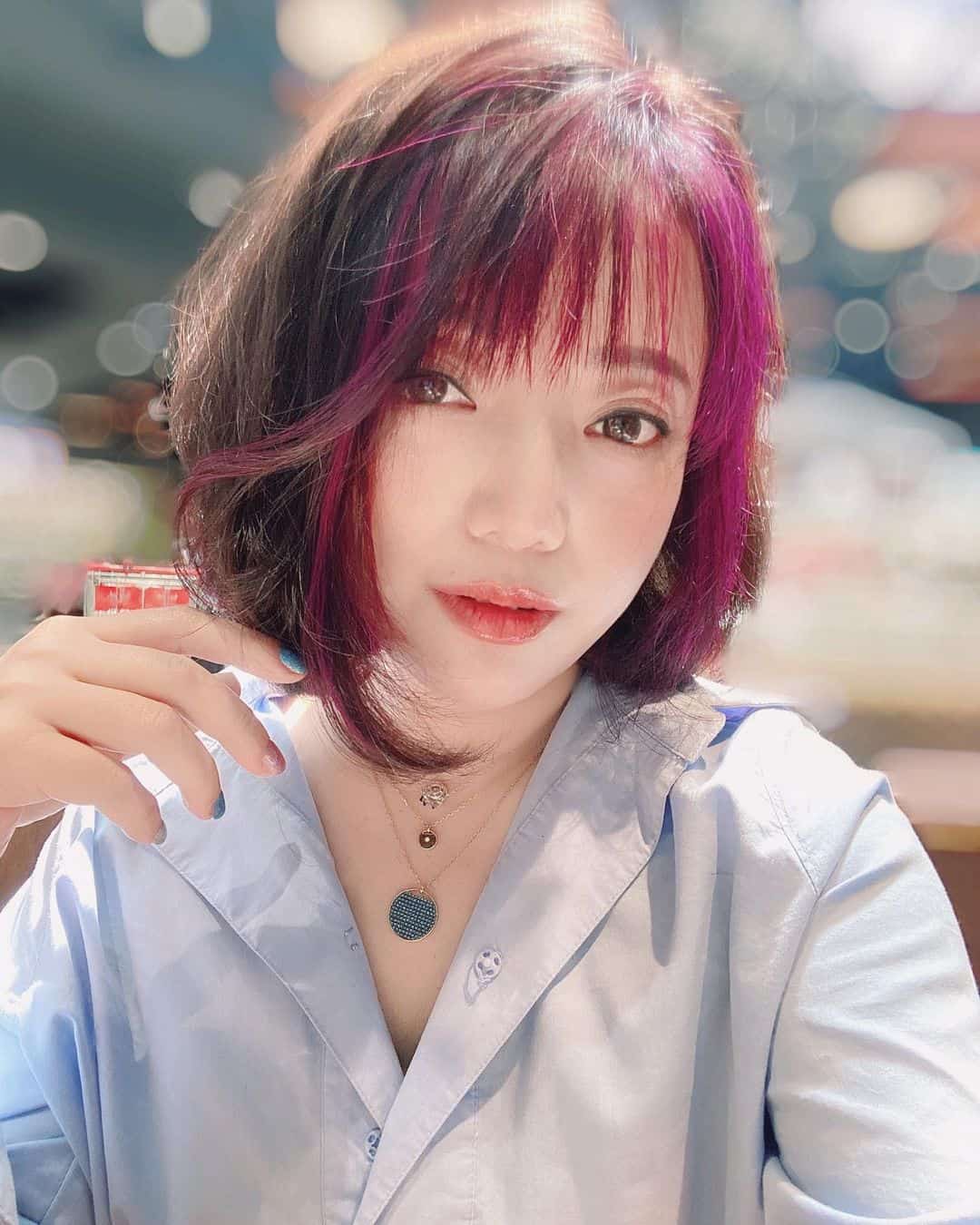 Image Source
An angled bob cut compliments short hair as it transitions from being long in the front to short at the back. Vibrant magenta highlights streak the hair, denser towards the sides and scanty along the length. Wispy bangs in a shade of plum with a tint of magenta hover over the eyebrows, allowing for a soft and subtle look. The rest of the hair keeps its natural hue making this a great choice if you are not looking to go over the top with your hair color.
11. Grape Purple Long Box Braids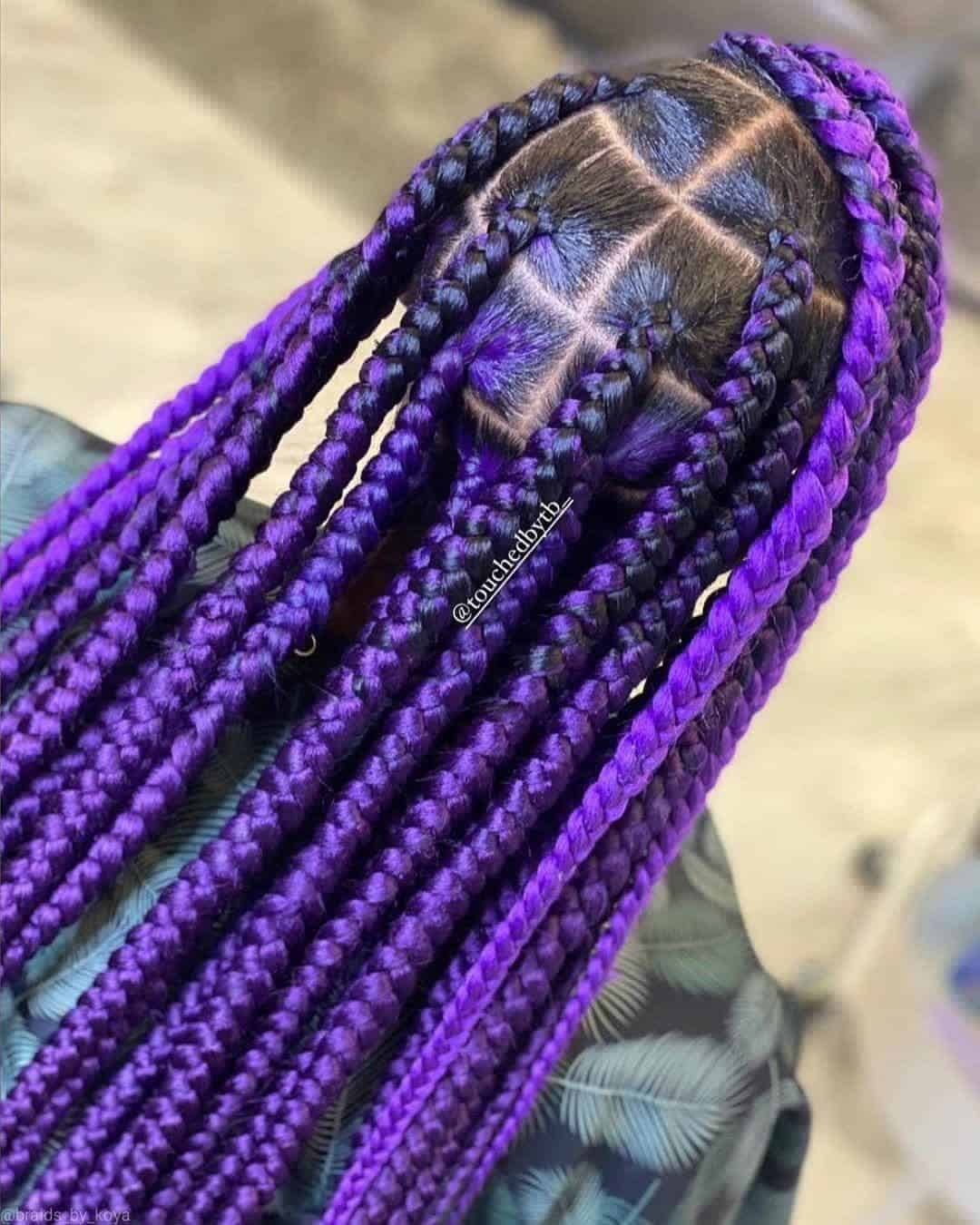 Image Source
Long box braids can work for any length, protecting the hair while infusing a contemporary element. These well-sectioned, tightly braided plaits grow thinner towards the tips, saturated in a grape-purple dye blending with the dark roots exquisitely, complimenting every skin tone. The cornrow sections add more character to the box braids, while the vertical beaded scrunchies secure the ends, adding contrast to the hairdo.
12. Electric and Amethyst Purple Spiral Curls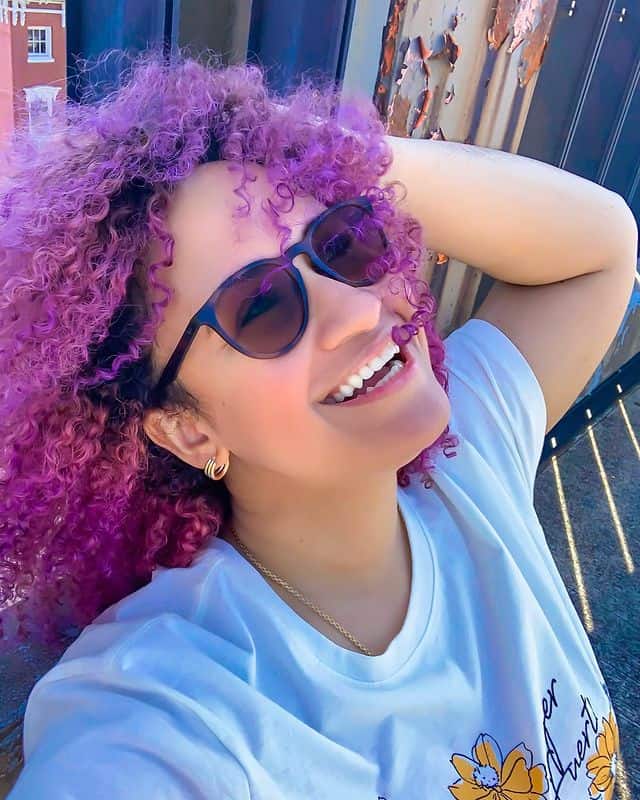 Image Source
This trio of amethyst purple, electric purple, and a tint of peachy purple dye infuses a youthful charm to the spiral curls. This teased hairdo with a dark base color begins with subtle purple roots with a peachy undertone, gradually fading into a bold electric purple with a hint of amethyst purple. The vibrant explosion of these colors makes this hairdo a fun one, perfect to pair with a casual graphic T-Shirt and blue jeans.
13. Black and Purple Choppy Lob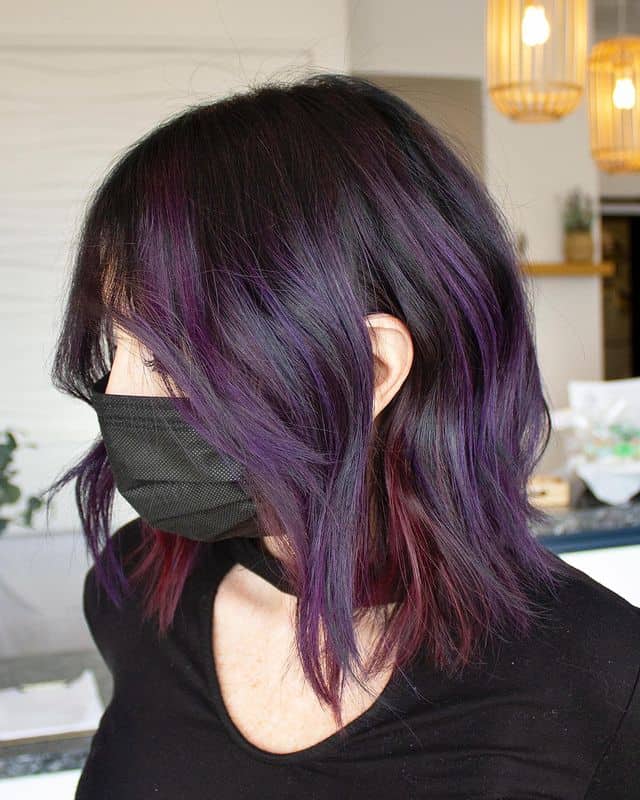 Image Source
This choppy lob incorporates tones of violet and mulberry while keeping the natural hair color intact. The subtle violet streaks begin from the root to the tip, while the mulberry streaks are prominent at the base, beginning roughly from below the ear. The side-swept bangs frame the face, while the chopped ends resting on the shoulder infuse character to the hairdo. This hairdo is the perfect choice if you are looking to cover up greys without bleaching your hair. Nude makeup with darker-toned outfits complements this wavy hairstyle best.
14. Violet High Bun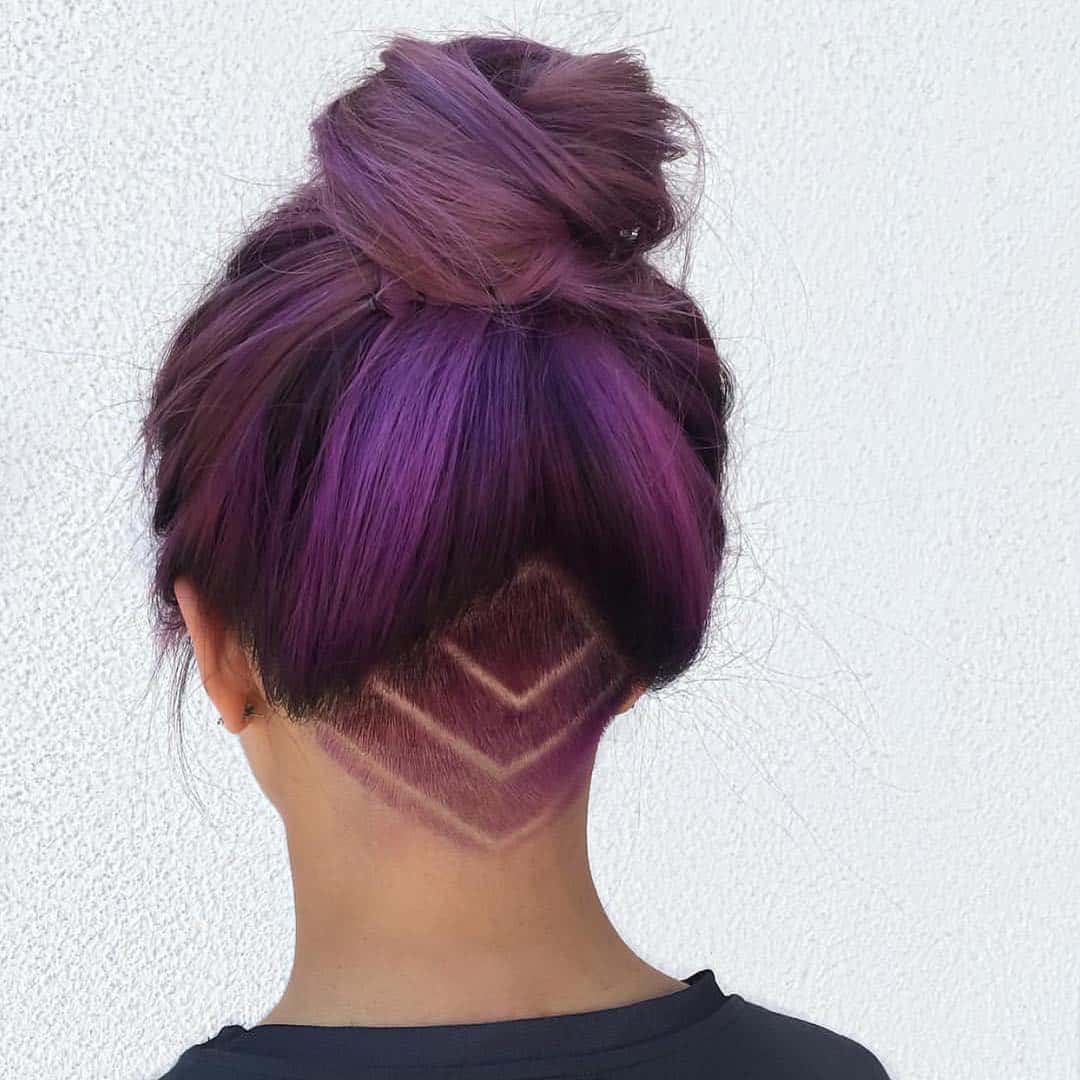 Image Source
This chic hairdo comes in violet streaks with a plum undertone. The violet streaks are prominent on the underside of the hair, visible only when sported in a high, messy bun, giving the hairstyle a pastel touch. The plum undertone adds a soft touch to the overall boldness of the look, gently grazing the hair in all its subtlety. A bold undercut in a v-shaped pattern serves as the base for the bun and is dyed purple, keeping the overall theme in mind.
15. Lavender Low Ponytail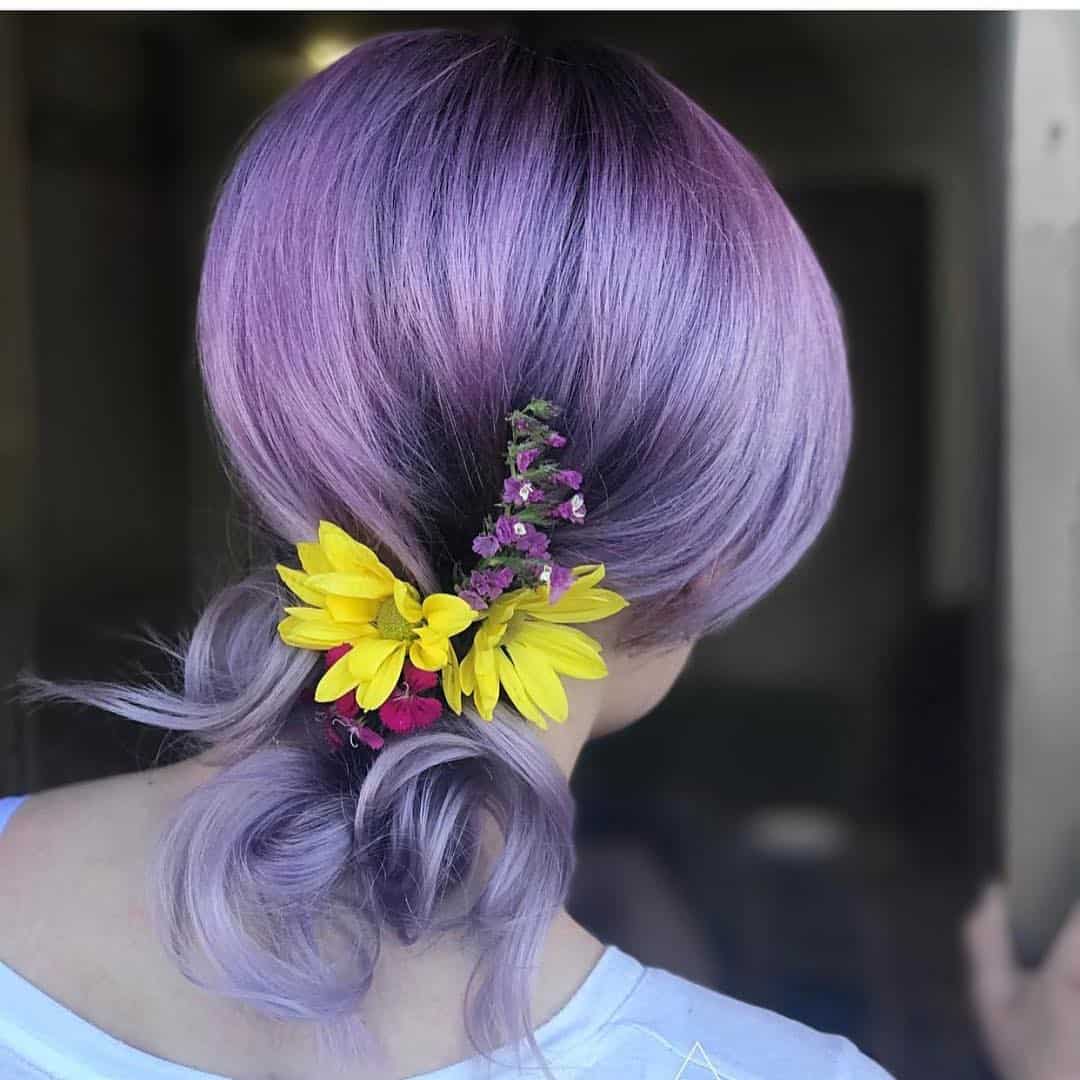 Image Source
Consider styling short hair in a simple low ponytail for a hassle-free go-to look, ideal for casual meetups with friends and family. This hairdo uses a concoction of lilac and lavender hair dye atop a base of black roots. A low pony that sits gently on the nape of the neck adds a subtle, soft touch to the locks. Spruce up this beautiful hairstyle with smoothened-out face-framing curtain bangs and flowers fixed beautifully into the ponytail to add more colors to the look.
16. Purple Ombre Plait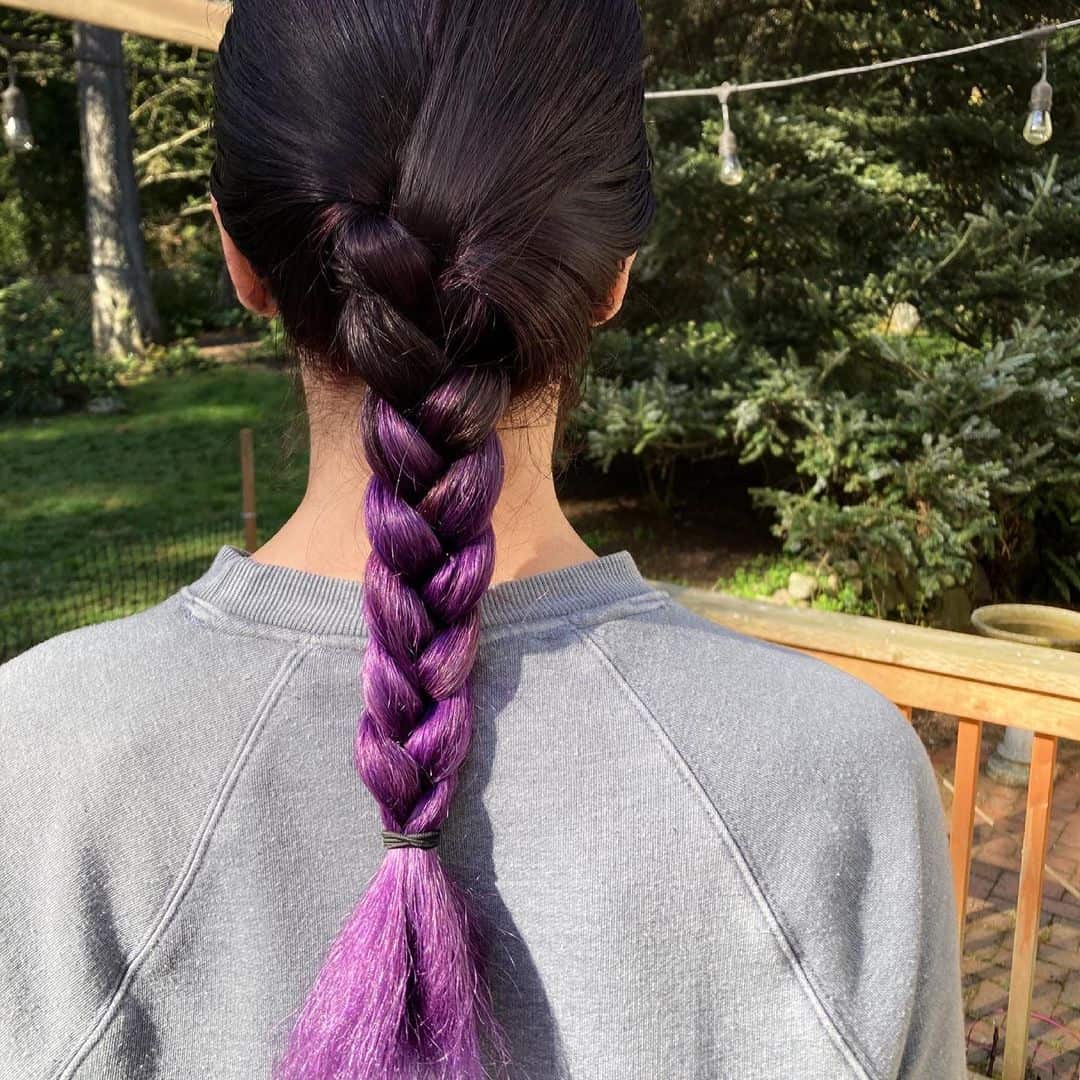 Image Source
Ombre is a coloring technique that makes the natural tone of your hair blend with a particular dye of your choice. Mid-length dark hair teamed with a purple ombre transitioning from a darker shade to a paler one with a lavender blue tint adds a shine that glistens in the sun. Stylize this hairdo in a three-sectioned braid secured with a black scrunchie creating a neat look that pairs perfectly with casual outfits and party wear as well.
17. Orchid-Purple Mohawk Braid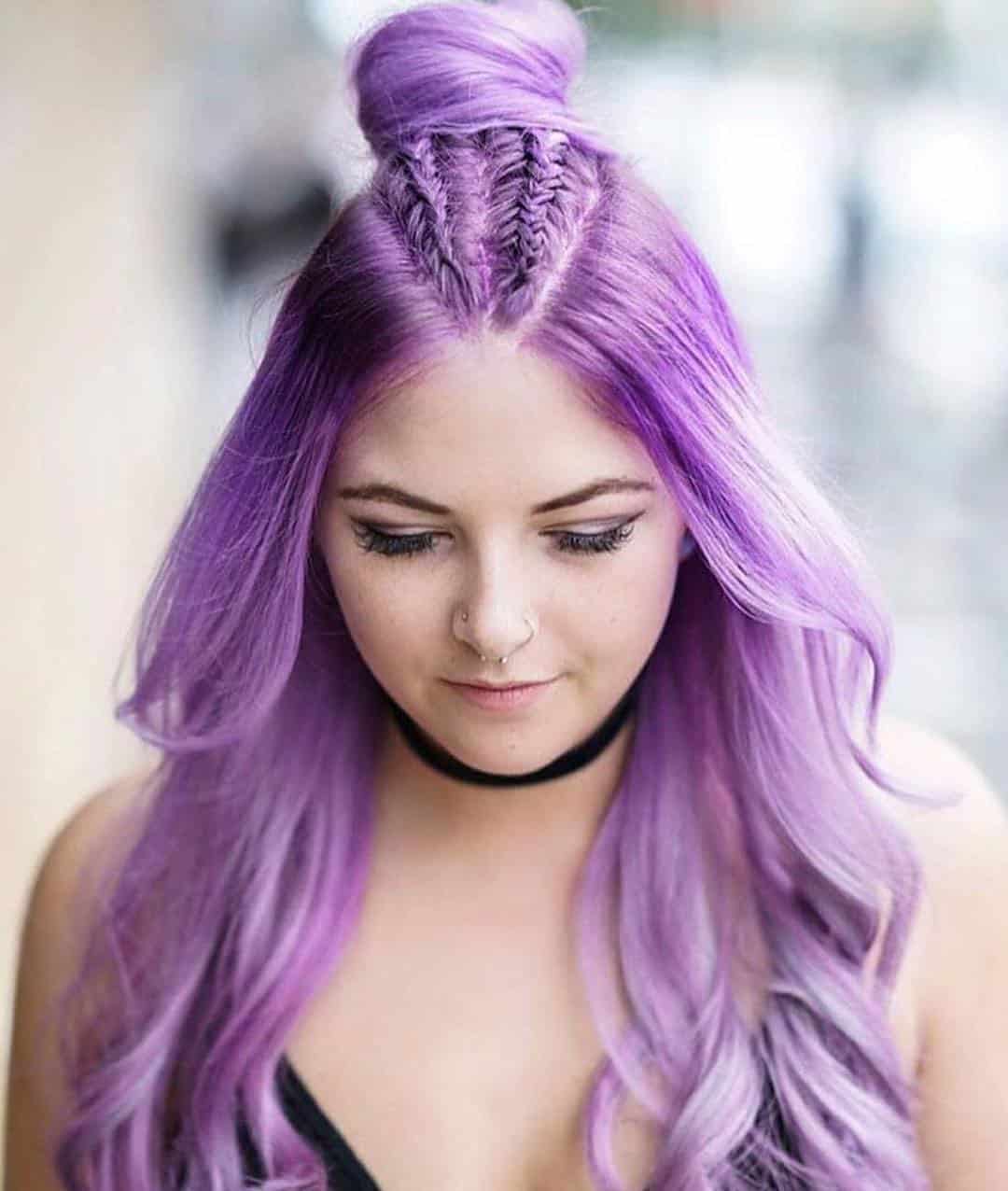 Image Source
These mohawk fishtail braids end in a half knot bun, making for a dapper and trendy look. Black roots give way to an orchid-purple hue that fades into a wisteria hue accentuating the dangling, wavy locks. Curls soften the boldness of the updo, while the lack of bangs makes facial features more prominent. Outfits in contrasting shades such as black and brown best complement the look, while a black choker would tie the entire look together.
18. Pale Purple Half-Up Space Buns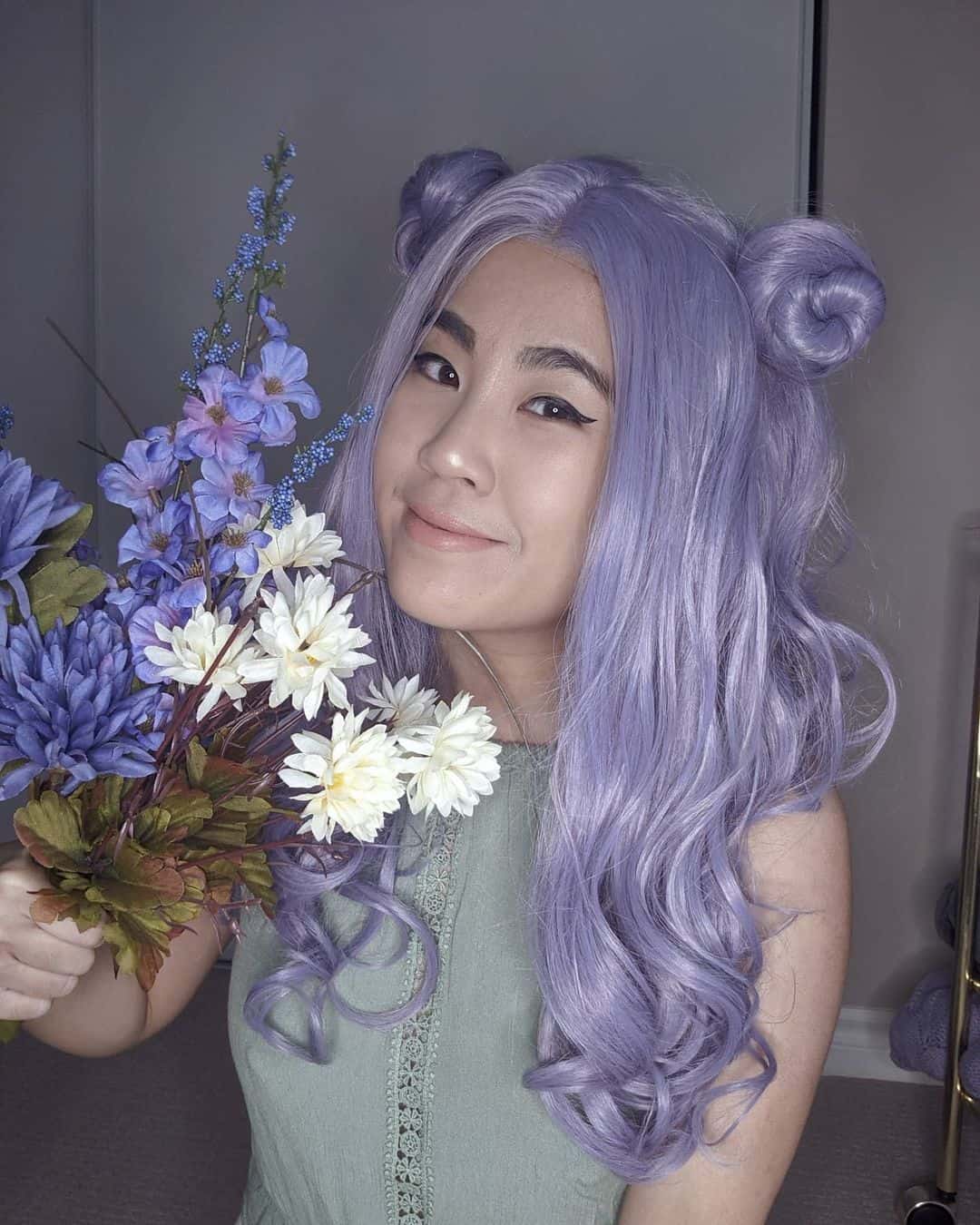 Image Source
Pale purple is a subtle shade that helps to create a soft, toned-down look. The uniform strokes of this pastel purple along the wavy mid-length hair give the locks a healthy shine. Sectioned twisted strands wrapped around themselves form neat space buns secured with bobby pins. The playful buns float in a sea of elegant wavy locks that come in a silvery tint adding to the look further. Pair this pretty updo with neutral-toned outfits to bring out the best in them!
19. Purple Trio Loose Curls

Image Source
Adorn thin, long S-curls with this dazzling trio of violet, lavender, and lilac derived from the purple palette. This hairdo begins with black roots, offsetting the violet and lavender strands, beginning at the ear line that concludes in soft blends of lilac tips hovering over the waistline. Hair extensions work just as well, creating the same effect making them a great option if you are looking for a temporary purple hairdo. This curly hairstyle works perfectly with formal and casual outfits.
20. Dark Purple Crown Updo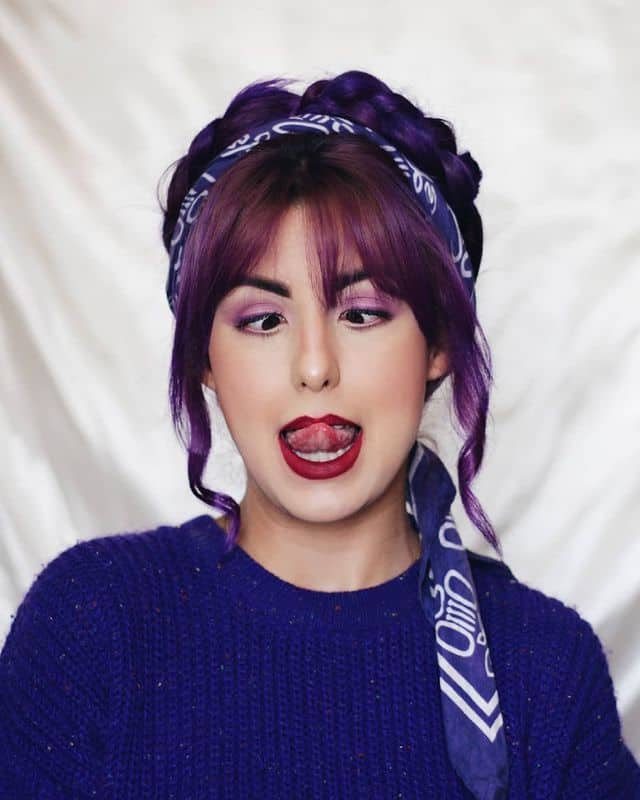 Image Source
This crown braid updo accompanied by curtain bangs is a classic hairstyle to pull off. The well-knitted braid encircles the crown creating a hairband-like effect. Dark shadowy roots give way to a plum hue that stains the feathered, long bangs graciously. Byzantium purple adorns the braid, making for a subtle, soft look. A cobalt blue headscarf with asymmetrical white prints wrapped around the braid adds a feminine touch to the overall look.
21. Reverse Amethyst Purple Ombre Plait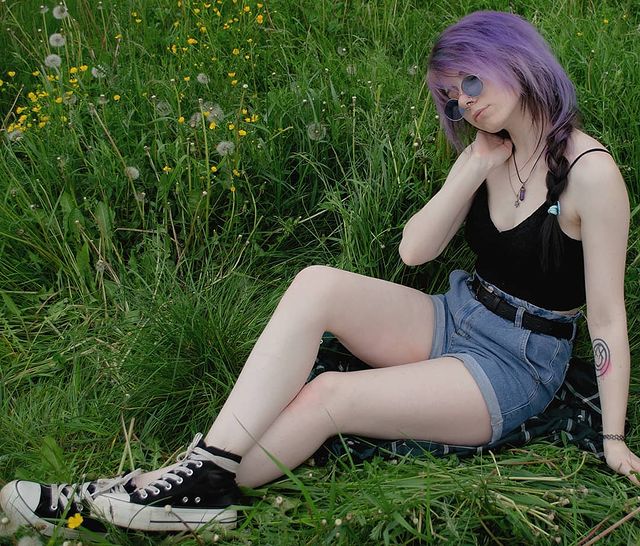 Image Source
Adorn this mid-length layered hairdo with a pastel shade from the purple family in a reverse ombre technique. The all-purple hairstyle begins with dark amethyst purple roots in a blue-violet tint, transitioning into a pale purple tone till mid-length, gradually blending with the natural dark hair. The layered, face-framing bangs graze the cheeks gently while the ombre colored locks make way for a simple, three-stranded braid to accentuate the casual chic look.
22. Fuchsia Pink High Ponytail With Waves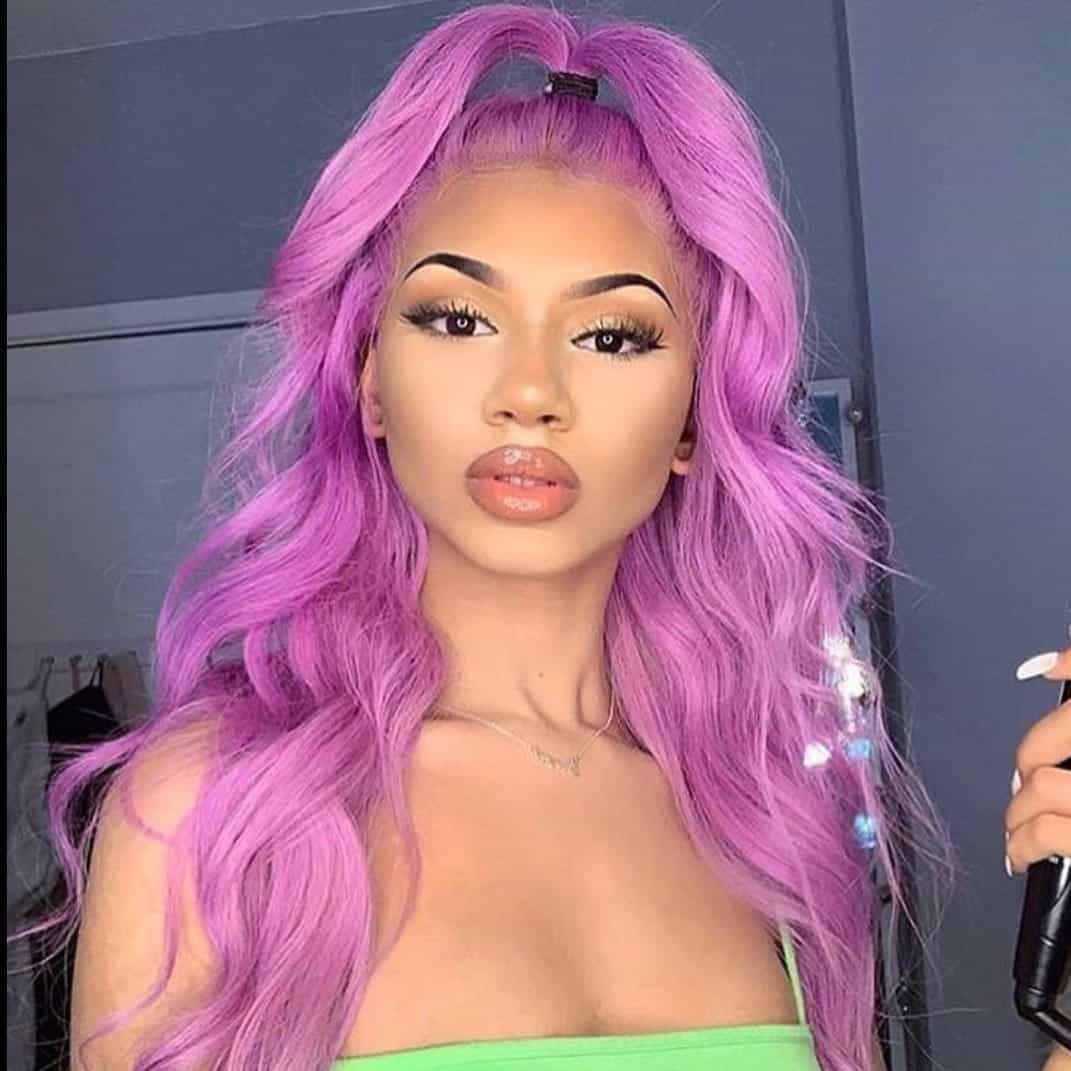 Image Source
A high ponytail with sleek, wavy locks makes for a classy combination. A fuchsia pink shade saturates the elegant wavy curls, progressing from dark roots to pale tips, enhancing the mermaid vibe. Consider recreating this updo with a section taken from the crown of the head and secured uptight with a black scrunchie, allowing the rest of the colored waves to flow down graciously.
23. Double Mardi Gras Purple Pull Through Braid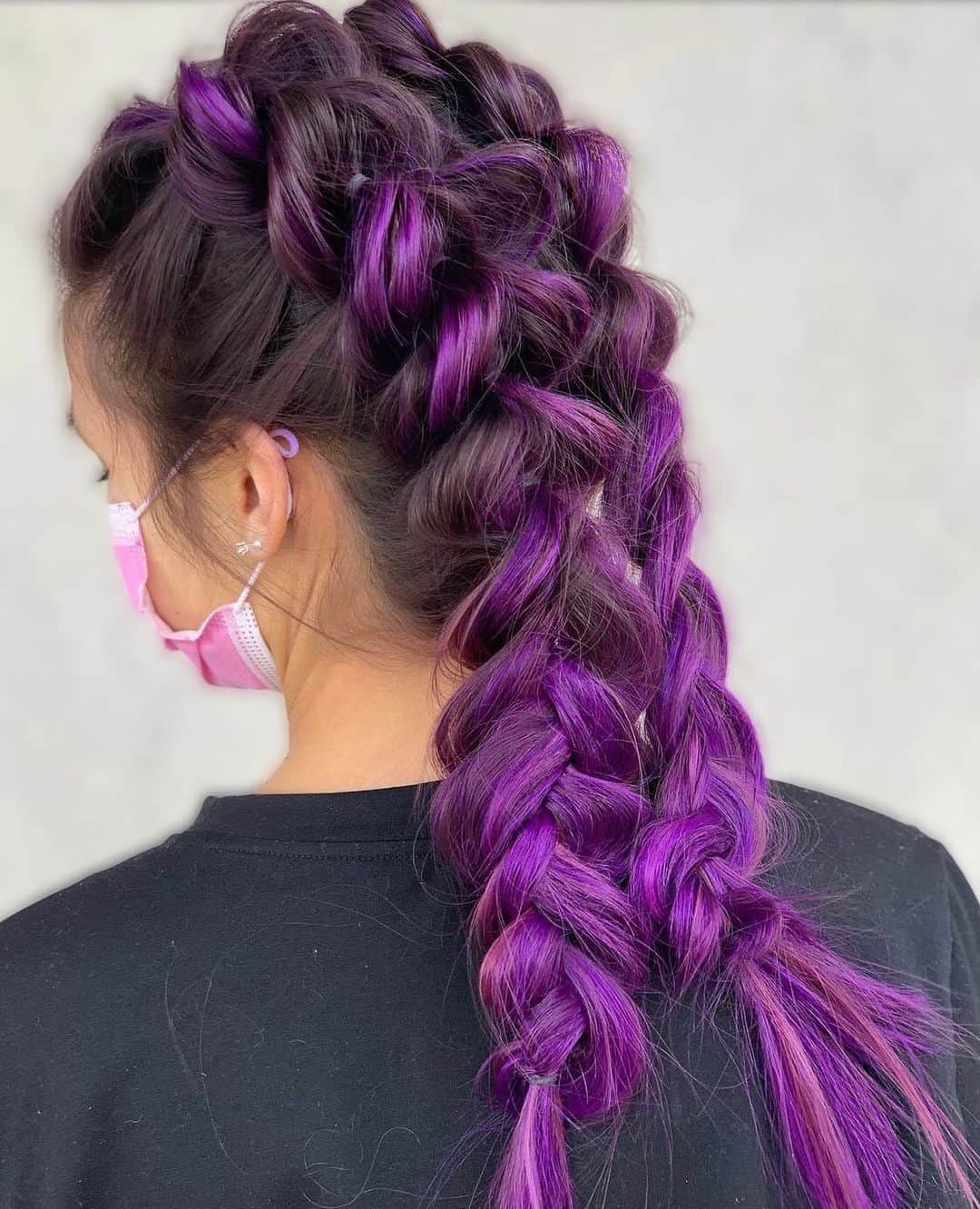 Image Source
This hairdo begins with a rich violet hue combined with mardi gras highlights growing darker towards the tips with a few peachy strands at the end. Consider styling this beautifully toned hair with two pull-through braids that flaunt the mardi gras highlights predominantly. This hairdo might look a bit difficult to pull off, but with enough patience and effort, you can create this timeless updo that works perfectly with formal and informal outfits.
24. Wavy Grape Purple Long Ombre Ponytail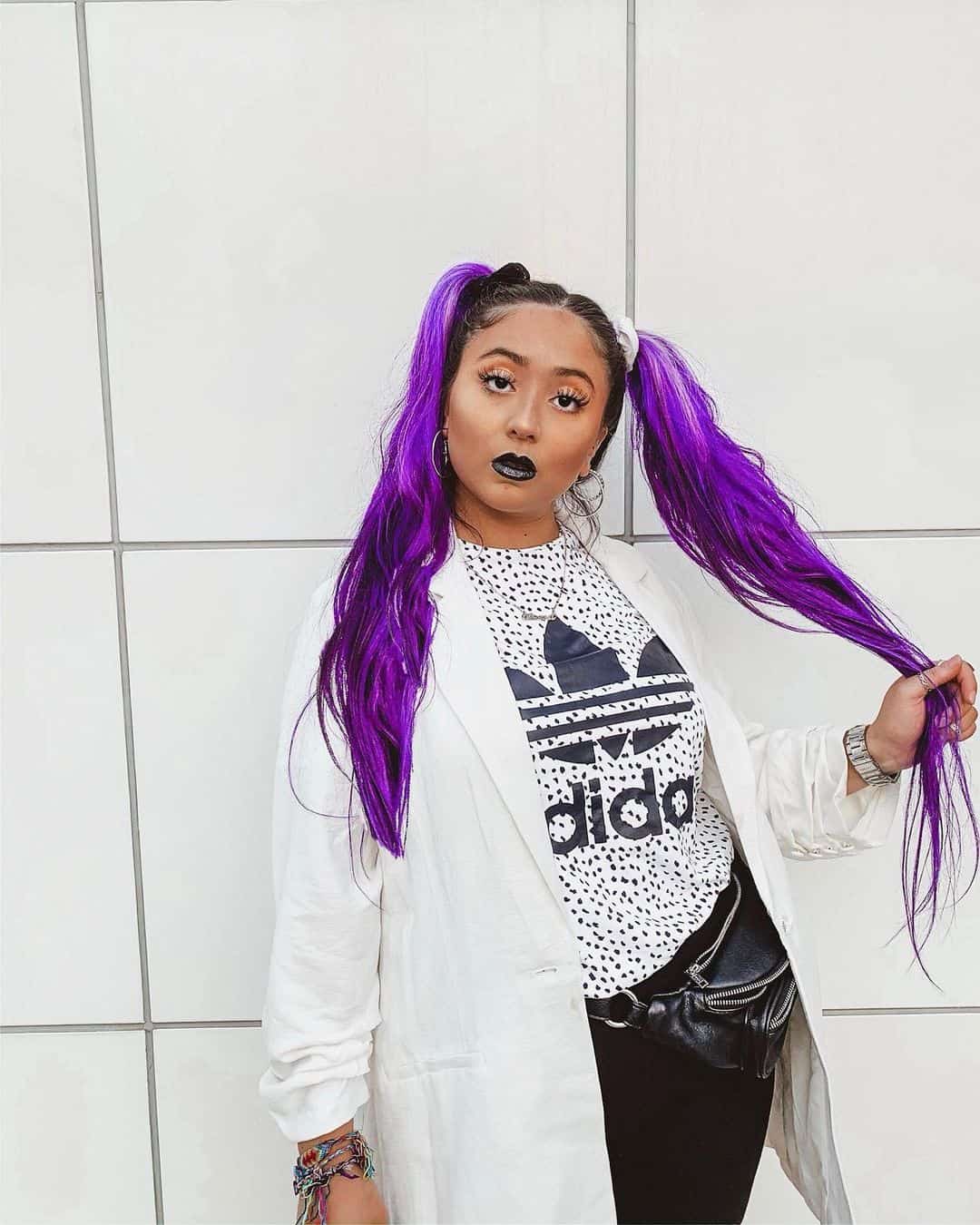 Image Source
Spruce up long wavy hair with a grape purple ombre accompanied by a few electric purple strands. Add some fun to the hairdo by styling them with middle-parted, wavy, double ponytails. The scrunchie-secured ponytails cover the purple ombre hued sections on both sides, contrasting the dark natural hair color. Pair this hairdo with dark lips and some neutral-toned outfits to create a bold, loud look.
25. Half Double Dutch Braid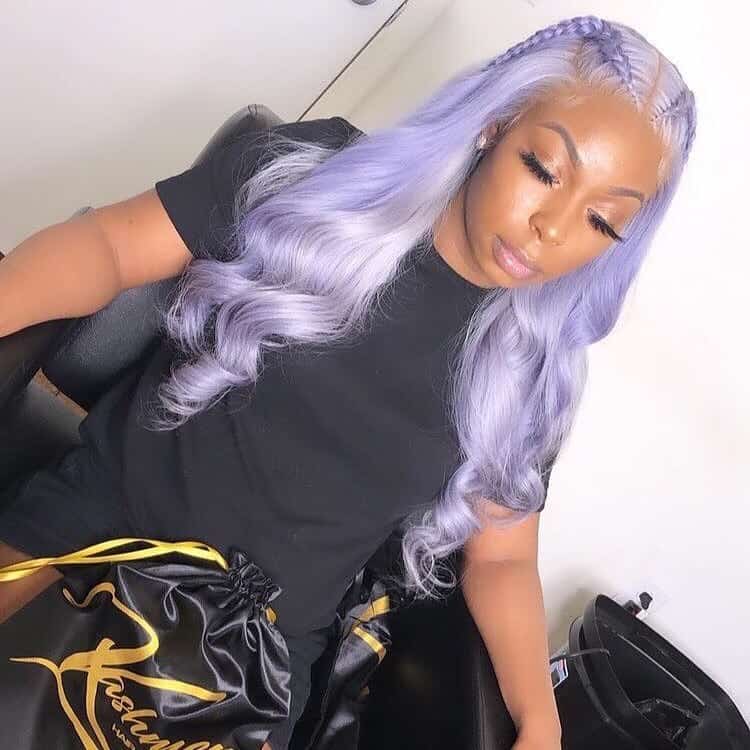 Image Source
This hairdo features a duo of pastel purple and platinum blonde, giving rise to a subtle, toned-down look. The hairstyle begins with double dutch braids on both sides, emanating right from the roots. The braids continue till mid-length before they graciously merge into the sea of wavy curls. The hair roots are dyed platinum blonde, while the soft curls take on a versatile pastel purple shade. Darker-hued outfits bring out a contrast in the look, making these lovely locks stand out.
26. Electric Purple Ombre Box Braids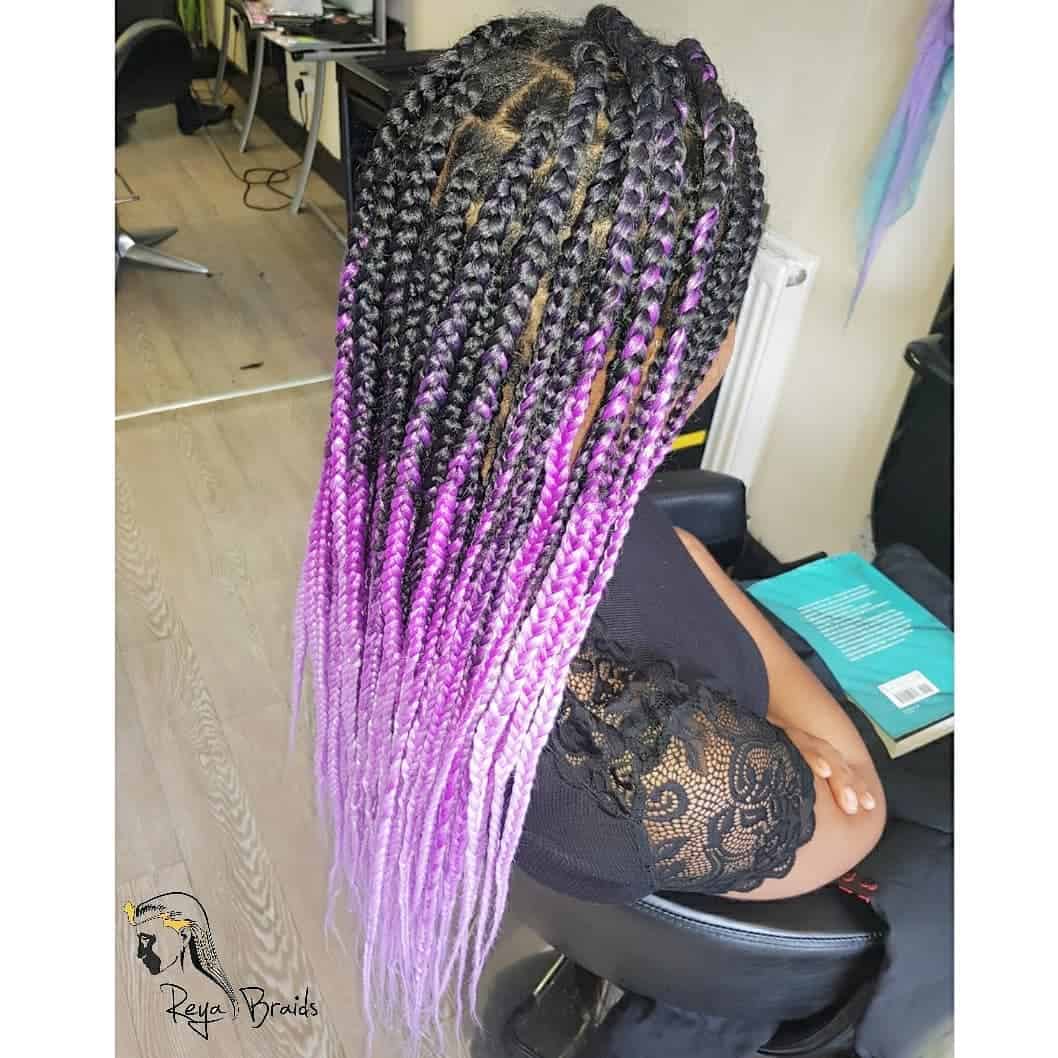 Image Source
Well-sectioned box braids are a great way to style any length of hair, as this hairdo demonstrates. Beginning with black roots that transition into an electric purple hue, the contrast varies at each level, leading to an asymmetrical color pattern. The lavender-dyed tips bring the entire look together, adding the right amount of balance to the stunning hairdo. Hair extensions work just as well and are a great option if you don't want to dye your hair.
27. Asymmetrical Bob With Purple Streaks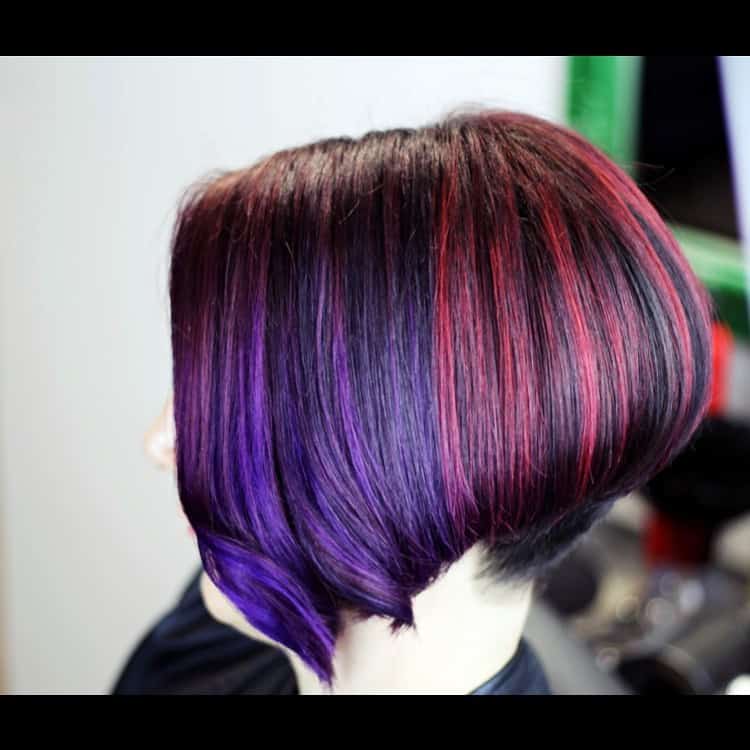 Image Source
This traditional asymmetrical bob comes with long sides that progressively dip into a shorter length towards the back. The radiant color gradient that streaks the hair from root to tip highlights the progression with perfection. Dark purple and lilac waves transition into magenta streaks that imbibe a youthful charm into the natural black hue of the hair. The curled ends add texture to the otherwise smoothened-out hairdo that makes the perfect formal or informal updo.
28. Violet Choppy Lob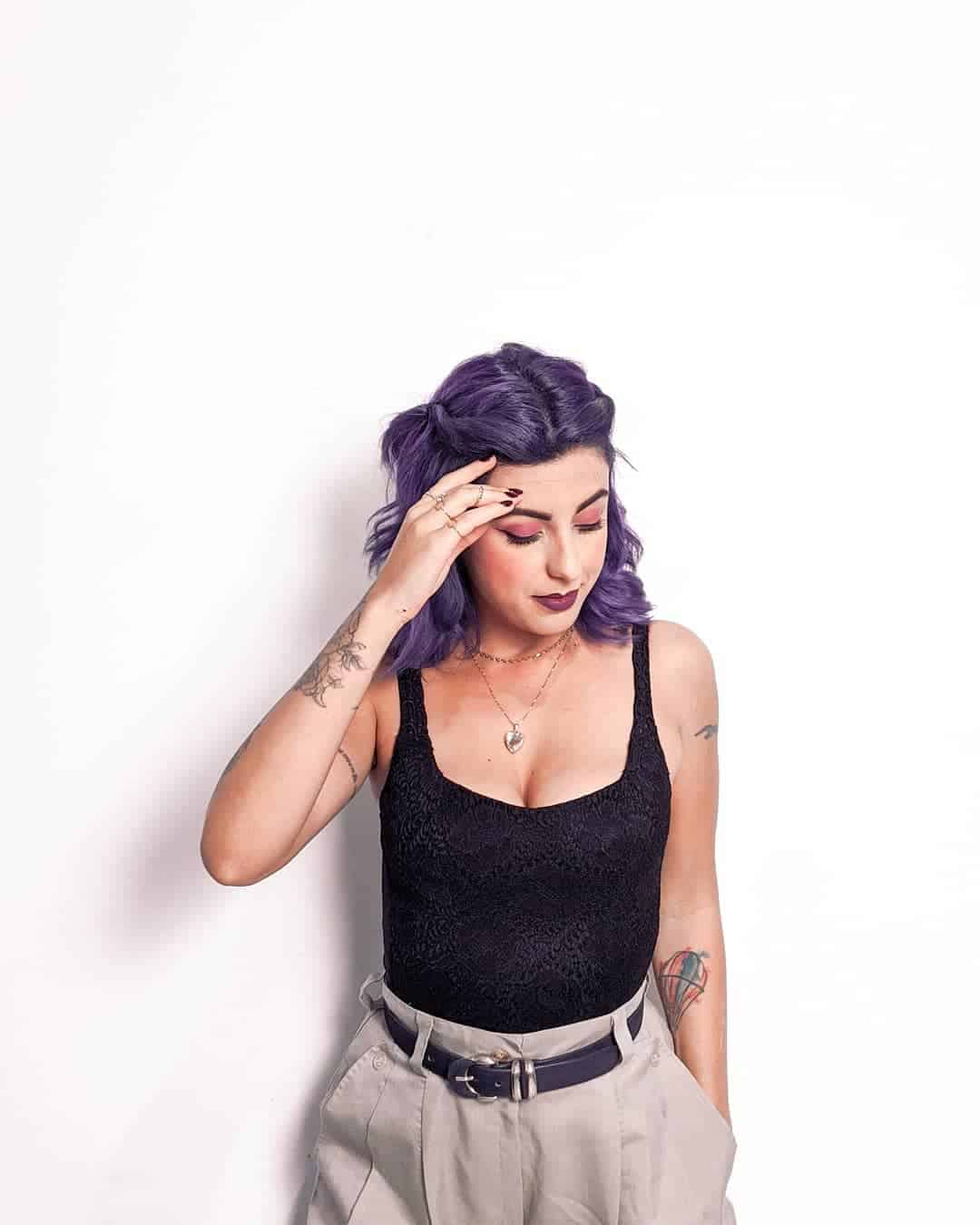 Image Source
This choppy lob gently accentuates the short-length hair, while a rich violet shade adds a royal touch to the style. The middle-parted hairdo has a section taken from each side, twisted and secured to create a gentle bump. The wavy curls add a graceful touch, while the fusion of the black roots with the violet hue creates a shimmer that gives the hair a lovely shine.
Curls gently resting on the shoulder add a soft and subtle touch, elevated by the presence of classy jewelry and bold makeup.
29. Mauve and Lilac Waves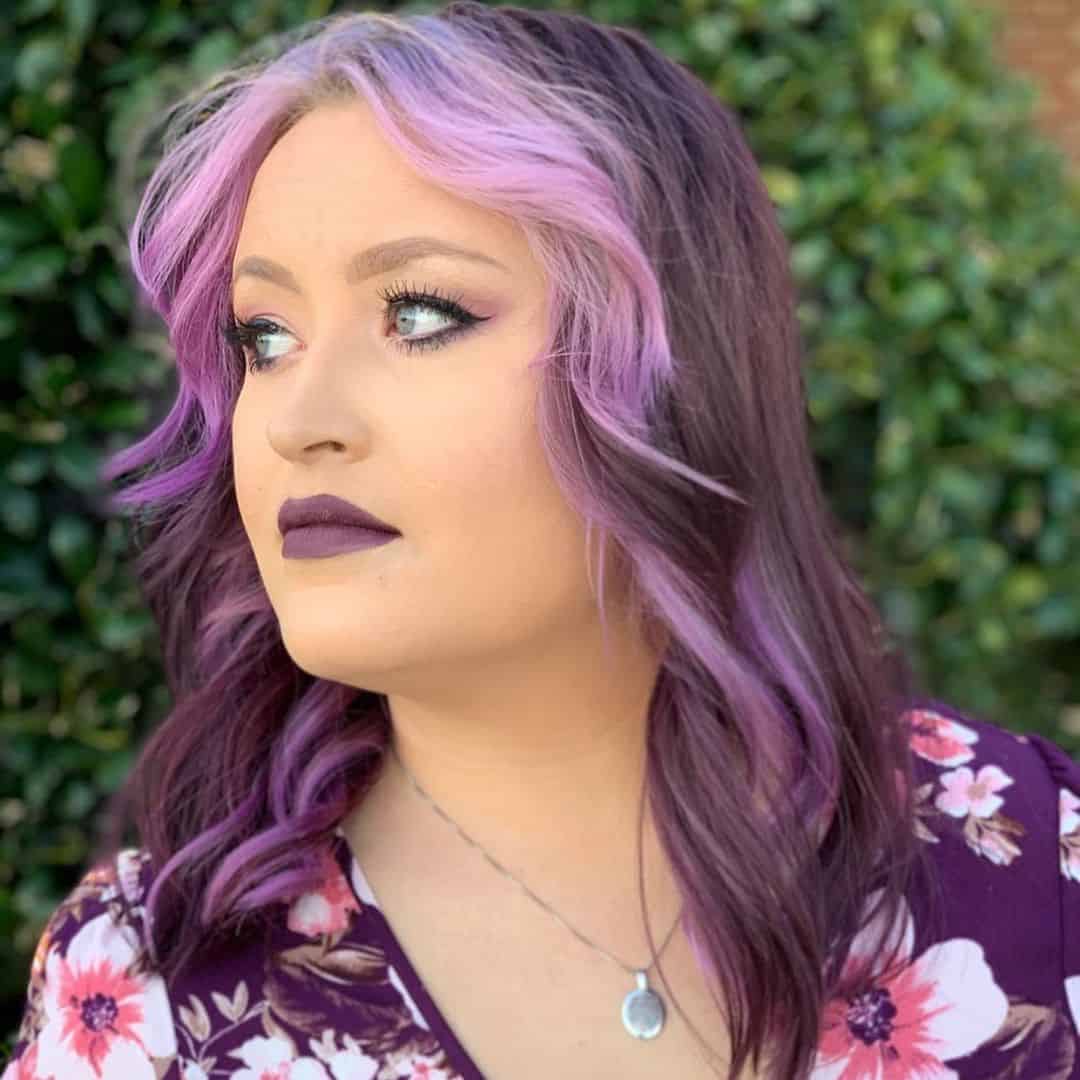 Image Source
Stylish, as it is bold, this hairdo comes in complementary shades of purple, bound to work in formal and informal settings. Shoulder-length mauve-dyed hair transforms the otherwise all-black hair into a subtle yet bold look, balanced gently by the lilac face-framing bangs. An underlayer of lilac adds an element of surprise to the all-mauve mane, while the unison of the curled lilac and mauve adds a nice touch to the look. Top off the hairdo with a bright floral top to look your best.
30. Wine and Magenta Curls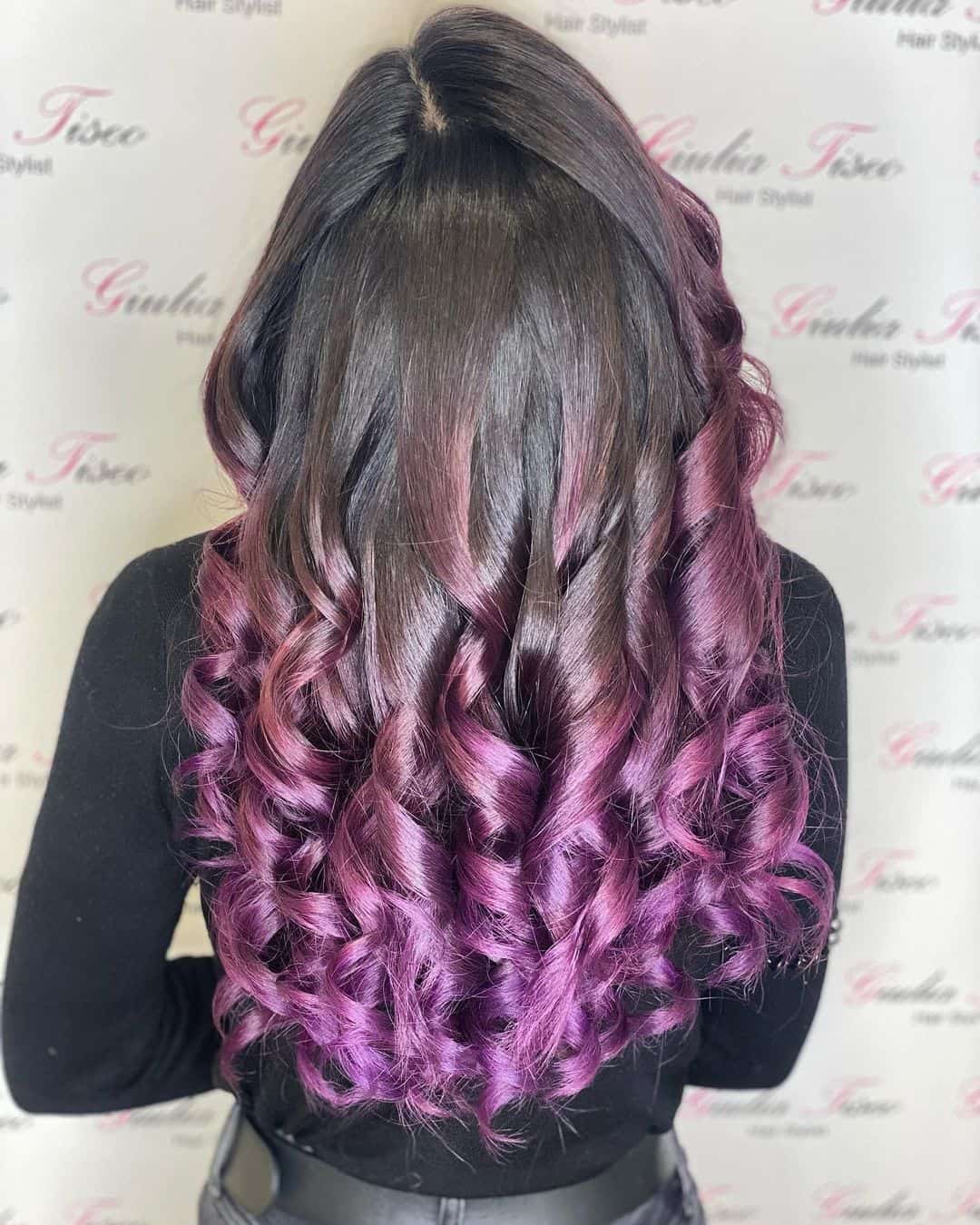 Image Source
Spruce up smoothened out mid-length hair with a set of tightly styled curls to bring about a soft touch. The natural brown hue of the hair gently transitions into an amalgamation of wine and magenta, which becomes more prominent at the tips. The wine dye adds a sense of richness and fullness to the hair, while the magenta dye balances that out by infusing a metallic finish.
Side-parted bangs with stained wine tips frame the hairdo with perfection, making this look perfect to pair up with an all-black outfit.
31. Dutch Braid Pigtails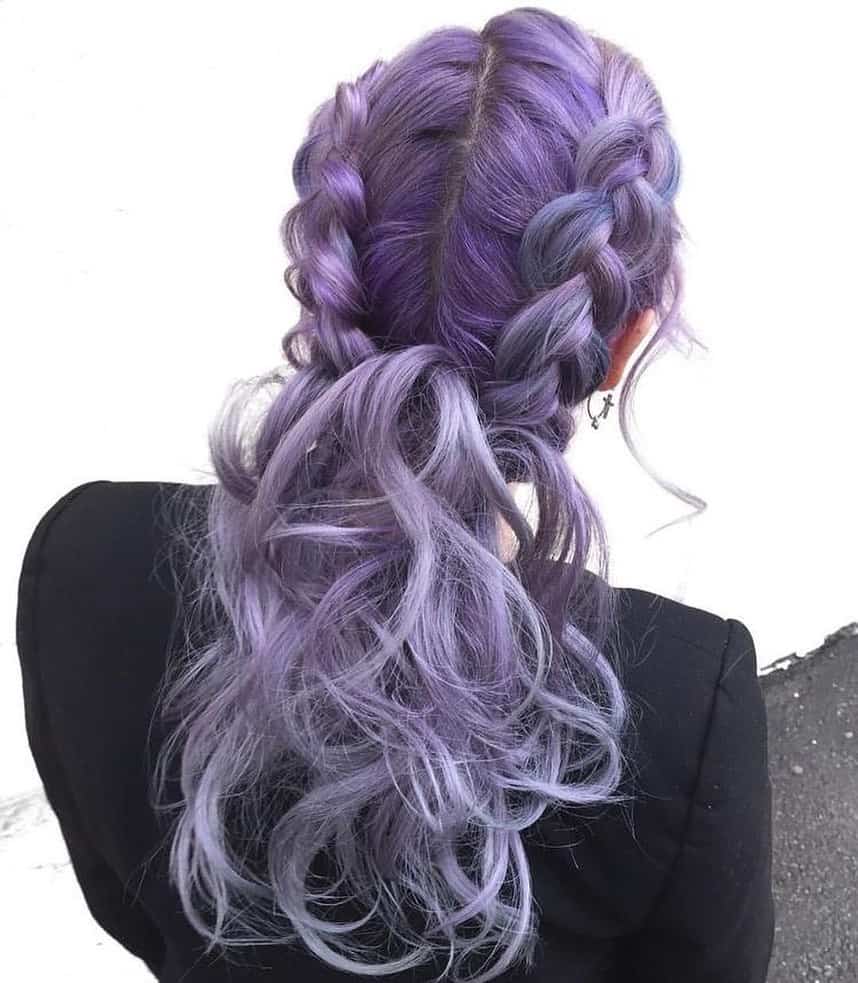 Image Source
A base of orchid purple, accompanied by a layer of heather-purple, adorns this trendy hairdo. Dutch braids that begin at the crown flow on either side, uniting at the nape of the neck into a low ponytail with ruffled tips. A single streak of blue on each braid makes a dainty appearance that quickly diminishes into the sea of loosely styled curls. The prominence of the orchid purple is evident along the length of the middle partition, engulfed by the dutch braids on both sides.
32. Pansy Purple Arched Bangs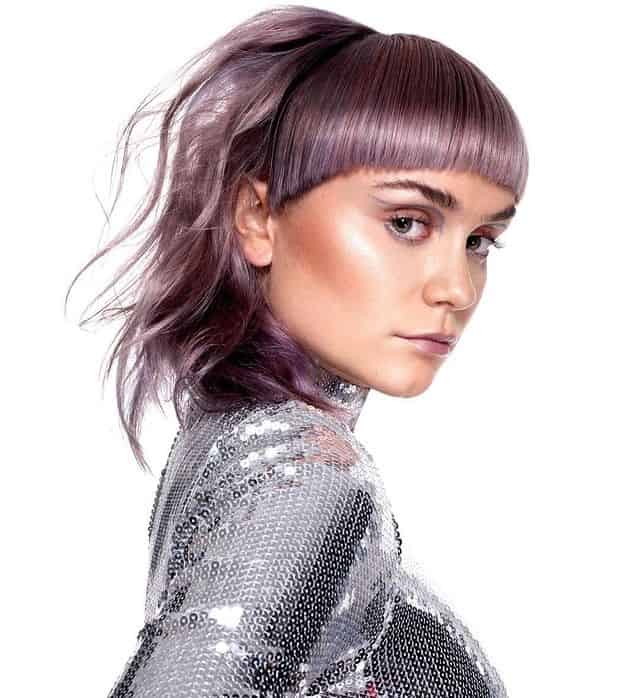 Image Source
This futuristic, spacegirl-inspired hairstyle takes on an inflection on the classic space bun by letting out the hair into a graceful ponytail instead of gathering it into a bun. Thick, voluminous bangs emanating from the center of the crown hover gently above the eyebrows in an arched fashion, longer at the edges and shorter in the middle. A pansy purple hair dye infuses a metallic charm that adds to the space vibe further.
Pair the hairdo up with a silver-sequin top to reel in an astronaut vibe – finish it off with nude makeup and soft dramatic eyes.
33. North Western Purple Pigtail Buns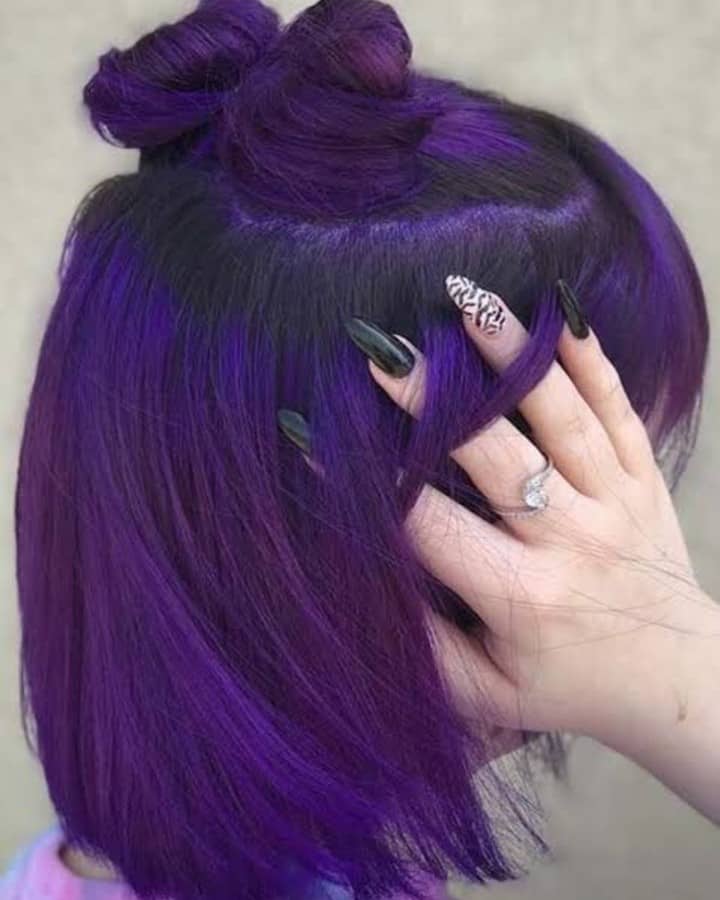 Image Source
While an angled lob needs no styling of its own, this one takes things up a notch by introducing pigtail buns. Sections of hair on either side, twisted on themselves and twirled into buns, add texture and volume to the updo. A vibrant north western purple hue enriches the hair, while the black roots add a subtle contrast evident at the partition at the crown.
The smooth, straightened-out hair serves as the perfect canvas for this lovely shade of purple. You can pair this simple, fun hairstyle with a casual, mellow-toned graphic t-shirt and jeans for a summer-ready go-to look.
34. Purple Balayage Waterfall Braid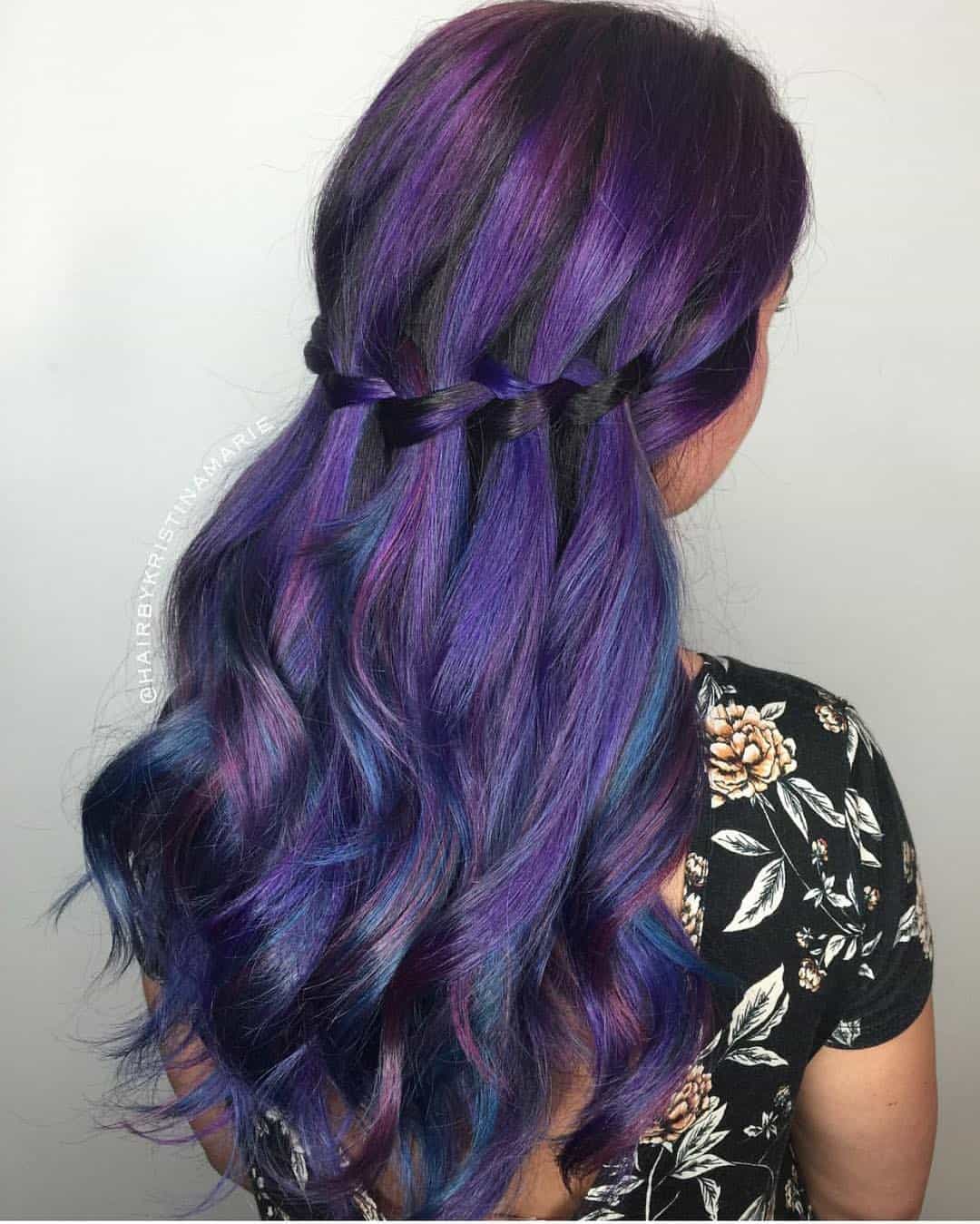 Image Source
Elegant and feminine at the same time, waterfall braids cascade from side to side, gracefully sectioning the hair. Loose curls infuse volume to each section as they delicately rest on the back sporting an array of vivid, complementary colors. A vibrant balayage comprising of electric purple, blue-violet, dark violet, electric indigo, and blue blend seamlessly adorning this lovely hairdo from the roots to the tips. This gracious hairdo works well with a backless outfit that highlights the locks.
35. Weaved French Purple Braids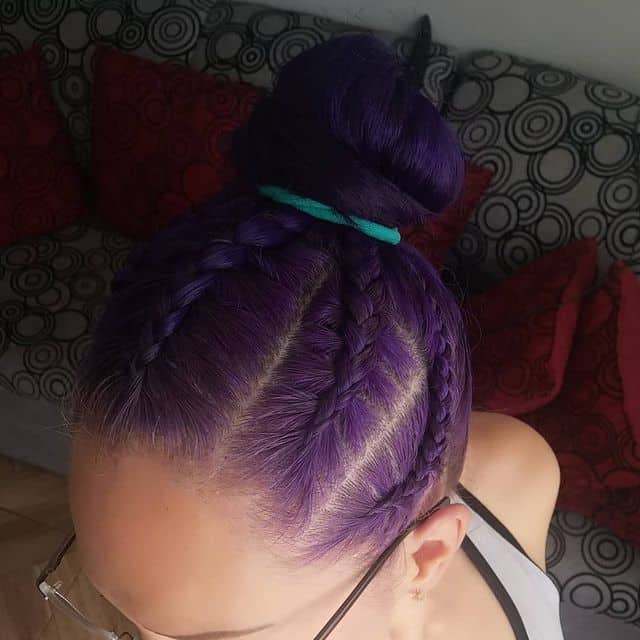 Image Source
Opt for a neat, edgy hairstyle with these perfectly weaved french braids transitioning into an uptight-wrapped bun. Adorn the locks with a dark purple hue effortlessly growing darker towards the ends blending with a northwestern purple for an aphotic touch. The cornrow sections make the dark purple braids appear neatly knitted, while the darker tied-up bun secured with a turquoise scrunchie gives the updo a clean finish.
36. Electric Purple Waterfall Crown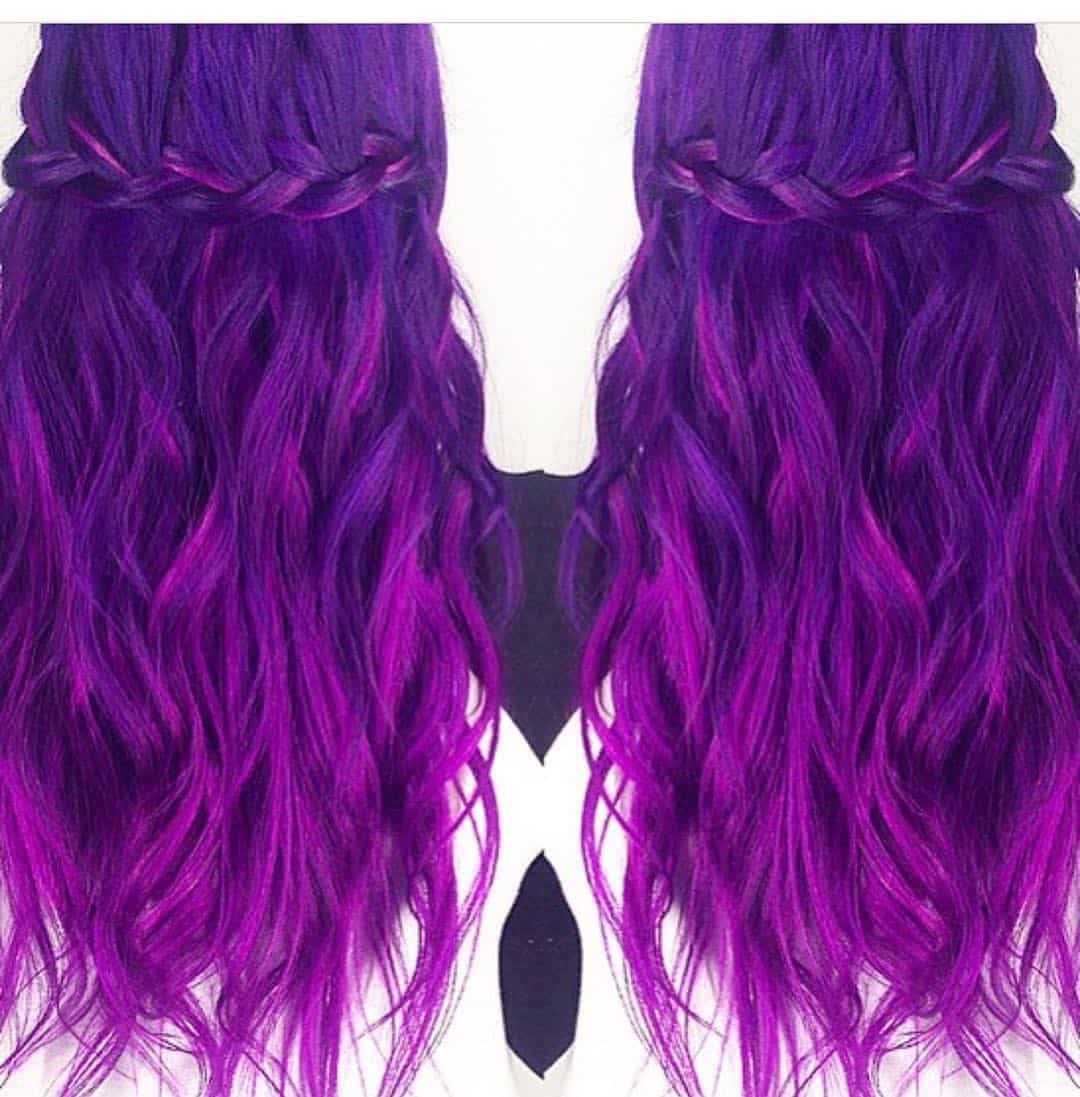 Image Source
Waterfall braids are strikingly versatile and can be worn in many distinct ways, one of which is a crowned braid that allows the rest of the hair to cascade down gently. The luscious waves, in conjunction with the purple shades, create a dreamy look for the hair. This hairdo begins with a dark grape purple hue that glides down halfway, merging with an electric purple underlayer. The blazing electric purple gives rise to this beautiful hairstyle softening the initial darker tone elegantly towards the ends.
37. Unicorn Braid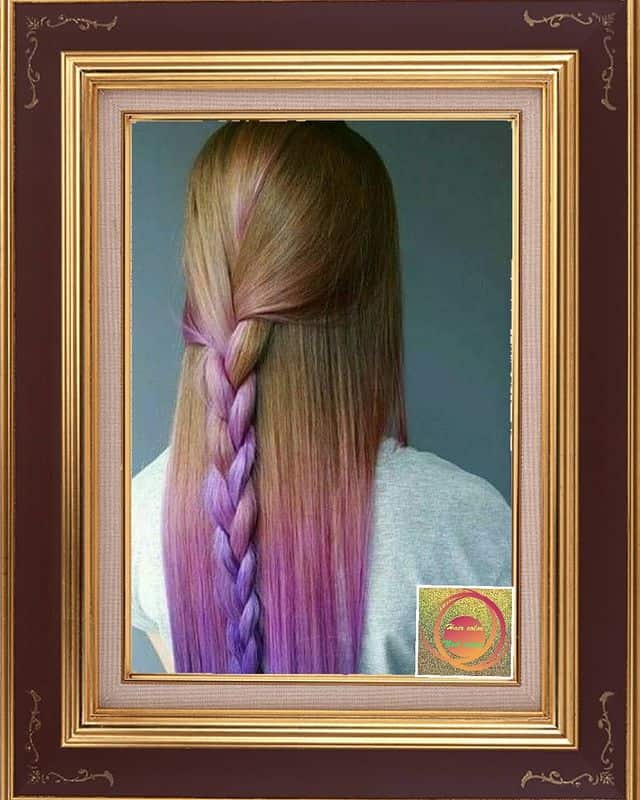 Image Source
Throwing in some elegant purple shades is a great way to adorn light-brown smoothened-out, sleek hair, infusing a unicorn vibe. This layered ombre hairdo begins with brown roots fading into a subtle lilac hue that blends seamlessly with a graceful Irish purple, gradually growing darker towards the tips. Consider styling the upper layer as a three-stranded, simple braid covering the ombre color into knitted sections and allow the sleek underlayer to flow down graciously, flaunting the distinct purple tones.
38. Mulberry-Dyed Hair With Pantone Blue Streaks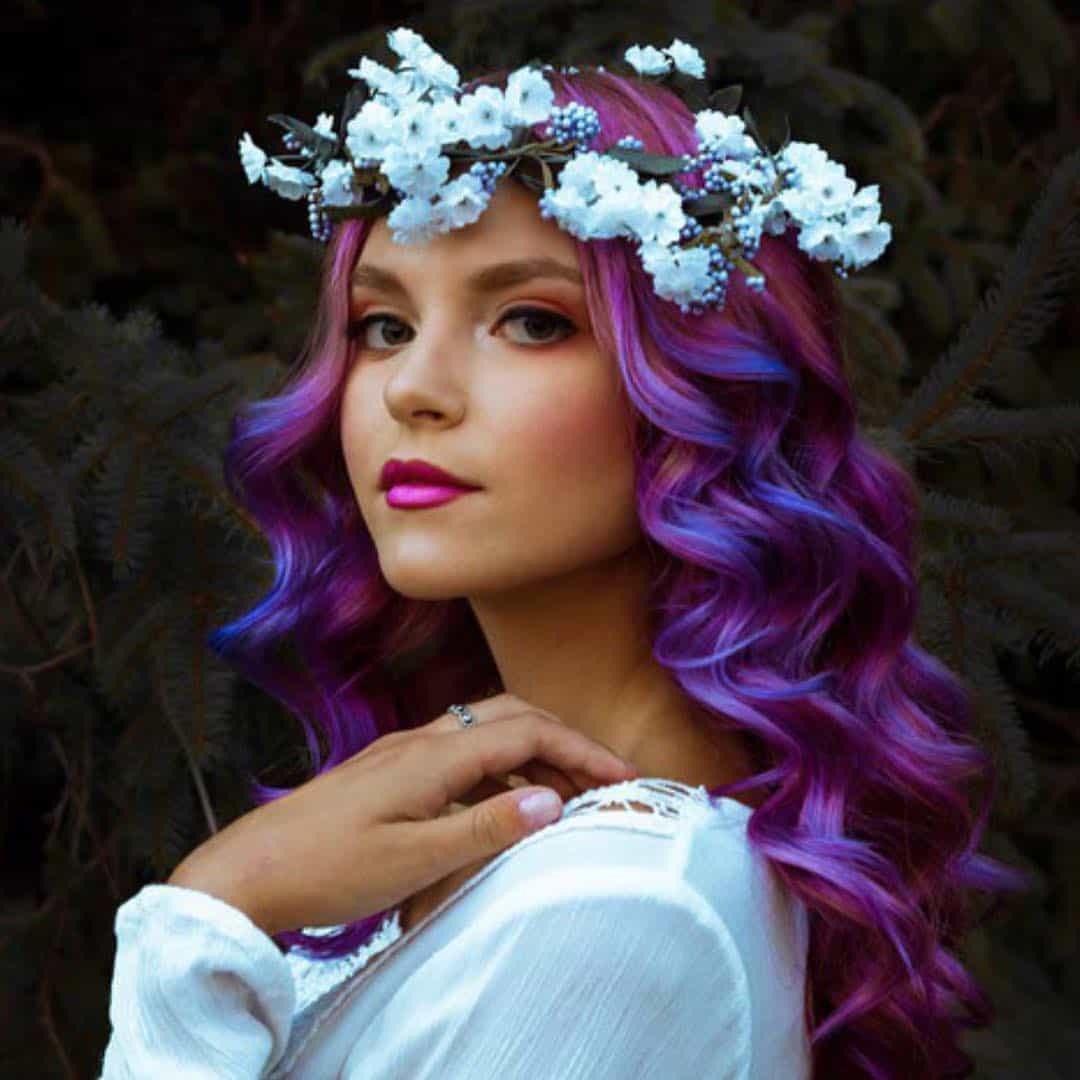 Image Source
This princess-like hairdo begins with mulberry roots that graciously dissolve into Pantone blue streaks adorning tight S-curls. The union of these colors in this fashion gives rise to dynamic, electric hair, bound to turn heads. Soft bangs gently caress the sides of the face merging with the curls seamlessly, while a floral tiara with white flowers and blue buds serves as the crowning glory of this lovely hairdo.
39. Dark Purple High Ponytail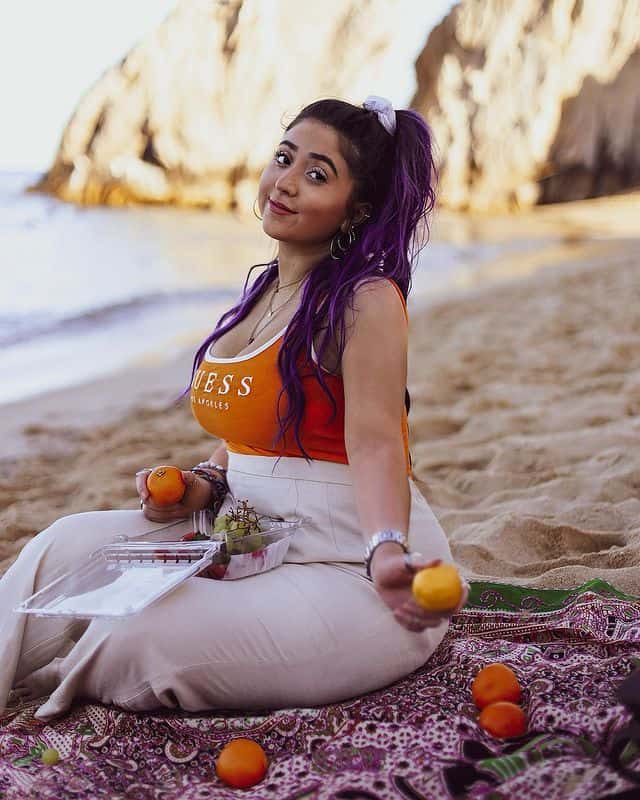 Image Source
Add a punch of rich, sultry tones derived from the purple palette to pamper long, carefree, dark locks. This hairdo begins with its natural dark hair color and exquisitely blends with a mixture of a dark purple and blue-violet dye, paired with a few pale purple strands that peep through the darker undertone. The beautifully toned hair is tied into a simple high ponytail with a white scrunchie, adding contrast, perfect for a warm beach day.
40. Gradient Purple Pigtail Buns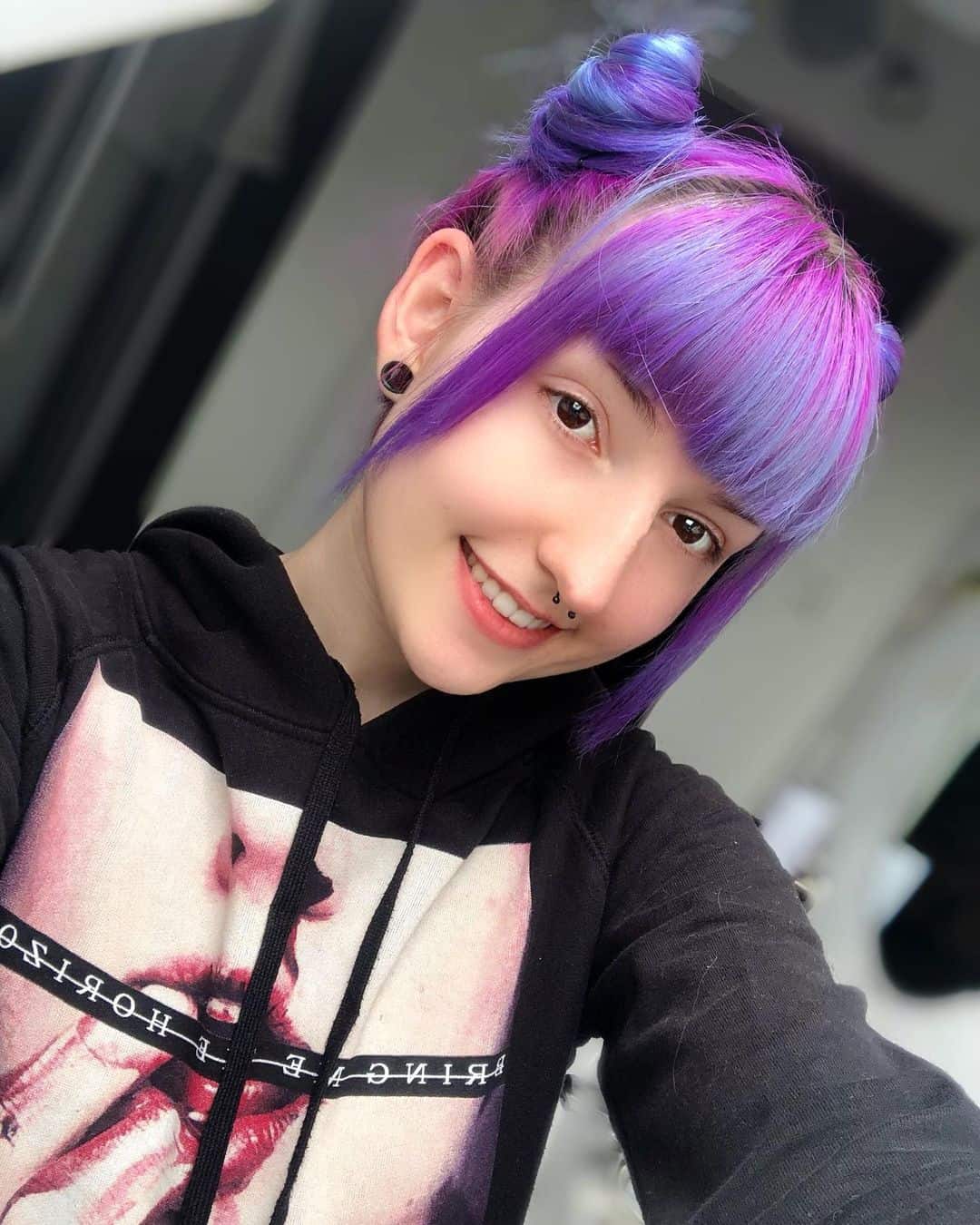 Image Source
These choppy bangs emerge from orchid purple-dyed roots leading to a vibrant color gradient of light purple and mauve with a tint of orchid purple. Face-length, layered, light purple strands on either side frame the face, infusing an Anime-Esque vibe. Baby blue dye with a hint of light purple enriches the locks that are twirled in spiral space buns and secured with the help of bobby pins. This pastel goth hairdo is perfect to sport with black button earrings and a nose ring.
41. Electric Purple Afro Curls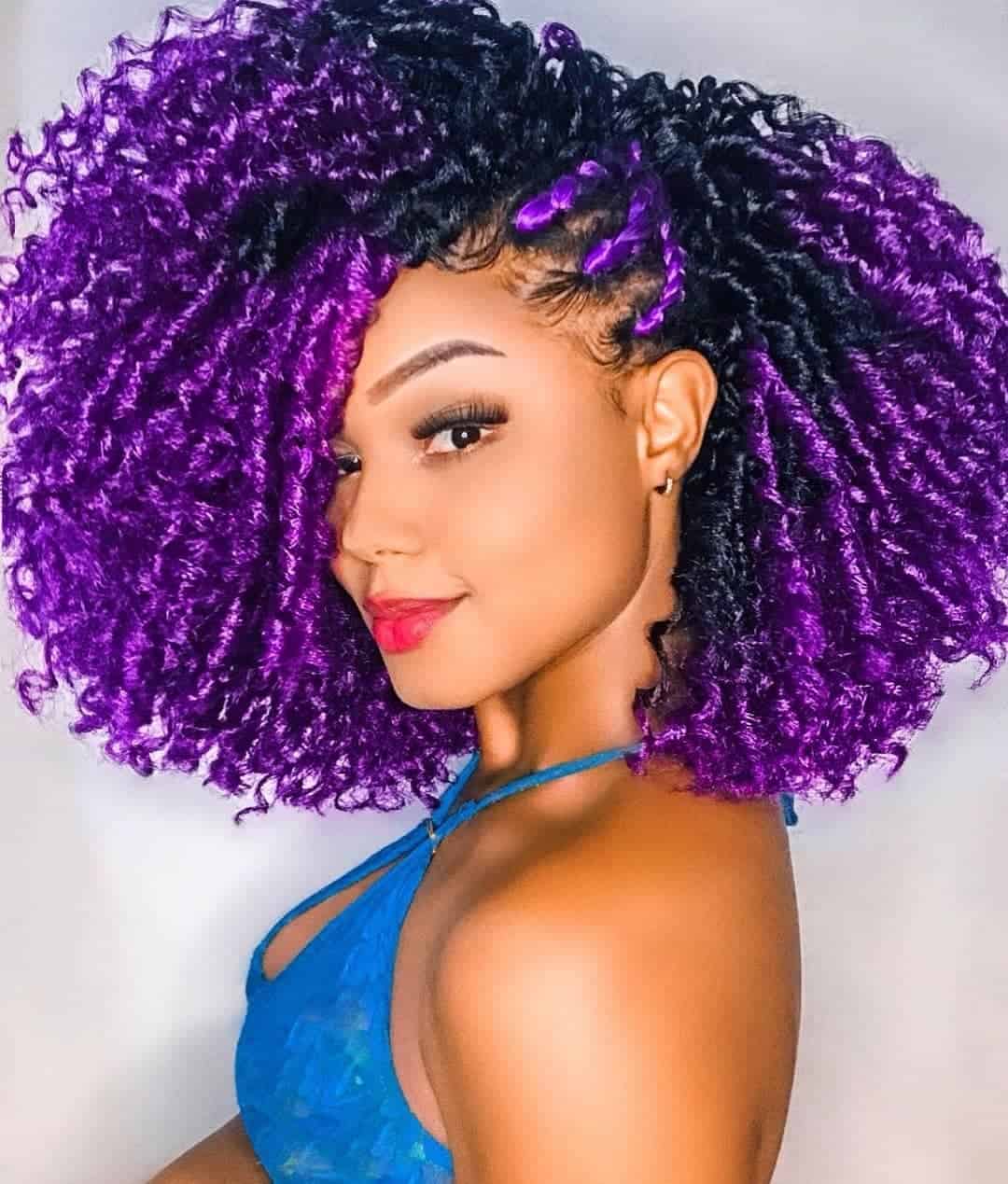 Image Source
These 4C curls are majestic by themselves – to make them pop, however, consider dyeing them in a rich electric purple hair color. The black roots are left as is, while a good chunk of the length of the hair is dyed purple. Cornrow braids along one side pile the hair on the other, giving the hairdo a bouncy, fun look. Hairspray or serum infuses a shine to the voluminous curls while also ensuring that the hair stays put.
42. Byzantium French Braid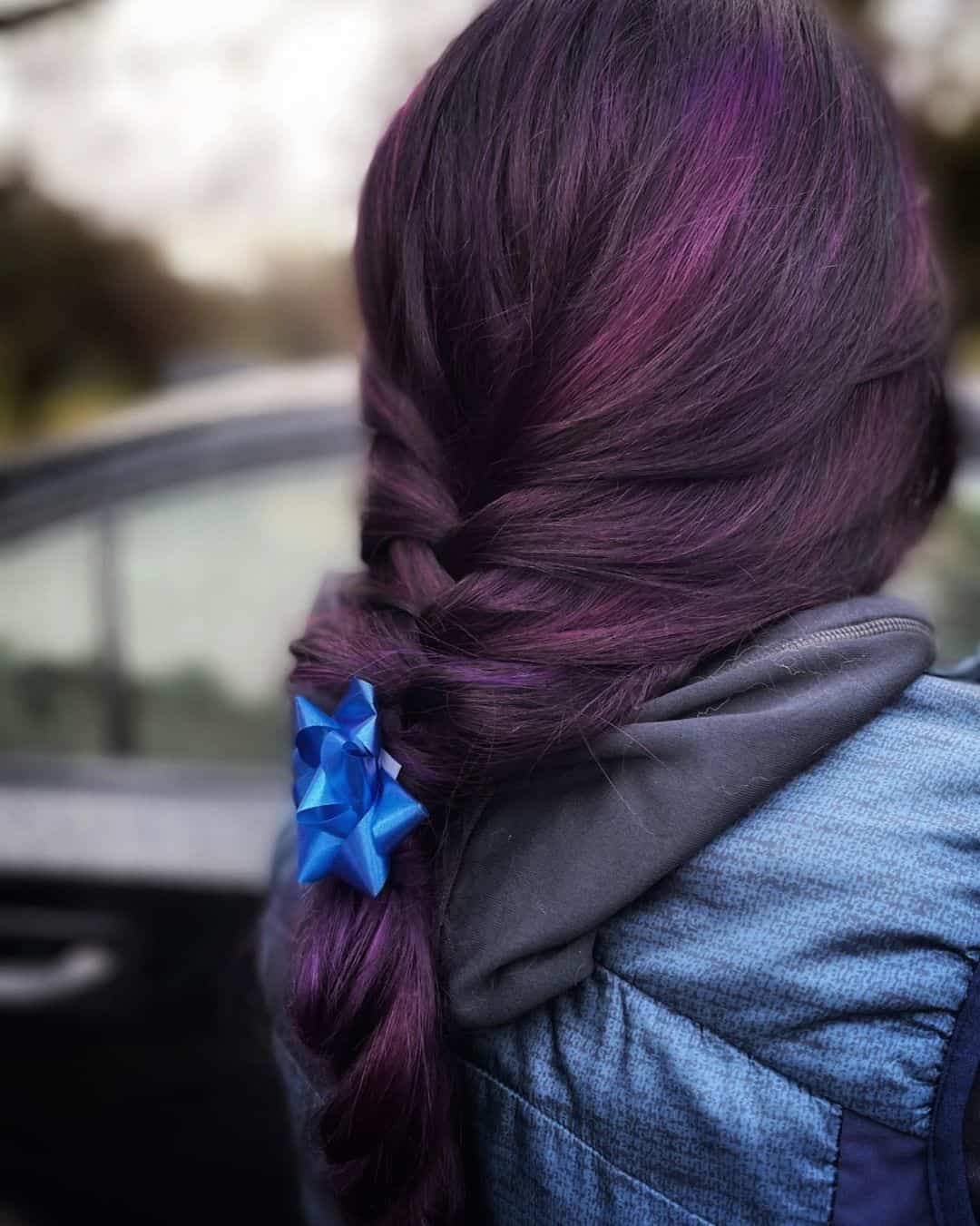 Image Source
For a toned-down purple hairdo, consider streaking your hair Byzantium with a tint of violet to add brightness. Elegantly display the streaks in a loose french braid by gathering sections from each side and weaving them into a standard three-strand braid. Secure the mid-length braid with cobalt blue bows placed gently along the length for texture and color.
This hairstyle and hair color is a must-try, specifically if you are looking for a DIY, low-maintenance hairdo.
43. Pale Purple Double Pigtail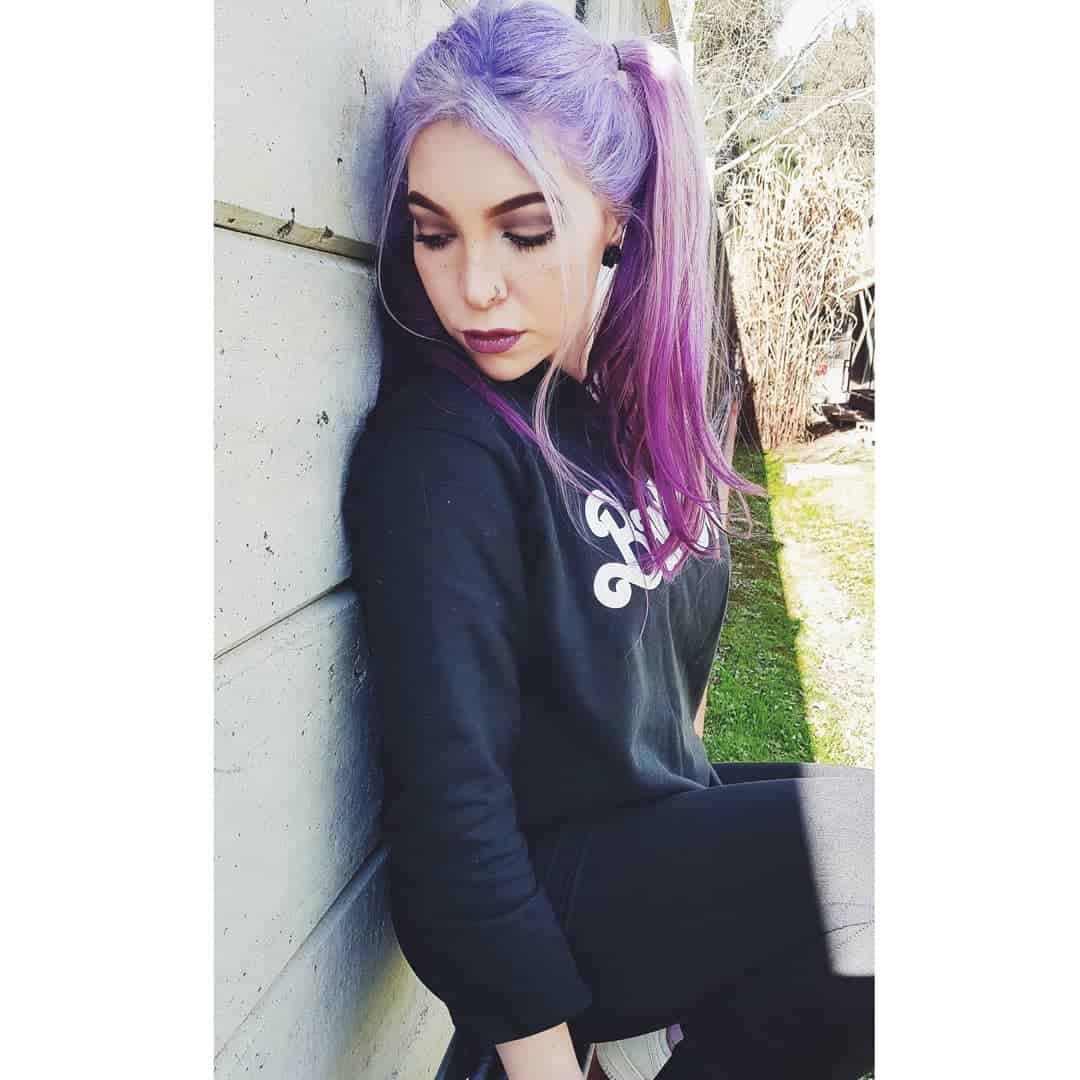 Image Source
Double pigtail ponytails are a fun, versatile, old-school option, perfect for experimentation with splashes of a palette of fun colors. This hairdo begins with a scattered application of a pale purple hue gently staining the vanilla blonde locks, blending with a dark violet tinge that fades halfway into the natural neutral tone and gradually appears again towards the tips, adding layers to the impressive coloring technique.
Two long, pale strands dangle over the face on both sides, framing it with a soft feminine touch.
44. Purple Half-Shaved Mohawk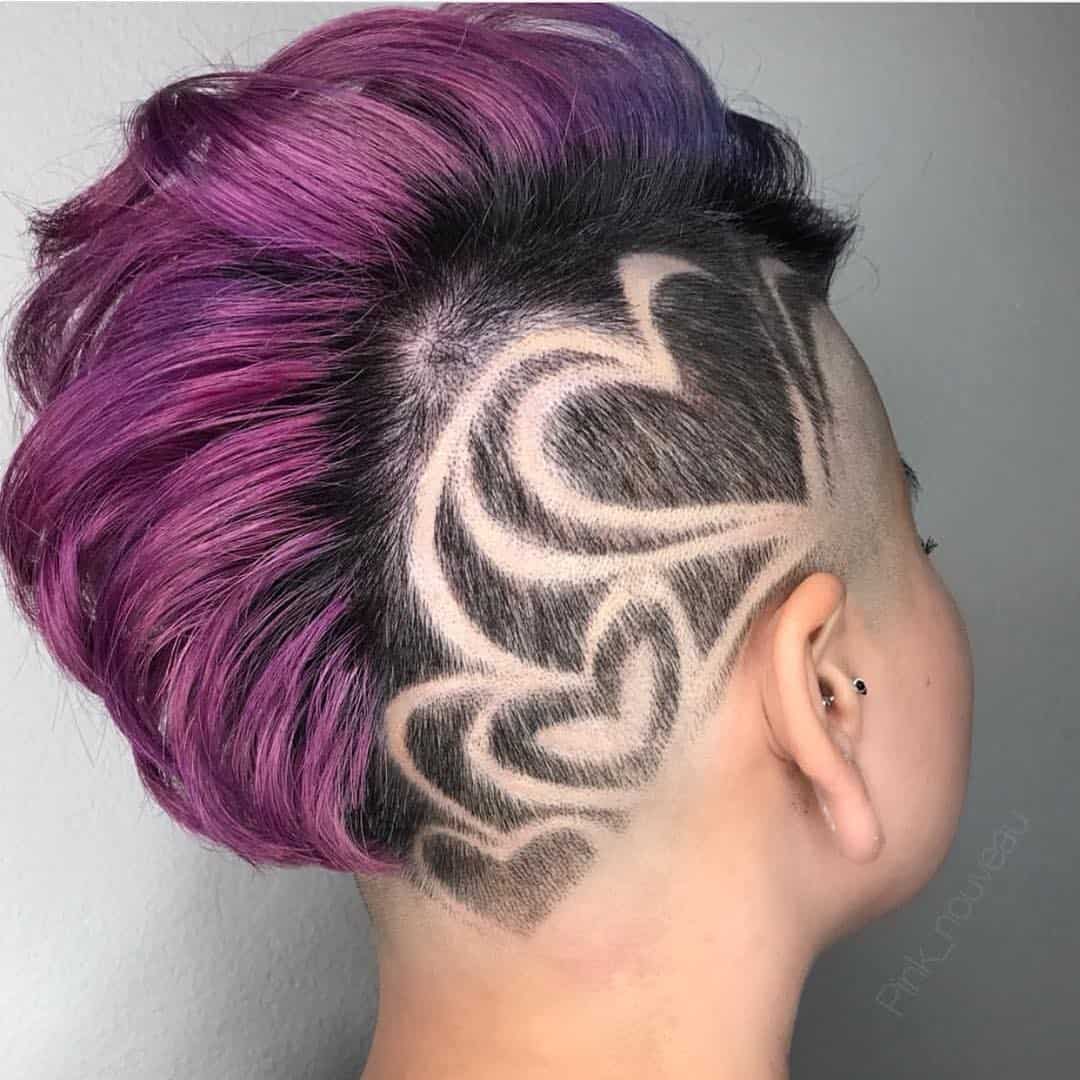 Image Source
Shaved sides are a bold, daring look to pull off, more so, a purple-dyed mohawk with shaved sides. Heart-shaped motifs inscribed along the sides keep things artistic and soft, while the angled ends add an edgy touch. The sleek-back purple updo begins with black roots beginning with a violet tint, gradually pigmenting into a purple hue, giving rise to a prominent color gradient.
This punk, grunge updo is perfect to sport at a punk-rock concert with ripped jeans and a faded tee.
45. Lilac Ombre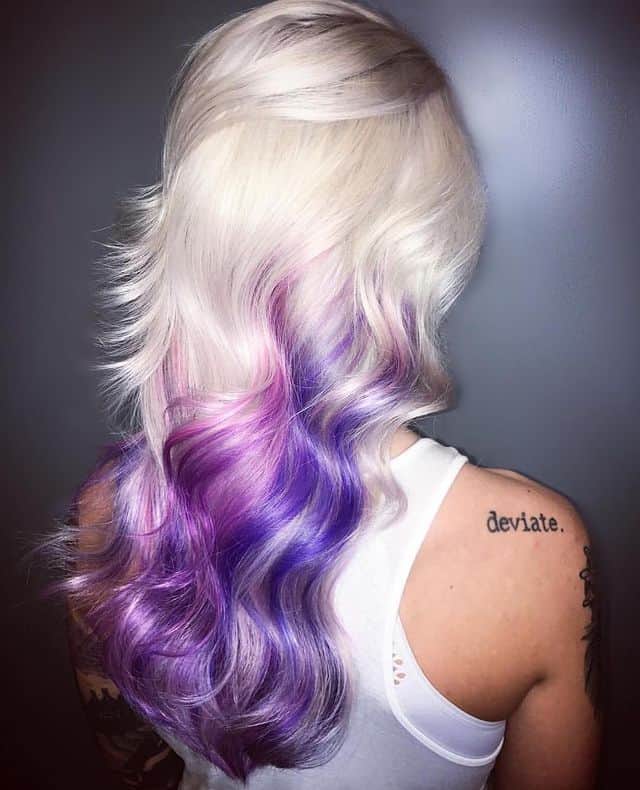 Image Source
This illuminating icy blonde hair stands out by itself, much more when worn with mid-length beachy waves. Infuse a charming set of colors into this layered hairdo by beginning with shadowy roots. The upper layer sports a neutral tone, graciously blending with the dark lilac-tinged underlayer that beautifully fades into electric indigo waves balancing the harmony with the purple strands till the tips.
This soft, feminine medley created by purple shades and the silver locks adds an exquisite shine to the overall hairdo.
46. Mulberry Purple Double Braid Headband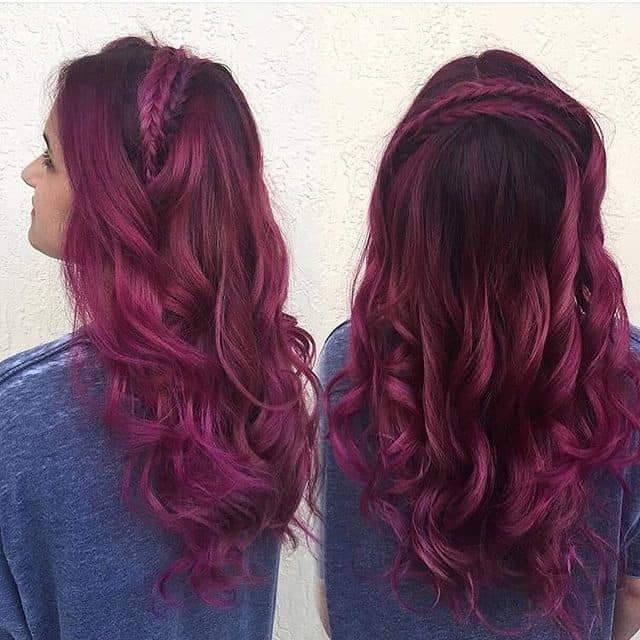 Image Source
This hairdo combines the softness of loose wavy curls and the rigidity of dual braids, birthing an array of textures. The mid-length hair retains black roots and is dyed in a charming mulberry tone, giving rise to complementary shades. Braided sections from either side, crossed over to form a double three-strand braided hairband, gently rest on the crown. The ruffled curls give out a delicate vibe that pairs perfectly with a denim jacket over a fun, peppy summer dress.
47. Lavender Half-Up Pony Bun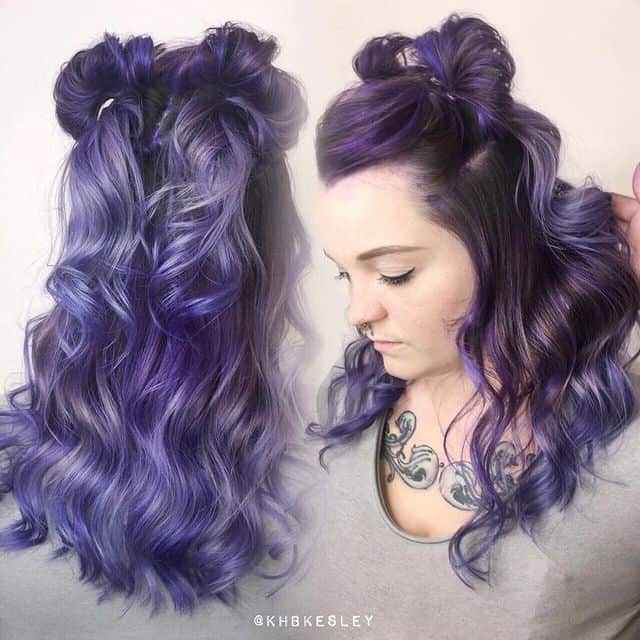 Image Source
This simple hairstyle keeps the dark natural roots in place, proceeding to tone the loose waves in a lavender blush balayage from the middle to the ends, while the bangs sport subtle purple streaks. This middle-parted hairdo with half-up double ponytails pulled halfway through a scrunchie leaves the tips of the locks flowing down graciously, making for a scattered bun with a messy finish.
48. Thistle Purple Half-Up Ombre Bun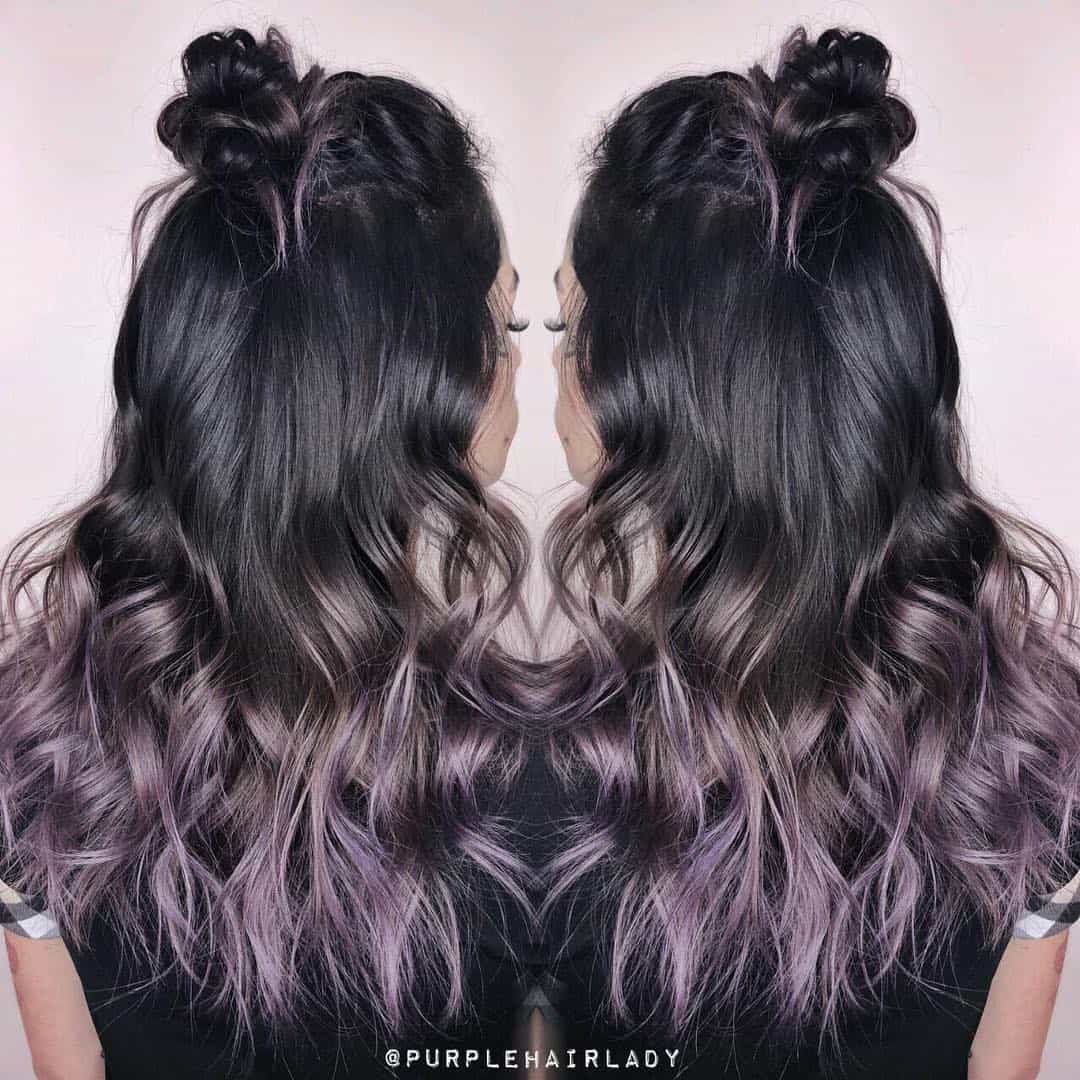 Image Source
This wavy hairdo begins with a jet black natural hue that meets a vivid thistle purple hue starting from the middle till the sharp ends. The black locks gracefully blend with the purple shade adding a slight rusty golden tint that fades immediately, creating a toned down, edgy look. Stylize this ombre with a half-up bun by gathering a section of hair into a messy bun, secured with a bobby pin, leaving the ends to cascade down gracefully.
49. Purple Double Braids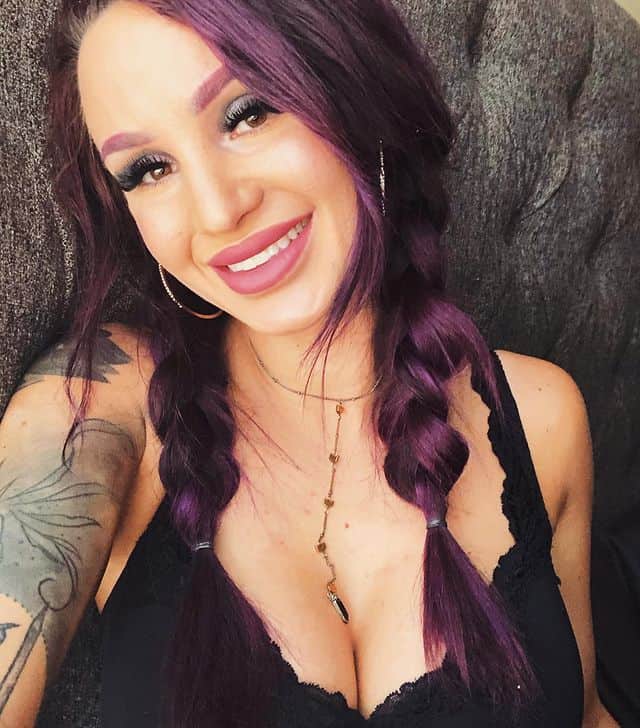 Image Source
Basic three-stranded braids are easy to pull off and also helps to prevent damage making hair easy to maintain and manage. Spruce up a layered haircut with two simple well-knitted braids, hovering just below the shoulder with scrunchie-secured sharp ends.
Saturate the locks from root to tips with a bold purple hue infusing richness into the elegant hairdo, while the back-brushed face-framing side-parted bangs soften the beautiful mane with a soft, feminine touch. Elevate the look with purple eyebrows and dark pink lips.
50. Byzantium Purple Twisted Low Bun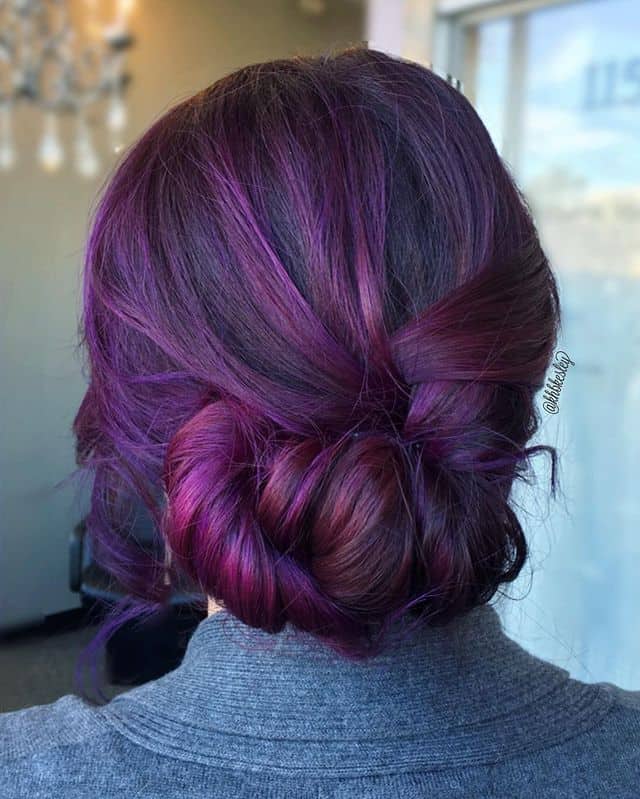 Image Source
This low messy bun consists of fewer elegant colors, creating a chic look. A dark Byzantium purple balayage over naturally dark hair makes the hair look bold, especially when blended with a soft peachy undertone. The hairdo starts with the purple streaks that blend with a lighter-hued dye keeping the natural-toned underlayer visible. Opt for a hassle-free, messy look with this twisted low bun that helps you with a quick go-to look.
Go Purple All the Way
We hope that the hairstyles and hair colors mentioned here will leave you with plenty of options to mix and match, playing around with colors, braids, buns, and pigtails whenever you deem fit! If you are skeptical about how you would end up looking with an all purple mane, there is always the option of starting slow with purple hair extensions or a much safer option of a purple wig.
The aforementioned purple hair ideas are simple to do in the comfort of your home, except for an ombre or balayage that might require some professional help. Say goodbye to dull locks once and for all, and welcome your purple mane in style!