There's something enchanting about winter weddings, from the festive and cozy atmosphere to the glittering lights and icy sculptures. Not to mention the photos of happy moments aptly frozen against a backdrop of crispy, white snow.
But, if you're a guest about to grace such an occasion, you might have your work cut out when deciding what to wear. Thankfully, you'll find a lifesaver in this expert guide on what to wear to a winter wedding.
Keep scrolling for in-depth advice that covers fabrics, colors, styles, weather considerations, dress codes and even shoes and accessories!
What You Need to Know About Winter Wedding Attire
There are some underlying trends you need to pick up on when choosing your ensemble. Besides the usual rules against upstaging the bride or wearing white, here are three must-know tips that ensure you rock your outfit while staying true to winter-wedding etiquette (and staying warm).
Thick and Rich Fabrics Are Your Best Friends
It's a no-brainer that when temperatures dip outside, looking fabulous and striking at a wedding won't be your only worry. You also have to think about keeping warm while at it. As such, thick and heavier fabrics are warmer options that help to insulate you from the chill while preserving body heat.
That means you should lean towards richer textiles, like velvet, though your final fabric selection also depends on the formality of the event, your personal style, and other concerns.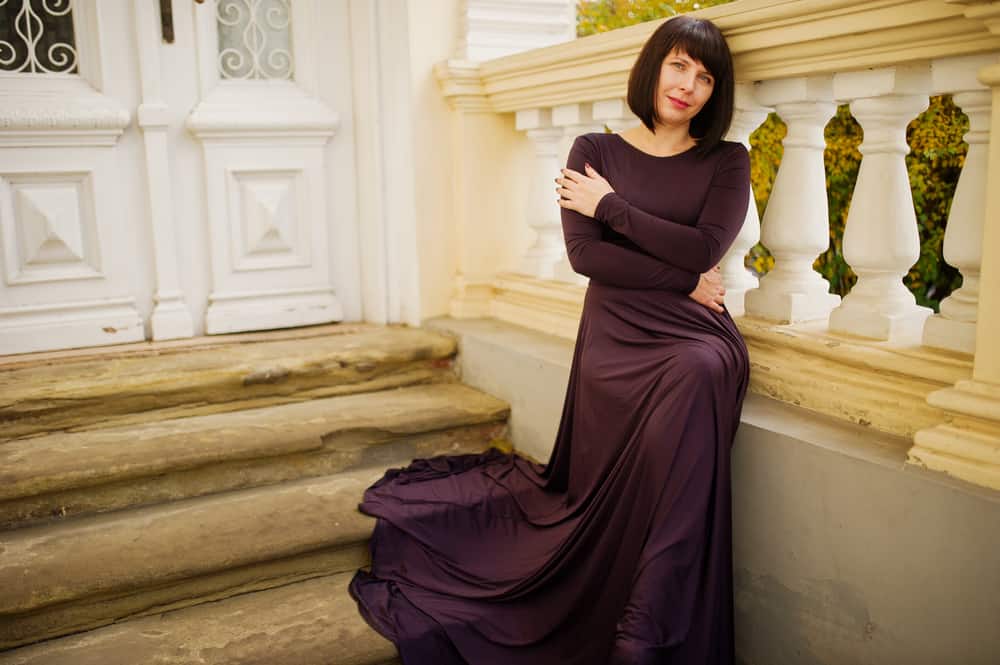 Layer Your Clothes to Stay Warm
Besides wearing rich fabrics, dressing for warmth also entails covering up more of your skin. For instance, long sleeves are almost always practical for winter wedding wear. If the weather is even colder, covering up any exposed bits becomes essential if you want to keep the shivers and goosebumps away. But don't worry. You can still rock the long hems and high necklines without feeling like you're living in the Victorian era. Popular items to wear include: maxi styles, midi dresses, and long, flowing or draped skirts.
Still, want something short and modern for more freedom when moving around? Consider pairing a mini dress with easy-to-match black tights or leggings. Another great option is jumpsuits or those non-corporate, polished suits. Since they're suitable for most occasions, you're bound to have one tucked in your closet already. That means you can still look stylish and feel cozy without stressing about going shopping.
Consider Dark and Dramatic Tones
While summer weddings favor bright and daring colors, cold-season affairs integrate well with darker and muted, romantic hues. With a color palette that runs the gamut from burgundy and plum to navy plus deep browns and greens, you'll still be spoiled for choice.
The good news is black is a timeless and classic color that's also in season when it comes to winter wedding outfits. Keep in mind, however, that you may want to check with the bride and groom to make sure it's appropriate; some couples consider black too solemn for a wedding – or even a way to silently protest the union.
Generally, richer tones give you a more vibrant and bold appearance. But there's also something to be said about the understated chic of more muted shades like gray.
What to Consider When Picking a Winter Wedding Outfit
Now that we've delivered the general guidelines on what to wear to a winter wedding, nailing the perfect look is probably starting to look doable. However, you also have a few more considerations to make if you want to narrow down your options even further.
Keeping Up With the Weather
If the weather is not too freezing, you might get away with short and sleeveless. But, you'll also need more layering options in case the celebratory environment turns extra cold. A warm winter coat, for one, will do the job just fine. Whether it's a sophisticated trench coat, a dress coat, or a wool wrap, all you have to do is make sure it complements the rest of your ensemble.
Also, once you have moved from the outdoors to the indoors, taking it off won't be much of a hassle, especially if you're eager to show your moves on the dance floor. Here are more outerwear options you can easily throw on to winterize your look:
Sweater or cardigan
Wrap or shawl
Cape
Blazer
Thick-fabric scarf or faux fur stole
Chic leather or denim jacket
Bolero or shrug
Detachable collars
All in all, it's best to keep tabs on the weather forecast for your particular location to determine just how much you should bundle up on the big day. If you need the complete winter-wear look, a pair of thick but dressy gloves will keep your hands protected as well.
Be Mindful of the Dress Code or Theme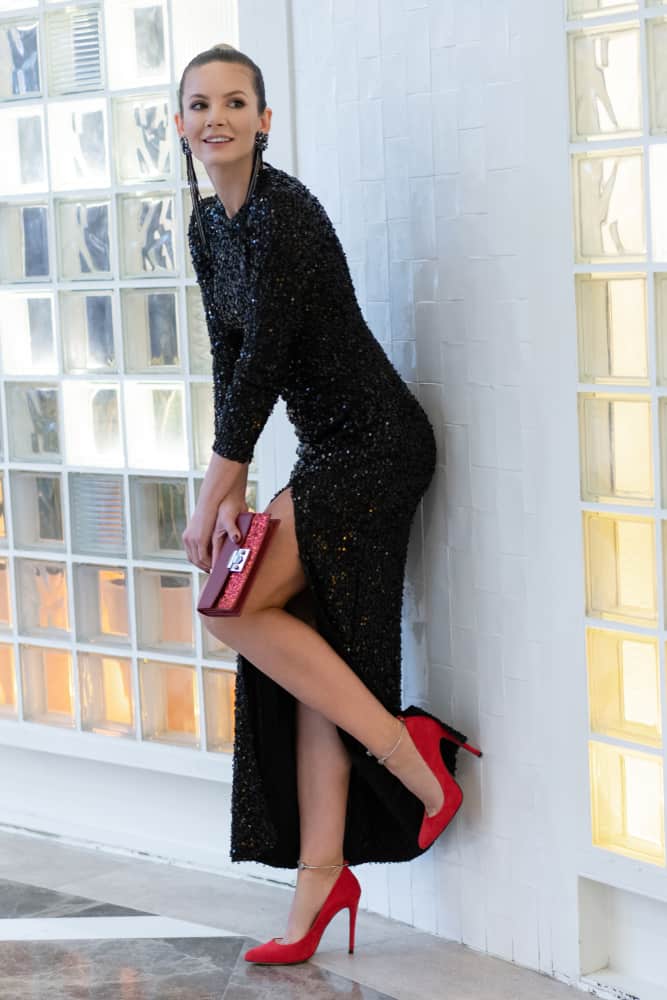 When trying to piece a winter wedding outfit together, you also have to think about the dress code or theme of the wedding. Here are a few handy pointers that cover different themes and dress codes:
Formal or Black-Tie
You may be going for a sophisticated day time look or a dazzling after-hours appearance. Either way, keep your search concentrated around draped styles. When it comes to formal and warm dress-codes, nothing says gorgeous like a flowing velvet or satin ball gown with a rich hue like olive green or burgundy.
Semi-Formal
Trying to merge two dress codes can be hit or miss. But if you stick to elegant and classy items, you'll come out on top. Think of an elegant cocktail dress paired with a statement coat or an oversized blazer. A nicely-cut pantsuit or jumpsuit with a few metallic embellishments can also strike the right balance.
Casual
To avoid the overdressed look, you might want something more laid-back. Top suggestions include simple but smart styles such as wrap dresses, shifts, caftans, or shirt dresses. To keep things relaxed and easygoing, you might even wear animal or floral prints with a darker base tone.
Festive-Themed
Since winter coincides with the holiday season, attending a Christmas-themed wedding shouldn't come as a surprise. That means you can go for a sequined look or try metallic hues like gold, silver or copper to add a bit more shimmer and glimmer to the celebrations.
How to Choose Winter Wedding Shoes and Accessories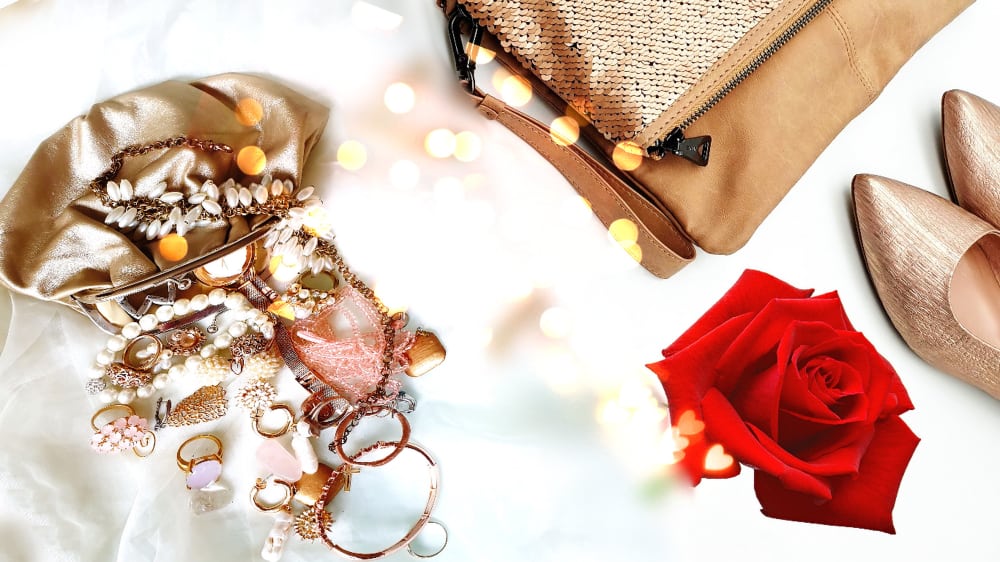 Your ensemble isn't complete without the right shoes and accessories. Let's look at a few suggestions:
Shoes
Cold feet are something you might want to avoid even if you're not the bride or groom. Your usual open-toed sandals might have to remain on the rack while you bring out something that will protect your feet from the harsh elements.
Your options range from high-heeled boots to strappy block heels, or sling backs if you want to dress it up. Simple black mules and classic pumps will also suffice for a more laid-back look. However, open-toed shoes can still work if they're paired with monochromatic tights.
Accessories
Adding a few well-selected but straightforward accessories to your ensemble can fancy things up. For bags, clutches are timeless, but you can also have a small, cross body bag on hand. Belts are also a great way to emphasize your outfit.
When it comes to jewelry, popular options are necklaces, earrings, and bracelets. These should be worn to accentuate your outfit, not overshadow it. Sometimes ditching the jewelry works just as well if you have a beaded or gold-buttoned dress.
Pro Tip: Don't Lose Sight of Your Personal Style
When trying to balance all of these considerations, it's easy to lose sight of your personal preferences. But, glamming it up for winter nuptials doesn't mean you have to adopt a whole new persona.
If simple and minimalist is your style, then you might want to stick with classic silhouettes like A-lines and slip styles. If you need a bit more sparkle and dare for your personality, pairing your look with sequins, metallic accessories, or a well-placed slit never hurts. Likewise, multi-colored, patterned fabrics and lace, tulle or ruffle embellishments are typically the in-thing if you want to pile on more interest.
Lastly, it's important to dress for your body type. If you're plus-size, you can still flaunt it in a curvy sheath dress or a gorgeous maxi or midi dress. If you're a bit more petite, you might like pretty pencil or fitted waist styles and volume sleeves.
Find Your Perfect Outfit for a Winter Wedding
Choosing an outfit for a winter wedding doesn't have to be stressful. Generally, you'll have to stick with richer and dark-toned fabrics. To keep warm, you'll also have to go for longer sleeves and longer lengths that cover your arms and legs. Should the weather get chillier simply add a few layers of chic outerwear such as a dressy coat or a jacket. Last, but not least you can finalize the look with matching close-toed flats or heels and the right bag and jewelry pieces. During all this, it's essential to consider your unique personal style and body type.
If you've received a winter wedding invite, finding the perfect, best-dressed look using these crucial tips has never been easier!