Makeup novices may find themselves doing a double take when it comes to discerning the differences between pressed pigments and eyeshadows. While they essentially accomplish the same thing–a beautifully-colored eye area–there are actually some key differences between the two.
The bottom line: eyeshadows contain synthetic substances mixed with carbon or metallic compounds for easier application, whereas pressed pigments are natural minerals that deliver a more concentrated color with no extra substances added.
So which one is better? The answer ultimately comes down to you and what kind of look you're hoping to achieve, as each has their pros and cons.
Eyeshadows
The modern eyeshadows we know and love have evolved from ancient concoctions that are actually pretty similar to modern-day pressed pigments. The earliest recorded use of eyeshadows stretches all the way back to 10,000 B.C. in ancient Egypt, where ancient Egyptians used kohl (i.e. a powdered mixture made from ground charcoal and stibnite) to adorn and accentuate the eyes. This kohl was sometimes mixed with animal fats to make them easier to apply.
Eventually, the ancient Egyptians started using different colors made from naturally-occurring minerals like ash, ochre, lead, and oxidized copper, among others. In addition to their cosmetic uses, these pigments also had medical and religious purposes, like healing wounds and applying them to the face to pay homage to the gods, respectively.
It didn't take long for word to spread to Greece and Rome, where kohl was strictly worn for cosmetic purposes. Surprisingly, it was here that the prototype of our modern-day eyeshadows was first developed; the ancient Greeks and Romans started mixing these raw pigments with semi-precious stones, as well as dried herbs and flowers, to enhance their color and luster.
The 1920s is when the Western world started to use eyeshadows that are close to what we use today. Chemists infused commercial eyeshadows with synthetic carbon and metallic substances to make them longer-lasting and easier to apply. This is also the time when moisturizer-infused eyeshadows started to pop up on the market, as women often complained about how dry and cakey most shades made their eyelids.
Nowadays, the available selections seem endless. Between "wet" looks, neon hues, shimmery candy colors, and glitter-infused jewel tones, there are eyeshadows to satisfy every appetite. But these peeper prettifiers have their advantages and drawbacks like anything else.
Pros
Made with FDA-approved ingredients
Easier, quicker application
Less likely to stain the skin
More beginner-friendly than pressed pigments
Cons
Synthetic substances may irritate skin
Some substances have been linked to cancer (e.g. carbon black, BAK, etc.)
If you're new to the makeup game and aren't sure where to start, eyeshadows are a great way to ease yourself in without making yourself look like Crypt Keeper. Of course, eyeshadow veterans may want to opt for a more sophisticated product that's easier on sensitive skin and delivers a longer-lasting color. In that case, pressed pigments are probably a better choice.
Pressed Pigments
Pressed pigments are no fuss in the sense that you get exactly what's in the name: the pigments themselves pressed into a little tin. Unlike eyeshadows, which merely provide a "wash" of color (i.e., a softer, less-intense color), pressed pigments are designed to give your eye a more concentrated hue.
For this reason, applying them can be a bit tricky; you'll likely need to apply a primer or concealer before packing on the pigment. Even then, you should tread with caution, as pressed pigments are more likely to stain the skin around your eyes than eyeshadows.
Another thing about pressed pigments that might raise a few eyebrows is the fact that they're not FDA-approved. However, this could merely be because the FDA is famously behind on updating its approved ingredients list; pressed pigments have long since been approved by the European Medicines Agency (EMA), or the European equivalent of the FDA.
What's more, hundreds of pressed pigments users haven't reported any irritation or reaction when using them, meaning they're probably just as fine to use on your eyes as eyeshadows. Of course, do what feels best for you.
If you feel safer using products that have been inspected and passed for safe use by the FDA, then opt for eyeshadows. If you're a veteran makeup junkie who feels confident using a non-FDA-approved product on your eyes, then reach for those pressed pigments ASAP.
Interestingly, this is precisely why pressed pigments are called as such; since they've yet to be approved by the FDA, federal law requires that they be called something that doesn't imply use for or around the eye, hence 'pressed pigments.' Let's take a look at some of the pros and cons of these eyelid enhancers.
Pros
Made with FDA-approved ingredients
Easier, quicker application
Less likely to stain the skin
More beginner-friendly than pressed pigments
Cons
Synthetic substances may irritate skin
Some substances have been linked to cancer (e.g. carbon black, BAK, etc.)
Now let's take a look at some of the most frequently-asked questions surrounding the debate between eyeshadows and pressed pigments.
Are Pigments Always Pressed?
Pigments can generally be boiled down to two different types: pressed and loose. The names are pretty self-explanatory, but they're essentially the same pigment-packed products that deliver some serious color.
Pressed variants, however, have wetting agents in them that help color stick much longer as opposed to their looser cousins, which have a softer and more translucent finish. Many pressed pigments are also infused with talc or mica to give them a smoother finish.
Some DIY beauty enthusiasts love to mix their loose pigments with a little rubbing alcohol to concentrate the pigments and therefore, help them last longer on your eyes. However, there are a few risks associated with this. For one, mixing rubbing alcohol into your loose pigments encourages microbial growth which could ultimately make them unsafe for use and wear. On a purely cosmetic level, mixing at home may lead to uneven pigment distribution, which could subsequently leave you with a splotchy-colored eye area.
Unless you're a pigment-mixing pro with all the right know-how, we highly recommend investing in pressed pigments rather than trying to do it yourself.
Are There Any Other Types of Eyeshadows and Pressed Pigments?
Indeed there are; there are liquid eyeshadows, cream eyeshadows, color sticks, and loose pigments.
Liquid Eyeshadows
Think of these as a happy medium between standard eyeshadows and pressed pigments. Not only are liquid eyeshadows' pigment concentrations on par with pressed pigments, but they're also more beginner-friendly.
However, they don't mix so easily with other colors and are more likely to crease than powdered versions. They also set pretty quickly so you'll have to work fast.
Cream Eyeshadows
These are nice alternatives to powder eyeshadows, as they're pretty pigmented and blend easily with other colors. You also won't need any applicators to put them on—oftentimes, your ring finger is enough!
However, it might be better to use an applicator if possible, as your finger might smudge the color more easily. Since cream eyeshadows are oil-based, they also tend to crease as easily as liquid variants, and may even rub off altogether if you're not careful.
Color Sticks
Color sticks are typically made with a blend of wax and cream, making them very buildable and easy to blend with other shades. Since the color is concentrated in a tapered tip, application is more precise than other types mentioned here.
You should stick to creams and liquids and if you want something a bit more glittery, though, as the glitter in these color sticks doesn't last nearly as long as that in their cream and liquid cousins.
Loose Pigments
If you're looking for a runway-inspired look, opt for luxurious loose pigments. Like pressed pigments, these colors are "raw" in the sense that they're pure color and nothing else. But runway looks often require runway-level mastery to apply, meaning you'll need some extra tools to get those smoky eyes right (i.e., brushes, mixing mediums, etc.).
Try to apply them to well-moisturized skin, too, as dry skin will have an exceptionally hard time holding onto the color. If you're confident in your application skills (and skin moisture content), though, then go for it–loose pigments deliver some of the most vibrant colors of any eye color, and are also buildable and easy to blend with other hues.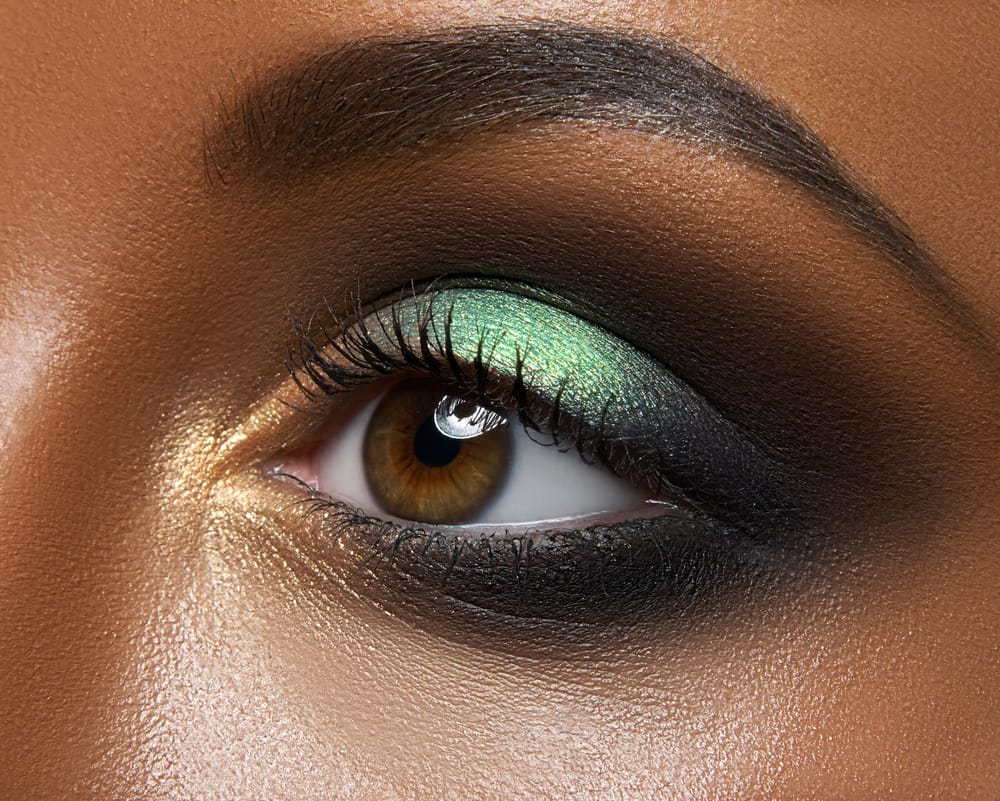 Last Thoughts on the Eyeshadow vs. Pressed Pigments Battle
Clearly, there's a whole list of things to keep in mind when comparing eyeshadows to pressed pigments. Depending on how sensitive your skin is, your makeup application skills, and the kind of look you're envisioning for yourself, there are a number of perfectly valid reasons to go in either direction.
As always, thanks for reading, and best of luck finding the perfect pigment for your peepers!