Beauty may be in the eye of the beholder, but there'll be a lot more beauty to view if the beholder knows how to tease it out. Enter cosmetology school—these educational institutions prepare the hairdressers, estheticians, and makeup artists of tomorrow to make us look fabulous. Seeing as the median in-state tuition for one of these programs is as much as a single year at a public university, it's a relatively affordable way to jumpstart your professional career.
So if you live in sunny, scenic Phoenix, AZ and are hoping to enter the beauty industry, then you're in luck! You happen to live in a city that has some of the best cosmetology schools in the nation. It's also not a bad place to temporarily relocate to for cosmetology school, as Phoenix is known for its fantastic weather, lush, sprawling golf courses, and state-of-the-art spas and fine dining. Clearly this isn't a bad place to get your feet wet in the beauty biz.
Its relatively hot and arid climate makes it great for rookie beauticians, too. An absence of cold weather keeps skin looking dewy and plump while the relatively dry air keeps oil, sweat, and other unsightly layers of grime at bay. Low humidity is also great for frizz-prone hair, which won't transform into a puffy disaster as soon as it hits the air.
But weather aside, what makes Phoenix stand out in the beauty world? For one, it's shown a promising trend in Black-owned beauty shops, the demand for which has surged in the past half decade. Nikki Thompson is one such owner; in an industry fueled by Black patronage, she has stepped in to fill the void of Black ownership and expertise on beauty products that are largely purchased and used by people who look like her.
Thompson is leading the way for younger Black women who look to her for guidance, too. In an era where supporting Black-owned businesses has arguably never been more important, it's lovely to see the trend catching fire in a way that leaves everyone feeling more seen, understood, and of course, beautiful.
With that in mind, it's safe to say that career prospects for beauticians are great in Phoenix. The average salary here is just under $40,000, which works out quite well in a city where the median cost of living is 5% below the national average.
Clearly, there's a lot Phoenix has to offer in the way of the beauty industry and cosmetology schools. Between fantastic weather, affordable living, and a growing commitment to promoting Black-owned businesses, it's easily one of the best spots in the country to learn how to doll someone up.
We've put together a short list of our top picks for cosmetology schools here, so keep reading to learn more about them and what they have to offer. You can also use our handy school finder below to see which of our picks are close to you and which offer the kind of programs you're looking for.
The Best Cosmetology Schools in Phoenix, AZ
For these picks, we looked at each school's overall reputation, program selection and length, affordability, and financial aid and scholarship options. You can use our school finder to narrow your search and find the best school for you more quickly.
With two locations in Phoenix and Chandler, this school proudly serves students from all over the greater Phoenix and greater Tucson areas. Their cosmetology program is just a little over a year long and prepares students to pass the exam for state licensure with their rigorous 1600-hour curriculum. 60% of graduates were able to find work right out of school, with the majority of them working as hairdressers, hair stylists, and cosmetologists.
Both federal and private loans are available for all of their programs, and veterans can enjoy G.I. Bill benefits and other scholarship opportunities, as well. Their biggest claim to fame, though, is their pay-as-you-go program, which all incoming freshmen are eligible for after purchasing their first round of textbooks and other supplies for their program.
Cost: $18,204 in-state tuition; $16,800 out-of-state tuition (for the cosmetology program)
Program Length: 54 weeks
Location: 5127 W. Indian School Road, Suite 125, Phoenix, AZ 85031
Financial Aid: G.I. Bill and Title IV eligible; Pell Grants and Stafford loans available; pay-as-you-go option; financial aid currently unavailable for cosmetology instructor program.
Other Programs Offered: Nail technician program, cosmetology instructor program,
Avalon is one of the most well-reputed cosmetology schools in the Southwest, offering their myriad cosmetology programs in Phoenix, Mesa, AZ, Aurora, CO, Las Vegas, NV, and Layton, UT. Whether you want to become a barber, a makeup artist, or an esthetician, Avalon has courses for you.
Despite having a bit of a higher program price tag than other schools on this list (think several times the average tuition cost), their after-program career placement rate exceeds 60%, and each program will fully prepare you to practice your craft in whichever state you live in.
Federal subsidized and unsubsidized loans are available to students, including Pell Grants, Stafford loans, Direction Consolidation loans, and Direct PLUS loans. You can also seek private loan options through banks or credit unions.
Cost: $19,468 for cosmetology daytime program
Program Length: 55 weeks for daytime schedule (Tuesday – Saturday, 8:30 a.m. – 4:00 p.m.); 86 weeks for nighttime schedule (Monday – Friday, 5:30 p.m. -10:00 p.m.)
Location: 410 E. Bell Rd., Suite G100, Phoenix, AZ 85022
Financial Aid: Title IV eligible; Pell Grants, Stafford, Direct Consolidation, and Direct PLUS loans available
Other Programs Offered: Esthetics, massage therapy, barbering, eyelash extensions, makeup artistry, hair extensions training, student instructor program, advanced courses for experience cosmetologists
This Arizona-based beauty school has three locations in Phoenix, Chandler, and Tolleson, as well as an incredibly diverse roster of business-minded beauticians. Graduates have become spokeswomen and brand representatives for big names in beauty, like Enzo Milano and Redken.
Other alumni have gone on to open their own salons as well, making this one of the most entrepreneurial-minded cosmetology schools of the bunch. Their cosmetology, esthetics, hair styling, and student instructor programs will prepare you to work your magic in a salon or run your own business.
Like plenty of other schools on this list, they offer a number of different financing options, such as federal subsidized and unsubsidized loans and private loan options in partnership with Mountain America Credit Union.
Cost: $18,155 for cosmetology program
Program Length: One year (full-time)
Location: 8046 N. 19th Ave, Phoenix, AZ 85021
Financial Aid: G.I. Bill and Title IV eligible; Pell Grants and Stafford loans available; Institutional Loan program through Mountain America Credit Union
Other Programs Offered: Esthetics, hair stylist program, student instructor program
Academy coordinators Brittany Montoya and Pearl Peschio have over 50 years of combined experience teaching America's hairdressers of tomorrow. Many of their students have placed in the top three for hairdressing competitions, with some even winning the Vidal Sassoon Student of the Year competition in past years.
Their comprehensive, one-year programs prepare students to exercise the proper work habits, safety judgments, and basic manipulative skills needed for working in the beauty industry.
While their school focuses more on hair styling and hair dressing than cosmetology as a whole, students must complete the 1600-hour curriculum that'll prepare them for state licensure exams. If you're looking for great hair dressing or hair styling programs, Olympus Beauty Academy is the place to go to.
Cost: $14,000 for cosmetology program
Program Length: 54 weeks
Location: 4601 East Bell Rd. Suite A-15, Phoenix, Arizona 85032
Financial Aid: Pell Grants, Stafford loans, and career training loans available
Other Programs Offered: Hair stylist program
Before You Go Beautifying…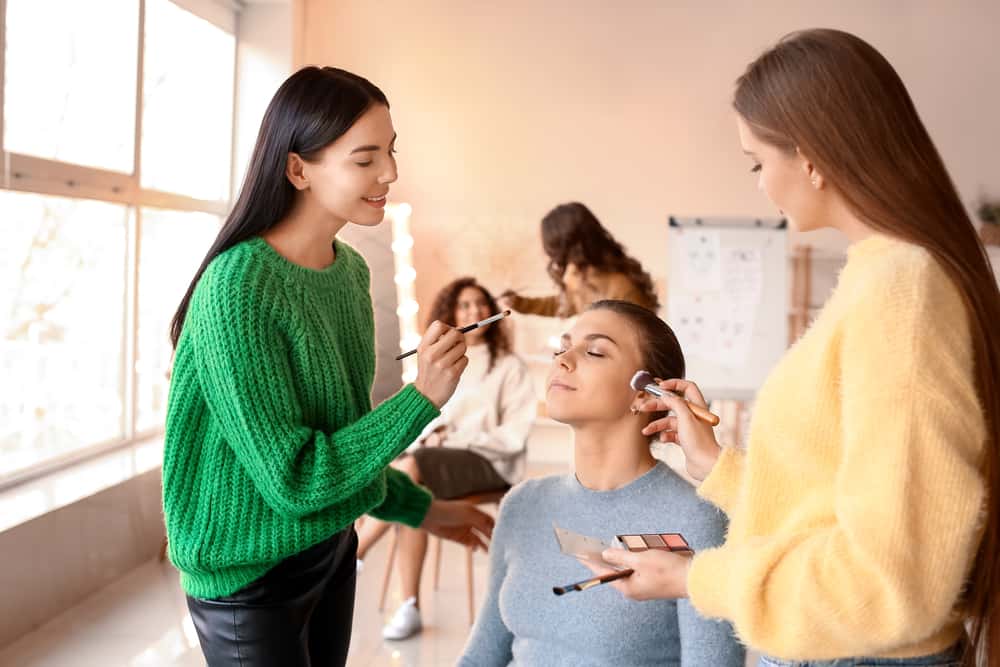 Folks in Phoenix are lucky to have so many great cosmetology schools to choose from. Depending on your budget, what you want to do with your cosmetology degree, and how soon you want to start working, there's more than likely a school out there that can help you get from where you are right now to where you want to be. Thanks for reading, and hopefully you've learned about a school that will help you kickstart your beautician dreams!