Nail technicians dedicate themselves to anything and everything nail-related. This goes way beyond simply manicures and pedicures — the role includes grooming, cleaning, trimming, polishing, and beautifying both toenails and fingernails.
Many technicians also offer more advanced services related to modifications, such as nail extensions and acrylics, plus cuticle care and massages.
To excel in the profession, nail technicians should have not only great skills in nail care and nail art, but also the ability to put clients at ease as they sit waiting for paint to dry. On the less glamorous side, they should be able to spot any underlying nail health problems.
If you have a steady hand, an artistic flair, and a warm personality, it could be the perfect profession for you. But don't put all that potential to waste by attending the wrong nail technician school.
Make sure to choose the best institution for your ambitions and needs by using the school finder below (and following the guidance in this article).
What to Look for When Choosing a Nail Technician School?
With so many nail technician schools to choose from, you might be tempted to do a quick "eeny, meeny, miny, moe" between them and hope for the best. We'd strongly recommend you not to take that approach!
There's a vast difference between the quality of schools out there, as you'll soon see.
Licensing and Accreditation
The purpose of nail technician school is to prepare students for what comes next: the state licensing exam, and ultimately, work.
This exam tests whether the individual has the necessary theoretical and practical knowledge to practice the occupation safely. If they do, they're given their license and can apply for relevant jobs.
Each state has slightly different exams and requirements, but they all require prospective nail technicians to undergo some kind of exam. Some states also require nail technicians to pass separate safety and sanitation tests to ensure that they're informed about the health of their clients.
So, it's vital to choose a school that prepares you properly for the exam. One strong signal that a school knows what it's talking about is accreditation, which proves that the institution has complied with educational standards set by the accrediting body. The main body to look for is the National Accrediting Commission of Career Arts & Sciences.
Make sure you check whether a school is accredited before signing up for it — and if it isn't accredited, make sure there's a very good reason why.
Teaching Quality
It doesn't take a genius to work out that teaching quality is a pretty important factor in determining the strength of a nail technician school — but it sometimes takes a detective to work out exactly how to determine the teaching quality in the first place.
Most schools will pick and choose testimonials from satisfied students to highlight on their website and brochures, so you need to look a little further than the school's own marketing materials.
One metric to look for is the graduation rate. If students are mostly able to finish the course and pass it, that's a sign they were happy with the teachers and the general running of the school.
How low is too low when it comes to graduation rates? Anything below 90% is concerning, and ideally, look for a program with a rate of 95% or more.
Employment Prospects
You might think that nail technician qualifications are equal in the eyes of employers — especially if they're accredited. In reality, it's not that simple.
Some colleges go to far more effort than others to have links with local businesses and industry, giving their students access to a readymade network and enabling them to put a more recognizable "brand name" on their resume.
They may even have arrangements with companies for students to undertake apprenticeships or work experience opportunities, helping budding nail technicians to succeed in the competitive world. This is definitely something to prioritize in your selection.
Also, if a school has multiple success stories of its alumni having exciting careers and starting their own businesses, it could mean one of two things. Either all those people got very lucky, or their education set them up well for the professional world. You decide based on what else you know about the school.
How Much Does Nail Technician School Cost?
The cost of education in the US has skyrocketed over the past decade or so, but fortunately, nail technician school isn't quite so exorbitant. An average nail technology program costs between $3,000 and $5,000 in total.
This number includes the price of any textbooks and equipment you might have to buy along the way, which can add up to a few hundred dollars. Although most schools provide facilities and a library, you'll likely still need to purchase supplies like protective equipment and polishes, and to buy some books of your own.
However, the program's cost can vary widely depending on where you do it and the financial aid you can access to support you.
Location
Like accommodation, transport, and just about everything else you have to pay for, the cost of nail technician school varies widely between different cities and states.
Big cities and metropolitan areas have more expensive schools, especially California and New York. Some of the most high-end schools can cost up to $10,000.
In contrast, schools in rural areas often cost less than $3,000.
You might be thinking that it's time to book your plane to some far-flung part of the country, but hold on a minute. More expensive schools in more desirable locations might just be worth the extra cost if they lead to more opportunities and greater earning potential — bigger cities tend to have more salons and other employers.
Besides, you might be able to access financial aid.
Financial Aid
If you don't have a spare 5 thousand lying in your bank account, don't panic — you don't have to resort to illegal activities to pay your way through nail technician school. Many schools have scholarships for their students, and it's also worth looking for national or regional scholarships.
Plus, students of accredited schools are eligible for Title IV financial aid, just like students of academic institutions.
You could also use a private lender to help you cover the costs, but this should be your last resort.
How Long Does Nail Technician School Take?
The average nail technician training program lasts 375 hours, which is lower than many other beauty-related courses.
But the average program doesn't mean every program. Nail technician school can take anywhere between 200 to 800 hours! This is clearly a pretty broad spectrum, so you're probably wondering how to know what to expect. Here's what to consider.
State Requirements
The biggest reason for differences between the total program lengths is the variation in state requirements.
Each state sets a different minimum training requirement for programs, and they can vary wildly. To find out the requirements for your state, check with the admissions office of the school you're hoping to attend.
Part-Time vs. Full-Time
It's obvious that choosing to study part-time will extend the total length of your studies. Full-time courses can take as little as three months to complete, whereas studying part-time could take up to a year (depending on the course's total hour requirement and the exact number of hours spent studying per week).
Many courses offer the choice between studying part-time or full-time, while others only have one option.
Apprenticeships
A few nail technician programs allow students to use hours spent completing an apprenticeship toward the course's total hour requirement.
This is something to bear in mind when comparing course length — if a program length is 400 hours and requires you to do an apprenticeship (and doesn't count the hours), it might not be as quick to complete as you expected.
Some schools and states favor apprenticeships and work experience more than others, so make sure you know what you're signing up for.
What Is the Job Outlook for Nail Technician Jobs?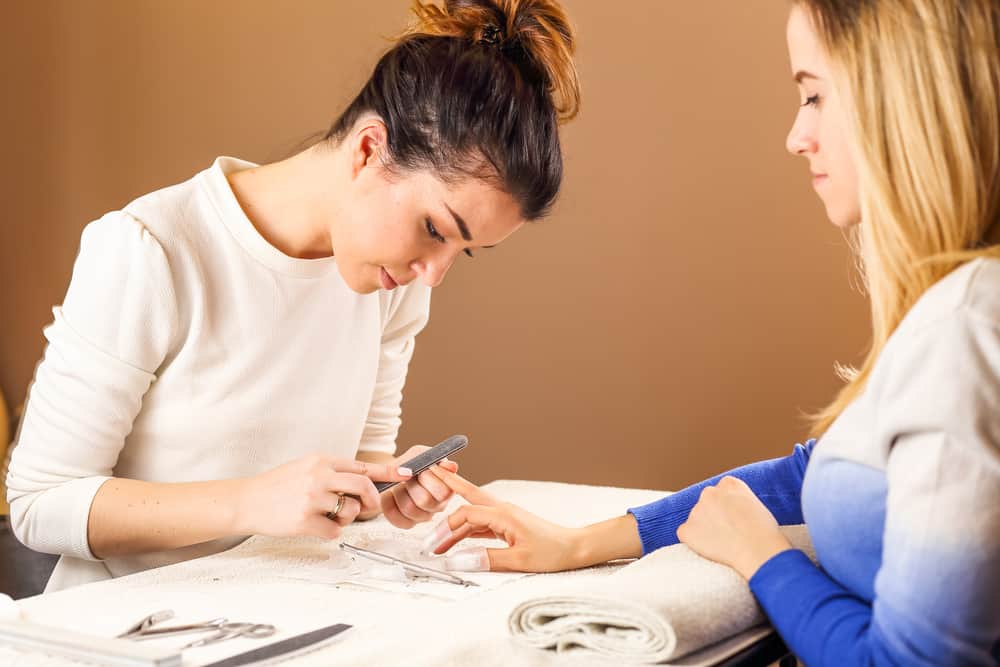 Once upon a time, getting your nails done rarely meant more than getting a cute French manicure; these days, it's all about gel nails, six-inch acrylics, and intricate nail designs.
An increasing number of people are looking for increasingly complex nail treatments, so it's hardly surprising that the demand for nail technicians is on the rise.
Still, your job outlook and salary depend on various factors.
Expected Salary Range
It's all very well to talk in generalities, but how much can you actually expect to make as a nail technician? The average annual pay is $25,770, with most people making between $23,420 and $30,200.
That might sound modest, but there are a few ways to boost your salary, such as taking on a managerial role in a salon or relocating.
However, you may earn far more or less depending on where you work. Big cities pay more than rural towns due to the higher cost of living and the higher concentration of wealthy clientele. But, somewhat surprisingly, the top-paying city for nail technicians isn't New York or Los Angeles but Fort Collins in Colorado — where the median salary is $54,850.
Other top-paying cities are Bloomington (Illinois), Boulder (Colorado), Boise City (Idaho), and Portsmouth (New Hampshire).
Another potential route for increasing your salary is starting your own business.
Self-Employed vs. Employee
For many people, the security of being an employee is preferable to the instability of being a business owner; not to mention the paid vacation time and the insurance plan.
But there's certainly more potential to earn the big bucks if you go down the route of self-employment. As long as you can find the clients to pay you, you can charge whatever you want.
Nail salon owners make $58,000 a year on average, with the top-earning business owners making $75,000. That's a serious step up from standard nail technician job roles!
Job Types
You'd expect anyone graduating from nail technician school to go on to become a nail technician — but while this is the most common route, there are some other options available to you with this qualification.
If you shine in your nail technician role, you could be promoted to salon manager, for instance. Or maybe you'll even end up going back to school, instructing fresh talent who want to enter the profession?
Finally, some nail technicians go down a more medical route by working as medical nail technicians, who treat nail conditions.
Online vs. In-Person Nail Technician School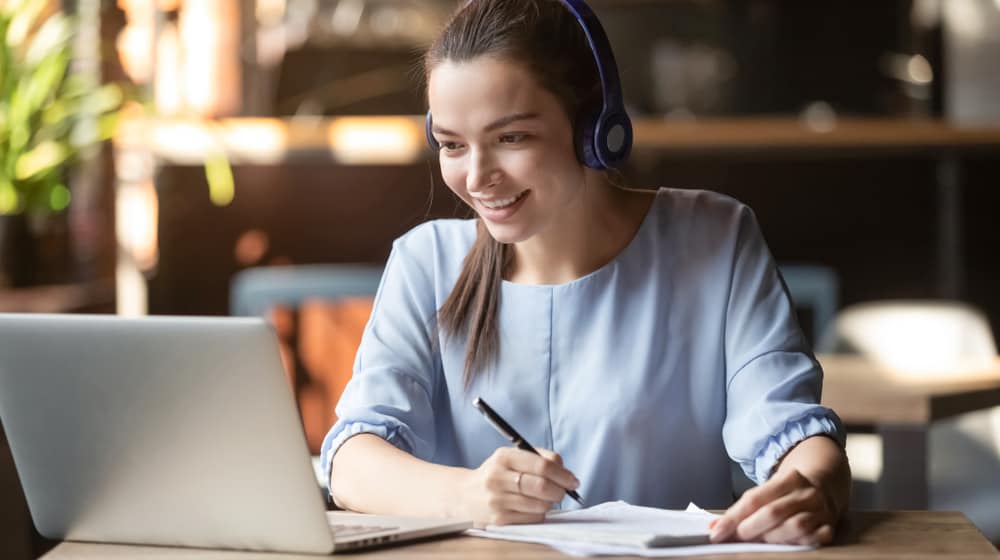 You might not be able to work as a nail technician virtually, but you can certainly study it that way. At least, partly.
Classes at nail technician school involve learning theoretical knowledge that you can easily learn through a screen, so schools are springing up that offer part of their programs online (with the practical element still taking place in person).
But just because you can, it doesn't necessarily mean you should — here are a few factors to consider when making your choice.
In-Person
Nail technician school has always meant in-person schools for good reason. One reason is that there were no computers in the early days of nail technician schools, but the other is that the subject lends itself easily to this format.
Being in the same room as the instructor makes it far easier to ask questions without it being awkward. This tends to be a lot more clumsy online.
Not to mention the opportunities for networking (and friendship) that you'll get from this environment. Meeting peers with similar interests and ambitions to you is a huge motivator for many people, and unfortunately, it's not quite the same online.
But it's not all positive — there are some drawbacks to in-person schools, such as the commute, inflexible schedule, and higher cost. If you have a lot on your plate already, you might prefer to take classes online where you can.
Online
Although it's theoretically possible to learn the theory of nail technology through video calls and recordings, the reality is that it's not quite the same. You won't get the benefit of close relationships with your classmates and instructor a
Having said that, online nail technician school just makes far more sense in some cases. It's far easier to fit an online school into your schedule, so it's a great choice for anyone who is juggling a job or caring for dependents while studying.
Online school can also be a good choice for anyone who wants to upskill or retrain after being outside the industry for a while as they don't need quite the same level of instruction!
Plus, it's generally more affordable, which is no small consideration.
However, since all credible online programs are only virtual for part of the program, expect you to spend some time in the classroom for the hands-on parts of the course.
Nail Technician School, Here You Come
Starting a new profession is daunting — in this case, you could certainly say it's nail-biting stuff. But there's no need to worry about the transition excessively.
If you pick the right nail technician school, you should be launching your career with a flying start — before you know it, you'll be doing what you love for a living. A little research goes a long way when it comes to picking the right school, so if you've read up to here, you're clearly doing the right thing.