The practice of derma rolling sounds odd and maybe even a little scary, but shockingly, it's an effective skincare practice with impressive results.
It can minimize concerns that are usually impossible to treat at home, like scars, existing wrinkles, stretch marks, and even hair loss. It's not the simplest of treatments, and there are some risks involved. However, with this guide, you'll learn the most important details about derma rolling safely to achieve magnificent results.
We start with the basic dermaroller factors to consider when shopping, and then we review the top 10 dermarollers that measure up to our stringent demands. Finally, we added a comprehensive guide to choosing a dermaroller and using it safely.

What to Consider When Buying a Dermaroller
Derma rolling is an intense skincare practice with lots of room for error, so these are the essential quality factors that guided our selection process. Even so, after you buy your dermaroller, we still recommend examining it for any quality issues, as we explain our safety guide.
Needle Length
This is the most important factor when it comes to dermaroller efficacy. For a dermaroller to improve your skin concern, the needles have to be long enough to stimulate the skin where that concern originates.
However, the longer the needles, the likelier greater the risks for side-effects. We discuss this in our reviews, and you can also jump down to our guide below to learn more.
Titanium vs. Stainless Steel
Dermaroller needles are usually made of titanium, which is very strong and durable, or stainless steel, which is incredibly sharp and sterile but requires replacing more often because it's very delicate.
We slightly prefer stainless steel for its increased sharpness, but you can expect good results no matter which you choose.
Replaceable Heads
We appreciate it when a dermaroller comes with a handle and detachable heads. This way, you can hang on to the handle and purchase replacement heads as necessary. While it's initially a little more expensive, it's a more eco-friendly choice that saves you money in the long run.
Add-Ons
Dermarollers can come with all kinds of extras, from a basic storage case or disinfection basin to instruction manuals, e-books, and skincare. We'll let you know what kind of extras each dermaroller comes with, although it's not a major focus of our reviews.
Now that you know what to look out for, let's get into our reviews of the best dermarollers for 2022!
Top 10 Best Dermarollers 2023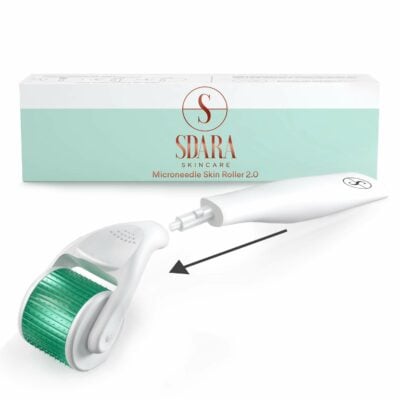 Why we like it:
This ultra-sharp stainless steel dermaroller is ideal for both beginners and those who want to roll on a daily basis. Using it is easy and painless, and it gives a great boost to the skin.
Editor's Rating:
Quick Facts:
Needle Length: 0.25 mm
Best For: Product Penetration, Mild Fine Lines, Preventing Premature Aging
Material: Stainless Steel
Also Includes: Disinfection Basin
Replaceable Heads: Yes
Whether you're a beginner or taking it easy with daily derma rolling, this is a fabulous roller to start with… and then keep going. It's gentle, with ultra-sharp but short needles that puncture deep enough to give the skin a boost but not so deep that they hurt or cause irritation.
At the same time, the shorter needles also mean that the results are not dramatic. This dermaroller won't transform scarring or deep wrinkles, but it will help with surface issues like product penetration, very subtle texture, and fine lines.
If you've been curious about derma rolling but also a little nervous, this is a great place to start. You could even give it a try if you have slightly sensitive skin. It doesn't sting or hurt at all and instead feels like a gentle exfoliation.
As you'll see shortly, most of the picks on our list are made with titanium, which is admittedly very durable and long-lasting. However, stainless steel is sharper, which means that it pokes in and out of the skin quickly, with fewer chances for scratching the skin. It's also a more sterile metal, which means that while it's still important to disinfect it, there is less room for error.
Stainless steel does go dull quickly, but thankfully you can purchase a replacement head instead of having to buy a brand-new roller and handle set. Stainless steel is a little more expensive than titanium, so if you want a dermaroller that's both beginner-friendly and more budget-friendly, you might prefer the Linduray Dermaroller.
Pros
Gentle for beginners

Gives mild but pleasant results

Painless to use

Affordable replacement heads

Made with sterile, sharp stainless steel
---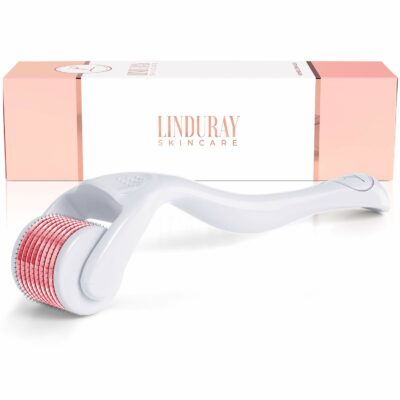 Why we like it:
This incredibly affordable dermaroller is another wonderful choice for beginners. The needles are short, for subtle skin refinement without pain.
Editor's Rating:
Quick Facts:
Needle Length: 0.25 mm
Best For: Product Penetration, Mild Fine Lines, Preventing Premature Aging
Material: Titanium
Also Includes: Storage Case, Quickstart Guide, 3 E-Books
Replaceable Heads: No
This super-affordable dermaroller from Linduray is our favorite pick for beginners who are just starting to dip their toes into derma rolling.
First of all, it's extremely affordable — it probably costs less than your favorite moisturizer! If you're not ready to spend a lot of money on a beauty practice that you might not like, this is about as affordable as a dermaroller gets. The design is not particularly luxurious, but it absolutely does the job.
Second, it's a gentle, non-invasive option that's unlikely to cause any side-effects. If you're worried about pain, irritation, or simply overdoing it, this dermaroller will assuage your fears with its delicate, painless touch.
It's a wonderful introduction to the world of derma rolling, so you can use it to see how you enjoy the practice and to develop your rolling technique. Once it's no longer usable, you can upgrade to a dermaroller with slightly longer needles for more robust effects, or you can simply repurchase this one and keep using it for the mild, skin-boosting effects.
The main drawback to this product is that it can't reverse more dramatic skin issues like wrinkles or pigmentation. Shoppers who buy it expecting similar results to professional derma rolling treatments will be disappointed. However, if you purchase it knowing what to expect, we think you'll be pleased.
Pros
Good for beginners

Very gentle and non-painful

Incredibly affordable

Targets mild texture issues and improves skincare penetration
Cons
Won't impact deeper skin issues
---

Why we like it:
Our premium pick is a sharp stainless steel dermaroller with built-in LED light therapy. It's a gentle, dual-action anti-aging treatment, and while it's expensive initially, replacement roller heads are available for reasonable prices.
Editor's Rating:
Quick Facts:
Needle Length: 0.3 mm
Best For: Product Penetration, Mild Fine Lines, Preventing Premature Aging
Material: Stainless Steel
Also Includes: 5 Prep Pads, Empty Spray Bottle, and Power Cord Adapter
This unique dermaroller combines technologies by giving the skin both a microneedling treatment and an LED light treatment at the same time. It's a premium product, and it's a fair bit more expensive than the other dermarollers on our list. For many, the increase in price will be easy to justify.
If you're not familiar, research suggests that red LED light has skin rejuvenating effects that can help reduce wrinkles and fine lines. This increases the dermaroller's collagen promoting effects without relying on longer needle lengths.
The kit also comes with some nice extras, like skin prep pads, a spray bottle you can fill with alcohol, and a power cord for when you want to use the kit without batteries. The needles are made of stainless steel instead of titanium, so they're extra sharp, but you'll need to replace the heads on this dermaroller more frequently than with other options.
That's why we appreciate that BeautyBio has replacement heads available individually. While the initial cost might be steep, the replacement heads are reasonably priced. They even come in different sizes for different concerns and body parts.
One thing to keep in mind is that the needle lengths are quite short. The default length is 0.3 mm, which is very gentle and beginner-friendly, but those wanting more robust anti-aging results will need to go up to 0.5 mm. We'd love to see the brand expand their offering to include a 1.0 mm option to target scarring and stretch marks. If you're interested in a full body kit with longer needles, we'd suggest the ORA Face & Body Kit, instead.
Pros
Stainless steel more sterile than titanium

Replacement heads available

LED light therapy built into the device

Promotes collagen production without puncturing deeply

Comes with some nice add-ons.
Cons
Expensive

Dermaroller heads must be replaced often
---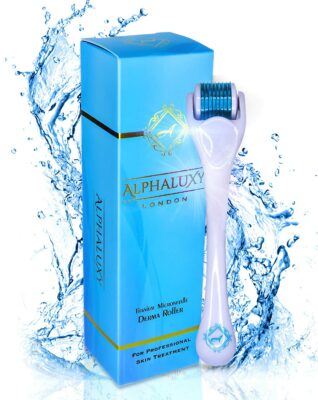 Why we like it:
This dermaroller has slightly more intense skin-refining effects, so it's a great choice for intermediate users. It can help with some of the more persistent concerns that shorter needles can't impact.
Editor's Rating:
Quick Facts:
Needle Length: 0.5 mm
Best For: Premature Aging, Fine Lines, Hair Loss, Mild Pigmentation, Skin Texture
Material: Titanium
Also Includes: Microneedling E-Book, Travel Case
Replaceable Heads: No
This dermaroller is our pick for giving the face a slight boost with anti-aging and anti-pigmentation effects. Alphaluxy primarily markets it for boosting beard growth, for which it may be effective since it can help with other types of hair growth. However, we think most readers will be interested in its direct effects on the skin (and don't worry, if you can't grow a beard naturally, derma rolling won't induce it).
With 0.5 mm needles, it's at the ideal length to get down to the level of the skin where collagen is formed, so it can induce collagen production. This is absolutely essential for preventing and reversing the appearance of fine lines and shallow wrinkles which are partially caused by the loss of collagen in the skin.
It can also help with other surface issues like pigmentation, texture, and large pores, but without causing much pain or discomfort. You can work your way up to using this dermaroller every day, but many users find that once a week is enough to net visible effects.
There are lots of other things to appreciate about this simple little set. It comes at a great price point, which should encourage you to replace it regularly, and the design is simple yet sleek. The only thing that could really kick it up a notch is if the roller head was replaceable, which would help prevent some waste.
If you have a fair bit of experience derma rolling and you want an option that can target even deeper wrinkles or more intense pigmentation, the next step up from Alphaluxy one will be the 90ine 0.75 Dermaroller.
Pros
Targets a wider range of concerns

Effective length for mild collagen induction

Affordable

Still not too painful or invasive
Cons
No replacement heads available

Not for total beginners
---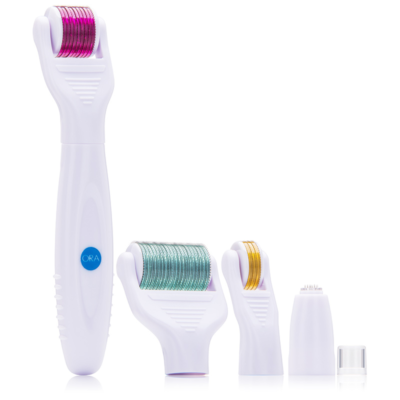 Why we like it:
This comprehensive kit includes everything that intermediate and experienced users need to derma roll from head-to-toe, with sizes that effectively treat a wide range of concerns.
Editor's Rating:
Quick Facts:
Needle Length: 1.0 mm (Body), 0.5 (Face), 0.255 mm (Eyes), 1.0 mm (Dermastamp)
Best For: Everything
Material: Titanium
Also Includes: Sanitation Basin
Replaceable Heads: Yes
If you want a thorough and entirely customizable derma rolling experience, this is the ideal kit to buy. ORA is a trusted dermaroller brand with many exceptional, reasonably-priced options, and this kit especially stands out for the amazing range of needle sizes it offers. It may seem like a pricey one-time investment, but the cost-per-item is on par with the cost of buying a single roller.
It includes an intense roller for the body, with needles long enough to have an effect even on stretch marks; a roller for the face with 0.5 mm needles that actively induce collagen; and a small roller for the eye-area that helps with product penetration and fine lines. There is also a 1.0 mm dermastamp that's fantastic for spot treating intense pigmentation or deep wrinkles on the face.
The needles on each roller are long enough for real effects, as well as real side-effects. While the small eye roller is appropriate for beginners, it's a little too small to be convenient for anything other than its intended purpose. We still recommend starting out with a gentle single roller like the Sdara Derma Roller 2.0, and then graduating up to this set.
The most major drawback to this kit isn't the kit itself, but what's not available outside of it. You'll likely want to derma roll with the smaller heads more frequently than with the larger heads, which means you'll need to replace them sooner. Unfortunately, ORA doesn't offer individual replacement heads, so your only option will be to buy an individual dermaroller or to repurchase the entire kit.
Pros
Reasonably priced

Allows for customized microneedling

Needles long enough for real effects
Cons
Not beginner-friendly

No replacement heads available
---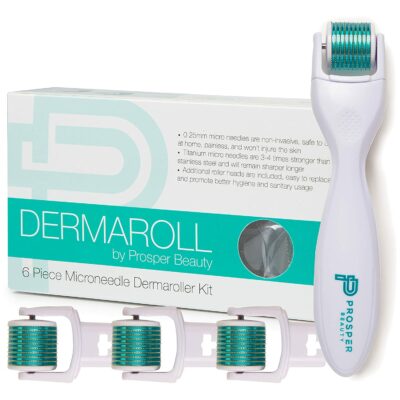 Why we like it:
Thanks to the detachable handle and extra roller heads, this is technically the most affordable dermaroller on our list. The design is gentle and beginner-friendly, so it's great for a daily boost.
Editor's Rating:
Quick Facts:
Needle Length: 0.25 mm
Best For: Product Penetration, Mild Fine Lines, Preventing Premature Aging
Material: Titanium
Also Includes: 4 Dermaroller Heads, Storage Case
Replaceable Heads: Yes
One of the most important things to remember when picking up derma rolling is that a dermaroller has a very short lifespan. The second the needles become even a little blunt, it's time to buy a replacement. This can get somewhat expensive, so we appreciate that this kit comes with a reusable handle and 3 extra dermaroller heads.
This encourages you to replace the rollers often, and if we look at a price-per-roller breakdown, it offers the best value out of all the rollers on our list. Once you go through all of the heads in the set, you can hang on to the handle and just repurchase the heads.
The needles on the dermaroller heads are short, so it's appropriate for daily use. It will make your existing skincare more powerful while also helping to treat more surface skin concerns.
We think most users don't need such a big set of 0.25 mm needles, which is why this pick doesn't rank more highly. While it might be perfect for those with sensitive skin, we think that most people interested in derma rolling will want to progress to 0.5 mm needles within a few weeks of practicing with shorter needles, so having such a large supply would be overkill. However, Prosper Beauty does offer a 0.5 mm replacement head refill kit, so once you're ready to advance, they'll still have you covered.
Pros
Gentle for daily use

Incredibly low cost-per-roller

Replacement heads available
Cons
Most shoppers don't need so many short rollers

Only targets surface concerns
---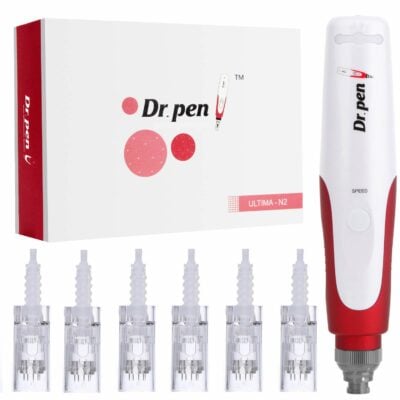 Why we like it:
Instead of a dermaroller, a derma pen might be more to your liking. It's better for spot treating concerns, with adjustable needles that allow you to totally customize your treatment.
Editor's Rating:
Quick Facts:
Needle Length: 0-2.5 mm with Adjustable Dial
Best For: Spot Treating Acne Scars, Hyperpigmentation, Wrinkles
Material: Stainless Steel
Also Includes: 6 Cartridges, Charging Cord & Adapter, Manual, Storage Box
Replaceable Heads: Yes
Some skin concerns, like acne scars or deeper wrinkles, can only be reversed with deep microneedling. However, derma rolling with long needles all over the face might not be desirable, since it's painful and risky. That's when a derma pen might be more helpful. You can use it to target only the areas that require intense treatment while leaving the rest of your face untouched.
We like this design, in particular, for a few reasons. First of all, while the derma pen itself is reusable, the needles are sterile and intended for single-use. It's hard to sterilize a dermaroller at home, especially at a 1 mm length and above, so using single-use needles is safer.
The needle length is totally adjustable, so you can dial it up to the length that will best treat your specific concern. The pen is made with a small motor that pushes the needles in and out of the skin, so all you have to do is move the pen over the area you're treating, without ever pushing in.
While the needle length goes up to 2.5 mm, we strongly recommend not going above 1.5 when microneedling at home. The pen does come with an instruction manual, but even so, using it without any experience can lead to some serious side-effects, so do be careful if you buy it.
All in all, it's a nice choice. However, if you're looking to target issues all over the face, just be aware that using this derma pen will take longer than using a regular dermaroller.
Pros
Adjustable needle length

Sterile, single-use needle cartridges

Ideal for spot treatments
Cons
Lots of room for error

Longer to use than dermaroller
---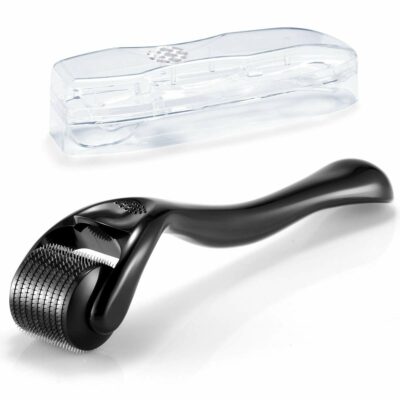 Why we like it:
This is the longest dermaroller on our list, so it acts as a treatment against deeper skin concerns like stretch marks, scarring, and hair loss. It's ideal for the body, but those with experience may use it on the face.
Editor's Rating:
Quick Facts:
Needle Length: 1.0 mm
Best For: Mild Hair Loss, Scarring, Stretch Marks, Severe Wrinkles, Hyperpigmentation
Material: Titanium
Also Includes: Travel Case
Replaceable Heads: No
If you'd like derma rolling to be part of your body care regimen, this is the roller to buy. It has a 1.0 mm needle length, making it the longest individual roller on our list and an ideal choice for the thicker skin on the body.
At this length, the dermaroller can help with deep-seated issues like large wrinkles, slightly indented acne scars, and stretch marks. This intense depth comes with more potential side-effects, to the point that some professionals caution against using such a tool at home. Using it will be painful, and there's more potential for bleeding.
Unless you already have a lot of experience with microneedling, it's not recommended for the face. You also want to pay attention to frequency. Don't it more than twice a month on the body or once a month on the face– if your skin takes longer to recover, it's better to wait even longer between sessions.
One final word of caution: while you always need to be careful to disinfect your dermaroller, at this length, it's absolutely critical to do so correctly and thoroughly, or you can put yourself at risk for serious infection.
If you're interested in these slightly more dramatic effects but don't want to go quite so deep, we recommend the 90ine 0.75 Dermaroller, instead.
Pros
Effective for the most persistent skin concerns

Excellent for treating the body

Affordable
Cons
Will hurt and cause bleeding

Infection-risk if not correctly disinfected
---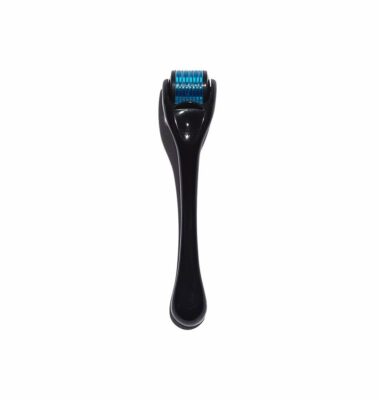 Why we like it:
While we generally don't recommend derma rolling the eye area, this is certainly the best dermaroller for the job. The needles are short yet ultra-sharp, so they treat the eye area gently.
Editor's Rating:
Quick Facts:
Needle Length: 0.2 mm
Best For: Eye Area, Fine Lines, Product Penetration, Mild Pigmentation, and Puffiness
Material: Stainless Steel
Also Includes: No Add-Ons
Replaceable Heads: No
There are various issues that can plague the eye area, from fine lines and loss of tone to hyperpigmentation and puffiness. Research shows that derma rolling can improve the look of the skin around the eyes, but it's important to choose an ultra-gentle dermaroller with very short needles.
The short needles on this roller are ideal for the eye area, but you can still use it on other parts of the face for enhanced product penetration. One more factor that makes it extra gentle is that the needles are made of stainless steel, rather than titanium, which guarantees less pain and inflammation.
You will have to replace this roller a little more frequently than a titanium one, like the Linduray Dermaroller, and since it's a little more expensive, it's an added cost. However, we think this hassle is worth it if you intend to be derma rolling the sensitive skin around the eyes on a regular basis.
You should practice extreme caution when derma rolling around the eyes, but if you are set on giving it a try, this is the best roller for the job.
Pros
Gentle and pain-free

Extra sharp stainless steel

Helps with issues common to the eye area
Cons
Needles go blunt quickly

Slightly expensive to replace often

Rolling around the eyes is still a little risky
---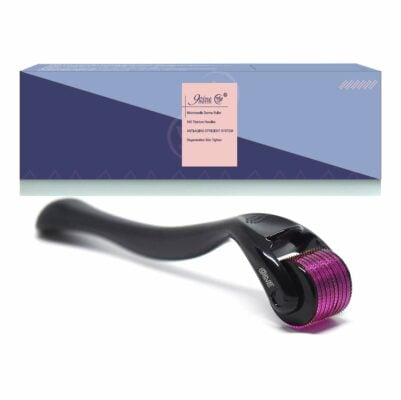 Why we like it:
This balanced dermaroller has needles that are long enough to address deeper skin concerns without being too intense. It's the next step up from 0.5 mm, for those with more experience.
Editor's Rating:
Quick Facts:
Needle Length: 0.75 mm
Best For: Fine Lines and Wrinkles, Hyperpigmentation, Shallow Scarring, Hair Growth
Material: Titanium
Also Includes: Storage Case
Replaceable Heads: No
Are you ready to bring your derma rolling up a level? If you've already been derma rolling your face for a while with 0.25 and 0.5 mm needles, 0.75 is the natural next step.
This length is a nice middle-point between 0.5 mm and 0.1 mm. Its effects are more dramatic than the former, but it doesn't cause as much pain or irritation as the latter, so you can do it on the face up to once a week if your skin is quick to repair itself. If you want, you can keep on using a shorter dermaroller the rest of the time.
At this length, the needles reach the dermis without any issue, so they can trigger renewal to counter slightly deeper wrinkles, pigmentation, and even very shallow scars or hair loss.
It's not very easy to find dermarollers at this length, so we're certainly happy to have this option available, and at a fairly low price as a bonus. However, while the tool itself is quite sleek and nice-looking, we do wish the retailer made it available with better instructions. Considering the size and effects of these needles, there is no such thing as too much information.
Additionally, 90ine occasionally makes mistakes and sends out the wrong needle size, so if you do choose to order this dermaroller, look it over carefully when it arrives to ensure you've received the correct size.
Pros
Excellent dermaroller for those with experience

Good balance of dramatic results with minimal irritation

Very affordable
Cons
Comes without instructions

Warehouse sometimes sends wrong size
---
Full Guide to Dermarollers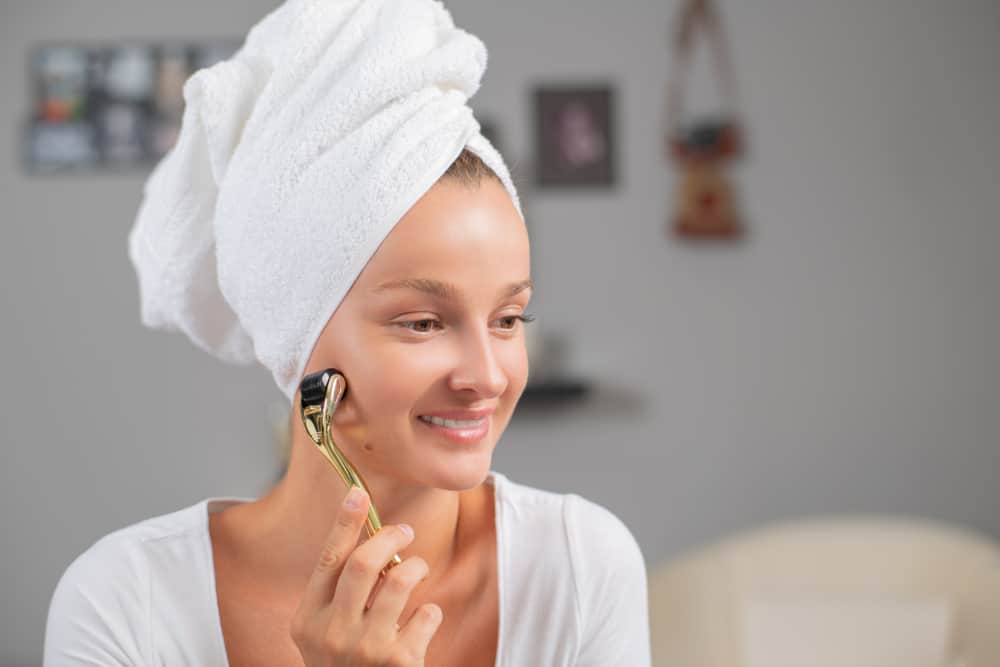 Derma rolling is an unusual beauty practice that can raise some eyebrows, so we wanted to include a guide to how it works and why, along with some important safety tips.
What Does a Dermaroller Do?
Derma rolling is a type of microneedling treatment. It works by creating micro-injuries in the skin that trigger a healing response without causing any real damage. During the healing response, the skin renews itself and corrects any pre-existing issues.
This process is also called "collagen induction therapy," because it promotes collagen production and works as a general anti-aging treatment.
What Is Derma Rolling Good For?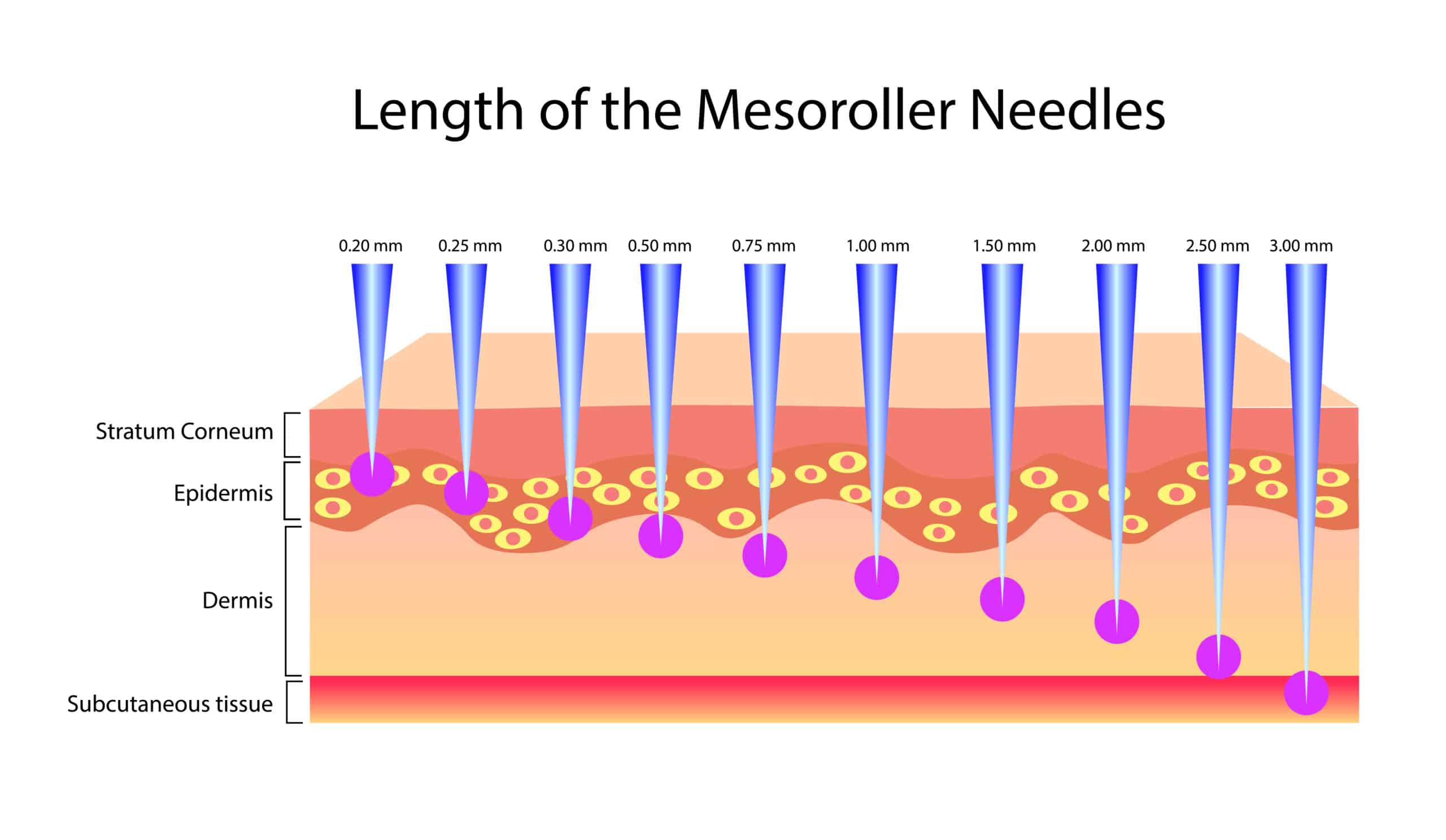 Derma rolling can be great for a wide range of skin concerns, although it's important to choose needles that'll get deep enough to impact the level of skin associated with each concern.
According to research, these are the issues that derma rolling can address, listed in order of shallowest to deepest:
Increases skin hydration by boosting the penetration of skincare.
Reduces the appearance of very fine lines.
Refines skin texture and reduces the appearance of pores.
Fades hyperpigmentation.
Promotes hair growth (especially in combination with Minoxidil).
Induces collagen to reduce the severity of deep wrinkles.
Reduces the severity of shallow acne scars.
Fades stretch marks.
Dermaroller Needle Length Chart

Through analyzing the research and considering which processes happen at which skin level, we put together this simple guide that'll allow you to select the right dermaroller for your needs.
However, remember that longer needles are going to hurt more, are more likely to bleed, and are also going to pose a slightly higher risk of infection.
How Many Needles Should a Dermaroller Have?
The number of needles on a dermaroller doesn't matter nearly as much as needle length, if at all. Brands often mention the number of needles as though more is better, but it isn't true. More needles usually just signify that the roller is a little wider.
Sometimes it means that they're more concentrated on the roller head, but there's no research to suggest that has added benefits or that it speeds up the derma rolling process.
How to Use a Dermaroller
Most dermarollers come with a manual that's specific to the device. But in general, these are our tips for using a dermaroller, with some safety details that are especially relevant for longer needle lengths.
Your dermaroller should be disinfected prior to rolling. To effectively disinfect it, soak your roller in 70% isopropyl alcohol for at least 5 minutes, and then let it air dry. It's great to do this after you use it, as well.
Always start with very clean skin.
If your dermaroller's needles are longer than 0.5 mm, wipe your skin down with isopropyl alcohol after cleansing it.
If you're nervous about pain, consider applying a numbing cream, as well.
Roll over the skin in sections, first going up and down, then sideways, and finally diagonally.
Always lift the dermaroller up when moving it over to the next area. Otherwise, you are liable to scratch your skin.
Once you're done, apply your favorite soothing and moisturizing skin care products.
If you used a dermaroller with needles longer than 0.5 mm, avoid anything with exfoliating acids, retinoids, or the ascorbic acid form of vitamin C.
Be extra careful to wear sunscreen in the days following your derma rolling session and avoid using intense actives for a few days.
To see what this looks like in practice have a look at this video from derma rolling pro Amber Gin:

How Often Should You Derma Roll?
Figuring out how often to use a dermaroller is a little bit like figuring out how to use a strong serum or exfoliant. The right frequency depends on the dermaroller you choose and on your skin.
With dermarollers between 0.2-0.5 mm, you can start out using them once a week, and slowly work your way up to every day or every other day. Dermarollers between 0.75-1 mm should only be used once a month on the face or twice a month on the body since your skin needs that time in between to repair itself.
These are just guidelines. You should pay close attention to your skin and ensure that it's totally calm and non-inflamed every time you derma roll.
How Often Should You Replace Your Dermaroller?
This is one area where different sources give different suggestions, so you should always follow the specific recommendations from the manufacturer of your dermaroller. It also depends on how often you use your dermaroller. If you use it every day or every other day, you will likely want to replace it every 1-2 months, but if you only use it once or twice a month you can probably wait 3-6 months before replacing it.
In general, your best bet is to decide by examining the dermaroller frequently. Bent or visibly blunt needles are a sure sign that it's time to replace it, even if it's only been a few weeks.

Dermaroller Safety Tips
Derma rolling, especially with longer needles, is a serious practice. These are the most important tips to keep you safe as you derma roll.
When you first get your dermaroller, examine it closely for bent or blunt-looking needles. If you notice any of these quality issues, don't use it–return it to the manufacturer, instead.
Additionally, if you drop your dermaroller and any needles bend, don't use it. Replace either the entire dermaroller or the roller head.
Contrary to some of the recommendations you might see online, spraying your dermaroller with alcohol is not enough. It needs to soak in alcohol for at least 5 minutes to be properly disinfected.
Do not derma roll over areas where you have active acne, inflammation, or broken skin. The dermaroller can spread localized bacteria or increase inflammation, making things worse.
When actually derma rolling, be careful to put almost no pressure on the dermaroller. The needles should puncture the skin with ease, and if they don't, then it's a sign that they are too blunt and that you need a new dermaroller.
In general, it's better to derma roll over very clean skin, and then to apply skincare after. Some sources recommend applying a serum or a face oil before derma rolling. While this might be okay with 0.2-0.5 mm needles, it's not ideal, and it's actively not recommended for longer needles.
You may want to avoid microneedling if you have any metal allergies.
Do not share your dermaroller with anyone else.
You're Ready to Roll
Derma rolling is incredible, but it's also incredibly complex. It's exciting to know that with a dermaroller, you can trick your skin into repairing itself from the comfort of home. As long as you choose the dermaroller that's right for your specific concern, you'll be able to reverse all kinds of pesky skin issues, from texture and pigmentation to scars and deep wrinkles.
Since there are some risks involved, please take your time and always keep safety at the front of your mind. We've included all the advice you'll need in this article, so once you read it thoroughly, you'll be ready to roll!