@iamoliviaponton

RATE THE FITS. WHICH FIT DO YALL LIKE THE BEST🤠🤠 these are my FREAKING GIRLS. I love you all so much💗💗💗
Cowgirl outfits are unique and stylish. Girls growing up in the hinterland on ranches, cattle farms, and countryside dwellings are known for their grit as well as glamour. They've adapted practical everyday looks into a fashion culture that's distinct, immediately recognizable, and lends itself well to diverse settings like formal, casual, evening fun, and so on.
It's no wonder then that the cowgirl look has turned into a worldwide phenomenon with celebs, actors, singers, and influencers alike sporting these looks on various occasions. Even Queen Bey's latest collection with Adidas is inspired by rodeo fashion and is being marketed with the hashtag #ivyparkrodeo.
The Cowgirl's Closet
Dressing like a cowgirl isn't difficult if you own a wide-brimmed hat and western-style boots. The rest of the items can be sourced from your closet and customized to meet ranch style. You can adapt it to your everyday style if you love this look without seeming out of place.
Just make a few edits here and there, and you'll be ready to face the world as a cowgirl. Here are a few tips to get you started on your journey to ace cowgirl fashion:
A pair of brown cowgirl boots will lend themselves to numerous permutations and combinations of outfit ideas. Boots with elaborate cutwork are also available in an array of colors to go with any outfit.
Fringe lace is a go-to accessory to make any cowgirl look more authentic. Buy a fringe lace detail that can be attached to jackets, sleeves, bags, and so on whenever you hear the call of the rodeo.
Metallic studs on jackets, pants, belts, and boots will add a touch of country glam to any outfit.
Chunky turquoise jewelry is trendy, stylish and can be worn with any cowgirl outfit that consists of blue denim and, in many cases, without denim. Big baubles and rustic pieces are the way to go if you're stocking up on cowgirl jewelry.
Plaid shirts, skirts, and trousers can be mixed and matched with regular clothing or denim to create multiple outfits with the same pieces.
The most versatile pieces of clothing to create cowgirl outfits are denim jackets, denim trousers, denim bandeau tops, denim skirts, the works!
Belts that sport cutwork leather and big metallic buckles are always in.
Boho print shawls, bags, stoles, dusters, and other accessories lend themselves well to unique cowgirl outfit ideas.
Jackets with fringe details, studs, unique prints, wrap-around stoles with soft fringe ends, dusters with a boho print, and other clothing items that you can use for layering will make for excellent additions to your cowgirl friendly closet.
For more inspiration and cowgirl outfit ideas, keep reading our guide to the best cowgirl outfit ideas.
50 Best Cowgirl Outfit Ideas
1. Punk Rock Meets the Wild West Cowgirl Outfit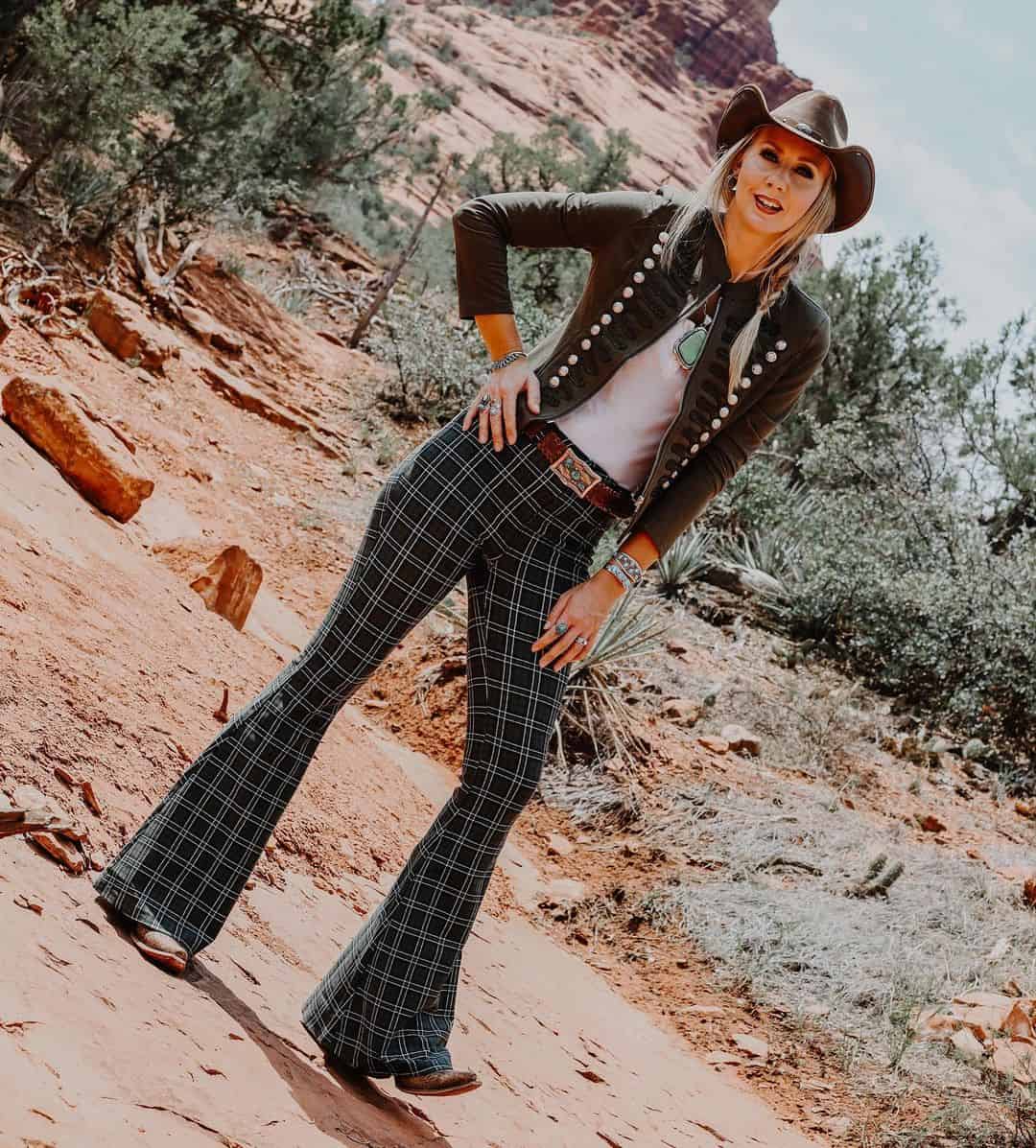 Image Source
Give your cowgirl style a rockstar upgrade by adding a leather jacket to the ensemble. Shiny regalia like metallic buttons and chains dial up the glam factor of this outfit.
Recreate this ensemble by pairing high-waisted, plaid print bell bottoms with a leather jacket. Keep the top simple, like a plain white T-shirt, and dress up the look with chunky metallic and precious stones jewelry. Complete the look with a classic cowgirl hat and the right hairstyle to go along.
Here's a link to plaid print bell bottom pants in a few colors to get you started.
2. Simple T-Shirt Dress and Boots Cowgirl Outfit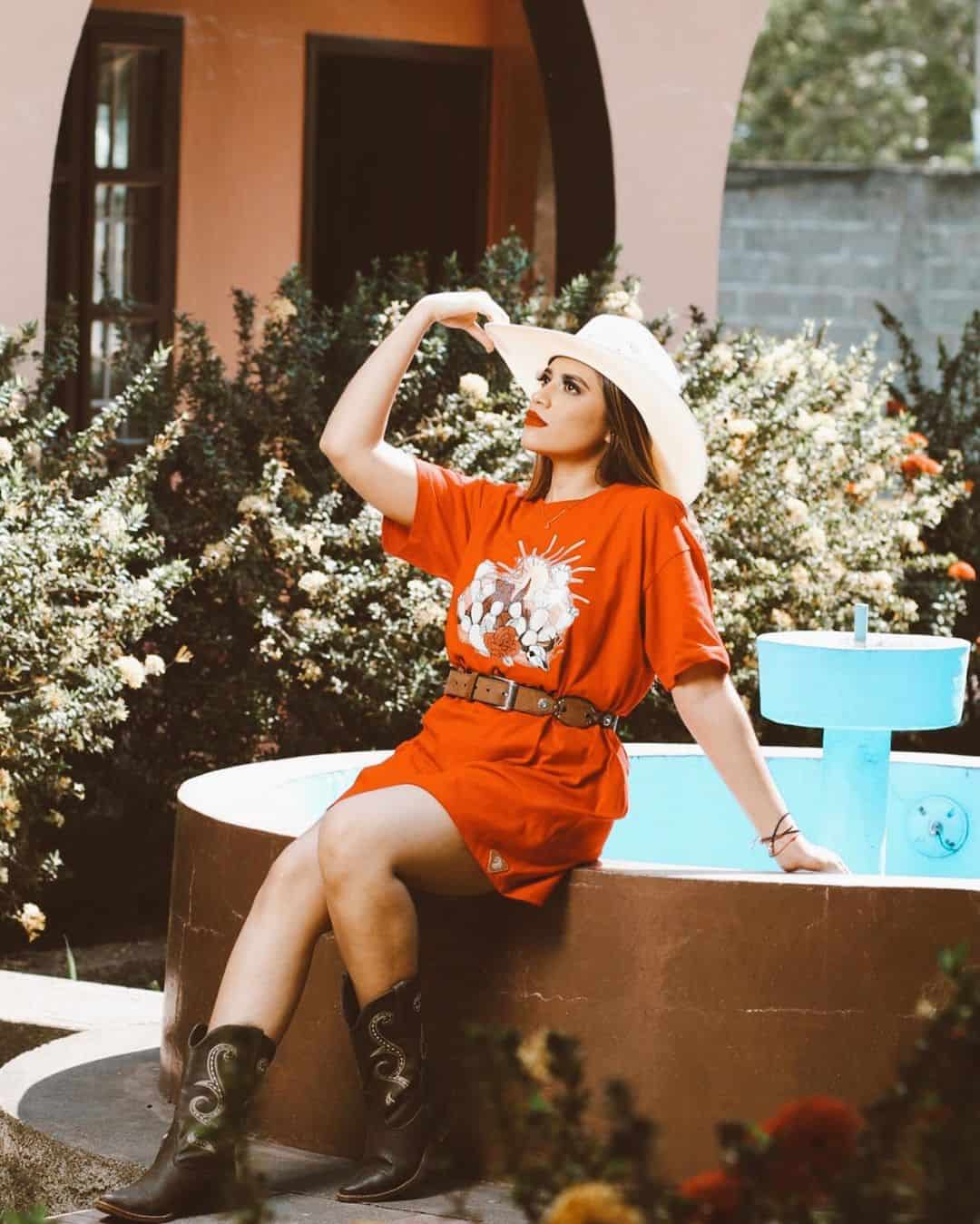 Image Source
This is one of the easiest and the simplest of cowgirl outfit ideas. All you need is a pair of cowgirl boots and a matching belt to recreate it. Find a loose, flowy T-shirt dress with a hemline that grazes your thighs. Use the belt to cinch it loosely and let it sit low on the waist. Add a hat and some bracelets to finish the look.
We recommend graphic print T-shirt dresses in earthy tones like sienna, ochre, brick red, and so on to recreate this outfit. Brown boots and belts complement the earthy red tones well. Boots that end a few inches above the ankles work best with this ensemble.
3. Printed Delight Cowgirl Outfit Idea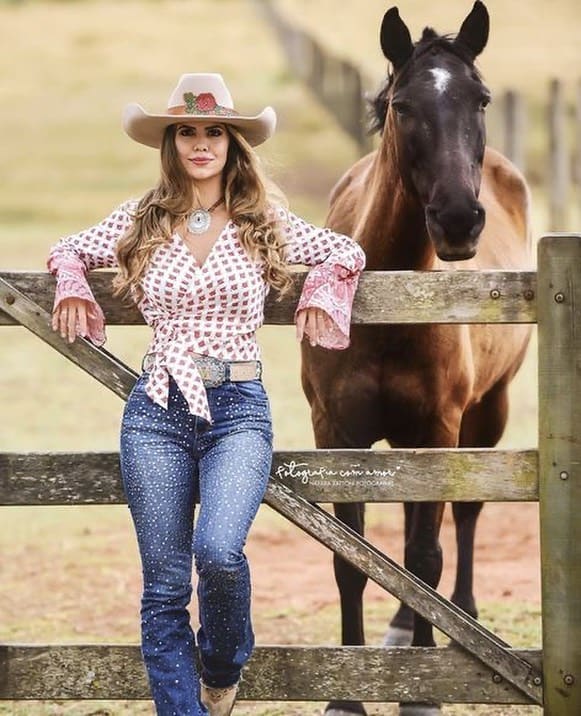 Image Source
All the significant elements that make up this outfit are printed – denim trousers, a wrap-around tie-up blouse with long sleeves, and the hat making it a printed delight. Ankle-length boots, a belt with a big metallic buckle, and a similarly big metallic pendant are the other stylistic touches that tie up the look perfectly.
Since the outfit has a lot of elements, keep them well-matched to make them look less chaotic. Color coordinate your belt, boots, and hat. Pick out a tie-up blouse with a soothing print that doesn't have a riot of colors. You should also color-coordinate all the metallic accessories to make the outfit look understated rather than overcooked.
Here's a selection of printed tie-wrap crop tops to get you started.
4. Denim on Denim Cowgirl Outfit Idea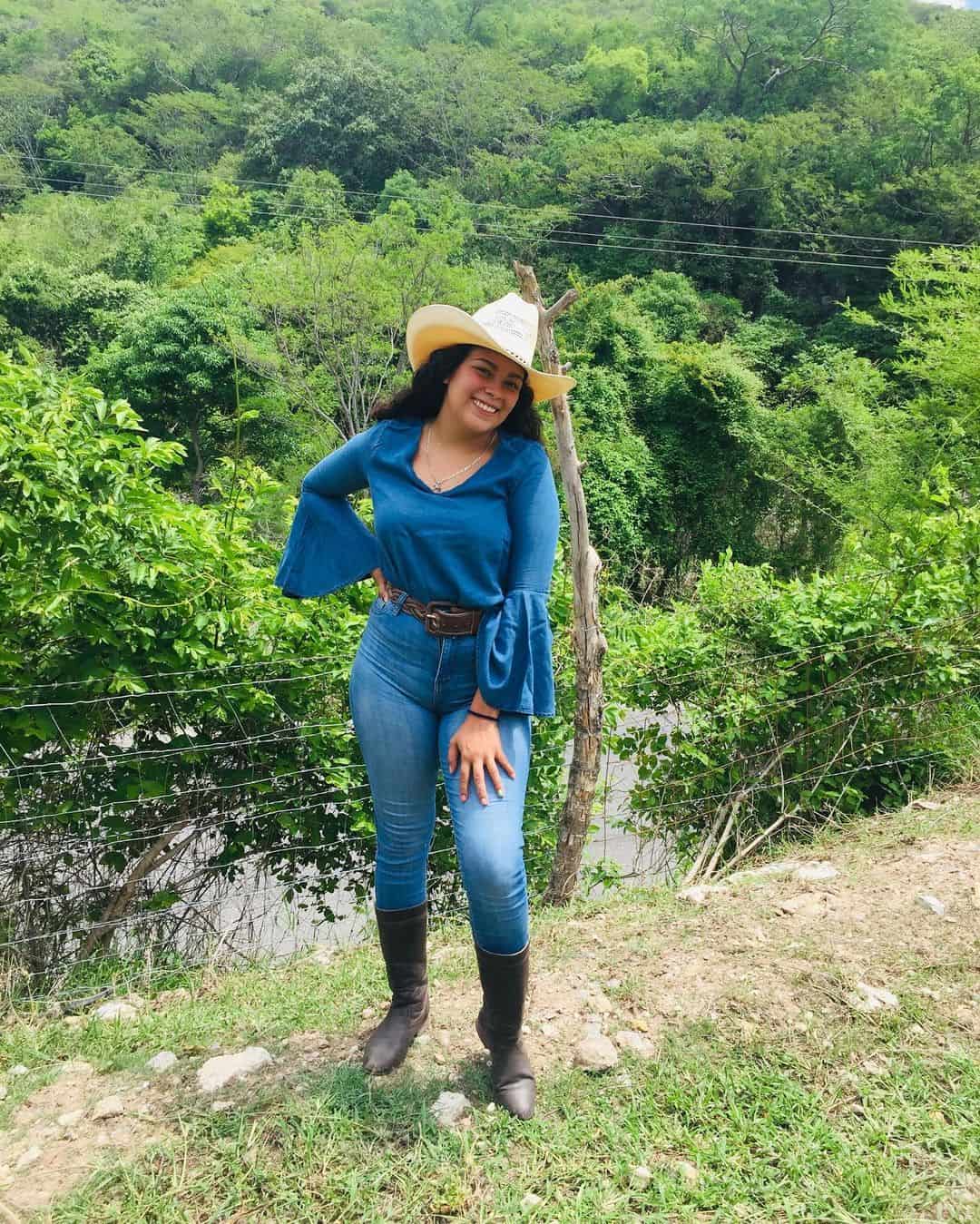 Image Source
Denim on denim might not be everyone's cup of tea, but for cowgirls, it's a classic outfit. You can't go wrong with a matching pair of denim tops and trousers. Then, break up the monotony of the denim with a wide belt in brown, matching boots, and a hat to round off the look.
You can recreate this outfit right out of your closet. Even if there's a slight mismatch in tone between the denim top and pants, it's alright. It's an easy-breezy look with loose locks flowing freely and no need for additional accessories.
5. Printed T-Shirt, Daisy Dukes, and Bright Cowgirl Boots Outfit Idea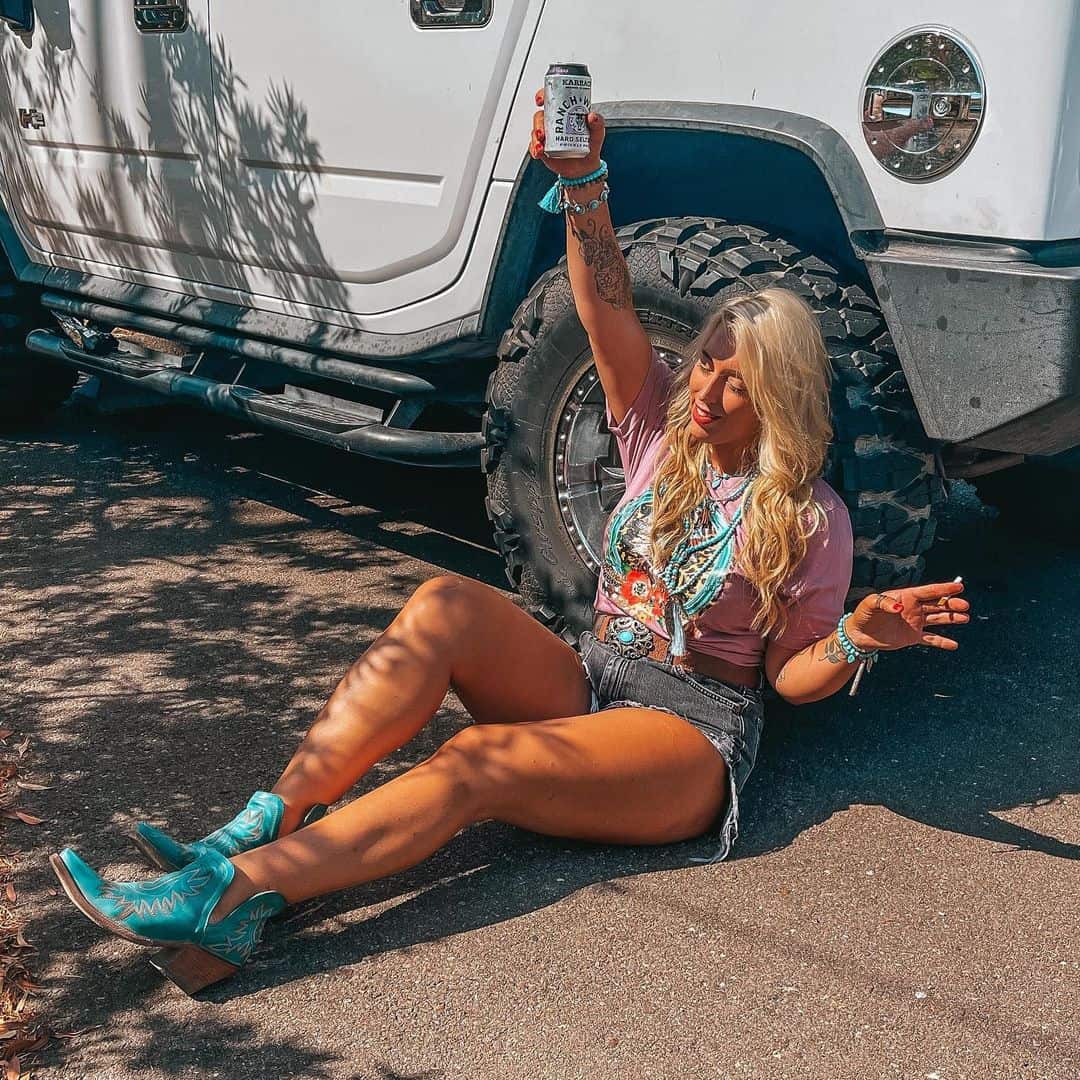 Image Source
This is another classic cowgirl outfit. Find a printed T-shirt with a unique theme, like Ed Hardy prints (yes, we know those are outdated), steampunk-themed tees, or an exciting combination of different genres. Pair this tee with Daisy Dukes, bright-colored boots in teal, blue, or pink, and matching accessories.
Make sure the cowgirl boots you choose match the dominant color of the t-shirt print. All the accessories like bracelets, necklaces, rings, belt buckles, and so on should also match the primary color to keep the outfit looking stylish and not veer into over-the-top territory.
6. Boho Print Jacket and Denim Trousers Cowgirl Outfit

Image Source
This is an efficient ranch-style outfit that screams comfort. Just grab an interesting jacket with boho prints, one that has full sleeves and is on the looser side. Pair it with any old denim trousers from your closet. Grab a pair of workable ranch boots and ta-da! You're ready to take the reins (literally) and tour the ranch in style.
This outfit is apt for days when the weather is cold and windy. You can add a cowgirl hat to the ensemble if you feel like it. You can change it up by going with a long-sleeved T-shirt and a printed jacket. Recreate the look with this Aztec print jacket.
7. Rodeo Party Cowgirl Outfit Idea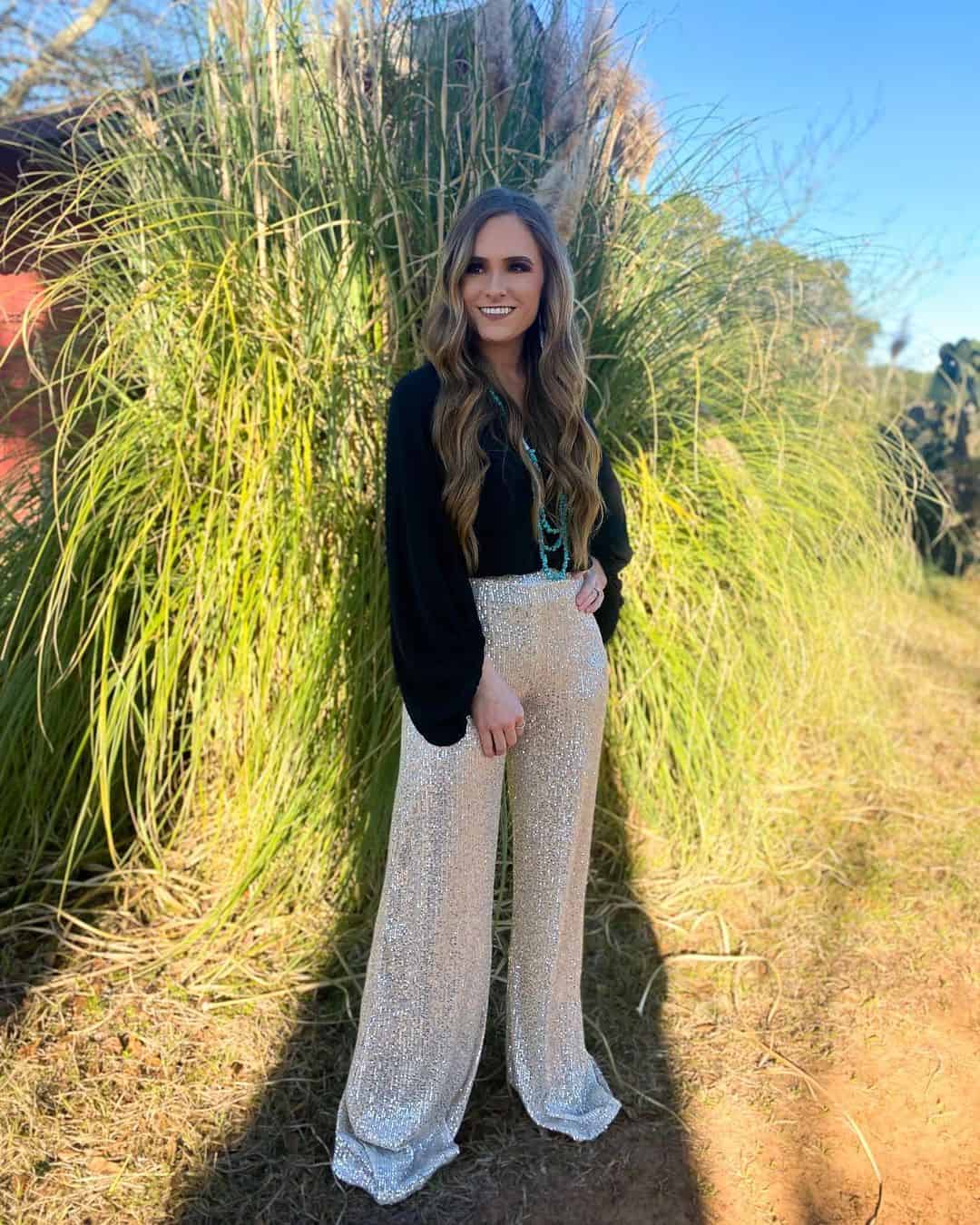 Image Source
What does a cowgirl wear on a night out? Shimmery long pants, tucked in top, beaded jewelry, loose flowing locks, and a cowgirl attitude to top it off.
Let high-waisted sequins or glitter pants lead the way with a loose top in gossamer cloth to complement the glossy bottoms. You can fish in your wardrobe for a dainty top – everyone owns a few. Go with beaded jewelry with long necklace strands reaching the pants to round off the look.
Here are a few sequin pants in different colors to help you recreate this outfit.
8. Fitted Lace Top and Long Skirt Cowgirl Outfit Idea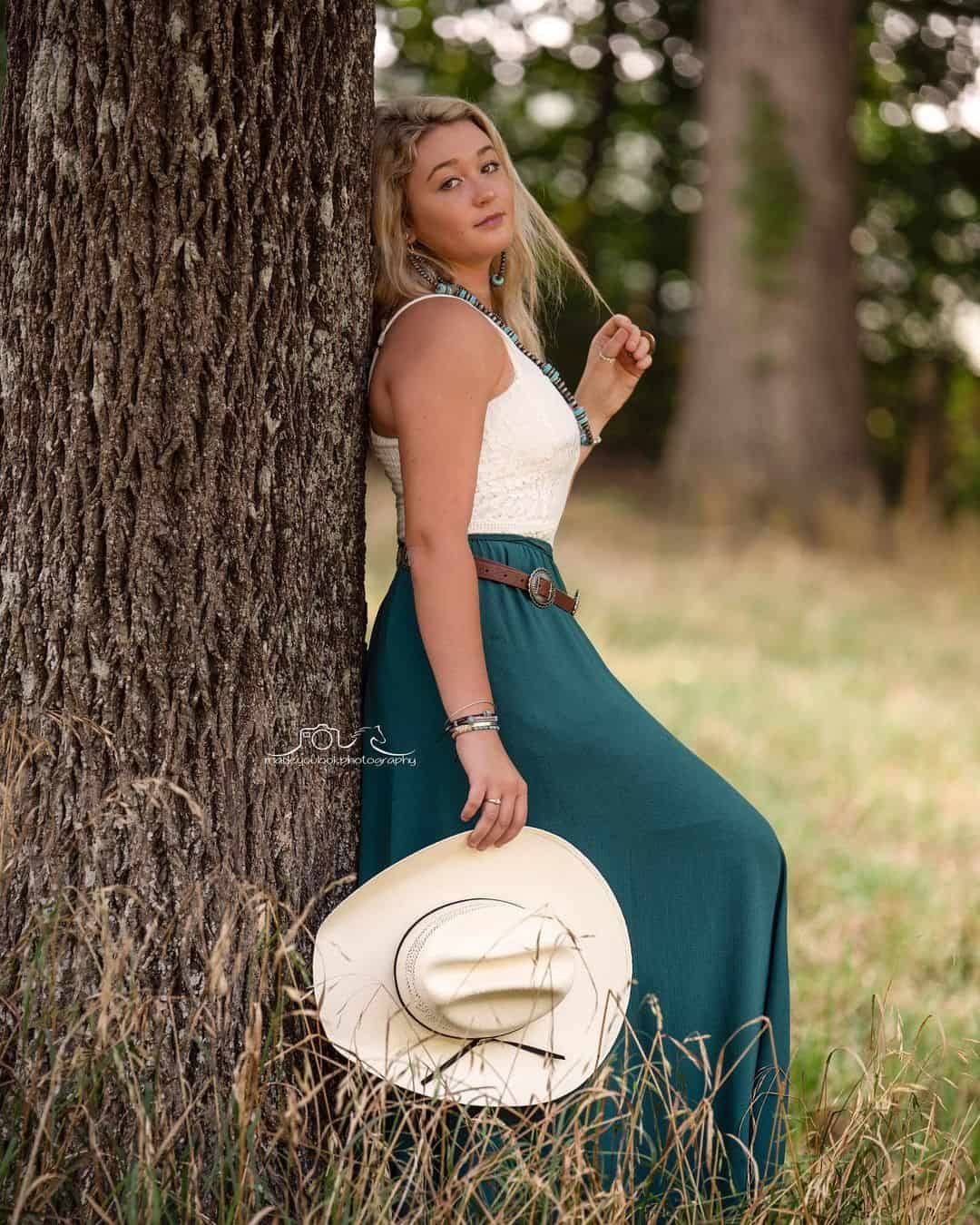 Image Source
If you own a fitted lace top and a long maxi skirt, you've got this outfit down pat. Choose the skirt in a color that reflects natural hues – greens, browns, burnt reds, or oranges. Tuck in the lace top and add a belt to underline the cowgirl style. Matching jewelry and a pair of boots finish this look.
Here are some lace tops to help you recreate this outfit.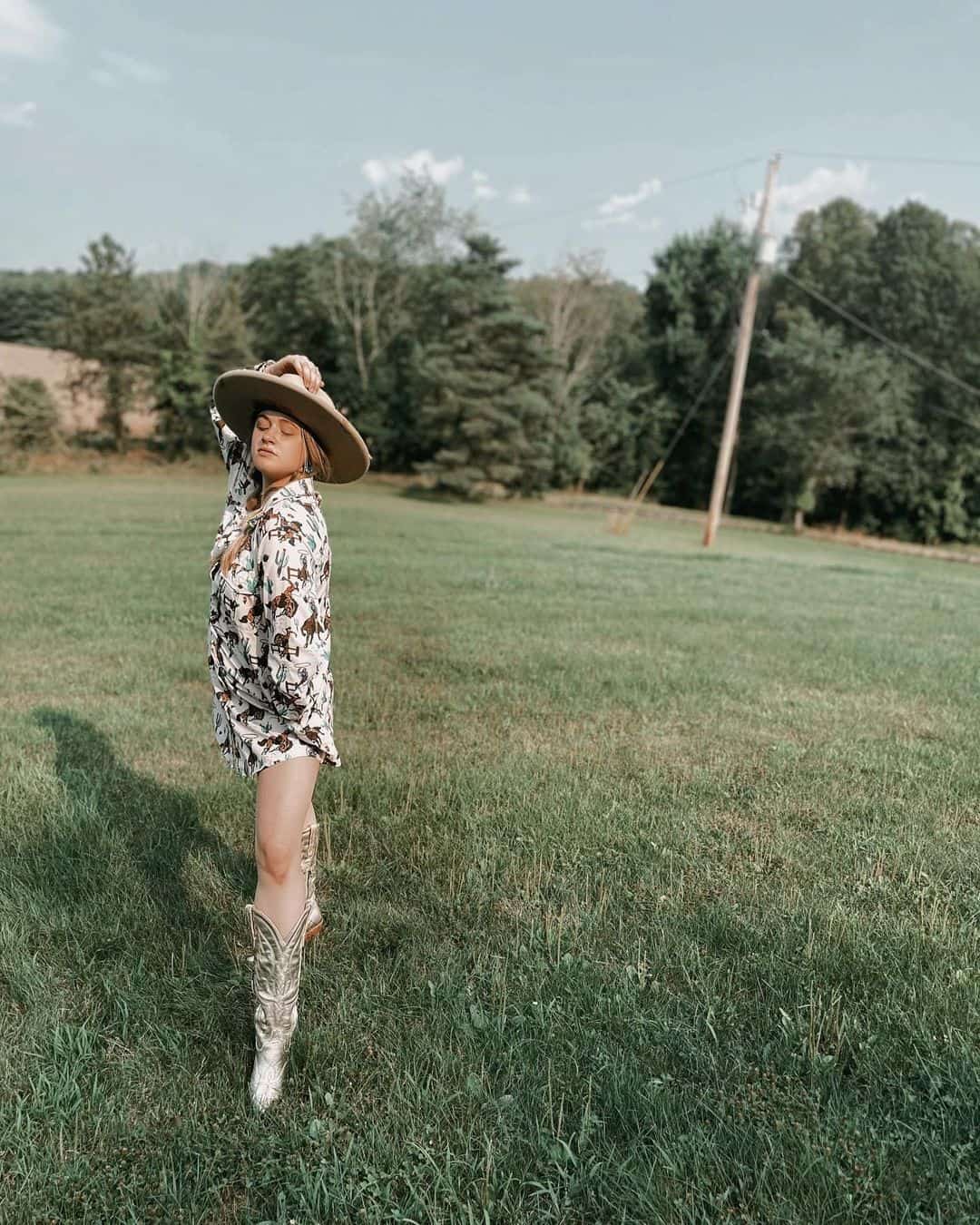 Image Source
When we say animal print, we mean it literally. Animals like cows, horses, deer, etc., printed on the shirt rather than cheetah spots, tiger stripes, or similar prints usually referred to as animal prints in the fashion world.
This is a unique take on cowgirl fashion that highlights your love for the ranch life. You can go with a horse-print or any other animal usually found on a ranch. There's no need to cinch the long, loose-flowing shirt with a belt. Just add fancy metallic finish cowgirl boots and a wide brim hat to complete the look.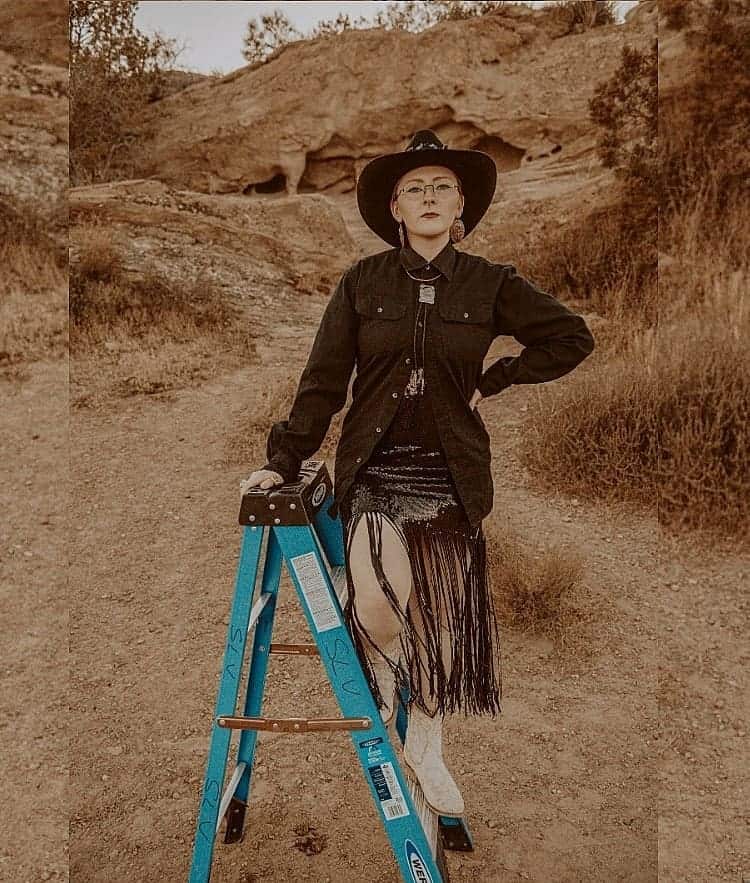 Image Source
This is another look for an evening out, partying on the ranch. Instead of regular cowgirl tassels, go with a flapper dress that ends in long tassels or fringe. Tone it down with the addition of a button-down shirt in a similar color. Tassel earrings, long boots, and a hat make up the rest of the outfit.
You are simply swapping out the flapper girl headband and heels with cowgirl accessories to rework this look to the cowgirl theme. The button-down shirt adds a ruggedness to the look that would otherwise not fit the theme.
11. Fringe Jacket, Chunky Belt, and Printed Shirt Cowgirl Outfit Idea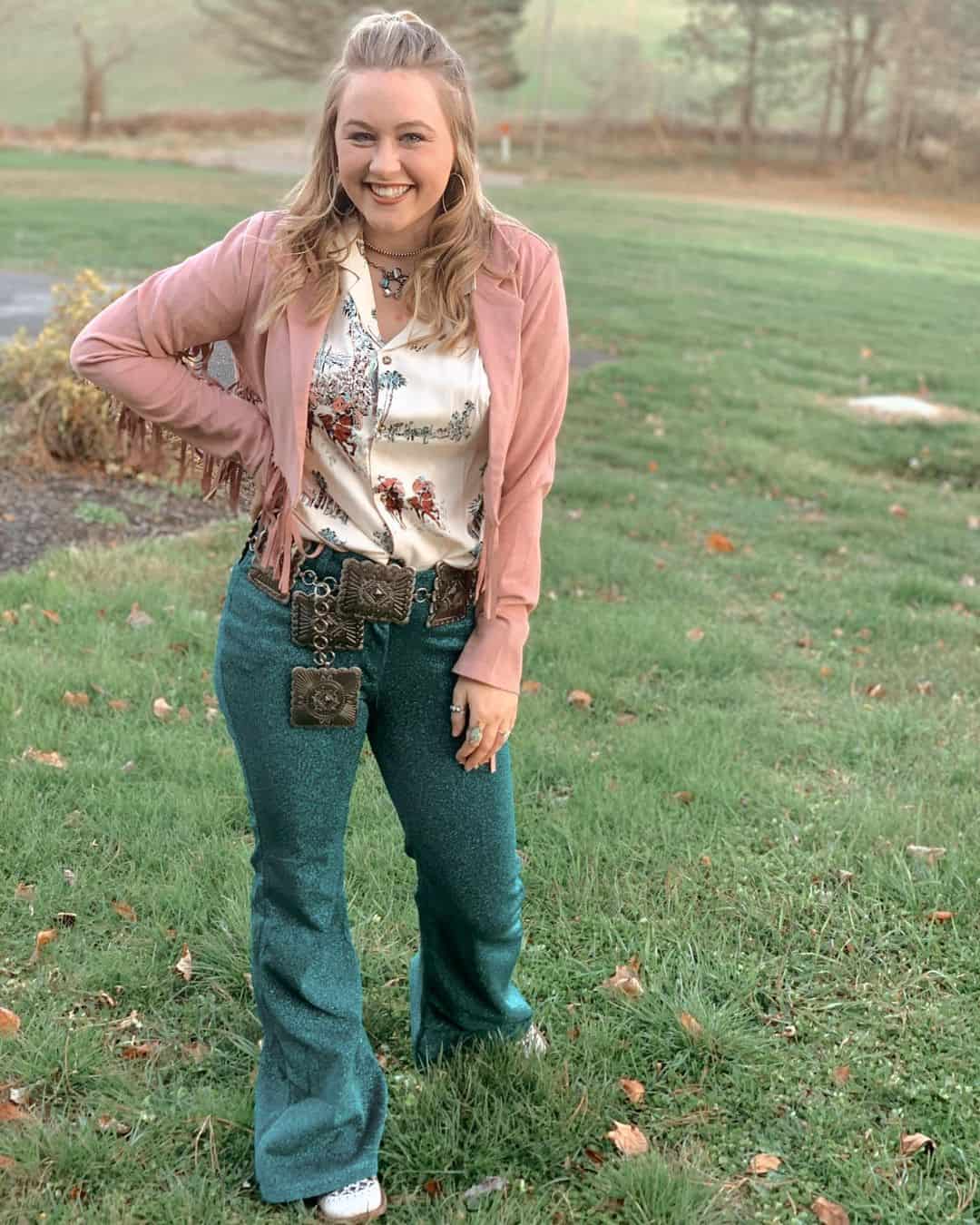 Image Source
This outfit combines several elements of the cowgirl theme – a fringe jacket with tassels on the sleeves, a chunky metallic belt, cowgirl boots, and jewelry. Here's a similar ranch theme belt to help you pull this outfit together.
Although shimmer pants would be apt for the outfit, you can go for a regular pair of viscose/spandex pants in a bright color. A button-down shirt with print in a matching color and jewelry rounds off this look.
Many fringe jackets are available online in various colors, so you can recreate this outfit in a limitless combination of contrasting shades of jackets and pants.
12. Space Cowgirl Outfit Idea
Image Source
You'll need a futuristic cowgirl print T-shirt to create this outfit. The print colors and style can vary as long as the theme is cowgirl style in outer space. Match this with a pair of shorts in a contrasting color. Metallic finish cowgirl boots, matching beads jewelry, and futuristic sunglasses round off this ensemble. You can swap out your regular cowgirl hat for an upgraded space cowgirl hat that sparkles, glitters, or has neon shades, like these hats.
If you can't find a printed tee in space cowgirl theme, a crop top in a shiny material will also serve the purpose.
13. Suede Long Shirt Cowgirl Outfit Idea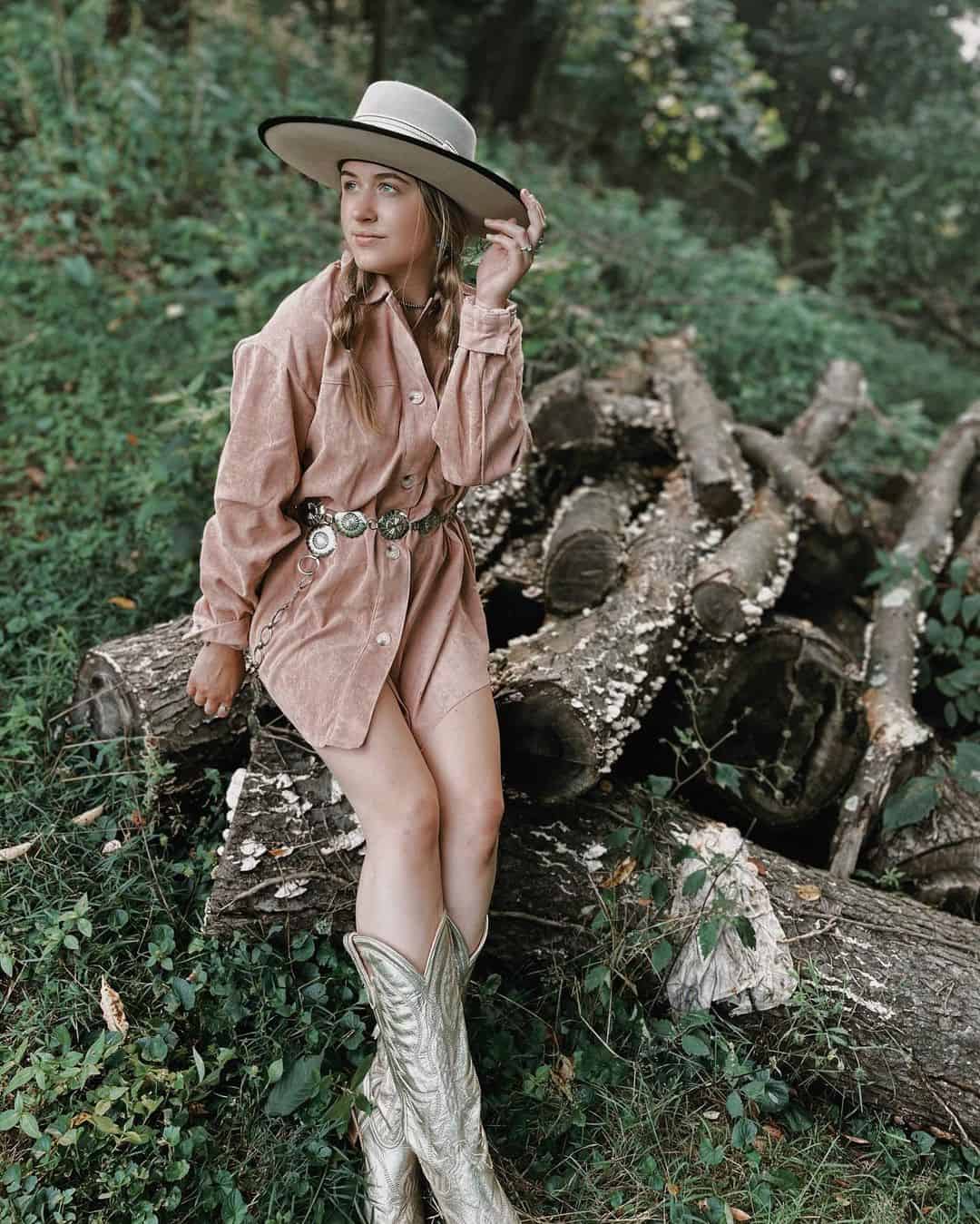 Image Source
Pulling off this look depends on the color of your shirt and the accessories you're using with it. It's best to stick with cowgirl boots, belt, and hat in the same metallic hue. Pair these three matching accessories with a long corduroy or suede, button-down shirt, preferably with long sleeves and short shorts or Daisy Dukes. Use the belt to cinch the shirt at the waist loosely.
We recommend pastel colors to recreate this outfit. Pastel-colored shirts combined with bright silver finish accessories can create an effortlessly stylish cowgirl outfit. Here's a corduroy shirt in green to get you started.
14. Classic White Top and Denim Trousers Cowgirl Outfit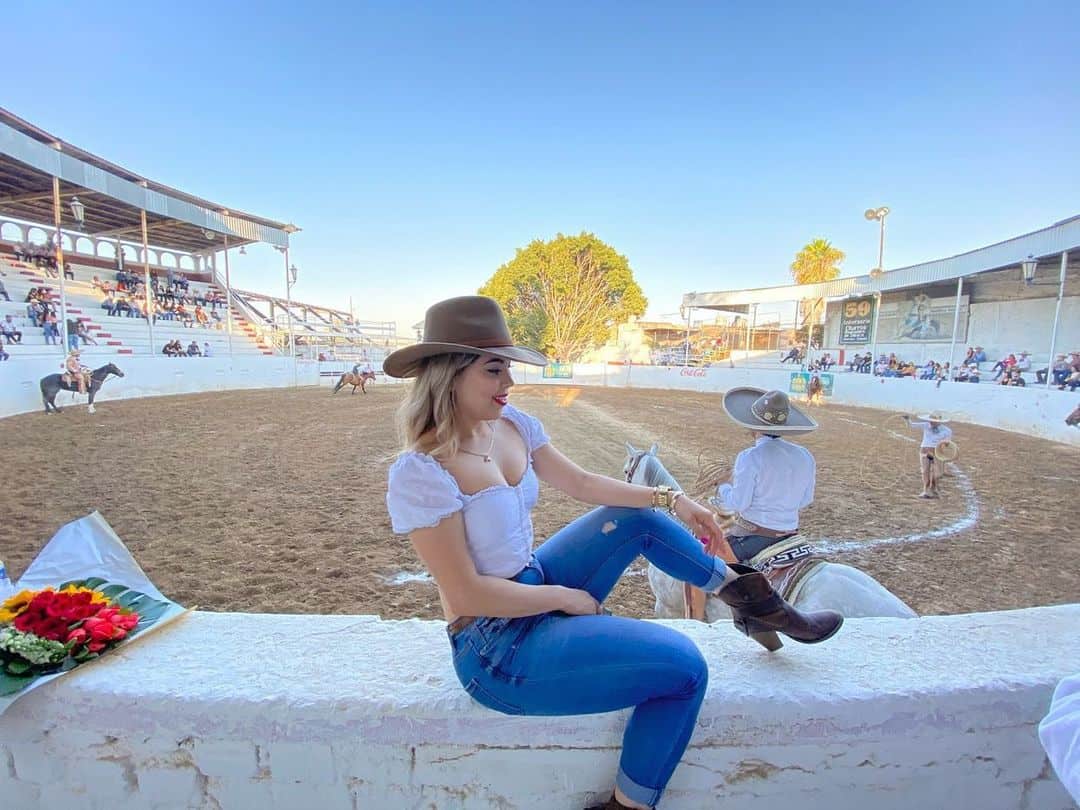 Image Source
This outfit requires next to no expenditure if you already own cowgirl accessories like a pair of ranch boots and a hat. Fish out a white top and a pair of jeans from your closet. Add a belt that matches the shoes, put on the hat, and you're ready to visit a ranch. Simple, easy, and effortless.
You can't go wrong with white and denim. A cap and regular long boots will also do if you do not own cowgirl stuff. Make it work with what you have.
15. Black Denim Cowgirl Outfit Idea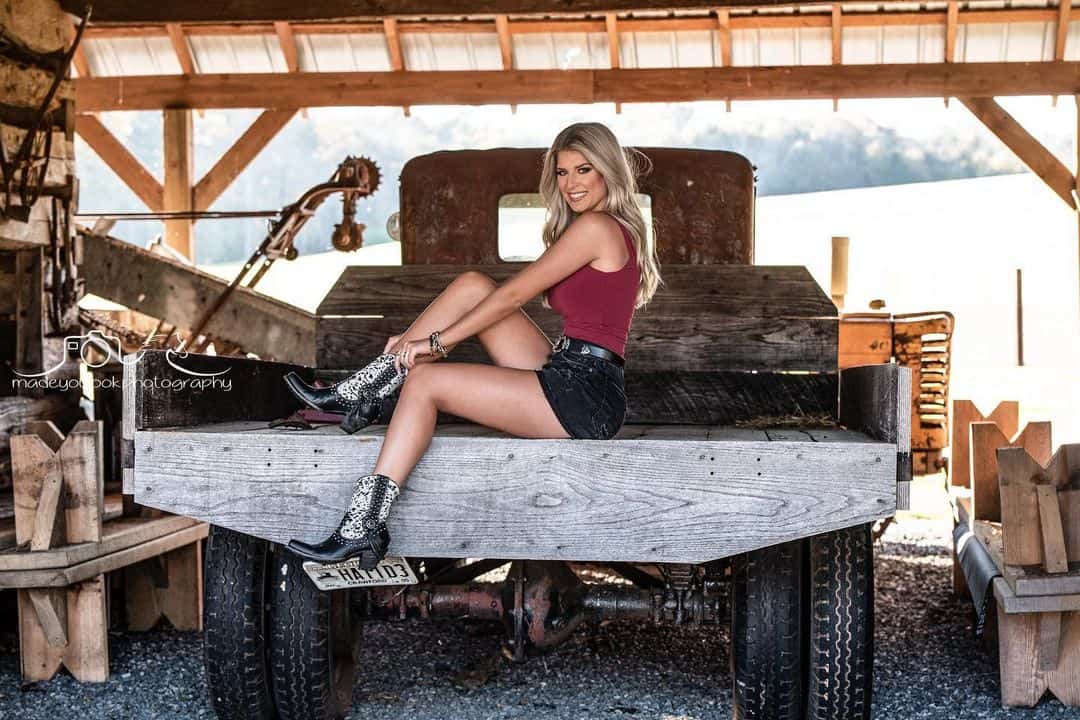 Image Source
Blue denim and brown boots are the staple cowgirl fashion items. But here's a look that adapts the black denim to the cowgirl style.
Grab a pair of black Daisy Dukes or full-length jeans, match with a non-traditional cowgirl top like a deep maroon blouse or crop top. Complete your outfit with a pair of black cowgirl boots, a regular black belt, and a ranch-style hat in black. If you still feel like your outfit isn't on point, add a fringe jacket in black to give it a more cowgirl feel.
16. Summer Dress Cowgirl Outfit Idea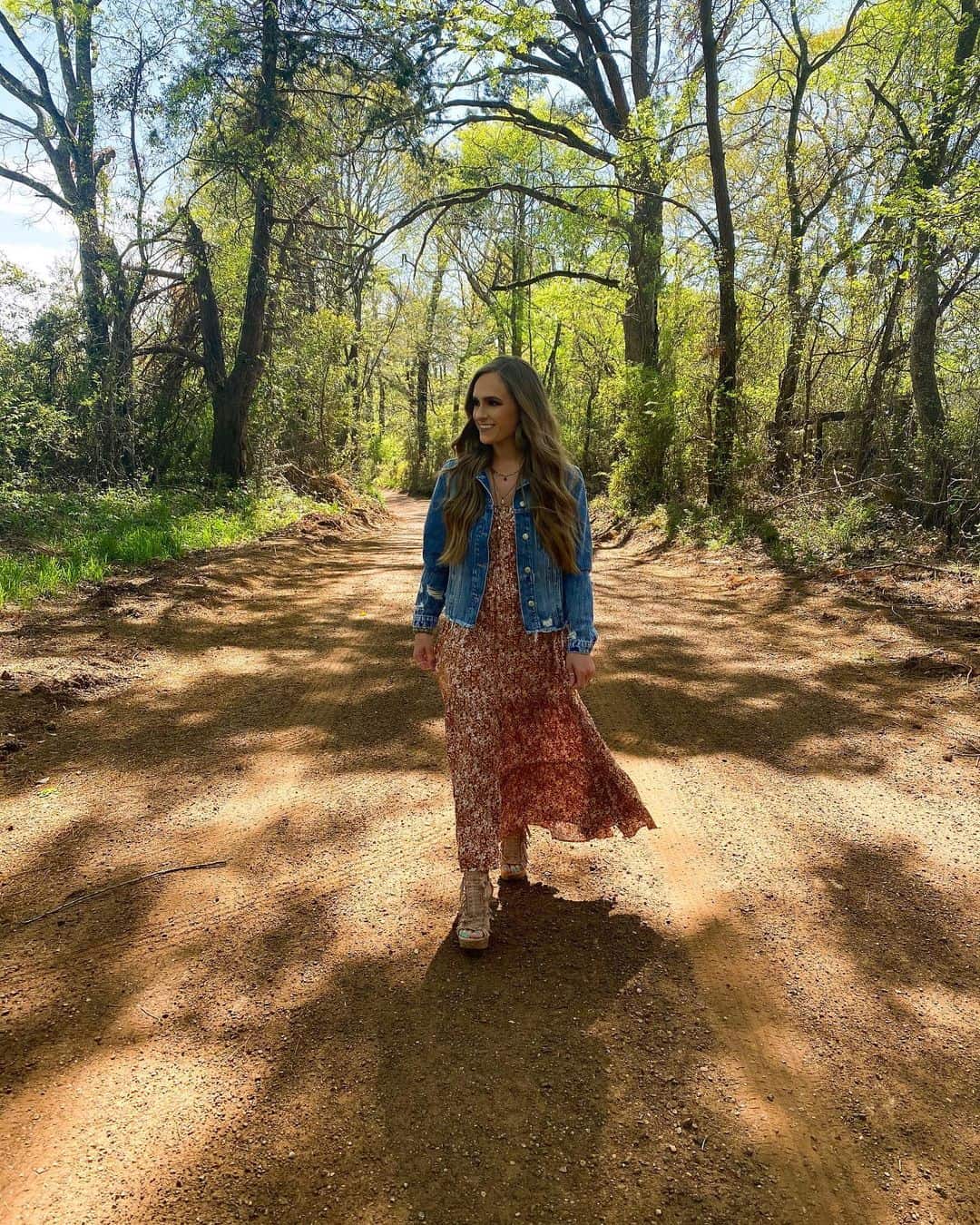 Image Source
This is another ensemble that you can recreate with stuff from your closet. Just grab a summery, long, flowing maxi dress, and pair it with a denim jacket. Cowgirl boots and a hat round off the look. Easy peasy!
Skip the chunky jewelry and go for dainty pieces that vibe with the summery aura of the outfit. Here's a lovely selection of inexpensive printed summer dresses you can have a look at.
17. Music Festival Cowgirl Outfit Idea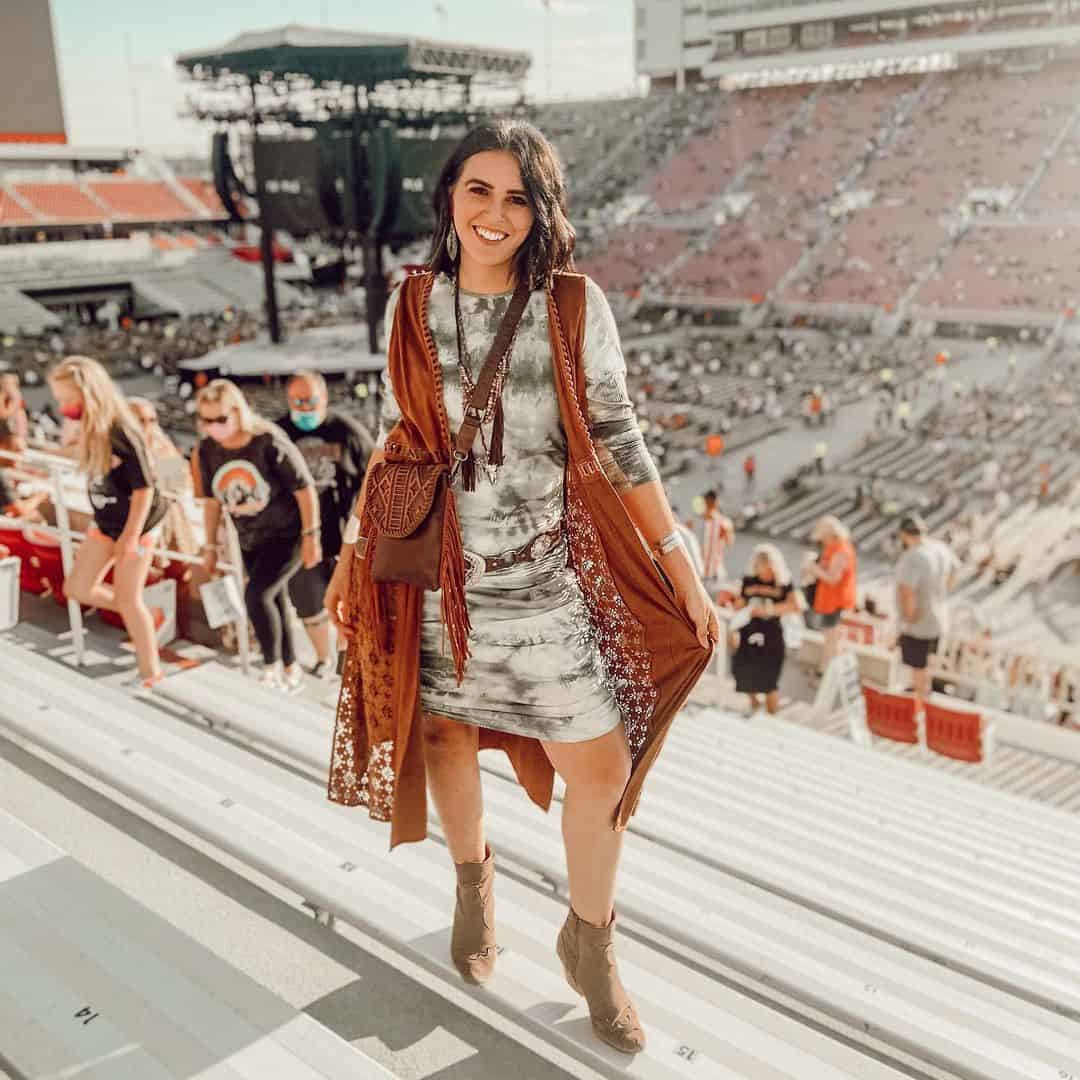 Image Source
How do you let your inner cowgirl shine at a music festival? By incorporating subtle clues to the ranch life in your outfit. Here's an example in the form of a regular bodycon dress that's dressed up with a fringe wrap, cowgirl boots, and a matching crossbody bag. A low-slung belt, around the hipline, with big metallic buckles also adds to the theme.
Here's a selection of scarves with soft tassels in various colors and paisley patterns so you can recreate this outfit without any color limitations.
18. Printed Flared Denims and Short Top Cowgirl Outfit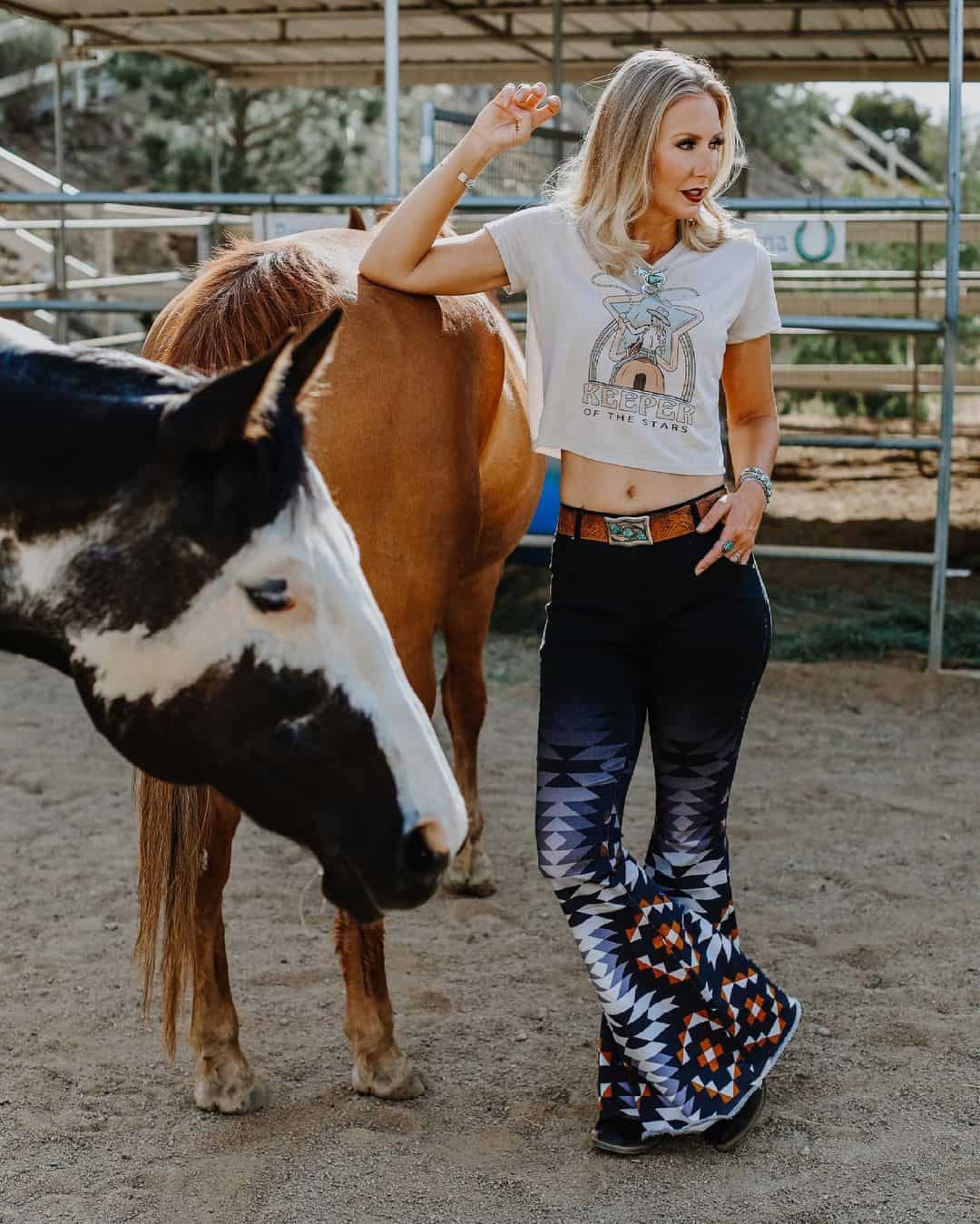 Image Source
Flared denim with embellishments on the bottom half or thread work along the sides, and a crop top form the core elements of this cowgirl outfit idea. You can dress up this look with accessories like an eye-catching belt or keep it subtle with a pair of simple boots—the bigger and bolder the print, the better the look.
19. Suede Bottoms and Tasseled Accessories Cowgirl Outfit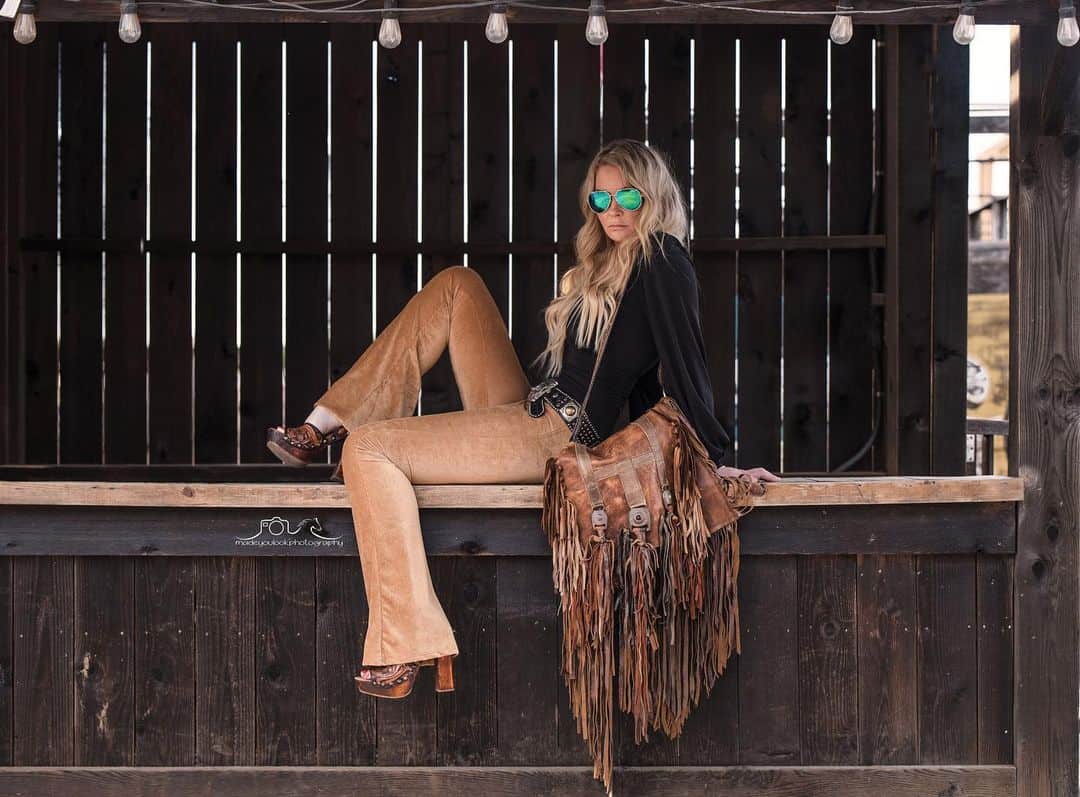 Image Source
The concept of this outfit is simple. The essential elements are a pair of pants in suede material, a matching bag with long tassels, and a pair of high-heeled sandals. These three items should be in the same color. Add a contrasting top to finish the look. The tassels add a touch of the rodeo to the ensemble.
Go for chunky, platform heels to complete the look. Avoid sharp stilettos and other shoes with delicate heels, as these would clash with the theme. Here's a link to crossbody bags with long tassels in various colors to get you started.
20. Python Print Bandeau Top and Trousers Cowgirl Outfit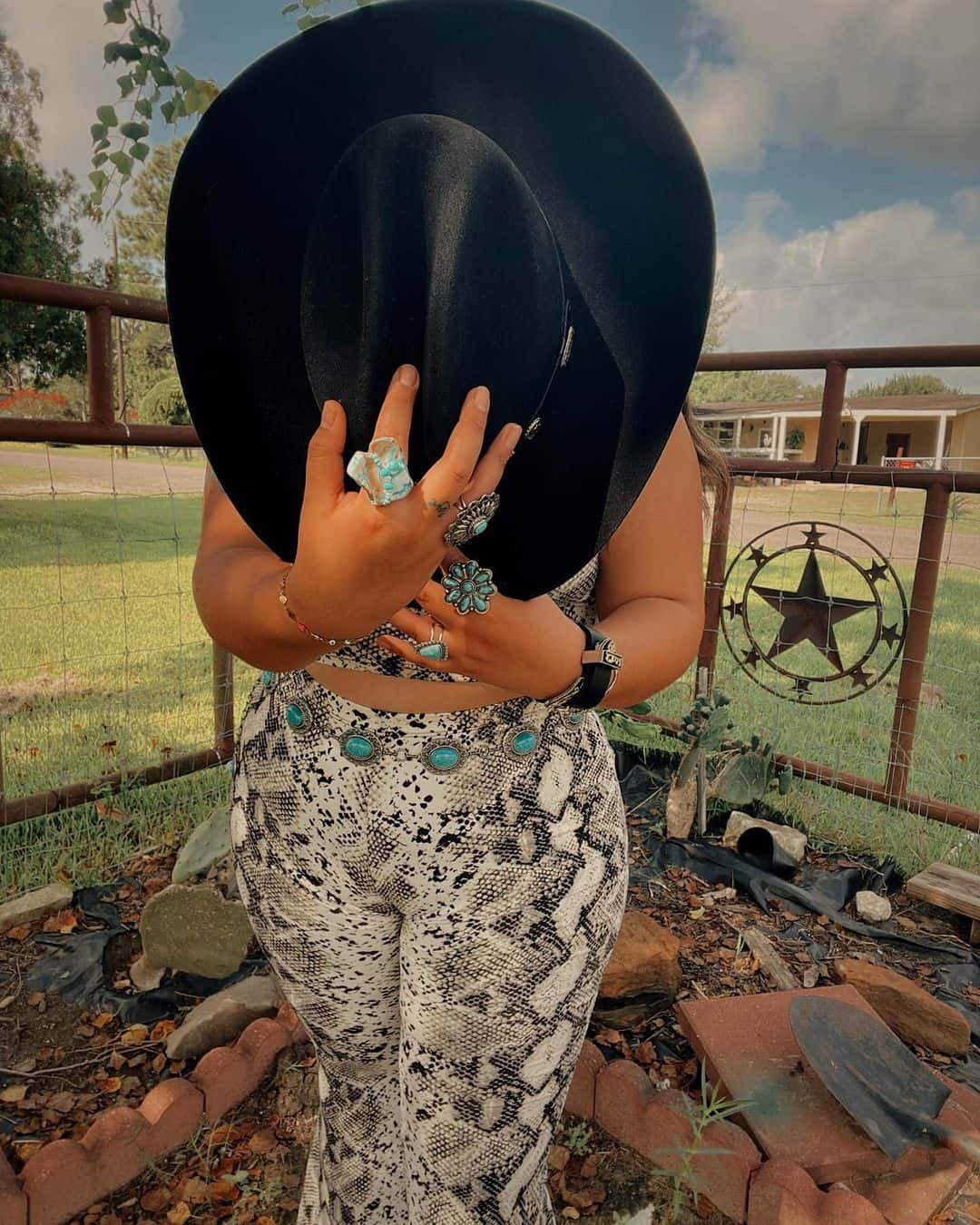 Image Source
In this scenario, any old animal print will do, not just python print, as long as it's an animal print outfit. By animal print, we mean regular animal print as used in fashion parlance.
This is a slightly risque ensemble with a bandeau top and trousers in the same python print. Turquoise jewelry adds some color to the otherwise black and white ensemble. A black hat and black boots round off the look. Most animal prints have a hint of black, so you don't have to look for matching accessories. You can find them in your closet.
21. Striped Fit & Flared Pants Cowgirl Outfit Idea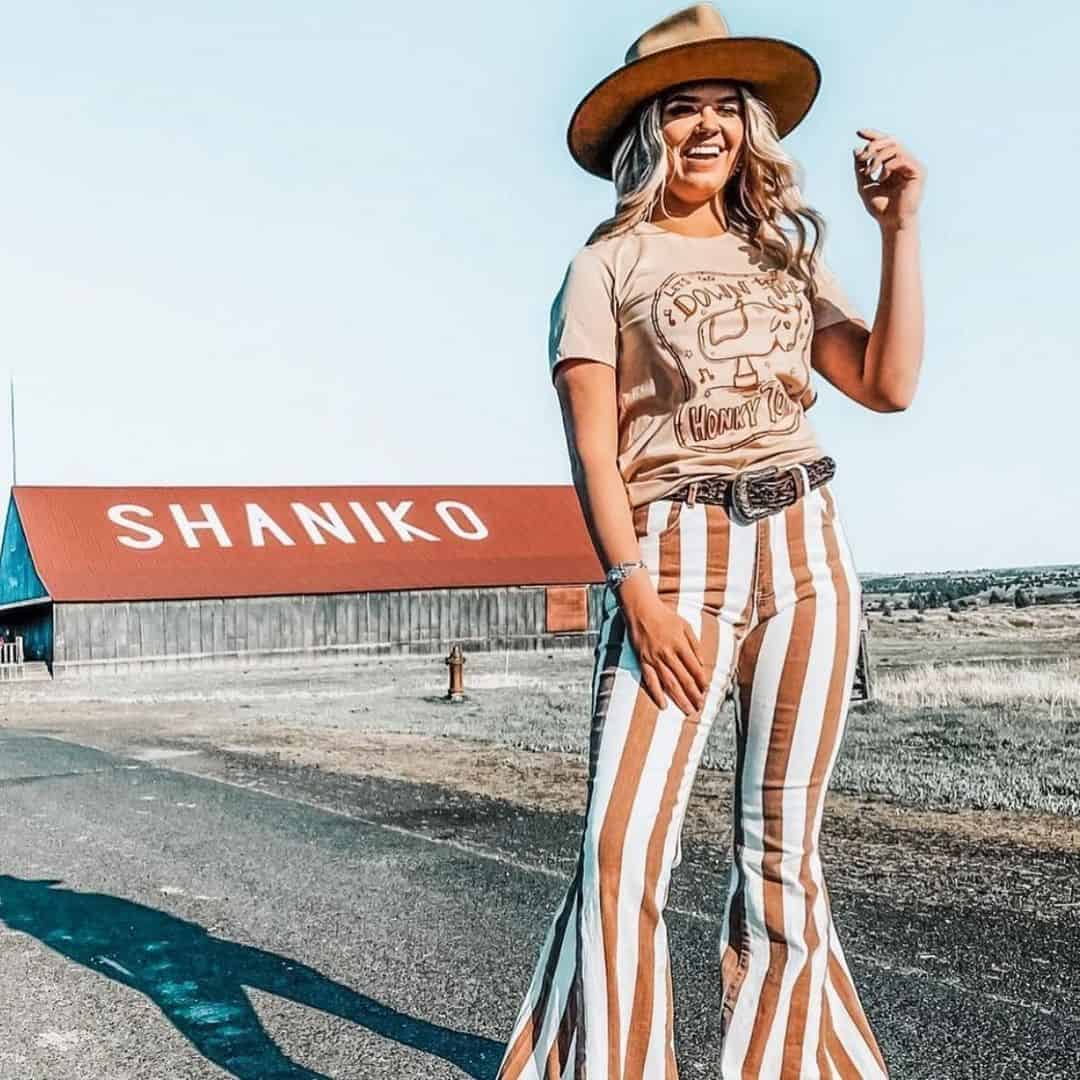 Image Source
Striped pants are a mood. Fit and flared pants even more so. Create your cowgirl outfit around a pair of kickass wide striped pants. Match them with a crop top or a graphic print T-shirt. A frilly white top will also work perfectly. Keep the colors neutral or in the same color family. Add a belt, hat, and plain old boots to round off the look. Avoid pinstriped trousers as the look wouldn't be on point.
22. Fringe Top and Daisy Dukes Cowgirl Outfit Idea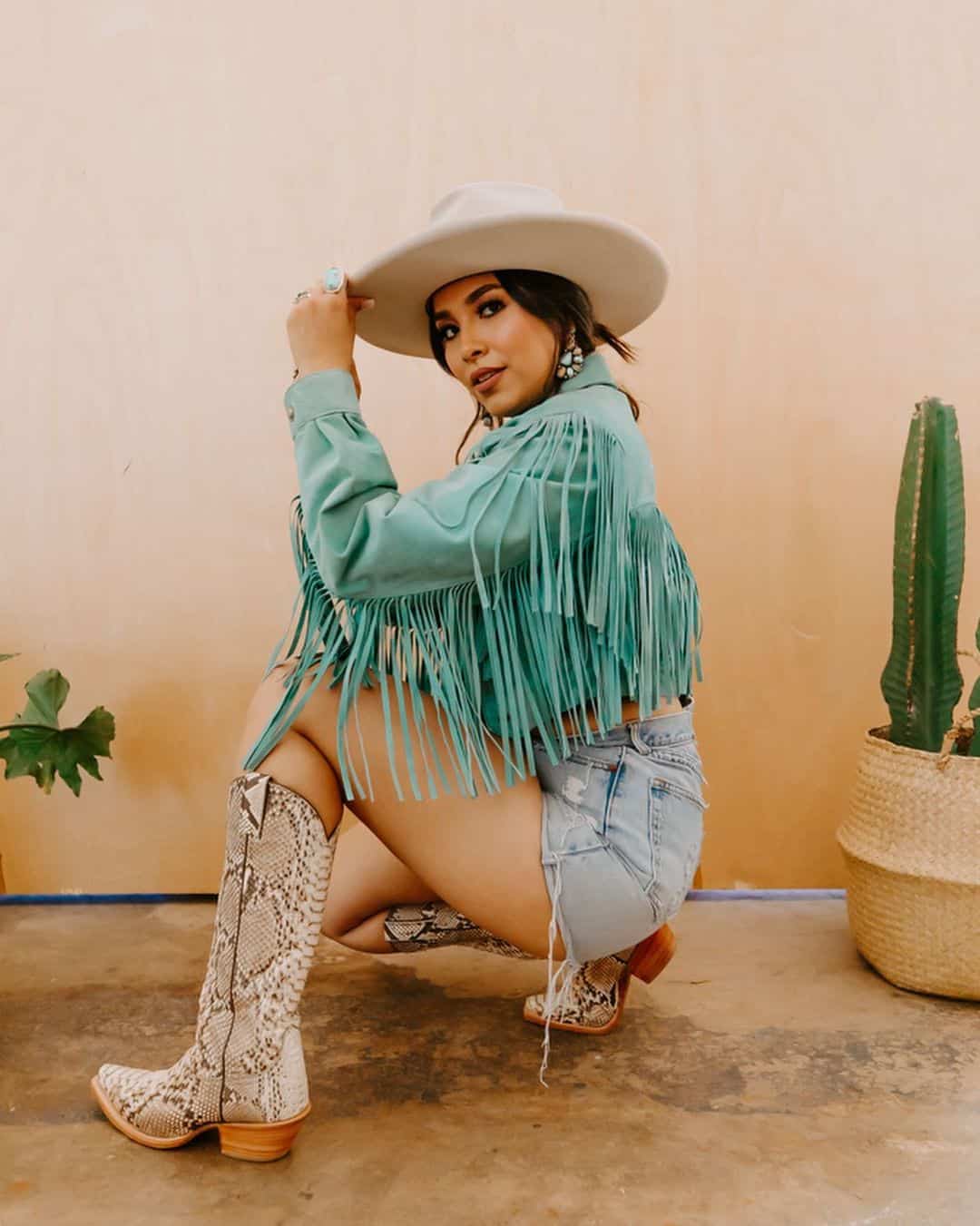 Image Source
Go bold and unabashedly western with this look centered around a fringe jacket. Pick one in a bright color that stands out, like the turquoise jacket shown here. Pair it with Daisy Dukes, snake-skin print long boots, and a matching hat. That's that! You're ready for a rodeo. Here's a turquoise fringe jacket you can buy online to recreate this outfit.
23. Gingham Dress Cowgirl Outfit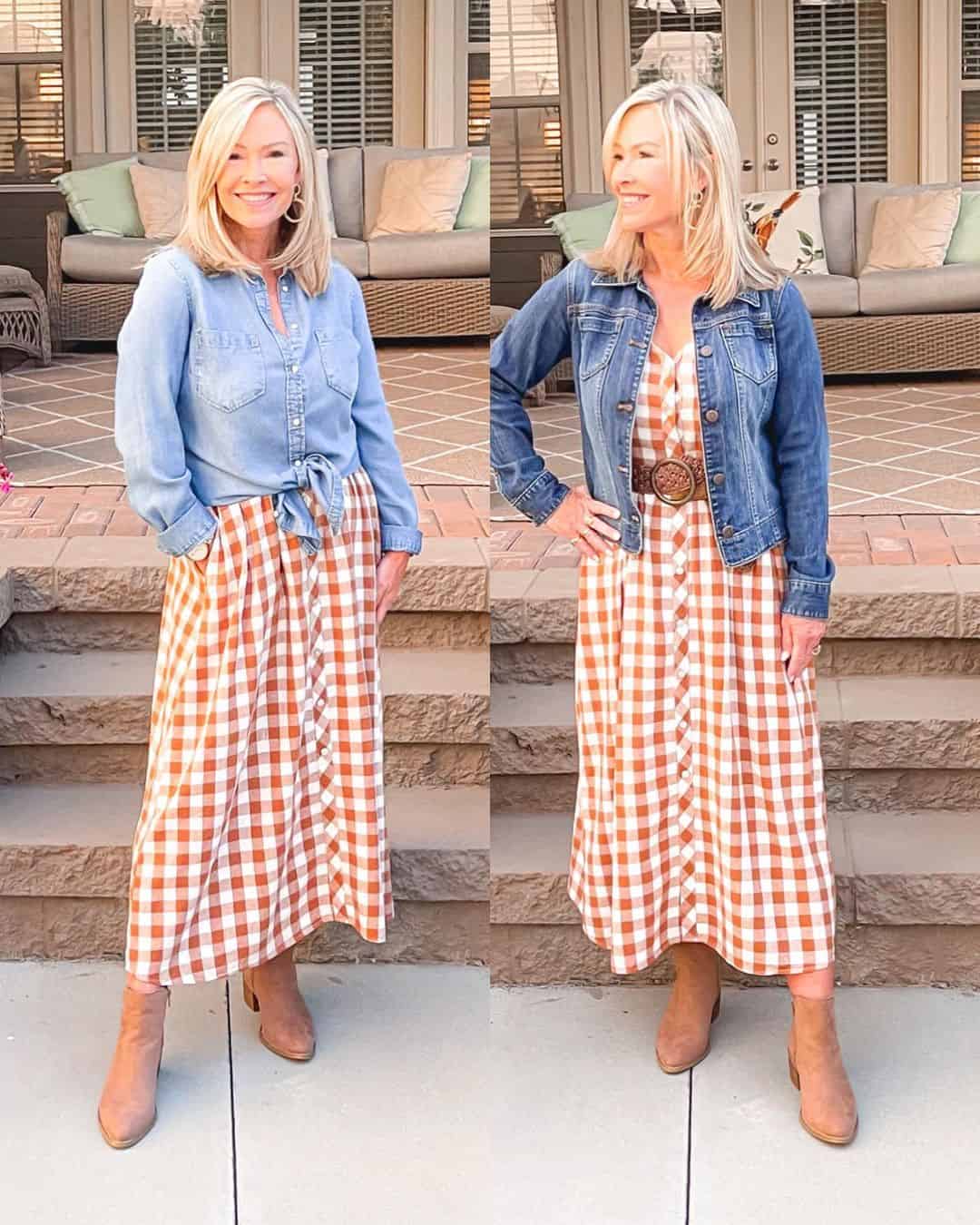 Image Source
A gingham dress is something that looks effortlessly chic no matter where you are. It's perfect dressed up with a nice jacket and wedges for a night out, or belted up with a denim button-down and leather boots for the rodeo. Gingham comes in loads of different colors to suit any skin tone, and a gingham dress transitions beautifully through all the seasons. Here's a great gingham dress with many color options (it even has pockets!).
24. Playful Neutrals Cowgirl Outfit Idea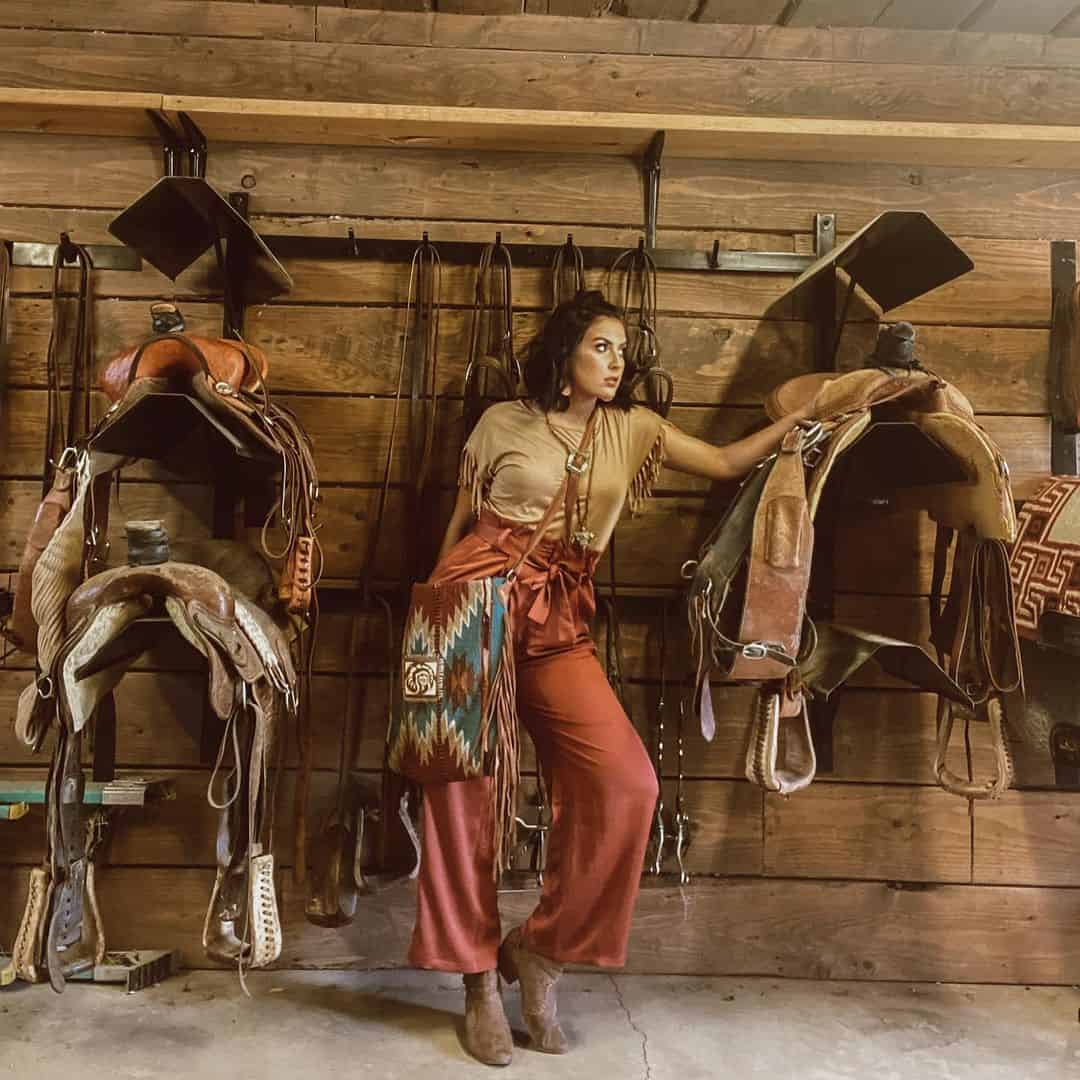 Image Source
We've made this point above already that neutral and earthy tones work best for cowgirl outfits. Here's another example of one such ensemble that makes use of sienna with neutral tones. Apart from the tassels on the top and the big boho print bag that matches the outfit, nothing here indicates that it's a cowgirl outfit. Yet, it evokes a strong cowgirl vibe due to the colors, large prints, and tassels.
You can recreate this outfit with a pair of regular tie-front pants in sienna, burnt orange, brown, or sandy hues. Match it with beige shoes, a top with fringe details, and add a big printed bag in a matching color.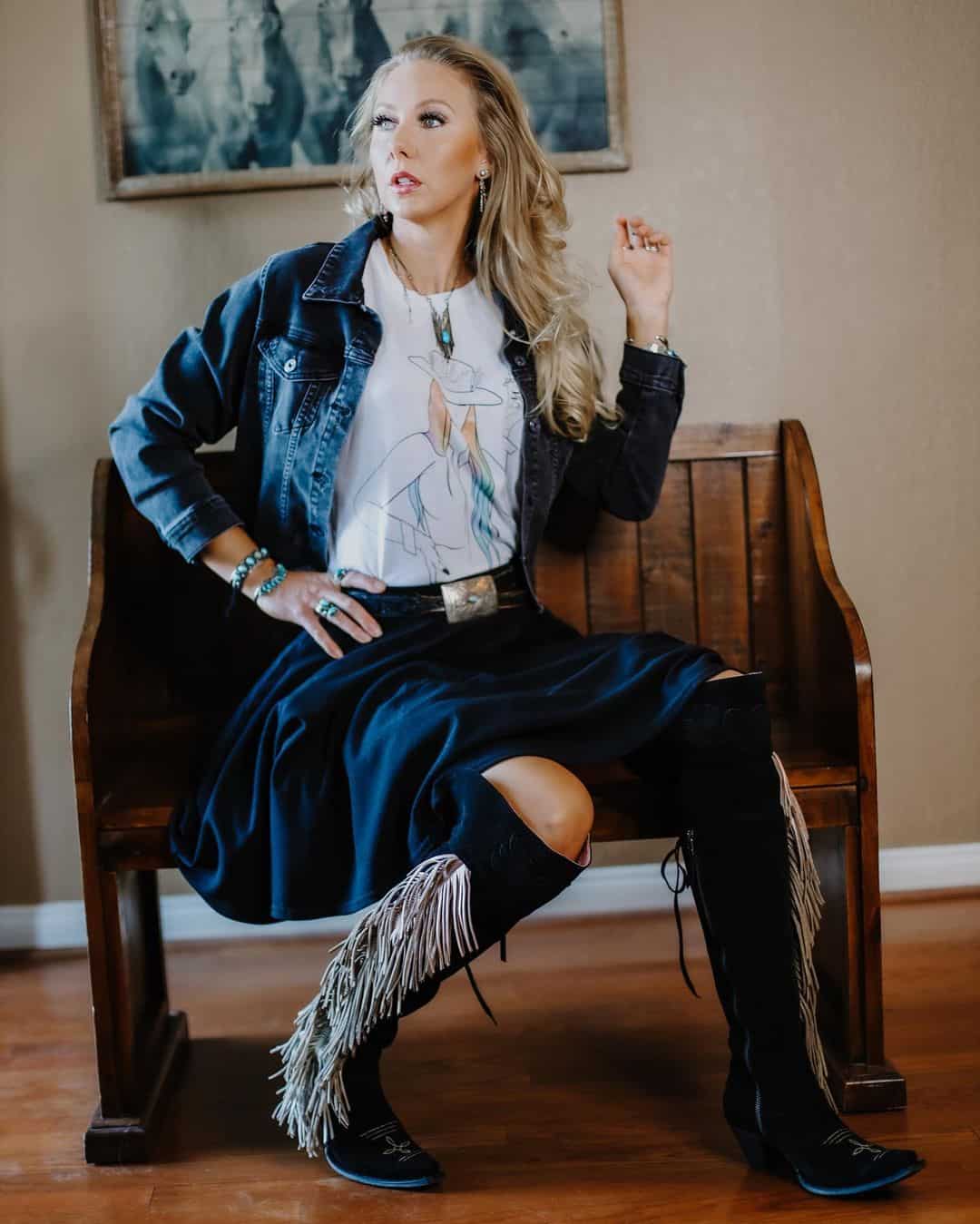 Image Source
Navy blue is another color you wouldn't typically associate with ranch life or rodeo style. But, this outfit is proof positive that you can make a cowgirl style statement in any color if you put your mind to it.
A deep navy blue skirt is the central piece of this ensemble, along with a matching pair of boots with tassels running down the sides. A simple white T-shirt, for contrast, and a denim jacket are the other elements. A chunky turquoise belt and some jewelry round off this unique cowgirl look.
26. Semi-Formal Cowgirl Outfit Idea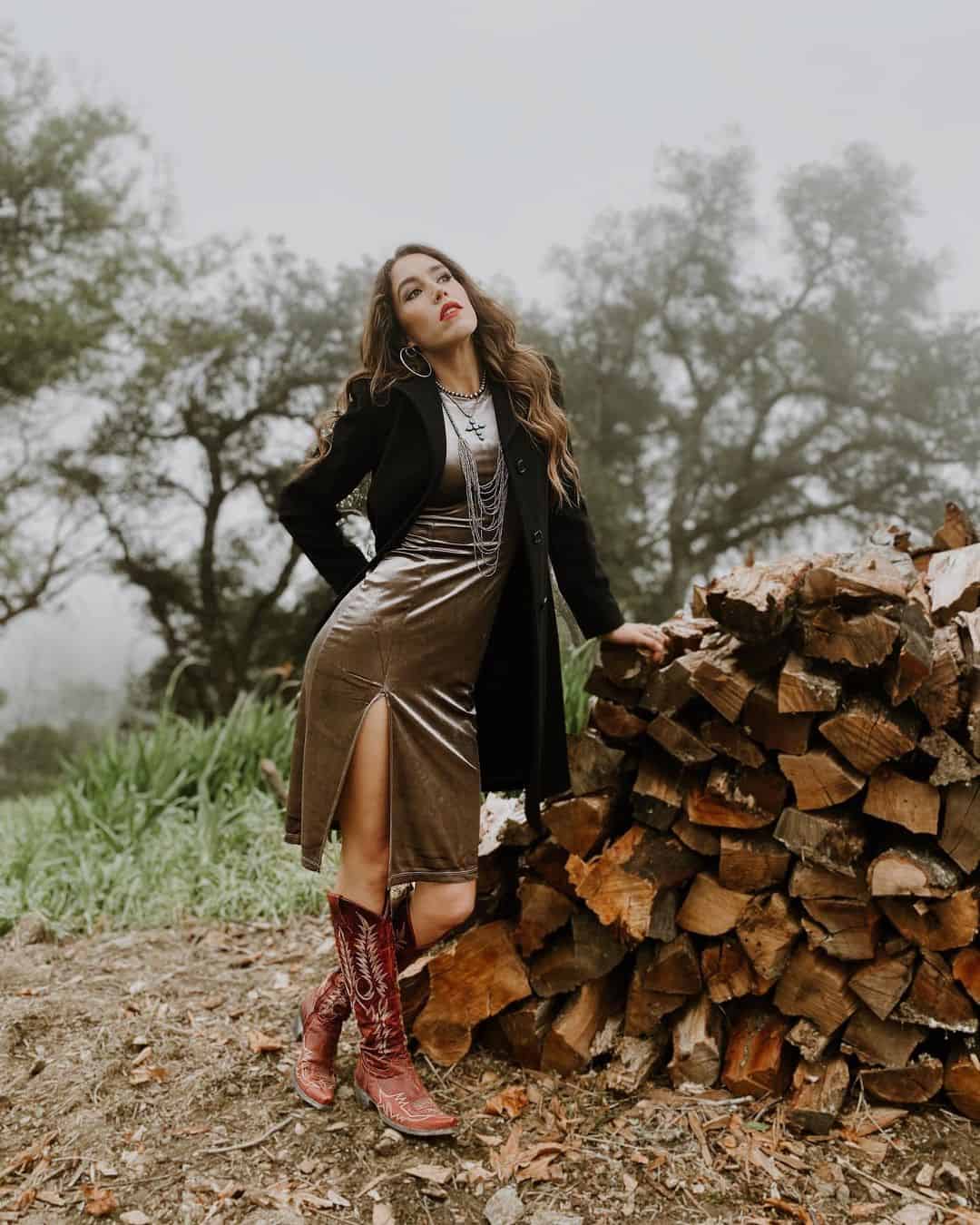 Image Source
So you have a formal adjacent event where you need to flaunt your cowgirl roots. We've got you covered. This cowgirl outfit uses a long black evening jacket to add a dash of formalness to the look. You can go with a dress that's glossy, structured, and something that is evening look appropriate. Knee-length cowgirl boots finish this simple yet elegant look.
You don't need to stick to the color theme shown here, especially with the shoes and dress. And, as long as the jacket evokes a semi-formal look, you can go with any color.
27. Glam Evening Cowgirl Dress Outfit Idea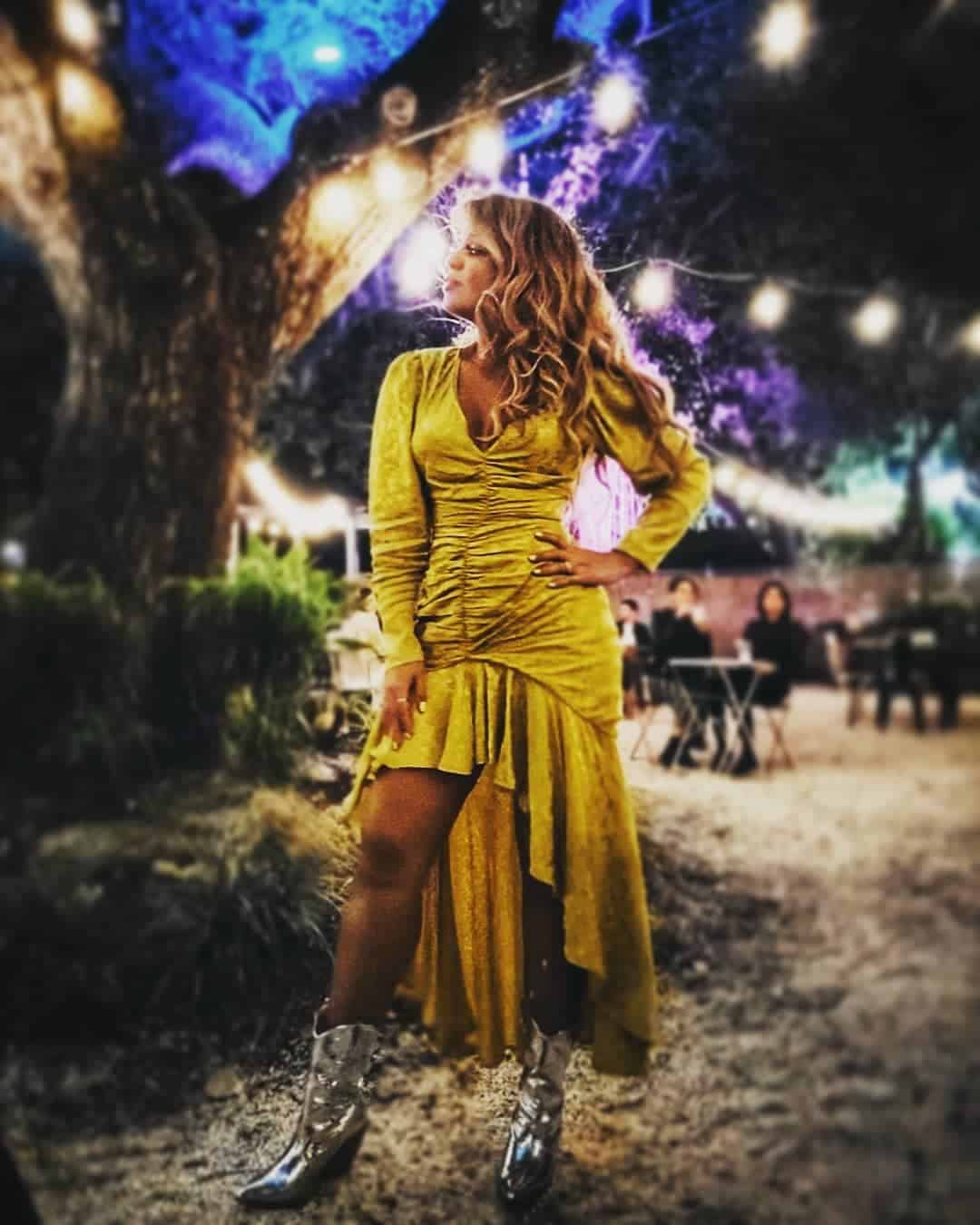 Image Source
This is another evening cowgirl look that ditches the standard components of ranch-style outfits. Just go with a dress with an uneven hemline, lots of smocking details, messy pleating, and one that looks sufficiently rugged despite being an evening dress.
Pair your find with metallic finish cowgirl boots to add a further dash of ranch glam to the look. If your shoes have spurs, even better. Just two major items, and your look, as shown here, is complete.
Here's a handkerchief hemline dress in coral and a pair of distressed gold cowgirl boots to help you recreate this outfit in a different set of colors.
28. Floral Crop Top and Short Skirt Cowgirl Outfit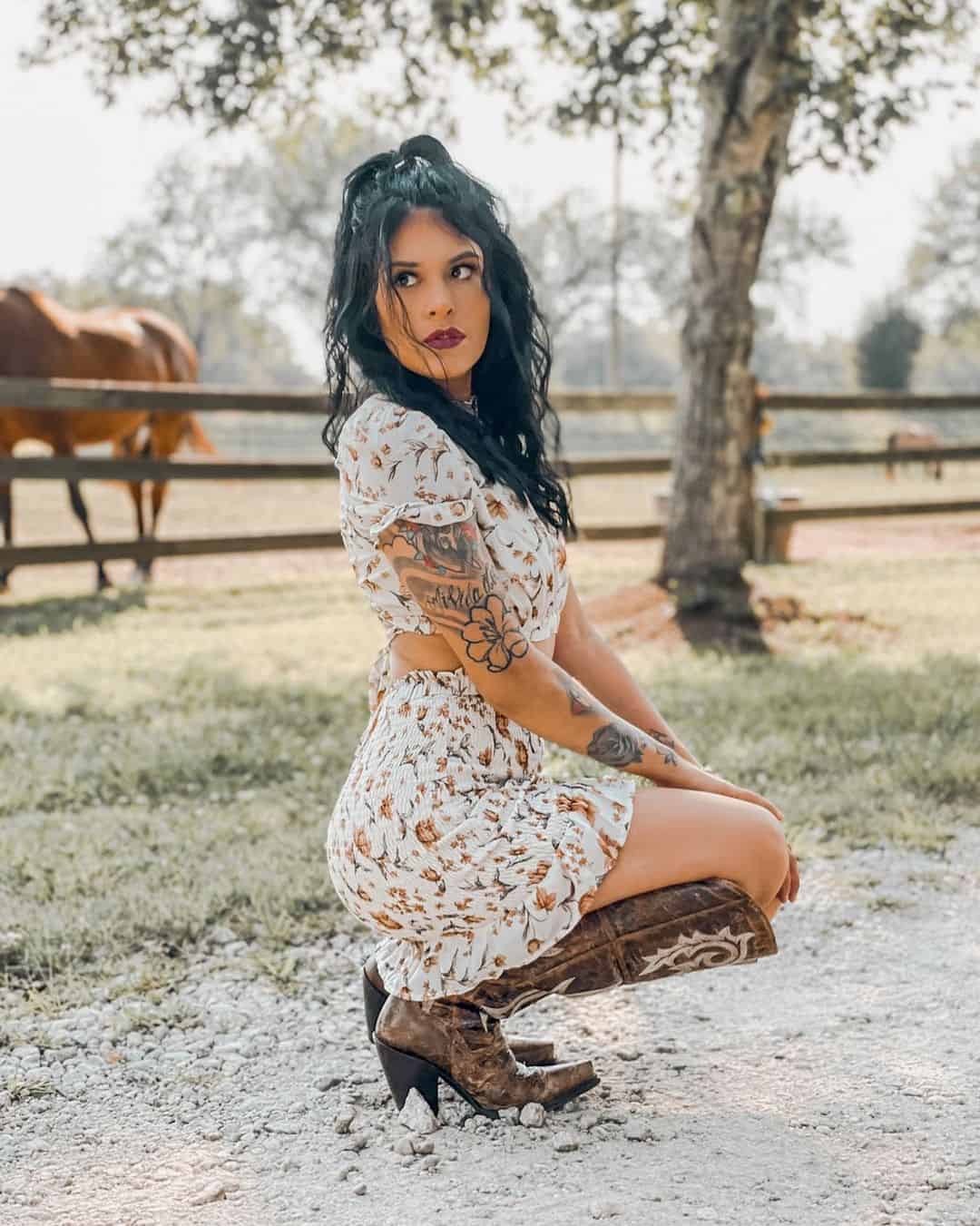 Image Source
This isn't a novel idea by any stretch of the imagination. Just a matching pair of printed crop top and short skirt two-piece ensemble worn with long cowgirl boots. Stylistic touches are provided by a half updo ponytail and some conveniently placed tattoos.
You don't actually need to have tattoos to carry this outfit. Just ensure that your boots match the dominant colors of the floral-themed top and skirt. Going for a brown/neutral theme would make the look more like a cowgirl outfit. But you can go for something as outrageous as a kawaii pink cowgirl look as long as you match the shoes and hat. You can also go with shorts instead of a skirt to achieve the same look.
29. Peacock Colors Cowgirl Outfit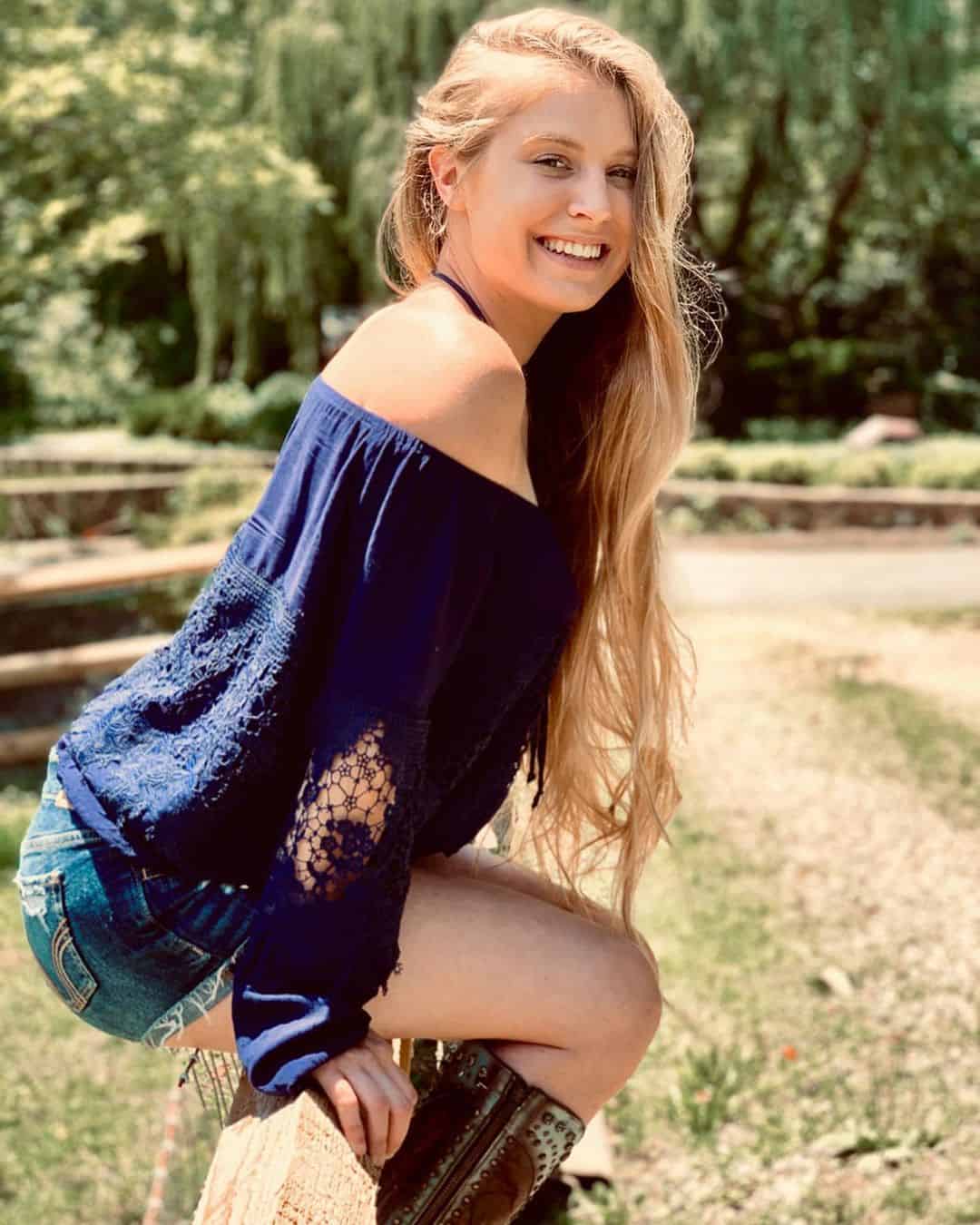 Image Source
This ensemble makes use of peacock blue and green colors to create a unique cowgirl outfit. This green and blue go well with dark brown boots. You can also go with boots in the beige-brown shade that appears in the peacock eye. This particular outfit showcases an off-the-shoulder blue top with long sleeves and frayed green Daisy Dukes. It's a cool look, one you can carry with aplomb with the right attitude.
30. Plaid Shirt and Denims Cowgirl Outfit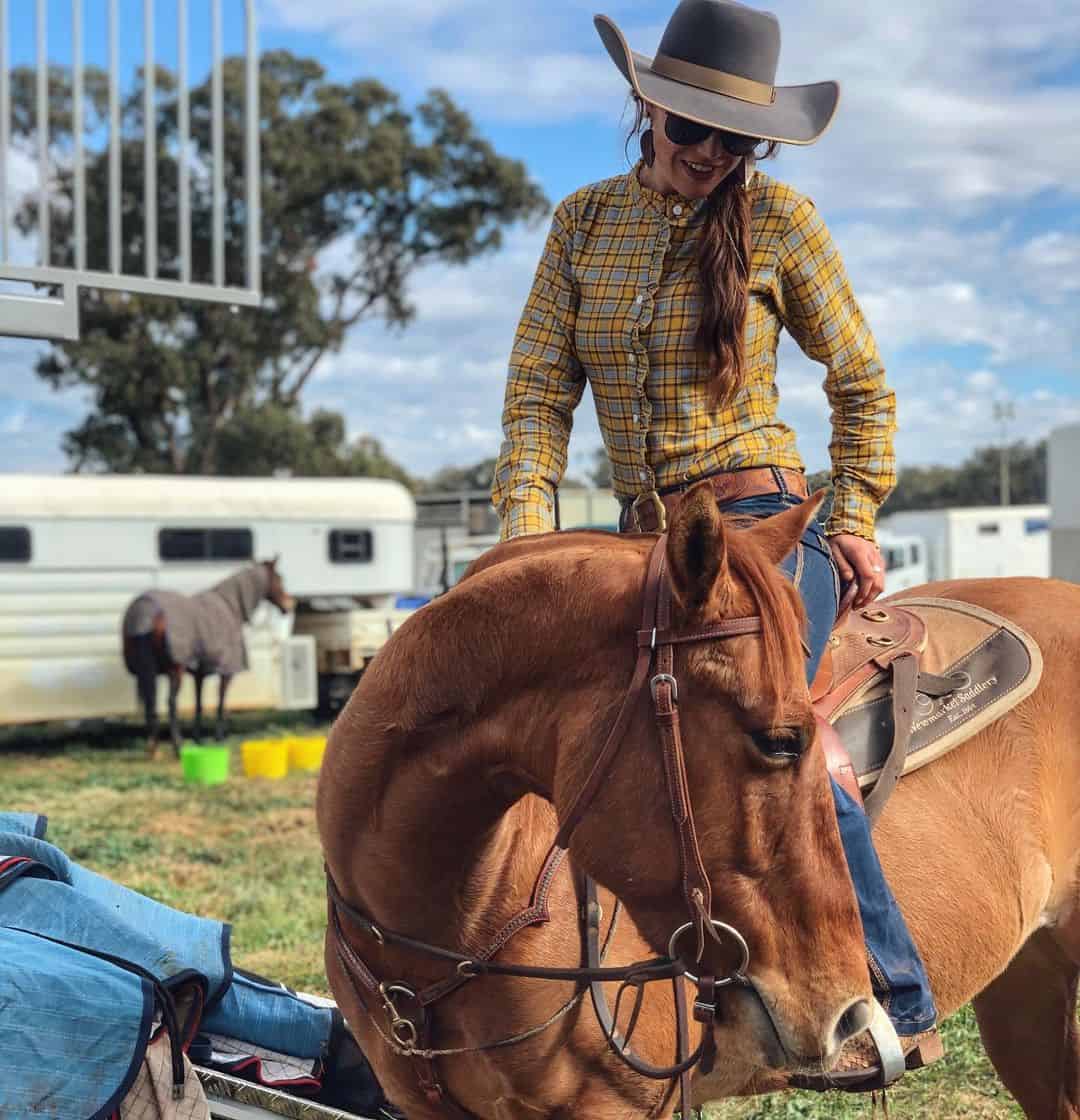 Image Source
This is a classic western outfit. It combines a full-sleeved, plaid print button-down shirt with a pair of jeans. Matching boots and a belt along with a hat complete this look. Plaid, in general, lends itself very well to the cowgirl aesthetic.
You can change up this classic outfit by going with a crop top or tying up the shirt in the front and wearing it under a sleeveless vest.
31. Hot Cowgirl Outfit Idea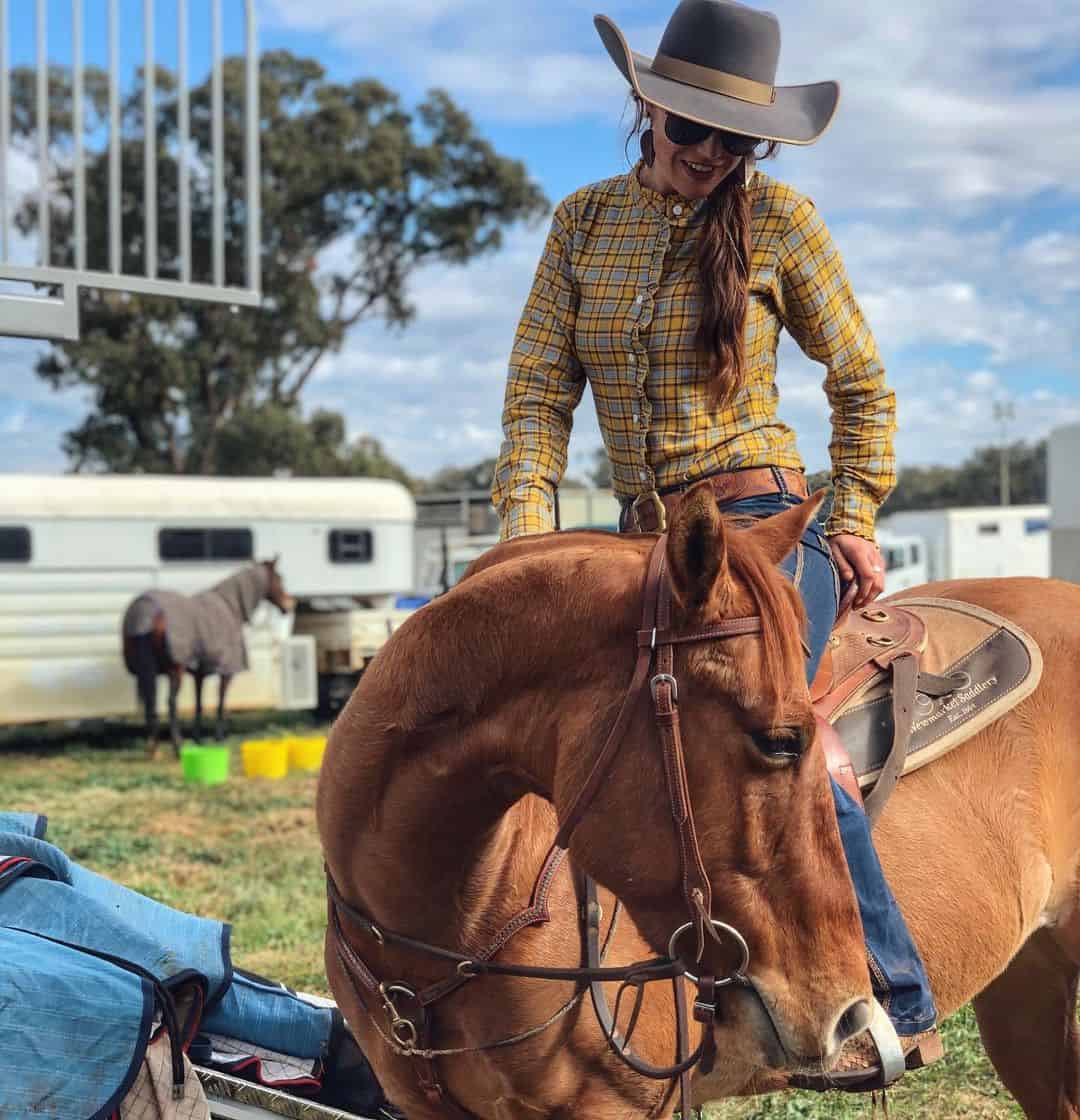 Image Source
This look dials up the cowgirl aesthetic to a hot and happening hundred! It pairs denim hotpants with a white, full-sleeved, button-down crop top, layered with an under-bust corset vest. A loose sleeveless fringe jacket with long tassels rounds off the many layers.
Knee-length cowgirl boots, a stylish cowgirl hat, and a belt with a huge metallic buckle complete the look. The short shorts have brown swatches that match the shade of the belt and boots. It's a look that screams cowgirl when styled with long glossy curls flowing down the front.
32. Jumpsuit and T-Shirt Cowgirl Outfit Idea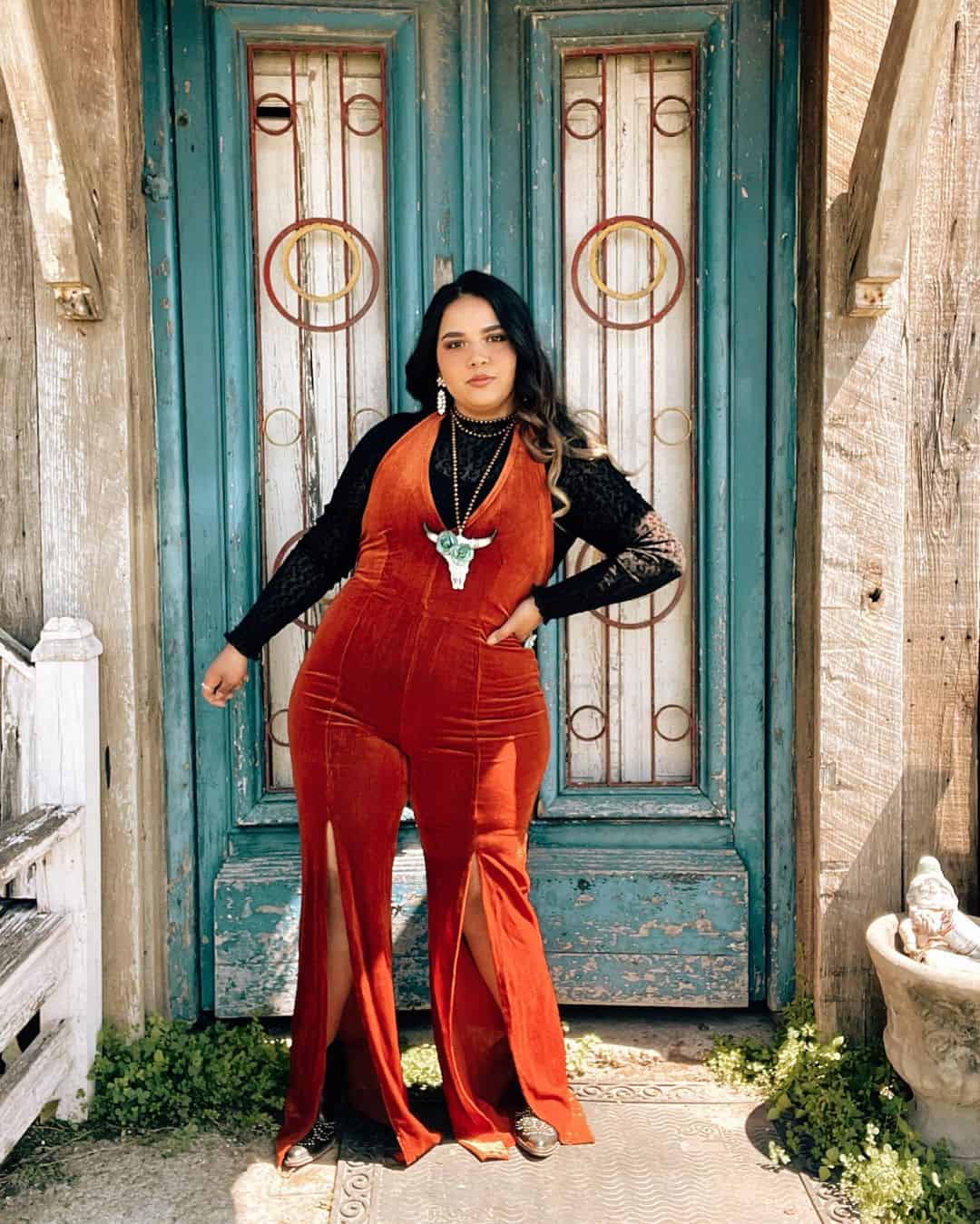 Image Source
You can turn a solid-colored jumpsuit into a cowgirl outfit for a day. Pair it with a long-sleeved T-shirt in another solid color, not necessarily black or white; any contrasting color will do. While the cowgirl boots and hat will be enough to make it look on point thematically, the addition of jewelry that evokes the ranch vibe will help the outfit come together brilliantly.
Here, the centerpiece is a big pendant with a ranch aesthetic that draws attention to itself. This pendant gives it that little nudge needed to make it look apt for rodeo halls and ranch hills. If you don't have a big pendant, go with jewelry explicitly designed for the cowgirl aesthetic.
33. Brown, Black, and Denim Cowgirl Outfit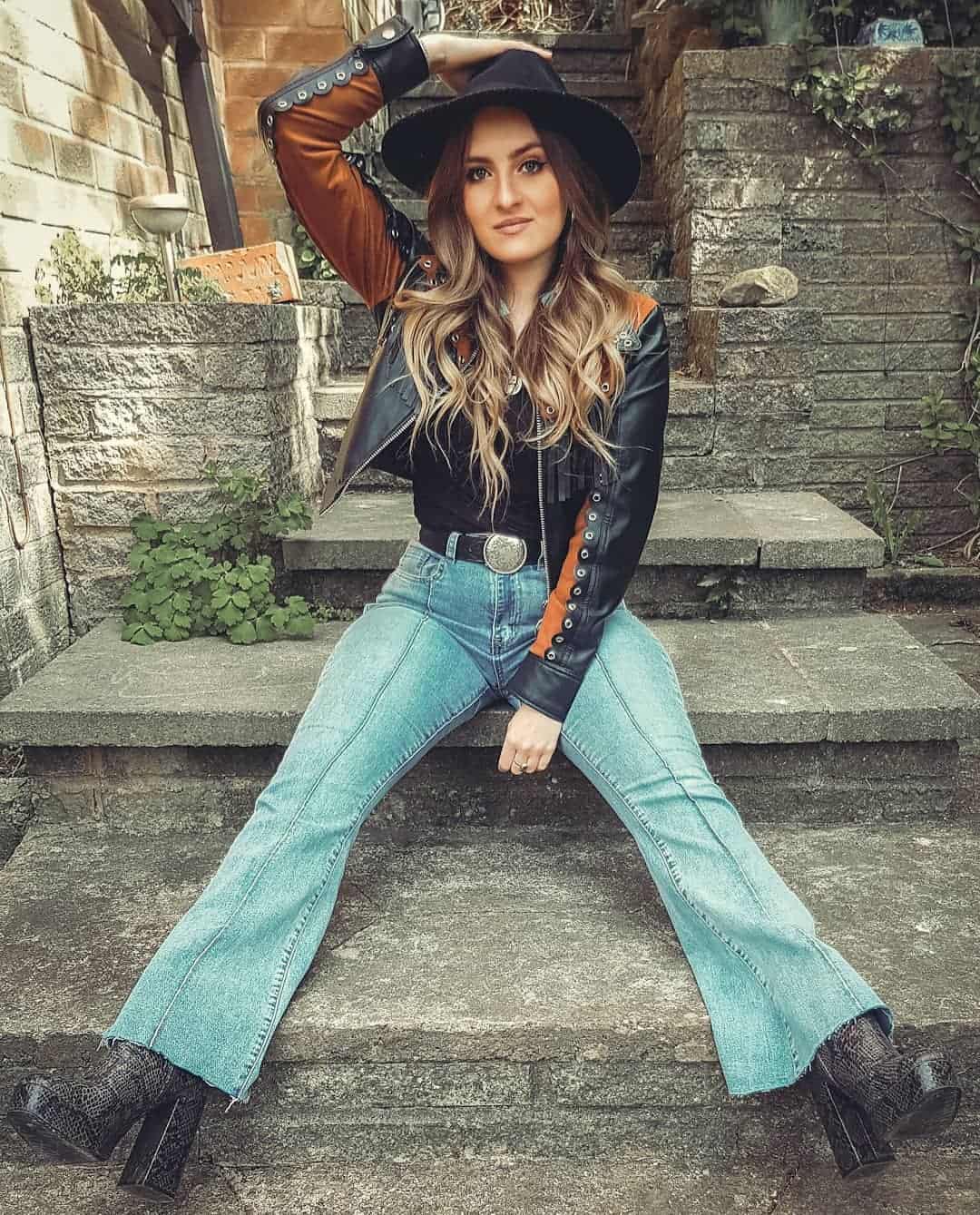 Image Source
The concept of this look is simple – it combines both black and brown pieces with denim. Instead of the regular blue, give it your own spin by going with different colored denim trousers, like jade. You can do this in several ways besides the way it's shown here. Opt for a black jacket over a brown vest or vice versa, or go for a printed black and brown top with jade jeans.
How you marry the black and brown is up to you. Fancy high-heeled boots, a hat, and a belt in the same color round off the look. You can also stick with your old blue denim to recreate this look. Here's a pair of moss green denim trousers if you would like to try it out.
34. Denim Overalls and Crop Top Cowgirl Outfit Idea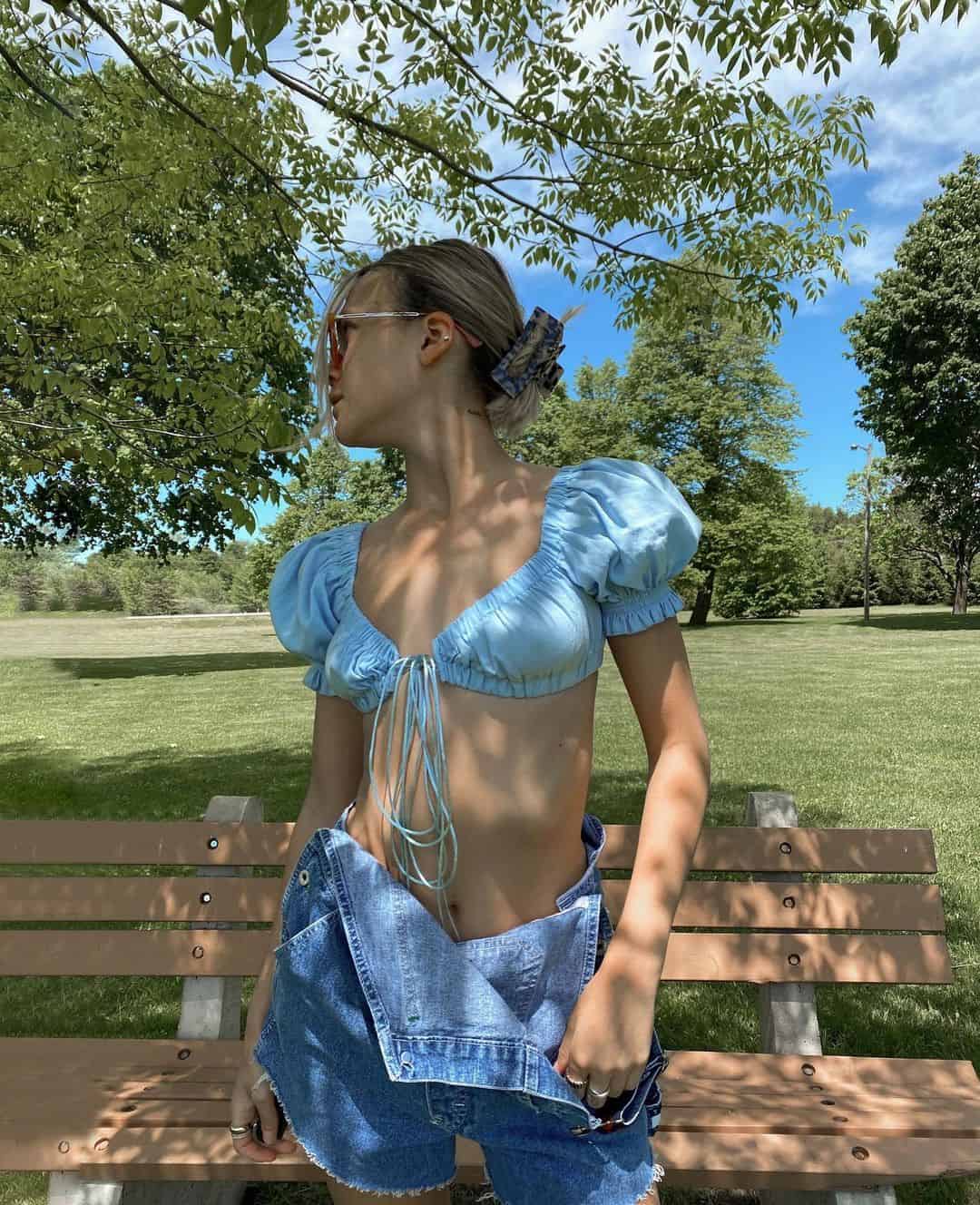 Image Source
This outfit has more of a farm girl vibe than a ranch one, but it's perfect for a day out in the countryside.
Pair a short-sleeved crop top with short denim overalls. Add cowgirl boots and dark shades along with a hat, and you're good to go! Instead of a matching blue crop top, you can contrast with a color that complements the brown boots. Peach, nude, brown, camel, or other neutral shades will make it look more put together. You can also choose to wear denim overalls in different hues to make this look pop. Add a scarf to the mix to give it an authentic cowgirl vibe.
35. Sweater and Shorts Cowgirl Outfit Idea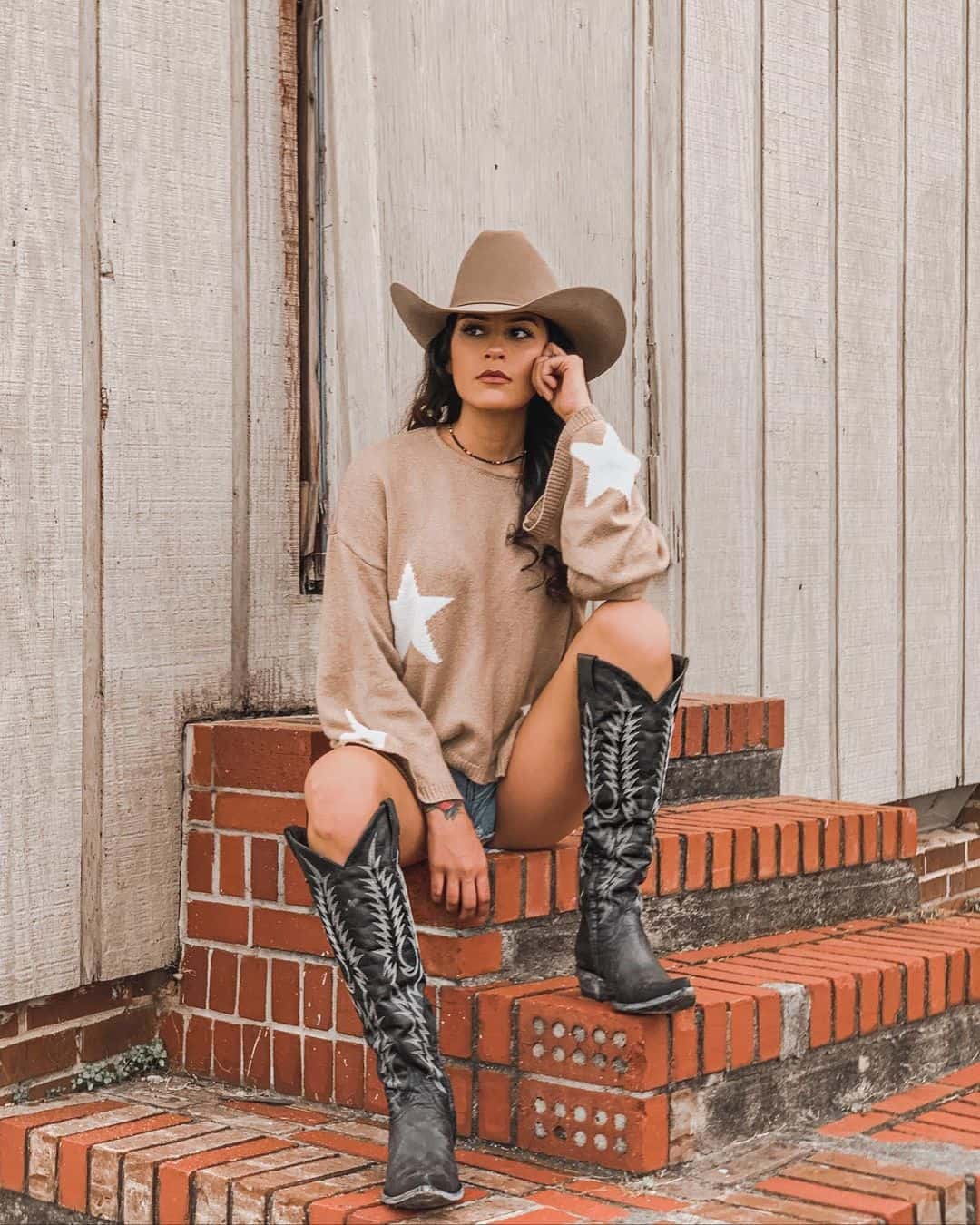 Image Source
This look is apt for the winter months if you can function with shorts in the cold weather. You can swap out the shorts for full-length jeans if you so wish. But the basic premise remains the same, an oversized, cozy sweater paired with denim. A stylish, rugged cowboy hat and knee-length cowgirl boots finish the look.
You can recreate this look straight out of your closet if you have a thick sweater and a pair of jeans.
36. Whimsical Cowgirl Outfit Idea
Image Source
This is a very serene cowgirl look that evokes warm feelings. Besides the cheeky message printed on the T-shirt, everything else about this look is soft, dainty, and very pleasing.
Start with a T-shirt that conforms to the cowgirl aesthetic, tuck it in a wrap-around skirt with fringe details, add delicate jewelry to the mix, and style it with a printed scarf tied around your head. You can add a pair of sunglasses to perfect the look. Stick to a single color theme or hues of the same color for the skirt, shoes, and scarf.
37. Leather Overcoat Cowgirl Outfit Idea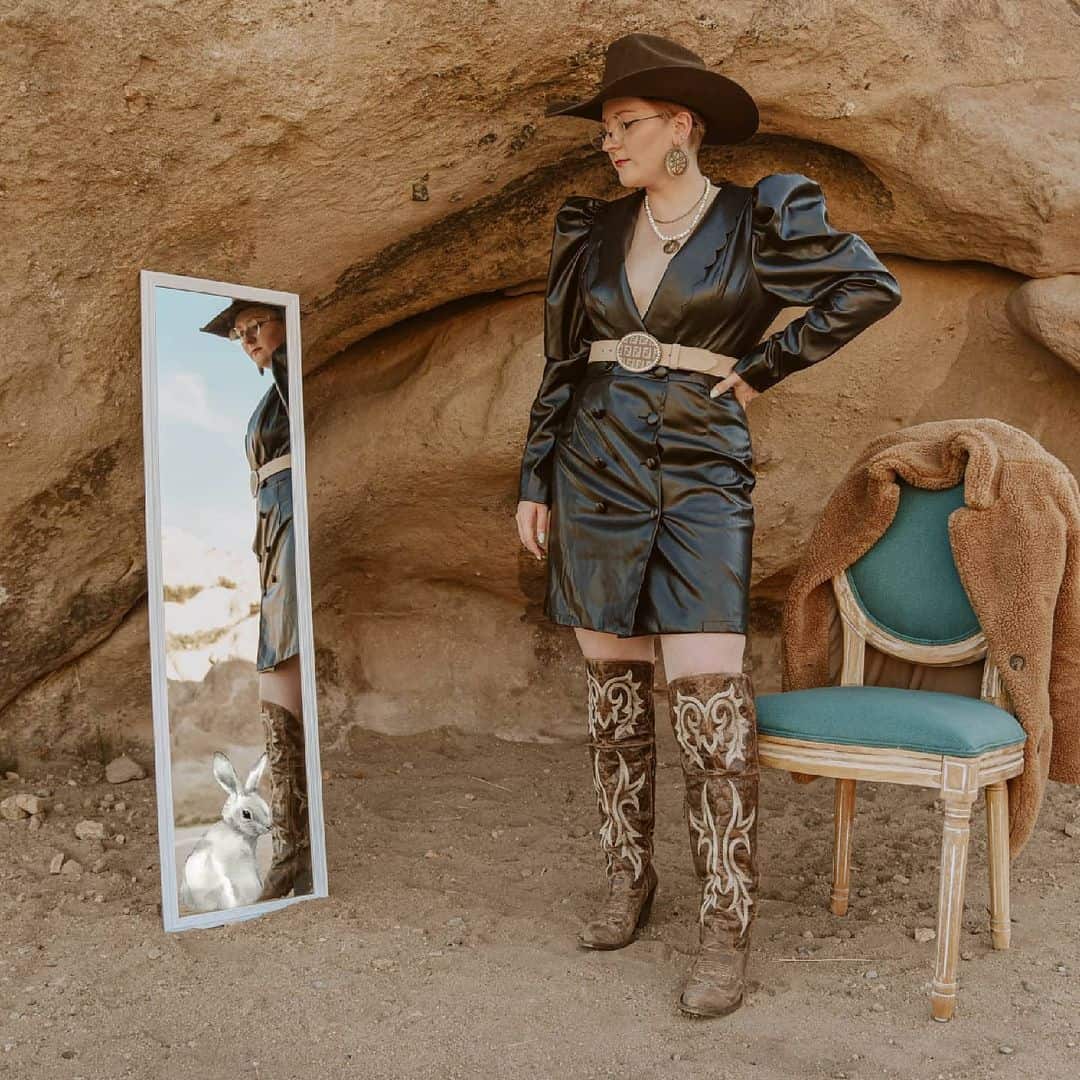 Image Source
Dare to bear? The heat and discomfort in the interest of an exciting cowgirl look, that is? Then take inspiration from this unique look that makes use of a leather overcoat to make a statement. The coat has been dressed up with very on-the-nose cowgirl accessories like knee-high ranch boots, a ranch belt buckle, and a classic cowgirl hat.
This is another black + brown + neutral combination with a unique twist. Perhaps you can try it out in the colder seasons.
38. Gypsy Cowgirl Outfit Idea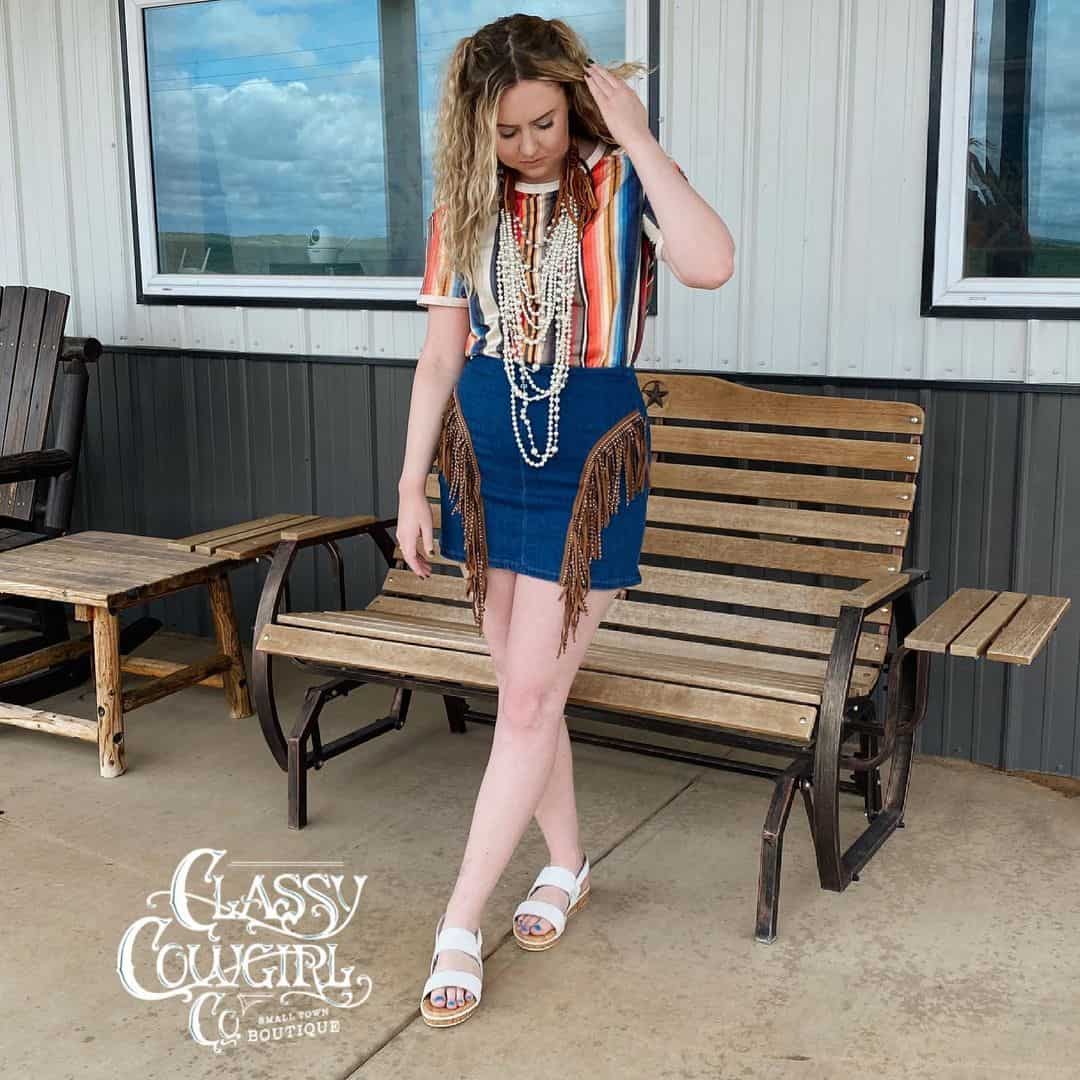 Image Source
If you have a striped rainbow top and a fringe denim skirt, then you're all set to recreate this outfit with ease. Add lots of pearl strands to accessorize the outfit. There's not much more to it besides making use of these specific items.
If you can't find a readymade denim skirt with fringe details, you can take it up as a DIY project to add fringe trim laces to a denim skirt you already have.
39. Simple White Dress Cowgirl Outfit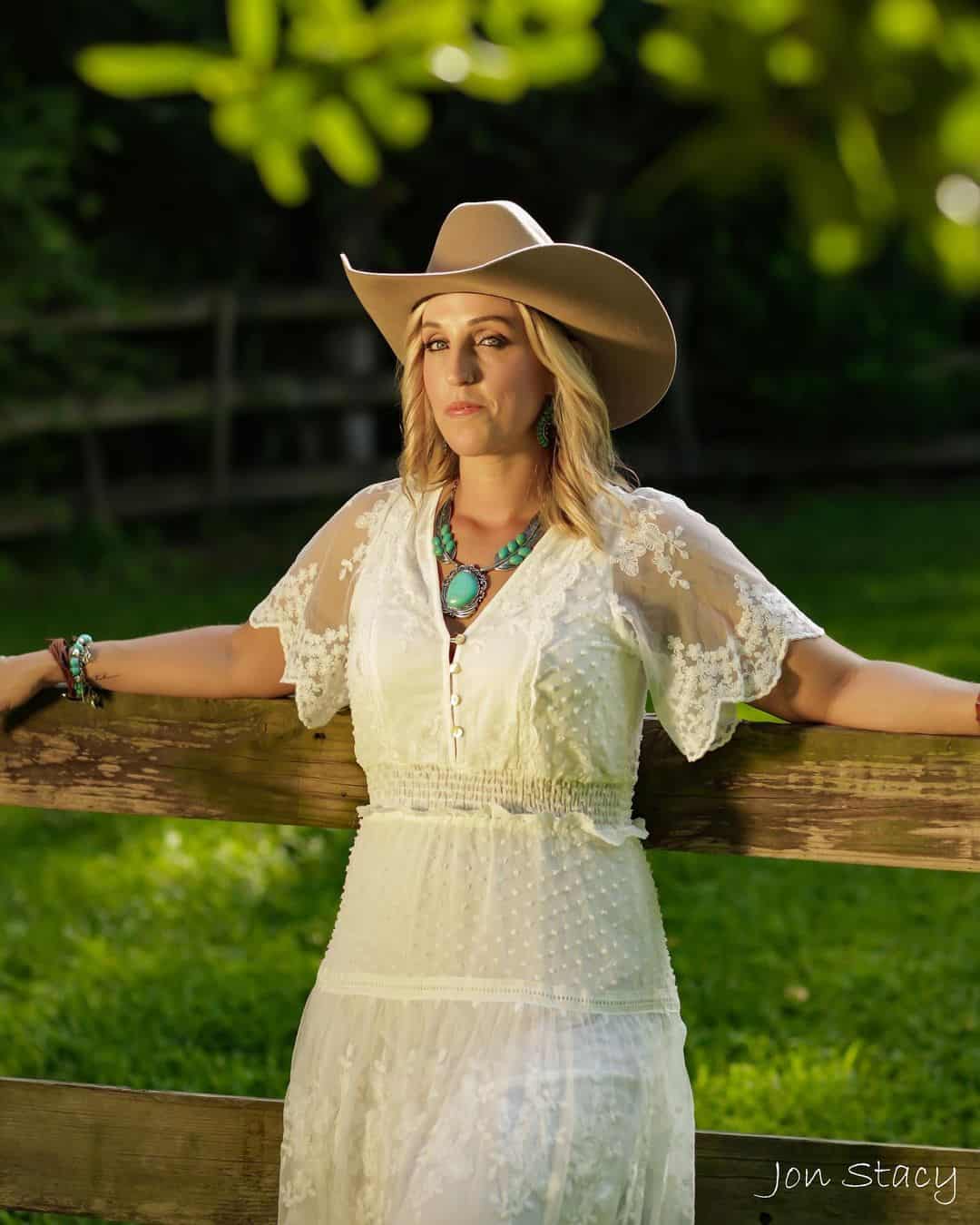 Image Source
A dainty white dress with lace details and sheer sleeves is the pièce de résistance of this cowgirl outfit. Dress it up or down as you please. Turquoise jewelry and brown accessories are usually the norms, but you can give it a unique twist by going with bright neon cowgirl boots, a hat, and leather jewelry.
40. White Denim Trousers Cowgirl Outfit Idea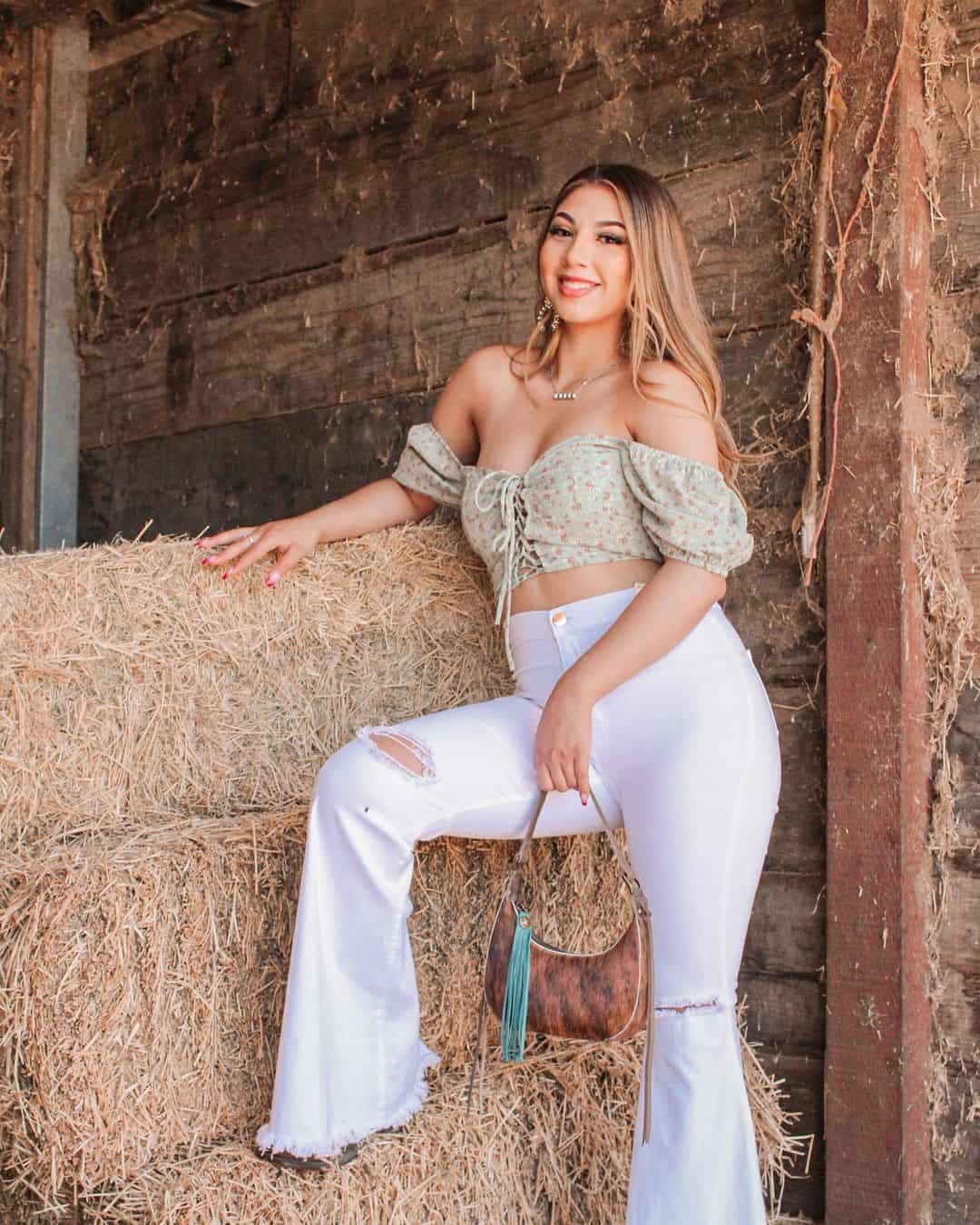 Image Source
This is another outfit with a white piece of clothing as the central piece. Pair your fit-and-flare, high-waisted, white denim with a lace-up front bandeau top. Go with a light-colored top to give the outfit a summery look. Chunky earrings and straightened hair add stylistic touches to the look with finesse.
41. Animal Print Top and Fringe Duster Cowgirl Outfit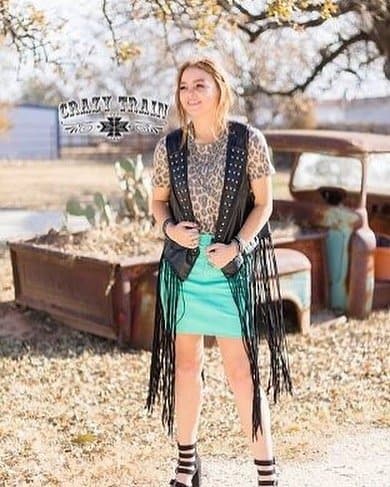 Image Source
This outfit relies on multiple rodeo elements like fringe, animal print, and metallic studs to create an exciting cowgirl look. Grab any animal print top, tuck it into a short pencil skirt, and wrap up the outfit in a fringe leather duster. You can go for a more coherent color palette to make this look more refined. Here's an moss green denim trousers animal print top, a green denim short skirt, and a red fringe shawl to help you recreate an outfit on similar lines.
42. Sheer and Sexy Cowgirl Outfit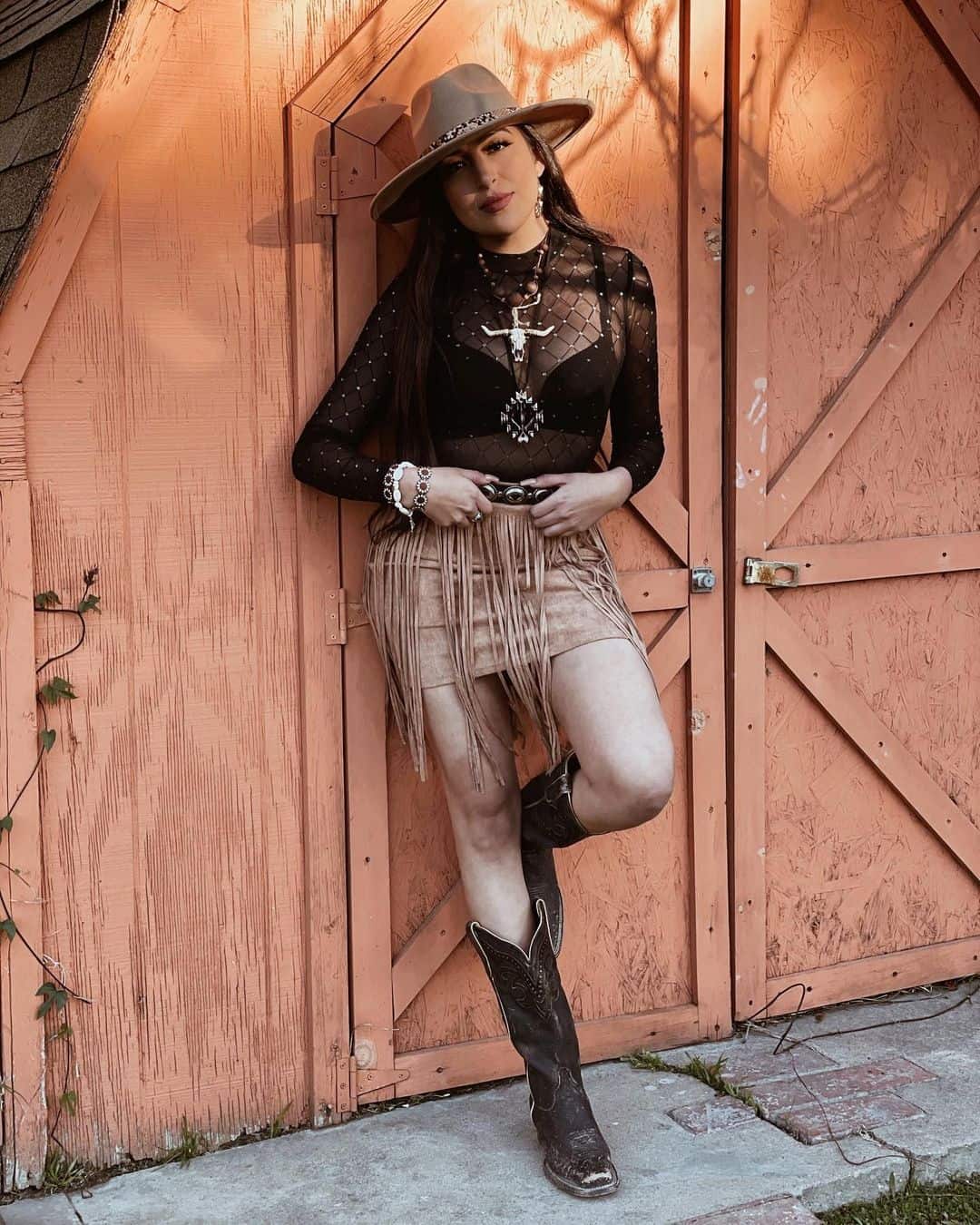 Image Source
This ensemble makes use of a dark and a light color palette to create a sexy outfit. The sheer brown top complements the nude short pencil skirt with long tassels well. If you don't have a fringe skirt, just use fringe lace and belt it around your skirt. Go for a dressy sheer top to make the look pop. Match the shoes and hat to the skirt to keep the look refined.
43. Camouflage Cowgirl Outfit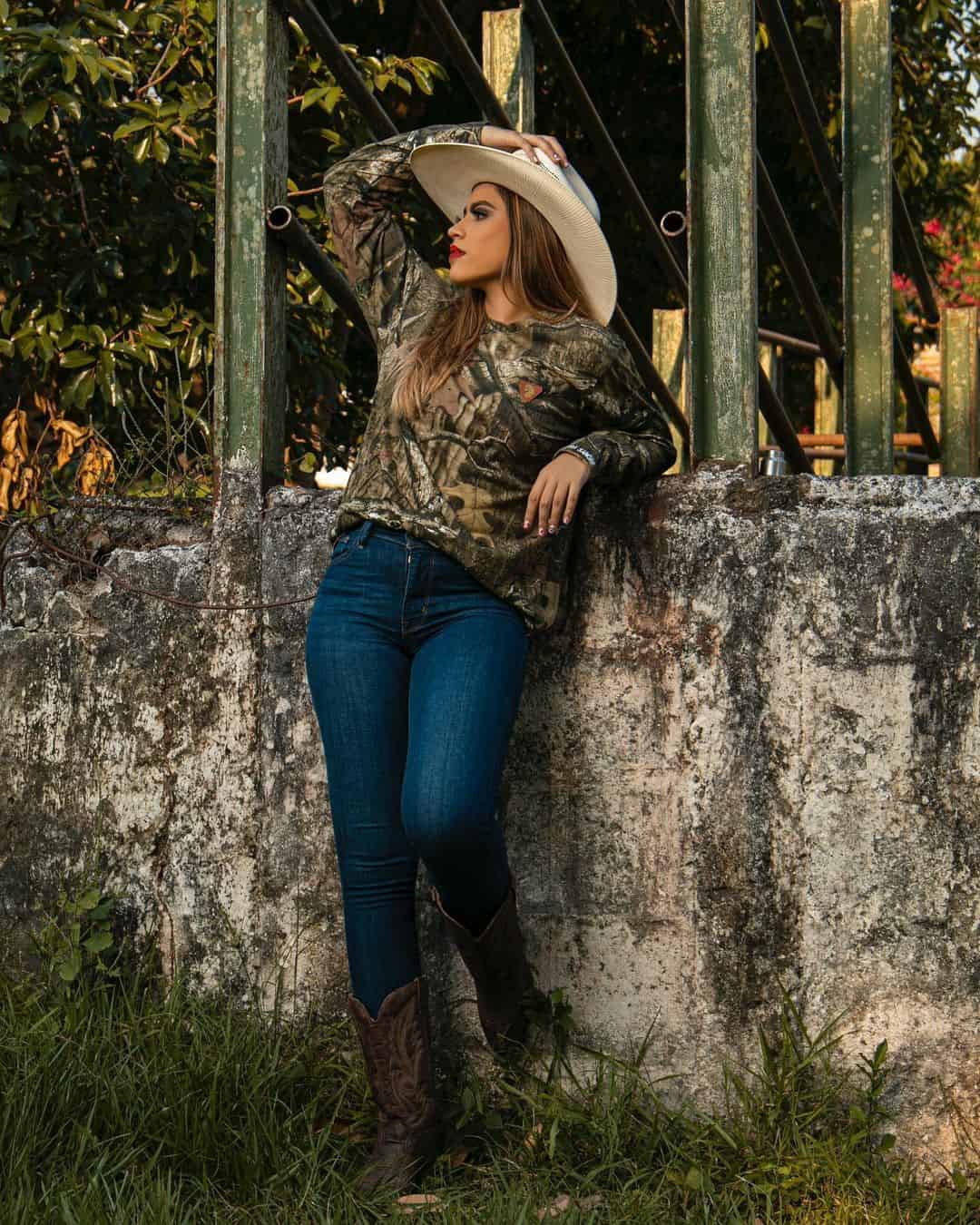 Image Source
This straightforward idea combines all the classic cowgirl elements like denim trousers, cowgirl boots, statement buckle, and a hat with a camouflage print top. That's the sum total of the outfit, incorporating camouflage print in the ensemble. You can go for faded black or dirty grey jeans instead of the classic blue and still pull off this look with elan.
44. Fashionista Cowgirl Outfit Idea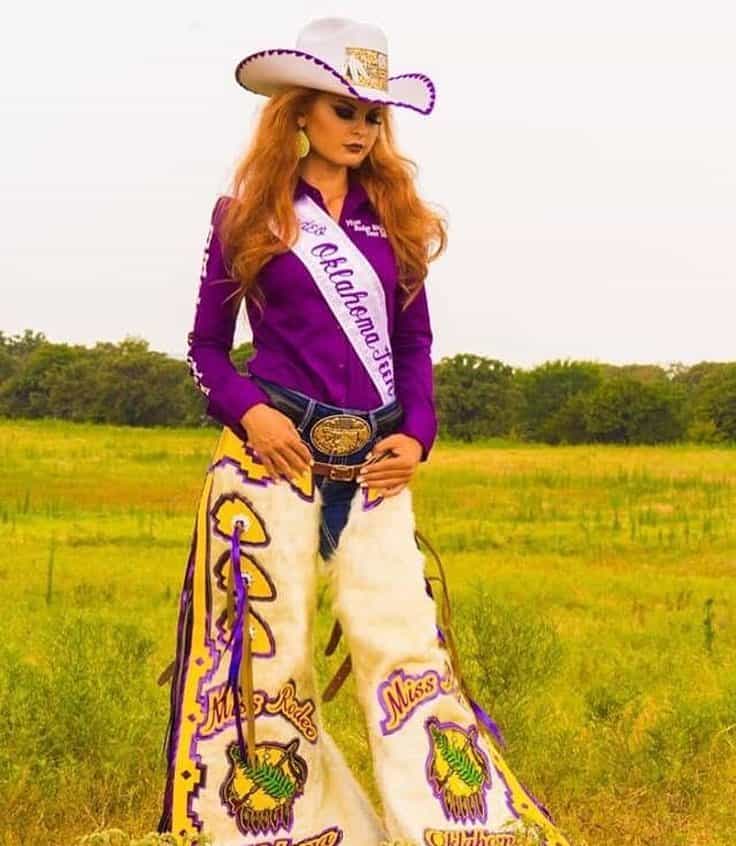 Image Source
If you're into beauty pageants and fashion shows, you can use this as an inspiration for one of your ramp walk outfits. This is a custom look with matching embroidery work on the hat and chaps. It's not a look you'll find in the wild. If you can't commission such bespoke items, search for matching fancy chaps and hats online and see if you can recreate this outfit on a budget.
45. Fancy Scarf and Tassels Cowgirl Outfit Idea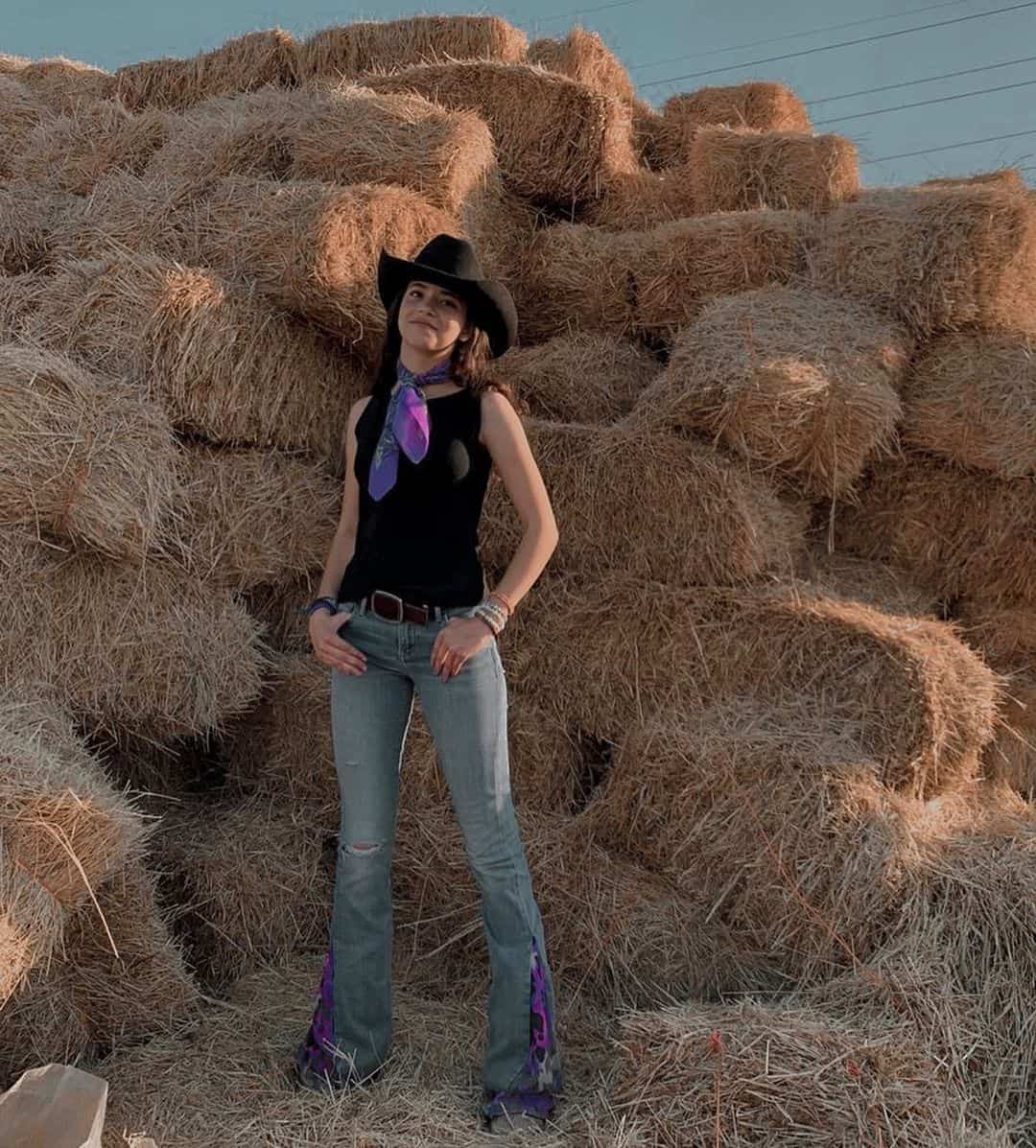 Image Source
This is more like dressing up a regular cowgirl outfit than an outfit idea in itself. Grab a fancy scarf and find a matching pair of tassels. Now use these two accessories to dress up your classic cowgirl outfit. Hook and hang the tassels onto your jeans. Wear the scarf around your neck or use it to cover your head. The matching accessories will elevate your look to the next level due to the symmetry of colors and patterns.
46. Ochre and Red Cowgirl Outfit Idea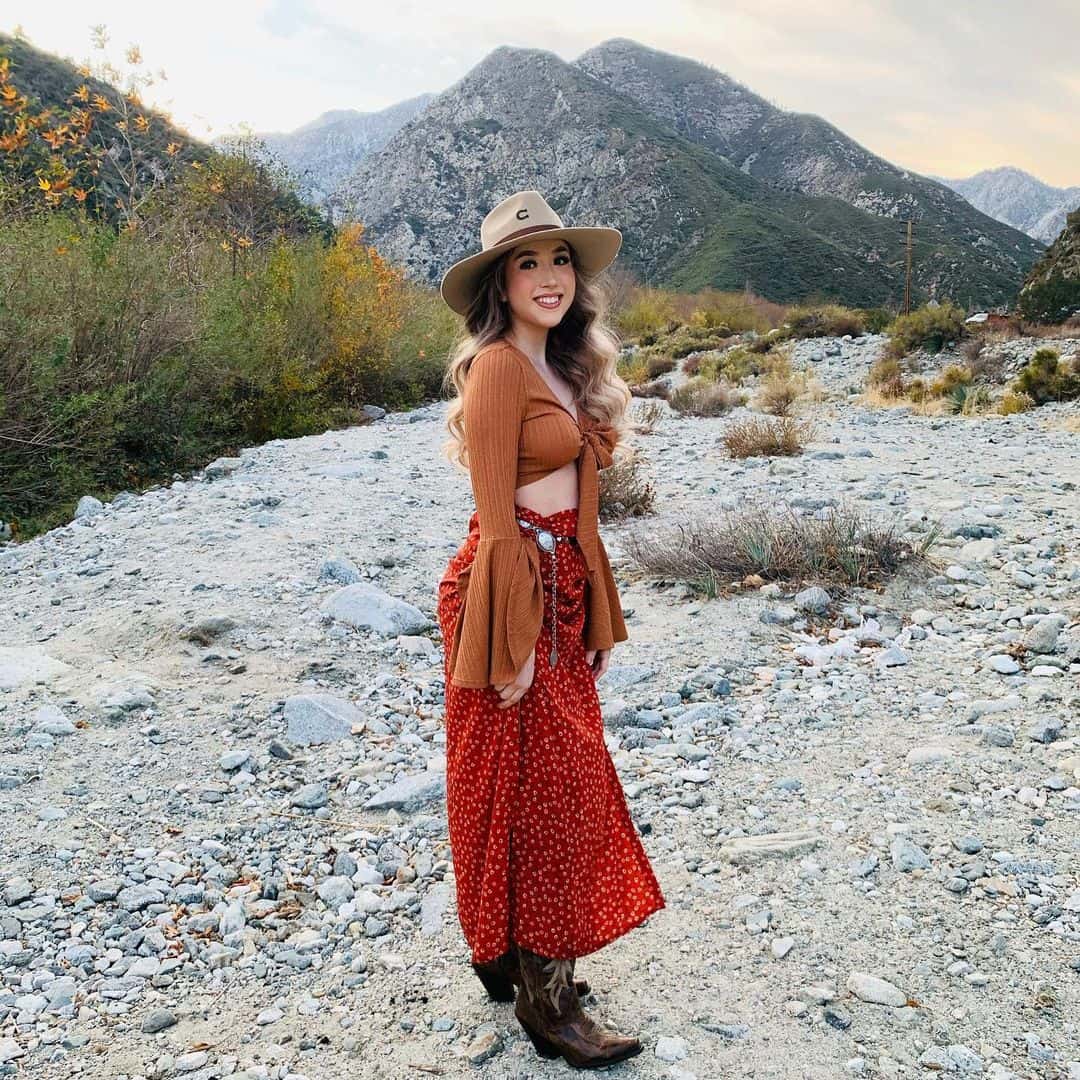 Image Source
We've mentioned earlier how earthy colors like ochre, brown, camel, and deep red make for perfect colors to create cowgirl outfits. Here's an example of one such look that combines three of these colors to create a unique cowgirl look that's stylish, colorful but still evokes ranch vibes. You can recreate this look by sticking to a similar color palette heavy in red and brown hues.
47. Denim Overalls Cowgirl Outfit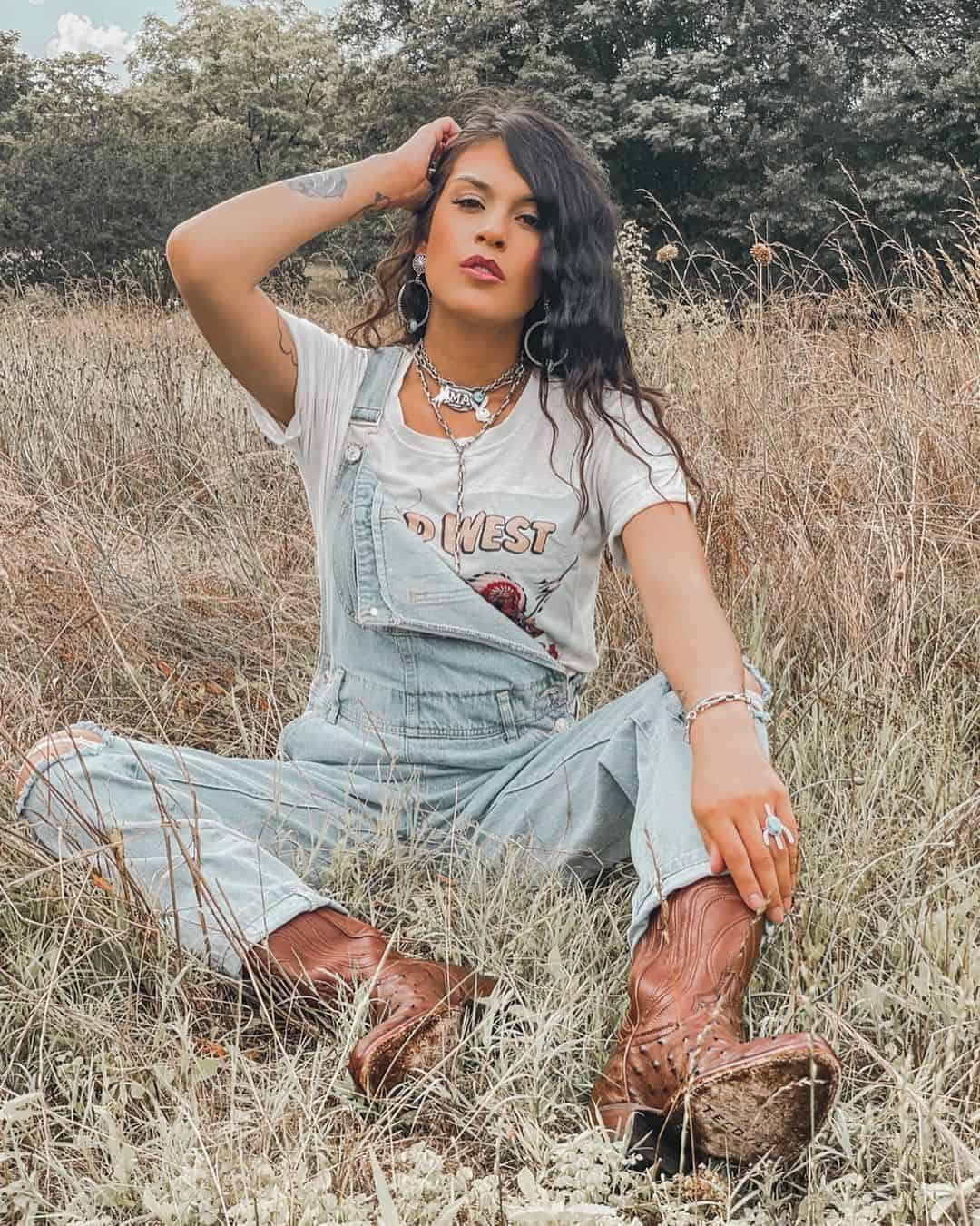 Image Source
This is a casual day on the ranch look with denim overalls and a plain T-shirt making up the key elements. The colors and style of the overalls and T-shirt can vary as long as the accessories provide the right finishing touches. You can swap out the T-shirt for a crop top or a bandeau top.
48. Multi-Colored Denim Top and Short Skirt Cowgirl Outfit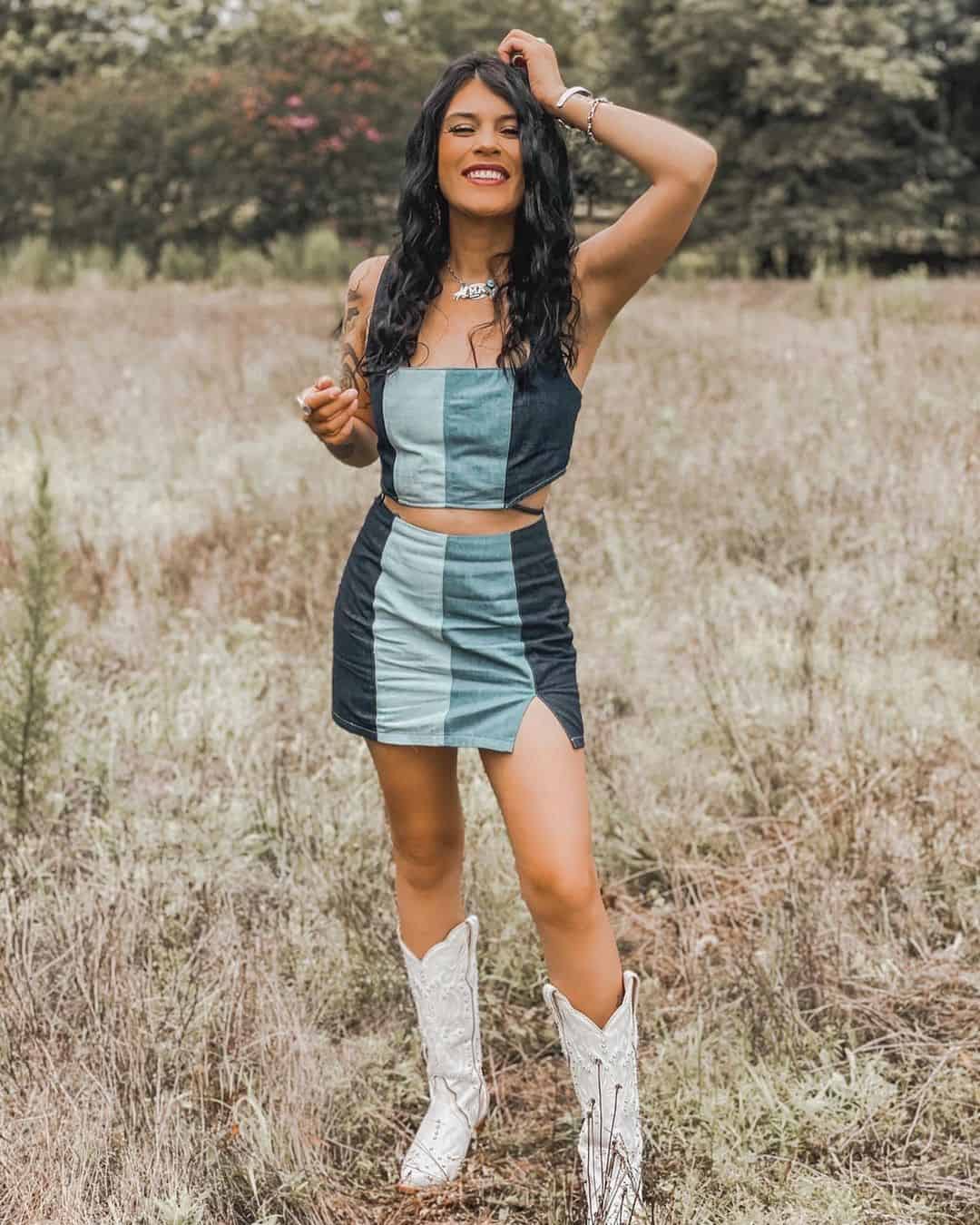 Image Source
This outfit takes the idea of denim to another level, with different colored denim panels making up the top and the short pencil skirt. It might not be easy to recreate this outfit, as finding a skirt and top in a similar theme is quite tricky. You can take this as inspiration and play with other textures and textiles to recreate this look.
Here are some color-blocked denim pencil short skirts in green, red, and black to help you out.
49. Bridal Cowgirl Outfit Idea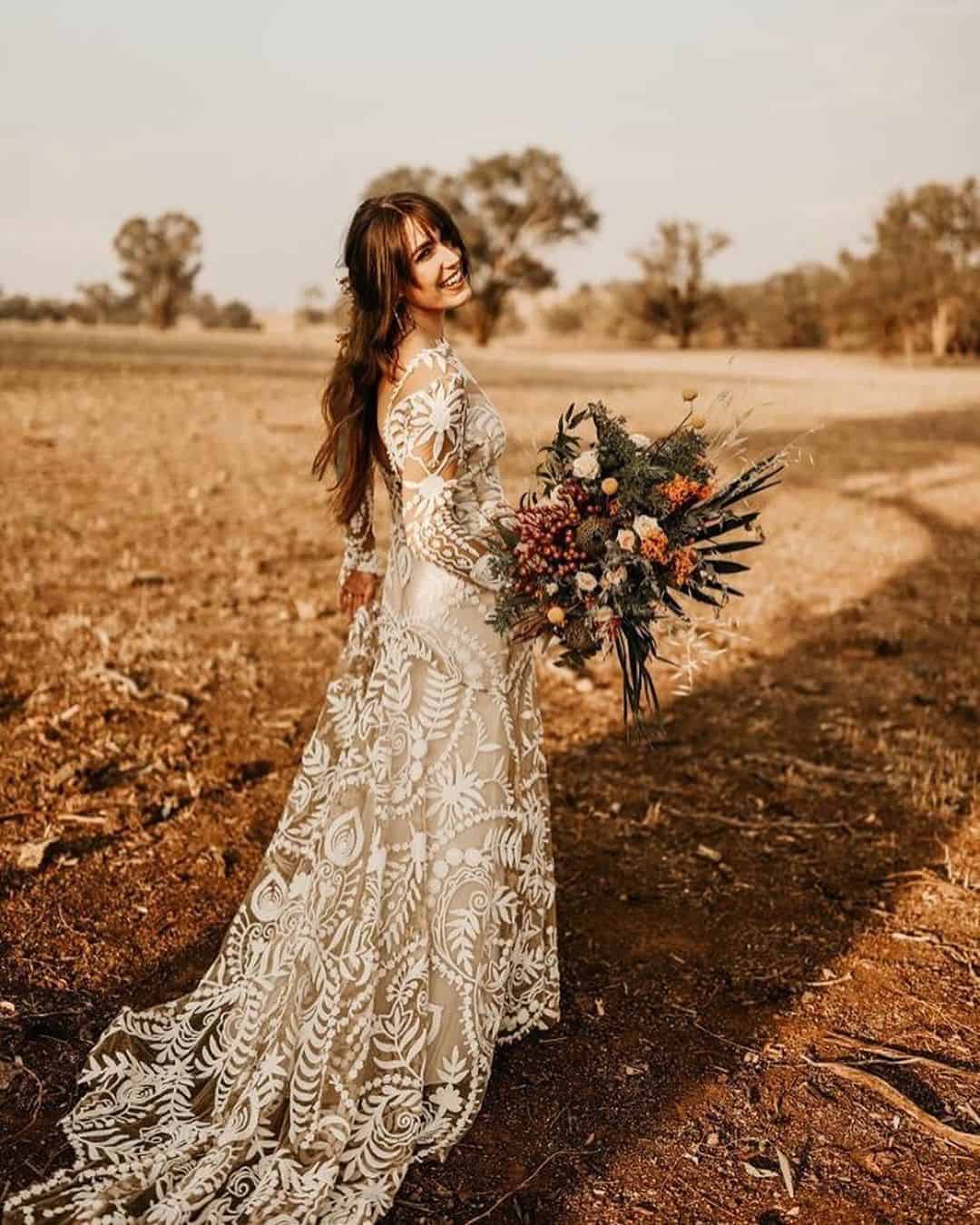 Image Source
Blushing brides can let their inner cowgirl shine on their big day by pairing their white gowns with cowgirl accessories in neutral tones. For this particular look, your options are a nude-colored hat, silver cowgirl boots, earthy makeup in brown tones, and a horse or two to bring the look home. The horses are optional, obviously. Go for jewelry with leaves or paisley motifs, as the right accessories will make your look stand out.
50. Rhinestones Cowgirl Chaps Outfit Idea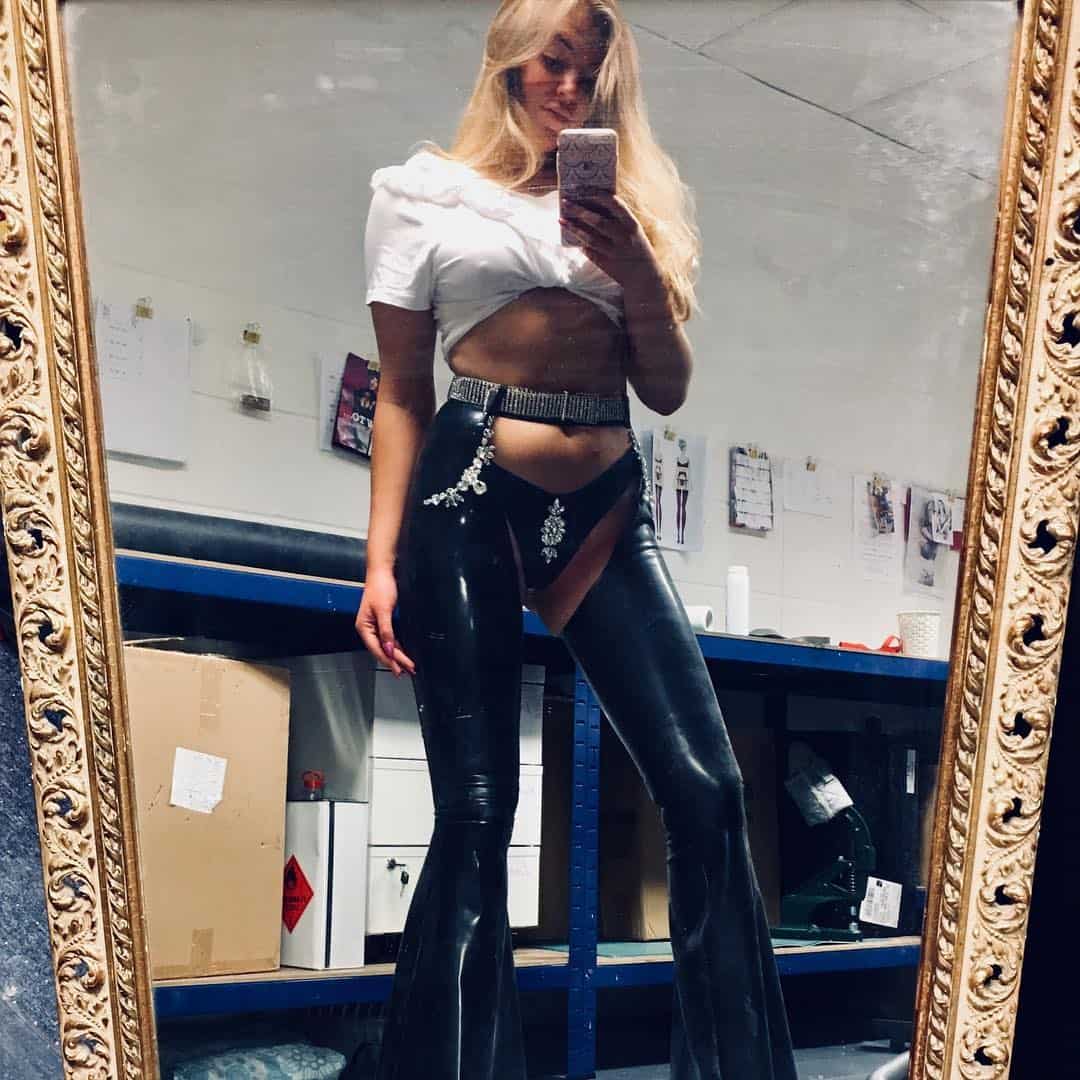 Image Source
Cowgirl chaps remain as popular as ever when it comes to rodeo style and fashion. The rhinestones encrusted belt, chains, and chaps shown here give a unique twist to the regular cowgirl chaps. Pair these sexy bottoms with a knotted-up plain white shirt to add more oomph to the outfit.
You can also opt for spandex or viscose chaps instead of leather ones if you can't find a decent pair and add the rhinestones yourself as a DIY project. This outfit is perfect for a night out with your cowgirl companions.
How to Dress Like a Cowgirl?
You've had a look at 50 different ways to dress up as a cowgirl. Here's how you can recreate these looks with the help of everyday clothing and accessories.
Use items from your closet like denim trousers, solid-colored plain T-shirts, white shirts, floral print dresses, long jackets, and printed shawls and scarves for the basics.
Invest in a good pair of cowgirl boots in brown or dark brown and a nice ranch hat in a neutral color.
You can use regular belts and add on big buckles that can be easily attached and detached.
Stacks of jewelry work better than single pieces. Go for big baubles over dainty pieces.
Formal jackets also look good when paired with denim-based cowgirl outfits.
Printed outfits usually sport floral, animal, and boho print patterns. Plaid prints are a category unto themselves when it comes to rodeo fashion.
Uneven hemlines, embroidery along the sides, fringe details, embedded studs, lace details on sleeves, bell sleeves, fit-and-flare trousers, or bell bottoms are the kind of tailoring details you should pay attention to.
You can pair pencil skirts and formal black jackets to create semi-formal cowgirl looks that won't look out of place in any business setting.
When in doubt, pair your denim bottoms with a plain white shirt, T-shirt, or crop top, rodeo boots, and a hat, and you're good to go! Dress up this look with an embroidered jacket, chunky jewelry, and so on. The cowgirl look stripped down to its basics is still as stylish as its practical.
The right attitude will make or break your outfit. Be confident in your taste and fashion choices. Commit to the aesthetic and flaunt your ranch girl style unabashedly.
Final Thoughts
True cowgirls wear their outfits with confidence and rock the scene wherever they go. Whether you're sporting the look in a country setting or adapting this style for the city, trod the ground with poise, style, a heavy dose of fringe, and an attitude that doesn't care about looking different. Match those short shorts with knee-highs and let the heads keep turning!