Top Picks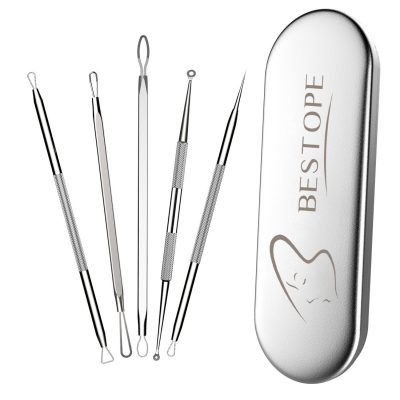 BESTOPE Blackhead Remover Extractor Tool Kit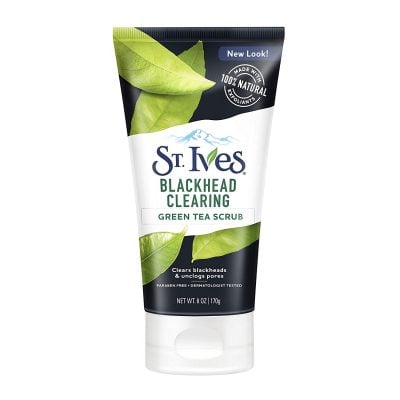 St. Ives Blackhead Clearing Face Scrub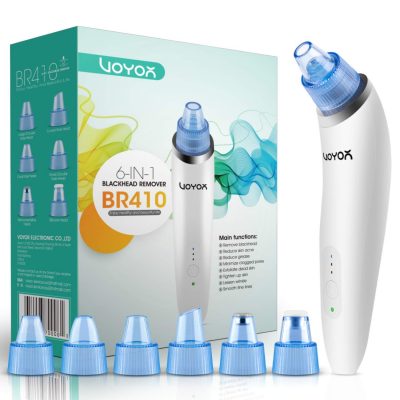 VOYOR Blackhead Remover Vacuum Suction Facial Pore Cleaner
Previous
Next
Blackheads have been the bane of beauties around the globe for ages. Whether they poke out of the bulb of your nose in ugly clusters or make their home in other pores on your face and neck, they're a nuisance but usually do not cause much bigger problems than marring your looks.
In the simplest terms, blackheads are just dirt that clogs your pores. Pores are openings for hair follicles on the surface of the skin. They have sebaceous glands that produce oil to keep your skin naturally hydrated. Sometimes, these pores get bigger due to excess sebum production, aging, loss of elasticity in the skin, overexposure to the sun, acne affliction, and so on.
When the oil production is balanced, pores cleanse themselves naturally. But when these pores get larger or there's excessive oil production, oil and dirt get lodged in the pore along with other stuff like dead skin cells, clogging the pore.
This collection of gunk inside the pore slowly turns black due to oxidation (exposure to oxygen) and has the appearance of a tiny black hair poking out of your pore. If the pore surface is closed, oxidation doesn't happen and the clogged pore looks like a whitehead. And that's how you get them – the blackheads and whiteheads that tend to crowd around the nose, forehead, and chin.
How Do I Choose a Blackhead Remover?
The best way to get rid of blackheads is to use one of the many useful tools designed to address the problem. In fact, there are so many different kinds of tools and techniques available to get rid of blackheads, the choices could overwhelm you. While some of these are widely used and approved by dermatologists, others are shortcuts that may not be the best for your skin in the long term.
But how do you go about choosing one of these methods or products to deal with your blackheads? Here's a quick checklist to help you decide.
Product Type
There's more than one way to remove a blackhead. From picks to instantly remove blackheads to purifying scrubs that don't work quite as quickly but instead attack the problem at its root, we've chosen products that use every method of removing these unslightly bumps available.
Skin Type
If your facial skin has large pores then you may want to avoid certain tools like facial steamers, blackhead strips, and so on. If you have more whiteheads than blackheads, you may want to go with electric pore extractors rather than the traditional needle eye extractor loops for better results. The bottom line is, the kind of skin you have should be the biggest factor in informing your choice.
Side Effects
Any product being used to deal with blackheads shouldn't cause your pores to enlarge over time. It shouldn't lead to other problems like dry skin, damaged nerves, or issues that are much worse than simply having blackheads. Unclogging your pores is just like power washing your face. As you power clean your face, make sure you aren't using tools that can cause further damage.
Ease of Use
While some products are easy to use with a strip or two, others require you to follow elaborate steps to get the desired results. Yet others like microdermabrasion tools might require professional help or a very practiced hand. Any blackhead remover tool you buy should be something you're comfortable using and not left to languish in the makeup drawer.  Portability is worth considering too: some tools occupy very little real estate in your makeup kit and can be carried around easily, while others might not offer the same flexibility.
Ease of Cleaning
Washing the tools properly, sanitizing them before they come into close contact with your facial skin, and disposing of the gunk from clogged pores, shouldn't be a convoluted process. Stick with products that can be cleaned with ease. Replacing batteries, storing products in the right temperature settings, and sterilizing equipment could quickly turn into tedious chores and prevent you from using your tools as frequently as you should.
Price
Blackhead removal products vary widely in the methods employed to get the work done. From suction-based electrical devices to chemical peels, simple mechanical loops to physical strips, the underlying principals are diverse and the technology used influences the price range. Just because you can't have that expensive and trendy tool, doesn't mean that you don't have the best means at your disposal. The most affordable options are as effective as the most expensive. Don't let the price tag tell you any different.
Whichever tool you buy, never, ever, try to squeeze out a blackhead with your bare hands: you'll be causing more damage to your skin in the long run.
We'll discuss crucial details that will help you decide whether the product is suitable to your skin type, explain the underlying mechanism of how it works, and how good it is for long term usage. You'll also get an idea about how frequently you can use them, the best way to use them, and if there are other alternatives available. Without further ado, here's our guide to the best blackhead removers available.
Top 11 Best Blackhead Removers 2021
Complete Guide to Blackhead Removal
What Is the Best Way to Get Rid of Blackheads?
There is no one size fits all approach to keeping blackheads at bay. Different products work for different skin types. What will definitely help is figuring out the right skincare routine for you and then keeping up with it diligently for the rest of your life.
Consistency pays when it comes to skincare and letting up good practices will result in the recurrence of stubborn problems like blackheads. Here's a good illustration of the different steps you need to incorporate in your skincare routine to unclog your pores and keep blackheads away.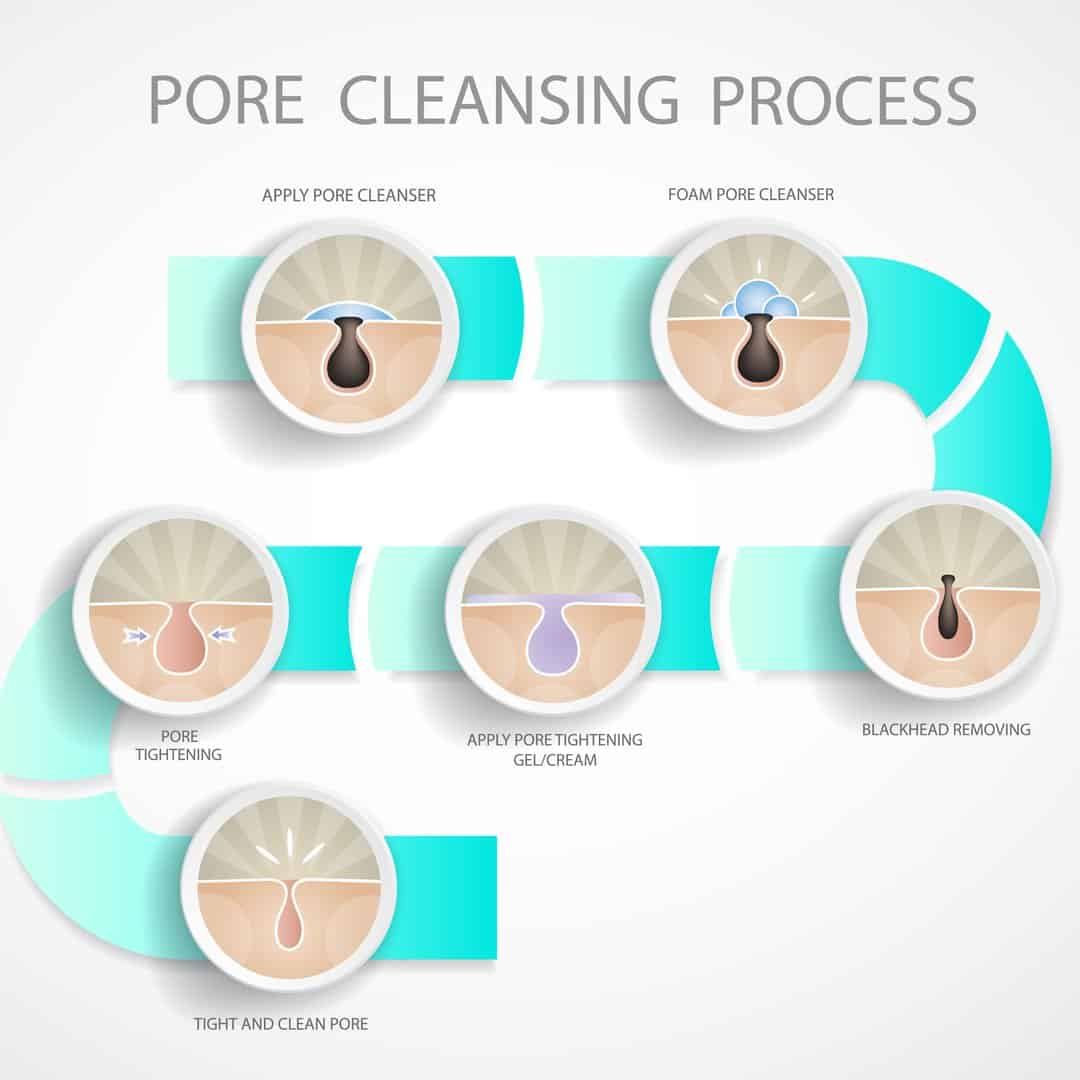 Isn't Steaming Your Face the Best Solution to Unclogging Pores?
Steaming the face with something like the Nanosteamer does a thorough job of unclogging your pores while also leaving them wide open.
Salons incorporate this step in their facial routines to provide a thorough cleansing experience. But, they also follow it up with cleaning out blackheads with traditional tools, application of toners, face masks, and moisturizers to close up your pores after steaming. If you can follow these steps with diligence after steaming, then go right ahead.
But if you're just looking for a quick cleaning job then jumping ahead to the next chore, then steaming isn't the right approach for you—something simple like a set of removal picks would be a better fit. Also, using steamers regularly over the long term could lead to bigger pores, so use them sparingly.
Are Blackheads Coded Into Our Dna?
Yes. While most people get clogged pores and blackheads, some people are genetically predisposed to have bigger pores, or less elastic skin, leading to more problems with blackheads. In addition to hereditary markers, some ethnicities are also more prone to having bigger pores and less elastic skin.
Is the T-Zone on the Face More Susceptible to Blackheads?
Yes. The nose and the area surrounding the bulb of the nose has more oil glands than the rest of the face. The pores in this area are also larger than the ones on the rest of your face. This makes the area more susceptible to clogged pores.
Do These Skin Lifting Devices Actually Work? Is There Any Reduction in Pore Sizes?
According to a study conducted to test this theory, there's not much difference in the visual appearance of pores after the application of skin lifting creams and devices. But, bioengineering markers that measure pore sizes before and after show changes in pore sizes after a few months of consistent use. So, there is concrete evidence that they do work, but the effects aren't immediately clear to the naked eye.
How Often Should I Exfoliate My Face?
Twice a week if you have a mild affliction of blackheads until it subsides, then reduce it to once a week. Thrice a week if you get clogged pores more often until there's a considerable reduction in their appearance and frequency, then bring it down to twice a week. Anything in excess could be damaging to your skin in the long term. This logic holds true for exfoliation too. Always go with the gentlest of scrubs and stick to ones with all-natural ingredients. Over time, regular exfoliation also prevents the occurrence of blackheads.
What's the Problem With Nose Strips?
Nose strips like those made by Bioré, while effective to a certain extent, tend to be more damaging than useful. The adhesive used in these strips sticks to everything it comes into contact with. Sometimes it could strip a pore clean of the sebum filaments which are responsible for producing the oil that keeps your skin moisturized.
They can damage hair follicles leading to ingrown hair, yank off the skin in some cases, and fail to do a thorough job of actually removing all blackheads. Given the list of adverse effects that follow, it is safe to say that you're better off using healthier options than resorting to pore strips for removing blackheads unless you really need quick results above all else.
Can I Permanently Get Rid of Blackheads?
No. There's no permanent solution to getting rid of blackheads forever. Any miracle device, cream, product, or concoction, promising this outcome should be shunned outright.
What Else Can I Use to Get Rid of Blackheads?
As we mentioned earlier, there are numerous ways of removing blackheads. If we were to include all of them on our list, it would be unending. We standby our shortlist as the best tools and devices available online to remove blackheads. But some use even diverse techniques and concepts to address this issue. Here's a list of products that are effective blackhead removers along with and a quick looks at their salient features:
M3 Naturals Himalayan Salt Scrub is a natural body scrub made of Himalayan pink salt crystals that are infused with collagen and stem cells to promote skin tissue health. It isn't a blackhead remover per se, but extended use of this product ensures clean and healthy skin free of cosmetic problems like acne, blemishes, blackheads, whiteheads.
Liberex Sonic Vibrating Facial Cleansing Brush is an electric facial massage brush that gently exfoliates the skin, promotes blood circulation, and cleanses your face thoroughly. Over time, blackheads and similar problems are reduced and are kept at bay. This is similar in technique to the silicone massage brush in our list but uses an electronic vibrator for sonic vibrations to improve the quality of the massage. It also comes with three different brush heads with soft bristles, silicone bristles, and super thin bristles to cater to different skin types.
Differin Adapalene Acne Treatment Gel is actually a pharmaceutical product that is usually prescribed to treat acne. One of its positive side effects is that it also gets rid of blackheads, whiteheads, comedones, in addition to addressing acne-related problems. It deep cleanses the skin, which includes unclogging pores and getting rid of the dirt within, resulting in the happy accident of zero blackheads. Adapalene is a chemical treatment that also has adverse side effects. The reason this gel is so popular despite the drawbacks is that the side effects are mild, and most people find them tolerable. They don't cause any permanent damage, and adapalene is more effective in acne treatment than most cream-based concoctions.
Microderm GLO MINI Diamond Microdermabrasion and Suction Tool uses microdermabrasion technology to stimulate collagen growth, tone the skin, clear and brighten it, and improve skin elasticity. This results in a reduction in pore sizes besides the deep cleansing of the top layer of the skin. Microdermabrasion is a newish fad that's quickly gaining ground with skincare enthusiasts. This particular device uses patented 'Diamond Safe3D' technology to avoid mishaps at home as microdermabrasion is usually safer under the guidance of trained professionals.
GUGUG Electric Facial Skin Scrubber Spatula is a rechargeable face spatula that scrubs the skin. Simple enough in the application but comes with a battery-powered device that vibrates at high frequencies to scrub the skin thoroughly of dead cells, germs, and excess sebum. It also provides a massage-like experience that promotes blood circulation, tightens pores, deeply cleanses facial skin, and improves its tone and texture with time. Removal and reduction in the appearance of blackheads are just a few of the many perks provided by this facial scrubber spatula.
Proactiv Blackhead Dissolving Gel, as the name implies, dissolves the blackhead within your pores so they can be cleaned up. It is quite powerful and harsh on the skin but incorporates natural elements like aloe vera to restore the moisture balance of the skin. Salicylic acid is the ingredient responsible for the dissolving action and can be a bit drying on the skin. It also dissolves other impurities and removes excess oil from the face. Use sparingly and only if you've exhausted all other avenues of removing blackheads.
Wrapping Up
As long as you are alive, you'll have pores – which are important to keep your skin naturally moisturized. And as long as you have pores (As you should, why would you not?), they'll get dirty, have junk, oil, and dead skin collected in them.
When this gunk is exposed to the oxygen in the air, it will turn black, resulting in blackheads. So, to sum it up, as long as you're alive, you'll keep getting blackheads. You can reduce the frequency of their occurrence, or prevent them from appearing altogether, if you stick to a carefully created skincare routine. So prepare for the inevitable, and choose one of the products above to deal with them as soon as you notice them.