Barbering has undergone a revolution over the last few decades. The barbershop has always been a staple hangout location and safe haven in many towns around the world, giving males a place to meet up with friends and relax — but now, they're becoming far more.
As more men enjoy grooming themselves and expressing their identity in new ways, and some women also opt for barbers, the barbershop is no longer playing second fiddle to the hairdressing salon. Can you see yourself playing a key role in this transformation? Be part of the next generation of barbers.
Barber school teaches students to trim and shave different styles, as well as teaching them about skincare, hygiene, business management, bacteriology, and how to apply different colors and textures.
Succeeding in this career requires not just technical skills but also creativity, the ability to put your clients at ease, and some business knowledge.
It's a competitive field, but unless everyone suddenly decides to cut their own hair, there'll always be demand for barbers.
Think you have what it takes? See if there's a school near you that takes your fancy using the school finder below.
What to Look For When Choosing a Barber School?
There's no end of options for where you can undertake your barber training, but making the right decision isn't a case of choosing a school at random and hoping for the best.
The difference in quality between programs can be quite significant, so make sure you're discerning about what each school offers. Crucial elements include accreditation, job prospects, dropout rate, and cost.
If you can't find the answers to the questions you have online, make sure to contact the admissions office and put your queries to them directly.
Accreditation
To qualify as a barber, you must be licensed — and to be licensed, you must pass your state's licensing requirements. The whole point of barber school is to prepare you for these exams and ensure you start your career with a flying start.
One way to determine whether a school really knows what it's doing is to check that it's accredited and that its program meets licensing requirements.
The primary accrediting body is the National Accrediting Commission of Career Arts and Sciences (NACCAS) — the Department of Education itself recognizes this institution.
However, other accrediting agents to consider are the Council on Occupational Education, Accrediting Council for Continued Education & Training, and the Accrediting Commission of Career Schools and Colleges.
Should you rule out a school if it isn't accredited? Not necessarily — but you should certainly make sure there's a good reason for it. With more than 1,500 programs accredited by NACCAS alone, there are plenty of accredited options to choose between without having to look elsewhere.
Job Prospects
Even if you go to an accredited barber school and obtain your license, it's no guarantee of a good job. Some schools are far better than others at helping their students land a great job by providing them with industry links, an alumni network, and work experience opportunities.
In some states, apprenticeships or training are compulsory to pass licensing exams — if this is the case, check how much help your school gives you in finding an employer to complete this with.
And if training isn't compulsory, it might be even more important to verify that the school is proactive in helping you find work. Does it have relationships with local businesses that let you train with them to get some practical experience?
This could make all the difference between finding work immediately after graduating and struggling to get a job.
Dropout Rate
Teaching quality is one of the most important factors in deciding which barber school to study at, but unfortunately, it's also one of the most difficult to determine.
One of the best metrics to gauge it is the dropout rate. There will always be one or two students who need to drop out of a program, but if 10% or more of them decide to do so, it suggests that something could be seriously wrong.
In addition to the dropout rate, you could also determine teaching quality by asking the admissions office about the teachers' work experience and how long they've been working at the institution.
If the teachers have an impressive curriculum or have spent a few years in their current post (preferably both), it's a strong sign that they know what they're doing. Otherwise, you're taking a risk in attending the institution.
Cost
If money is no object and you'll be able to attend whichever school you set your sights on, feel free to skip this section — but most people aren't in such a fortunate position. Before you set your heart on a program, you need to know you can afford it.
Make sure you compare the costs of at least three different schools to get a good idea of what a normal price is for the area you want to study in. But bear in mind that you consider the factors that can influence cost, which we'll go into below.
How Much Does Barber School Cost?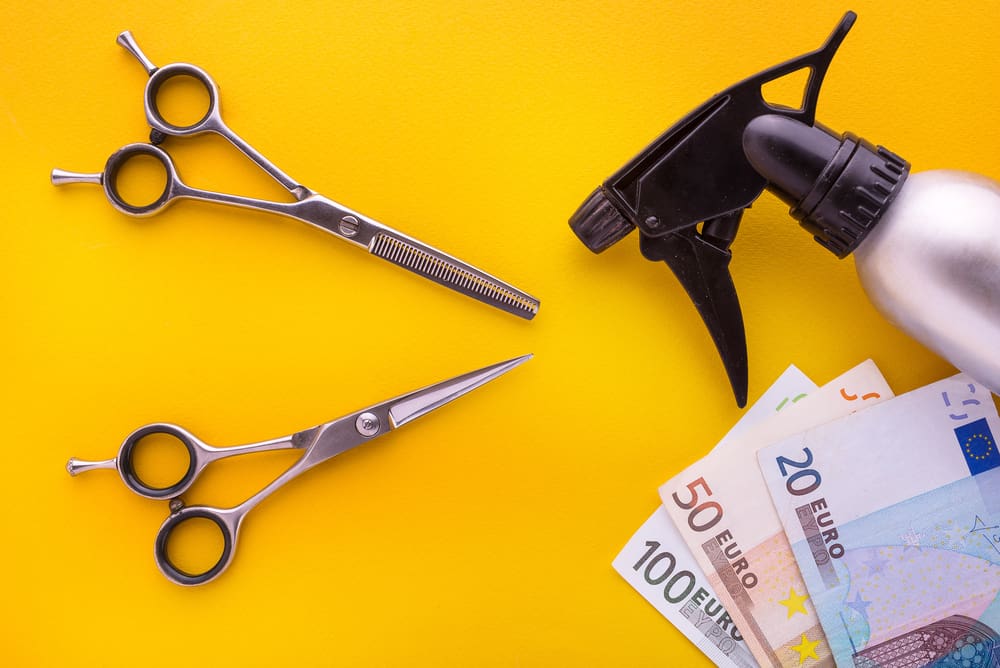 Most of the time, barber school costs between $10,000 and $20,000 in total. This might sound rather steep, but there's some variation depending on factors like where you study and which school you choose.
You might also be able to lower your costs by obtaining some financial aid.
Locations
As a general rule, barber schools in urban areas are more expensive than those in rural areas.
That doesn't mean that there aren't some cheaper schools in big cities and some expensive schools in quieter areas though, so make sure you check the course cost with each individual school.
And before you rule out all big-city barber schools, bear in mind that the better job prospects in these areas may outweigh the high costs — big cities tend to have more salons and high-paying jobs.
Scholarships and Financial Aid
Just as you can obtain scholarships for college courses, there are also financial aid options available for barber school.
Many barber schools are Title IV schools, which means that they accept federal student aid — the same package offered to college students in need.
There are some national scholarships specifically for barbering and hair care, which any prospective students can apply to. For instance, the Joe Francis Haircare Scholarship Foundation offers 20 $1000 scholarships to barbering students (among others). In addition to these nationwide scholarships, some schools may have their own financial aid programs, which are generally less competitive.
Don't forget to check with the admissions office what help is available.
Extra Costs
Although all good barber schools cover the bulk of costs involved in their programs, you'll most likely have to make some purchases yourself.
Most students will need to buy tools like scissors, razors, and safety equipment. You might also need to buy some textbooks — remember that barber school involves theory as well as practical elements.
Buying these items might seem negligible at first, but they can add up to hundreds of dollars in total. If you go to a school that provides more free equipment, the program cost might be more expensive, so be sure to find out what the tuition fee includes — and to consider it when deciding where to go.
How Long Does Barber School Take?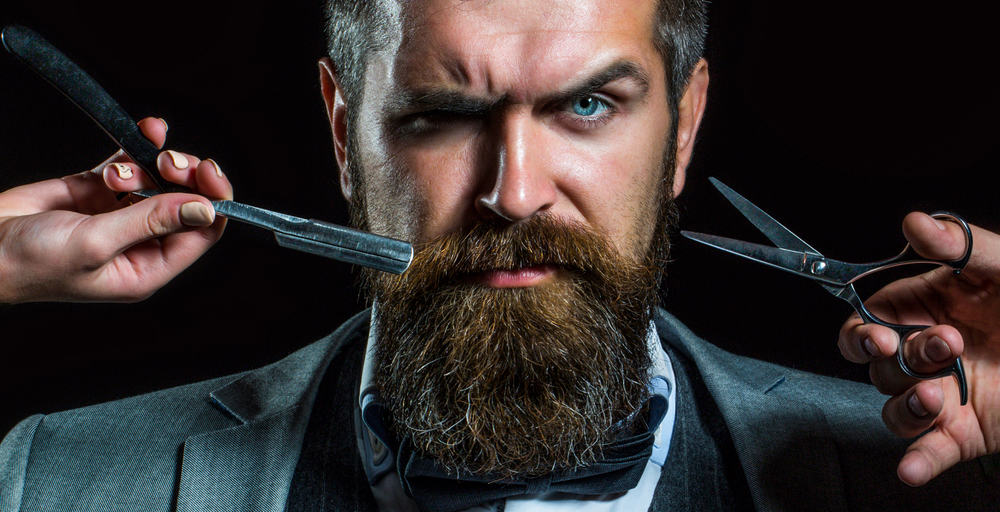 On average, it takes between 1,000 and 1,500 hours to complete barber school — working out at between ten months to a year of training in total.
However, the precise length of barber school depends on the program you're doing, your state's licensing requirements, and whether you study part-time or full-time.
Differences Between States
As mentioned already, barbers can't go into the workplace until they have their license, and one of the requirements is to have completed a certain number of hours in barber school. There are significant differences between states here.
In Nevada, barbers in training need not only 1,500 hours in barber school but also an 18-month apprenticeship — meaning around 900 days of education in total.
On the other end of the spectrum, in New York, students only need to complete 231 hours of coursework (working out at about 54 days in school).
Part-Time vs. Full-Time
It goes without saying that training on a part-time basis will bump up the total time it takes to complete the program considerably.
Usually, it means doubling the total time for completion, meaning it could take you two years to graduate if you study part-time.
Course Structure
Does a program require students to do an apprenticeship to graduate? How many hours a week of classes are there? These factors all affect the total length of a barber school program.
Although this partly comes down to state requirements, there are also some variations within the same state, so make sure you know what you're signing up for.
What Is the Job Outlook for Barber School?
Nobody wants to put valuable time, effort, and resources into training for a profession, only to find out that they'll barely make above minimum wage. It doesn't matter how much you love your job — fair compensation is non-negotiable.
You might think that all barbers earn roughly the same, but there's actually a fair amount of variation depending on the services provided, skill level, and whether a barber is an employee or contractor.
And of course, owning a barbershop gives you more scope to increase your earnings (provided you're good at it).
Let's take a deeper look at what type of salary you can expect depending on your specific situation.
Expected Salary Range
The average salary for a barber is $32,006 — with most barbers earning between $25,766 and $38,545. This works out as an average wage of between $13 and $18 an hour.
But what about when we look beyond the statistics at factors that influence total pay?
The region you work in makes a huge difference. In New Hampshire, the average salary is a whopping $58,500 — but in Alabama, this drops down to $29,250. Of course, the differences in living costs will eat up the extra , at least partly.
Also, as you gain more experience, you can increase your earnings.
While barbers just starting out might only make between $20,000 and $25,000, this number will likely increase to over $30,000 with a few more years of experience under your belt — and eventually up to $40,000 (or more) as you continue to gain experience.
Those with more than 20 years of experience find themselves earning $59,900 a year on average.
You might also be able to increase your earnings by improving your skillset. If you learn a very specialized skill — like becoming the go-to barber for a certain hairstyle in your region or learning to shave designs into hair. This will make you far more in-demand than just being another barber that can trim hair (though there's nothing wrong with that).
Starting a Barbershop
If you really want to maximize your earning potential as a barber, the best way to go about it is to launch your own shop.
In this case, your earnings will depend on how good you are at marketing yourself, attracting clients, and keeping your customers happy. It requires hustle and a dose of charisma, but those who are good at what they do can make six-figure salaries.
Many entrepreneurs have taken things even further by turning their profession into a professional brand, going on to become "celebrity barbers" with their own products or even TV appearances.
Who knows, maybe that could be you one day?
Online vs. In-Person Barber School
If you'd love to become a barber but don't love the idea of spending hours each day commuting and studying at a physical school, the idea of opting for an online school instead will probably sound tempting.
But before you get your hopes up too high, hold on a second. Although there are a few schools that offer part of their training online, there are no accredited schools that offer their entire program virtually — which shouldn't be surprising considering what a hands-on subject barbering is.
Online Barber School
Just because you can't complete your entire barber program online, it doesn't mean that you shouldn't take the opportunity to complete a chunk of your training this way.
Although there are variations between states, it's usually possible to complete the part of your barber training that covers hygiene, safety, business management, and similar theoretical elements online.
This is a great solution for anyone hoping to go through barber school while also working full-time or caring for dependents. Studying online can usually be done flexibly and at your own pace, making it easier to complete while juggling other tasks.
Also, studying part of the course online usually means you'll save money.
In-Person Barber School
However, although you'll save some time and money from studying online, you'll be missing out on valuable relationships with your teachers and fellow students.
Considering that finding your first job is easier if you have the right connections, this could mean more than just fewer opportunities for socializing.
And although online classes and in-person classes cover the same content, asking questions is usually easier and more encouraged when you're in the same room as the teacher. This helps to bridge the gap between theory and real-world context.
In general, in-person barber schools are the best option unless you have a good reason to train online.
Groom Yourself for Success
Barbering is a time-old profession that's not going anywhere fast, so why not get involved? You'll be able to play a small role in helping the men of the world look more stylish and approachable, and that's as worthwhile of a goal as any.
Who knows, maybe your humble profession will turn into a nationwide chain of barbershops? Go chase those dreams!